The USS North Carolina participated in every major naval offensive in the Pacific during WWII, earning 15 battle stars.
The USS North Carolina was designed to carry 1,800 men, but by the end f the war was home to over 2,300
The crew slept in metal bunks stacked five tiers high
The Battleship could carry 120 days of food supplies
These are only a few of the facts you'll learn when you're welcomed aboard the Battleship North Carolina in Wilmington, NC.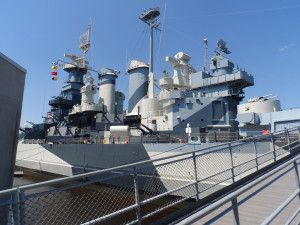 In 1960 Battleship North Carolina was scheduled to be scrapped by the US Navy when citizens of North Carolina joined together in a campaign to bring the ship home and preserve her as a memorial and tourist attraction.
In October 1961 the ship opened to the public and today the USS North Carolina is a favorite tourist destination moored on the Cape Fear River in historic Wilmington.
Starting at the exhibit hall taking a few minutes to view the introductory movie you'll learn the history of the vessel commissioned on April 9, 1941. Next travel through exhibits and artifacts to make your way on board.
Boarding the ship,  it's hard not to be impressed by the size of this ship which during WWII was home to over 2,300.
Strolling the decks visitors see 20mm and 40mm guns, a Kingfisher airplane and have the chance to climb inside the 16-inch gun house.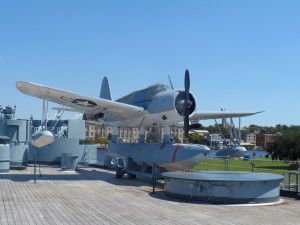 There's more fun below deck. Take the steep steps leading down to find arrows directing guests through the labyrinth of what was once a bustling mini-city at sea.
The tour travels through the mess deck, bakery, chapel, engine room, sick bay, radio room and more.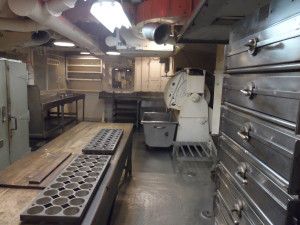 The ship is a veritable time capsule telling the tale of naval battles and the sailors who served on board.
Incidentally, the ship is fascinating for another reason in addition to its WWII history.
Did I mention the USS North Carolina is haunted?
Over the years people have told tales of seeing ghosts or experiencing strange feelings while on board. There's even a night watchman who has lived on board for 36 years and written a book about the ship's spirit activity.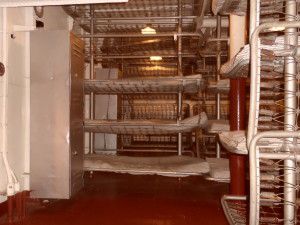 Most of the stories involve strange sensations, being touched when nobody is near or seeing ghosts of sailors on duty.
Television shows including Ghost Hunters, Ghost Hunters Academy and Fact or Faked have conducted investigations and deemed the USS North Carolina to be, "very haunted."
As a result of all the paranormal activity, the fully self-supporting ship turned these ghost stories into what has become one of its biggest fund raisers.
Each October Battleship North Carolina closes at 5:00 p.m. and re-opens at 7:00 p.m. as Ghost Ship.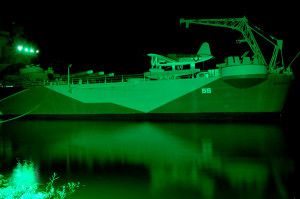 The USS North Carolina becomes a floating haunted house complete with green lights, cobwebs, zombies and every 20 minutes there's a "Thriller" of a zombie surprise.
This year Ghost Ship takes place October 19, 20, 26, 27 from 7:00 to 10:00.  Tickets go on sale at 6:30 each evening.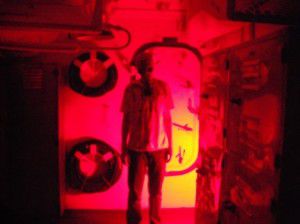 If Ghost Ship is too scary for your little ones, there's also an event on the 30th called Batty Battleship Bash.  This fun-filled evening on board is designed as a trick-or-treat event for kids.
As Danielle Wallace, Programs Director for Battleship North Carolina says, "Ghost Ship is not to be missed.  It's great for groups or a date and you'll see the ship in a different light.  It's a fun time with some great scares."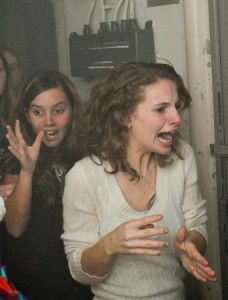 Regardless of whether you're interested in a ghost story or the historic significance of Battleship North Carolina – first and foremost the ship is an important piece of Naval history and a National Historic Landmark honoring the 10,000 North Carolinians of all service branches who gave their lives in WWII.
USS North Carolina
 #1 Battleship Road Wilmington, NC 28401
* Note:  The souvenir photographs are a wonderful memento of your visit.  We posed in front of a green screen just before boarding and when we finished our tour reviewed the results.  The pictures were too cute and too funny!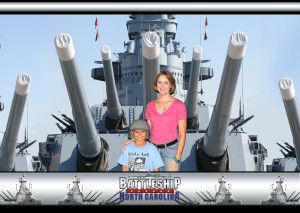 If you like this, please share it with your friends.  And as always, Happy Travels!