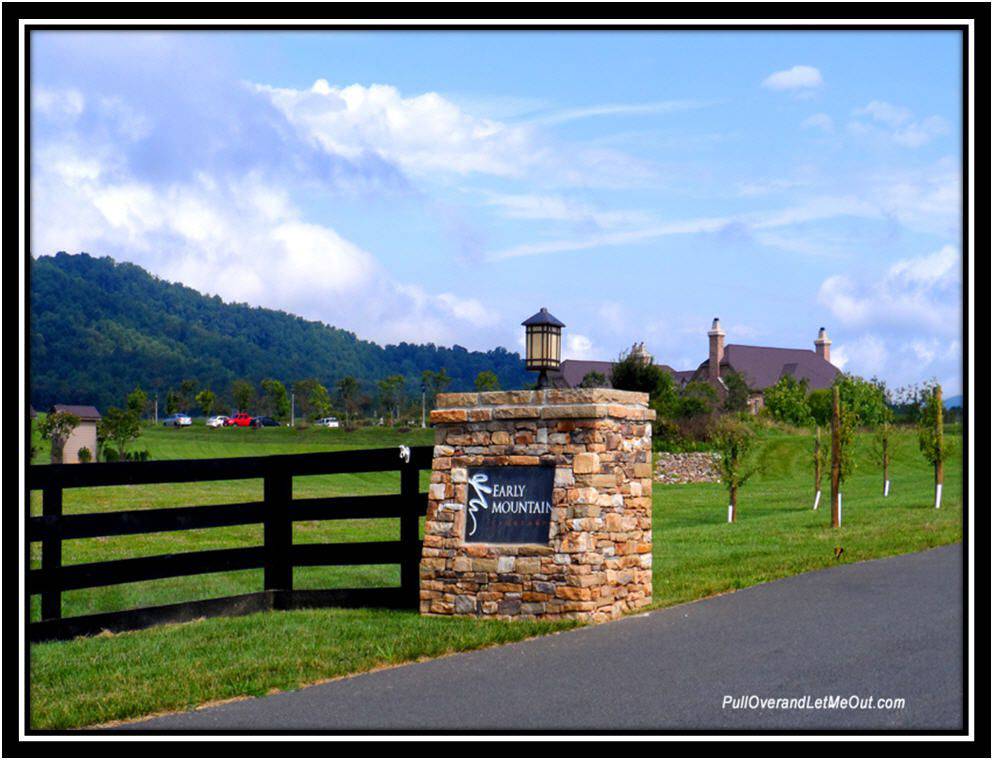 When I first heard the name of the event I had a hard time wrapping my head around the concept.
Fried chicken with bubbles?
I'd never really thought of bubbly with much other than New Year's Eve and mimosas.
Nonetheless, I was intrigued at the thought of pairing sparkling wine with something so traditionally Southern – this would be interesting.
For the record, like many I used to think any fizzy wine was champagne.  However, I now know to earn the name "Champagne" wine must be from the region of Champagne in France. All others are simply sparkling white wines.
Regardless of semantics,  I was looking forward to this foray into pairing sparkling wine with comfort food.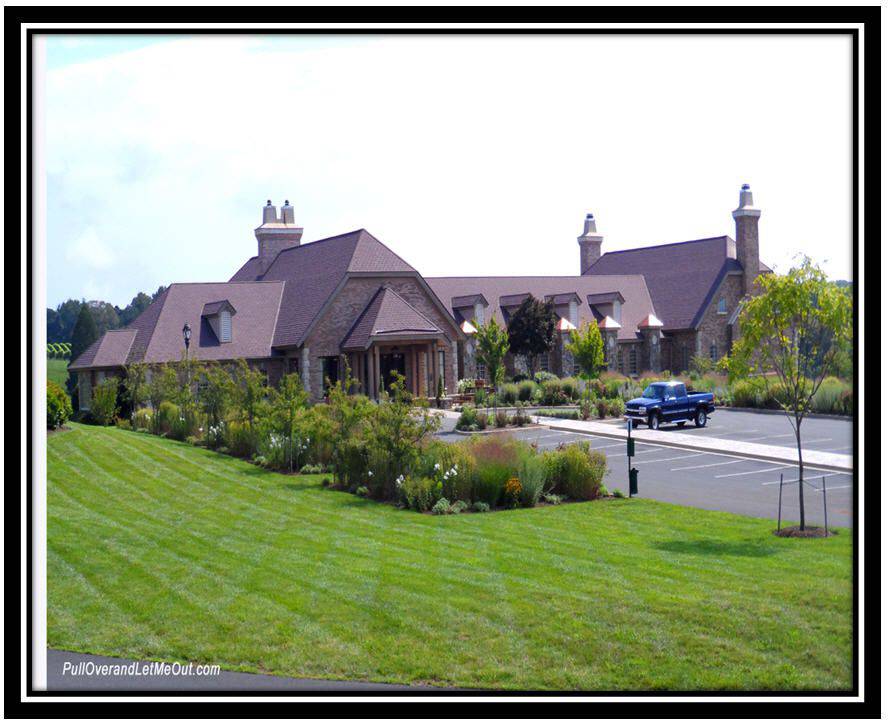 Early Mountain Vineyards in Madison, Virginia
Upon arriving at Early Mountain Vineyards in Madison, Virginia about 30 miles from Charlottesville I'm instantly awed by the breath-taking beauty of this winery at the foothills of the Blue Ridge Mountains.
Lush, verdant grounds filled with rows and rows of grapevines surround the magnificent winery.  The sprawling building and elegant outdoor area at Early Mountain is reminiscent of large wineries found in Northern California – this is no small operation.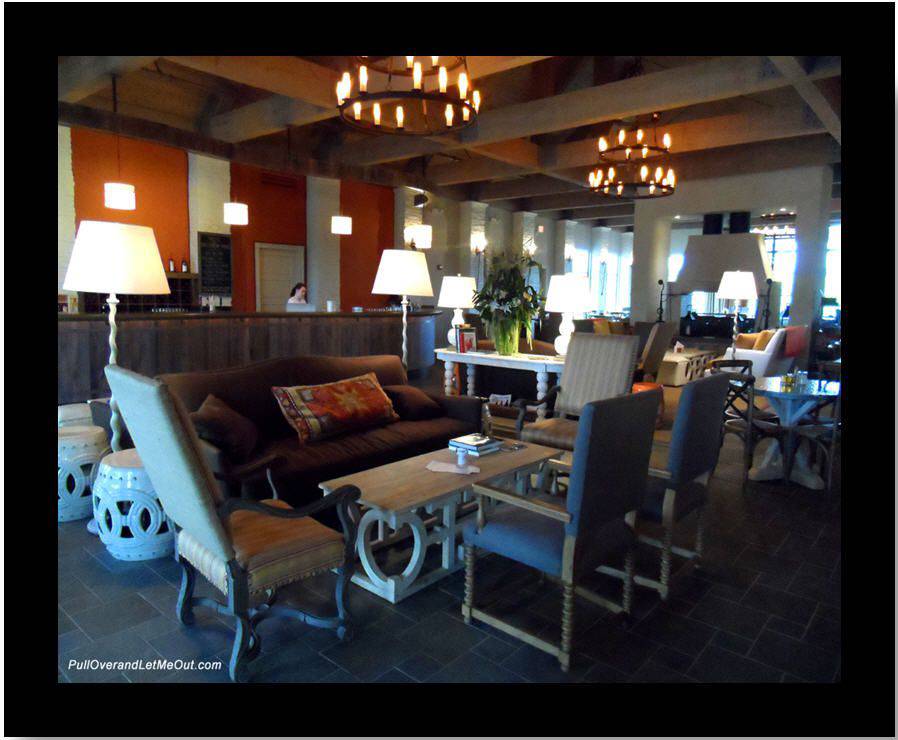 The Tasting Room is spacious yet warm and inviting.
Once inside the attention to detail is what stands out.  The decor is impeccable – warm colors, a cozy fire place and ample comfortable seating makes visitors instantly feel at home. Despite its size the grand tasting room is inviting and not at all pretentious. The perfect balance has been struck – ambiance, luxury and fine wine in a friendly locale.
Friendly is the key word. The staff are refreshingly eager to greet and assist visitors making guests feel appreciated.
I make my way to the event room where I'm enthusiastically greeted by Allison Conway, Marketing Ambassador. She welcomes me and my guest and invites us to help ourselves to the delicious  buffet spread featuring tasty fried chicken, collard greens, cole slaw, biscuits with soghrum butter and homemade pies for dessert.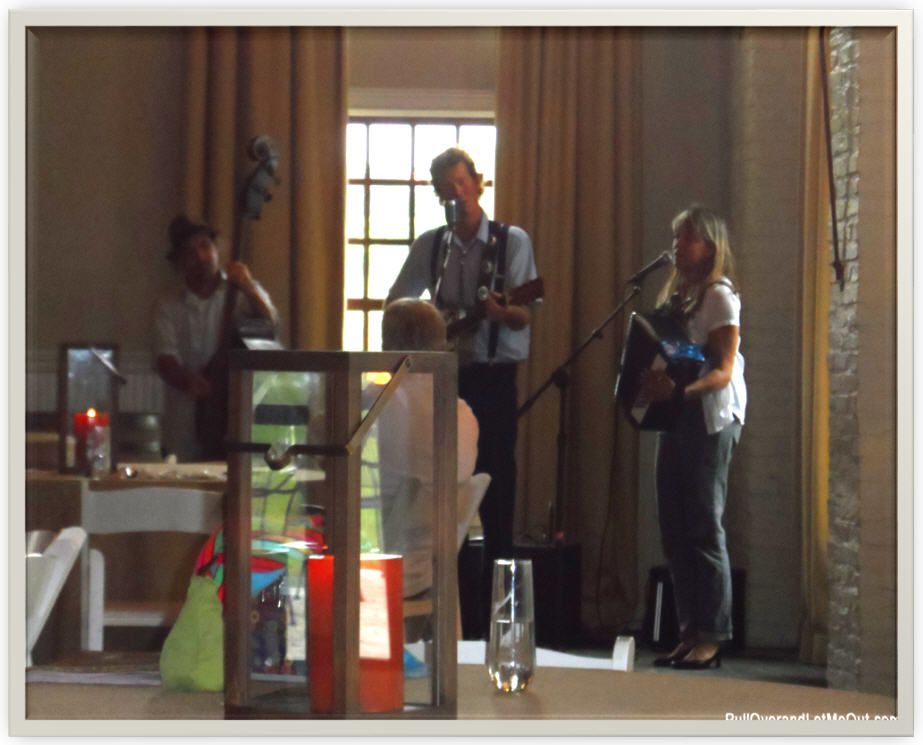 "Fried Chicken and Bubbles" – Dining and entertainment in The Event Room  
The Fried Chicken and Bubbles event is a wonderful blend of good food, music and atmosphere. Outside guests play corn hole and bocce ball on the lawn. Inside a musical trio entertains as diners enjoy eating and sipping.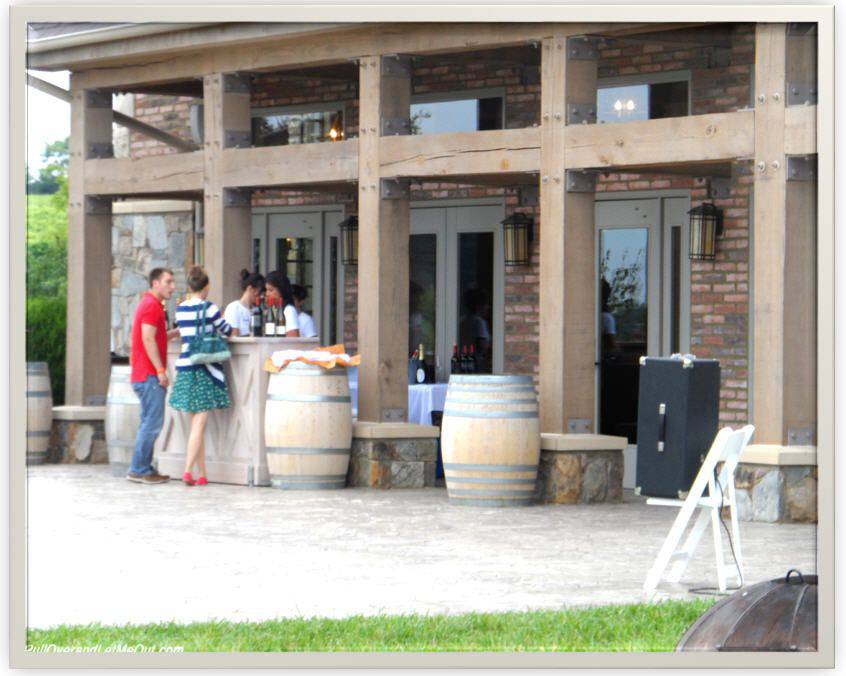 Early Mountain's outdoor areas are ideal for enjoying wine and scenery.
Mid-meal we're joined by Sommelier, Michelle Gueydan. A native of Louisiana, Michelle comes to Early Mountain after having served as sommelier for celebrity chef John Besh in New Orleans. Her vivacious outgoing nature combined with her vast knowledge of wine makes our experience educational as well as entertaining.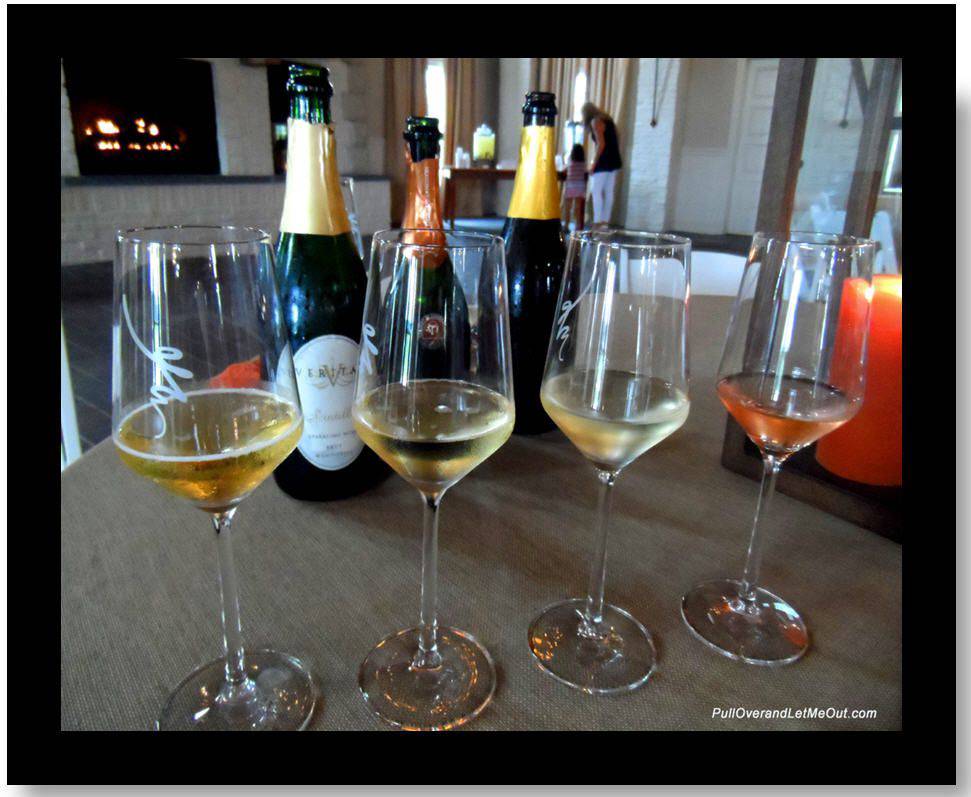 A flight of four sparkling wines.
Gueydan imparts the details of four different sparkling white wines as she pours a flight for us to sample. Gueydan is extremely knowledgeable and passionately promotes Virginia wines. Despite her help, I struggle choosing  a favorite of the four.
They're all good.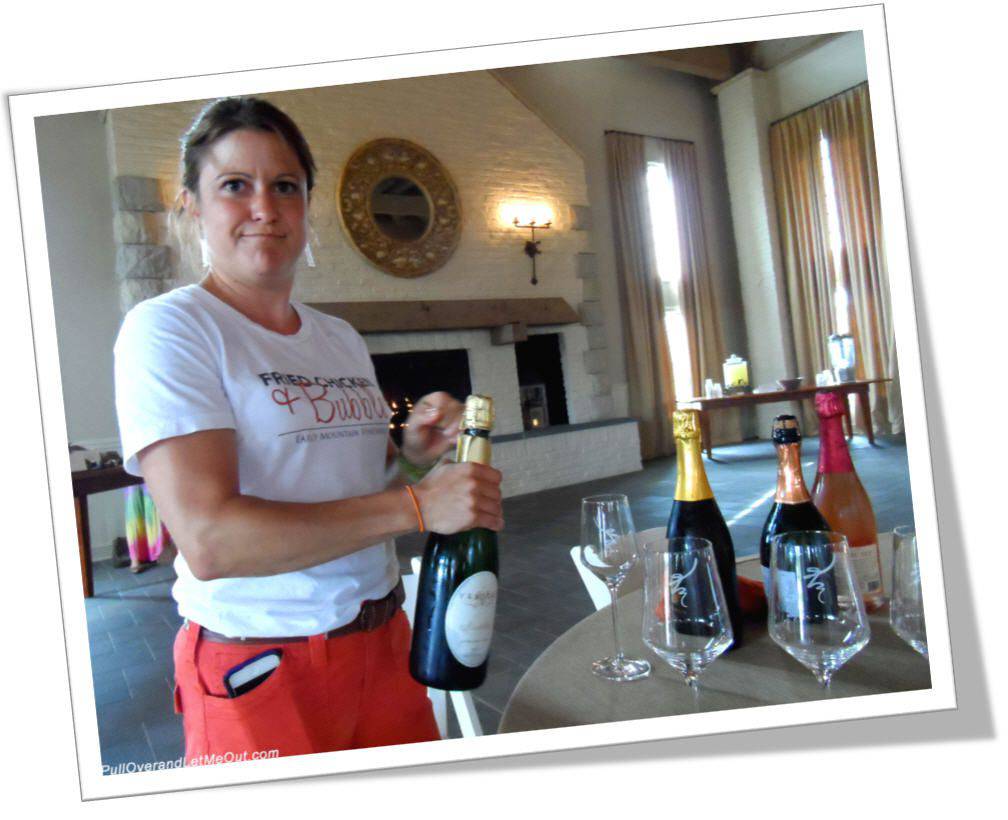 Michelle Gueydan, Sommelier at Early Mountain Vineyards
After our wine sampling and meal we're treated to a tour of the winery.
Owned by former AOL Executive Jean Case and her husband Steve, Early Mountain Vineyards opened in 2012 and is a state-of-the-art facility featuring the finest regional wines. Case's goal is to showcase Virginia and its wines – she fervently believes Virginia has the potential to be one of the world's great wine regions.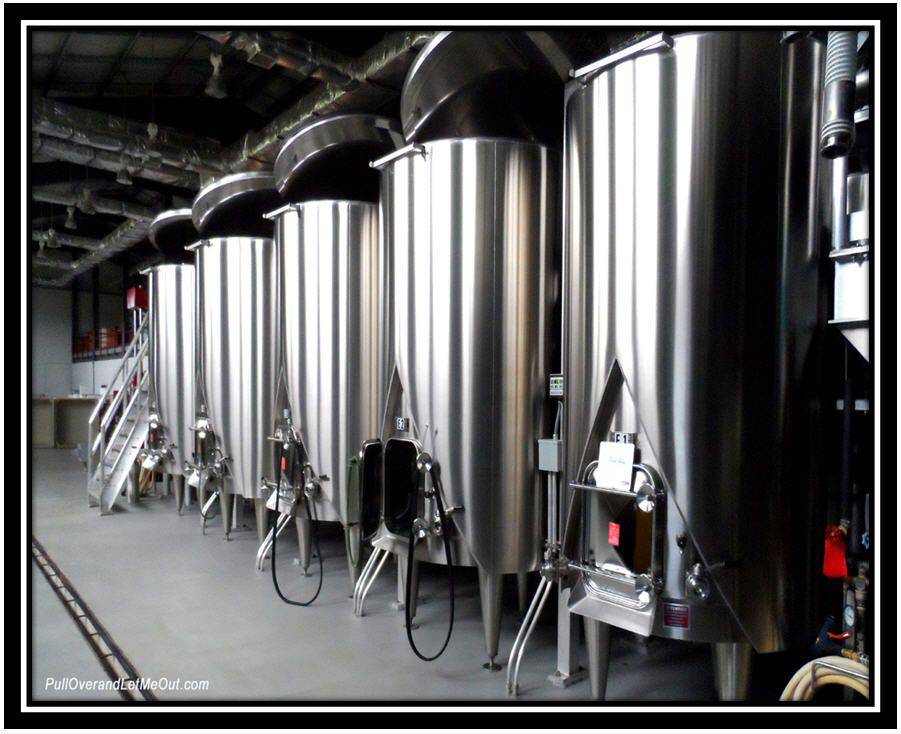 State-of-the-art equipment is utilized in crafting Early Mountain wines.
Touring the barrel room, seeing the latest technology in wine production and of course the vineyards, it's easy to understand the success the winery is enjoying as well as envision a bright future for Early Mountain.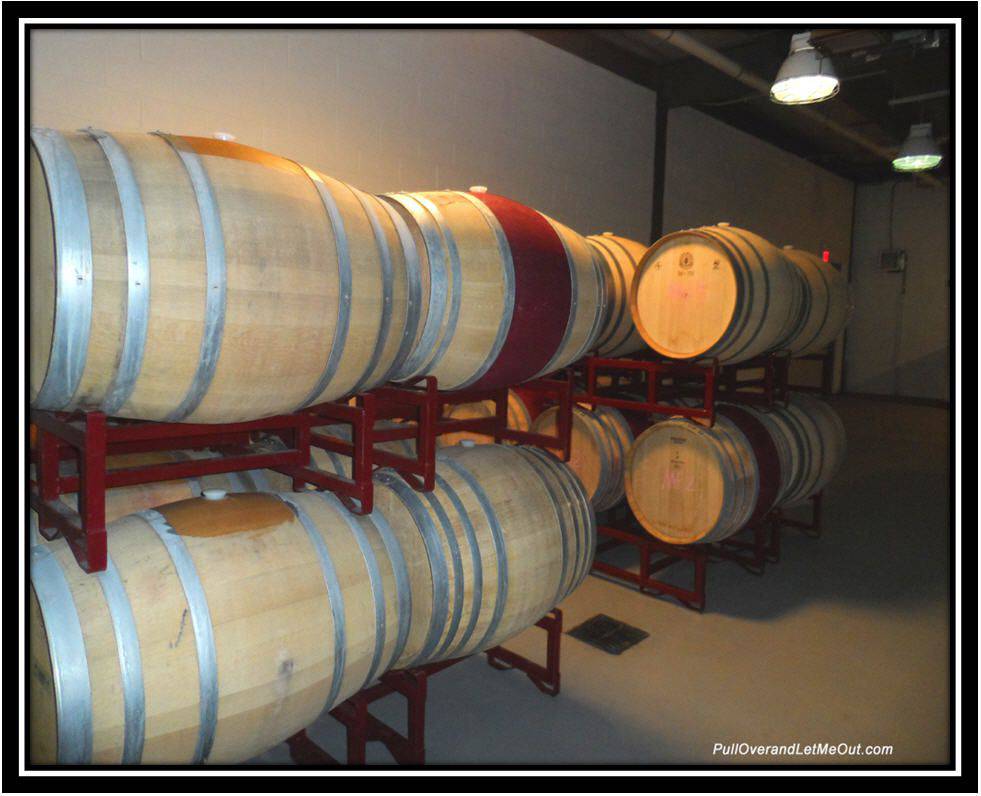 The Barrel Room 
Part of the expanding Monticello Wine Trail, the winery aspires not only to create and sell fine wines it aims to be an ambassador for Virginia wines. With the goal of promoting this burgeoning wine region to the world the team at Early Mountain embrace a philosophy based upon  4 P's; People, Passion, Portfolio and Purpose.
After spending a few hours at this winery nestled at the foothills of the Blue Ridge Mountains on land once owned by Revolutionary War Veteran Lt. Joseph Early, it's apparent how Early Mountain distinguishes itself from others.
Camaraderie and a sense of commitment to a common purpose permeates at Early Mountain and is accentuated by finely-crafted wine united with a friendly team passionate about what they do.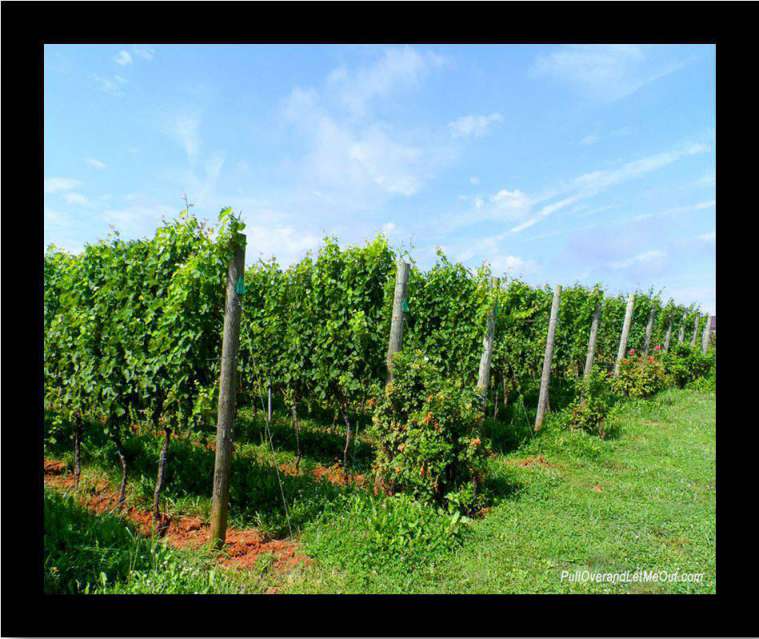 The vineyards are highlighted by the backdrop of the foothills of the Blue Ridge Mountains
In recent years Virginia has become renown and recognized as a top wine travel destination. Early Mountain Vineyards in Madison, Virginia is well worth adding to your list if you're planning to tour the centerpiece of Virginia Wine Country – The Monticello Wine Trail.
How was the sparkling wine with fried chicken?
Let's just say – from here on out I won't reserve bubbles just for celebrations.
Cheers!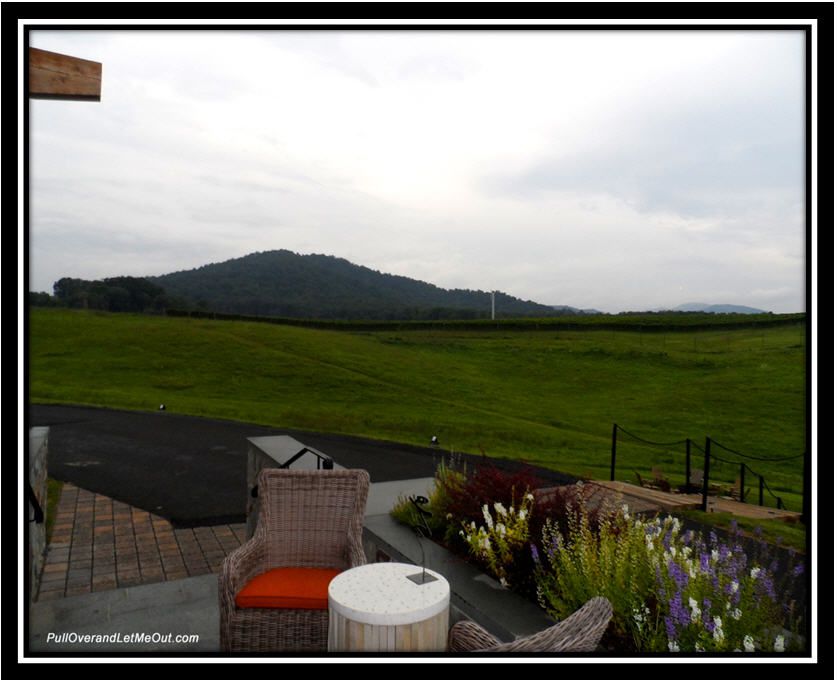 The large patio is the perfect setting for sipping and enjoying the natural beauty of the region.
Stay tuned for my next piece about the wonderful guest house I stayed in while visiting Madison, VA
If you like this please share it with your friends. Your "tweets", "likes" and comments are always appreciated!