Navigating the tree-lined winding road leading to a roundabout, the suspense builds; to the right the road leads to Seabrook Island, to the left and I'm on my way to Kiawah Island. Having visited Charleston several times, this is my first stay at nearby Kiawah. I'm a Kiawah neophyte, if you will. The barrier island with its lush maritime forests, wildlife, beaches, and golf delivers a one-of-a-kind South Carolina beach experience.
Here are a few things this Kiawah first-timer discovered.
Kiawah Island Lodging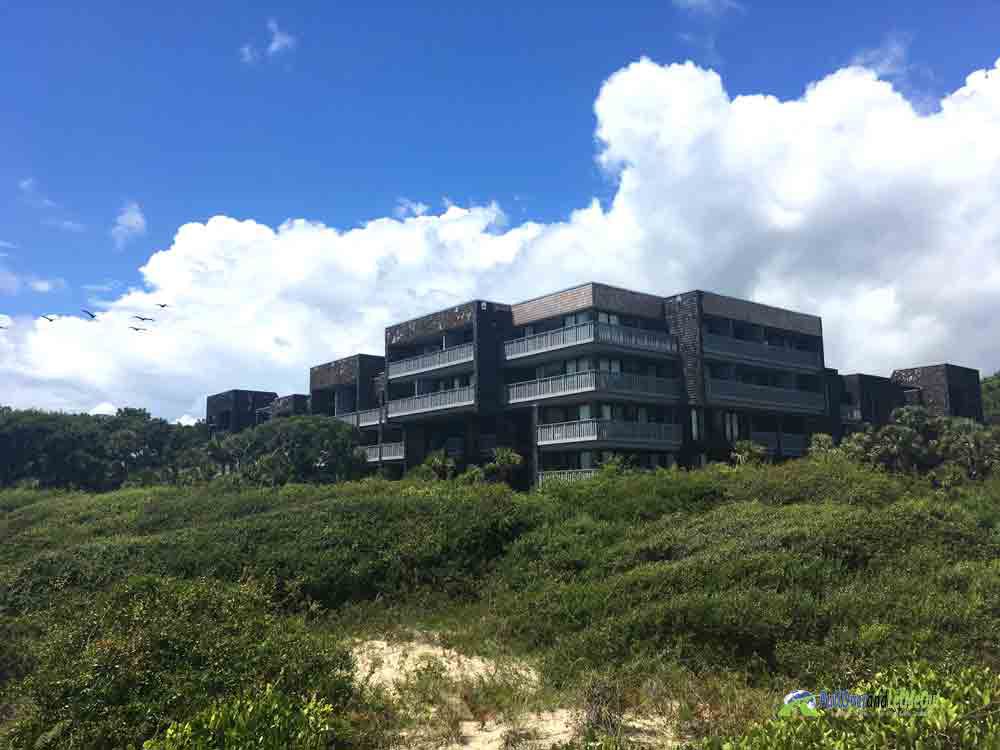 There is a variety of rental options and accommodations on Kiawah Island
Once the decision to visit Kiawah Island is made, choosing accommodations becomes a priority. That being said, there are relatively few hotel options on Kiawah. There's the Andell Inn outside the gates and Kiawah Island Golf Resort and The Sanctuary on Kiawah inside the gates – that's it for hotels.
Nevertheless, rentals abound. From tony beach homes to cozy villas and condos, from Wyndham Rentals to VRBO and FlipKey Kiawah boasts a plethora of beach getaways in a range of sizes, styles and prices. Most rentals require a multiple night stay and there are strict rules pertaining to the number of overnight guests per rental unit. The precise formula is as follows; 2 persons per bedroom with an additional 2 per home.  
I found a reasonably priced condo rental though I will advise, even if the price per night seems modest, look out for additional expenses; cleaning fee, damage waiver, and the mysterious service fee tacked onto the cost can quickly bump you over your budget. The price of a stay on Kiawah is typically more than other South Carolina beaches, but upon visiting Kiawah it becomes apparent why folks happily accept the higher price tag.
Preparing For Your Arrival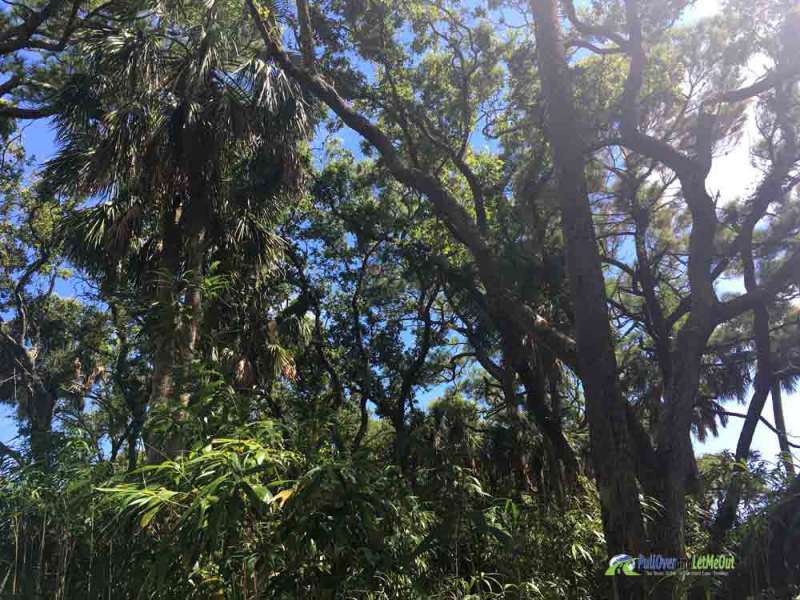 Yes, you're still in the United States despite the fact you'll be convinced you're in the tropics. Palm trees, deer, and gators are only a few of the tropical effects to note upon arrival at Kiawah Island. In addition to packing sunblock you'll want a good mosquito repellent as well.
Oh, and I cannot forget the humidity with a capital H! The lowcountry is sultry. Hats and pony tails are the best hairstyle and method of combating what I affectionately call, Charleston Hair.
If you'll be cooking your own meals, the grocery shopping options on Kiawah are few. At the roundabout just before arriving on Kiawah in Freshfields Village is a Harris-Teeter grocery store. There are also a couple convenience shops on the island and a few somewhat budget-friendly grocery stores along the road prior to reaching Kiawah. If you're keeping tabs on expenses, bring a cooler and shop before you get all the way to Kiawah.
Once you reach Kiawah Island you'll discover it's a gated community. Be sure to obtain your access pass before your arrival if you're staying within the gates. You don't need a pass if you're cycling or walking on the island.
Kiawah Island Fun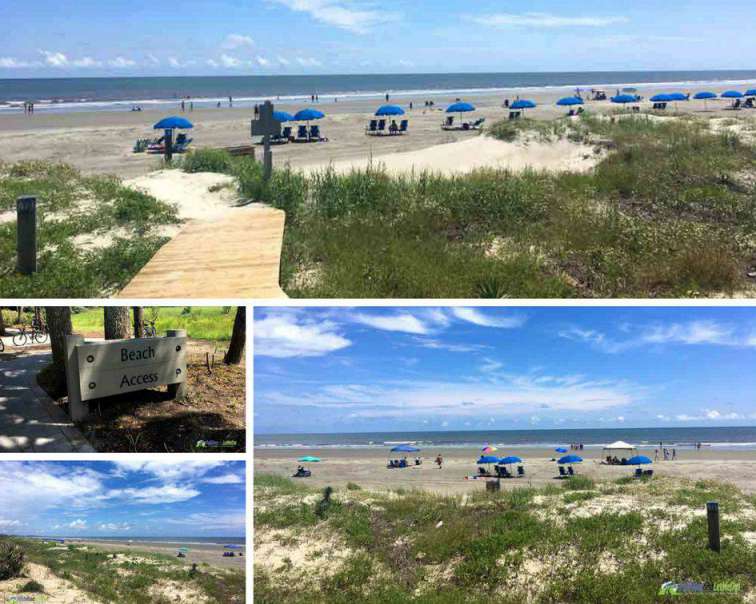 What's there to do on Kiawah Island?
Well, there's beach, beach and more beach. It's possible to spend an entire vacation enjoying the pristine beaches, 10-miles of beaches in fact. Should you fancy a change of scenery or a little more excitement, there are miles of trails to walk or pedal, places to eat, shopping, nature, fishing, arts and cultural events, Tidal Trails kayaking, eco-adventures, water sports, tennis and pickleball. There's really no time to become bored unless boredom is your objective.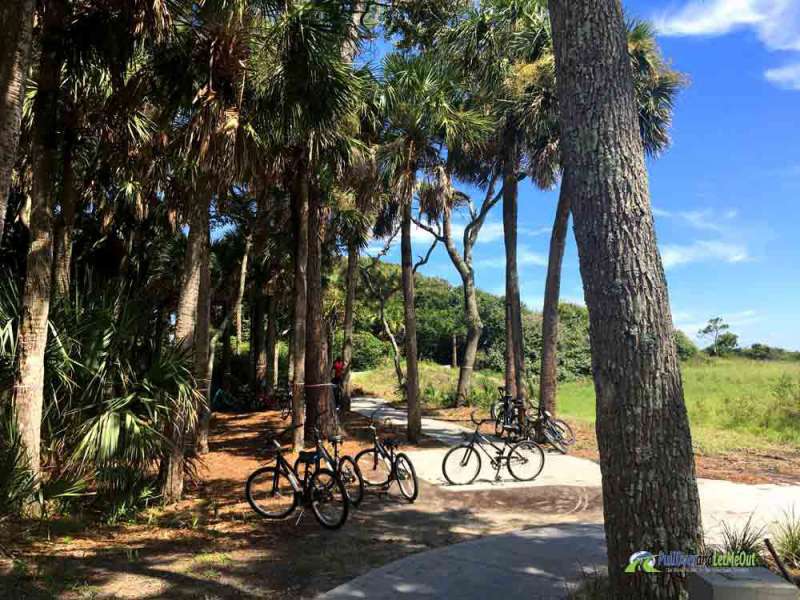 Rental bikes are the preferred mode of transportation on Kiawah Island.
A Golf Paradise
With year-round balmy weather, lush scenery and a tranquil setting, this is a golfer's paradise. Internationally recognized as a golf destination, there are nine world-class courses sprawling across and around Kiawah Island. Seven of these courses, including the Ocean Course, is owned and operated by The Kiawah Island Golf Resort and designed by some of golf's most elite course designers. The resort is also home to a golf academy affording golfers of all skill levels the chance to train and enhance their game in a state-of-the-art facility.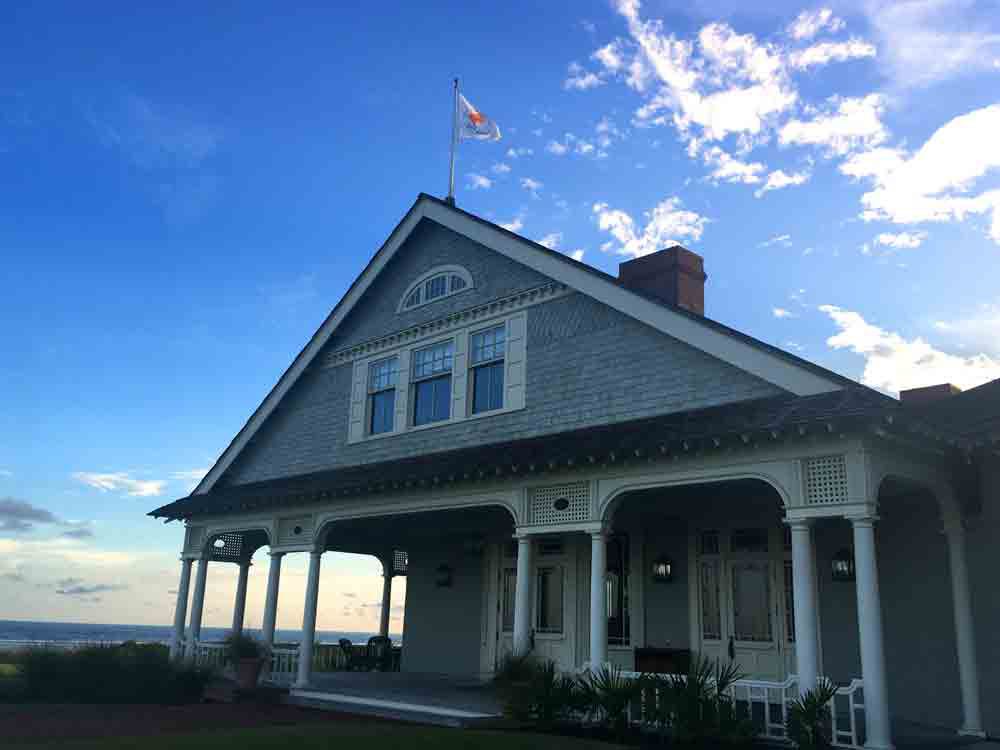 The Clubhouse at Kiawah Island's Ocean Course.
Dining on Kiawah
Finding good food on or near Kiawah Island is easy.
There are the clubhouse options the resort offers including The Atlantic Room, The Ryder Cup Bar, Cherrywood BBQ and Ale House, and Tomasso at Turtle Point. Other restaurants on the island such as The Night Heron Grill, West Beach Cantina, and Inn Side Scoop provide a fun mixture of culinary choices and styles. I enjoyed a reasonably priced tasty meal at Southern Kitchen which was an easy walk from where I was staying. Another great dining alternative is Charleston. The Holy City is a short drive away with its renowned restaurant scene beckoning.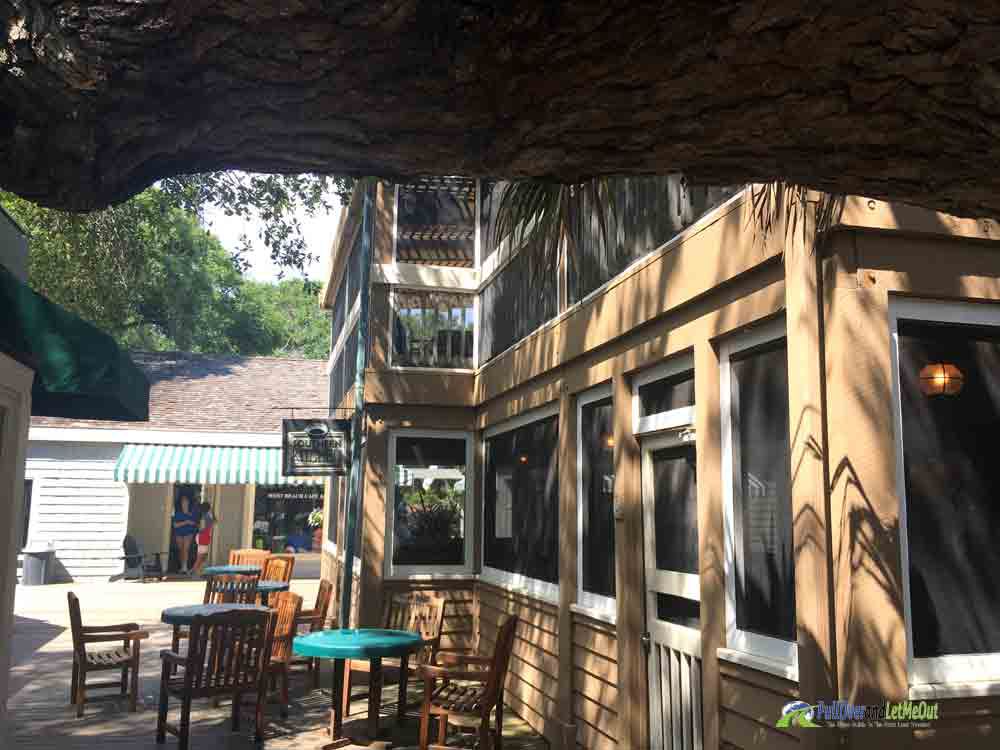 Southern Kitchen serves lowcountry classics, all-day breakfast and lunch.
Prepare For Gorgeous Sunsets!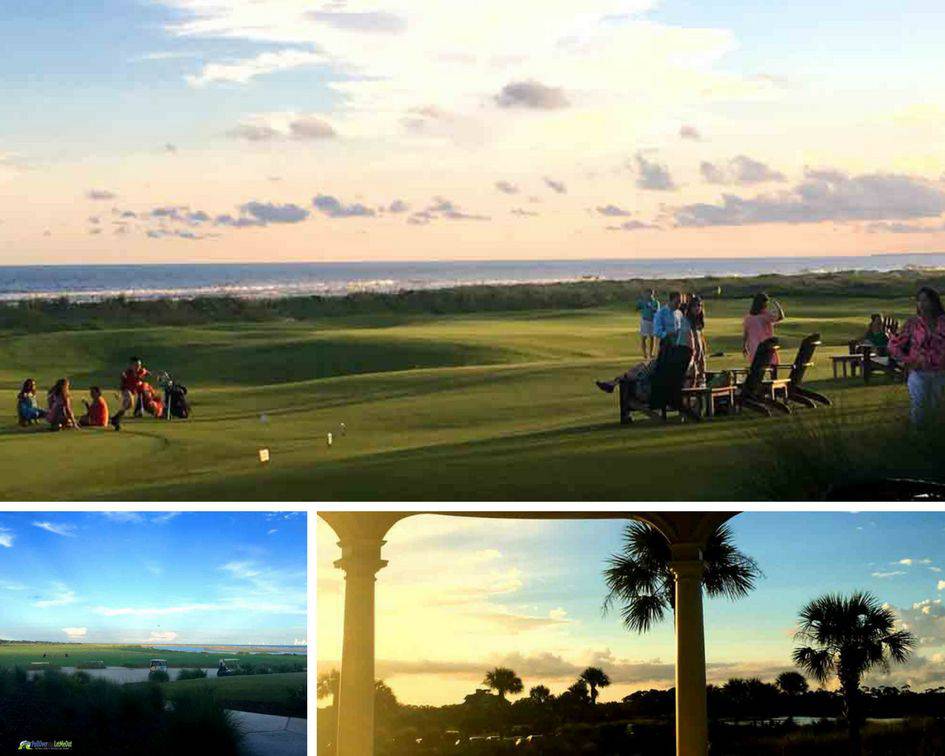 Yes, I realize the sun sets in the west and this is the Atlantic Ocean, but watching the last moments of daylight on Kiawah Island is breath taking. It's even more memorable if you watch the gloaming while sipping a cool beverage on the 18th hole at the Ocean Course Clubhouse. It's worth every penny you pay for the drink served with superior ambiance.
A First-Timer's Take-Away
The one thing I found most captivating about Kiawah Island is its natural beauty and the way the community has managed to control its growth while optimizing and maintaining the environment. The island is filled with gorgeous homes and rental properties yet they all blend beautifully with the setting. This is no tacky beach town, this is an island paradise.
Kiawah Island is a bit pricier than most South Carolina beaches and may even be a tad haughty compared to others but its natural beauty, wildlife, and laid-back atmosphere made this first-time visitor fall in love with the Lowcountry sea island gem.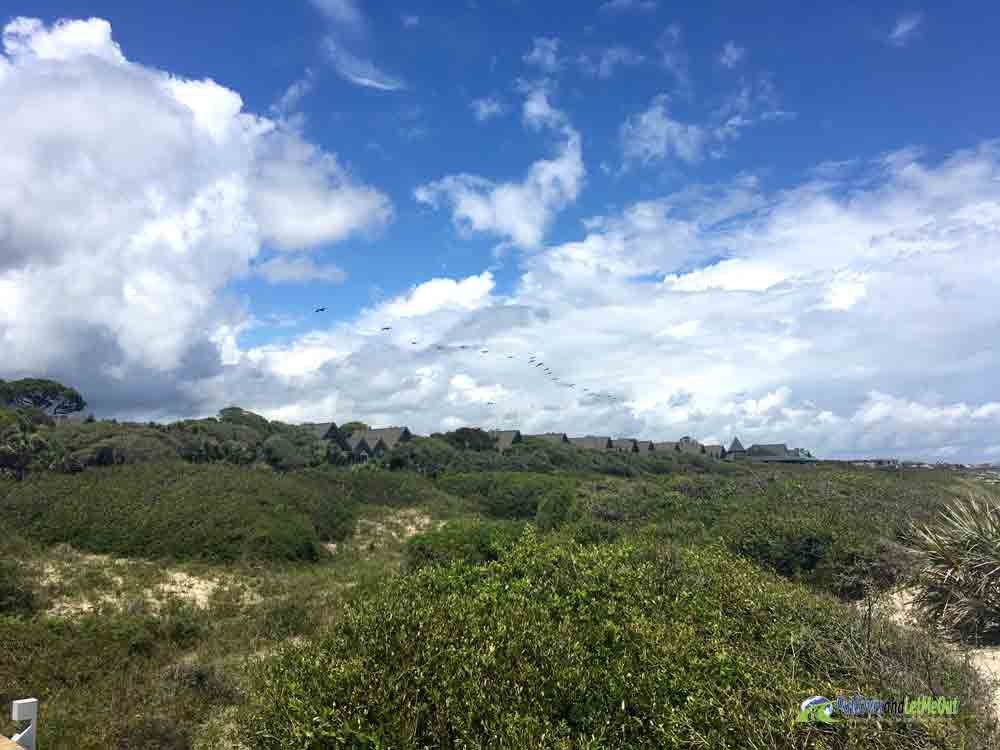 Have you visited Kiawah Island? Let me know how you liked it or what you think in the comments below. As always, Happy Travels!
IF YOU LIKE THIS POST, PIN IT FOR LATER!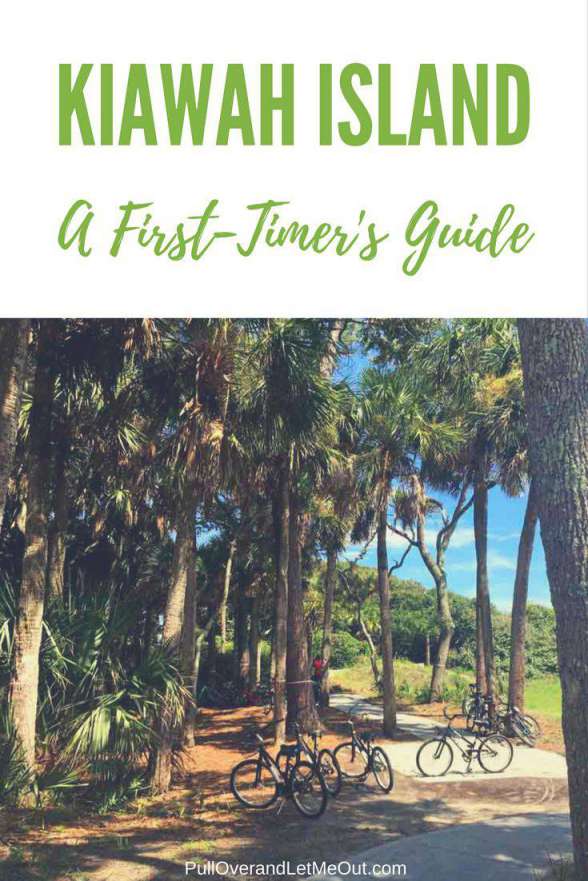 Save