The Longleaf Hotel on the north end of Dawson Street in Raleigh, North Carolina, is a breath of fresh air, albeit pine-scented, in the Oak City. What was once an utterly undistinguished way into the capital is once again, a recognizable and welcoming entrance. I was beyond excited to  get a look at the new hotel that's brightening the area while paying homage to its past and providing visitors and residents a new and unique choice of accommodation downtown.
Disclosure:
Many links you see on this site and within our trip planning tool are affiliate links. If you click through and make a purchase I'll get a small commission and it won't cost you any extra. On selected stories, for those hotel and car bookings made using our TravelingToGive™ tool we contribute 2.5% of gross hotel and car sales to Paws for Purple Hearts. So, thanks in advance for helping me keep bringing you the content you enjoy and at the same time, giving back to those who so bravely serve our country! #everytripmatters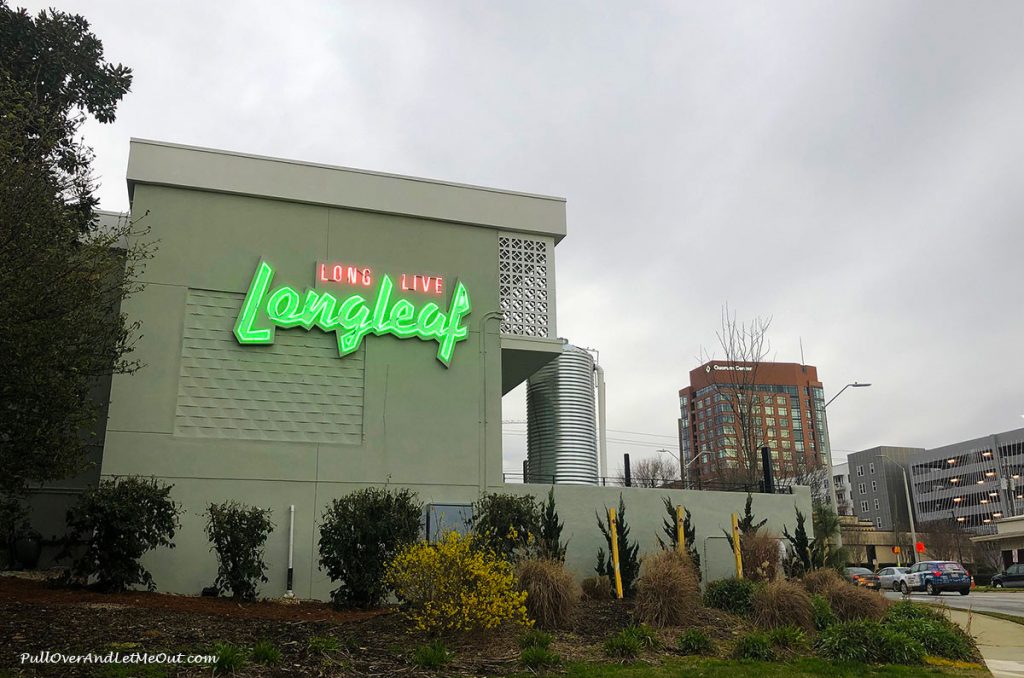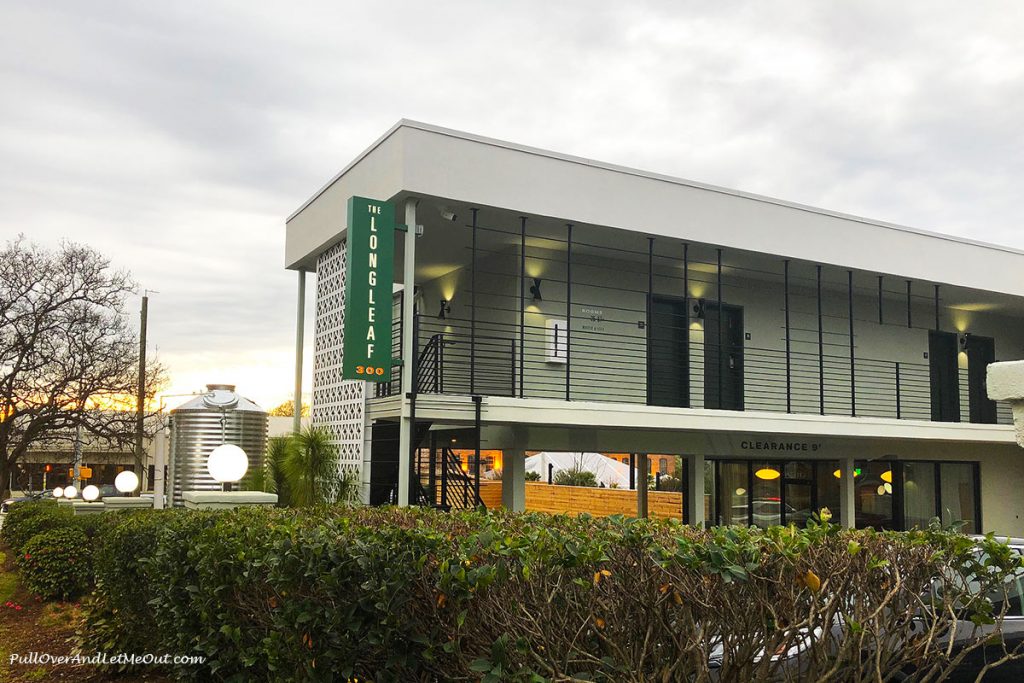 The Longleaf Hotel building made its appearance on the Raleigh landscape back in the 1960s. It began as a Travel Lodge. At the time, it was considered the height of style and travel convenience. The motor lodge offered guests a drive up and unpack experience featuring accessibility enhanced with sleek mid-century decorations and details. The motor inn served the area for decades, changing brands, and changing names over time. Ultimately, time and age took its toll and the hotel's luster was gone – its better days had passed. That is until the Longleaf team appeared giving the vintage hotel new life.
Rather than tearing down the old Travel Lodge and forever relegating it to the past, the Longleaf team transformed the old accommodations into a thoroughly modern hotel that reveres its mid-century beginnings.
The Longleaf Hotel incorporates elements from last century, such as eye-catching starshine decorative blocks, the front awning, and of course the parking spaces, all the while providing as they put it, "a nostalgic but modern tone."
They've succeeded maintaining the look of the early days while updating to suit today's travelers. I especially love how they've kept the appearance of a drive up but the doors are inside. As an occasional solo traveler, this is a safety must.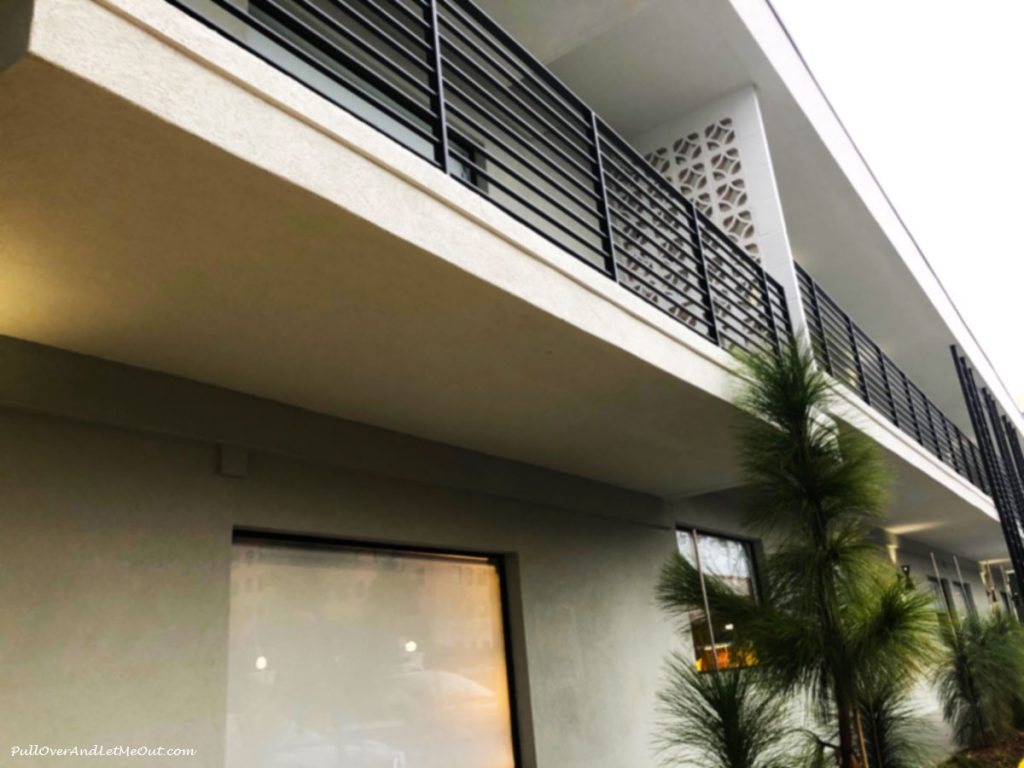 Check-in and check-out the rooms!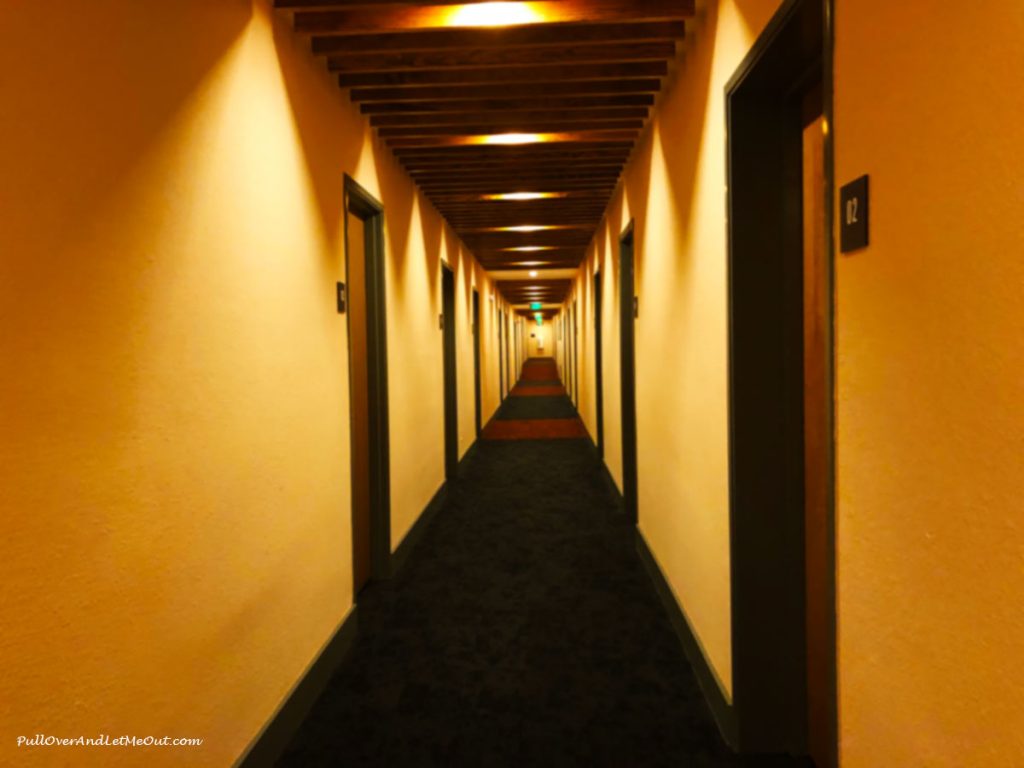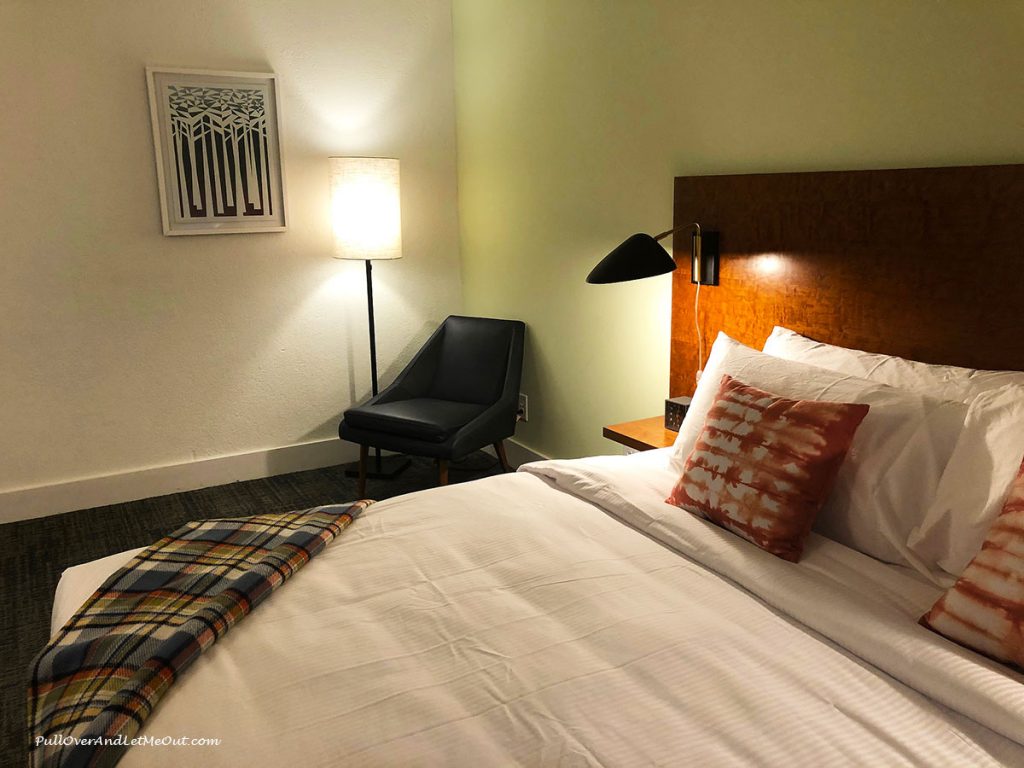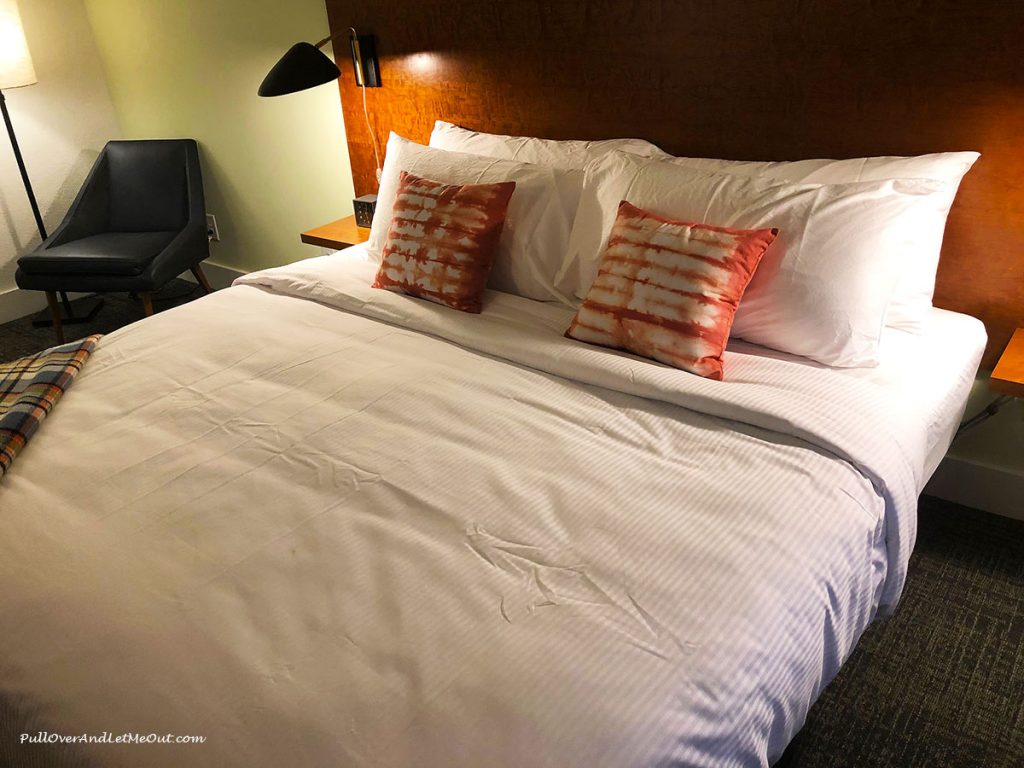 How do I describe the rooms?
My first thought is to call the decorating style, "Early Rob Petry." Yes, that's an archaic reference but seeing as the Dick Van Dyke Show was a hit when the original Travel Lodge was built, I'd say it's accurate. Comfortable beds, clean lines, classic fabrics and textures, and attention to details right down to the clock on the nightstand are the hallmark of these rooms. 
After a long day of travel or touring, enjoy freshening up in the bright cheerful bathroom and slip into a comfy tie-dye robe (also availalbe for sale). The Longleaf team has gone above and beyond to assure the little touches add up to a terrific stay by providing all the amenities with a fully modern retro-vibe.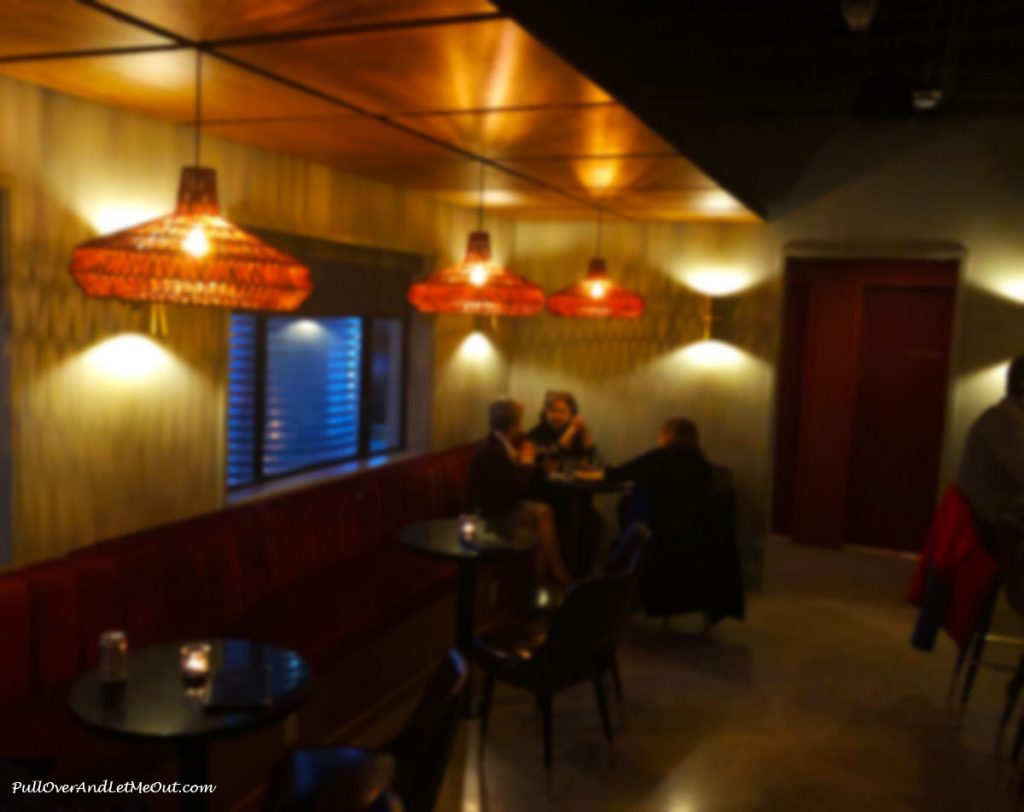 The Longleaf Lounge isn't just a perk for hotel guests, it's a gift to the city! This fun gathering space offers signature cocktails, mid-century inspired bar snacks, great conversation areas, and a terrific spot to kick back after a long day of traveling, sightseeing or working downtown.
Hospitality Director, Matt Fern, has carefully created a snack menu with a nod to the 1960s. In addition to the tasty southern snack food, he's worked hard stocking the bar with outstanding local brews, superior wines, and classic cocktails. The upscale yet comfortable setting is a great hangout for visitors and locals.
I musn't overlook the patio. The patio is an alluring focal point. Laid out to maximize the outdoor area with seating and mingling space, the patio is decorated with fire pits and steel silos accentuating the spacious gathering area along Dawson Street. It's inviting and destined to become a favorite spot for socializing.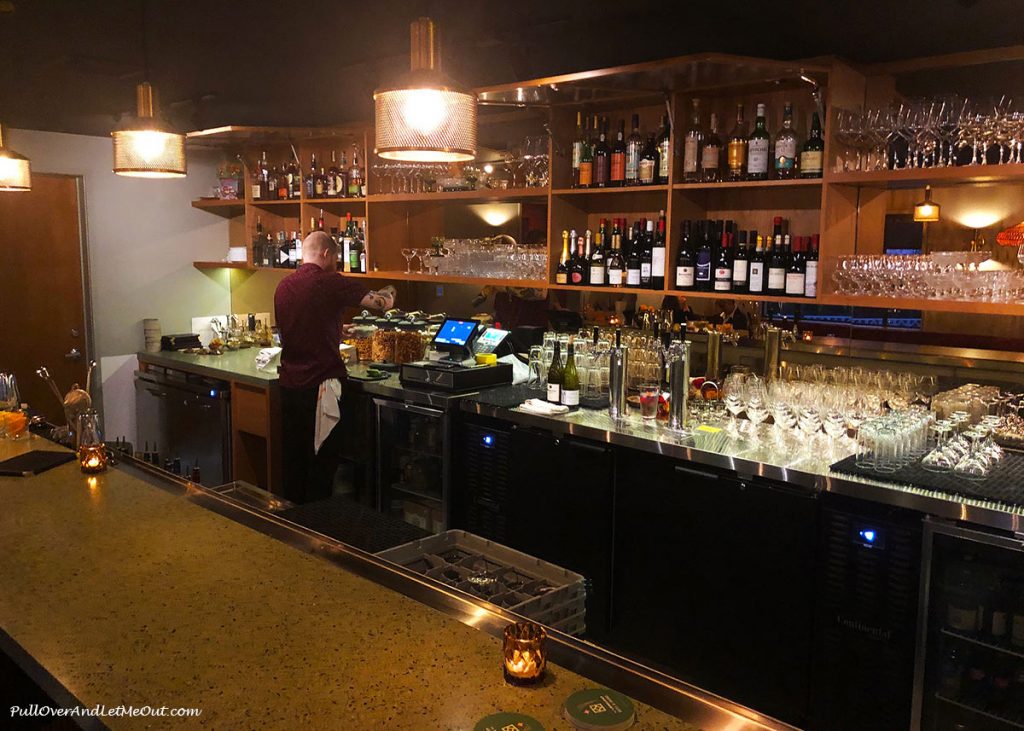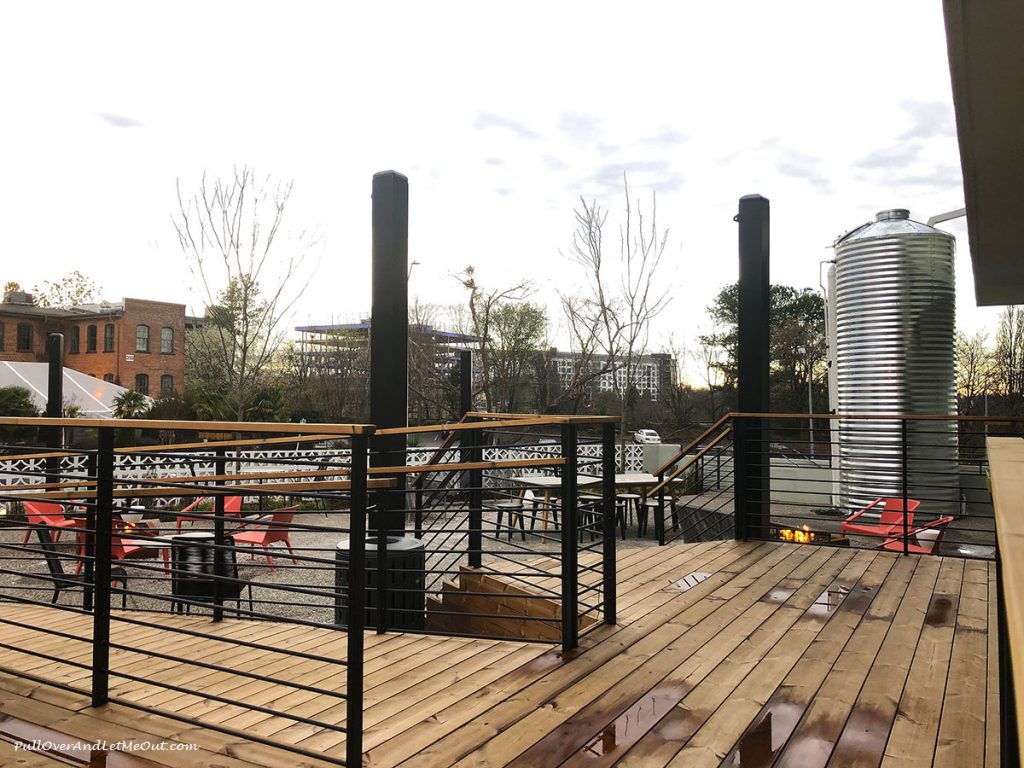 Perks of Staying at The Longleaf Hotel
One of the biggest perks of staying at the Longleaf Hotel must be the location. Longleaf is within walking distance of some of the city's top destinations such as the State Legislature, State Capitol, The North Carolina Museum of History, The North Carolina Museum of Natural Sciences and several downtown restaurants. Longleaf is also footsteps across the street from popular event venue, Melrose Knitting Mill. What could be more convenient for a wedding guest?
In addition to the convenient location, fun 1960s décor, awesome lounge, and unique atmosphere, the price is good. I priced a couple rooms and Longleaf is competitive, if not less expensive than most downtown hotels depending upon the night and room type. However, what I absolutely love most about this hotel is it's unabashedly different. In a world of chain hotels where if you've stayed in one you've stayed in them all, the Longleaf Hotel in Raleigh, North Carolina is out-of-the-ordinary and a welcomed addition to the Raleigh skyline.
The Longleaf Hotel
300 N. Dawson Street
Raleigh, North Carolina  27603
Although my visit to The Longleaf Hotel was a hosted media event, all opinions are honest and my own. 
How does TravelingToGive™ work?
It makes it simple to plan your trip and to give back with each trip. We've pre-filled the destination from the article and if there are multiple places mentioned in the article, we've put the one that is best used as your base to see all of the places mentioned.
Just select I'M STAYING and enter the travel dates and hit SEARCH. It automatically uses the first place in the article.
For a multi-day trip, if you stay near that location, you should be able to use it as your base.
If available, you'll also see B&Bs, condos, apartments and private homes in the results.
Can I change the destination? Yes, it is super simple. Just click on the pencil and enter the name of any place mentioned in the story. Or you can enter any address or even the name of a company if you are mixing business and pleasure.
Just click I'M DRIVING and you can see how long it will take, get driving directions and even rent a car if you need one.
Yes, we guarantee the best published rates on hotels. No more spending hours looking for the best price. Click on the link for BEST RATE 110% GUARANTEE for details.
Can I earn frequent traveler points?
On hotel bookings, this is up to the hotel chain. Once you make your booking and have received your confirmation, call your hotel loyalty number and ask them to enter your number in the record. Or you can ask at the hotel when you check in.
On car rental or air bookings, the system will prompt you for your number and it will be in your booking with the travel provider.
I have a charity that I would like to benefit with my travel. Can I do that?
Yes, we realize that while the charity we have selected may not resonate with everyone.


If you want to sign up for your own tool, either as an individual, a company or a non-profit, click on the link below to register for your own tool. It is free and it only takes minutes.
Hey pinners, save this for pinning after your trip
After you get back from your trip, please use these images to post to social media or post your own photos.  Please tag us on your post #pulloverandletmeout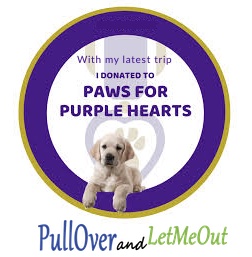 More Stories You'll Enjoy!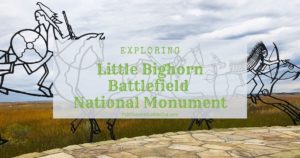 An awe-inspiring tribute to the clash of cultures and Battle of Little Bighorn fought along the bluffs and ridges of south-central Montana in 1876.
Read More »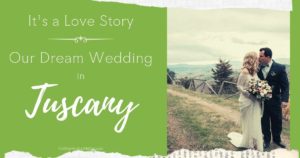 A Guest Post by Kristen Baughman Warrenton, North Carolina I'm so excited to share this story with you! When Kristen told me
Read More »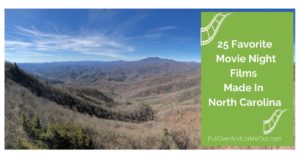 Take a trip to North Carolina on movie night with these favorite films made in the Tarheel State.
Read More »