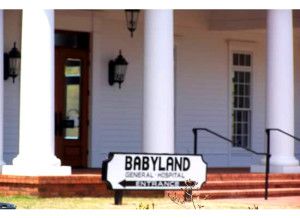 Babyland General Hospital in Cleveland, Georgia is a place I visited out of love. It was the one thing my mother wanted to do when she visited me when I was living in Atlanta. Being a good daughter, I drove her to Cleveland to see the Magical Cabbage Patch.
If you aren't familiar with Babyland General Hospital – it's the birthplace of the Cabbage Patch Doll. It's here creator Xavier Roberts built his hospital dedicated to finding permanent homes for all the babies and kids from the Cabbage Patch. It's also the only place in the world you can witness the birth of a Cabbage Patch baby.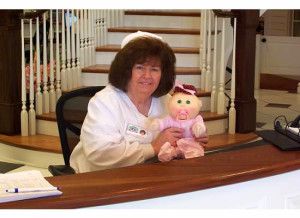 The minute you enter the Southern Style hospital you're greeted by cast members dressed as medical staff. Nurses direct you towards the nursery where visitors can view the thousands of dolls waiting for forever families.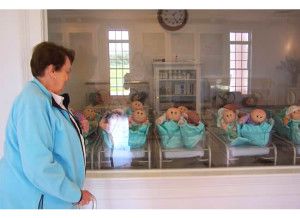 Big excitement ensues when a new birth is announced by the delivery room "doctor."
Located in the scenic mountains of North Georgia, the hospital is a virtual toy land. In fact, it was voted one of the Travel Channel's Top 10 Toylands.
It's a fun place to spend a few hours, but I must admit I was glad we left the boys at home. This was definitely a "mother-daughter" trip.
Admission to the hospital is free, but come prepared. You may decide to take an Oath of Adoption and bring a precious baby home with you.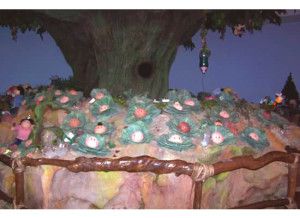 Babyland General Hospital
300 N.O.K. Drive
Cleveland, GA 30528 706-865-2171
Visiting Hours: Monday – Saturday 9-5 EST Sunday 10 – 5 EST
Closed Major Holidays – Call ahead to confirm visiting hours
Side note: I have my Cabbage Patch Doll from the 1980's. Jonas Mitchell is still with me, though I can't find his pacifier.  Oh, and my mother had a great time!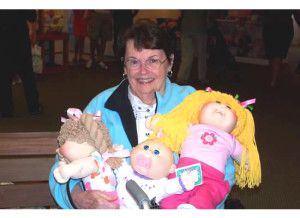 If you like this please share it with your friends.  And as always, Happy Travels!