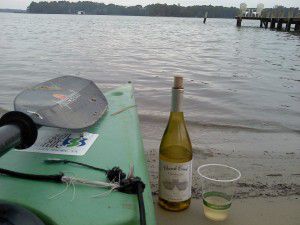 I have found the most unusual winery tour.  SouthEast Expeditions on Virginia's Eastern Shore combines a water adventure with the refinement of a wine-tasting to create this one-of-a-kind outdoor expedition.
I wrote about the tour for Examiner.com but wanted to share it with you all here at Pull Over and Let Me Out.
"Paddle Your Glass Off" is the motto atSouthEast Expeditions.

Located approximately four hours north of the Triangle in Cape Charles, Virginia, Southeast offers a one of a kind winery experience. The expedition combines a kayak trip and a winery tour creating a union like no other outdoor adventure.

As Margaret Van Clief of Southeast Expeditions puts it, "The kayak winery tour is a relaxing afternoon for the adventurous outdoors man and the lazy wine drinker."

It started several years ago when a couple friends who owned very different businesses came together and blended the two. One was the owner of a kayaking company the other owned a winery.

They asked the question, "What could be better than a beautiful day of paddling on the Chesapeake Bay?"

Their answer, "How about a stop along the way for a glass of award winning Merlot?"

Today they run one of the most popular tours in the region.

The excursion begins in the remote fishing village of Bayford on Nassawadox Creek northeast of Newport News. The calm waters are ideal for experienced kayakers and those who have never paddled before. There are no rocks or rapids but plenty of beautiful wildlife and scenery along the way.

Kayakers paddle the Nassawadox to Church Creek where they find perched on the banks Chatham Vineyards at historic Chatham Farm.

more: https://www.examiner.com/article/southeast-expeditions-combines-a-kayak-adventure-with-a-wine-tasting
If you enjoy this, please share it with your friends. And as always Happy Travels!