At Pull Over and Let Me Out (the Site, Blog, or AMJ Writes, LLC) we highly regard your privacy and security and are committed to protecting it. The purpose of this Privacy Policy is to apprise you of the terms and to let you know what personally identifiable information we may collect and how, if at all, it may be used.
What Personally Identifiable Information (PII) We Collect and How It Is Used?
We may gather individual data from you, for example, your name or email address when you intentionally submit data to the Site by leaving a remark, entering a contest, or signing up for a newsletter.
Information we collect from other sources
We may get data about you from different sources, for example on the off chance that you decide to connect your Instagram, Twitter, Facebook, or potentially Google accounts in the site field while commenting. The Site uses Internet-based social media commenting systems. So, if you decide to remark on a blog post which has been shared via web-based social networking media, your comment may appear on the blog entry also.
Automatically Collected Information
When you visit Pull Over and Let Me Out, we will log your IP address, device type, operating system, pages you viewed, and the dates/times when you arrived on the website. We may likewise gather data about moves you make when utilizing the blog, for example any links you clicked while visiting Pull Over and Let Me Out.
How May User Information Be Used?
Pull Over and Let Me Out uses login information, including, but not limited to, IP addresses, ISPs, and browser types, to:
• analyze trends
• administer the Site
• track a user's movement
• use, and gather broad demographic information to better customize the site
• send promotional materials such as newsletters, each email will provide opt-out information
• send administrative communications such as confirmation emails, policy updates, security alerts
• reply to comments or correspondence
• measure and track advertising
• investigate, deter, and prevent illegal activity or unauthorized use of the Site
Pull Over and Let Me Out has entered and will continue to enter partnerships and other affiliations with several third-party vendors. Moreover, several of those vendors are used to service multiple facets of the Site. Each third-party specialist organization adheres to its own respective privacy policy.
Current Third-Party Relationships
Google Analytics – This service tracks Site usage providing information such as referring websites and user behavior while using the Site. Google Analytics may capture the IP address of the user, but no other personal information is collected.
MailerLite – MailerLite is an email marketing system used by the Site in order to send email updates and newsletters. Pull Over and Let Me Out stores your name and email address with the purpose of sending such communications. For further information please refer to MailerLite's privacy policy.
Affiliate Program Participation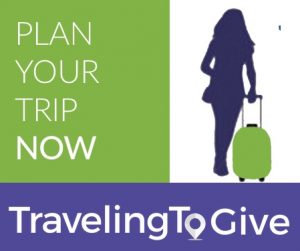 Disclosure:
Many of the links you see on this site and within our trip planning tool are affiliate links. If you click through and make a purchase, I'll get a small commission and it won't cost you any extra. On selected stories, for those hotel and car bookings made using our TravelingToGive™ tool we contribute 2.5% of gross hotel and car sales to Paws for Purple Hearts. So, thanks in advance for helping me keep bringing you the content you enjoy and, at the same time, giving back to those who so bravely serve our country! #everytripmatters
Pull Over and Let Me Out may receive compensation for recommendations made in reference to the products or services on this website. Compensation may be in the form of money, services, or complimentary products and could exist without any action from a website visitor.
Should you purchase a product or service that was recommended by Pull Over and Let Me Out, it is understood that some form of compensation may be made to the Site owner. For example, if you click on an affiliate link at Pull Over and Let Me Out and then make a purchase of the recommended product or service, the Site owner may receive compensation.
This Compensation Disclosure has been provided for your protection and to fully disclose any relationship between the Site product or service recommendations and the owners of those products or services.
Amazon Affiliate Disclosure Notice:
Pull Over And Let Me Out is a participant in the Amazon Services LLC Associates Program, an affiliate advertising program designed to provide a means for website owners to earn advertising fees by advertising and linking to amazon.com, endless.com, smallparts.com, myhabit.com, and any other website that may be affiliated with Amazon Service LLC Associates Program.
Cookies are used for an array of reasons. We use Cookies to obtain information about your preferences. We also use Cookies for security purposes to protect our visitors. For example, if an Authorized Customer is logged on and the site is unused for more than 10 minutes, we will automatically log the Authorized Customer off.
Pull Over and Let Me Out uses cookies to store visitors' preferences, record user-specific information on what pages users access or visit, ensure that visitors are not repeatedly sent the same banner ads, customize Site content based on visitors' browser type or other information that the visitor sends. Cookies may also be used by third-party services, such as Google Analytics, as described herein.
Users may, at any time, prevent the setting of cookies, by the Website, by using a corresponding setting of your internet browser and may thus permanently deny the setting of cookies. Furthermore, already set cookies may be deleted at any time via an Internet browser or other software programs. This is possible in all popular Internet browsers. However, if users deactivate the setting of cookies in your Internet browser, not all functions of our Site may be entirely usable.
The Site may use third-party display advertising companies to serve content and advertisements when you visit this Site, which may use cookies, as previously noted above. From time to time, the Website may engage in remarketing efforts with third-party companies, such as Google, Facebook, or Instagram, in order to market the Website. These companies use cookies to serve ads based on someone's past visits to the Website.
On Pull Over and Let Me Out, you may subscribe to our newsletter, which may be used for advertising purposes. All newsletters sent may contain tracking pixels. The pixel is embedded in emails and allows an analysis of the success of online marketing campaigns.
Because of these tracking pixels, we may see if and when you open an email and which links within the email you click. Also, this allows Pull Over and Let Me Out to adapt and adjust the content of future newsletters to the interests of the user. This behavior will not be passed on to third parties.
Rights Pertaining to Your Personal Information
Opt-Out – You have the right to opt-out of all future communications by following the "unsubscribe" links in emails you receive. You may also communicate your wish to unsubscribe directly to support@PullOverAndLetMeOut.com
Access – You may access the personal information we have by submitting a request to support@PullOverAndLetMeOut.com
Change – You may change the information we have about you by submitting a request to support@PullOverAndLetMeOut.com
Erase – In certain circumstances, you may wish for us to erase your personal information entirely. Submit a request to support@PullOverAndLetMeOut.com Please understand, we may need to retain certain information for recordkeeping purposes or to complete transactions, or when required by law.
Pull Over and Let Me Out does not knowingly collect any personally identifiable information from children under the age of 16. If a parent or guardian believes that the Site has personally identifiable information of a child under the age of 16 in its database, please contact us immediately at support@PullOverAndLetMeOut.com and we will use our best efforts to promptly remove such information from our records.
Do NOT submit sensitive personal information to the Site. This includes your social security number, information regarding race or ethnic origin, political opinions, religious beliefs, health information, criminal background, or trade union memberships. If you elect to submit such information to us, it will be subject to this Privacy Policy.
If you have any questions regarding this Privacy Policy, please contact Pull Over and Let Me Out at support@PullOverAndLetMeOut.com
Privacy Policy last updated August 3, 2020
Here are a few posts you'll love!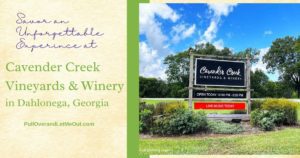 Cavender Creek Vineyards & Winery is a thriving and welcoming wine destination perfect for wine enthusiasts and anyone seeking a scenic escape from the daily grind. Travel there with PullOverandLetMeOut to discover this charming winery in the Appalachian foothills.
Read More »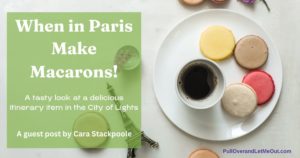 Guest blogger Cara Stackpoole shares a delectable itinerary item in the City of Lights. Discover why making macarons is a memorable experience.
Read More »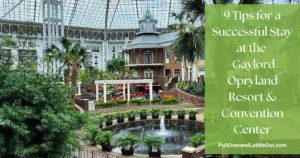 The Gaylord Opryland Resort & Convention Center in Nashville is a well-known attraction in the city. PullOverandLetMeOut looks at some smart hints for making the most of a stay at the famous hotel.
Read More »