When I met Chris Creech, co-owner of The Glass Jug Beer Lab at a Durham media event, I knew I had to see this for myself. The Glass Jug Beer Lab in Durham, North Carolina is a small-batch craft brewery that takes the science of brewing to an entirely new level. Located in an unassuming setting in the backyard of the Research Triangle Park, this combination brewery, bottle shop, taproom, and growler filling station is a pleasant gathering place and one-of-a-kind watering hole. We spent a couple of hours on a Saturday afternoon touring and sampling the beer at this fun neighborhood brewery.
Arriving at The Glass Jug Beer Lab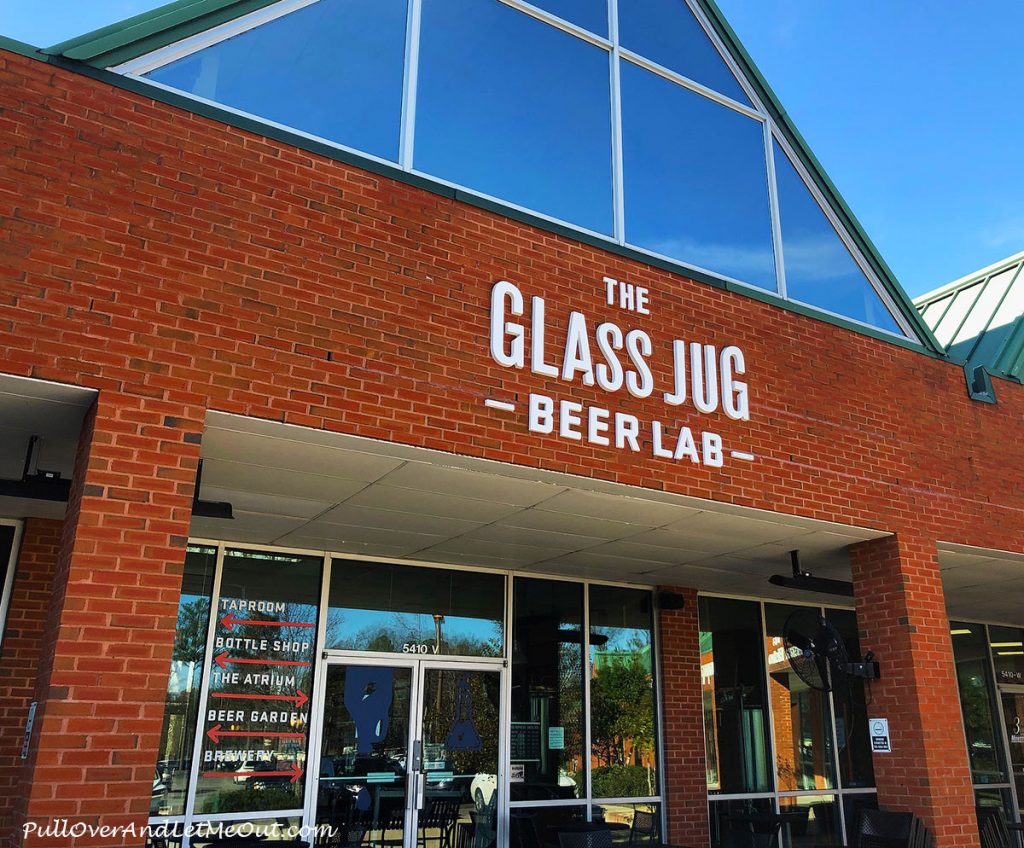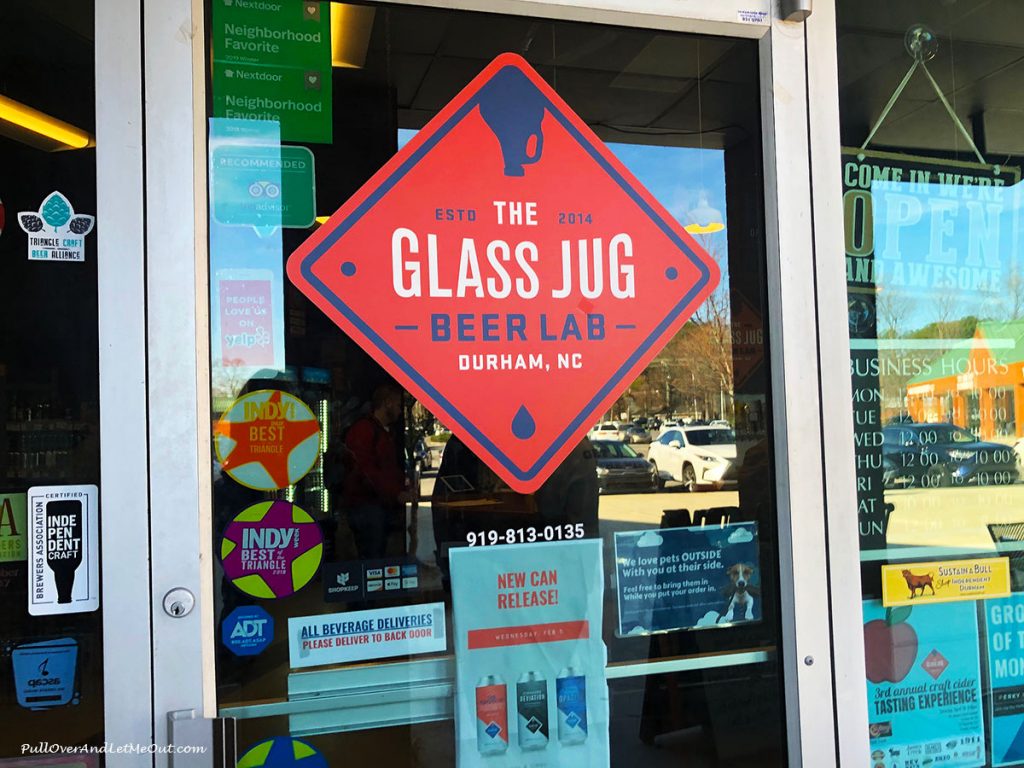 The location is somewhat off-the-beaten-path at the south end of Durham. I'm not sure what I expected but this doesn't look like a typical brewery. It's in a strip mall. However, the exterior belies the bold craft beer scene we find inside. Once we step in the door we discover it's a bustling beehive of activity.
Large screen televisions display college basketball games, this is North Carolina, after all, and there's the buzz of conversations as patrons gather around tables in the atrium or occupy stools at the bar in the taproom. It's small and cozy but there's a definite neighborhood bar vibe that's welcoming.
Disclosure:
Many of the links you see on this site and within our trip planning tool are affiliate links. If you click through and make a purchase, I'll get a small commission and it won't cost you any extra. On selected stories, for those hotel and car bookings made using our TravelingToGive™ tool we contribute 2.5% of gross hotel and car sales to Paws for Purple Hearts. So, thanks in advance for helping me keep bringing you the content you enjoy and, at the same time, giving back to those who so bravely serve our country! #everytripmatters
We meet our tour group in the atrium along with our guide and Glass Jug Co-owner, Chris Creech. Creech begins the tour by giving us the backstory of this micro-brewery which was established in 2014. The Glass Jug began as a retail beer and wine store with a few taps and evolved into its current iteration which is on target to brew close to 400 barrels of beer in 2020.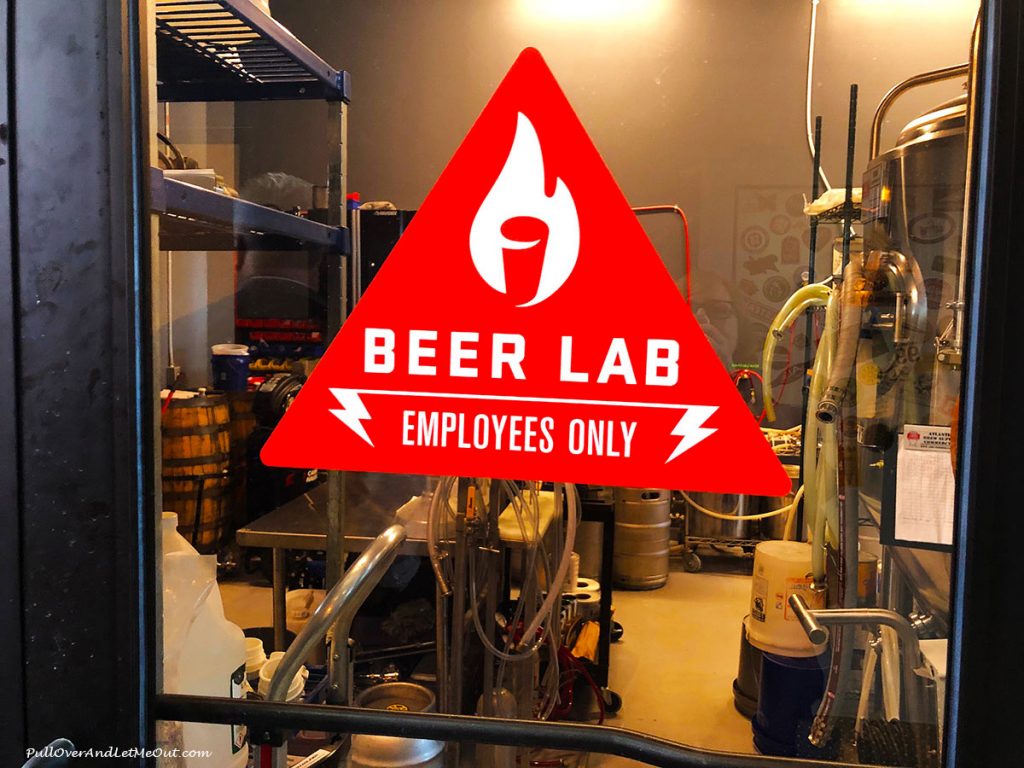 The tour currently is offered once a month and lasts about 45 minutes. Tour takers get a personalized look at the outdoor patio area, the grain shed, the beer lab, and of course they do some sampling. Creech gives an overview of the brewing process and the science behind their beverages. His passion for brewing is evident and his enthusiasm contagious as he details their brewing process and guides us through the science of beer-making.
It's fascinating listening to him share how they experiment to come up with unique blends and flavors that have won multiple awards. The Beer Lab is appropriately named due to the experimental nature of their approach to brewing. The small size of the brewery leads to small batches and gives the beer makers license to create unique one-off flavors. As Creech states, they don't have a "Flag Ship" beer at The Glass Jug but if there's one you like they're happy to try and recreate it for you.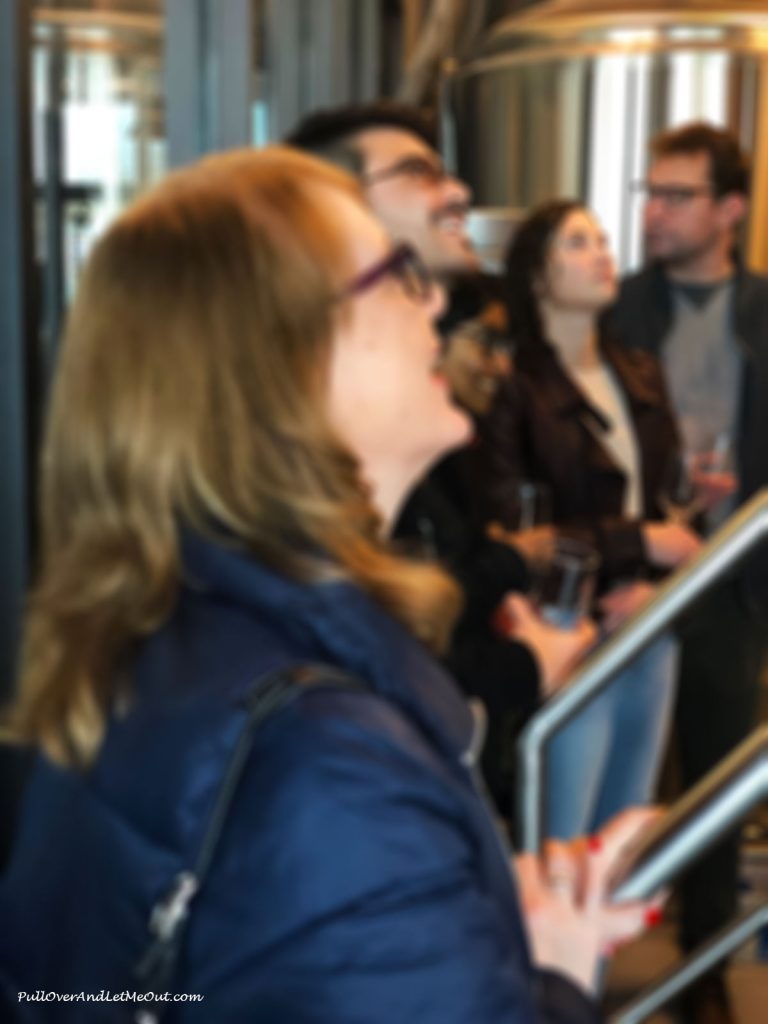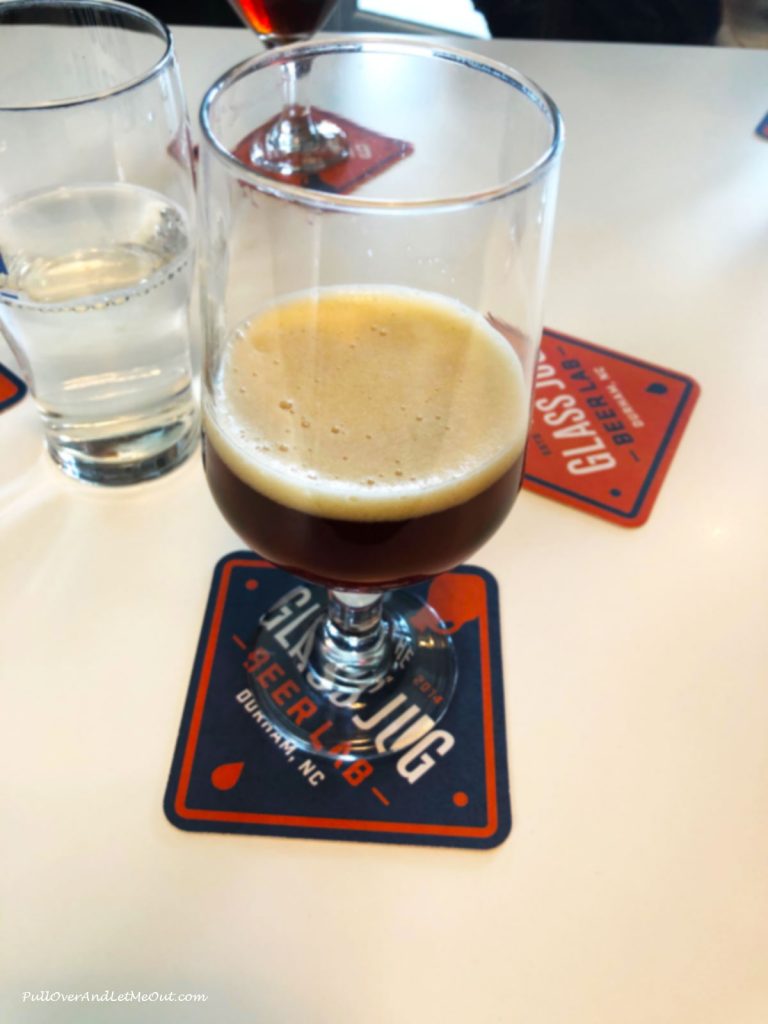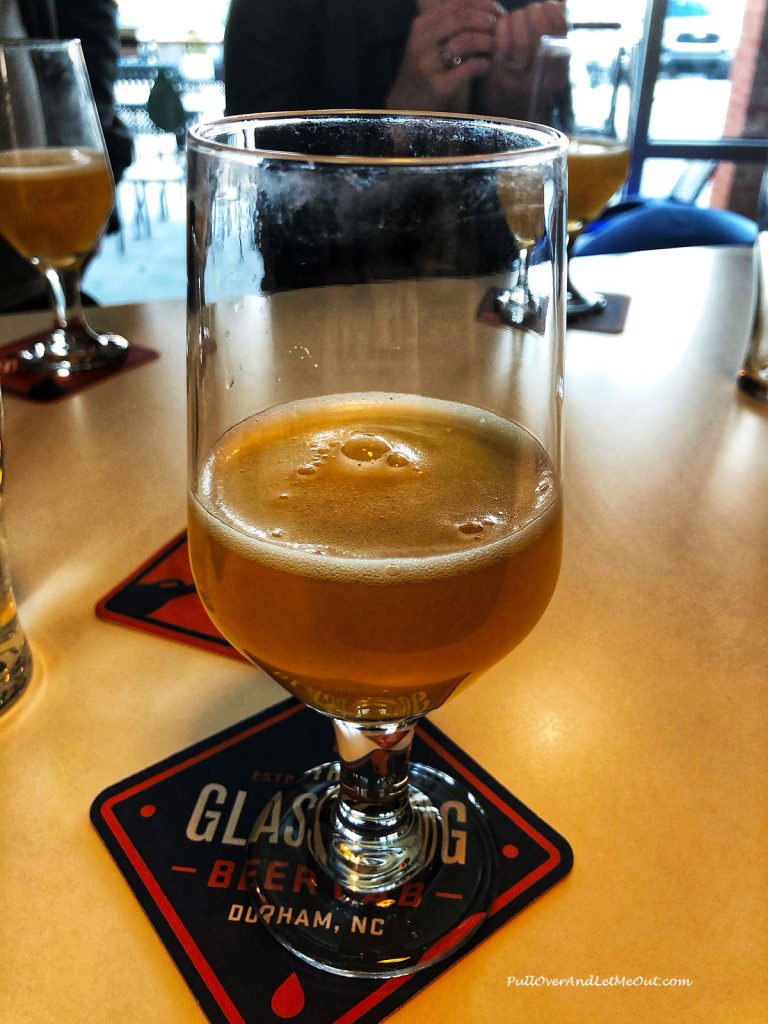 Sampling the beer is a highlight of the tour. The beer lab functions as a true laboratory where quality control and procedures are strictly adhered to in order to assure top-quality craft beer is the result. Because of the limited space and in order to maximize ingredients, the beer list is an ever-changing, ever-evolving mixture of local brewing at its finest.
For our tour, we sample three Glass Jug beers; Resolution Solution which is a light lager, followed by Hunting Wabbits a carrot cake inspired Belgian Dubble, and finally a New England IPA called Citra Mosaic Opacity. The samples give tour takers the opportunity to fully experience the flavors resulting from the scientific approach to brewing embraced by The Glass Jug. The beers are delicious.
The Glass Jug Beer Lab operates a 3- barrel brewing system and they can their beer 4 times a year utilizing a mobile canning service. That means, most of the beer brewed is served on tap at the brewery. There are 24 rotating taps and a whopping 80% of the beer made at The Glass Jug is sold at the brewery. Consequently, The Glass Jug has a neighborhood bar feel where locals come and try the latest creation on tap.
In addition to its regular brewery hours, The Glass Jug Beer Lab has a calendar filled with events, tastings, new releases, and opportunities to socialize. The warmer weather brings music and food trucks for outdoor entertainment in the beer garden out back. I can't help thinking this is the ideal spot to relax after a long day at work or for visitors to Durham and the Research Triangle Park area to escape the crowded tourist spots and unwind.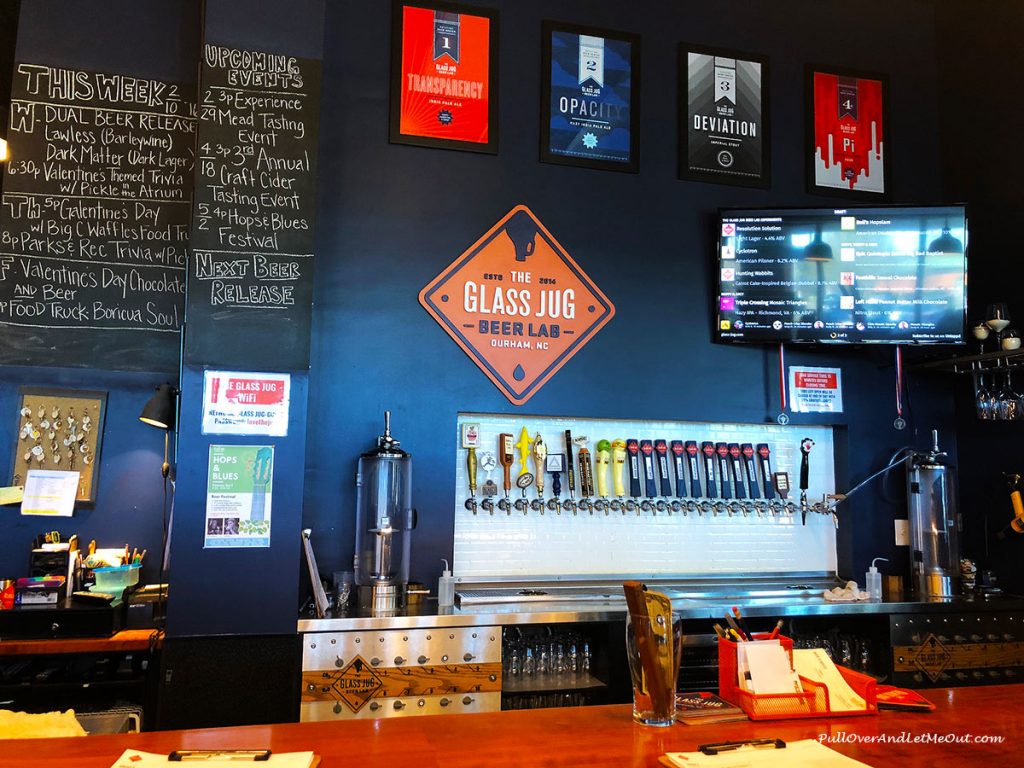 The Glass Jug Beer Lab in Durham, North Carolina may be small, but its size is what gives it character. It's a thriving micro-brewery serving small batch brews that are fun to try out. Each offering is unique and lovingly created.
Co-owner Chris Creech gives a tour that's more of a beer education paired with just the right amount of science and sampling to leave visitors wanting more. In fact, we did want more and that's why we stopped in the bottle shop to make a purchase before departing.
The Glass Jug Beer Lab
5410 HWY 55
Suite V, Durham, NC  27713
919-813-0135
Although my tour was hosted by The Glass Jug Beer Lab, all opinions are honest and my own.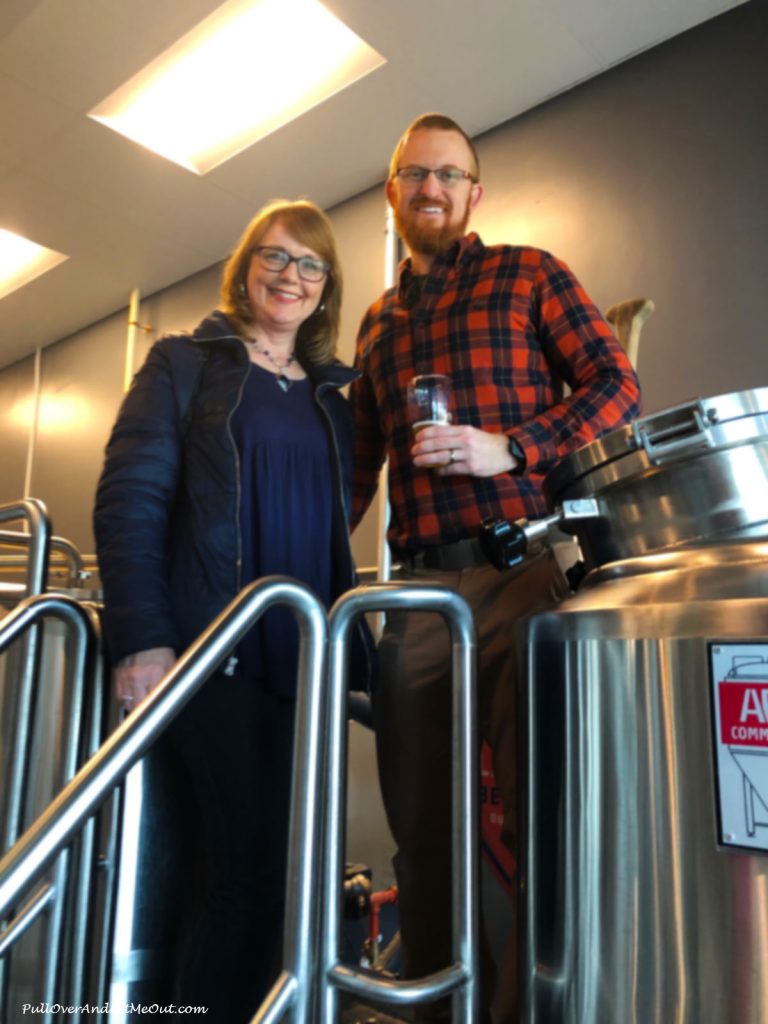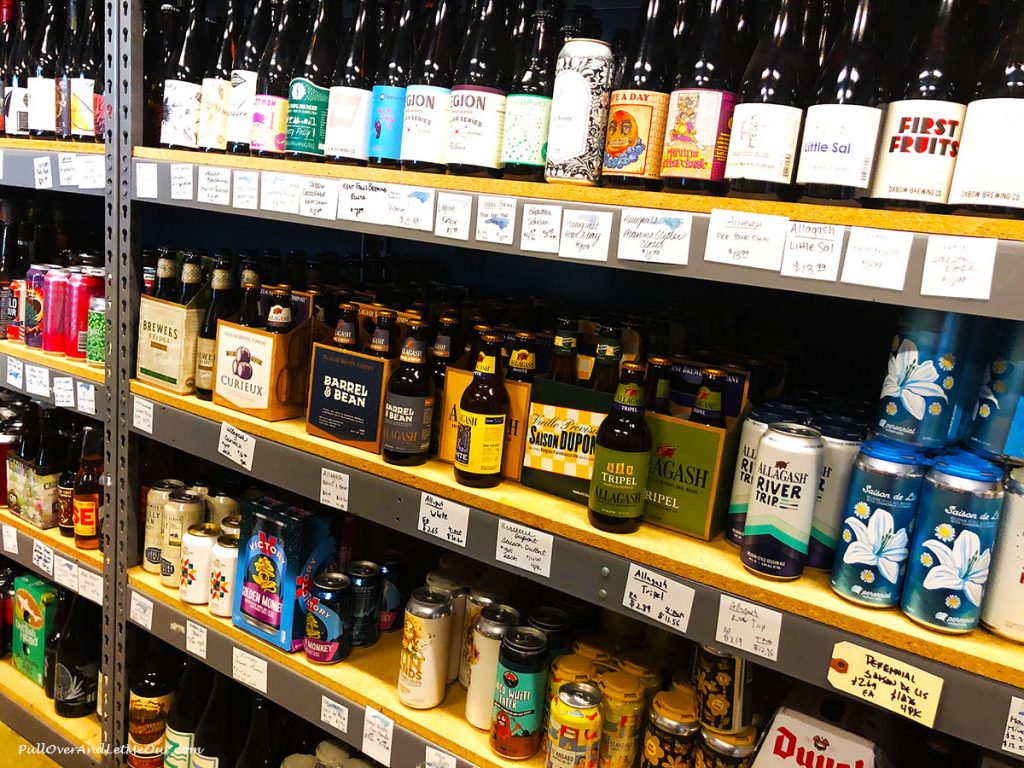 Watch the video to see more of my visit to The Glass Jug Beer Lab in Durham, NC
Are you ready to visit The Glass Jug Beer Lab?
Pin this to plan your visit!
More stories you'll enjoy reading!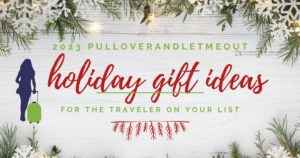 Travel with PullOverandLetMeOut to discover 2023's hottest holiday gift ideas for the traveler on your shopping list.
Read More »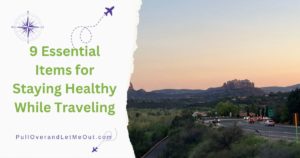 Make a healthy trip a priority. Travel with PullOverandLetMeOut to discover 9 essential items for staying healthy while traveling.
Read More »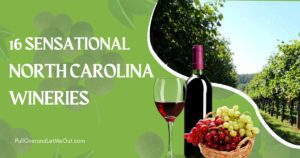 The wine world is taking notice of North Carolina wine. Join PullOverandLetMeOut as we explore 16 incredible wineries in the Tar Heel State that you won't want to miss.
Read More »