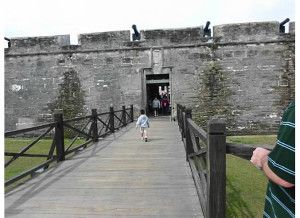 Places like Charleston, Savannah and New Orleans immediately come to mind when one thinks of haunted American cities. However St. Augustine, Florida mustn't be overlooked. This old city is one of the most haunted in the country and with the preponderance and variety of ghost tours available, it's a popular destination for ghost hunters.
Ghost tours are filled with historic facts and dark tales of days gone by. They're a wonderful way to see a city and if you get a talented tour guide a ghost tour is highly entertaining. You may even get lucky and have a ghostly encounter.
Here are a few of St. Augustine's most popular haunted tours. The majority are family friendly. You'll want to be sure your camera batteries are charged. Digital camera photography is encouraged. Many spirits unseen by the human eye appear in photographs.
A Ghostly Experience  Walking Tour presented by Ghost Tours of St. Augustine.
This tour was voted #1 in the state of Florida and has been featured on both the Discovery and Travel Channels. My husband, son and I took the walking tour and had a great time. We also captured some mysterious orbs in several photographs. The tour is an easy walk and filled with history and fun facts. They also offer a riding tour, "The Trolly of the Doomed" and "Layers of History and Haunts" at Potters Wax Museum. Each is reasonably priced.
Ghosts and Gravestones St. Augustine Fright-seeing Tour
As their website states, "this tour may not be suitable for children under 13 years of age and is not recommended for children under the age of 4." This trolly tour takes in the scarey sights and includes a visit to the old jail which is considered to be the most haunted place in the city. Save a couple bucks and order your tickets on line.
Yes, that's right I said "Ghost Hearse". As if ghost tours aren't frightening enough this one takes things a step further. Travel the streets of what many consider America's most haunted city in a vintage hearse. You'll be regaled with chilling tales of deceased residents who appear around town to this day.
The Ghost Hearse tour guides not only know the history and lore of St. Augustine, they're also genuine paranormal investigators who take ghost hunting seriously. If you don't frighten easily this is a thrilling experience. Tour begins evenings at 8:30 and lasts from 75 to 90 minutes.
St. Augustine has been around since the 16th century and has endured war, disease and occupation. The ancient city's wealth of history has left behind many a tale as well as some spirits who have never left at all. If you love a good ghost story – St. Augustine has many to tell.
If you like this please share this with your friends.  As always, Happy Travels!