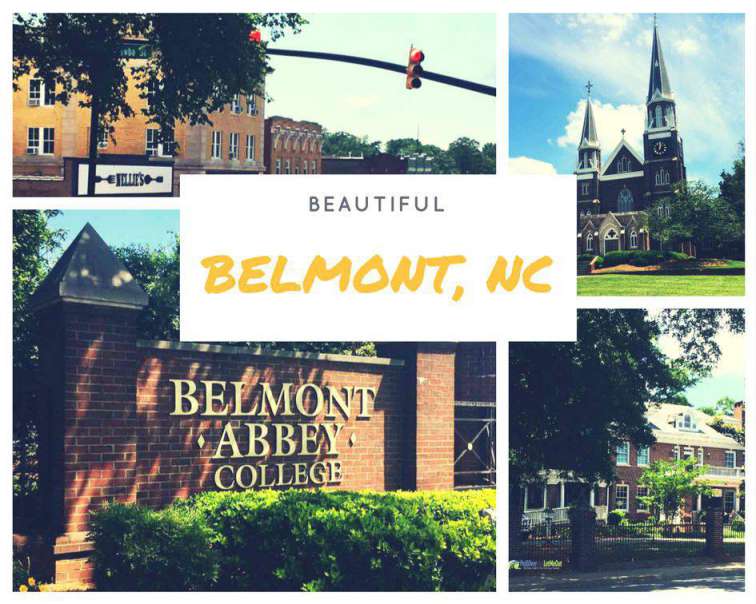 Is there a connection between Belmont, NC, and happiness?
There's something about discovering a picturesque town that makes me happy so when I visited Belmont, I couldn't help noticing a joyful disposition overtaking me. Located approximately 15-miles west of Charlotte in Gaston County, this charming suburb bordered by the South Fork and Catawba Rivers is a veritable slice of Americana. The city dates back to the 1750s and is just the sort of location that beckons guests to stop, shop, and enjoy the charms of this quaint setting in the Southern Piedmont.
Happiness Is a Charming Main Street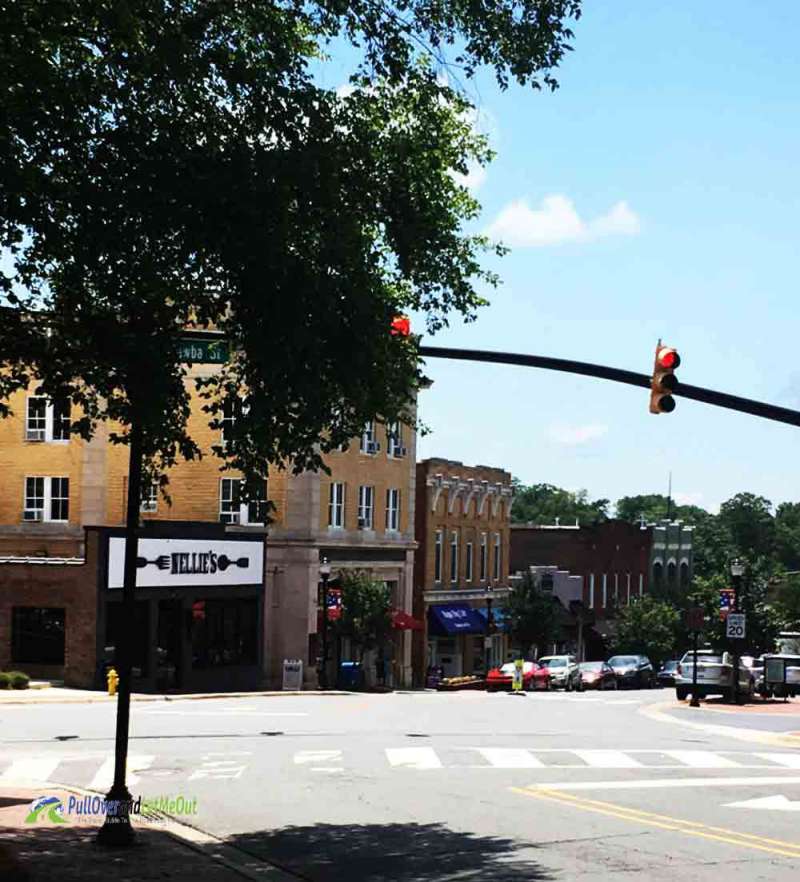 Spending a Saturday afternoon strolling along the main thoroughfare is blissful. The scenic artery in the heart of the historic downtown features antique shops, boutiques, and specialty stores. Belmont, which thrived during the era of Big Textile, is a gorgeous mixture of modern businesses housed in re-purposed buildings from a bygone era.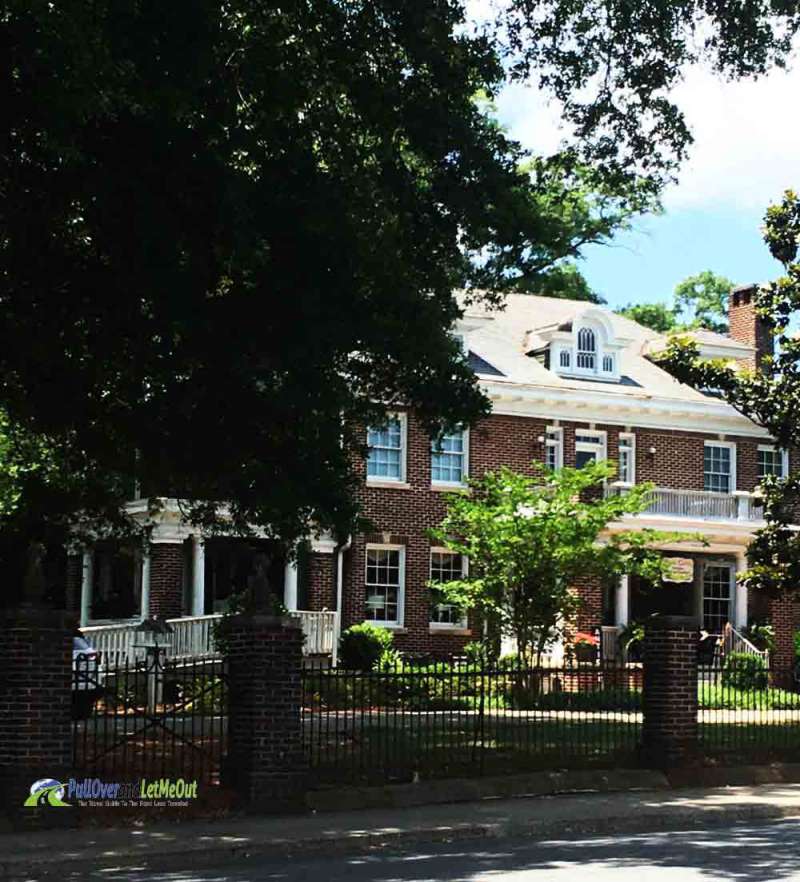 Wonderful examples of a variety of architectural styles has landed Belmont on the National Register of Historic Places
Delicious Dining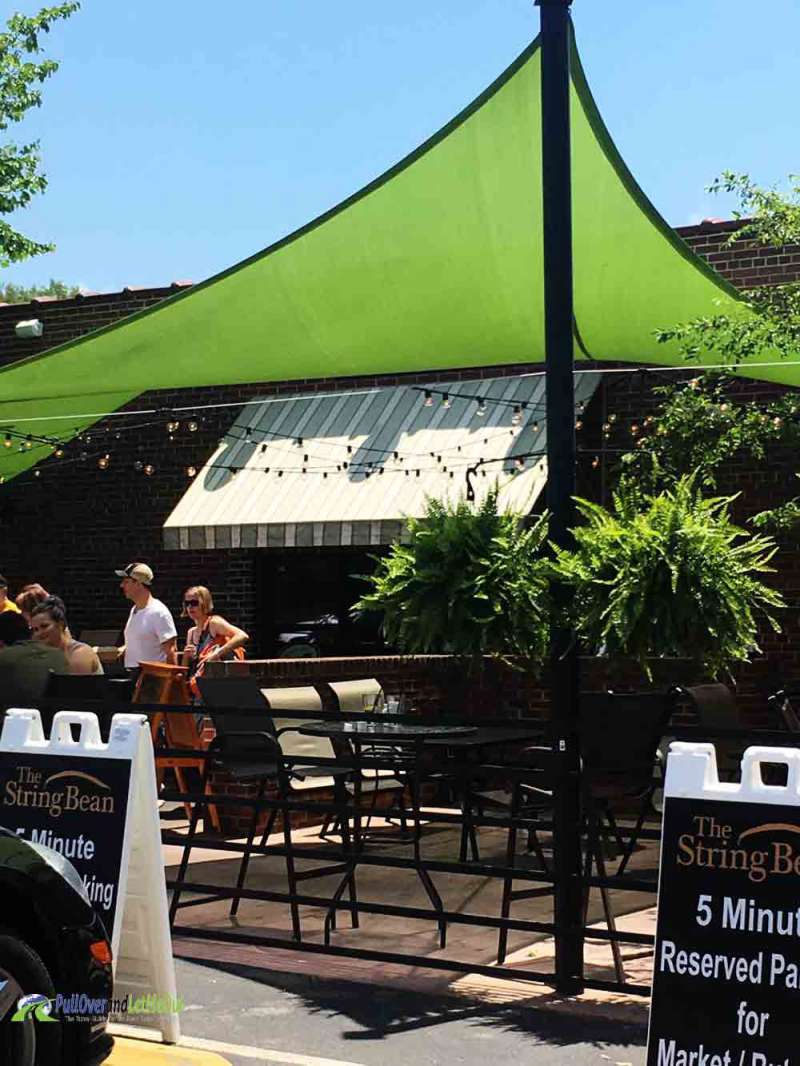 Outdoor dining at The String Bean.
Though my time in Belmont was short, I did get to enjoy a culinary treat or two. Outdoor dining was particularly pleasing at The String Bean. Delicious chicken salad piled high and served with sweet potato fries – outstanding!  Yes, I tend to order chicken salad when I'm traveling, I'm always intrigued to find new and unusual interpretations of this classic. The String Bean didn't disappoint!
In addition to The String Bean, there's a long list of unique culinary options in Belmont; Nellie's Southern Kitchen, LunaHombre, Old Stone Steak House, Supply, and Johnny B's Pizza to name a few.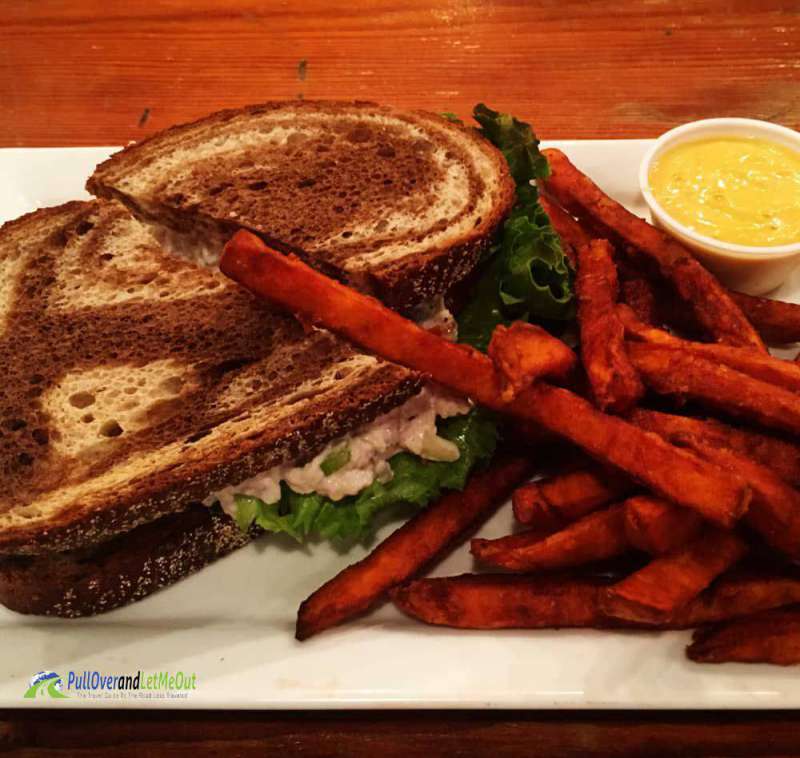 Belmont Abbey College
Back in 1872, Father Jeremiah O'Connell, a Roman Catholic Missionary, purchased a 500-acre tract of land near the railroad and donated it to a group of Benedictine monks to establish a community and school.
Belmont Abbey
has thus established as well as the small college, Belmont Abbey College, which carries on today as a small, Catholic, liberal arts school. It's an exquisite campus well worth a visit, even if you aren't in the market for post-secondary academics.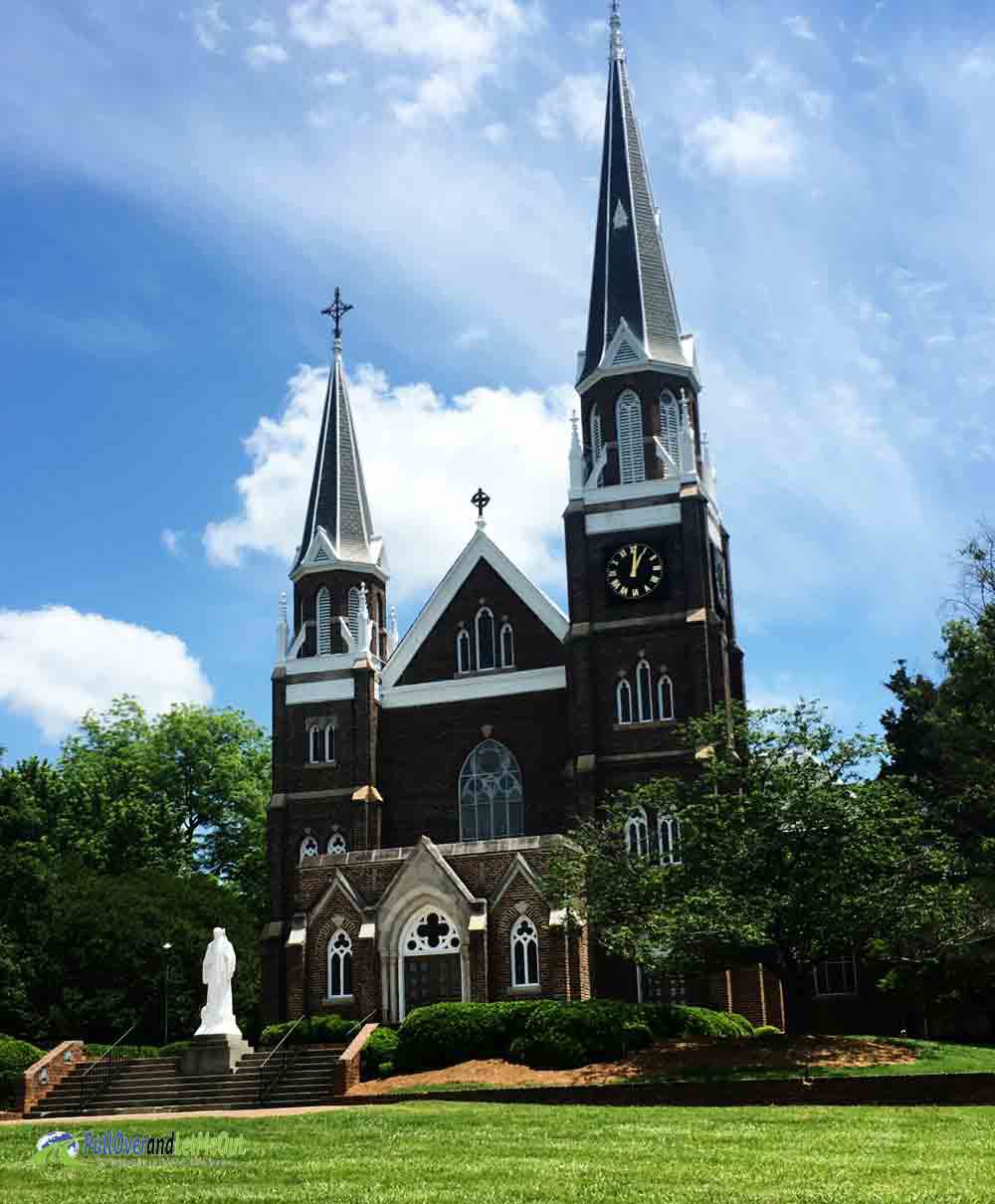 Staying in Belmont, NC
Being so close to Charlotte affords an abundance of choices when it comes to accommodations. Belmont has a couple well-known chain hotels and Lake Wylie nearby adds scenic lakeside lodging selections in the form of rentals and enticing B&Bs. The town is a keen choice if you wish to stay close to Charlotte without being downtown and it's less than 10-miles from Charlotte/Douglas International Airport making an overnight stay extremely convenient.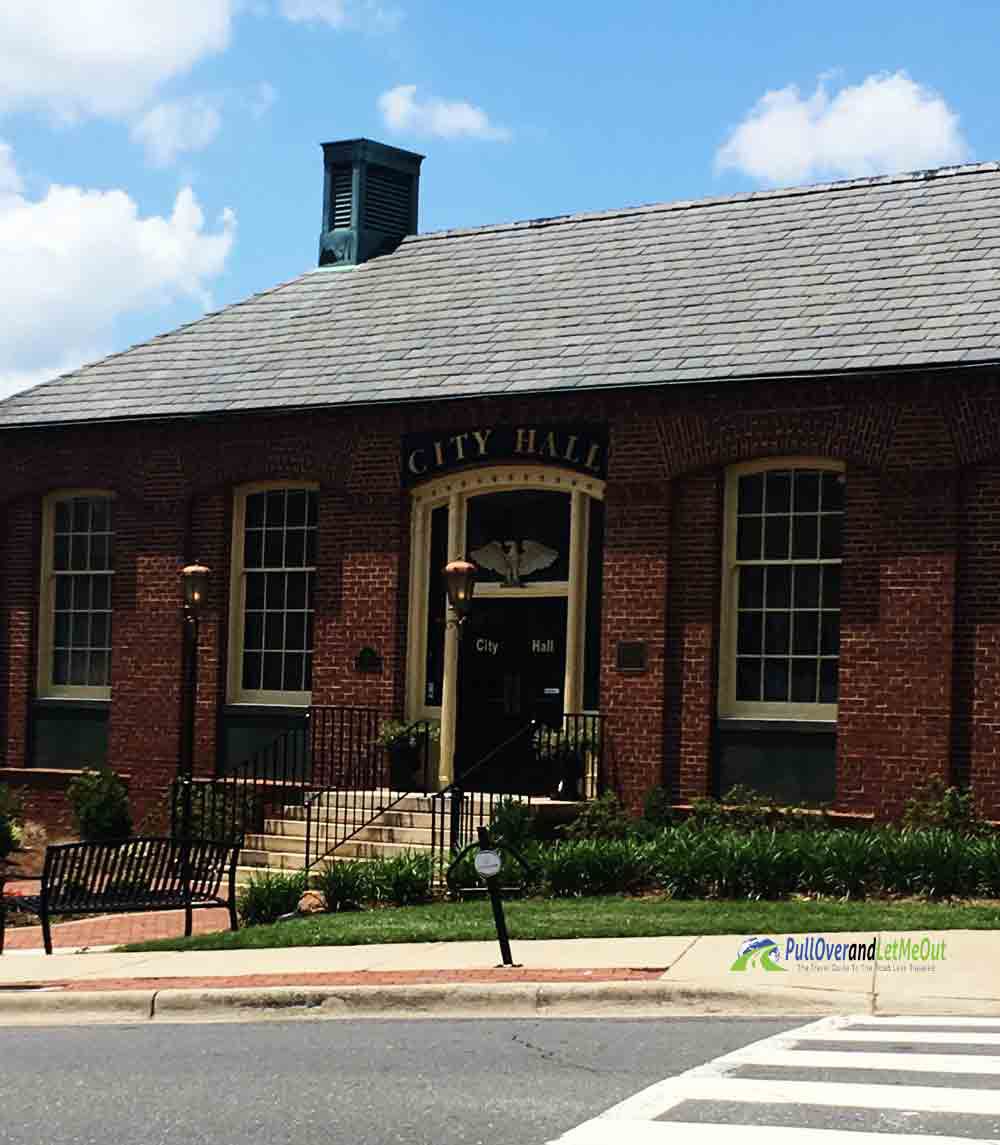 When I add all the pleasing aspects of a visit to Belmont, it's easy for me to recognize the connection between Belmont and happiness. This quaint suburb is a little piece of small-town America near a bustling metropolis. Its charming tree-lined Main Street, majestic old homes,
Stowe Botanical Garden
, abundant dining and shopping destinations, appealing college campus, and its proximity to Lake Wylie,
U.S. National Whitewater Center
, and
Charlotte
makes it an epic location to say, Pull Over and Let Me Out. Thus, there
is
a connection between Belmont, NC, and happiness.
IF YOU LIKE THIS POST, PIN IT FOR LATER!