I first learned about Dale Chihuly's dramatic creations from a friend who saw his exhibition in Dallas, a few years ago. Thus, upon discovering the Biltmore Estate in Asheville, North Carolina is hosting the acclaimed artist's works, I said, I'm going! Chihuly at Biltmore serves as the first-ever exhibition in the famous gardens as well as Chihuly's premier garden exhibition in the Tar Heel state. The Vanderbilt's grand old home and gardens are the perfect venue for experiencing and enjoying Chihuly's powerful work.
Although I received a media pass to visit Biltmore, all opinions are honest and my own.
Chihuly At Biltmore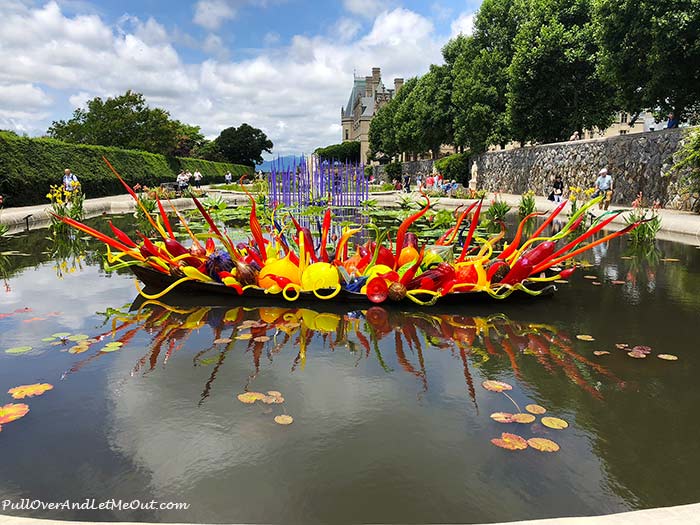 American artist, Dale Chihuly is known as a trailblazer. If you've never considered glass as an art medium, this exhibition will forever change how you regard glass work. Continually stretching the limits of this media, Chihuly's creative process includes experimentation which results in some of the most unique, creative, and colorful pieces of glass art in the world. Sixteen of his most dramatic eye-catching pieces are currently on display at the Biltmore Estate.
Most ads you see on this site are affiliate links. If you click through and make a purchase I'll get a small commission. So, thanks in advance for helping me keep bringing you the content you enjoy!
Chihuly Exhibit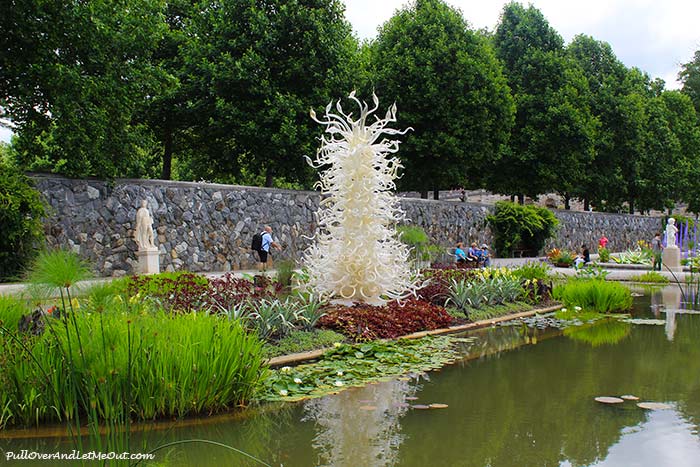 Pick up an exhibition map and prepare to be awe-struck by Chihuly's incredible artwork. We began our visit in the Italian Garden. Consequently we were treated to several wondrous displays including, Float Boat, Niijima Floats, Palazzo Ducale Tower, Fiori Boat, and Neodymium Reeds with Fiori Verdi. Each piece of work enhances and contributes to the ethereal beauty of the garden.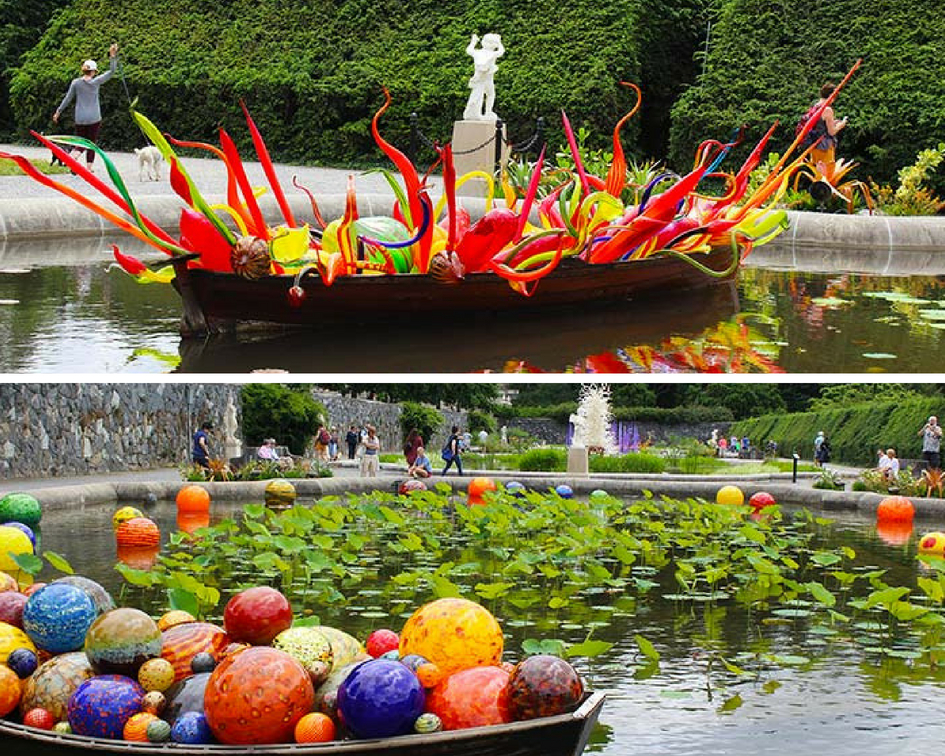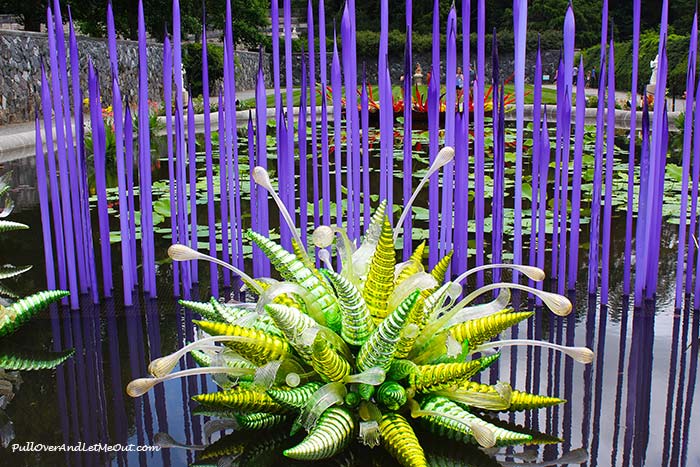 Shrub And Walled Gardens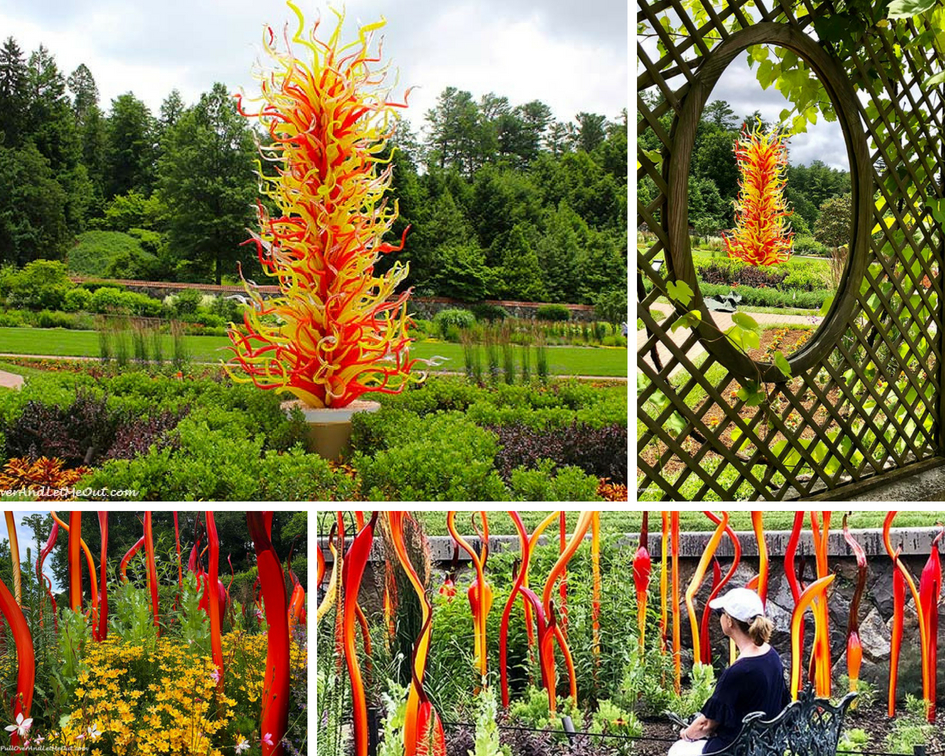 If you've never visited the Biltmore Estate, you're in for a treat. The gardens are world-famous and afford guests the opportunity to explore the natural beauty. It's easy imagining Frederick Law Olmstead, America's Father of Landscape Architecture, who designed the lush estate grounds nearly a century ago, would be delighted seeing these awe-inspiring strategically-placed sculptures adorning his last and largest project.
The Conservatory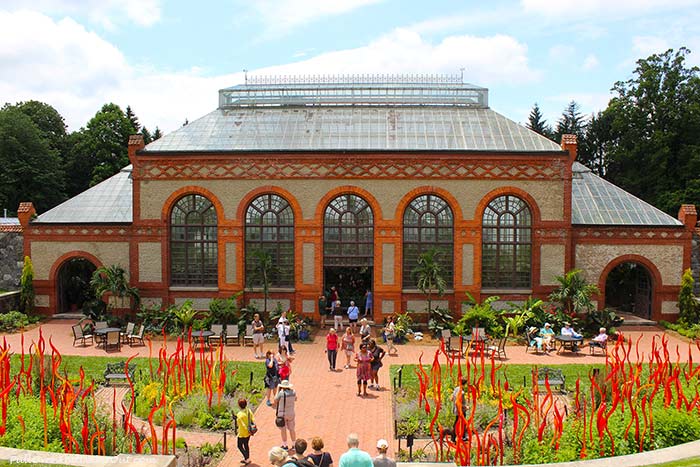 Built in 1895, the Biltmore Conservatory with its soaring windows and generous natural-light houses an array of exotic plants. In addition to the plant life, there's more captivating Chihuly artwork here. Direct your gaze upwards and admire Burnished Amber, Citron, and Teal Chandeliers.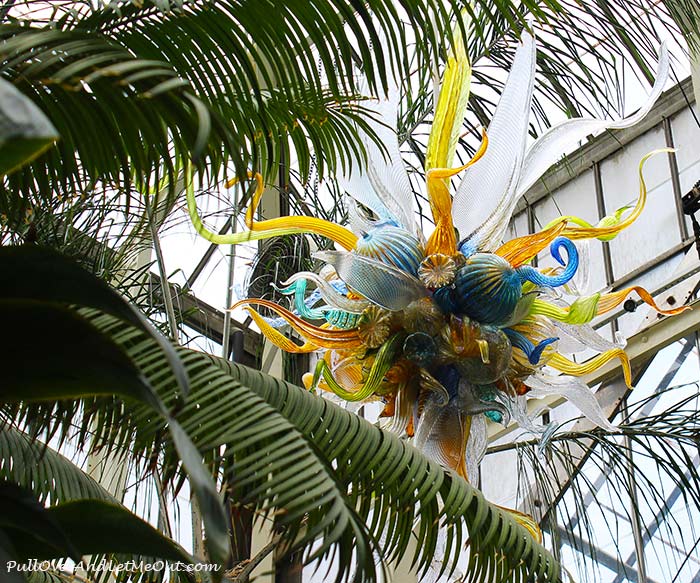 Tour Biltmore House
Yes, you'll be tempted to spend your entire visit admiring the Chihuly at Biltmore exhibit, but be sure to save time to tour the house. This is America's largest private residence and is an architectural wonder. Furthermore, there are a couple more Chihuly pieces beautifying the home itself.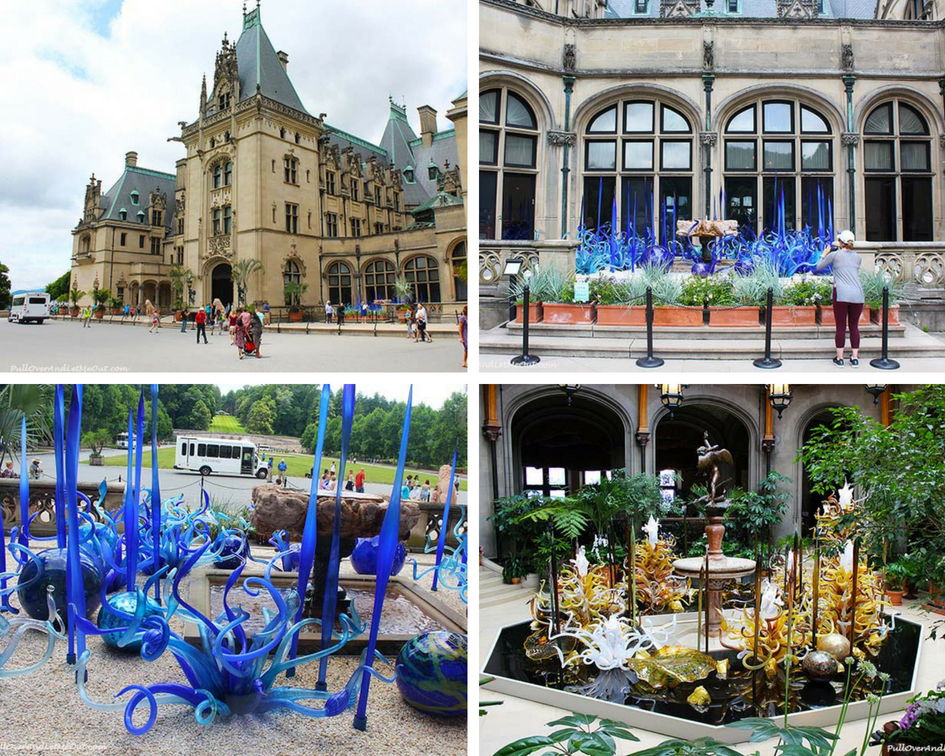 PULLOVER PROTIP

:  DO splurge for the audio tour.  Without the audio tour, you'll simply be walking through and missing out on the home's fascinating story. There's also a downloadable Biltmore App to help make the most of your visit. Photography is permitted inside Biltmore House, but NO flash photography.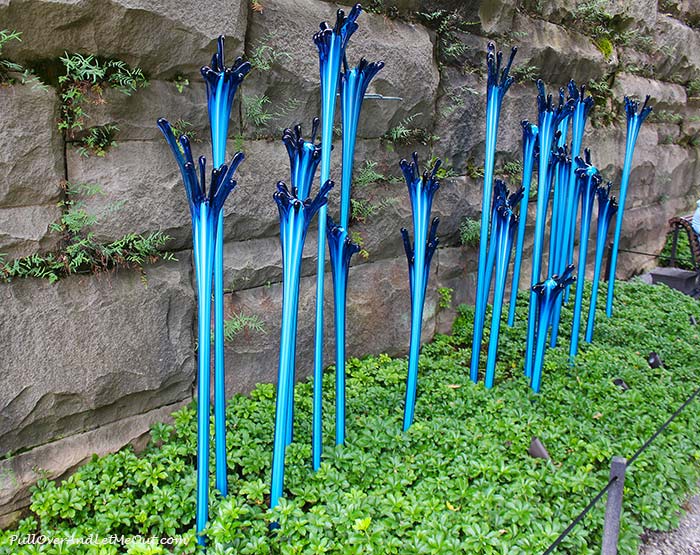 Planning Your Visit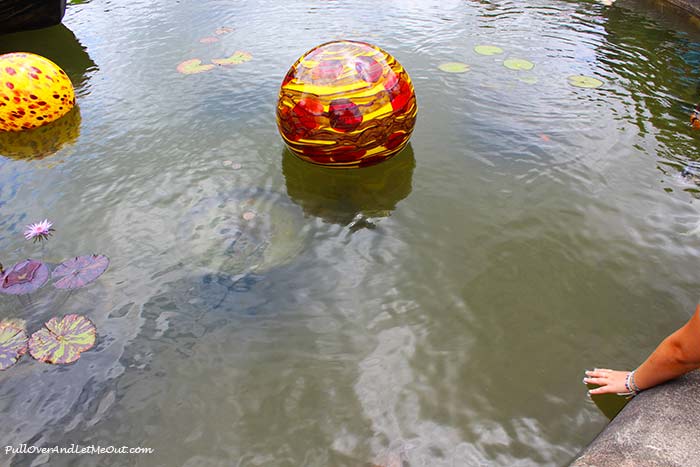 Chihuly At Biltmore runs through October 7, 2018. Biltmore Estate is open 365 days a year with varying hours of operation. The house is open daily from 9:00 a.m. to 5:00 p.m. Special Chihuly Nights are scheduled, bringing these brilliant pieces of art to light.
Additionally, Biltmore is featuring exclusive Chihuly packages which include guest room accommodations, Chef's Breakfast Buffet in The Dining Room daily, Chihuly Gift, Estate daytime admission, Daytime audio tour, and other perks. You'll want to visit the Biltmore website for details and ticket prices.
PULLOVER PROTIP

: Biltmore is pet-friendly. Although four-legged friends aren't able to enter the buildings (except service dogs), they can explore the grounds on a leash. Plus, Biltmore offers a limited number of self-service pet kennels allowing furry friends to chillax while pet parents tour.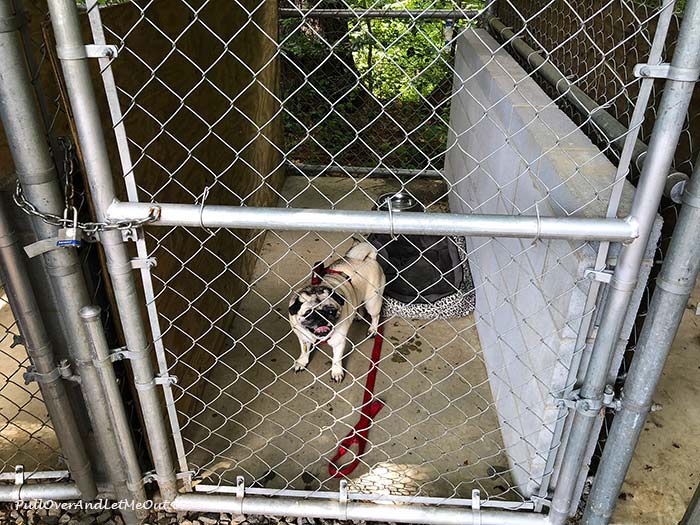 Our pug got to rest while the family enjoyed Chihuly At Biltmore.
Family Fun And More
Biltmore Estate is more than just a large historic home. There's also the Inn, the Spa, The Biltmore Winery, restaurants, shops, and much more. Each year, thousands travel to this magnificent estate in Asheville from around the country and the world. Chihuly At Biltmore is one thing on a long list of attractions appealing to a large cross-section of visitors.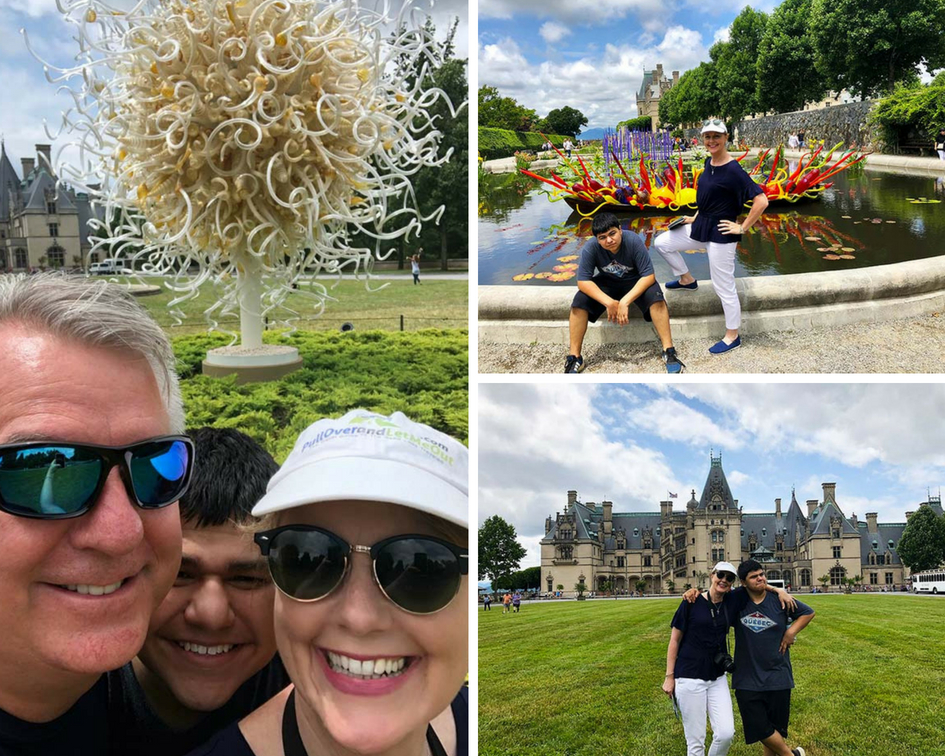 Is Chihuly At Biltmore Worth It?
Someone on Instagram asked, "How was Chihuly At Biltmore?"
I already loved Dale Chihuly's art so for me, it was great. My husband hadn't experienced Chihuly before our visit and he thought it was fantastic. As for my 13-year old son, he gave it a thumbs-up. That's the supreme compliment.
Chihuly At Biltmore makes time spent at the estate all-the-more magical. As the exhibition brochure eloquently puts it, "This unique immersive visual experience is an absolute must-see: truly breathtaking sculptures in an equally breathtaking setting."
I concur! In fact, my expectations were shattered!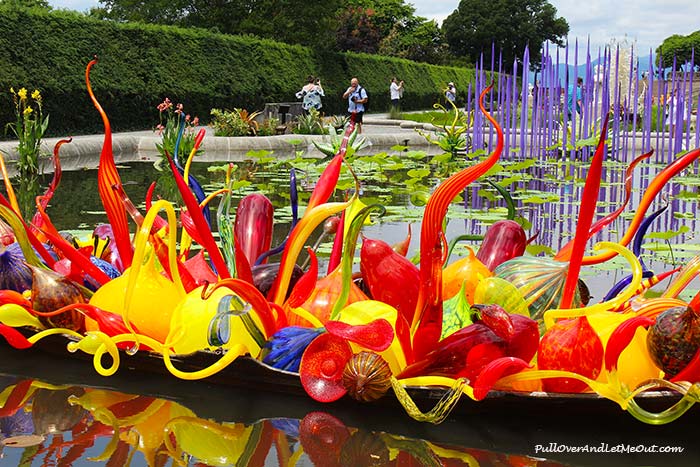 Chihuly At Biltmore
Biltmore Estate
One Lodge Street
Asheville, North Carolina 28803
800-411-3812
www.Biltmore.com
Hey, Pinners! Pin This!