Signing up for a tour of New York Wine Country which doesn't include wine but does feature a distillery seems miscalculated. Let me be the first to admit, I know absolutely nothing about liquor. Sure, I've sampled whiskey. There's the odd Seven & Seven I occasionally sipped in my twenties. And I may have tried a gin and tonic at some point, but honestly, I don't recall. Hence, I'm a bit dubious as I take my first foray into distilled spirits at Finger Lakes Distilling. The small operation on the East Shore of Seneca Lake in Upstate New York produces choice locally sourced adult beverages in a gorgeous setting. They also welcome visitors – including newbies like me.
This tour was included in my TBEX North America registration. All opinions are honest and my own.
Whiskey, Gin, and My First Bloody Mary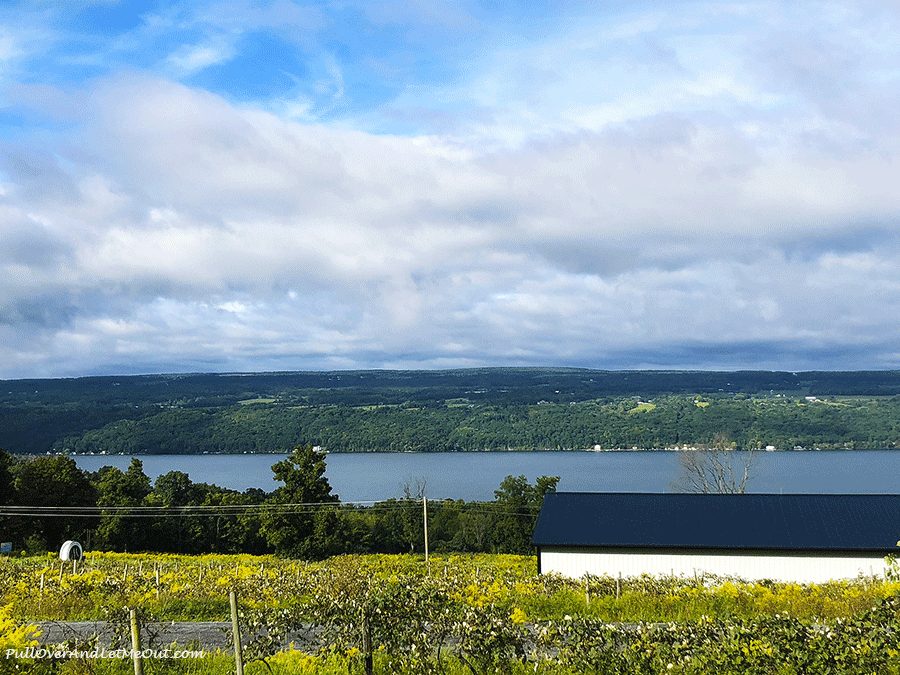 Arriving at Finger Lakes Distilling
The first thing I notice is the incredible scenery at Finger Lakes Distilling. The lush rolling hills and serene waters of Seneca Lake remind me ever so slightly of the lakes in Ireland. No wonder they decided to open a distillery in the heart of wine country, the natural beauty is breathtaking here.
Strolling the grounds before touring, I note there are grapes growing just outside of the distillery. This is one of the best grape-growing areas in the country so it's not surprising to see a tiny vineyard.
I turn back to check out the building. The impressive white walls with black trim, large windows, and bold lettering spelling out Finger Lakes Distilling is designed in the spirit of a traditional Scottish whiskey distillery. It fits in easily with its surroundings and I can't wait to see what's inside.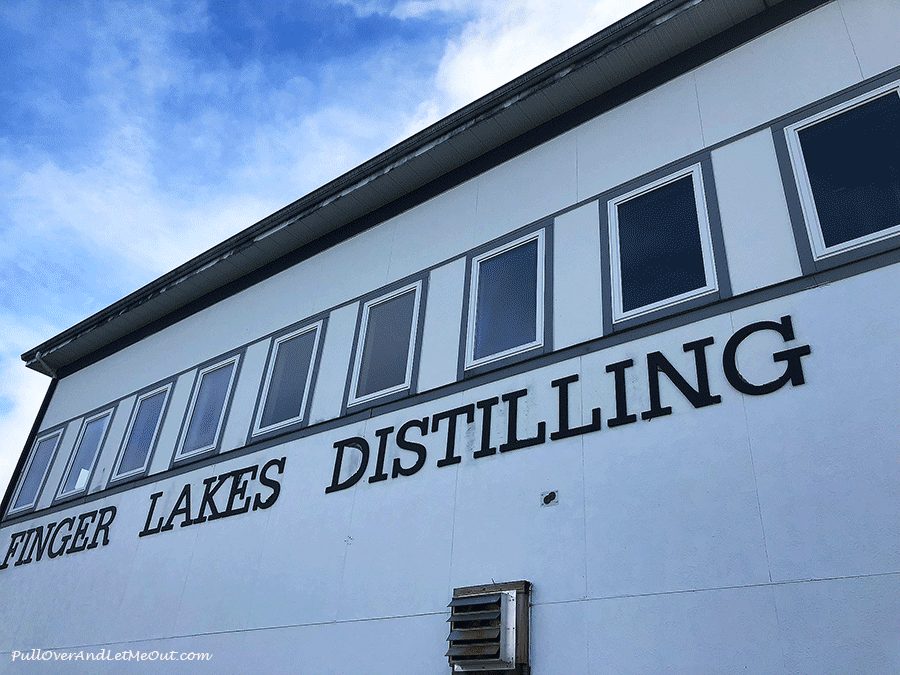 Most ads you see on this site are affiliate links. If you click through and make a purchase I'll get a small commission and it won't cost you any extra. So, thanks in advance for helping me keep bringing you the content you enjoy!
Begin With A Bloody Mary
Once inside, we're greeted with the option of trying out one of their signature beverages.
I've never tried a Bloody Mary. I'm not a fan of tomato juice. It's the film it leaves on the side of the glass that puts me off. Adding to the fact I've watched in bewilderment as friends are served veritable gardens of celery and sundry other veggies with their brunch beverages, I've avoided the cocktail, my entire adult life.
Today, however, as we arrive and I'm offered one, I decide to try my first-ever Bloody Mary.
I'm at a distillery for goodness sakes! When is there a better time?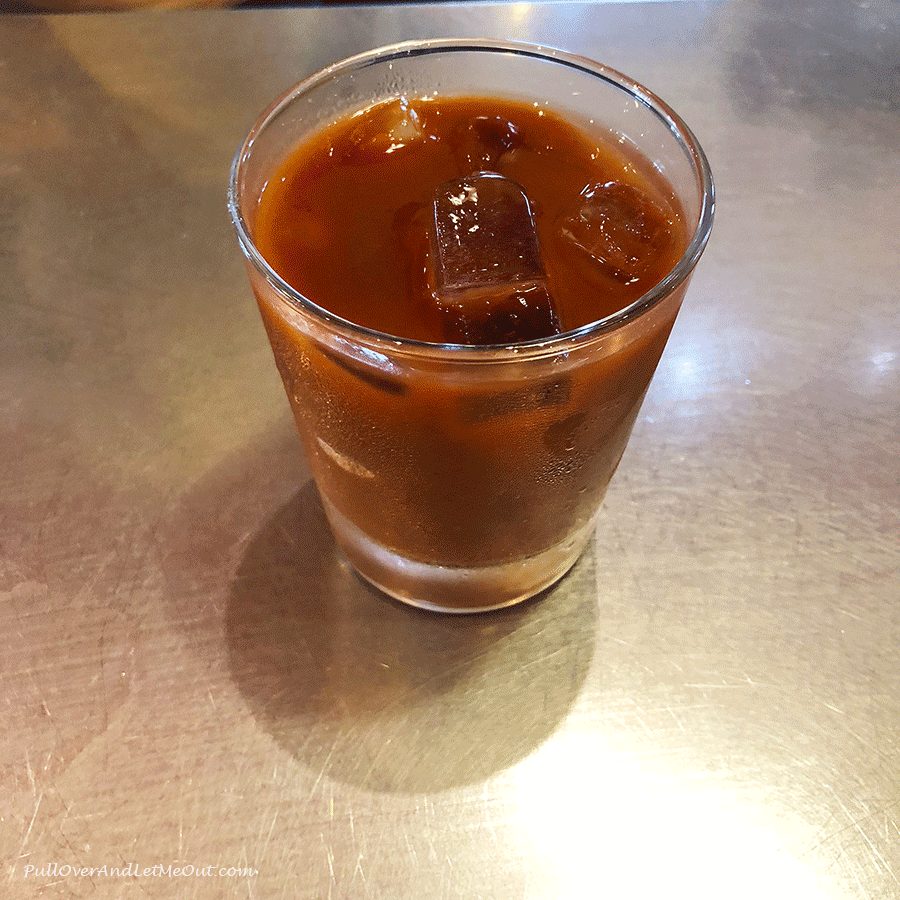 The zesty beverage served over ice surprises me. I actually like it. I attribute this to the yummy mix and of course, the Finger Lakes Distilling Gin in the beverage.
As we're served, we're treated to an overview of the Finger Lakes Distilling story and an opportunity to wander the tasting room. I'm most impressed by their dedication to using local ingredients, minimizing waste, and adhering to a traditional method of crafting top-quality products.
The tasting room features a long bar and in keeping with their commitment to minimizing waste, the wood bordering it was once part of a nearby barn. The oak floors underfoot are reclaimed wood from an old tobacco barn in Kentucky. The walls are lined with shelves filled with bottles of their delicious libations and there's a larger meeting room off the main area. The ambiance is bright, casual, slightly rustic, and the wood details mix effortlessly with the traditional distillery theme.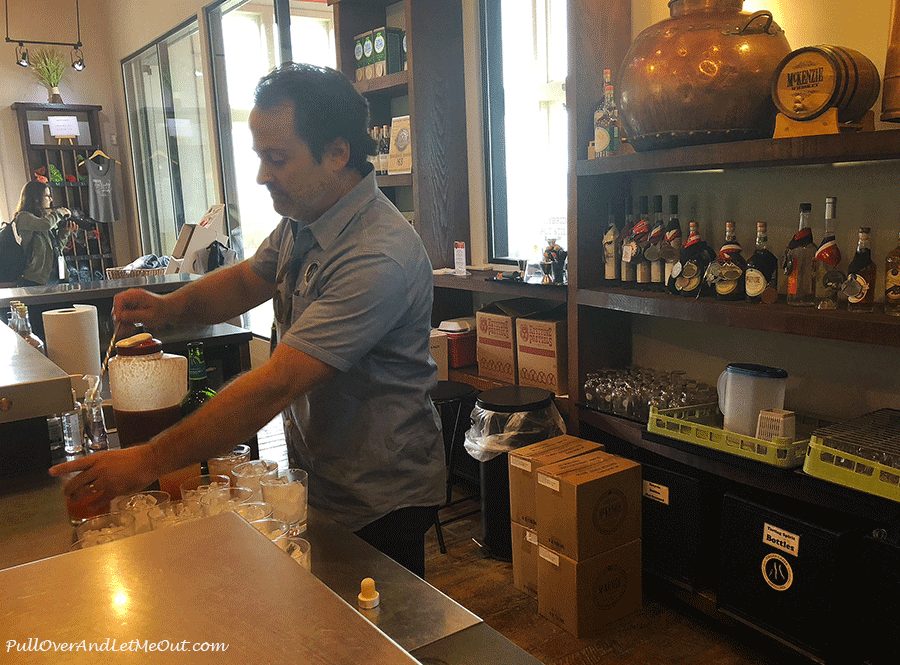 Touring The Distillery
The educational portion of the tour begins with an up-close behind the scenes view of the distilling process. Our guide gives us a brief synopsis of their distilling technique. We also get to see the fresh ingredients and smell the aromas of the time-honored method of crafting fine spirits. The copper stills are busy working behind us as we take turns climbing the ladder to peek into a massive vat to view the fermentation process. I find this absolutely fascinating, it's all quite scientific!
The Barrel Room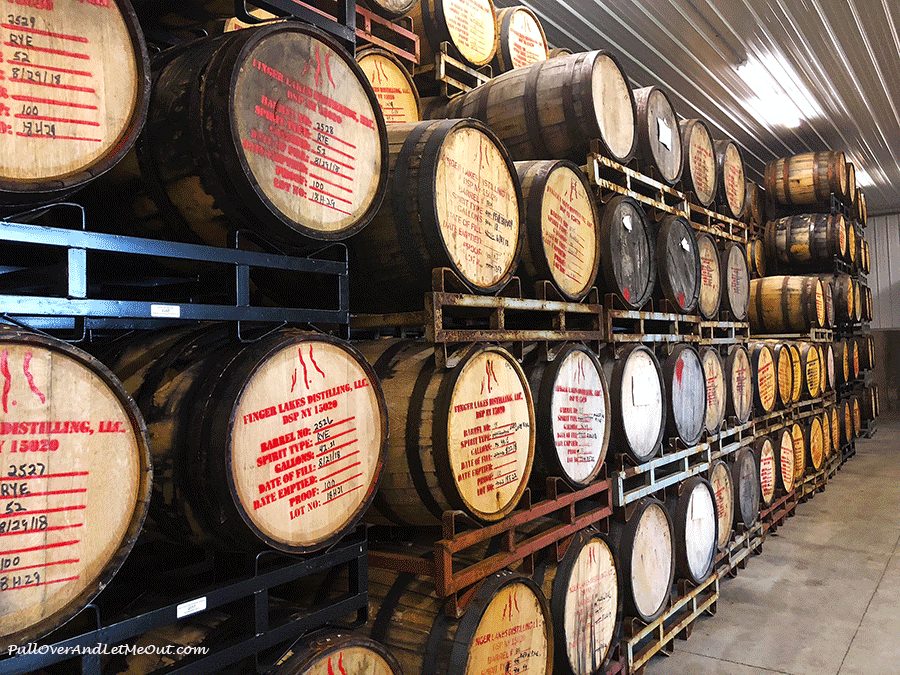 Moving on, we visit the barrel room. It's here we learn that much of the flavor and coloring of the spirits is dependent upon the aging process which takes place inside the barrel. Rows and rows of oak barrels stacked high and marked with important details of the distilling process are on display.
A critical part of the aging process is sampling the liquor to assure the flavor is coming along nicely. A fellow tourist asks how they sample the beverage if it's inside a barrel. Our guide replies that they draw a sample of the liquid out of the barrel via the bunghole.
Now, if you watched Beavis and Butthead as much as I did back in the day, you'll understand why I drop to the back of the group and stifle a few giggles (I'm so juvenile at times).
Despite my momentary loss of composure, the aging process and bottling of the beverages is a highlight of the tour.
The OriGINal Workshop
My absolute favorite part of our tour is when we learn to make our own gin. The group is treated to an experience unlike any I've ever had. We learn how gin is crafted and what common botanicals are used to make each blend differently.
Then comes the fun. We pick up beakers and pipettes and go about creating our own special blend.
The hands-on workshop has us concocting mixtures, sampling, taking notes, and starting again. Through trial and error, I  select from over twenty botanicals to craft my very own gin. I decide to go with a mixture that's 2 parts coriander, 3 parts juniper, 1 part lemon peel, and 1 part sweet orange peel.
In all candor, not being an experienced gin drinker, I'm not sure if it's any good. However, I know it isn't awful. At least it didn't burn my throat.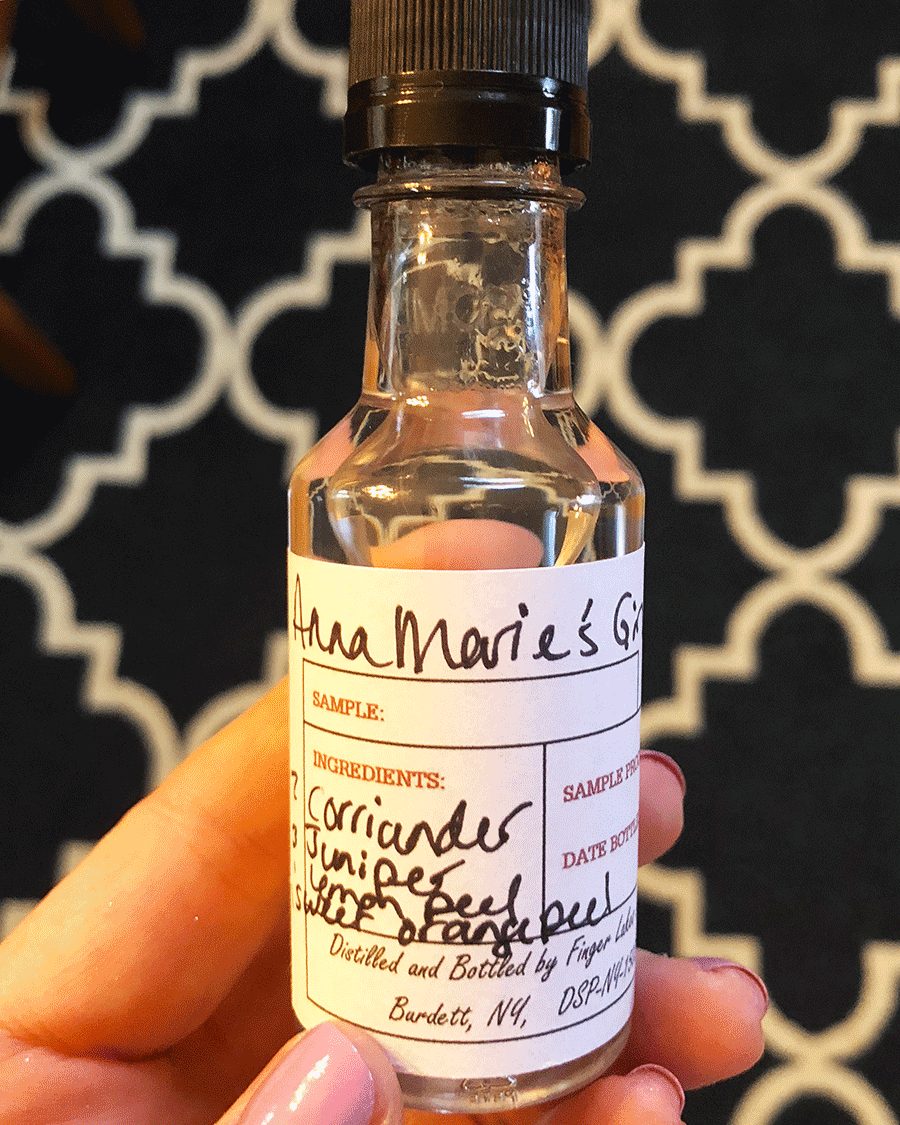 You Too Can Craft Your Own Gin
Yes, you too can craft your own gin.
Finger Lakes Distilling offers Original Gin Workshops to small groups. It's a complete hands-on experience that lets you select your blend and distill it with the assistance of their head distiller. The workshops last approximately four and a half hours and are ideal for groups of 1 to 8 people.
I can imagine how much fun it would be for a bachelor or bachelorette party to get together and craft a commemorative gin!
Where to Buy Their Distilled Spirits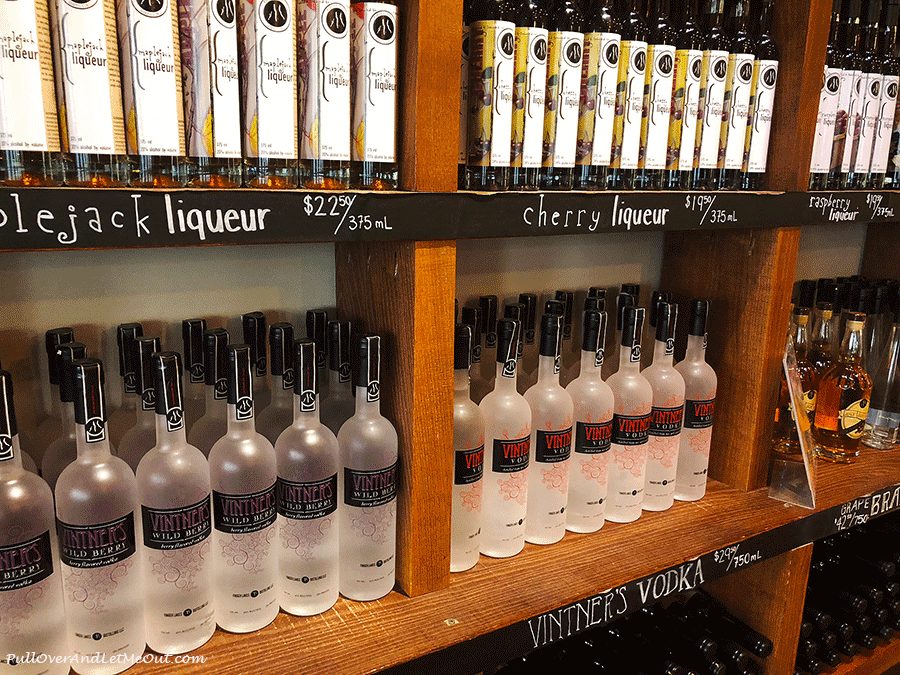 Finger Lakes Distilling uses locally grown fruit and grains to craft their handmade spirits. Their product line includes gin, whiskey, vodka, brandy, and other liqueurs. You can purchase their spirits at the distillery but if you can't make it to the Finger Lakes, you have other options.
Finger Lakes Distilling products are found in stores and restaurants throughout the northeast as well as locations on the west coast. There are also several online retailers carrying their products.
I tried their Cassis liqueur at the end of our tour. It was so yummy, I had to get a bottle to bring home. I popped into Bottles & Corks on Market Street in Corning on my way out of town and I'm looking forward to savoring my cassis on the first cool fall evening.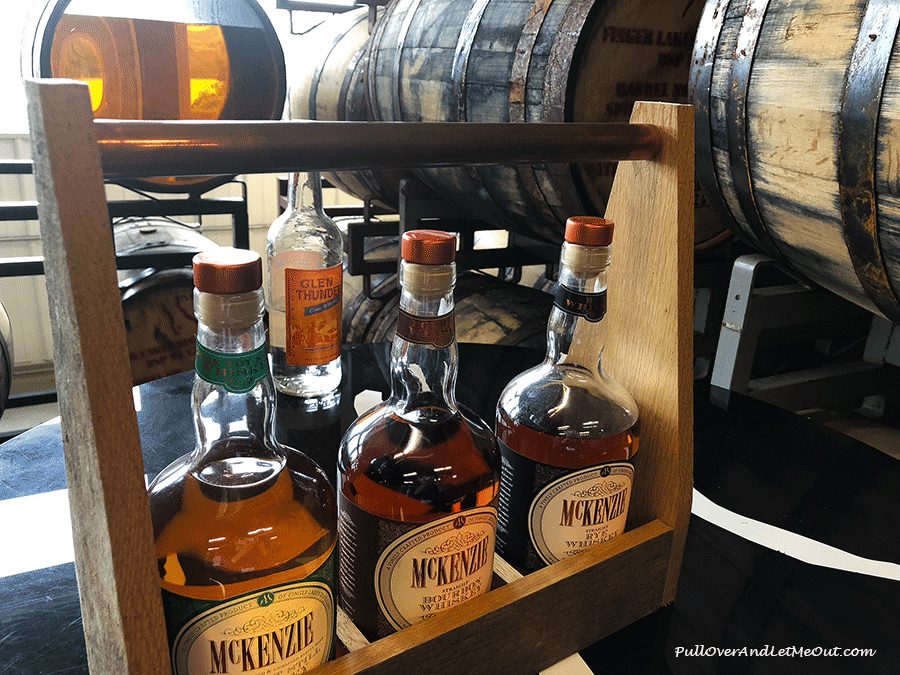 Tips For Visiting FLD
Finger Lakes Distilling is the region's first stand-alone distillery and is located on Seneca Lake in Burdett, New York. Situated in this picturesque rural area, the distillery is a little over a thirty-minute drive from Corning, New York. Corning offers an array of vacation rentals, hotels, and AirBnBs to choose from and is an ideal hub for your Finger Lakes touring.
If you're flying into the region, the closest airport is Elmira Corning Regional or a little farther north is Ithica Thompson Regional Airport.
The distillery is open daily, 11 a.m. to 5 p.m. Each Saturday at 11:00 a.m. from May 26th through November 24th, there's a complete tour of the production process followed by a private tasting of four spirits of your choice with the head distiller. There's a calendar on their website where you can select a date and make a reservation. If you're traveling with a group of eight or more, you can contact the distillery to make special tour arrangements.
Community Collaboration
The Finger Lakes region is imbued with an essence of community. The businesses pull together providing visitors with a memorable experience when they come to the area. In that spirit of community, Finger Lakes Distilling partners with several tour companies and businesses by participating in multiple tour packages that frame the quintessential Finger Lakes experience.
Take Away
I arrive at Finger Lakes Distilling with limited distilled spirits knowledge but after a couple hours of education and sampling, I depart with a better understanding and appreciation for this age-old craft. The casual setting and friendly staff make a visit to Finger Lakes Distilling entertaining and satisfying. This fun distillery on Seneca Lake is a delightful and delicious attraction in the heart of New York wine country.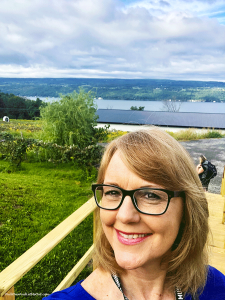 Cheers!
Finger Lakes Distilling
4676 NYS Rte 414
Burdett, NY 14818
607-546-5510
fingerlakesdistilling.com
Have you ever taken a distillery tour? If so, where? I love hearing from you!
Hey Pinners, Pin This!