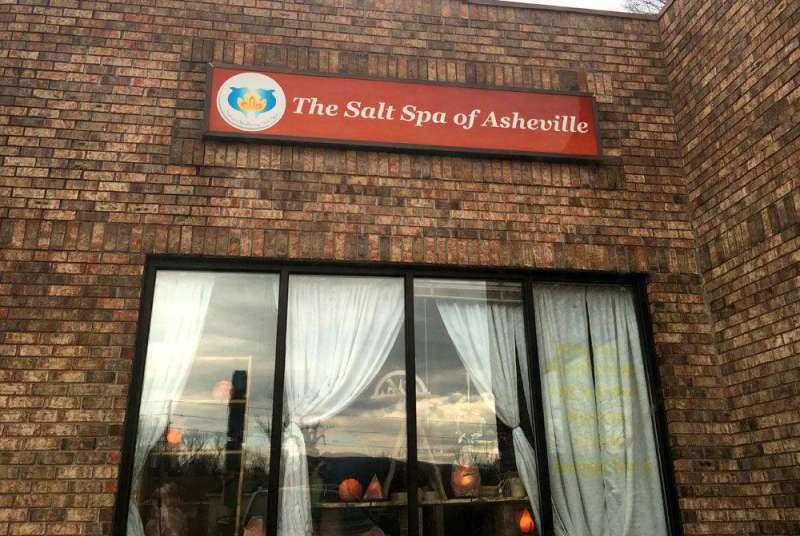 Salt Therapy Spa in Asheville, North Carolina
A few minutes away from the Biltmore Estate in Asheville, North Carolina, you'll discover Blisstime.
What's Blisstime?
It's found inside a Himalayan Salt Cave where the therapeutic nature of salt and a tranquil healing space join forming a unique rejuvenating experience. I'd just finished a three-and-a-half hour car ride when I picked up a brochure for the Salt Spa of Asheville and thought this might be just the thing to help me unwind after my drive. Here's what I discovered.
Most ads you see on this site are affiliate links. If you click through and make a purchase I'll get a small commission. So, thanks in advance for helping me keep bringing you the content you enjoy!
"Halo" is the Greek word for salt. For centuries, humans have known of the health benefits of salt and salt therapy is common in many parts of the world. Halotherapy is just what it sounds like, the use of salt, specifically salt vapor, to treat a plethora of health concerns, in particular, respiratory ailments, allergies, sinusitis, skin irritations and general mental lethargy. Spending time in a therapeutic dry salt microclimate also promotes deep relaxation.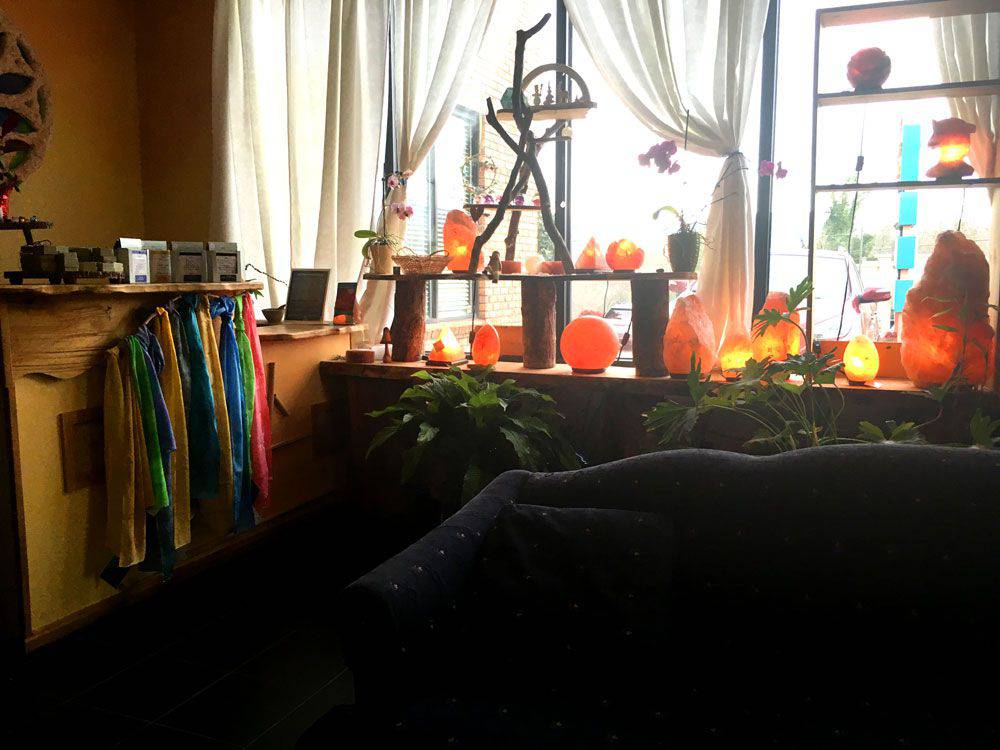 The relaxation begins from the moment you enter the waiting room at the Salt Spa of Asheville.
The Himalayan Salt Cave was definitely a first for me and I was a little uncertain what to expect. I called ahead and spoke with Brad, one of the owners, and he was extremely helpful. Brad explained how a therapy session works and put me at ease about my visit. When I arrived, he led me back to an area where I could put my belongings in a locker and take off my shoes.
The salt cave is a 'therapeutic dry salt microclimate' that always remains fifty-eight degrees. Once inside, I was guided to a lounge chair where I could sit back and relax. Brad brought a heated blanket and a warm neck pillow so I was comfortable and could unplug for a while. Soothing music fills the cave enhancing a contemplative environment and allowing the mind to de-stress. The session began with the soft sounding of a  gong and lasted forty-five minutes.
What did I do during the session?
At first, it took me a while to turn off my thoughts. I had a million things running through my mind one of which was how being in a Himalayan salt cave was far out of my comfort zone. However, after a few minutes, I noticed my sinuses opening up and my mind letting go of the minutia and slipping into deep reflection and dare I say, meditation?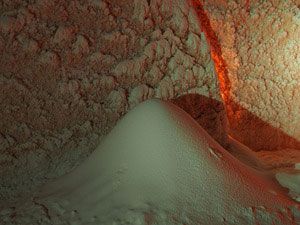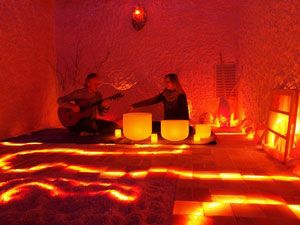 When the Salt Therapy Spa Session is Over
The gong sounds once again at the end of the 45-minute session to indicate it's time to depart the salt cave. Once outside, I was offered a cup of hot herbal tea and the chance to continue my salt therapy by warming my feet on heated salt rocks. The time spent post-session is great for final reflections and easing back into the day.
My session was $35 and lasted forty-five minutes. Reservations are requested and they're open Tuesday through Sunday. Wear comfortable clothing and socks for your feet since you'll be walking on salt.
Though some feel immediate relief from the low humidity salt therapy spa, it usually takes a few sessions before feeling the therapeutic benefits. Children can also enjoy salt therapy and often respond to the treatments faster than adults. It is possible you'll feel immediate peace and rejuvenation that comes from a salt therapy session. There's a long list of FAQs on the Salt Spa of Asheville website worth reading if you're planning a visit and they request guests be non-smokers for at least three weeks prior.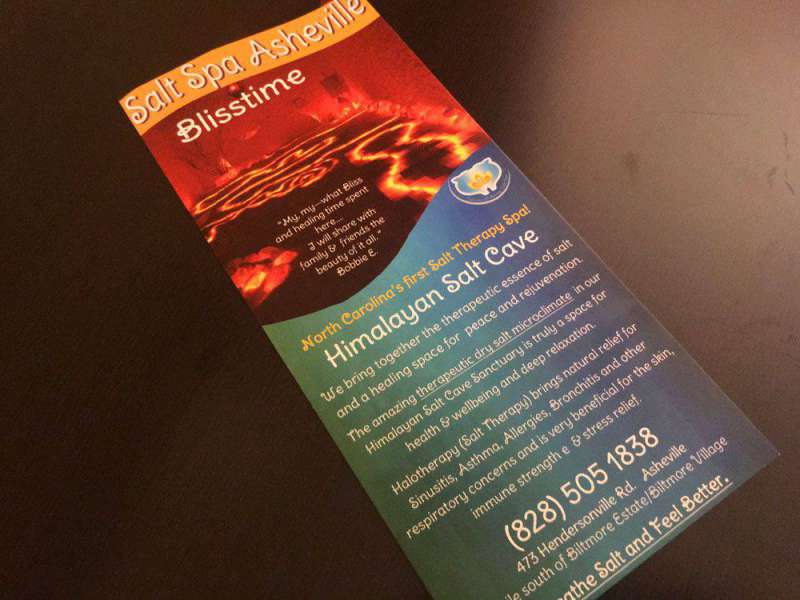 Would I Visit The Salt Spa of Asheville Again?
Yes.
I'm always looking for fun and unusual things to do when I'm traveling and this definitely checked all my boxes for out-of-the-ordinary experiences. That being said, I did unwind, I relaxed and felt relief from congestion I hadn't even noticed I was experiencing prior to entering the Himalayan Salt Cave.
Would I recommend it to others?
Absolutely. Sometimes the unique attractions are the most memorable and enjoyable. If you're planning a trip to Asheville and want to include some time for relaxation, by all means, schedule a session at The Salt Spa of Asheville.
Salt Spa of Asheville
473 Hendersonville Road
Asheville, North Carolina 28803  – one mile south of Biltmore Estate/Biltmore Village
828-505-1838
*Cameras and phones aren't permitted inside the salt cave due to the climate and in order to maximize relaxation. Photos of the cave appear courtesy of Brad at Salt Spa Asheville.
IF YOU LIKE THIS, PIN IT FOR LATER!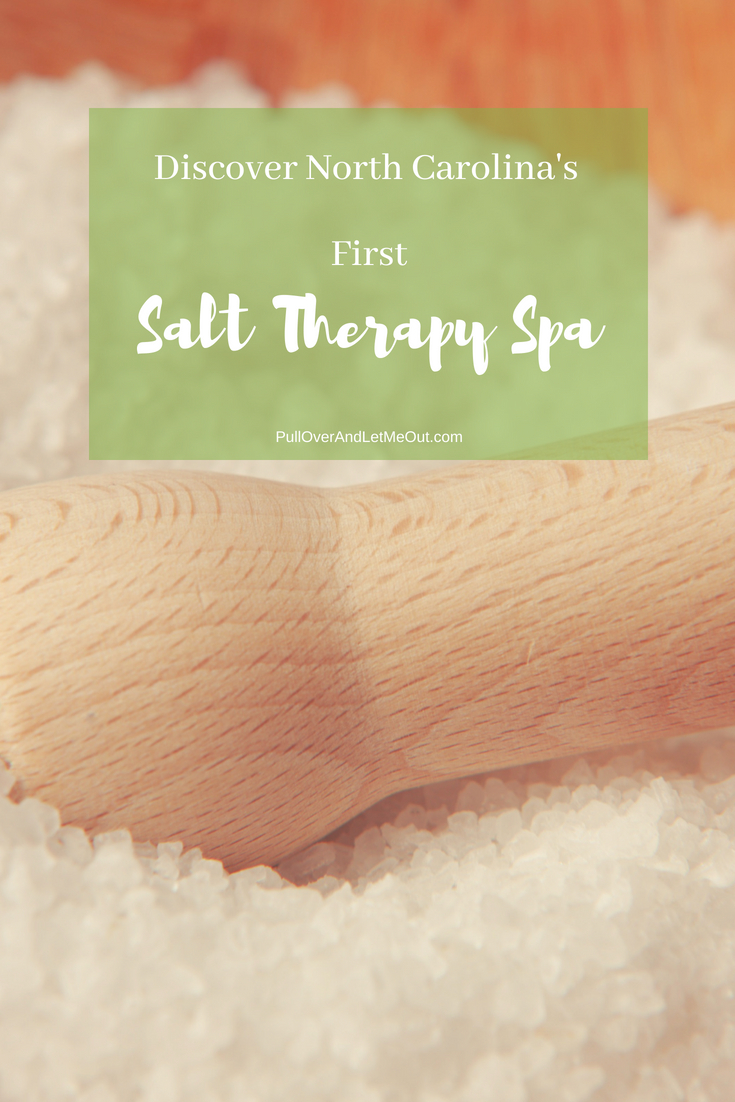 Save
Save