Pet Travel
Let's face it, when we choose to travel with our pets sometimes it becomes more about finding a place willing to accept our critters without charging an arm and a leg for the luxury of bringing that special member of the family. But once we've procured the pet-friendly accommodations, just what happens when the furry family member goes on holiday?
We found out our pug, though away from home, still had several important jobs.
Most ads you see on this site are affiliate links. If you click through and make a purchase I'll get a small commission. So, thanks in advance for helping me keep bringing you the content you enjoy!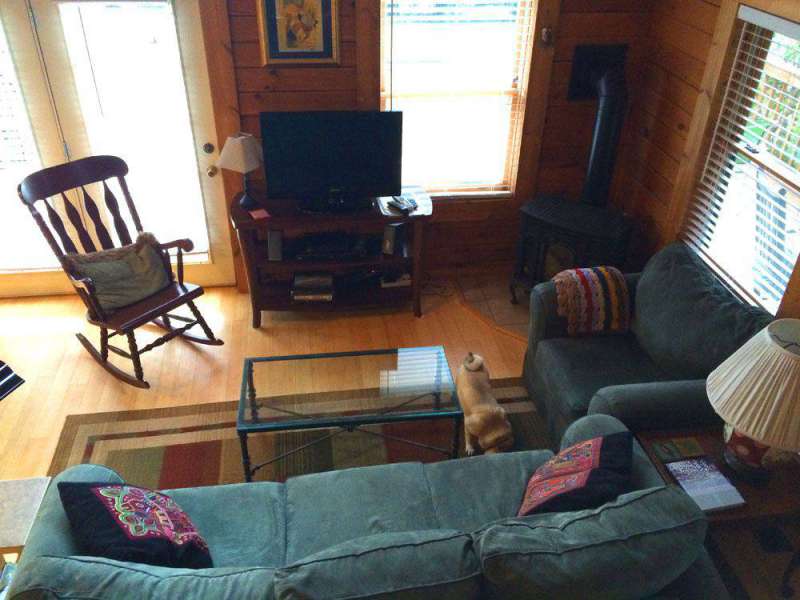 My family rented a log cabin in Asheville, North Carolina where we spent the Christmas holiday. We found a cabin that's pet-friendly so the entire family would be together – Lenny the pug too. The first thing I noticed was the dog was extremely interested in the cabin. As soon as he crossed the threshold, he began a thorough investigation.
For a pug, this isn't exactly a quiet investigation. To quote him directly, 'snort, snort, snort, snort, ah-chooo.'
Pugs are loud and if you've never had the pleasure of meeting one, the sniffing sound is more pig than canine.
Job #2 – Kick back and relax
Once Lenny had the lay of the place, it was time to teach him how to use the doggie door. He'd never used one before, so I was a little surprised at how quickly he mastered this skill. Within a few tries, he was letting himself in and out with great confidence and agility.
Pugs aren't exactly at the top of the charts where smarts are concerned, but they're not at the bottom either so this pug mom was quite proud to see her little lovie enjoying his new-found independence.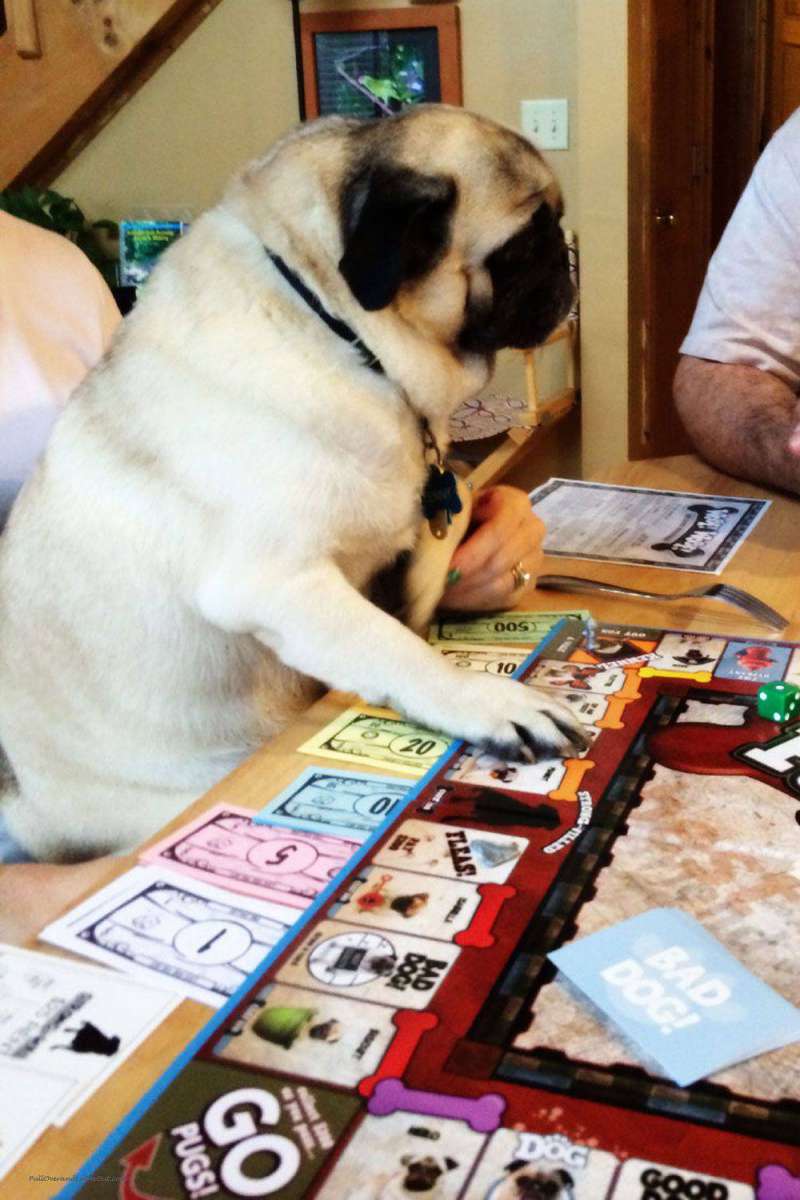 The weather wasn't always agreeable, in fact, it rained a lot, but this only enhanced the dog's holiday. Though the humans were somewhat house-bound for a good portion of our stay, it meant more quality pug-time spent with the family. Pugs are bred to be companion dogs so spending time hanging out with the family is instinctive. Warm evenings spent sitting on the porch and a nice long game of Pug-opoly suited him just fine.
Adding to the fun, was the cabin's location.  Asheville is one of the most dog-friendly places I've ever been. On our last day of the trip, the sun came out and temperatures were mild so we took to the streets. We weren't the only people to bring our pets into town, in fact, there were many dogs and their owners enjoying the day.
Shopkeepers kindly welcomed our four-legged companion and several offered him treats.  Restaurants with outdoor seating greeted us with friendly smiles and a cool dish of water for Lenny. It was a treat to enjoy our meal while Lenny rested at our feet.
Treat? Did someone mention treats?  Yes, he was offered several and if we stayed much longer I'm pretty sure we'd have to do a lot of walking to work off the calories.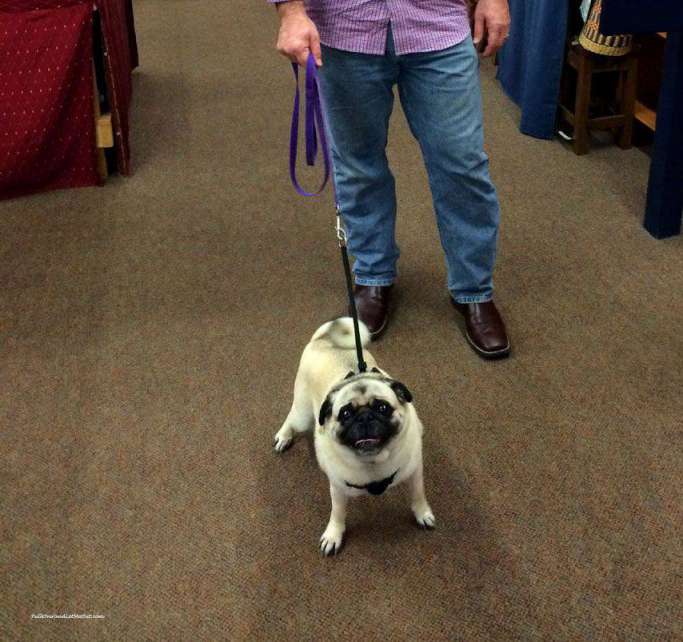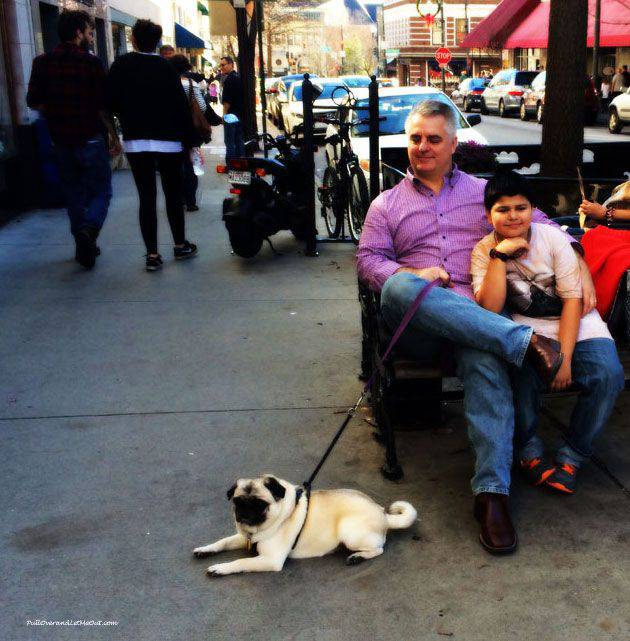 Most Important Job – Family Member
When it was all said and done and we were heading home, I couldn't help reflecting on the fact that not only had the humans in our family enjoyed our short adventure, but the dog had too.
Sure, not all trips lend themselves to bringing along the dog, but in the future, I'll definitely do what I can to include him when possible. It was fun to see how he really kicked back and relaxed just like the rest of us.
Who knew watching a pug on holiday would be so much fun?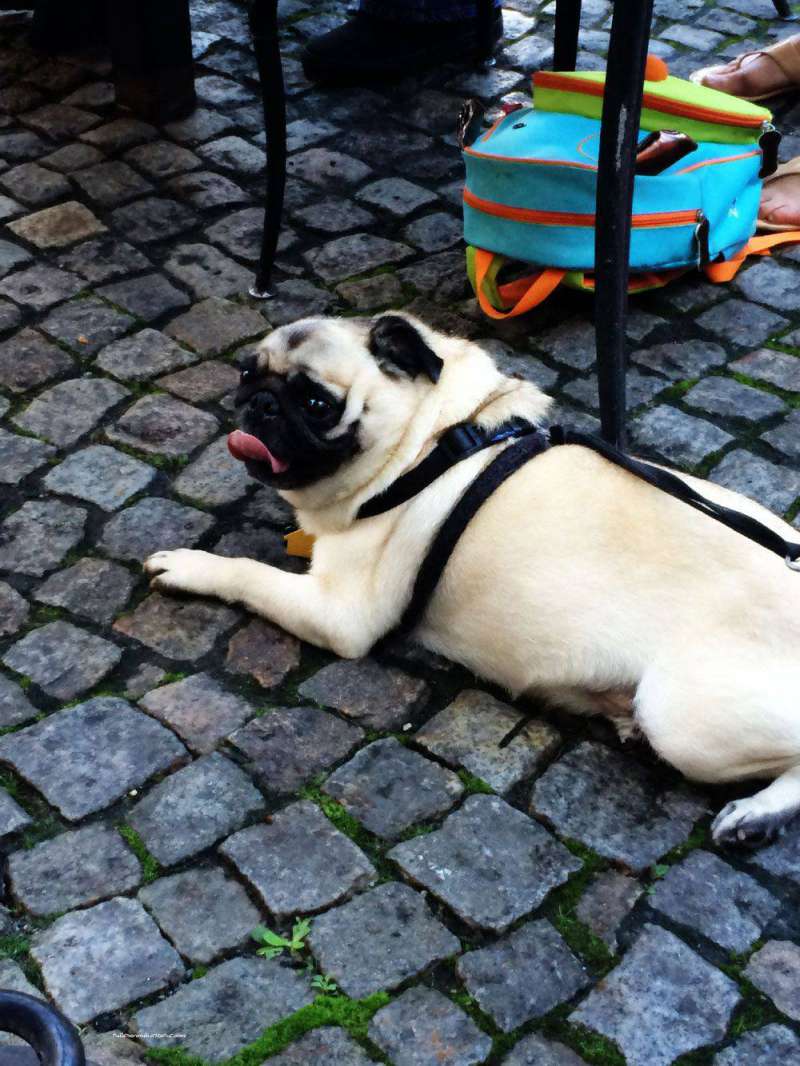 IF YOU LIKE THIS, PIN IT FOR LATER!