Part of the joy of traveling is tasting and savoring the local cuisine. In Ireland, one particular baked good became my favorite. I always enjoy a hot cup of tea and a scone when I'm there. I've often shared my strategy for what I refer to as "tea and sconing" through Ireland. (read more here) Therefore, I decided to try and re-create those yummy pastries at home. Through trial and error and with a few modifications of a recipe I found online, I've come up with my own version of a simple Irish scone recipe.
I'm not a food blogger, nor am I a food photographer, but I wanted to share my tasty treats. Let me know if you try this recipe and how it turns out for you. Enjoy!
Simple Irish Scone Recipe
First and foremost, what is a scone? A scone is a lightly sweetened biscuit-like cake made of flour and often includes some sort of fruit. For my recipe, I either make it with dried cranberries or dried cherries. The options are manifold as it's easy to substitute raisins or other fruit into scones. Or, for a taste of citrus, add a little orange zest to the mix.
Ingredients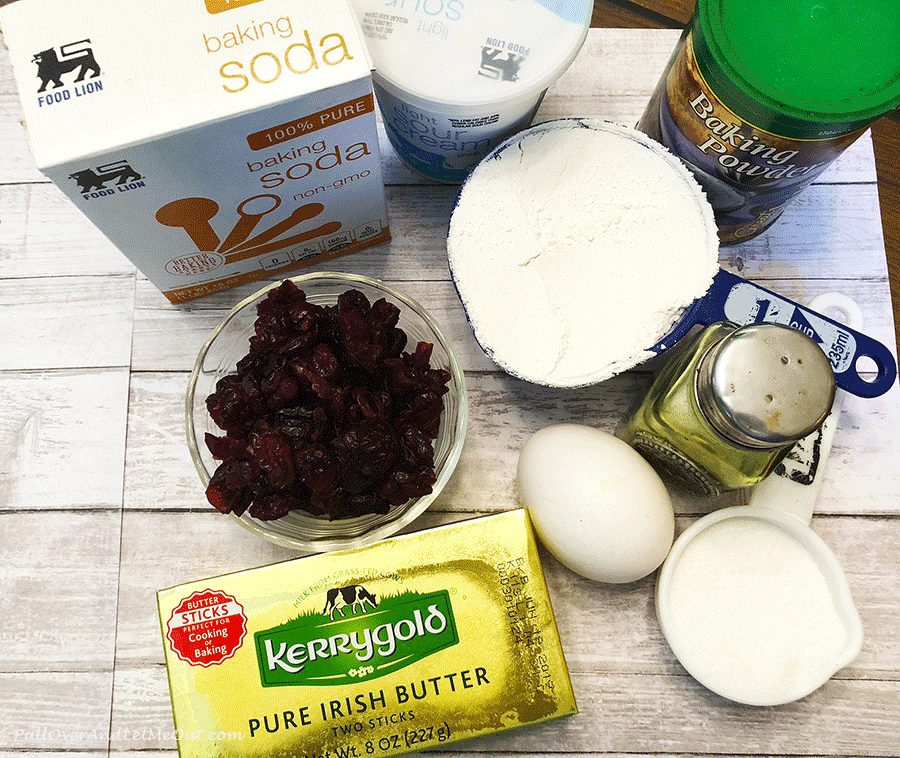 To make this simple scone recipe it only requires a few ingredients.
2 cups of all-purpose flour
1 teaspoon of baking powder
1/4 teaspoon of baking soda
1/2 teaspoon of salt
1/3 cup of sugar
8 tablespoons of frozen unsalted butter
1/2 cup of sour cream
1 large egg
1 cup of dried cranberries (you can add less, but I like lots of fruit)
Getting Started
Preheat your oven to 400-degrees, set the rack to the lower-middle position, line a baking sheet with parchment paper, and set it aside. It's time to get mixing things up a bit.
In a medium bowl stir together the flour, sugar, baking powder, baking soda, and salt. Next, grate the butter into the flour mixture using the larger holes on a standard grater.
This is the step that makes these Irish scones. It's the butter!!
Most ads you see on this site are affiliate links. If you click through and make a purchase I'll get a small commission and it won't cost you any extra. So, thanks in advance for helping me keep bringing you the content you enjoy!
Irish Butter
Irish butter tastes better than any butter I've had. In fact, there's an entire museum in Cork, Ireland dedicated to butter. There's something magical about the climate, grass, and happy cows that melds together forming the world's most delicious butter. It's worth the added expense to purchase a premium butter to enhance the flavor of the scones. I use Kerrygold which is available in most U.S. grocery stores.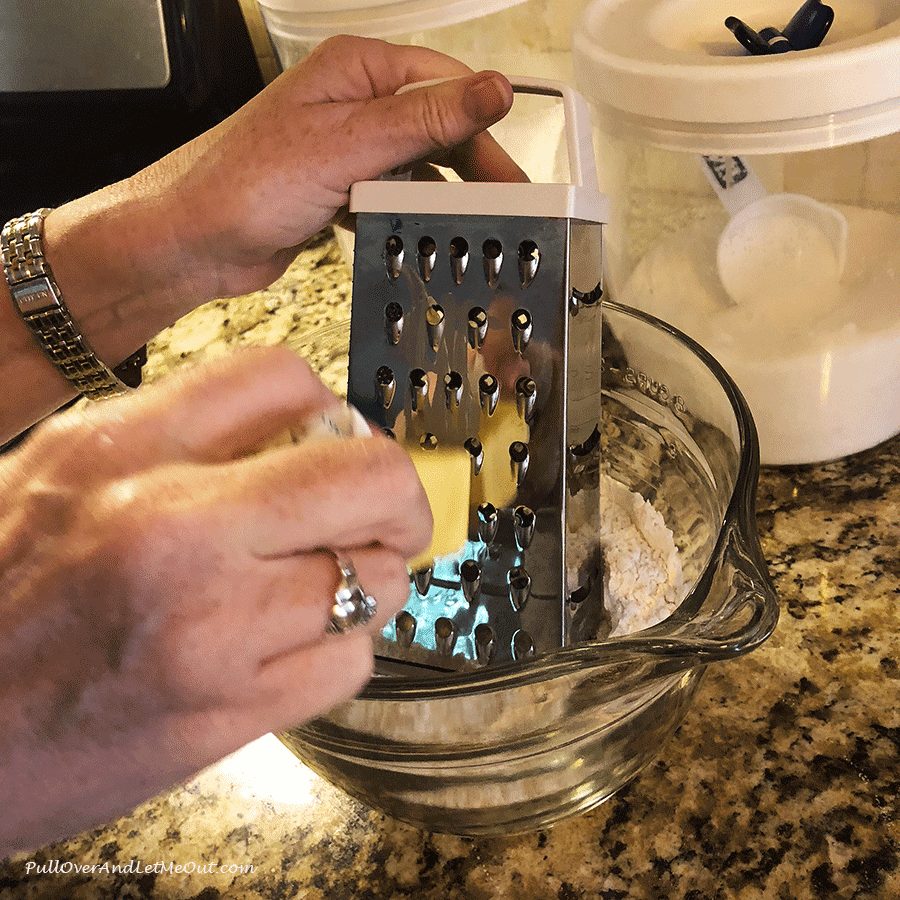 Once the entire stick of butter is grated, begin working it into the flour using your hands until it resembles a coarse meal. Then, stir in the dried cranberries.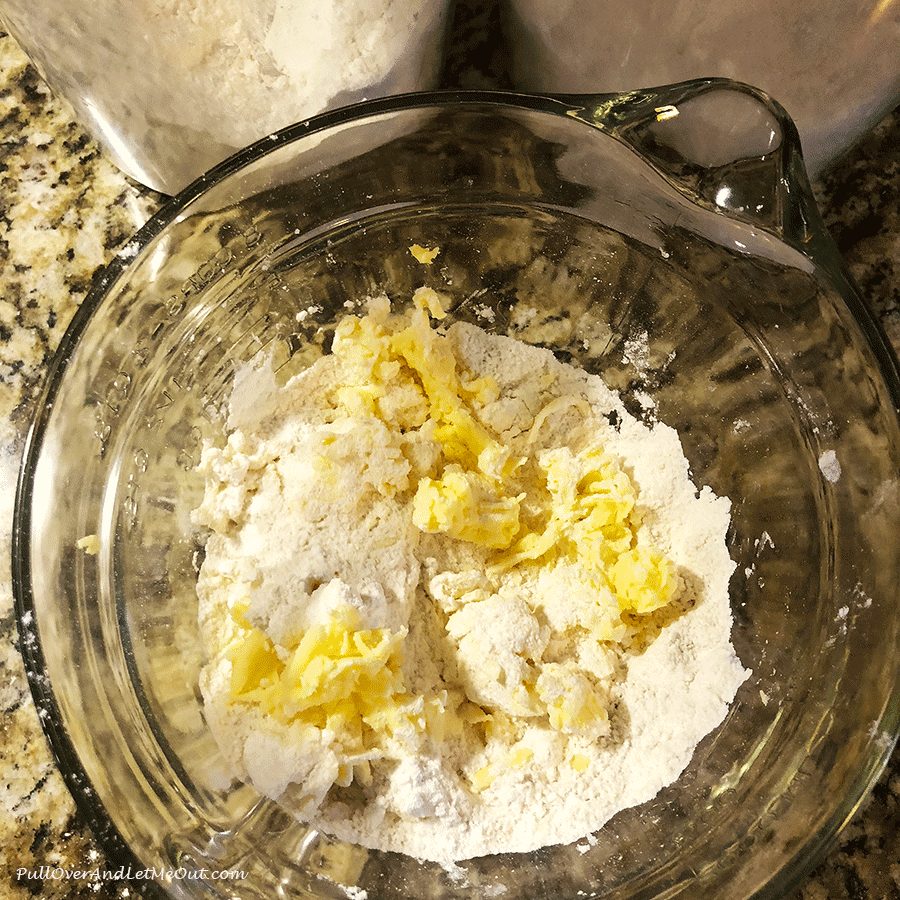 Scones With Sour Cream
Adding to the creaminess of the Irish butter, it's the sour cream that sets these scones apart as the moistest scones I've ever had. In a small bowl, whisk together the large egg and half cup of sour cream. I use a heaping 1/2 cup but that's personal preference.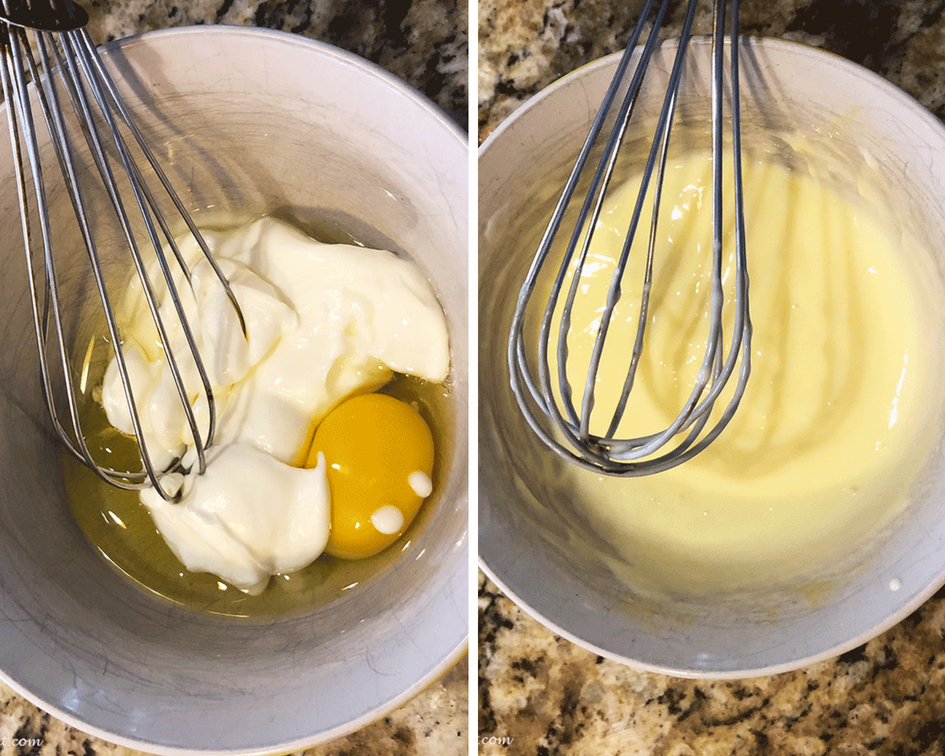 Bringing It All Together
Next, take a fork and stir the sour cream mixture into the flour mixture. Continue stirring until large dough clumps form. Then, use your hands and shape the dough into a ball picking up any loose pieces as you roll it around.
Transfer the round onto a lightly floured board and shape it into an approximately 7-inch circle that's about 1/2 to 3/4 of an inch thick. Lightly sprinkle the dough with sugar before slicing into pieces. I like using a pizza or pastry cutter. However, a sharp knife works just fine.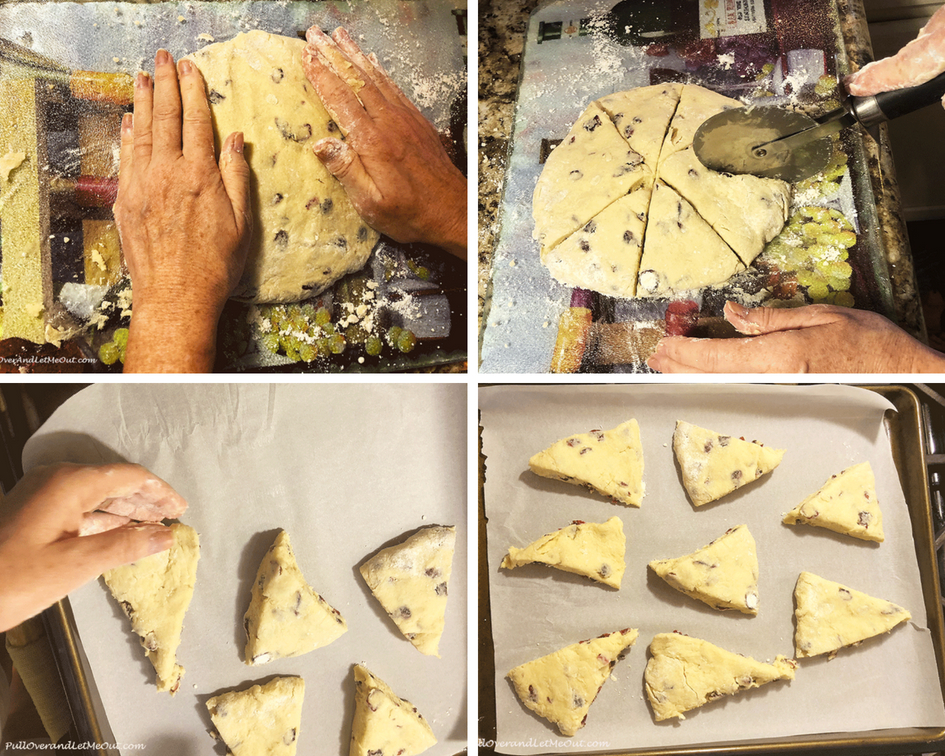 Finally, carefully arrange the triangles of dough onto the lined baking sheet leaving space between so they'll have plenty of room for rising. Place the tray in the preheated oven and bake at 400-degrees for 15 to 17 minutes.
Clotted Cream Recipe
When I order scones in Ireland, the next question is always, Do you want cream with your scones? 
That's an easy question to answer, YES!  
At home, I like making my own clotted cream and of course, I take the easiest route. Using a small amount of heavy cream and a pinch of powdered sugar (you can add more or less), I combine the two ingredients in a mason jar and shake. In a short time, the cream turns into a fluffy mixture. Don't shake it too long or you'll end up with homemade butter. Although, butter on scones is lovely too!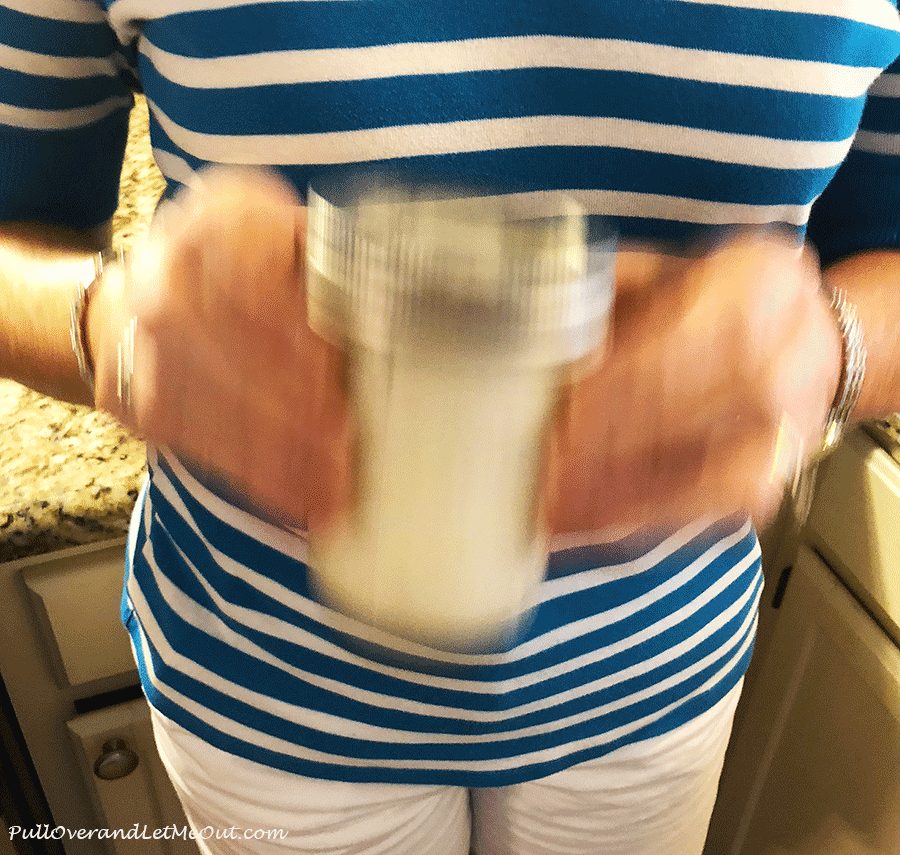 Delicious Cranberry Scones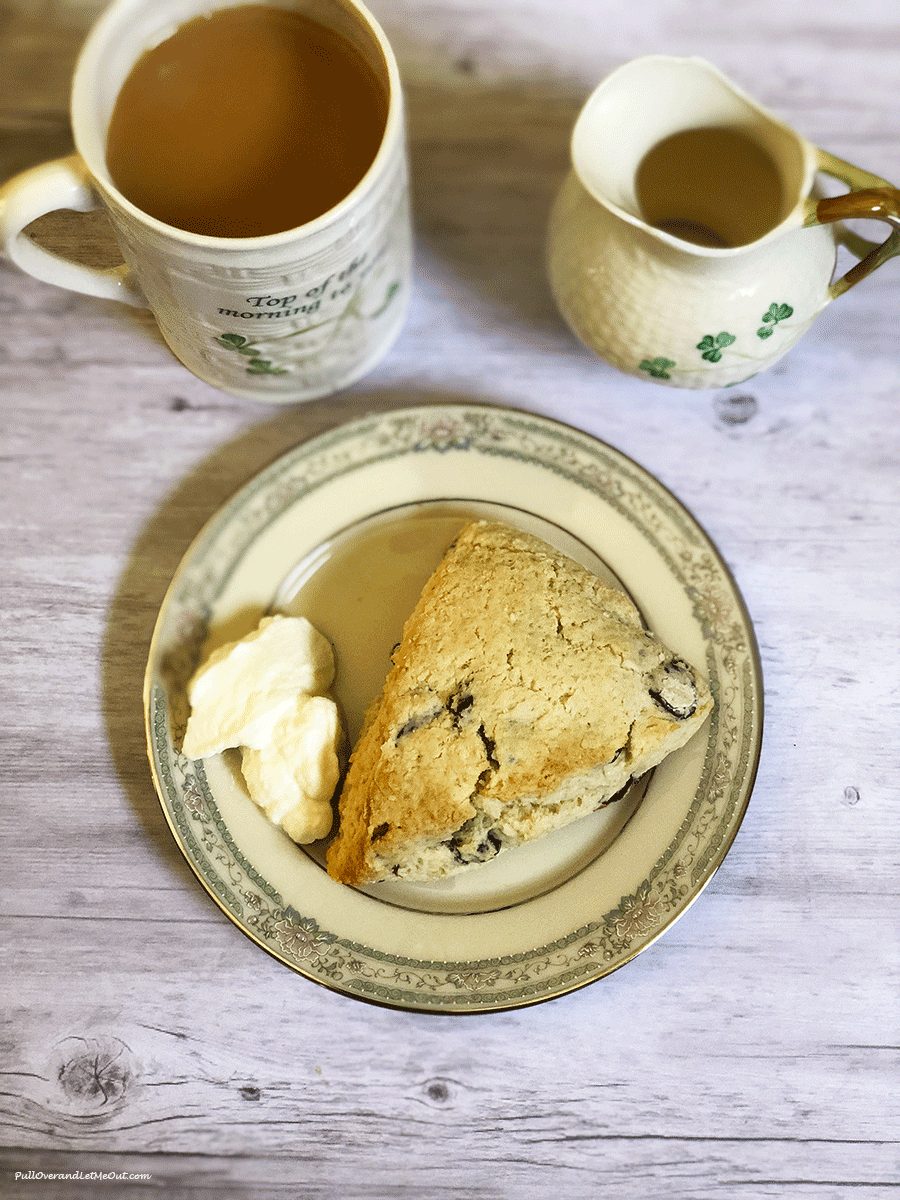 Once your scones are out of the oven, let them cool for about 5-minutes before serving. If you're not going to eat them all, place the extra in a freezer bag and freeze them for later. The scones hold up well for a couple of weeks.
Conclusion
This is the recipe I rely on when I want to enjoy a taste of Ireland. When I bake this easy cranberry scone recipe, it's a warm reminder of my travels through the Emerald Isle. With a few simple ingredients and a cup of tea, I'm back in the land of saints and scholars!
Tell me, do you have a favorite recipe that reminds you of a beloved travel destination?
IF YOU LIKE THIS, PIN IT FOR LATER!