"Write it down, you'll want to remember." 
Those were my mother's words when she handed me my very first travel diary. The denim covered book adorned with little gnomes and the words Gnome Gnotebook emblazoned across the front would be the first of many travel diaries. Moreover, it would spark the flame within that ultimately led to the creation of PullOverAndLetMeOut.com. I was only 19 at the time, but I took Mom's words to heart. Ever since I've kept a travel log of almost every trip I've taken. I've had an array of different styles and themes for my travel notes and love discovering new and unusual concepts. Here are eleven favorite travel journal ideas. Do any of these fit your travel style?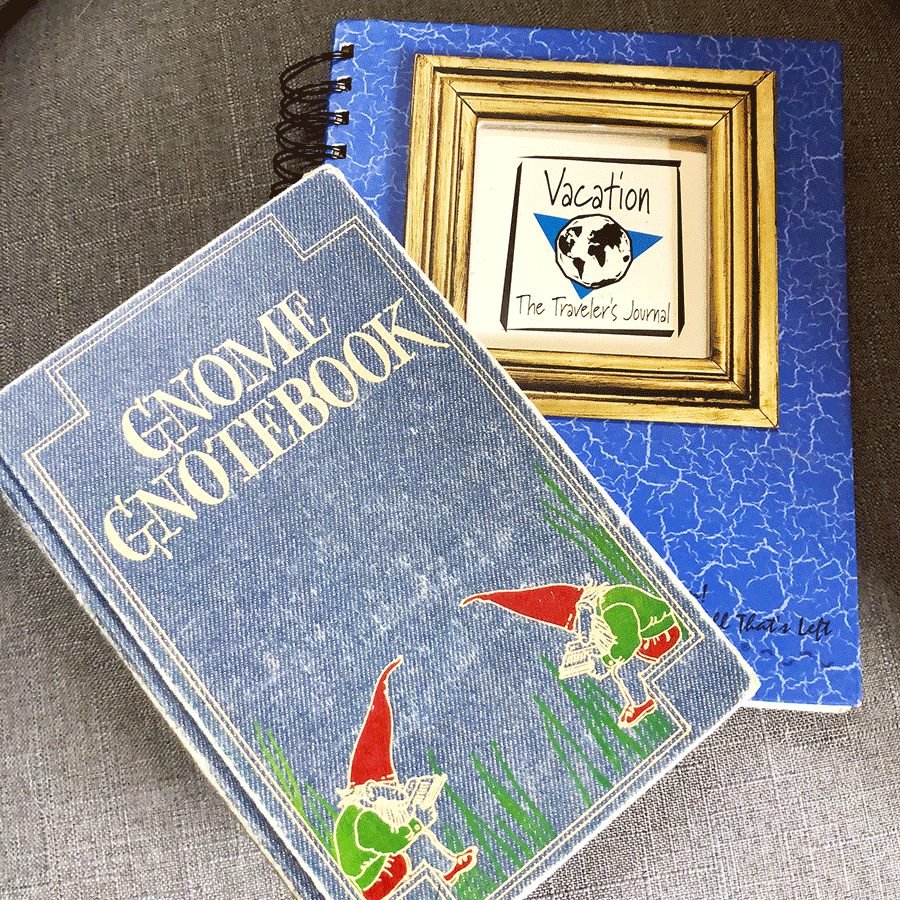 Favorite Travel Journals
Refillable Travel Notebook
Travel Journal With Pockets
Passport Size Travel Journal
#1  Leather Travel Journal
A leather travel journal is a reliable classic. Beautifully crafted, leather is perfect for any traveler and sturdy enough to withstand even the most rugged adventures.
Most ads you see on this site are affiliate links. If you click through and make a purchase I'll get a small commission and it won't cost you any extra. So, thanks in advance for helping me keep bringing you the content you enjoy!
#2  Moleskin Travel Journal
Moleskin is a strong thick cotton fabric with a shaved pile surface. It's recognized for its soft texture and durability. Thus, moleskin is another great travel journal idea for a wide range of travel styles. Whether the itinerary takes you to a five-star resort or climbing Mount Kilimanjaro, moleskin wins the award for most likely to survive a trip. This particular notebook features themed sections and labels for personalizing.
#3  Refillable Travel Notebook
There's nothing worse than falling in love with a travel journal only to run out of pages. Refillable travel notebooks prevent this from happening. An added perk to this refillable notebook is it comes with inserts rather than loose pages. Therefore, when you finish with one insert, your pages are bound in a small notepad and remain together for posterity.
#4  A Travel Journal With Pockets
I'm forever stuffing ticket stubs, brochures, and receipts into my travel journal. A travel journal with pockets is the solution for organizing and keeping those scraps of paper from disappearing. There's nothing more frustrating than your lovely mementos spilling out – pockets prevent this travel inconvenience.
#5  Kids Travel Journal
This is the perfect way to engage young travelers and start them on their own travel journal odyssey. Furthermore, a travel journal is a wonderful way to develop writing and storytelling skills when it comes time for sharing their adventures with family, friends, and classmates.
#6  A Passport Size Journal
The carry on lifestyle can carry over to your travel journal as well. The passport size journal is splendid for jotting down quick notes and then tucking it into a pocket or purse. It's the most portable and functional of all the travel journal ideas and suitable for the minimalist traveler.
#7  Vintage 
A classic form of writing deserves a classic looking travel journal. Today, there are countless beautiful options when it comes to travel logs. However, a vintage look is a perennial favorite and always fashionable.
#8  Designer Travel Journal
Let's face it, a little bit of luxury while traveling is always welcomed. There's a multitude of designers creating stunning yet practical travel journals.  Why not splurge on an upscale travel diary for storing your treasured memories?
#9  Destination Specific Travel Diaries
Maybe you want one superb travel diary dedicated to a trip of a lifetime. A destination specific travel journal is in order. Keep this bucket list trip all to itself in a notebook tailored solely for the location.
#10  Mindful Travel Notebook

Nobody will ever encounter a place in the same way you do. Go deeper and take an internal voyage of discovery. This diary spurs the traveler to develop thoughts and feelings the destination brings forth in addition to recording places and events.
#11  Personalized With Scratch Off Maps
Here's a journal for the person with an incurable case of wanderlust. Not only does it come with pages for recording travels, there are also 8 scratch maps each representing a region of the world. Scratch off the location as you go while documenting your experiences.
Best Travel Journals 
With all of today's technology, it may seem a travel journal is a tad old-school. Nonetheless, it's a time-tested method of preserving memories. Reading through old journals, I'm always amazed to find details such as songs I heard playing on the radio, restaurants I ate in or names of people I've met that over time I've forgotten.
Finding the best travel journal for keeping travel memories safe can be almost as fun as planning the journey… almost. Whether it's a journey across town or a trip of a lifetime, I always recall my mother's words, "Write it down, you'll want to remember."
Do you have a favorite travel journal idea you recommend? Let me know in the comments below.
Hey, Pinners! Pin This!