You won't believe how many times my work life and my personal interests have led me straight to the doorstep of the Gaylord Opryland Resort & Convention Center for conferences and events. Five? Maybe six times? I've lost track. Opened in 1977, this place has a history that's as big as its size – a true icon of hospitality that's evolved over the years. Between all those visits, I've picked up some helpful nuggets on how to really make the most out of your visit here. So, let's dive into a handful of tips for a smooth and successful stay at this magnificent destination in the heart of Music City.
Disclosure:
Many of the links you see on this site and within our trip planning tool are affiliate links. If you click through and make a purchase, I'll get a small commission and it won't cost you any extra. On selected stories, for those hotel and car bookings made using our TravelingToGive™ tool we contribute 2.5% of gross hotel and car sales to Paws for Purple Hearts. So, thanks in advance for helping me keep bringing you the content you enjoy and, at the same time, giving back to those who so bravely serve our country! #everytripmatters
9 Tips for a Successful Stay at the Gaylord Opryland Resort & Convention Center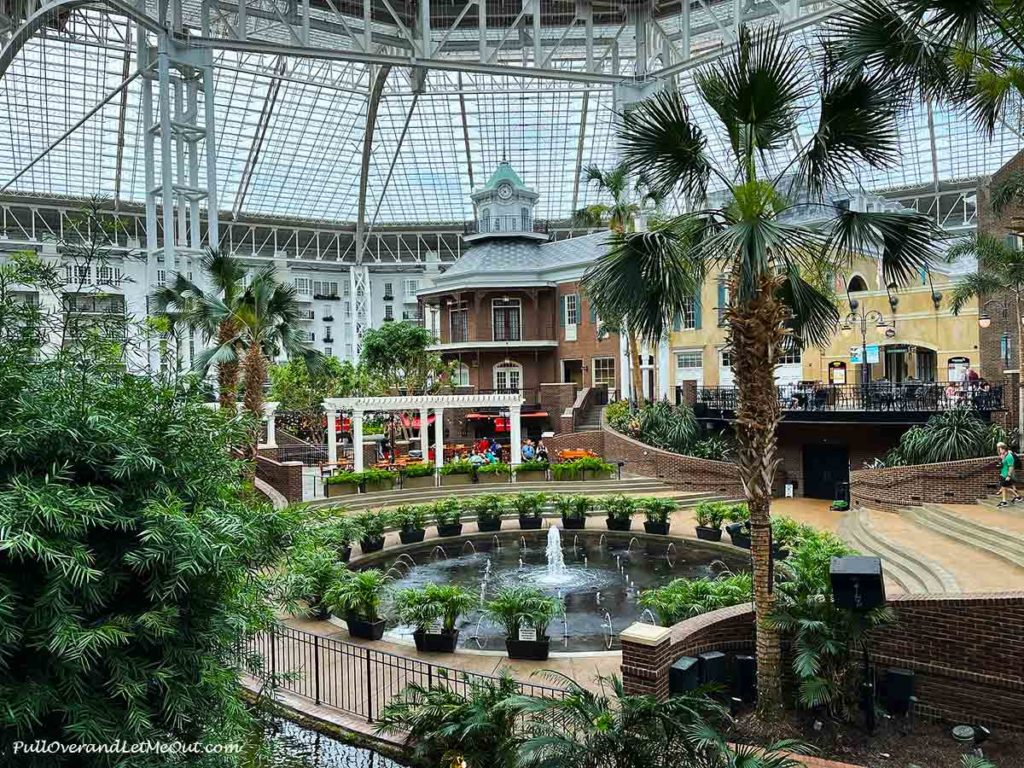 It goes without saying, but I'll say it. Plan ahead if you know you'll attend an event or convention at the Gaylord Opryland. You can learn about important details that will make your arrival and check-in easier by visiting their website. Check-in time is at 4 p.m., and check-out is at 11 a.m. Be sure to ask for a room with an atrium view when making reservations or upon arrival if that's important to you.  Likewise, expect to pay a $25 resort fee (at the time of this writing) that covers a variety of amenities.
I strongly recommend going to the resort's website and downloading a map of the hotel. It's a great way to familiarize yourself with the layout before you arrive so you can plan your route to and from meeting rooms, restaurants, and other attractions.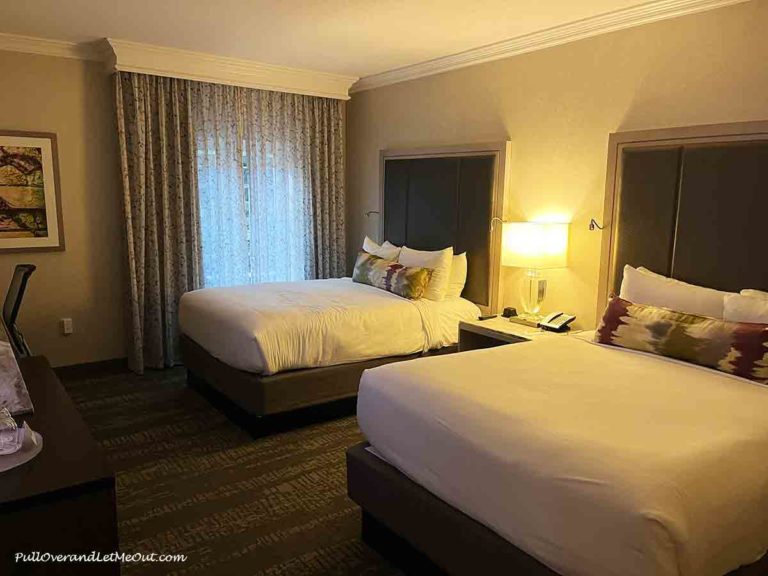 Get ready for a real adventure once you step into the massive world of the hotel and convention center. Seriously, comfortable shoes are going to be your best friend here. The distances between different spots can be surprisingly long, so you want your feet to be in a good mood throughout the journey.
If you or someone in your traveling party has mobility issues, the Gaylord Opryland has property-wide accommodations for guests with disabilities, as well as an on-site provider of wheelchairs and electric scooters.
Oh, and here's a tip: When you're checking in at the main entrance, consider enlisting the help of a Bell Attendant. Trust me, that hike from the lobby to your room can be a bit daunting, especially if you're hauling around a ton of luggage. Spare yourself the struggle, especially if your room seems to be miles away. Your feet and back will thank you!
When it comes to dining, this place has you covered with a long list and a wide range of choices suiting all palates and budgets. If you're planning for a memorable dining experience, look no further than Cascades – the sight of the stunning falls and the open, airy atmosphere are unbeatable. If you're up for a special occasion and cost isn't a concern, Old Hickory Steakhouse is the go-to spot; it's an investment that's well worth it, especially if someone else is footing the bill.
For those times when you're craving a quick bite, options abound: try Paisano's for pizza or Stax for mouthwatering burgers, in the Delta Marketplace. Likewise, you can enjoy delicious Southern food at Jack Daniels for a laid-back, casual dining vibe. And if you're all about convenience, like me, you can't go wrong with a trip to the Marketplace. I grabbed some yogurt, fresh fruit, and a delectable turkey breast sandwich, stashed it in the fridge in my room, and just like that, breakfast and lunch were sorted!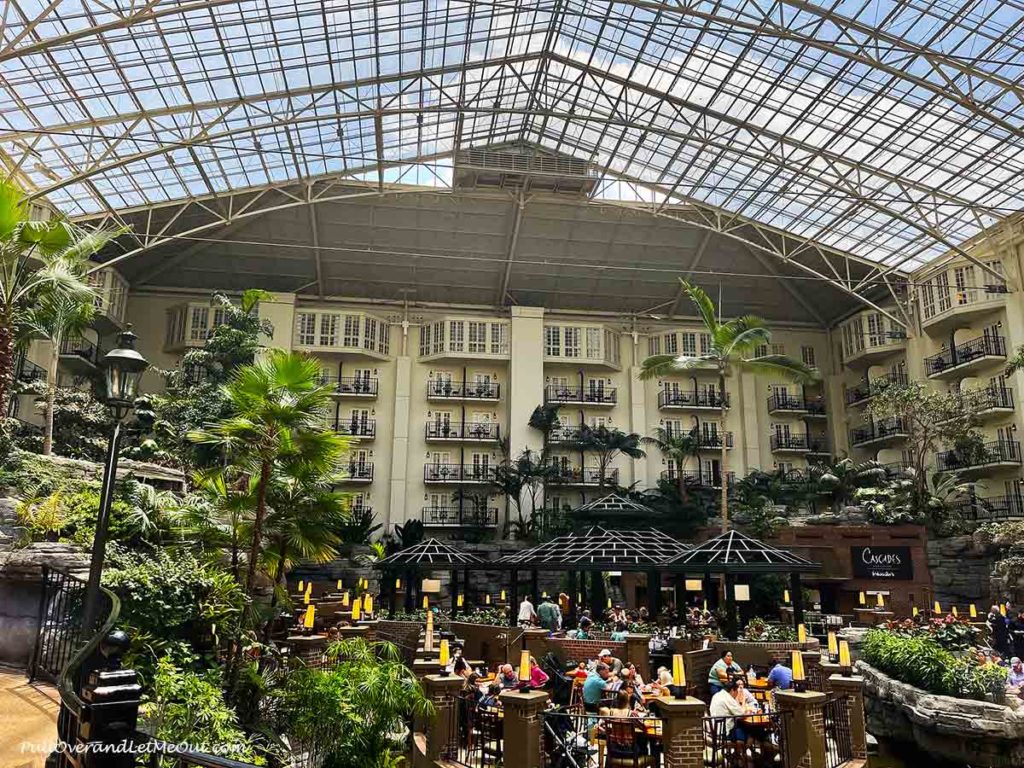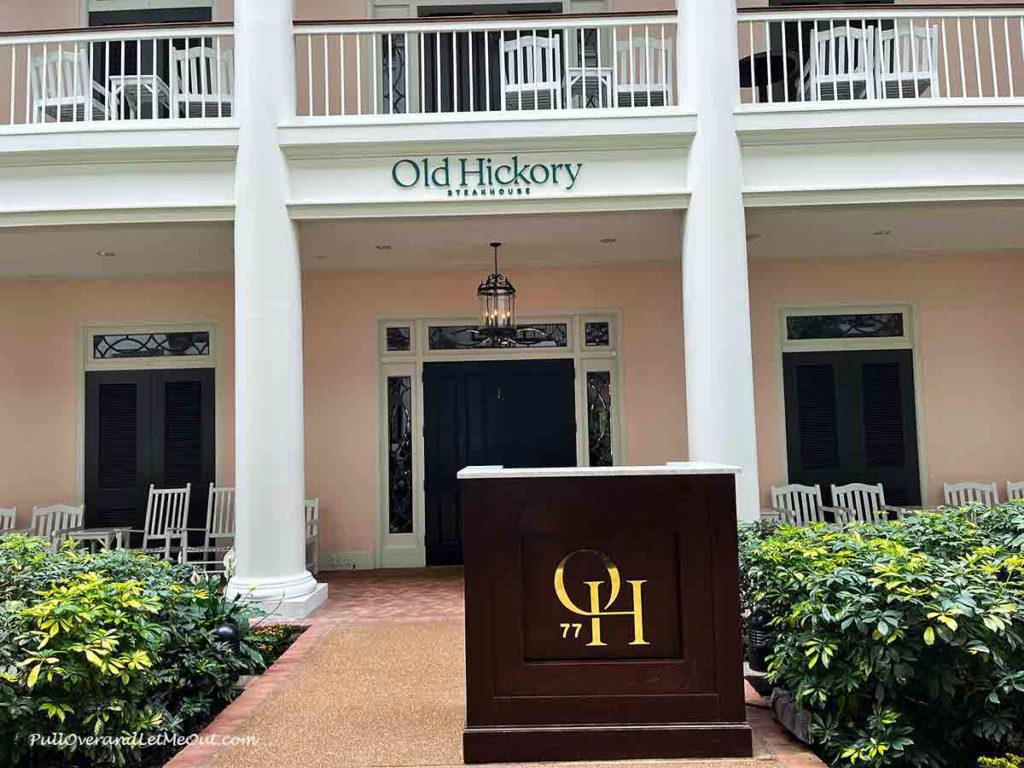 Entering the Delta section of the hotel feels like stepping into a magical realm. It's a true marvel, encompassing half of the nine-acre indoor garden space. The abundance of plants and foliage gives the impression of being transported to a lush tropical island while remaining comfortably inside which is always set at a balmy sixty-eight degrees.
This place isn't just about the greenery; it's also a treasure trove of experiences. The Delta Atrium houses the Delta River Boat Tour, the Aqua Fountain Show, and the International Waters Fountain Show.
Arriving in the late afternoon or early evening unveils an added layer of enchantment as the dancing fountains come to life amidst a symphony of vibrant lights. We decided to embark on the last boat tour of the evening, a decision that didn't disappoint. From a pirate-themed adventure complete with costumed actors along the water's edge to a surprise "gold piece" (it was really chocolate) at the tour's end, the experience was nothing short of thoroughly entertaining and left us with memories to treasure.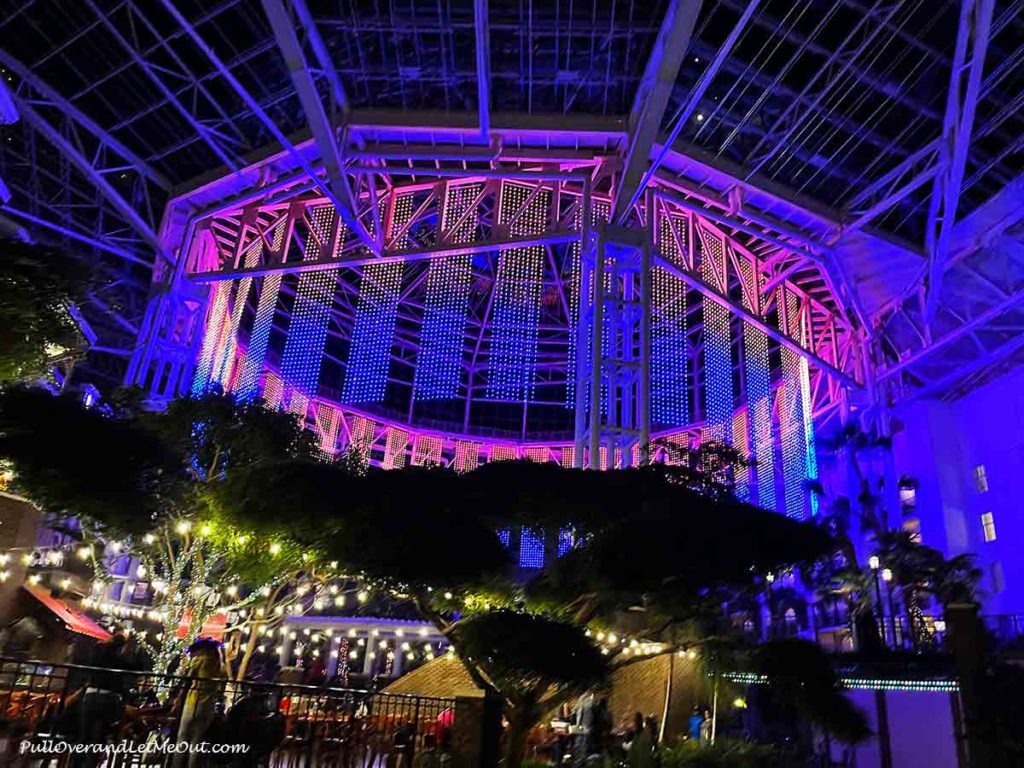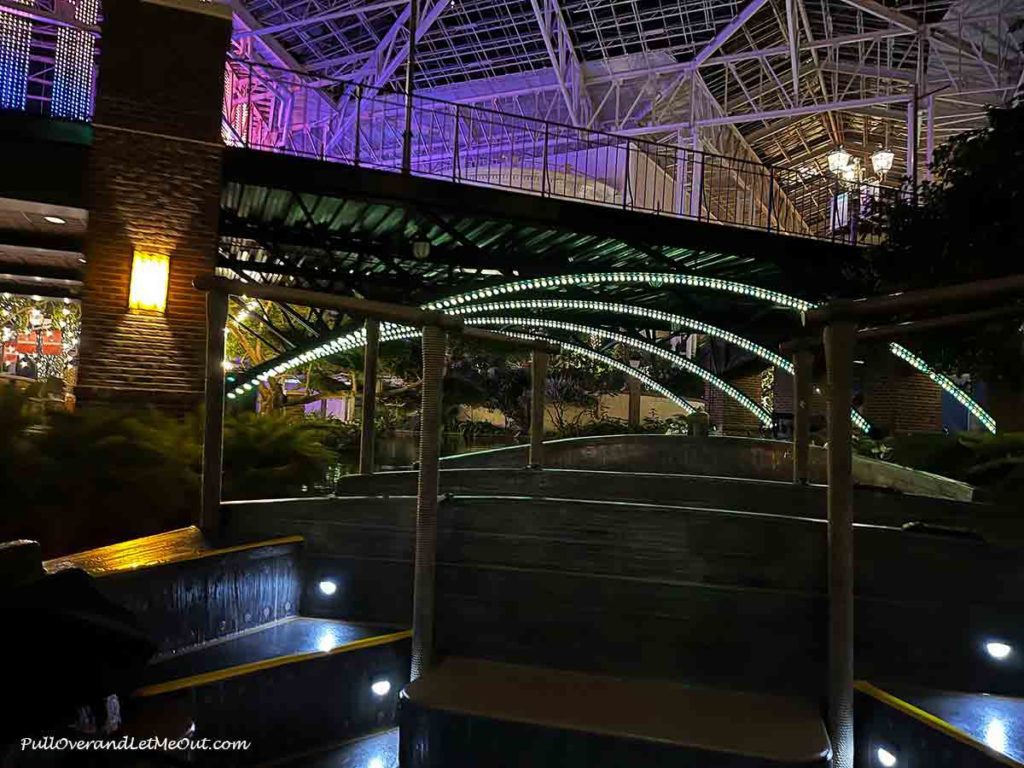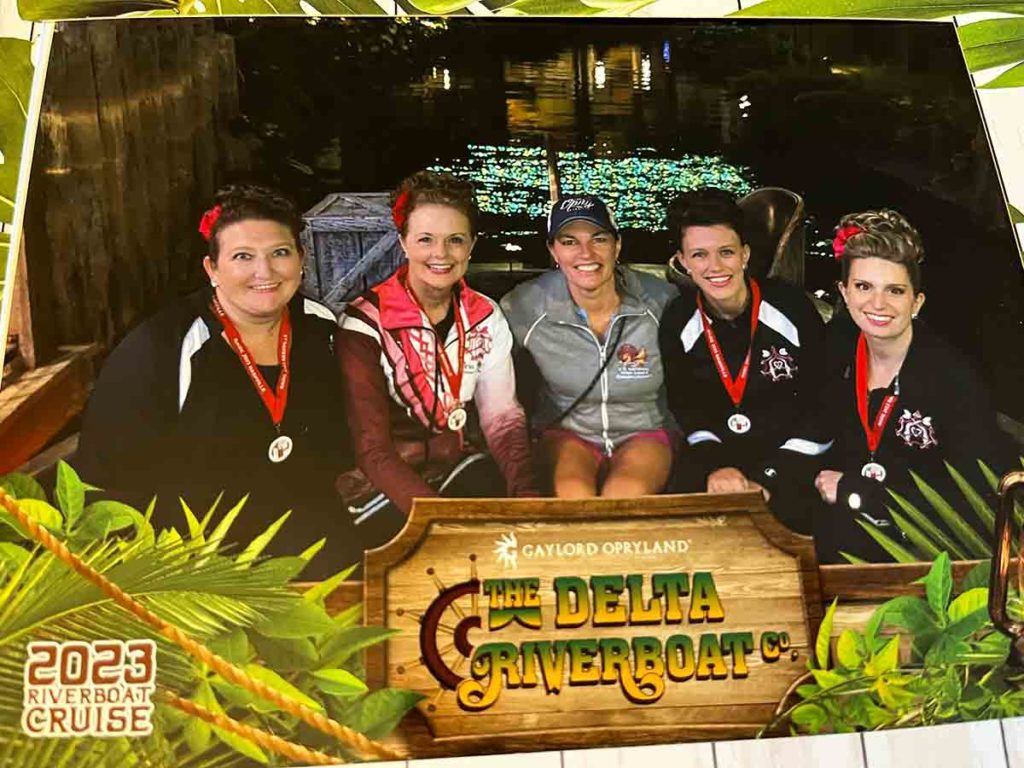 5. Parking at Gaylord Opryland
Just when you thought you had your journey all mapped out, a small detail pops up: parking isn't on the house. I get it – after that drive, the last thing you want is another surprise expense.
Self-parking comes at $35, while valet service will set you back $48, but it does come with in-and-out privileges if you're staying overnight. For those popping in just for the day, there's a $35 charge per entry. Don't forget to take into account that the mentioned prices are subject to tax. On a brighter note, if you're cruising in an electric vehicle, they've got you covered with charging stations. It's all about the little details, right?
6. Take Advantage of the Shuttle!
The Cascades Transportation Depot at the Gaylord is a beehive of activity!
So, if you're flying in and want to take the shuttle, here's the lowdown. When you get off the plane, go to the Terminal Parking Garage and take a right when you get to the lower level of the airport. Continue walking on the ground level and look for the 'Hotel Shuttle' sign with the Grayline Bus parked right underneath. Catch this Grayline Bus at the airport on the half-hour or at the Cascades Transportation Depot on the hour. Tickets can be purchased in advance online (check online for specific availability), and your confirmation email serves as your boarding pass. Nashville's airport (BNA) is about a ten-minute ride from the Gaylord Opryland. 
The Gaylord Opryland also runs a Downtown shuttle that takes visitors downtown for drop off and pick up at the Country Music Hall of Fame for a fee. This is a great option if you want to do a little exploring downtown but do not want to have to worry about a vehicle. Additionally, there is a complimentary shuttle that travels to Opry Mills. This free shuttle puts you out at the shopping mall with easy access to a number of attractions including, restaurants, shopping, The General Jackson Showboat, The Grand Ole Opry, and Madame Tussauds, to name a few. Shh! If you are only visiting the Gaylord for the day and you park at Opry Mills outside the cinema, you can catch the complimentary shuttle to the resort and avoid the day rate parking fee. 
If the idea of skipping the shuttle appeals to you, know that ride-sharing is another viable option, and you'll usually find a good number of drivers in close proximity.
7. Book a Visit for the Holidays
With events like Goblins & Giggles and ICE! featuring The Polar Express™, fall, and Christmas at the Gaylord Opryland become even more enchanting. Goblins & Giggles brings the whimsy of Halloween to a whole new level of fun with themed activities and lively entertainment.
As the holiday season approaches, immerse yourself in the magic of ICE! featuring The Polar Express, where iconic scenes from the beloved story are brought to life in intricate ice sculptures, creating a breathtaking winter wonderland sure to captivate visitors of all ages. There is also figure skating, ice tubing, gingerbread decorating, and much much more. These extraordinary offerings and an array of others add to the already magical atmosphere, making Gaylord Opryland a must-see destination during these special times of the year.
When they say "Welcome to More" at the Gaylord Opryland, they're serious. There's an abundance of activities waiting for you here, both within the resort and in its vicinity, that you won't want to miss out on.
They've got it all, from the cutting-edge Soundwaves aquatic attraction (complete with indoor and outdoor play structures, lazy and rapid rivers, waterslides, and on-site dining options) to the immersive Delta River Boat tours, the lush fairways of Gaylord Springs Golf Links, an arcade for some playful competition, the General Jackson Showboat cruising the Cumberland River, and the ultimate relaxation hub, Relâche Spa. Remember, a quick price check before your visit will ensure you're ready to make the most of this diverse range of experiences.
Love a useful app?
Navigating your way through the Gaylord Opryland experience has never been easier, thanks to their comprehensive app. Imagine having all the information you could possibly need right at your fingertips – it's a game-changer. From interactive maps to help you find your way around, to a rundown of the dining options and their amenities, plus schedules for activities and events that you wouldn't want to miss – it's all there. But wait, it gets better – you can even buy event tickets directly through the app. No more endless searches or flipping through brochures. With this app, available for download on their website, the App Store, or Google Play, your Opryland journey is streamlined and seamless, making sure you get the most out of every moment.
Enjoy Your Stay at Gaylord Opryland Resort & Convention Center
Whether you're journeying to the Gaylord Opryland Resort & Convention Center for business, a family getaway, or an event like the North American Irish Dance Championships, the wealth of experiences this destination offers is bound to captivate you.
By taking the time for some preliminary research and planning, coupled with the insights you've gained here, your stay can truly become a remarkable success.
Every moment spent within the sprawling beauty of this resort will be etched into your memory, ensuring that your time here becomes a cherished and enduring memory for years to come.
Hey, Pinners! Pin this for later!
► Plan Your Trip to Nashville, Now!
Hey pinners, save this for pinning after your trip
After you get back from your trip, please use these images to post to social media or post your own photos.  Please tag us on your post #pulloverandletmeout
You can also use the social sharing links on the SmartTrip tool.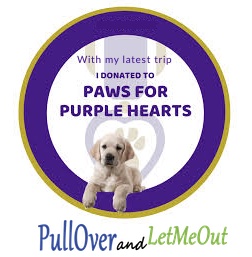 More great travel stories you'll love reading!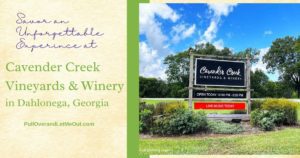 Cavender Creek Vineyards & Winery is a thriving and welcoming wine destination perfect for wine enthusiasts and anyone seeking a scenic escape from the daily grind. Travel there with PullOverandLetMeOut to discover this charming winery in the Appalachian foothills.
Read More »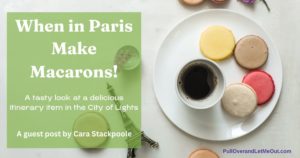 Guest blogger Cara Stackpoole shares a delectable itinerary item in the City of Lights. Discover why making macarons is a memorable experience.
Read More »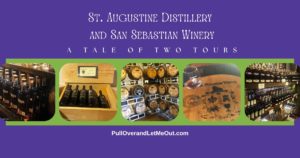 St. Augustine Distillery & San Sebastian Winery offer two distinctly different craft beverage experiences in the heart of downtown St. Augustine. Travel along with PullOverandLetMeOut to learn a tale of two tours.
Read More »