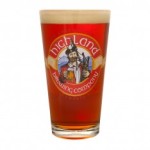 I love visiting Asheville, NC.  It's a fun 'artsy' city in the western part of the state nestled in the North Carolina Mountains.  On a recent visit I had the pleasure of dining and tasting craft beers at Barley's Tap Room and Pizzaria.  This fun restaurant has been recognized as the 'Best Tap Room in the South.'  The renovated 1920's hardware store serves up delicious pizza and a long list of local brews.  I tried the Highland Gaelic Ale and was delighted with my choice
Barley's is one of several beer joints in the city.  What many don't realize is Asheville has been voted  'Beer City USA'  three years in a row.   Voting for the 2012 title is going on now and it's a tight race.
Written by Tony Kiss  4:01 PM, Apr. 30, 2012

"But Mike Rangel, owner of Asheville Brewing, and Tim Schaller, of Wedge Brewing, have changed their minds about the poll and now believe Asheville should win again.

"If we are in the game, we might as well win," Schaller said.

"Asheville has gained a lot" by winning the poll 2009-11, said Rangel. "With these monster rock stars of Sierra Nevada and New Belgium (building here), it makes us worthy of competing again."

And Barry Bialik, of the Thirsty Monk brewery and pubs, is also ready to make a Beer City charge.

"Asheville is all about local pride," he said. "Whatever the result is, I hope everyone gives the full effort."

The Beer City Poll is an unscientific vote that lets beer fans vote once for their favorite brew town.

Asheville tied with Portland, Ore., in the 2009 poll, but since then Asheville has dominated the voting. The victories have brought the city a lot of attention as a beer destination.

This year, 31 cities are in the running, including first-time entries Charlotte and Raleigh.

While that might lead to a split in North Carolina voting, "It's important to keep in mind that three cities in our beer community made the ballot in the first place," said Win Bassett, executive director of the North Carolina Brewers Guild."

https://www.citizen-times.com/article/20120430/ENT/304300025/Beer-City-title-line?odyssey=mod|newswell|text|Frontpage|p

With so many breweries, craft beers and brew pubs, it's easy to understand why Asheville is gaining a reputation as a destination brew city. There's more to Asheville than Biltmore, but even if you plan to visit the city to see the great estate, there's always time for a nice cold beer.  

Cheers!