I enjoy good food and dining out but I'm not a big "foodie." There are those in the world who live-to-eat. I'm more of an eat-to-live type.  That being said, when I find something that makes me stop and say, "this is really good" I'm sincere.
I found a place that made me stop and take note the other day.
The Moose Cafe in Asheville, North Carolina.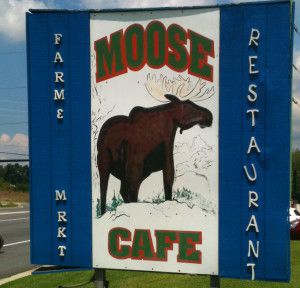 We'd planned to stop in Asheville for lunch on our way to Bryson City. However, we weren't paying close attention and drove by our exit. Rather than turn around, I noticed a sign for a restaurant at the next exit and we decided to take a chance.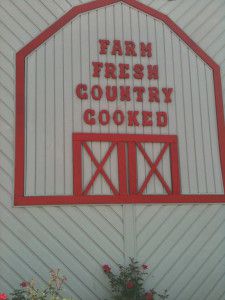 Signs promising authentic "country cooking" conjure a variety of images from delicious  home-style fare à la Paula Deen to Granny from the Beverly Hillbillies fixing opossum for Jethro. It's a rather nebulous term and you take a chance when the restaurant is an unknown commodity. Nevertheless the moose on the sign out front looked friendly so we rolled the dice.
We arrived at 1:00 p.m. and the place was full of locals – always a good indication.
Upon being seated our waiter appeared with a basket of home-made biscuits and apple butter. The apple butter is out of this world. I even bought a jar to take home – it's that good.
My son and I had the chicken and dumplings which are made from scratch and delicious. The green beans and collard greens are cooked to perfection – not too salty but full of flavor and tender.
Drinks are served in a mason jar, naturally. Sweet tea is the Southern house wine, but the unsweetened is freshly brewed and ice cold as well.
My husband ordered a burger. Their burgers are made with freshly ground beef and are substantial enough for big appetites.  He could barely finish which is saying something.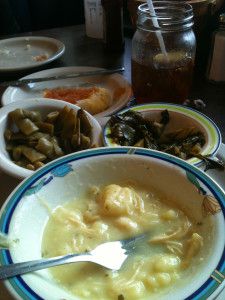 The service is extremely friendly and the prices are great.  It's easy to spend as much on barely adequate fast-food. This is a quality sit-down meal that doesn't break the budget.
Like I said, I'm not ordinarily one to carry on about a good meal, but the Moose Cafe was a pleasant surprise and not the typical sight-seeing stop in Asheville.
If you want a safe bet for truly good country cooking in the North Carolina mountains drive past the exit where the standard tourist attractions are and you'll find that country meal at the Moose Cafe.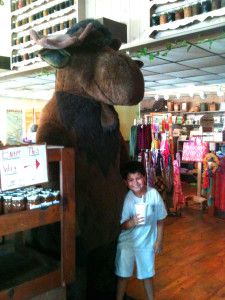 570 Brevard Road
Asheville, NC Exit 47
If you like this please share it with your friends.  And as always Happy Travels!