September is here and that means apple season is upon us.  If you want to go apple picking -now is the time to make plans for a fun-filled day.  Orchards all over the country are preparing for the busy season.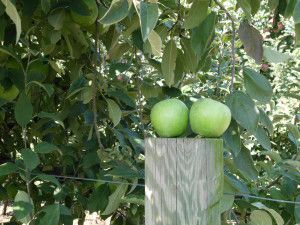 I went apple picking in Ellijay, GA last September during their Apple Pickin' Jubilee.  Here's a portion of a piece I did for Examiner.com.
Apple Pickin' Jubilee at Hillcrest Orchards /
SEPTEMBER 19, 2011/ By: Anna Marie Jehorek

Granny Smith, Rome, Golden Delicious, Arkansas Black – it's Apple Pickin' Jubilee at Hillcrest Orchards in Ellijay.

All kinds of family fun is Included in the price of admission. The giant jumping pillow is a hit with the kids as well as go-karts, the Corny Kids' Maze, the story book nature trail and wagon rides. Children squeal with delight as they watch their favorite little pig run the track at the Hillcrest Pig Races. The stands are full as the fleet- of- foot pigs run the track each weekend. Fans of all ages will find themselves cheering as Angelina Jowlee goes up against Kevin Bacon and Donald Rump in these races.

There are also a few fun items for a small fee. The junior bungee jump is $7 and rock climbing is offered for $5. For $3 little ones may pet tiny critters in the petting zoo. The large petting zoo is filled with miniature goats, lambs, kittens and chicks that are a delight for little ones. Our little visitor had a tough time relinquishing the cute kitten he was cuddling.

The fun isn't for kids alone. There is live music on the Hillcrest stage and plenty of food from BBQ to funnel cakes. Tasty treats and local favorites assure no one goes away hungry. The Hillcrest Market offers many of the scrumptious jellies, apple butters and jams for guests to take a bit of the flavor home with them.

Finally, let's not forget the main attraction of Apple Pickin' Jubilee – the apples. Hillcrest Orchards sits atop a hill covered with rows and rows of dwarf apple trees waiting for visitors to pick their own. Purchase a bag to fill with your favorite apples. The dwarf trees make easy picking for even the tiniest of apple lovers. If you don't want to make a special trip to the car, you may choose to save your apple picking for the end of the day. The largest bag is $15 to fill and guests are encouraged to fill it as full as possible. Eating while picking is prohibited at Hillcrest Orchards; but on your ride home you may find yourself reaching into that bag.

for the full article;

https://www.examiner.com/article/apple-pickin-jubilee-at-hillcrest-orchards
Apple season ushers in the fall and is a great time to get outdoors, enjoy the delightful weather and spend time with family and friends.  You'll even find the apples taste much better when you pick 'em yourself.
If you're looking for an orchard near you, click here
If you like this please share it with your friends.  And as always, Happy Travels!