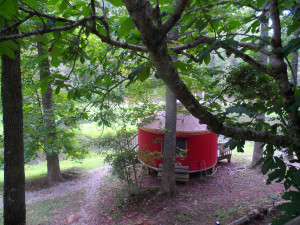 Do you love the great out doors and spending time in the woods  but don't consider yourself rugged enough to sleep under the stars?
Does the thought of camping sound dirty and unappealing?
Have you've ever spent a night trying to get comfortable in a sleeping bag only to awake in the morning feeling as if you had been beaten?
If you answered yes to any of these questions, glamping may be for you.
Essentially glamping is glamorous camping.  I had my first glamping experience at Falling Waters Adventure Resort in Bryson City, North Carolina.
Spending two nights in a yurt has forever altered my idea of camping.
Here are five things you'll love about glamping. (there are more but I'm keeping this brief)
You won't spend hours packing the car – Traditional camping takes a lot of prep time. My husband and I would pack the car the night before, but inevitably there were things that had to wait until we were ready to go. Thus packing was a drawn out arduous process. Tent, sleeping bags, pillows, air mattresses, lanterns and all the accoutrements take space. The car would be so full of gear we'd have a tough time fitting ourselves inside.
You just show up- We pulled up at our yurt, got out of the car, carried in the suit case and voila! We were glamping. Staying in a yurt means it's all there and ready upon your arrival. Electricity, mini-fridge, coffee maker, comfortable bed, clean linens – all the comforts of home, but in the woods. As I like to say,there was a bedroom in my tent.  
You don't have to cook – On previous outings I felt compelled to plan elaborate camp meals. This meant keeping food on ice in coolers, carrying grocery bags from home or grocery shopping when we arrived. Meal planning and cooking felt more like work than vacation. On our glamping trip we cooked hotdogs over the open fire one night, but ate in town the next. We found a sidewalk cafe in Bryson City and had a relaxing meal. It's freeing not having the task of meal preparation looming at the end of the day.
You'll enjoy the woods more – Instead of spending the first evening putting up a tent and blowing up air mattresses, we put our things inside the yurt and relaxed on the deck with a glass of wine. We were there to unwind and with less work to do there was more time for appreciating the surrounding beauty. Sitting on the deck reading my Kindle was a joy.

Our yurt at Falling Waters Adventure Resort ~ PullOverandLetMeOut

You don't have to tear down camp when you leave – Disassembling camp and packing it all back in the car to go home is no fun. It's worse if it's raining. Glamping means striking camp is a thing of the past. What a huge stress relief to not spoil the peaceful feeling we gained from our time in the woods.  Instead of an hour to two hour process, we simply put our clothes in our bag and departed.
Glamping is a broad term which can mean anything from a basic yurt to extremely high-end five-star luxury experiences. Which ever fits your tastes and budget it's a great way to enjoy nature without roughing it.
As someone who has done her fair share of rustic tent camping I can honestly say after my first glamping trip, I will never sleep on an air mattress again! (I know, I know – never say never.)
If you like this please share it with your friends.  And as always, Happy Travels!