Rocky Mount Mills is a one-of-a-kind attraction located a short distance off of Interstate-95 in Rocky Mount, North Carolina. The 82-acre complex of the restored cotton mill, located roughly halfway between New York and Florida and less than a mile off US-64, is an astonishing mix of historic preservation infused with new life, good food, and craft beer. We happened upon Rocky Mount Mills on a balmy Saturday in February and were thrilled with this discovery. Rocky Mount Mills is a great place to as their website puts it, "to wander, to explore and be surprised – a place to craft your own story." 
Disclosure:
Many of the links you see on this site and within our trip planning tool are affiliate links. If you click through and make a purchase, I'll get a small commission and it won't cost you any extra. On selected stories, for those hotel and car bookings made using our TravelingToGive™ tool we contribute 2.5% of gross hotel and car sales to Paws for Purple Hearts. So, thanks in advance for helping me keep bringing you the content you enjoy and, at the same time, giving back to those who so bravely serve our country! #everytripmatters
Rocky Mount Mills in Rocky Mount, North Carolina
Restless for a change of scenery, my husband and I took an hour's drive east of Raleigh towards Rocky Mount. We had no itinerary and had no idea what we would do or find. Our objective was simply to get out of the house and discover something new. That's how we discovered Rocky Mount Mills.
What we hadn't planned on finding was a destination that's the perfect blend of history, entertainment, dining, and craft beer. Rocky Mount Mills is all of these and more.
Rocky Mount Mills History
For this history buff, Rocky Mount Mills ticks all the boxes. For over 200 years, Rocky Mount Mills has been a landmark and integral part of the community. Founded in 1818, Rocky Mount Mills, is thought to be the second oldest cotton mill in the state and the longest in operation until it closed at the end of the twentieth century.
The campus and mill village pay respect to a bygone period by presenting and chronicling the fascinating tale of the mill, the community, its residents, and its impact on the region over two centuries, harkening back to the era of big cotton and the booming textile industry.
It's not just a fascinating story of the mill, but it's also an architectural marvel. The restored structures maintain the architectural integrity of the time period, from the exposed beams and intricate brickwork in the main building to the character of the cottages in the mill village.
Because the mill has such a rich history, I went home and started researching it, and I discovered a link on their website with a list of historical narratives. If you enjoy history, click on the link here to learn more about this historic destination.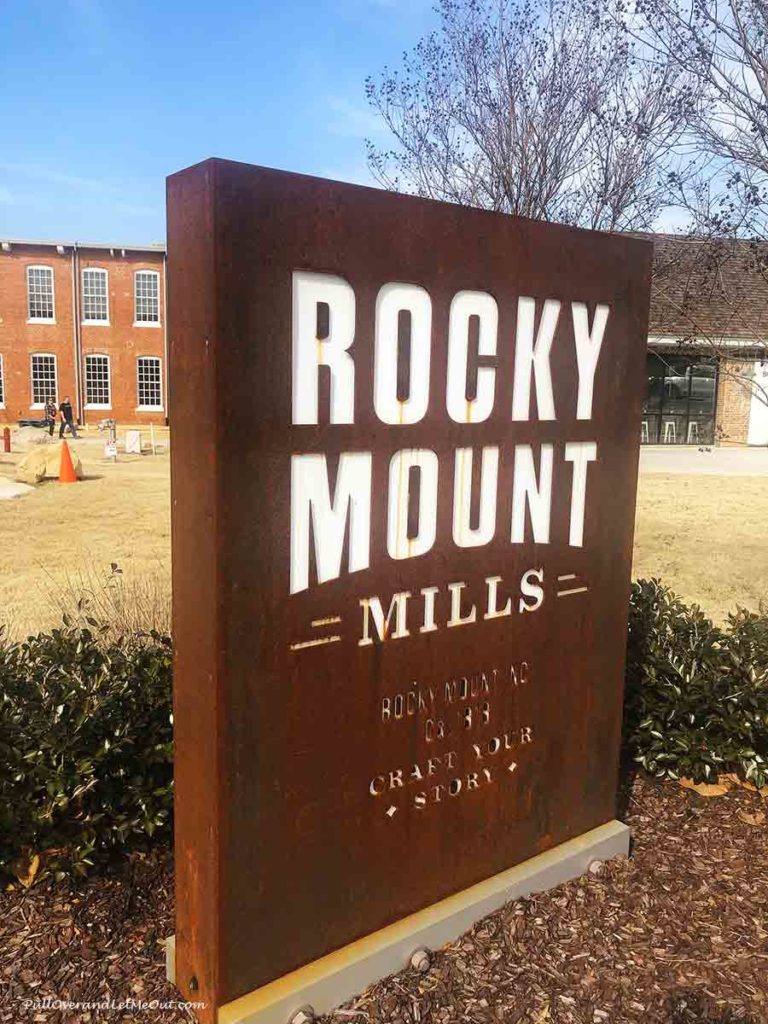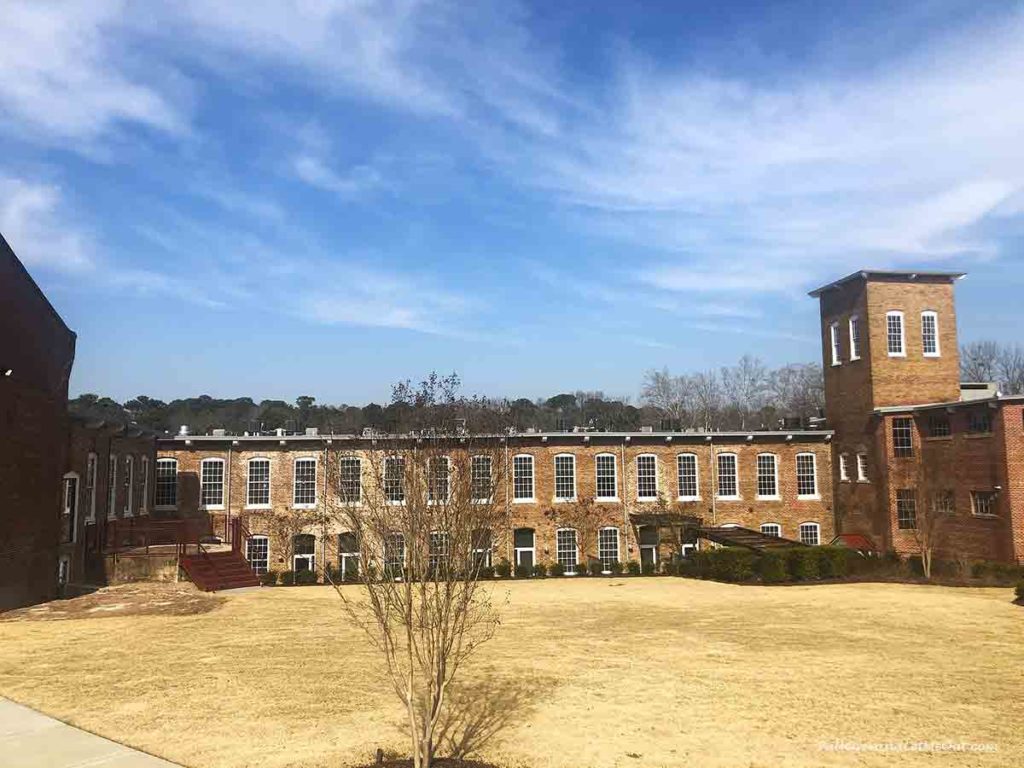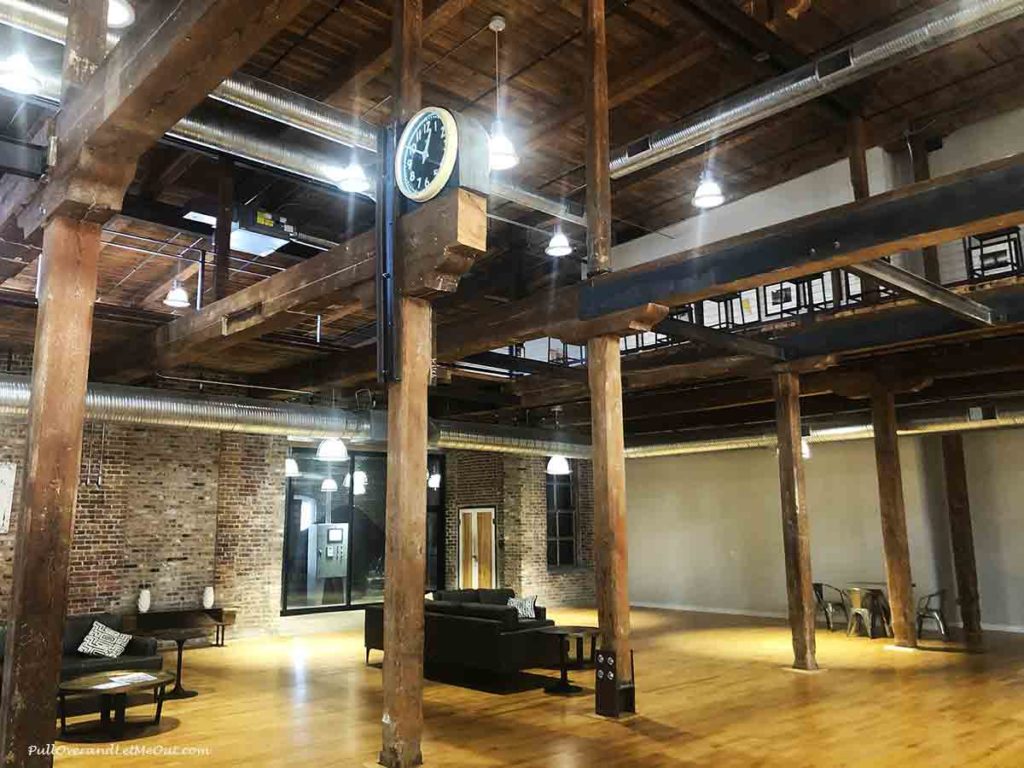 Rocky Mount Mills Craft Breweries
While larger cities like Asheville, Charlotte, Durham, and Raleigh are well-known for their craft beer, Rocky Mount Mills boasts a hopping craft brewery scene and is a genuine craft brewery incubator. Brewers can lease the equipment they need to meet capacity needs while also gradually expanding to keep up with their growth.
Visitors may sample some of the best local brews thanks to this burgeoning craft beer community. Furthermore, at Rocky Mount Mills, several of the breweries feature tasting rooms and food options. Koi Pond, Hopfly Brewing Co., Mythic Brewing, Spaceway Brewing, Crystal Coast Brewing, and Barrel Culture are a few examples. We stopped for a flight at Tarboro Brewing Company (TBC) Taproom & Tacos.
I'm not a big beer drinker, but I fancy a flight! I completely enjoy sampling craft beers and tasting the distinct nuances of the brews. We shared a flight and accompanied it with a couple of soft pretzels and it was wonderful. I spotted several people eating the TBC tacos, and they looked delicious, so I may have to return to try them.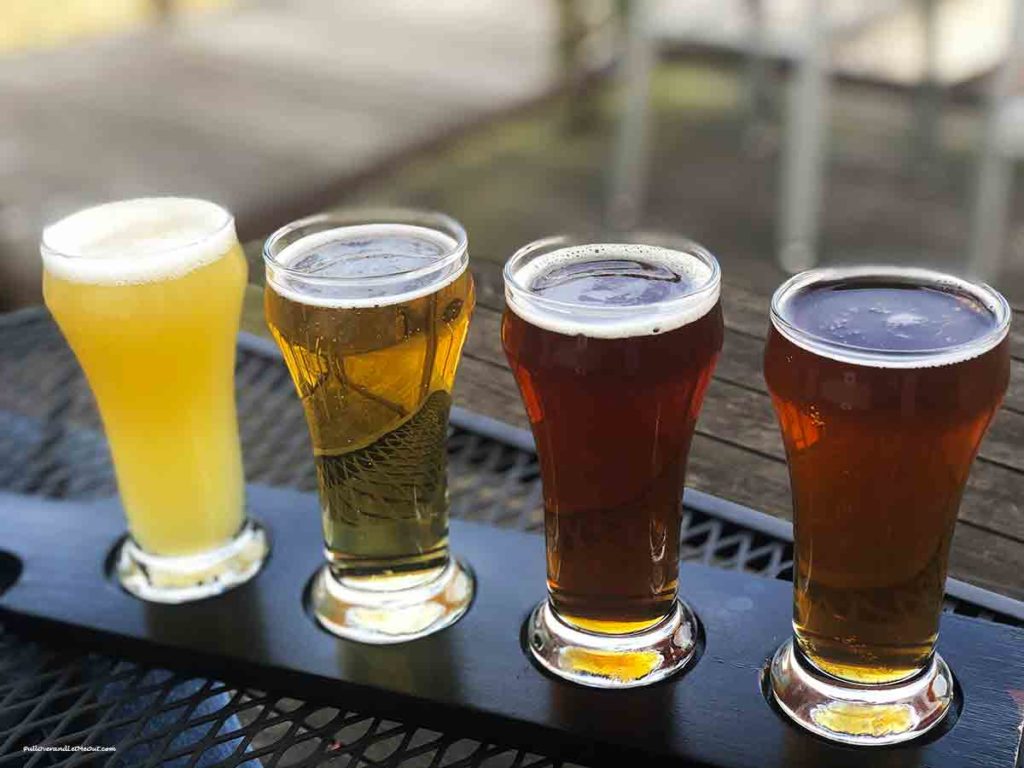 Rocky Mount Mills Restaurants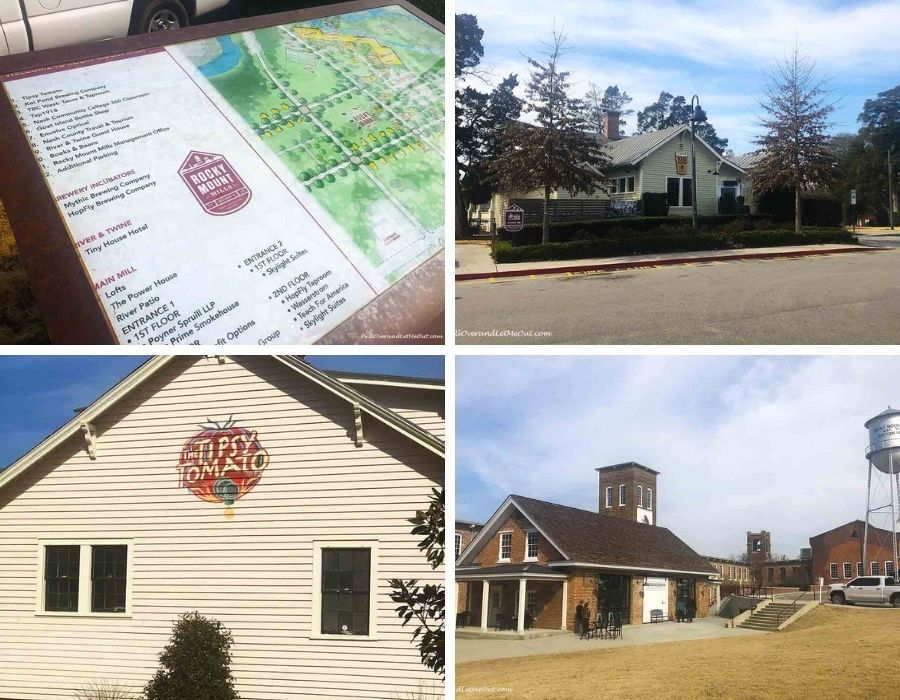 Rocky Mount Mills offers a wide range of dining options and cuisines. Consult the campus map to locate the food that will satisfy your cravings. From the more upmarket Prime Smokehouse to the more casual Tipsy Tomato to a wonderful cappuccino and muffin at Books and Beans, there's a variety of foods sure to satiate your hunger. Similarly, many of the restaurants include outdoor seating and open areas where you may sip and dine informally while enjoying wonderful food, conversation, and fresh air.
Stay at Rocky Mount Mills
This one-of-a-kind destination not only includes dining, craft beer, and history, but it also has event space at the Power House and magnificent green space. You can even work and live on campus; there is office space, village homes, and one, two, and three-bedroom apartments.
If you want to stay for a shorter period of time, River & Twine is a good option. River & Twine is a collection of 20 tiny homes on campus that can accommodate guests. If you've ever imagined ditching all your stuff and downsizing, here is a terrific place to get a feel for tiny home life.
We noted a group gathered outside the little homes, playing cornhole by the fire pit, during our visit. They seemed to be having a good time!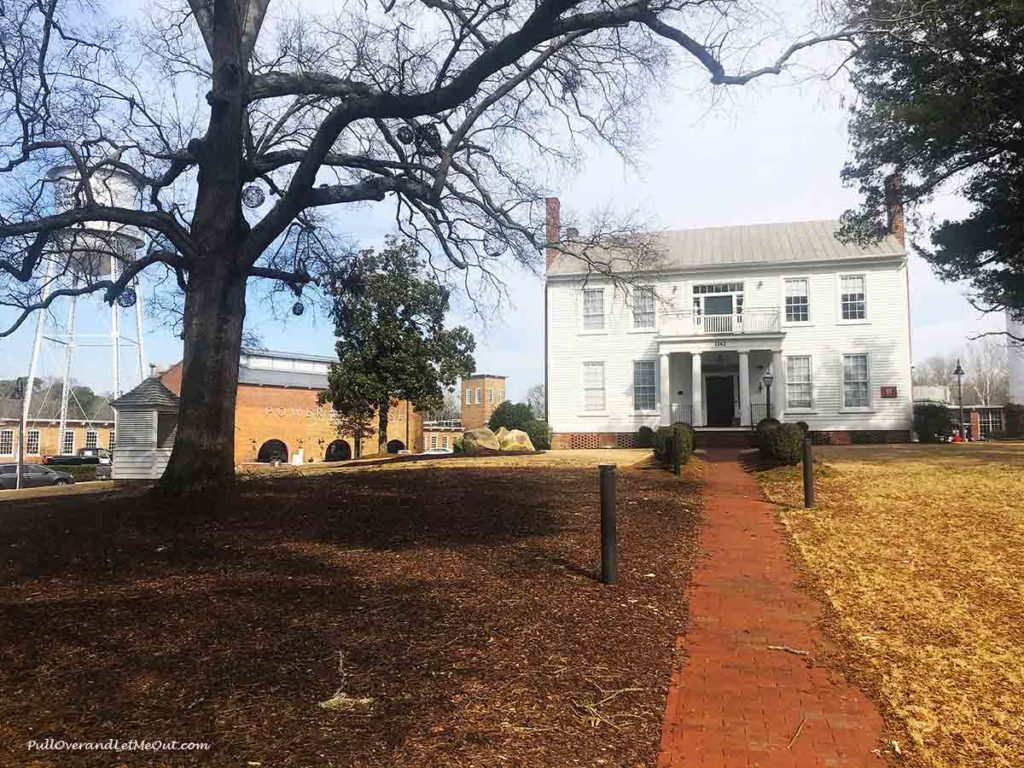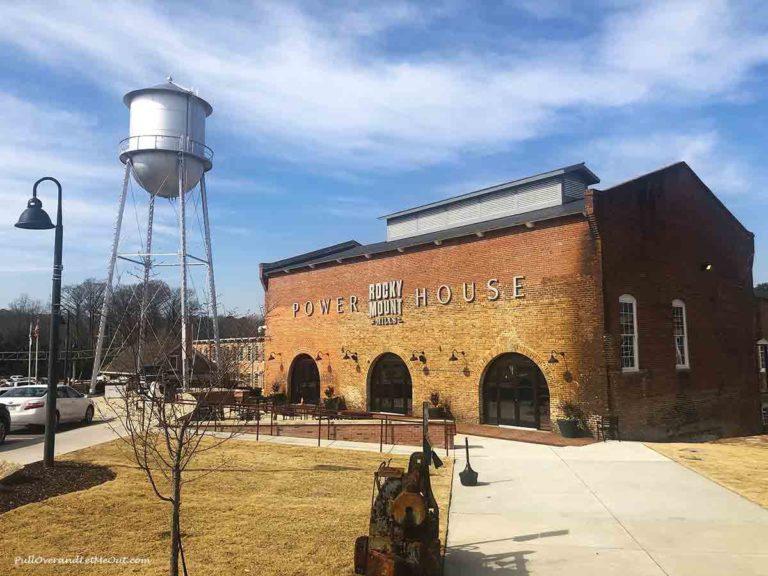 I had a great time exploring the mill, learning about its history, and seeing how it has been reinvented and transformed into something unique. Historic sites are sometimes bulldozed in the name of progress, but Rocky Mount Mills has embraced its heritage. I appreciate how they've maintained history while incorporating it into modern-day life. It's a winning combination.
I had no idea what we would find when we arrived in Rocky Mount, North Carolina. The discovery of Rocky Mount Mills was a pleasant surprise. If I were to characterize the atmosphere, I'd say it's a hip hangout with a heavy dose of history and a cool beer.
Rocky Mount Mills
1151 Falls Road
Rocky Mount, North Carolina  27804
Hey, Pinners! Pin this for later!
► Plan Your Trip to Rocky Mount Mills Now!
Hey pinners, save this for pinning after your trip
After you get back from your trip, please use these images to post to social media or post your own photos.  Please tag us on your post #pulloverandletmeout
You can also use the social sharing links on the SmartTrip tool.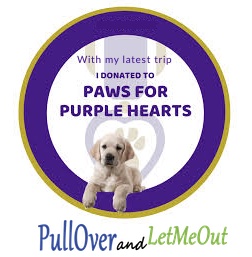 More stories you'll love reading!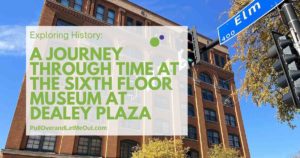 An outstanding museum dedicated to the solemn and historic event that occurred on November 22, 1963, is located within the former Texas School Book Depository building. Travel there with PullOverandLetMeOut to discover why the Sixth Floor Museum at Dealey Plaza is a must-see attraction when visiting Dallas.
Read More »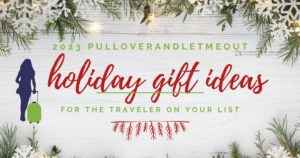 Travel with PullOverandLetMeOut to discover 2023's hottest holiday gift ideas for the traveler on your shopping list.
Read More »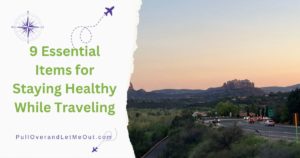 Make a healthy trip a priority. Travel with PullOverandLetMeOut to discover 9 essential items for staying healthy while traveling.
Read More »