I went to Cherokee, North Carolina, specifically to learn about the Eastern band of Cherokee Indians. The Eastern Band of Cherokee is a federally recognized tribe descending from a small group of approximately 800 Cherokee who remained behind on the Qualla Boundary after the Indian Removal Act. That act in the 1800s relocated 15,000 other Cherokee along what is known as the Trail of Tears. Today, the Eastern Band of Cherokee community remains in the mountains of western North Carolina in the beautiful region steeped in the heritage of ancient Native Americans. The modern-day town of Cherokee honors its legacy and invites visitors from all over to learn about their culture and enjoy the land considered the "seed cradle of the continent."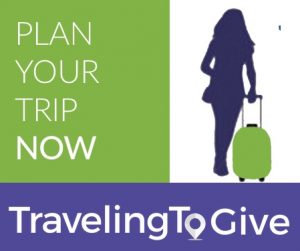 Disclosure:
Many of the links you see on this site and within our trip planning tool are affiliate links. If you click through and make a purchase, I'll get a small commission and it won't cost you any extra. On selected stories, for those hotel and car bookings made using our TravelingToGive™ tool we contribute 2.5% of gross hotel and car sales to Paws for Purple Hearts. So, thanks in advance for helping me keep bringing you the content you enjoy and, at the same time, giving back to those who so bravely serve our country! #everytripmatters
Take a Journey to the Home of the Eastern Band of Cherokee Indians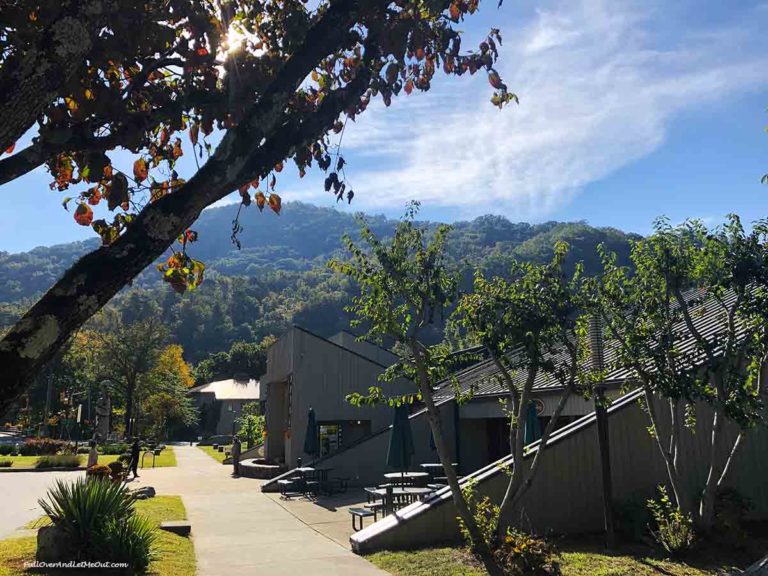 The Museum of the Cherokee Indian
I began my journey at the Museum of the Cherokee Indian. The museum is laid out so visitors are traveling a veritable timeline of 13,000 years of Native American history. I relished reading each description and viewing every exhibit with earnest curiosity. 
I was riveted learning details of how the Eastern Band of Cherokee were formed, the Qualla Boundry, and tribal life in the Great Smoky Mountains. The Museum of the Cherokee Indian is one of the best, most thorough compilations, and is curated so well, I was blown away by the abundance of information, artifacts, and relics. It was the perfect introduction to the story of the  Eastern Band of Cherokee Indians.
Not only is the museum a treasure trove of information, but it's also a showcase for Cherokee artisans. During my visit, there were multiple Cherokee artists demonstrating their crafts including basket weaving, bead working, and mask carving.
The Museum of the Cherokee Indian does a phenomenal job of recounting the Cherokee story and is a fantastic representation of the Native American experience in the southern Appalachian Mountains. It's a museum that does such a great job of imparting the story that I suggest spending at least two hours. I'm a "reader" and could conceivably have spent all day combing over the well-presented details. However, if you're traveling with youngsters, that might be a challenge. 
Regardless, I highly recommend spending time or commencing your visit to Cherokee at this extraordinary museum.
Museum of the Cherokee Indian
589 Tsali Boulevard
Cherokee NC 28719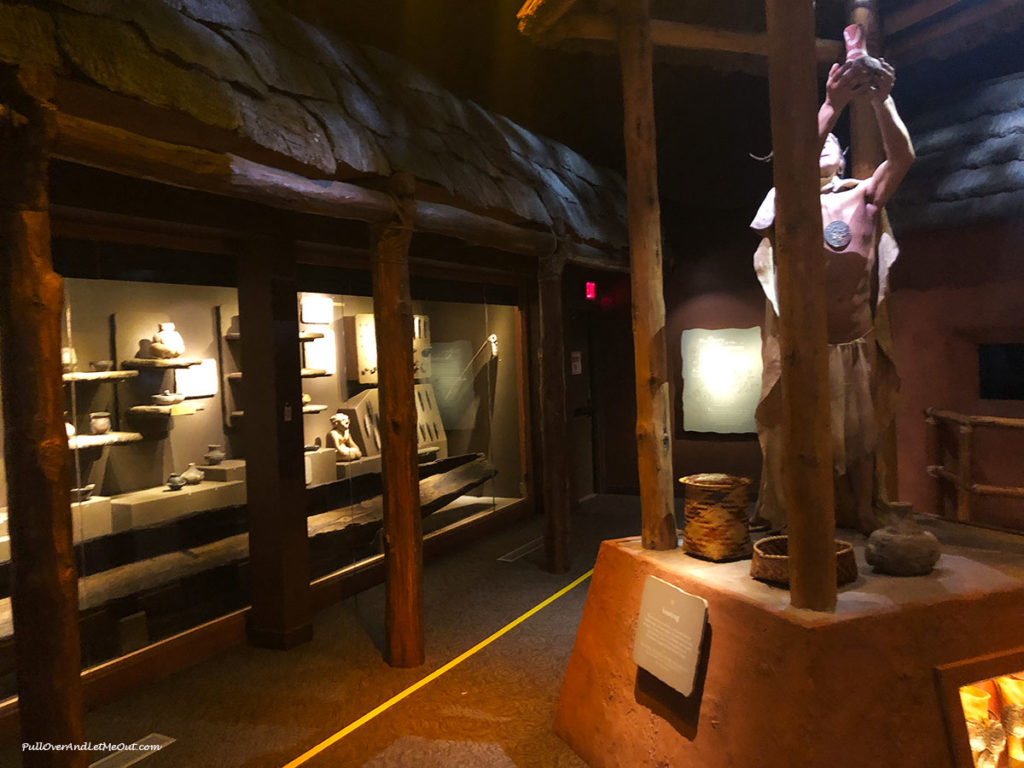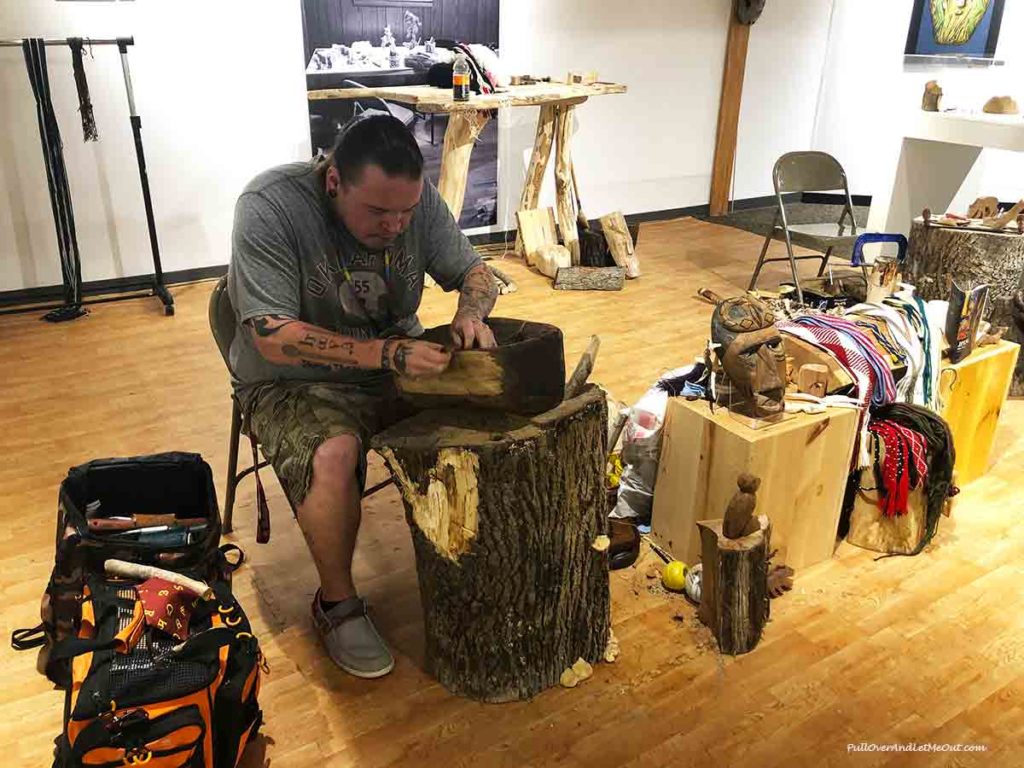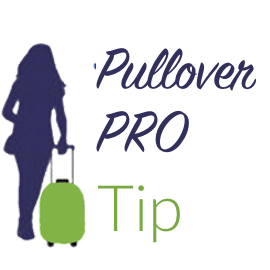 Are you descended from Eastern Band Cherokee? The Museum of the Cherokee Indian now offers genealogy research. Visit the museum website to book an appointment to begin your family research.
Qualla Arts and Crafts Mutual, Inc.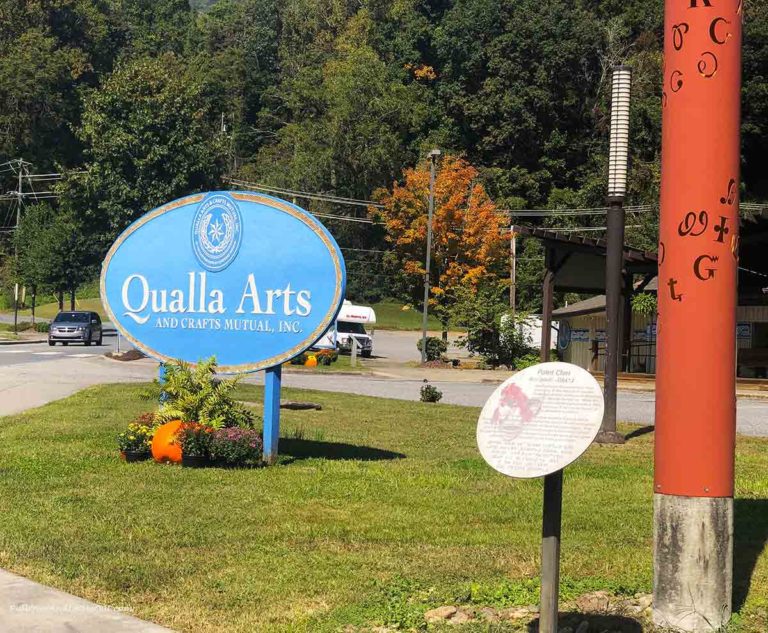 Upon departing the Museum of the Cherokee Indian, I crossed the street to visit the Qualla Arts and Crafts Mutual, Inc. The best way to describe the Qualla Arts is to say it's part museum, part art gallery, part artist demonstration, and part shopping opportunity. One step inside and I was surrounded by the ancient arts, crafts, and traditions that have been preserved for centuries. 
I was mesmerized watching artisans deftly working while answering questions. I especially marveled at the amazing hand-crafted baskets on display. Since prehistoric times, baskets have been made by the Cherokee using materials found in the region. Stunning baskets are woven in a variety of shapes and sizes for a range of purposes using river cane, white oak, and honeysuckle. Seeing the time-honored tradition being kept alive and enduring to this day is awe-inspiring.
In addition to the beautiful baskets, there's a variety of other traditional art on display such as painting, pottery, wood carving, stone carving, bead working, finger weaving, and more. Even if you're short on time, you'll want to squeeze in time to experience this unique exhibition that captures the spirit and authenticity of Cherokee handcrafts.
Qualla Arts and Crafts Mutual, Inc.
645 Tsali Blvd.
Cherokee, North Carolina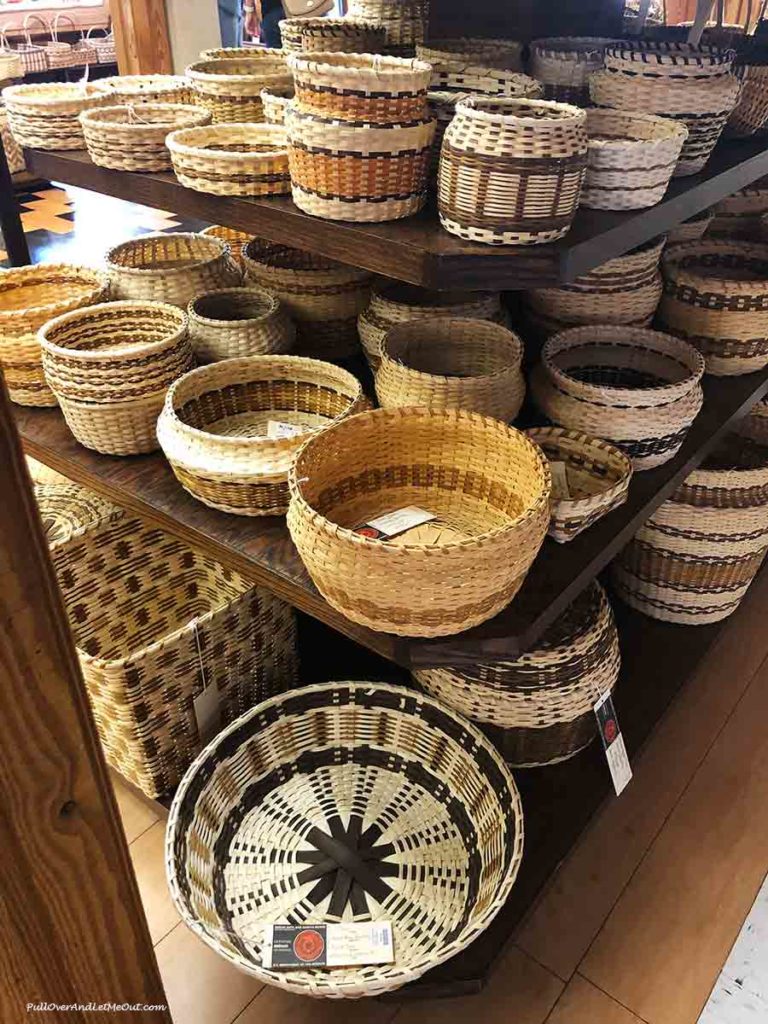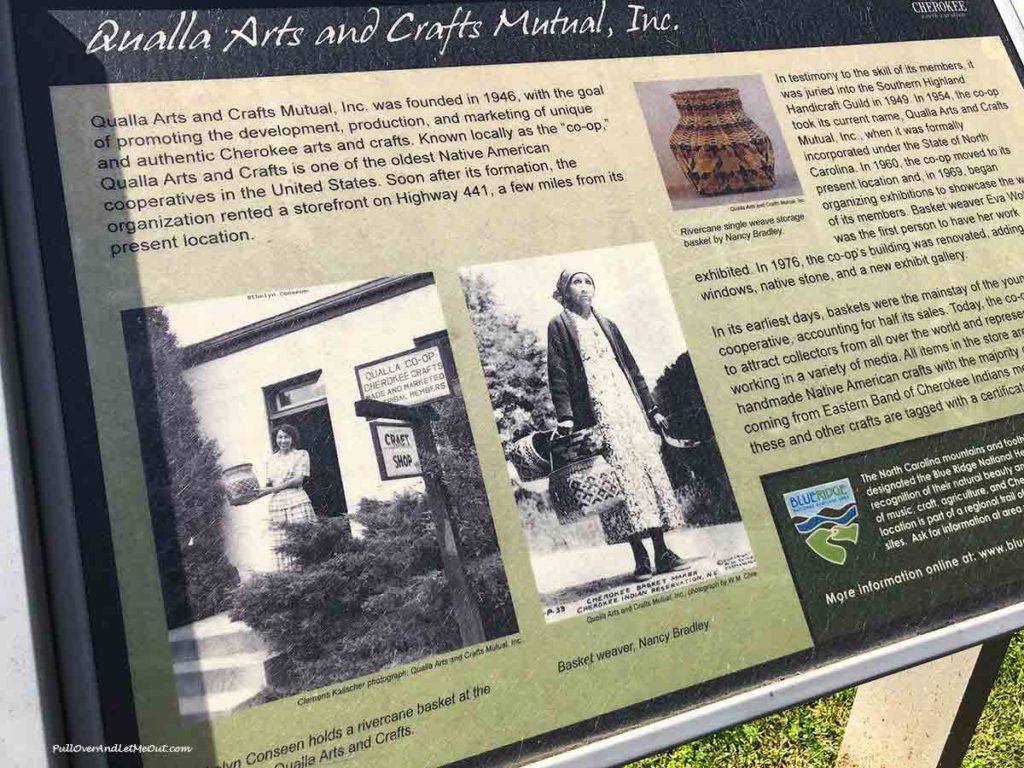 Native American Fry Bread
When lunchtime came around, I knew exactly what I wanted to have – Native American Fry Bread.
I first learned about Native Amerian Fry Bread while visiting the Crow Agency at Little Bighorn in Montana. (read more here) Frybread is a flatbread believed to have begun with the Navajo in the 19th century. It's made with simple ingredients, deep-fried in oil, and served in a variety of ways including a taco.
On a tip from the gentleman working at the front desk of my hotel, I chose Paul's Family Restaurant for my lunch break to enjoy their Indian Taco. Although a little cakier than the frybread I enjoyed in Montana, I savored the flavor of this traditional favorite.
Paul's Family Restaurant
1111 Tsali Blvd.
Cherokee, NC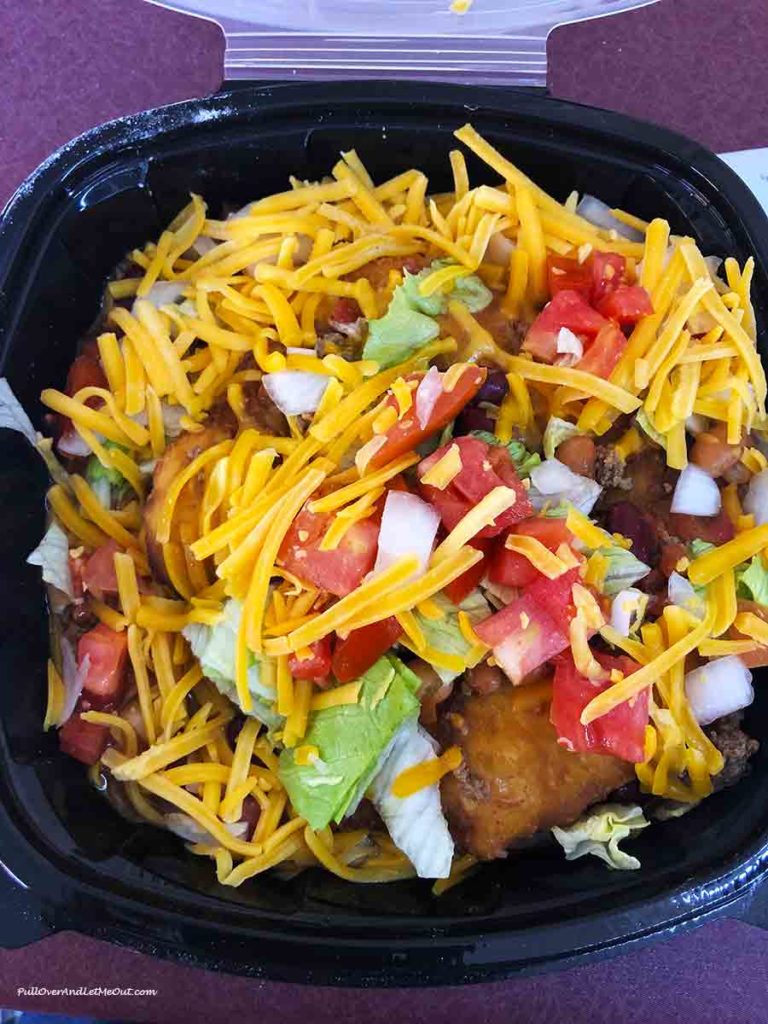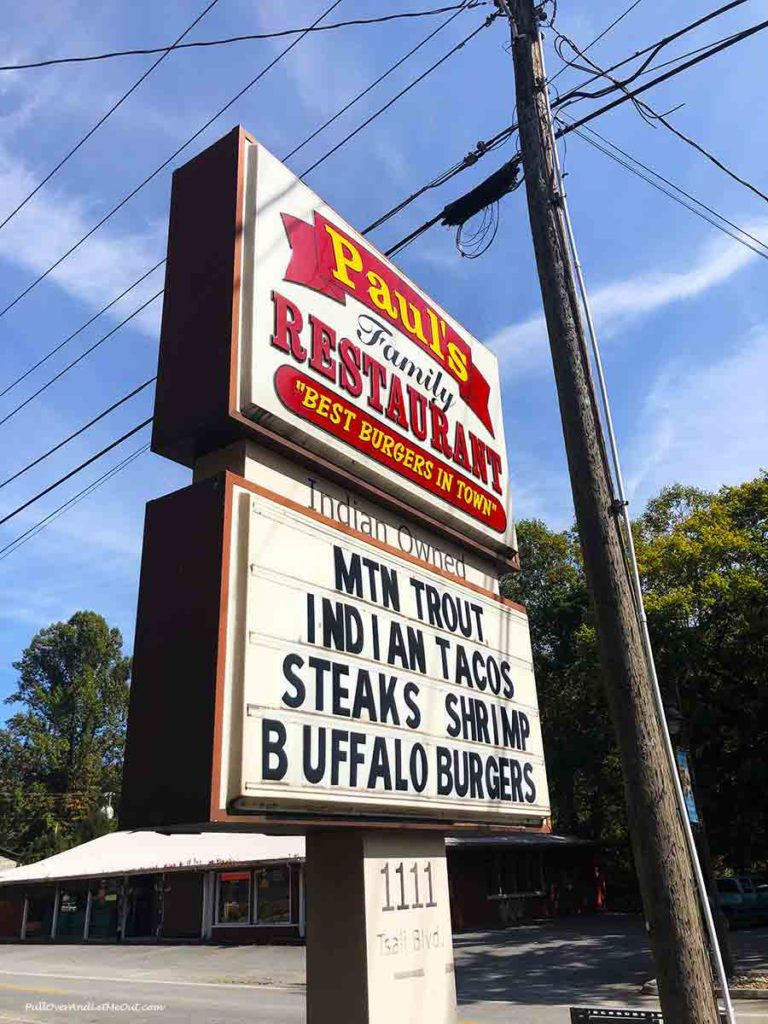 Watch the video to see more of my visit to Cherokee, North Carolina!
Oconaluftee Indian Village in Cherokee, North Carolina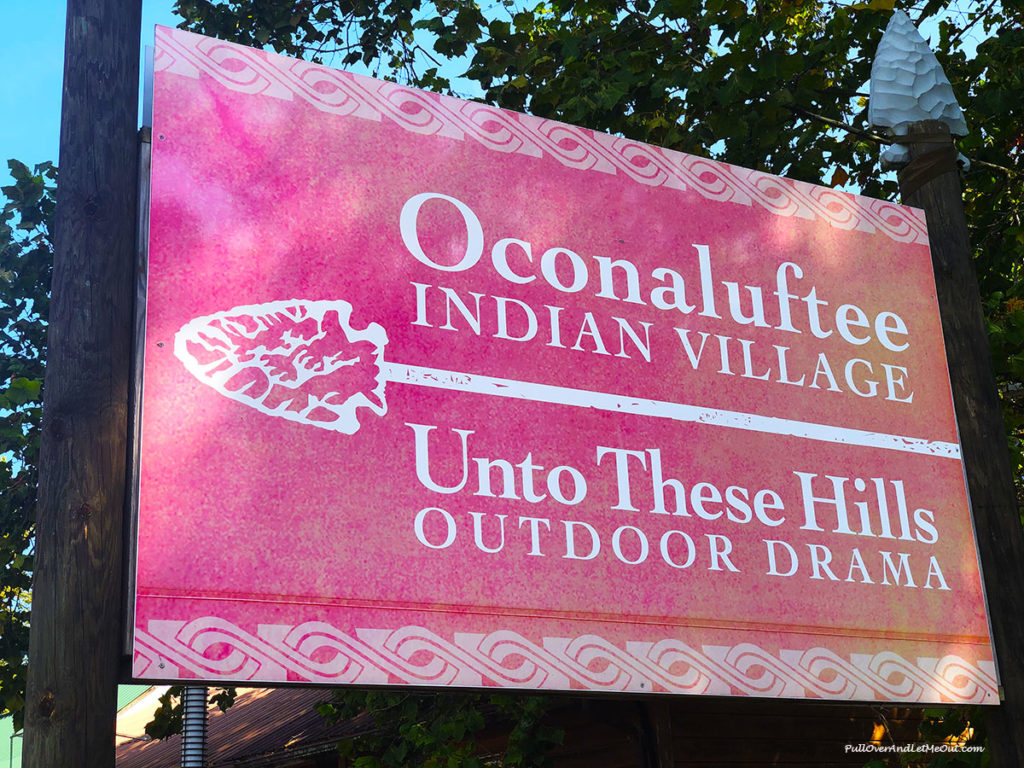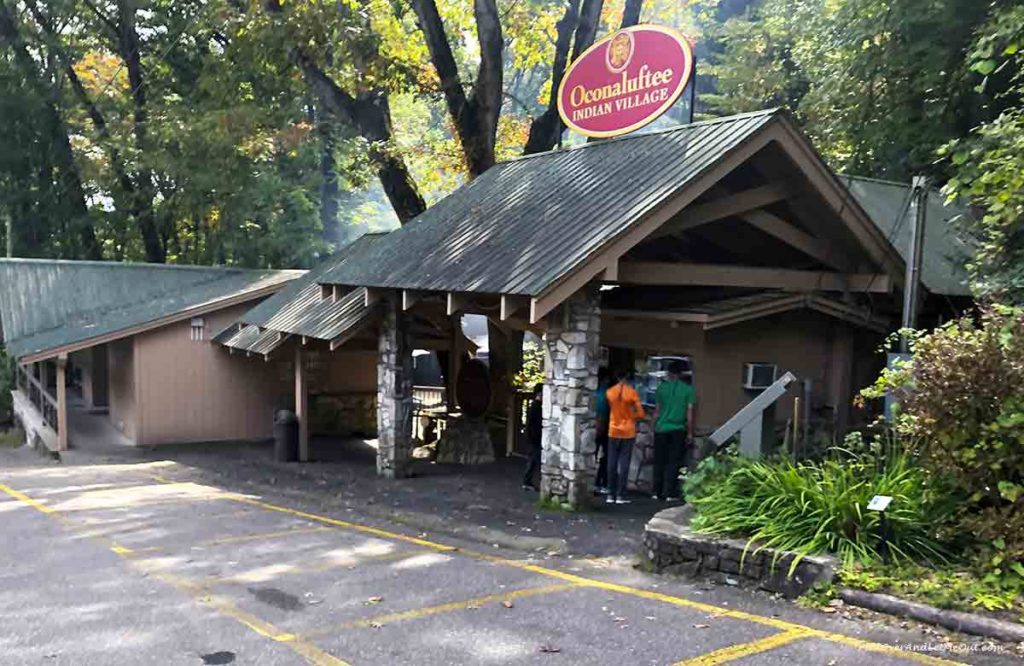 After a satisfying lunch, I traveled a short distance along a winding road to the hilltop location of the Oconaluftee Indian Village for a deeply engaging experience in the woods. Similar to the museum, the Oconaluftee Indian Village transports visitors along a timeline of Eastern Band Cherokee Indian heritage. As the town's website states, "Cherokee history isn't musty and mothball covered. In Oconaluftee Indian Village, it's alive, well, and amazing."
Our guide for the slightly over 45-minute tour was Dorian. Dorian escorted us through a living timeline of heritage, tradition, and culture of the Eastern Band of Cherokee Indians. Following the wooded pathways, we were afforded the chance to learn from the interactive journey. With each station stop along the way, we were introduced to a slice of life. Stations included demonstrations and lectures about a variety of Cherokee dwellings, skills, and crafts.
The group enjoyed meeting artisans as they worked on handcrafts such as beading, basket weaving, wood carving, and pottery. In addition to handcrafts, there was a station on weaponry, and a trading post where we learned a gun would be worth a whopping 35 buckskins!
An entertaining and educational experience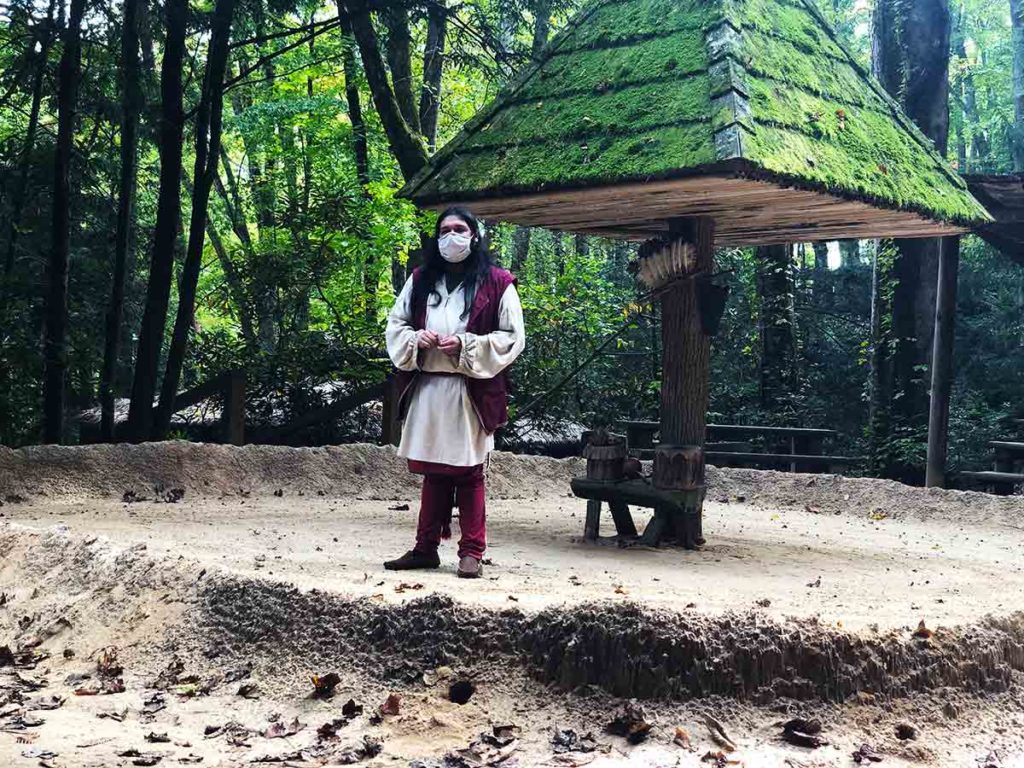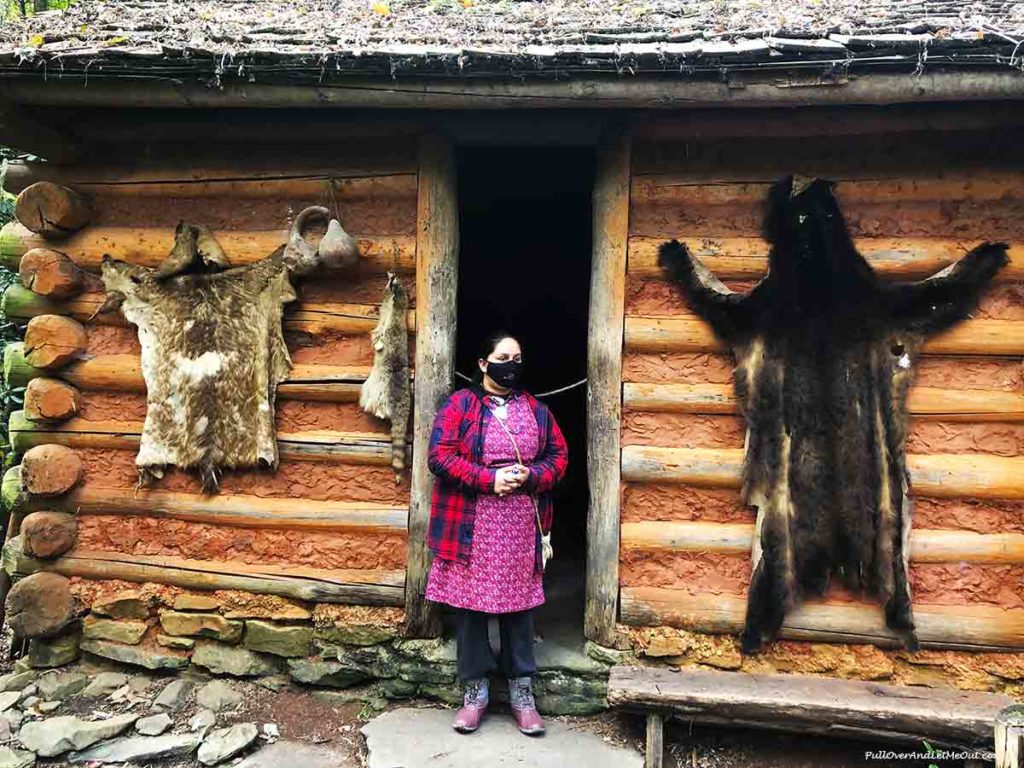 We concluded the visit with two captivating bonus lectures at sacred ritual sites – the Council House and the Square Grounds. I was enthralled learning about this incredible culture where women are the head of the family, men take the clan of their wife, and each village has two chiefs – a war chief and a peace chief. We learned of the seven clans, and how the sport of lacrosse derived from the Native American game of stickball.
The entire tour was a sensational deep-dive into the Eastern Band of Cherokee Indians. Our group asked wonderful questions and our guide Dorian and the other experts made the sessions informative and memorable. This was well worth the price of admission for adults and youngsters alike.
Oconaluftee Indian Village
218 Drama Road
Cherokee, NC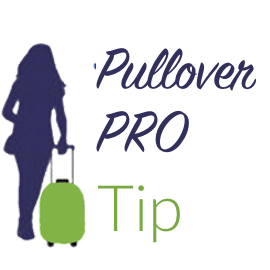 The popular original drama, "Unto These Hills", 'since its debut on July 1, 1950, has entertained over six million people, telling the Cherokees' rich story from 1780 to the twenty-first century.' The outdoor amphitheater is located near the Indian Village at 688 Drama Road. Free parking for "Unto These Hills" ticket holders. Visit the website for information on the theater season.
No visit to Cherokee would be complete without including a little shopping. I absolutely loved shopping in Cherokee. Strolling in and out of the charming shops and boutiques along the main thoroughfare at a leisurely pace is a joy in this mountain town. 
Most of the shops specialize in souvenirs and other specialty items unique to Cherokee. From t-shirts to leather goods, jewelry, pottery, clothing, to gorgeous hand-made dream catchers, the shops in Cherokee offer a vast selection of authentic Native American gifts and memorabilia at reasonable prices. 
I also suggest visiting the gift shop at the museum. It's possible to find some great deals there. I purchased my souvenir holiday ornament and a bag of Qualla Java coffee to take home with me.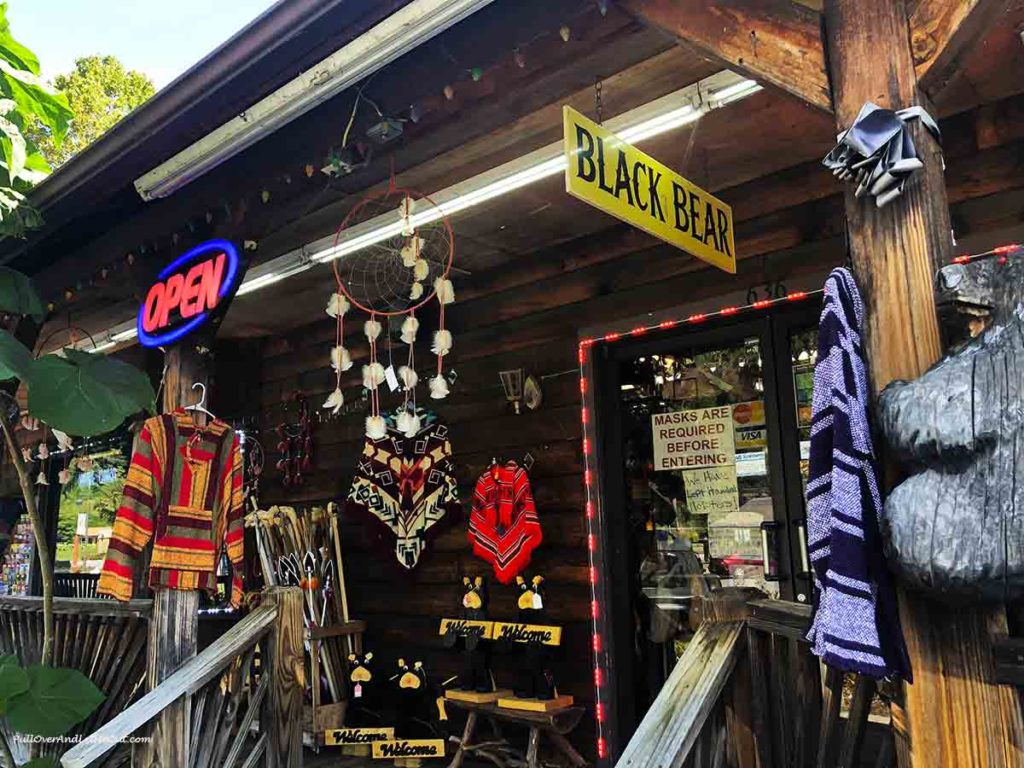 Harrah's Cherokee Casino Resort
Although a day at the casino wasn't on my agenda, I'd be remiss if I neglected to mention Harrah's Cherokee Casino Resort. If you're looking for a little more action and entertainment, you'll find it at Harrah's. 
Located at 777 Casino Drive, in Cherokee, this resort is ideal for a mountain getaway or a romantic weekend. In addition to the casino, the resort boasts live entertainment, a spa, bowling, swimming, shopping, golf, restaurants, and a luxurious hotel. Harrah's also features several packages certain to make for an extraordinary stay.
More fun things to do in Cherokee
In addition to an introduction to Cherokee history and culture, Cherokee's mountain setting gives visitors an abundance of outdoor adventure choices. With the Smoky Mountains at your doorstep, spend the morning watching the fog lift then set out to explore the natural wonder of the southern Appalachian mountains.
An outdoor adventure such as fishing, hiking, chasing waterfalls, tubing, birding, camping, biking, golfing, and exploring the Great Smoky Mountain National Park is a nature lover's delight. Similarly, the Blue Ridge Parkway is moments away and offers an enjoyable journey filled with panoramic views of the peaks and valleys below. Bring a picnic and enjoy a memorable mountain encounter. 
A relatively recent addition is the Fire Mountain Trails. As the website states it's, "a multiuse trail system that's made to mountain bike, hike, or run. The network of trails is more than 10.5 miles total." I didn't get a chance to travel the Fire Mountain Trails, but I look forward to returning and enjoying a mountain hike in the not too distant future.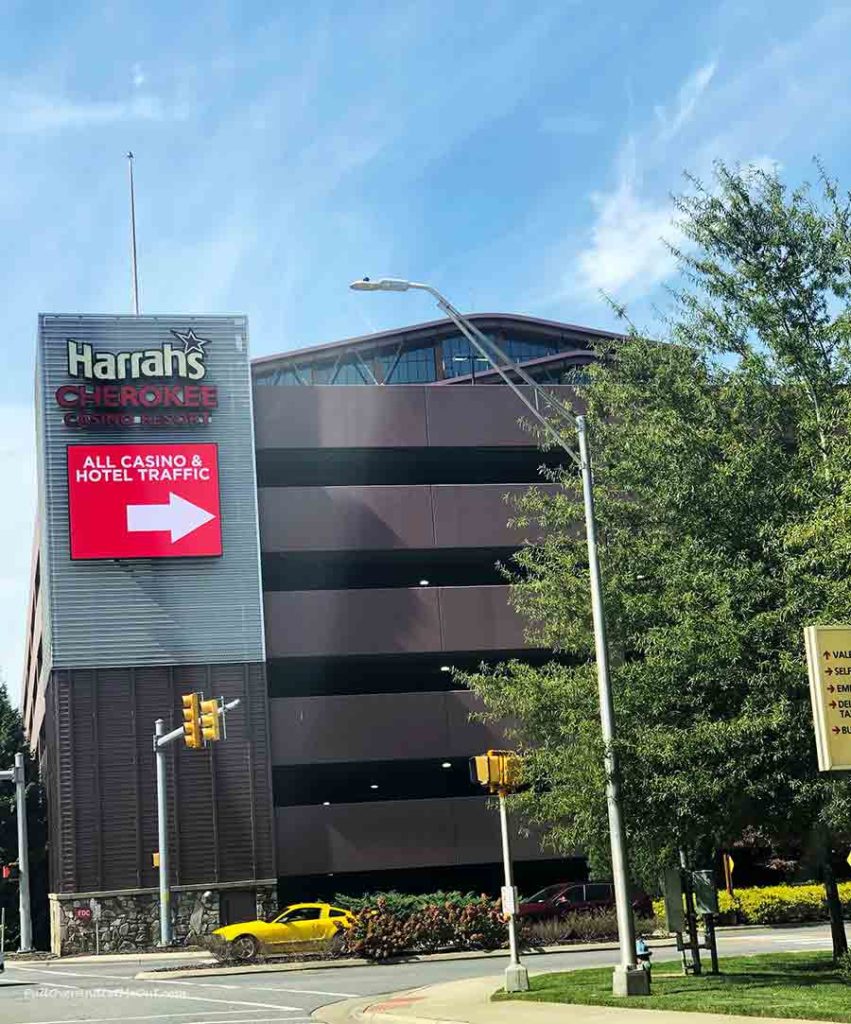 Where to stay in Cherokee, NC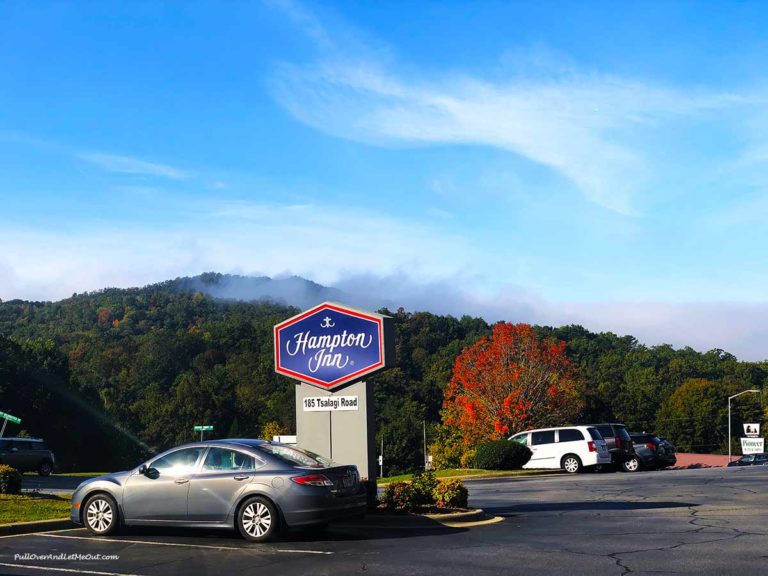 Where to stay while visiting Cherokee?
There is, of course, Harrah's, however, there are many other lodging options in and near the town. Cherokee has several small indy hotels, quaint and kitschy motels, as well as multiple rental cabins, campgrounds, and RV parks. With such a large assortment of choices, it's easy to tailor your stay to suit your specific desires and needs when it comes to lodging. 
I chose the Hampton Inn and Suites as my hub while visiting Cherokee, NC. The familiar chain provided a reliable resting spot at a good price and was convenient to the attractions I visited. It was also clean and the staff was friendly. That always makes me happy. 
I traveled to Cherokee, North Carolina in hopes of learning more about the Eastern Band of Cherokee Indians in the region. I was thrilled to be able to fully "nerd out" and learn so much. At one point while I was at the Indian Village, I wanted to say to our guide, "I'm not texting, I'm taking notes." I was typing away on my phone because I didn't want to forget a word she was saying – it was that interesting.
Since I was a child, I've been fascinated by the Native American story and ancient heritage. Traveling to Cherokee, North Carolina was an incredible educational experience and a delightful glimpse into the Eastern Band of Cherokee Indians. I gained so many insights it's hard to say which new piece of information stands out most. Nonetheless, one of my favorite nuggets of knowledge I brought home with me is that the Cherokee don't have a word for goodbye – it's always, "Until I see you again." 
There's still more to do in Cherokee and since Unto These Hills was on a "dramatic pause" due to COVID-19, I know I'll have to plan a return visit. Thus, I can happily say, Thanks for a wonderful time, Cherokee, North Carolina. Until I see you again.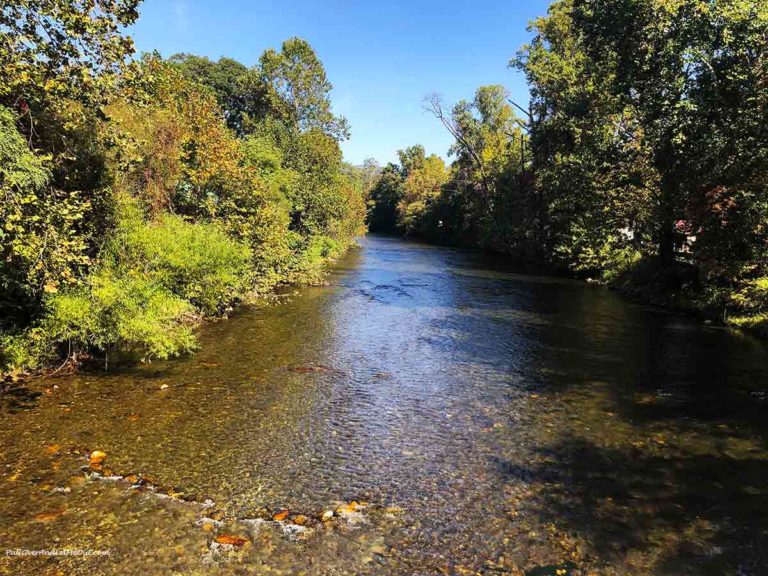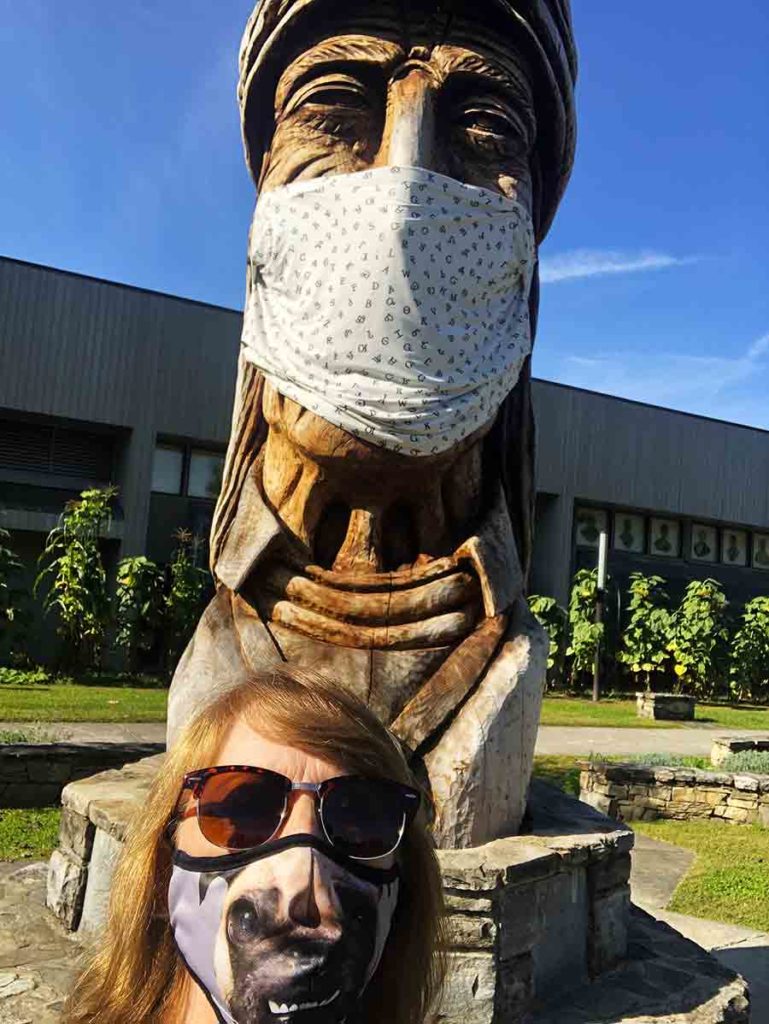 Be sure to visit nearby Bryson City, North Carolina, and the Road to Nowhere while you're in Cherokee! Learn more here.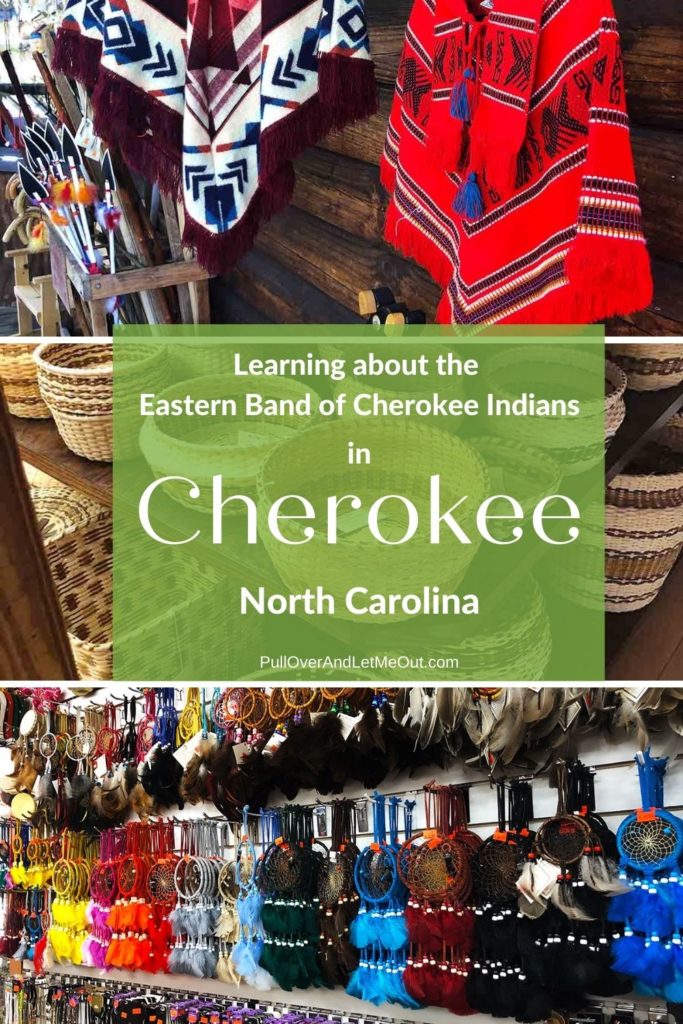 ► Plan Your Trip to Cherokee, North Carolina Now!
Hey pinners, save this for pinning after your trip
After you get back from your trip, please use these images to post to social media or post your own photos.  Please tag us on your post #pulloverandletmeout
You can also use the social sharing links on the SmartTrip tool.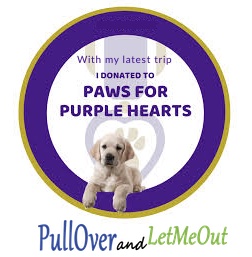 More Stories You'll Love Reading!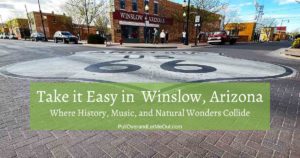 Winslow, Arizona fuses history, music, and natural wonders to provide visitors with a peaceful, easy feeling. Explore this iconic Route 66 town with PullOverandLetMeOut.
Read More »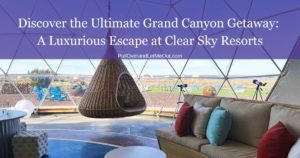 Travel with PullOverandLetMeOut to discover why this is the ultimate glamping getaway and get a look at this firsthand account of Clear Sky Resorts Grand Canyon's unrivaled luxury and natural beauty.
Read More »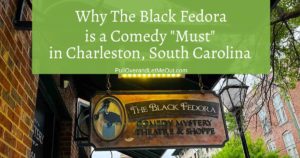 Travel with PullOverandLetMeOut to historic Charleston, South Carolina and discover why The Black Fedora Theater is a laugh-a-minute itinerary item you won't want to miss.
Read More »
Shop for the hottest travel gear!