In the Highlands Region of the North Carolina Mountains, it's possible to see a mountain from a most unique perspective – from inside the mountain.  Centuries in the making, Linville Caverns in Marion, North Carolina is an "active" cavern where kids of all ages can discover and explore a natural wonder.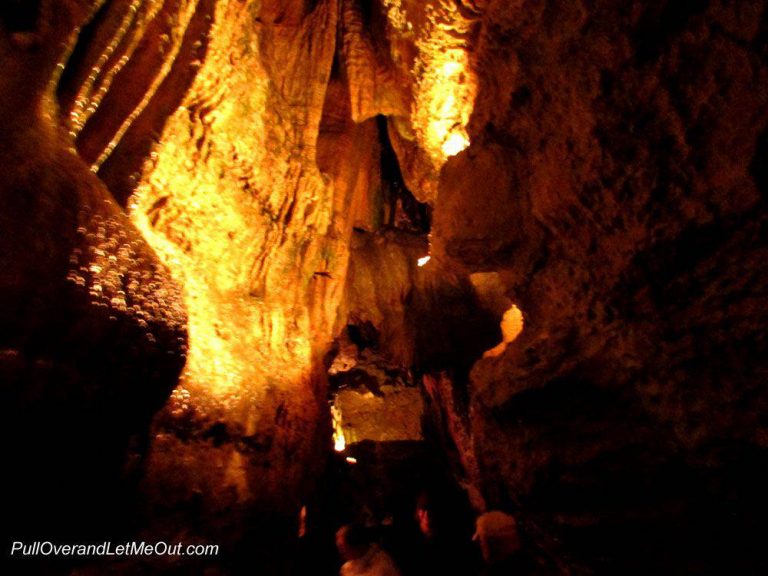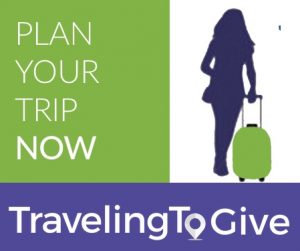 Disclosure:
Many of the links you see on this site and within our trip planning tool are affiliate links. If you click through and make a purchase, I'll get a small commission and it won't cost you any extra. On selected stories, for those hotel and car bookings made using our TravelingToGive™ tool we contribute 2.5% of gross hotel and car sales to Paws for Purple Hearts. So, thanks in advance for helping me keep bringing you the content you enjoy and, at the same time, giving back to those who so bravely serve our country! #everytripmatters
Linville Caverns in McDowell County
Linville Caverns is a short distance off the Blue Ridge Parkway and is open year-round to visitors. Here's some of what to expect if you and your crew make plans to venture deep inside Humpback Mountain.
Linville Caverns was discovered in the early 1800s by a fishing expedition headed by Henry E. Colton.  Colton and his group were astonished to see fish swimming in and out of what appeared to be solid rock.  Upon further investigation, Colton and crew discovered a hidden world.
Linville Caverns opened to tourists in 1937.  Through the years many changes such as electric lighting and handrails have improved the tour and its appeal. Tour guides do a fantastic job giving the history of Linville Caverns and engaging visitors with fascinating stories of young children lost deep inside or Civil War soldiers who deserted and hid in the dark caverns.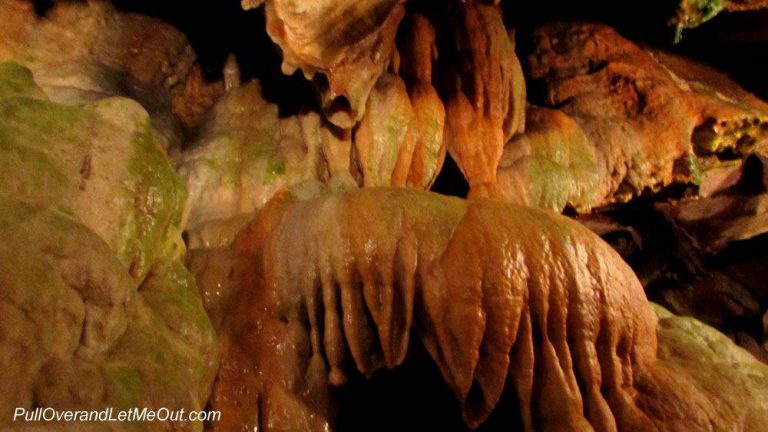 Linville Caverns is an "active" cavern which translates to dripping water and lots of life.  There are amazing formations of flow rock, stalactites, and stalagmites as well as underground creatures.  Look up, look down, look all around; creatures such as trout, spiders, salamanders, and bats inhabit this subterranean environment.
One of the "cool" things about Linville Caverns is the temperature.  Inside, the caverns remain 52-degrees year-round.  A lightweight, preferably waterproof, jacket is recommended.
It's important to choose appropriate shoes for touring the caverns.  Slick soles or heels won't cut it inside the mountain.  The paths are easy to navigate, but remember, there's dripping water so it can be slick in spots.
Speaking of the pathways, the tour is wheelchair accessible, with only a couple of places unavailable to wheelchairs.  Kids are welcome, but strollers or backpack carriers are not permitted.  Front kid carriers are allowed.
To preserve the caverns and protect the mineral formations, look with your eyes, not your hands. (Said in my best teacher voice)
There's an array of living creatures inside Humpback Mountain.  Among the residents are hundreds of bats.  Though the bats aren't full-time cavern dwellers, they do hibernate at Linville Caverns.  Keep a keen eye and it's possible to catch a glimpse of a bat or two.  At the end of the tour a simple foot wiping cleansing routine is carried out in order to prevent the spread of diseases common to these bats.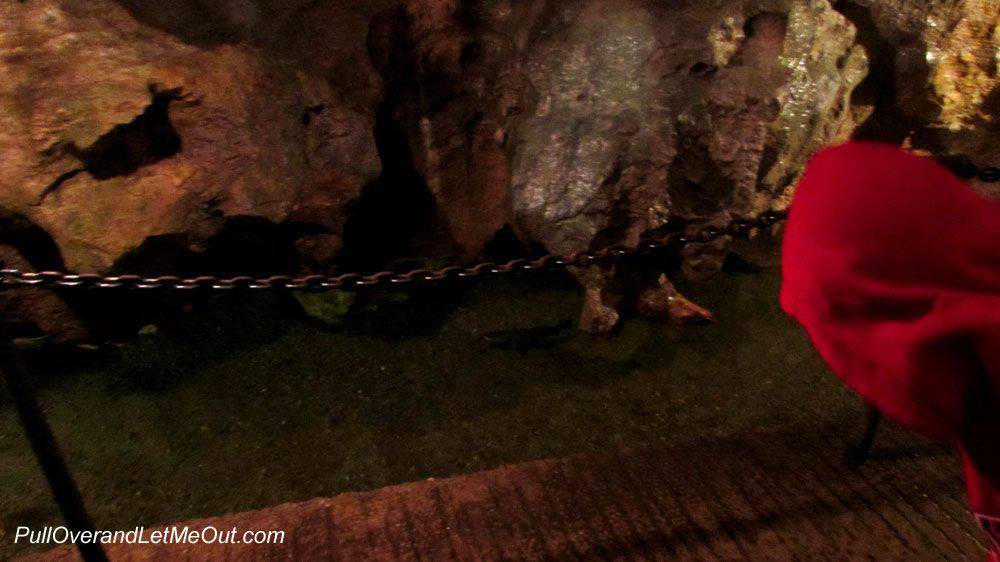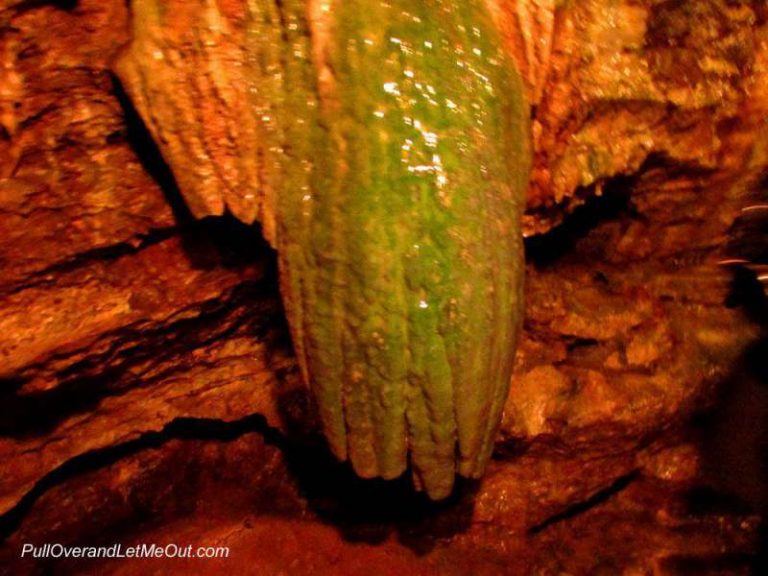 Tour hours vary depending upon the time of year so it's advisable to visit the Linville Caverns website prior to your trip. Each tour group can take up to 15 people and tour departures are timed well to avoid creating congestion inside the caverns. Rates are extremely reasonable with ticket prices ranging from $8.00 for adults, $7.00 for senior citizens, $6.00 for children 5-12 years old, and children under 5 are free.  Group rates are also available.
There are a couple of tight spaces, but the guides give plenty of notice should you prefer to hang back and avoid feeling uncomfortable. (I did!)  Even with the electric lighting, it's still a cavern and fairly dark so it's good to keep this in mind should you be traveling with small ones who might not enjoy the dark.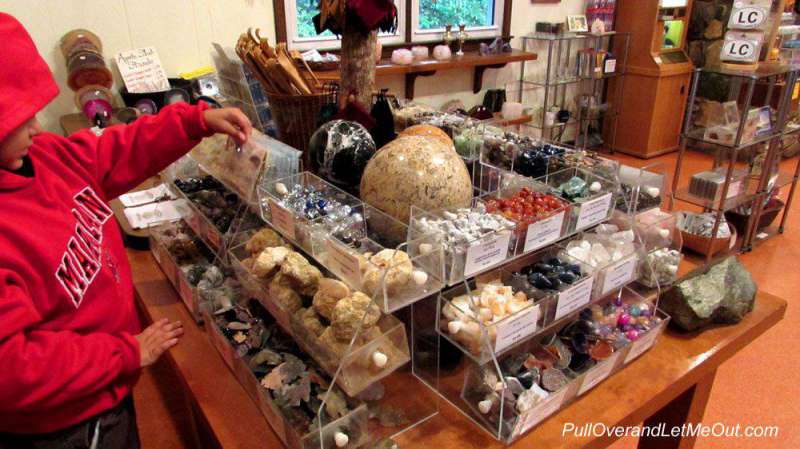 Though it was centuries in the making, Linville Caverns is a modern-day geological natural wonder ideal for explorers of all ages. It's also a great way to experience the North Carolina Mountains from the inside.
Linville Caverns, Inc.
19929 US 221 North
Marion, NC  28752
800-419-0540 – Toll-Free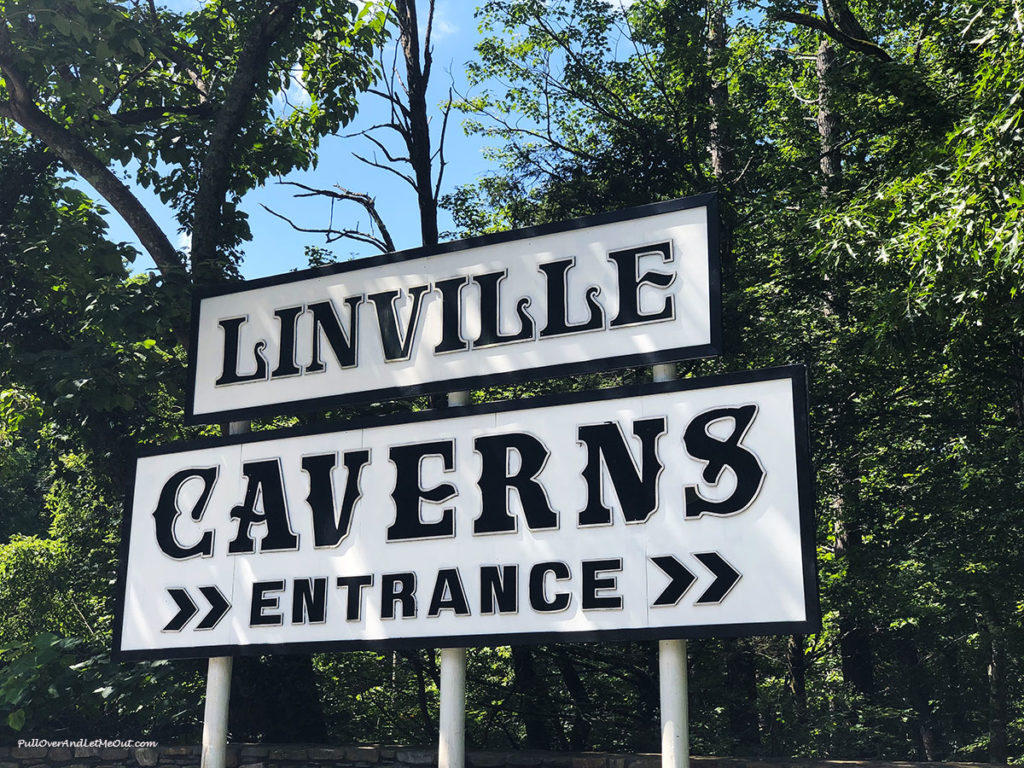 ► Plan Your Trip to Linville Caverns Now!
How does TravelingToGive™ work?
It makes it simple to plan your trip and to give back with each trip. We've pre-filled the destination from the article and if there are multiple places mentioned in the article, we've put the one that is best used as your base to see all of the places mentioned.
Just select I'M STAYING and enter the travel dates and hit SEARCH. It automatically uses the first place in the article. For a multi-day trip, if you stay near that location, you should be able to use it as your base. If available, you'll also see B&Bs, condos, apartments and private homes in the results.
Can I change the destination? Yes, it is super simple. Just click on the pencil and enter the name of any place mentioned in the story. Or you can enter any address or even the name of a company if you are mixing business and pleasure.
Just click I'M DRIVING and you can see how long it will take, get driving directions and even rent a car if you need one.
Yes, we guarantee the best published rates on hotels. No more spending hours looking for the best price. Click on the link for BEST RATE 110% GUARANTEE for details.
Can I earn frequent traveler points?
On hotel bookings, this is up to the hotel chain. Once you make your booking and have received your confirmation, call your hotel loyalty customer service number and give them the hotel confirmation number (this is different from the Trip ID).  Ask them to enter your number in the record. Or you can ask at the hotel when you check in.
On car rental or air bookings, the system will prompt you for your number and it will be in your booking with the travel provider.
I have a charity that I would like to benefit with my travel. Can I do that?
Yes, we realize that while the charity we have selected may not resonate with everyone.

If you want to sign up for your own tool, either as an individual, a company or a non-profit, click on the link below to register for your own tool. It is free and it only takes minutes.
Hey pinners, save this for pinning after your trip
After you get back from your trip, please use these images to post to social media or post your own photos.  Please tag us on your post #pulloverandletmeout
You can also use the social sharing links on the SmartTrip tool.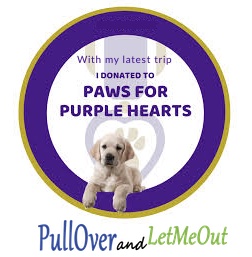 More Stories You'll Love!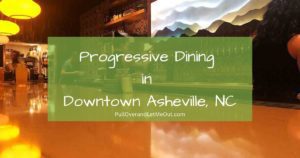 Asheville, North Carolina's downtown is a bustling area with a thriving restaurant scene. Travel to this popular mountain town with PullOverandLetMeOut to enjoy a casual progressive dinner.
Read More »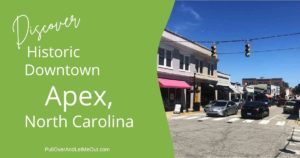 Discover Apex, North Carolina's charming historic downtown area, and the "Peak of Good Living" with Pull Over and Let Me Out!
Read More »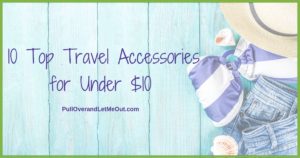 Great travel gear does not have to be expensive! Take a look at these ten fantastic budget-friendly travel accessories.
Read More »
Shop for the hottest travel gear!