"Don't go chasin' waterfalls Please stick to the rivers and the lakes that you're used to." The lyrics to the popular 1990s tune were playing in my mind the entire time I was doing exactly what the song admonishes not to do. However, chasing waterfalls is the ideal activity for getting outdoors, enjoying the scenery, and breathing in the fresh air. I traveled to Linville, North Carolina, for a mini-adventure. The delightful mountain town is just the place to plan a weekend getaway and escape from the city.
Disclosure:
Many of the links you see on this site and within our trip planning tool are affiliate links. If you click through and make a purchase, I'll get a small commission and it won't cost you any extra. On selected stories, for those hotel and car bookings made using our TravelingToGive™ tool we contribute 2.5% of gross hotel and car sales to Paws for Purple Hearts. So, thanks in advance for helping me keep bringing you the content you enjoy and, at the same time, giving back to those who so bravely serve our country! #everytripmatters
The mountains of North Carolina offer visitors plenty of waterfalls for chasing. There are hundreds, if not, thousands in the region. Linville Falls is arguably the most popular in the Blue Ridge Mountains.
Linville Falls is a short distance outside of the town of Linville and close to other western North Carolina attractions such as Boone, Blowing Rock, Burnsville, the Blue Ridge Parkway, and Grandfather Mountain.  And as the Linville Falls website states, "It is a spectacular three-tiered waterfall plunging into Linville Gorge, the "Grand Canyon of the Southern Appalachians."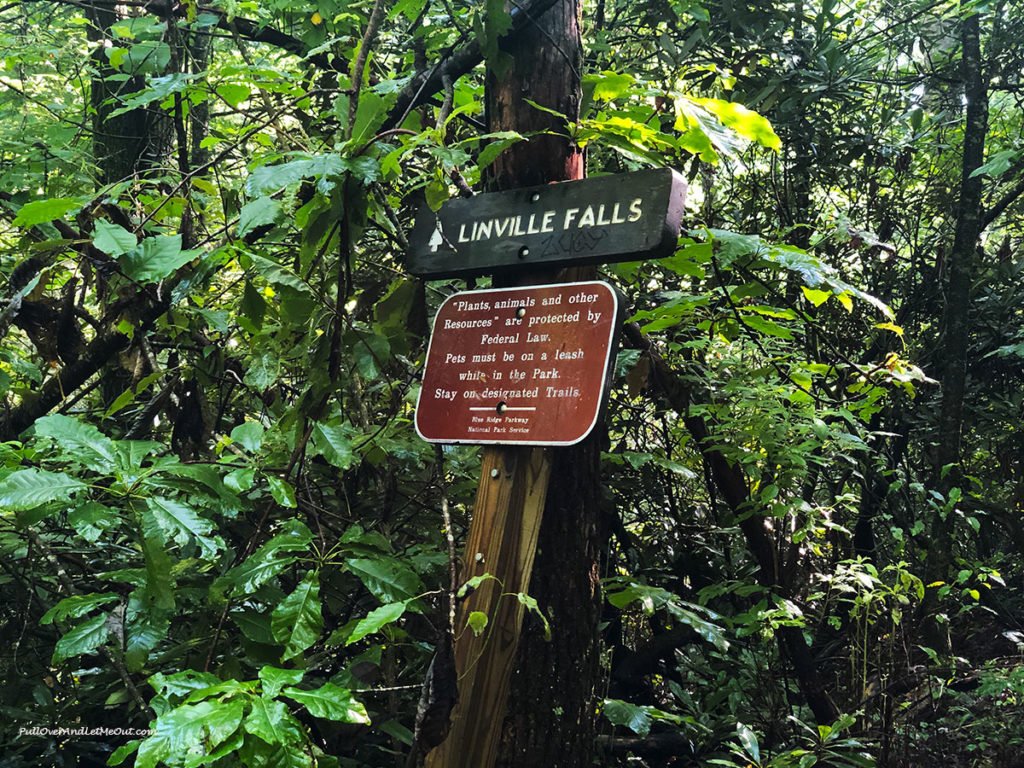 Visiting Linville Falls, Linville, North Carolina
Begin at the beginning, where you'll find parking and the Visitor's Center at mile marker 316. This is also where you can gather information on the hiking trails. There are two hiking trails, Erwins View Trail, a moderate 1.6-mile round trip, or the Linville Gorge Trail, a more strenuous 1.4-mile round trip.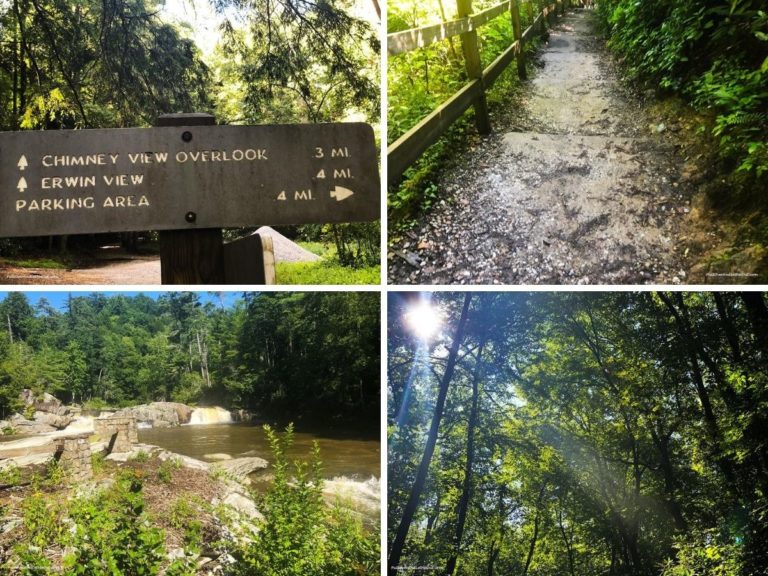 I chose to hike the Erwins View Trail which is a moderate trek offering four different overlooks of the falls. I parked in the U.S. Forest Service gravel parking lot and proceeded to the trail from there. The trail slopes here as it travels to the first overlook about a half-mile from the Visitor's Center. It's here the Linville River pours over the upper falls before drifting into a narrow canyon prior to swirling out of sight and swiftly plunging 45 feet over the lower falls. This was also the most crowded viewing location as it's the easiest to approach and the shortest distance to hike.
Next, on to the Chimney View and the first point where it's possible to see both the upper and lower falls. The hike to this area was more challenging than the previous overlook but it's a fantastic spot for photographs and is named for the chimney-like rock formations to the right of the falls.
Continuing, I traveled to the Gorge View. This is a superb spot for watching the Linville River flow through the Linville Gorge Wilderness Area. The Wilderness Area, like the falls, is part of the Pisgah National Forest and is covered with pines and dense forest. It also features recreation opportunities such as hiking, camping, fishing, and rock climbing.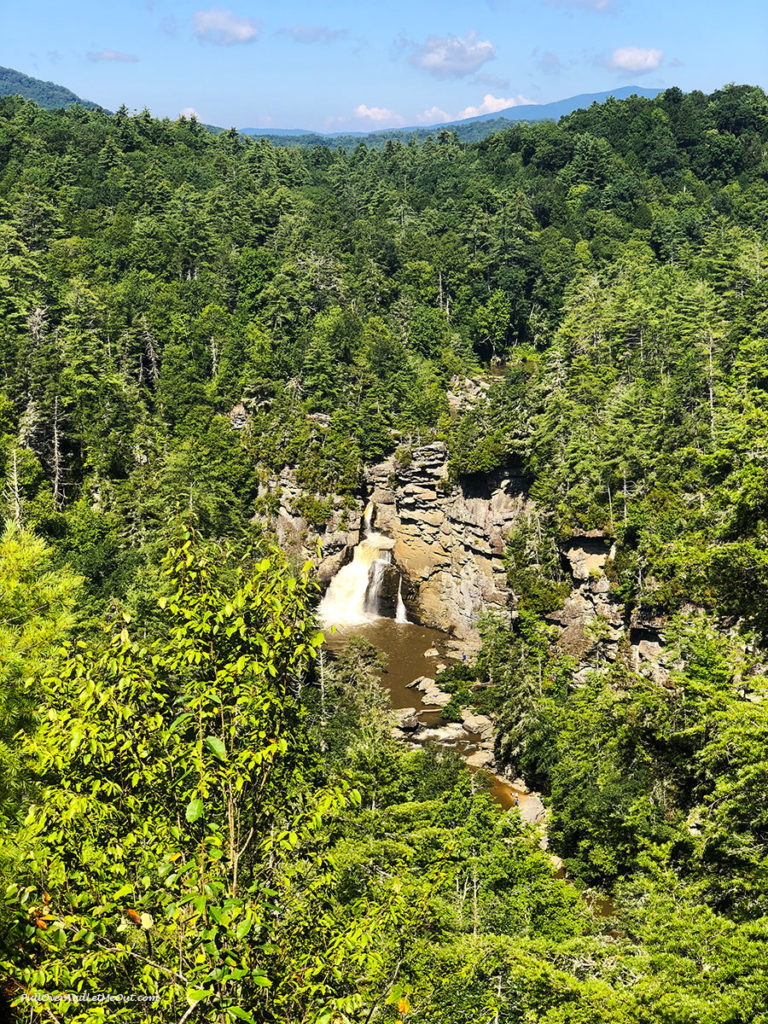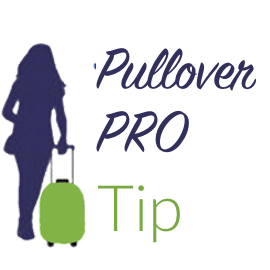 "The Linville Gorge Wilderness, in the mountains of Western North Carolina, is part of the Pisgah National Forest. The gorge is formed by the Jonas Ridge on the east and Linville Mountain on the west and is bisected by the Linville River which drops 2,000 feet into the valleys below."  ~ USDA Forest Service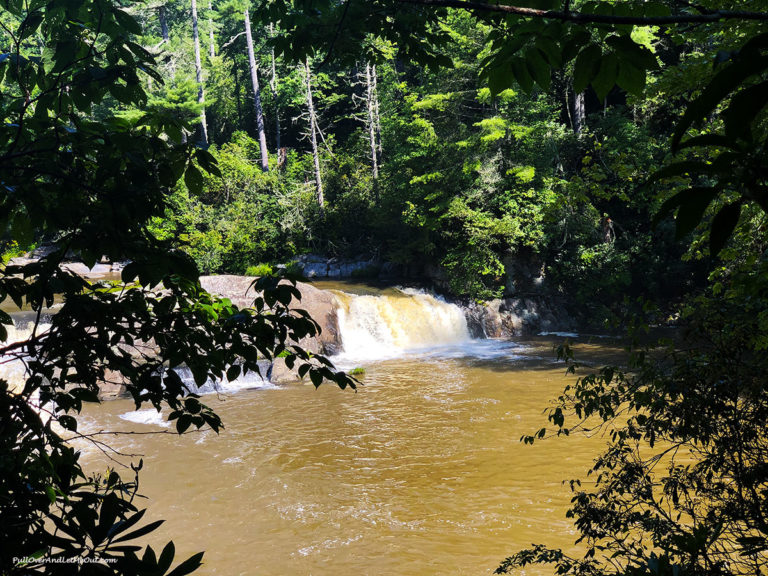 My fourth viewing point was Erwins View. This is the final overlook and is perched high above offering panoramic views of Linville Gorge and a distant look at both the upper and lower falls. There were also the fewest people here as it's farthest from the parking areas at .08 miles. The hike here is a bit strenuous at times, but the scenic views make it worthwhile.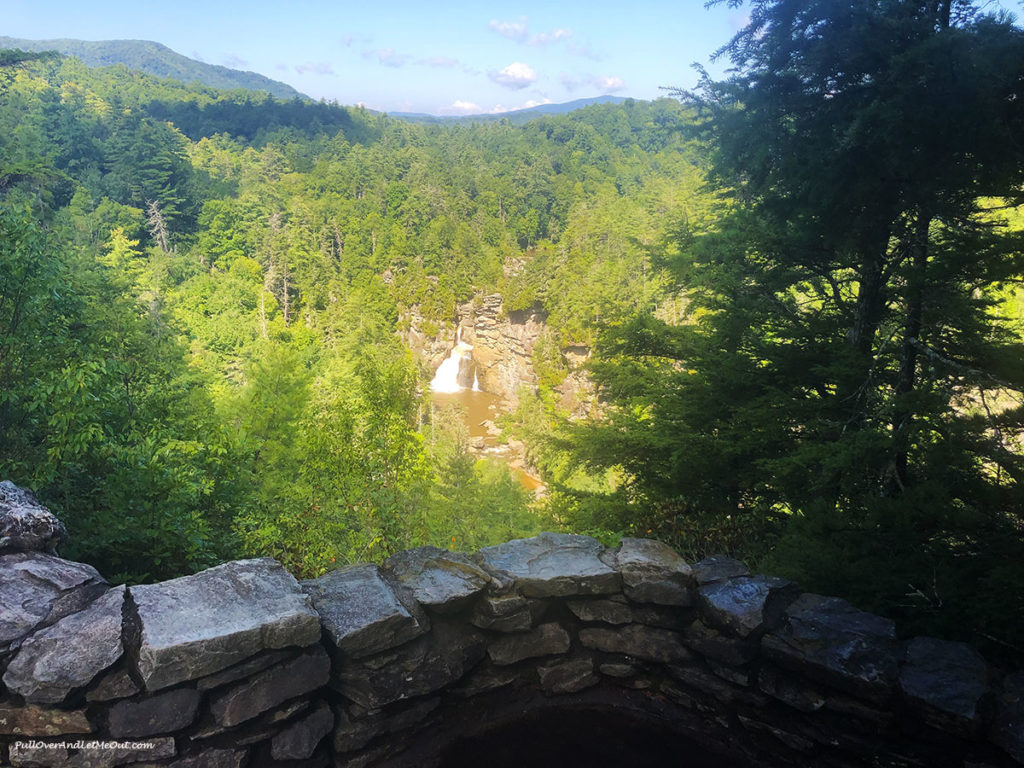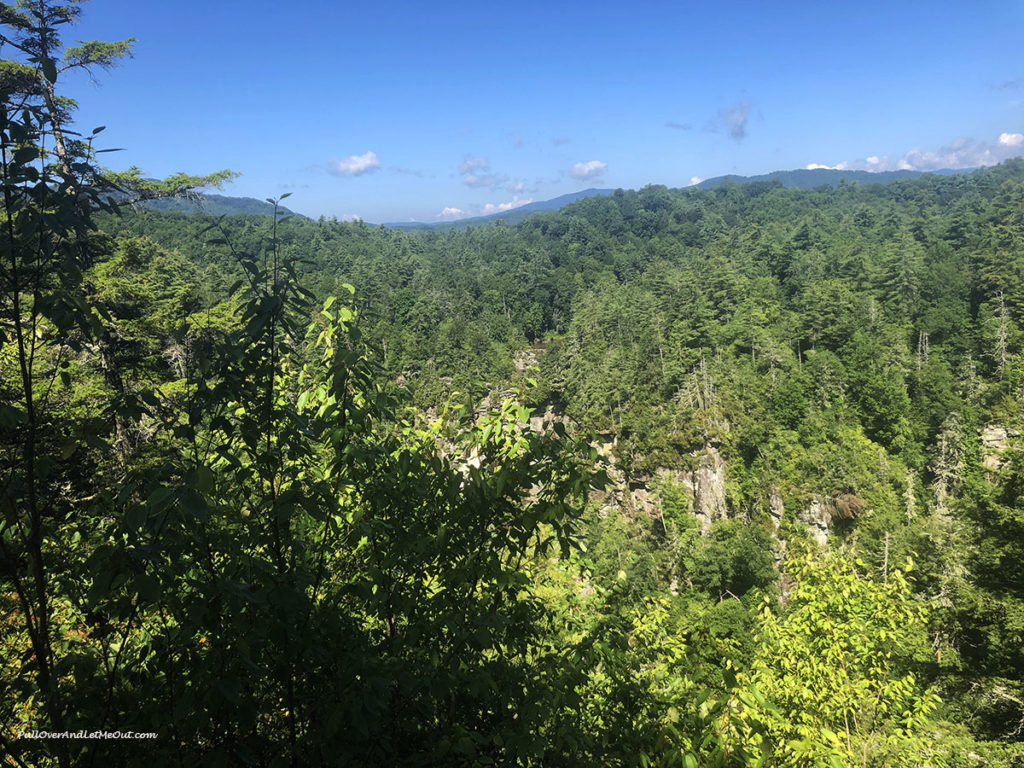 Tips for your hike to the falls
The most important thing to have before commencing a hike to the falls is a good pair of sneakers or sturdy hiking shoes, preferably waterproof. Much of the first part of the hike on Erwins Trail is at a downward slope. The ground is wet and there are slippery rocks incorporated in the trail. You may even wish to utilize hiking poles for balance. Flip flops are not a good idea, trust me.
If you plan to hike the entire loop, you will want to bring water. Even with the canopy of trees and tall pines shading most of the way, you'll work up a sweat and a thirst especially as you climb to Chimney View. At Erwins View there's a bench so you can take a moment or two and enjoy the vistas and catch your breath.
Although the trail is well-traveled, it's still the wilderness. While we were hiking, a bear crossed our path giving hikers on the trail paws.(get it) But seriously, remember there are animals and reptiles in the woods so be cautious and prepared just in case you encounter critters. You should allow at least an hour for your visit, more if you plan on hiking both trails and if you intend to spend time enjoying the scenery. If you want to camp in the wilderness area, a free camping permit is necessary for weekends and holidays from May through October. For more information, click here.
Watch this to see more of my visit.
More to do in Linville, North Carolina
A short three-mile drive from the entrance to Linville Falls is Linville Caverns. This "active" cavern is where kids of all ages get an underground glimpse into the mountains above and is a terrific complementary attraction to the falls.
In addition to the gorge, falls, and caverns, there's more to Linville. Linville boasts multiple charming restaurants, inns, shops, and boutiques. There are also several gem mines that are a hit with the younger visitors who enjoy panning in search of treasures.
With its proximity to Grandfather Mountain, which is home to the annual Highland Games, the town has a tartan thread running through it. I visited Grandfather Scottish on Mitchell Avenue. This locally owned and operated shop caters to all things Scottish while celebrating North Carolina's rich Scottish heritage. It's a great place to pop in and check out the Celtic merchandise. I purchased some tasty shortbread and deliciously authentic Scottish marmalade to bring home.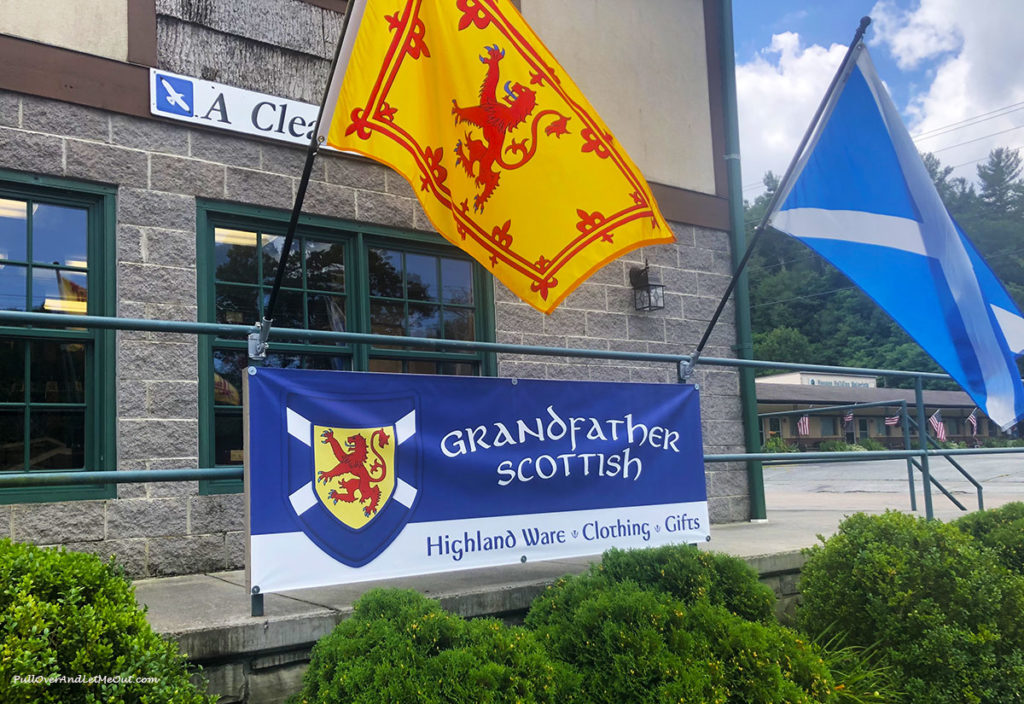 Another nearby attraction is one of my favorite North Carolina wineries. Linville Falls Winery is a full-service vineyard and winery. I visited a few years back, so I was thrilled to return. The pastoral scenery was as beautiful as I had recalled. 
In addition to the beautiful tasting room and patio seating area, there's rows and rows of grapevines, a pond, and they've added Christmas trees! I've already decided I must come back to take advantage of the "Cut Your Own" trees this holiday season.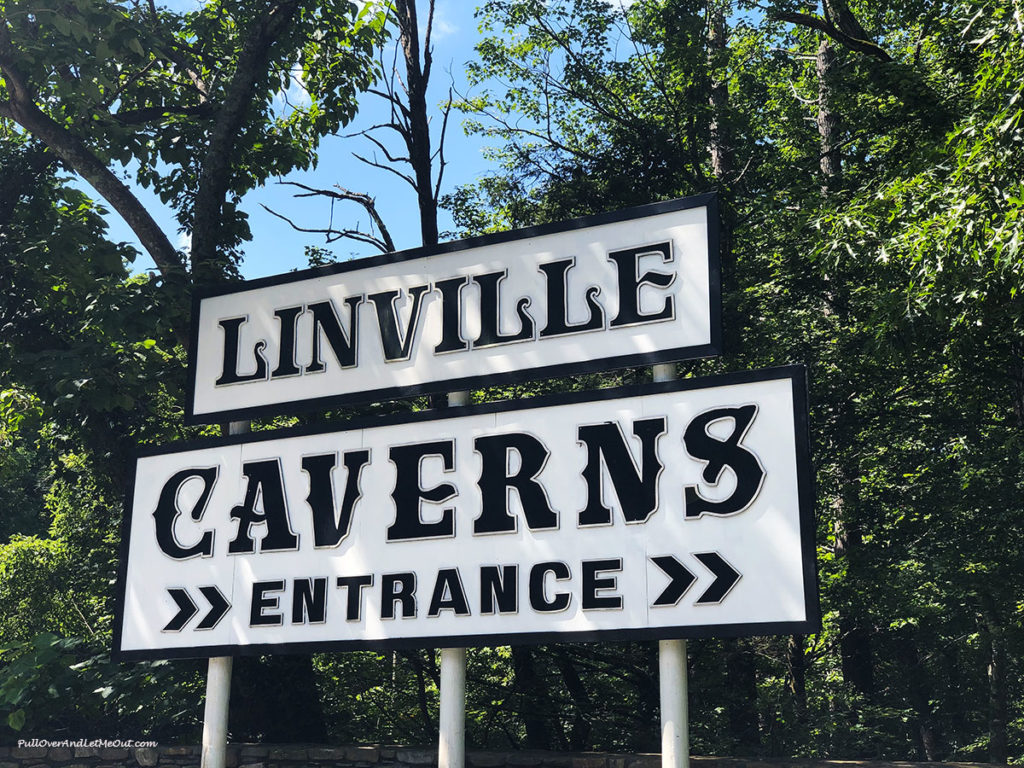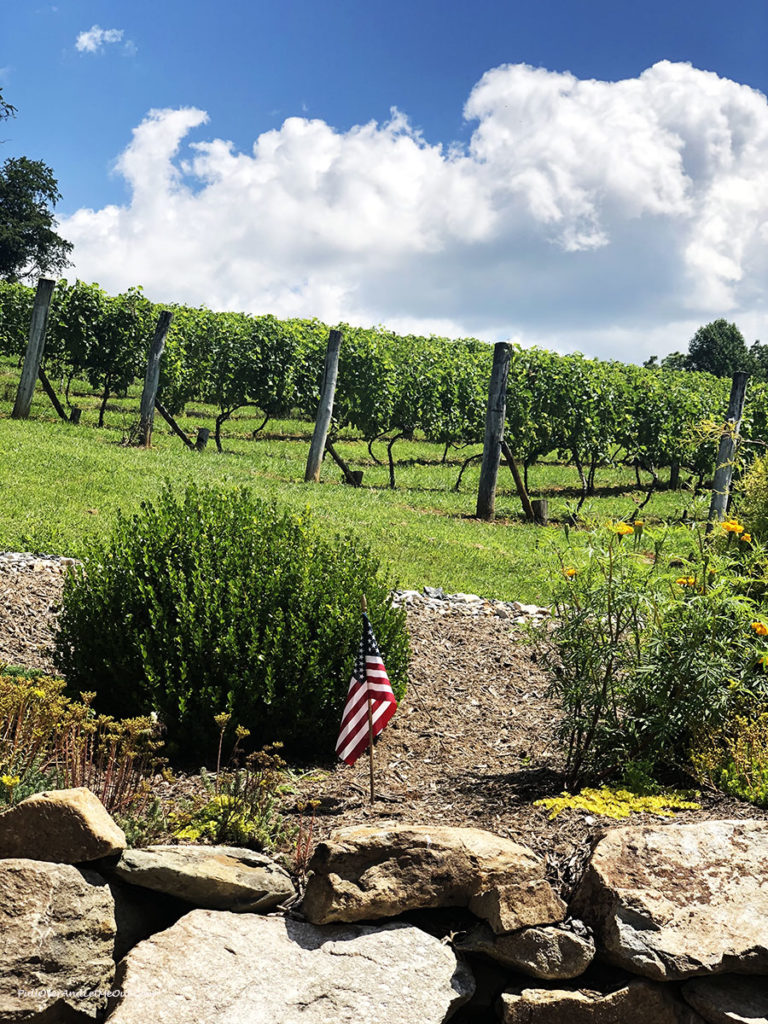 I arrived in search of waterfalls and some outdoor time. A visit to Linville, North Carolina, was exactly what I needed and the perfect weekend break. While Linville Falls is worth visiting, there's much more to do and explore here. This tiny mountain town that is often overshadowed by larger ones nearby is an ideal addition to a North Carolina mountain road trip itinerary, romantic getaway, or group weekend escape. To that end, I recommend you DO go chasing waterfalls.
Linville Falls
Blue Ridge Parkway, Mile Marker 316
Linville Falls, NC 28647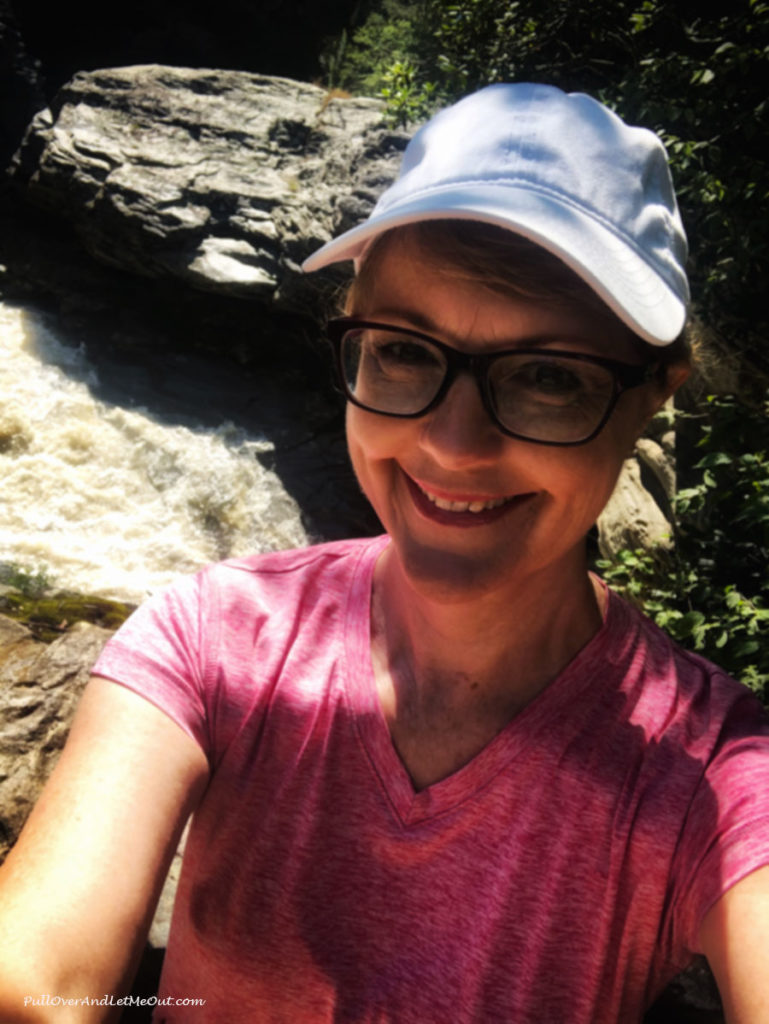 ► Plan Your Trip to Linville, North Carolina Now!
Hey pinners, save this for pinning after your trip
After you get back from your trip, please use these images to post to social media or post your own photos.  Please tag us on your post #pulloverandletmeout
You can also use the social sharing links on the SmartTrip tool.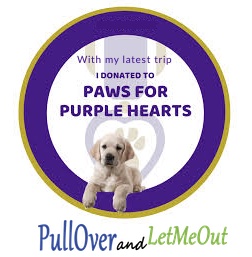 More Stories You'll Love!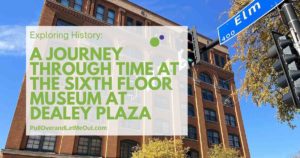 An outstanding museum dedicated to the solemn and historic event that occurred on November 22, 1963, is located within the former Texas School Book Depository building. Travel there with PullOverandLetMeOut to discover why the Sixth Floor Museum at Dealey Plaza is a must-see attraction when visiting Dallas.
Read More »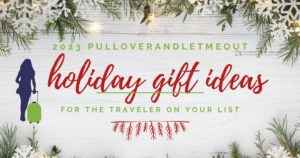 Travel with PullOverandLetMeOut to discover 2023's hottest holiday gift ideas for the traveler on your shopping list.
Read More »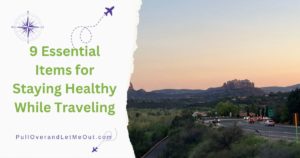 Make a healthy trip a priority. Travel with PullOverandLetMeOut to discover 9 essential items for staying healthy while traveling.
Read More »
Shop for the hottest travel gear!