Mt. Olive is famous for pickles. The Mt. Olive Pickle company is the largest independent pickle company in the country. Thus, when I met fellow North Carolinian, Ryan Roberts, Head of Hoperations, at R&R Brewing at a wedding in Pennsylvania, I was pleasantly surprised to learn this charming town a little over an hour southeast of Raleigh is gaining a reputation for its craft brewery and taproom.  
Disclosure:
Many of the links you see on this site and within our trip planning tool are affiliate links. If you click through and make a purchase, I'll get a small commission and it won't cost you any extra. On selected stories, for those hotel and car bookings made using our TravelingToGive™ tool we contribute 2.5% of gross hotel and car sales to Paws for Purple Hearts. So, thanks in advance for helping me keep bringing you the content you enjoy and, at the same time, giving back to those who so bravely serve our country! #everytripmatters
R&R Brewing Microbrewery & Taproom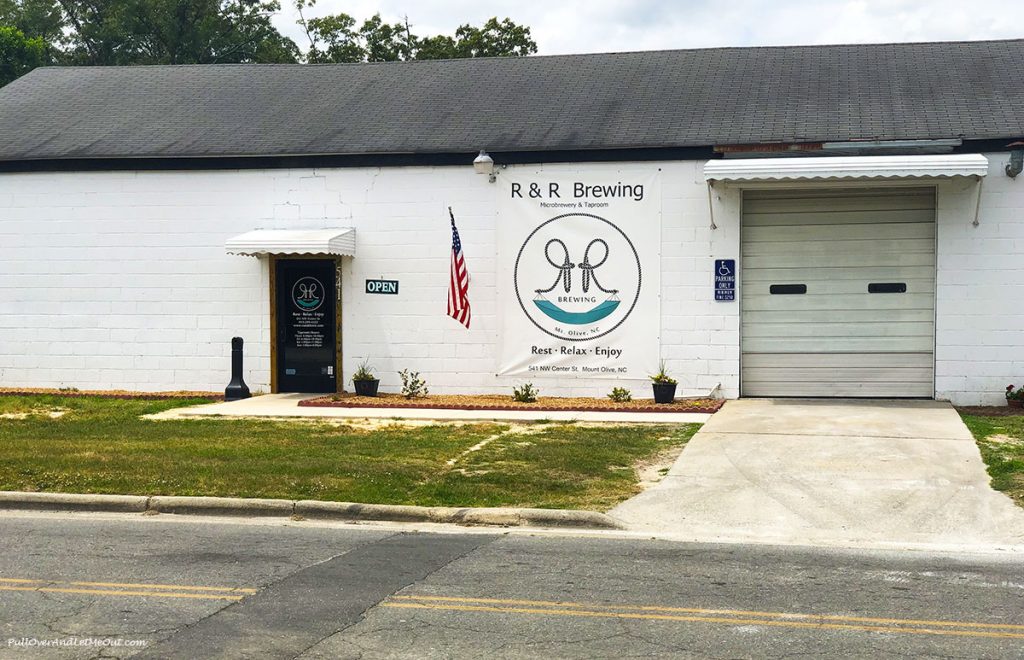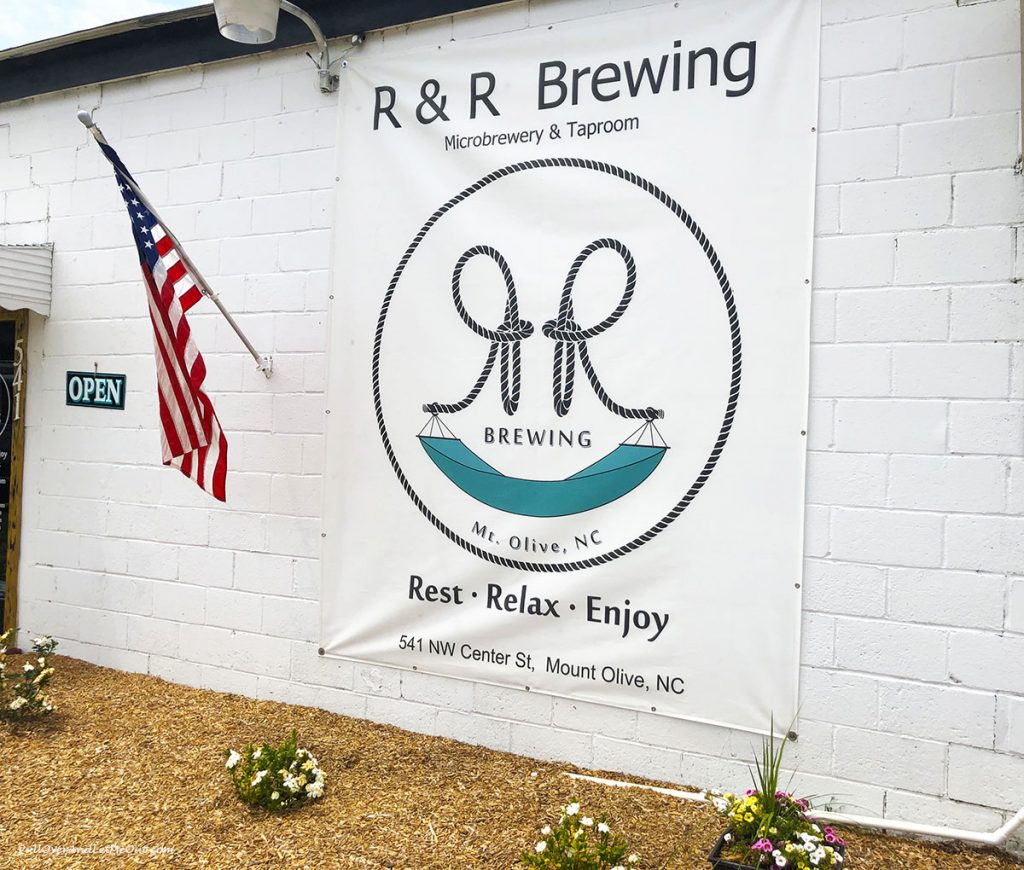 When we first arrived, I admit, I was a little uncertain of what we'd find inside. The re-purposed cinder block building is understated, to say the least. However, once inside, my uncertainty completely dissolved. What is more, I was blown away.
The unremarkable exterior belies the hip, modern rustic interior. Over 3000-square feet of stylish décor, open space, and welcoming southern charm dispells all doubts. Scanning the taproom, it's apparent each detail was carefully considered when converting the old building. From the pickle jars transformed into lighting to the branding on each chair back, to the incredible bar made from a large tree that fell during a hurricane, the entire taproom is imbued with character befitting a pleasing craft beer experience.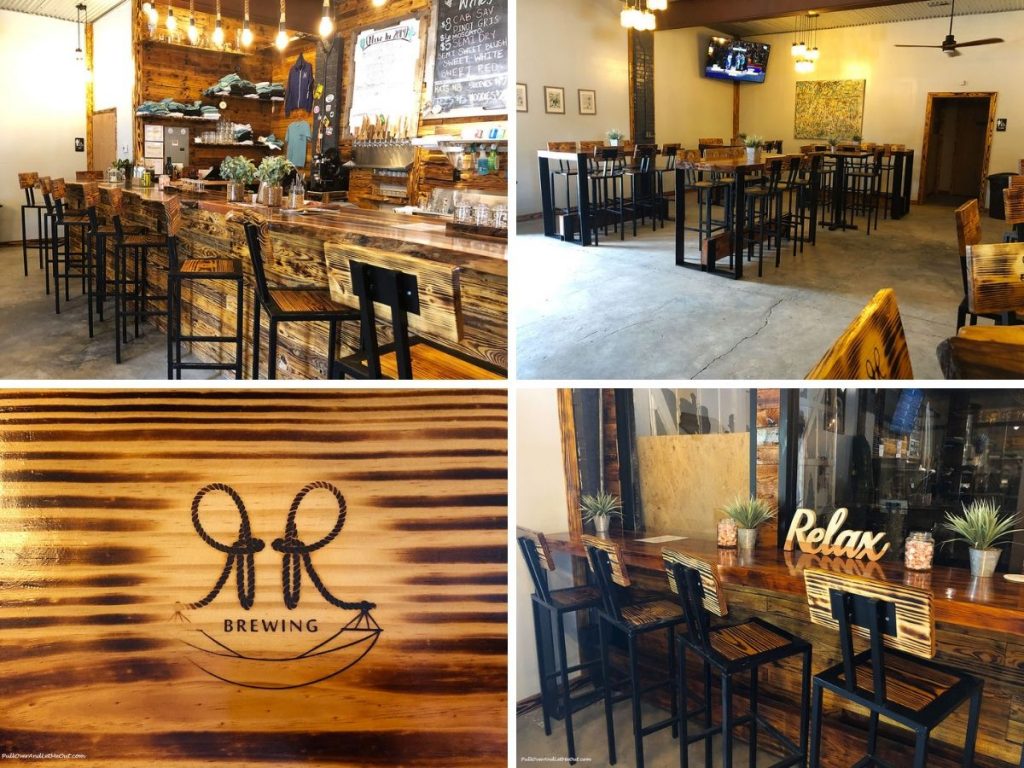 Behind the bar today is Dom. Dom and Head of Hoperations, Ryan, go way back. He shares a little of R&R's backstory as well as details of their brewing process and philosophy. Dom also offers us a sampling of the beer and naturally, the samples are served in pickle jars. 
I take copious notes on my phone as I sip a variety of beverages. Low Places Lager, Good Help Amber, Waco Wheat, It's All Downhill From Here – they're all tasty craft beers. Not a devotee of IPAs, I'm surprised when I sample Slow Sipper IPA. It's a much smoother offering and I like it. However, the beer I'm most intrigued by is, R&R's Pickletown Lager.
Made in collaboration with Deep River Brewing Co. in Clayton, NC, Pickletown Lager captures the essence of Mt. Olive. I'm not sure how they accomplished such a triumph, but this non-pickle fan really enjoyed the beer. It's a light lager with a subtle pickle flavor. It's not overpowering at all. Don't think pickle juice from a jar, it's much more nuanced and palette-pleasing. Even more stunning, after sampling, I order a pint glass. Although I'm not as bold as most (I won't put a pickle in my beer) I savor every sip of this primo beverage.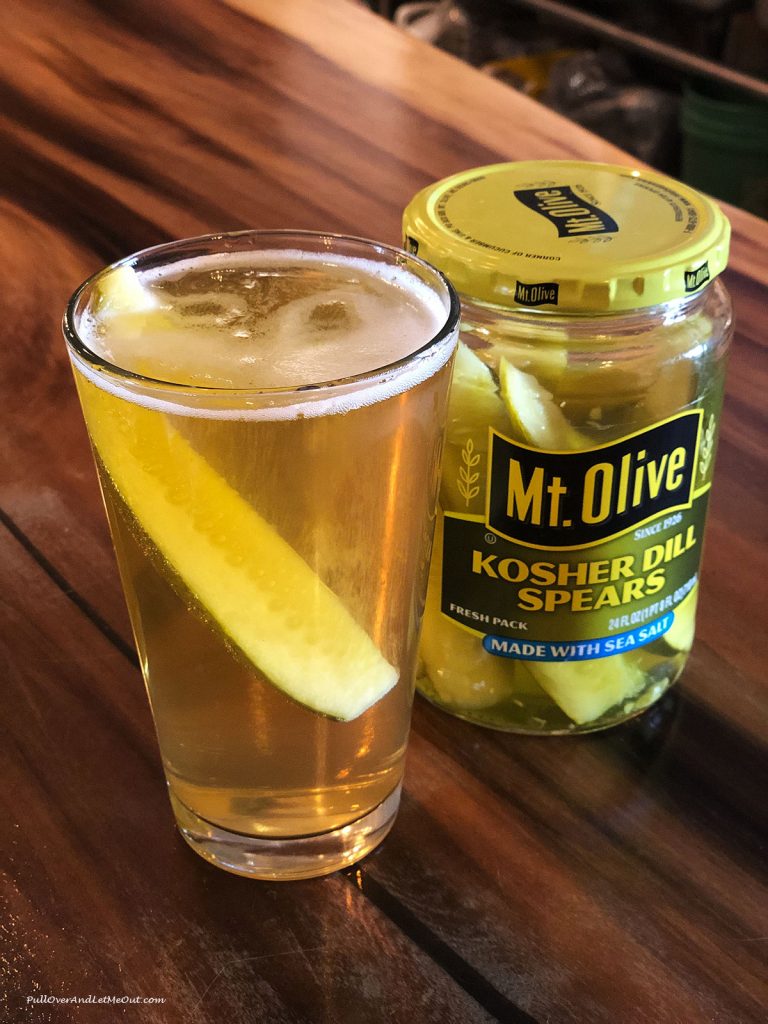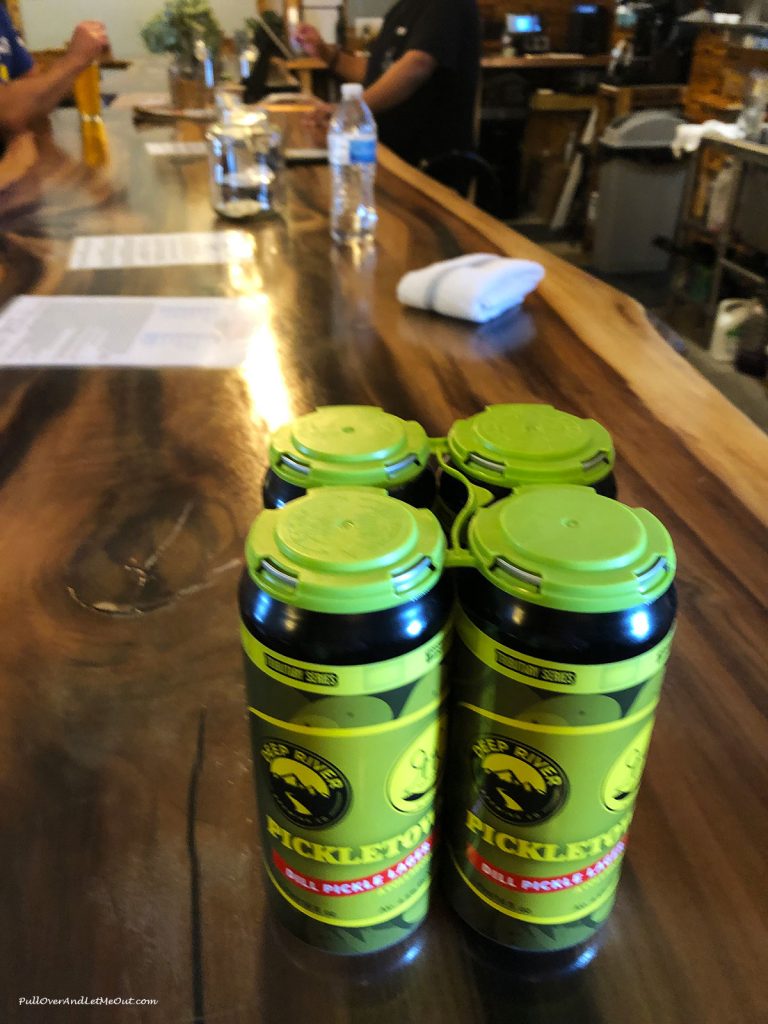 Not only is there a stylish taproom, but R&R also boasts a fledgling beer garden. The pet-friendly patio area is enhanced with comfy seating crafted from old wooden barrels, rustic spool tables, and a signature hammock. Additionally, the beer garden is where an ever-changing lineup of food trucks set up shop so visitors may enjoy an array of cuisines while sipping a cool R&R beverage.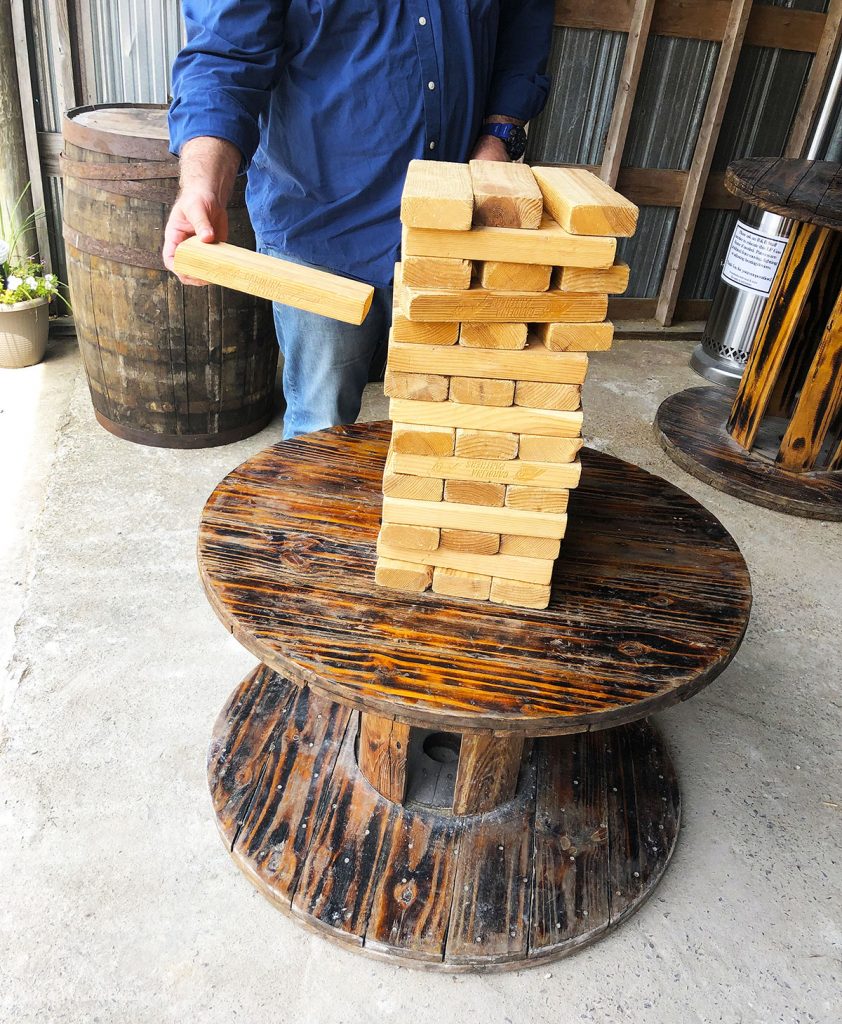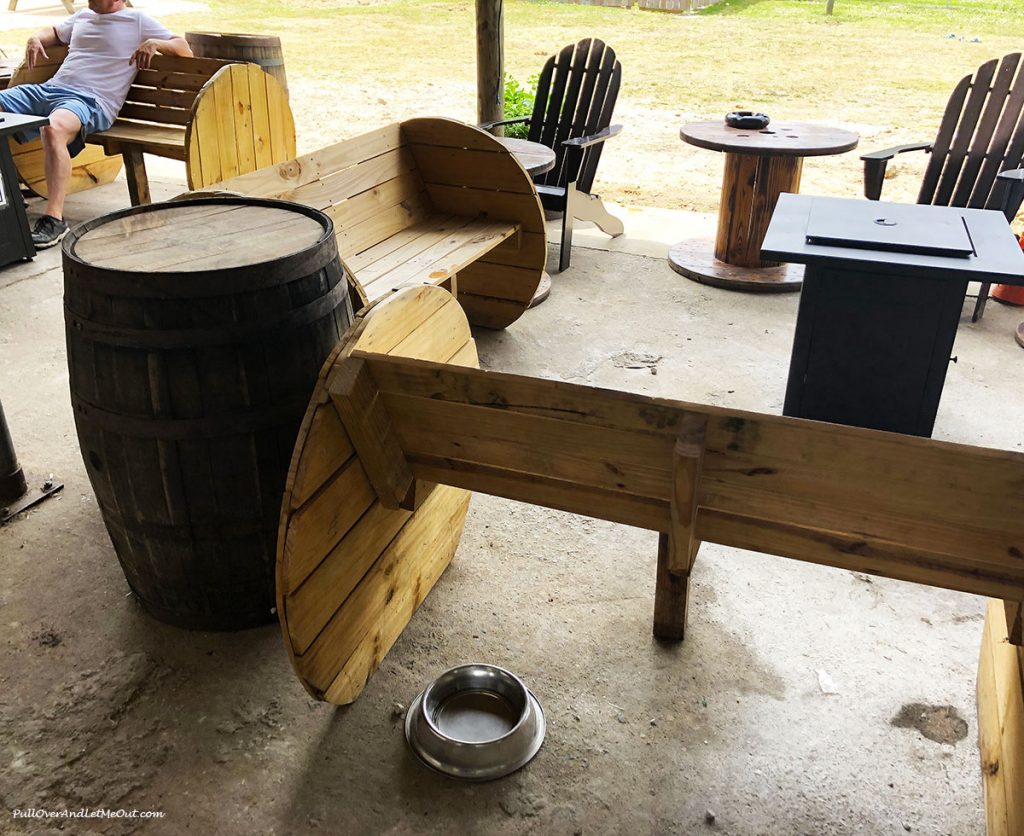 Beyond its microbrewery, taproom, and beer garden, R&R takes a community and family-oriented approach to its operations. Contributing to the community and its well-being is part of their philosophy. R&R endeavors to be an essential part of Mt. Olive by offering a family-friendly gathering space and by supporting local farmers and organizations.
Other Things To Do in Mt. Olive, NC
Mount Olive is also well-known for hosting the annual North Carolina Pickle Festival. Each spring, thousands descend upon this tiny town to celebrate all-things-pickle! This year, R&R Brewing played an important part in the event by serving as the Festival Welcome Center. In addition to the North Carolina Pickle Festival, each New Years Eve, there's a celebration culminating in the annual Pickle Drop.
Apart from annual observances, there are charming shops and boutiques on the town's main thoroughfare, a gift shop at the Mt. Olive Pickle Factory, the nearby Cliffs of the Neuse State Park, and multiple restaurants. We ate a late lunch at El Mazatlan and it was hands down the tastiest Mexican food I've had in a long time.
A short distance from the brewery is the tree-lined campus of the University of Mount Olive. The university offers a variety of degrees in an assortment of academic settings including online programs. The picturesque campus is a beautiful snapshot of academia in an eastern North Carolina location.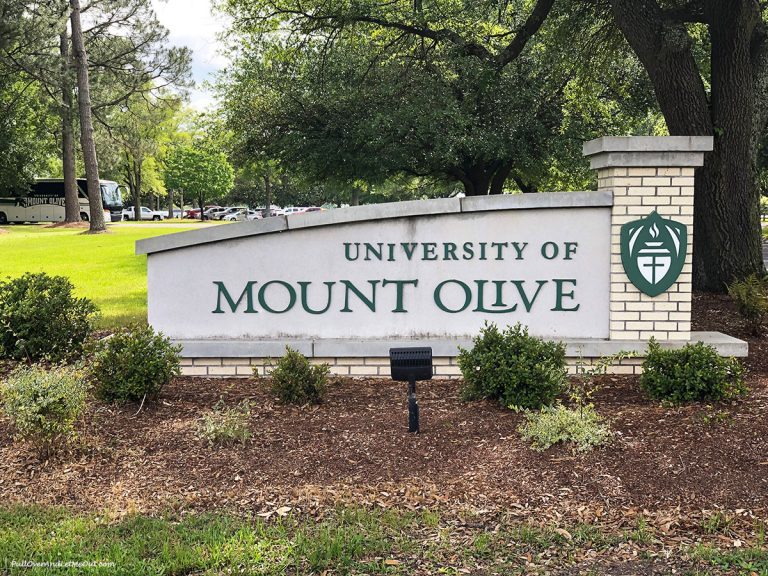 I had so much fun at R&R Brewing, I bought the t-shirt! Take a quick look at my visit and be sure to "like" and subscribe.
Plan Your Visit To R&R Brewing
R&R Brewing is located at 541 Northwest Center Street in Mt. Olive. Mount Olive is in both Wayne County and Duplin County approximately 15-miles southwest of Goldsboro, home of Seymour Johnson AFB, 65-miles southeast of Raleigh, about 55-miles east of Fayetteville,  and 79 miles northwest of Wilmington, NC.
The Taproom is open Thursday through Sunday.
Thurs. 4:30 – 10:30 pm
Friday 4:30 – 10:30 pm
Saturday 1:00 – 11:00 pm
Sunday 1:00 – 6:00 pm
North Carolina has a burgeoning craft beer scene attracting tourism to the Tar Heel state. While it stands to reason, larger cities such as Raleigh, Charlotte, and Asheville offer an abundance of craft brewery choices, it's best to not overlook small towns. Cities like Mt. Olive are gaining notoriety in the brewing community and beyond. Having spent an afternoon at R&R Brewing, I can whole-heartedly recommend a trip to the country for a delicious cool beer.
R&R Brewing Microbrewery and Taproom
541 Northwest Center Street
Mount Olive, NC  28365
Hey Pinners! Pin this for later!
You may also enjoy reading this!
Fun Things To Do In Wilmington, North Carolina