Whenever I'm traveling to a specific destination, I do my research in advance to find the most unique attractions in the area. Hence, when I learned I'd be attending my nephew's wedding at Wyndridge Farms in Dallastown, Pennsylvania, I got busy with my footwork and found a one-of-a-kind attraction minutes away in York – The Haines Shoe House.
Step into Roadside America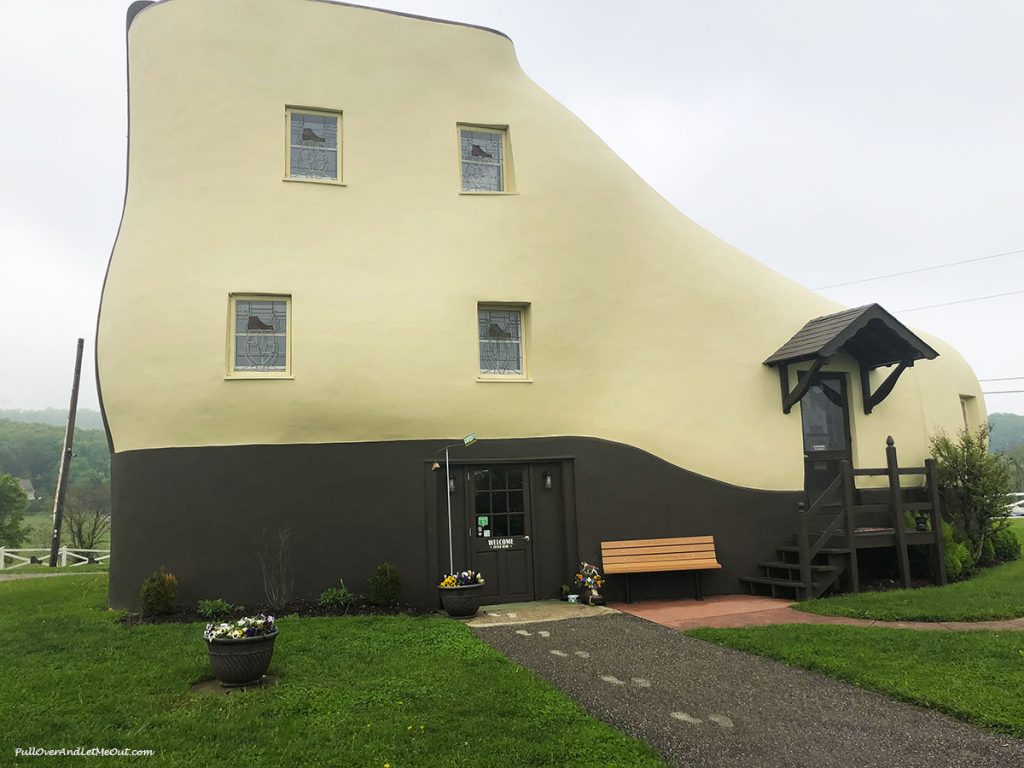 The Haines Shoe House is an iconic landmark that's been part of the York County, Pennsylvania landscape since 1948. As a kid, I remember seeing the unusual abode from the highway as we passed. (Usually on one of Dad's family trips to the Pennsylvania Dutch Country in nearby Lancaster).
To that end, I was delighted to finally Pull Over, visit, and spend a little time learning about this incredible shoe, home, and marketing tool.
We arrive at about 11:15 on a Saturday morning. The skies are overcast and the temperature is a tad cool, but ideal for strolling the exterior of the shoe. It's one of those things you simply need to see to believe. As we survey the structure and surrounding grounds, we take note of the many shoe-related decorations and embellishments, right down to the doghouse which is a miniature of the home.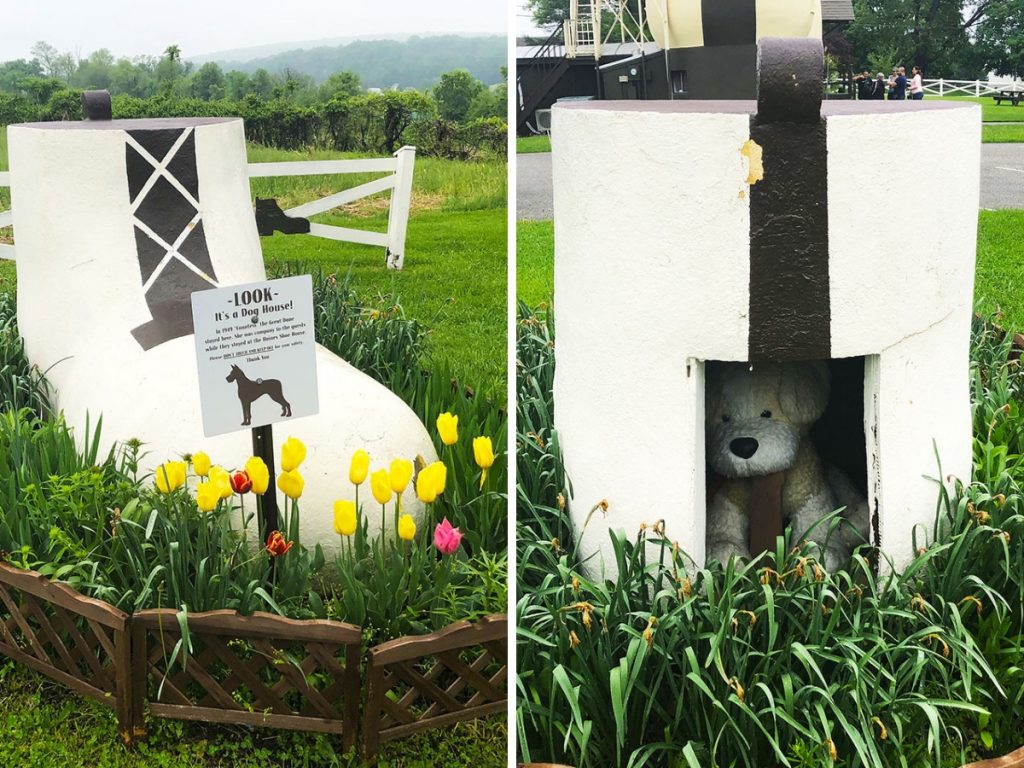 Disclosure:
Many of the links you see on this site and within our trip planning tool are affiliate links. If you click through and make a purchase, I'll get a small commission and it won't cost you any extra. On selected stories, for those hotel and car bookings made using our TravelingToGive™ tool we contribute 2.5% of gross hotel and car sales to Paws for Purple Hearts. So, thanks in advance for helping me keep bringing you the content you enjoy and, at the same time, giving back to those who so bravely serve our country! #everytripmatters
Touring the Haines Shoe House
The structure stands 25-feet in height, 48-feet in length, and is 17-feet at its widest section. Its wood frame is covered in wire, cement stucco, and formed to resemble a high-top shoe, like one of Haines' popular styles.
Upon entry, we purchase tickets for the tour and begin learning the fascinating story of this old building and marketing gimmick. Our tour guide is well-versed in Haines Shoe House knowledge. Moreover, she's especially conversant in the biography of the home's original owner, Mahlon Haines, "The Shoe Wizard."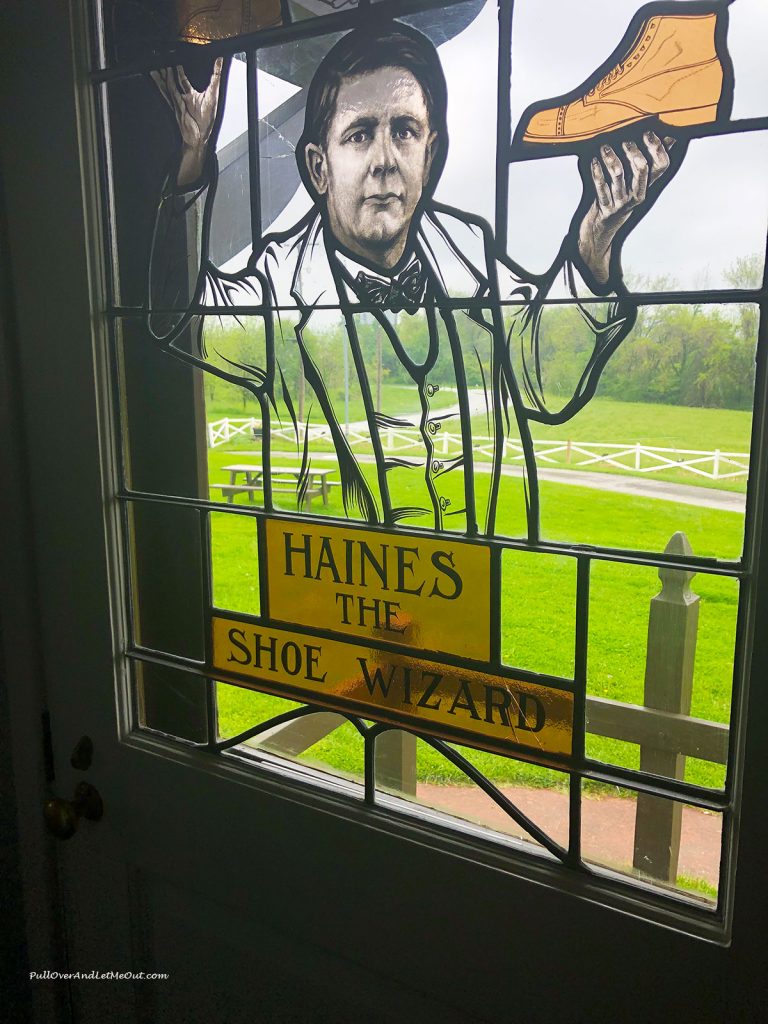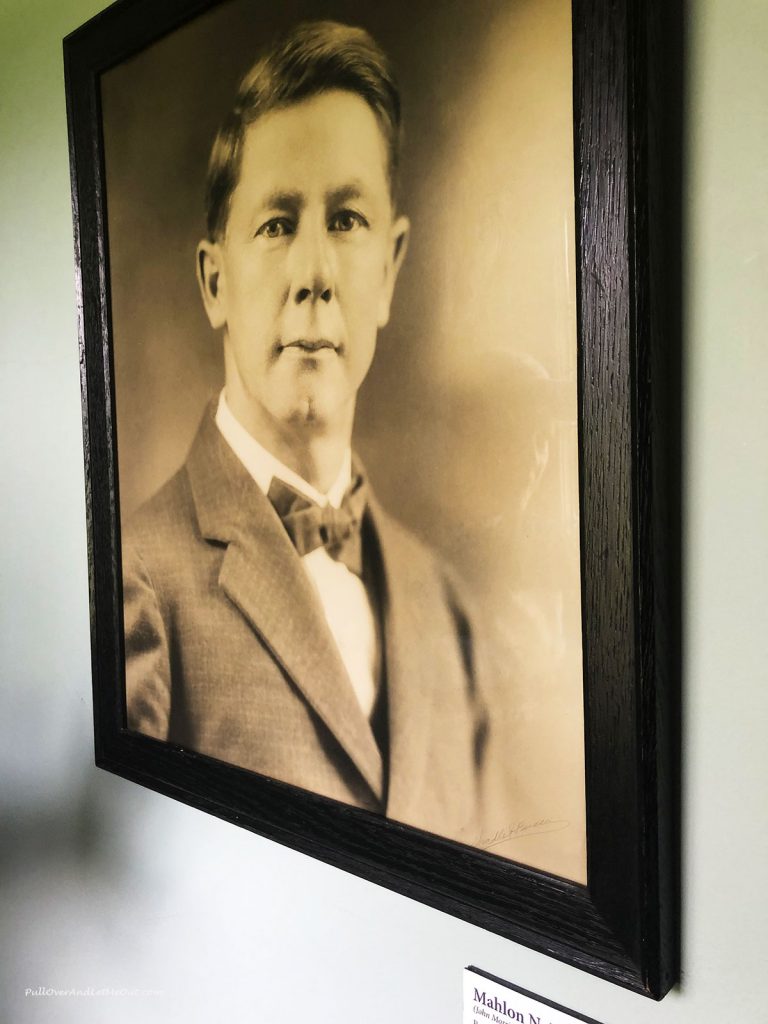 Mahlon Haines' personal story is legendary. We're captivated learning how he came to settle in York County in the early 20th century. The details of his bike ride from Ohio, landing him in rural Pennsylvania when said bike broke down, is riveting. We're enthralled as our guide imparts the particulars of how this eccentric self-made millionaire and master marketer branded himself "The Shoe Wizard" ingraining his face, shoes, and name in everyday life in Central Pennsylvania and Northern Maryland.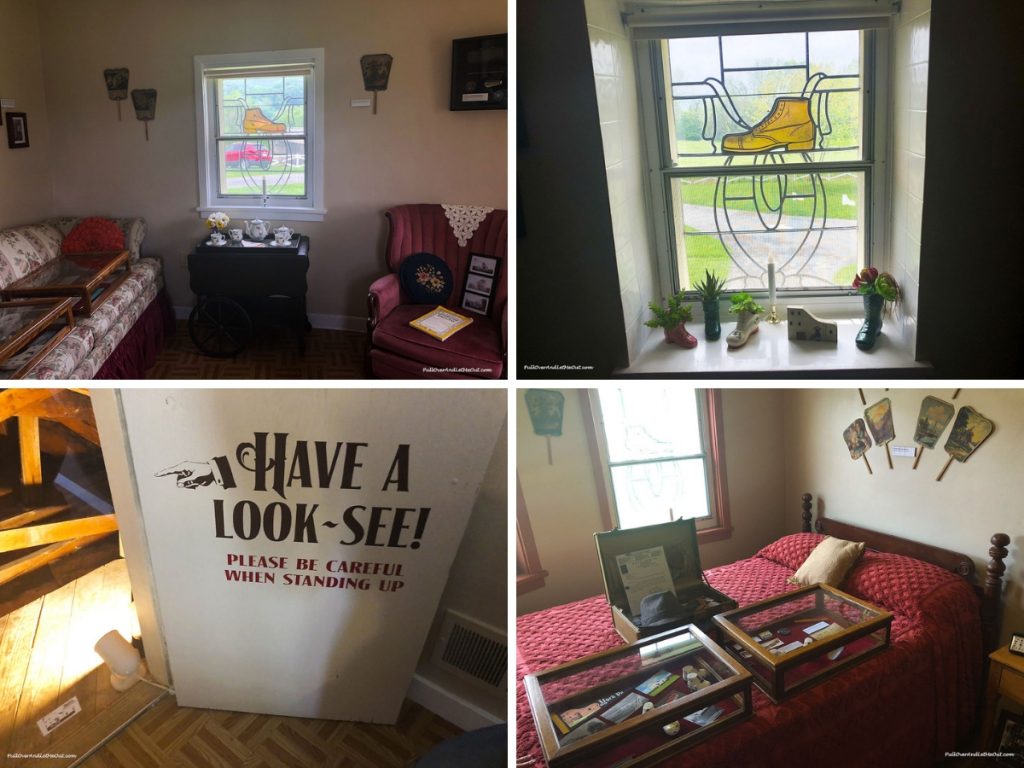 The tour is a wonderful blend of Haines' personal story and marketing genius along with the home's incredible five levels and its history. It only stands to reason such an unconventional structure has a unique narrative. Consequently, the tour doesn't disappoint.
Particularly fascinating is Haines' attention to details. From the stained-glass windows to the shoe-shaped mailbox, his genius for marketing is on display.
Tasty Treats and A Touching Tribute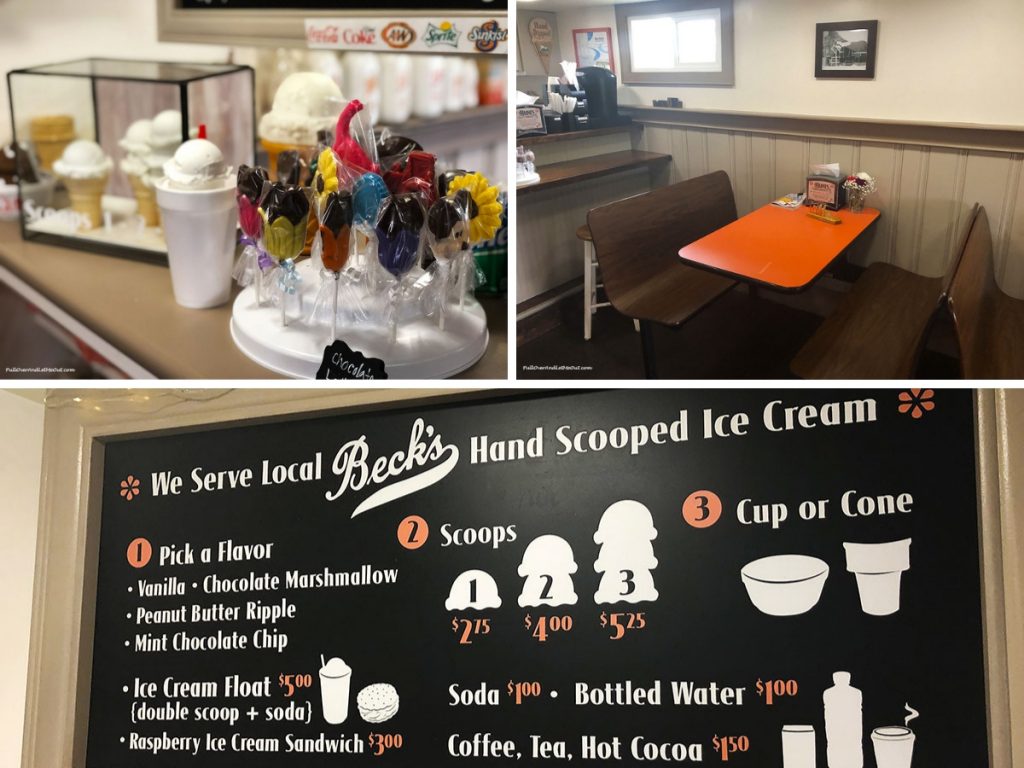 After an incredibly informative tour of the shoe, we return to the "arch" where it's possible to enjoy tasty treats and Beck's Ice Cream, a local favorite. 
It's here we learn the story of the most recent co-owner, Melanie Schmuck. Schmuck and her husband purchased the home in 2015 and lovingly brought it back to its former glory. Sadly, Melanie passed away suddenly in late February 2019. Her family and friends are assisting with carrying on her dream and have re-opened for tours for the time being.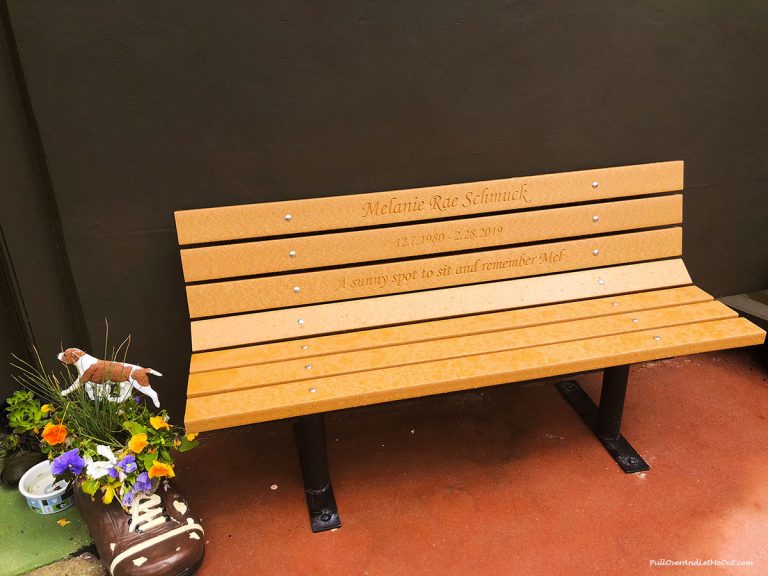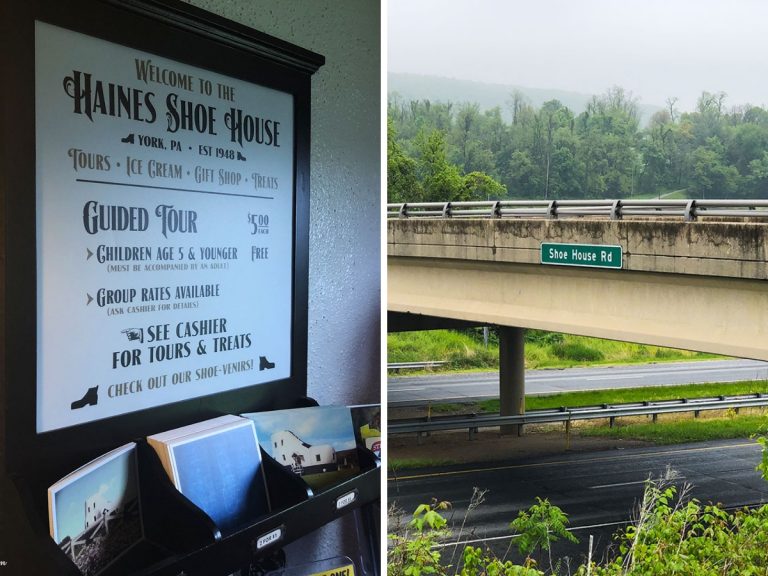 The Haines Shoe House is open the first day of spring through October with fluctuating hours.
First Day of Spring through Memorial Day: Friday – Sunday 11 am to 5 pm
Memorial Day through Labor Day: Wednesday – Sunday 11 am to 5 pm
Labor Day through Halloween: Friday – Sunday 11 am to 5 pm.
They're closed on Memorial Day and Labor Day.
Guided tours are offered for an admission fee of $5.00 and children five and under are free with an adult. Groups of 15 or more can enter for $4.00. Larger groups are asked to call ahead to make a reservation.
Take a sneak peek at my visit to the Haines Shoe House. Don't forget to click "like" and subscribe.
Visiting York County, Pennsylvania
The Haines Shoe House is located off of Rt. 30 and Rt. 462 in the Hellam township of York County, Pennsylvania. It's a short distance from the town of York, approximately thirty-minutes west of Lancaster, PA, and just under 2-hours from Philadelphia. 
The region is famous for its lush rural scenery, farmland, and history, including a heated border dispute ultimately settled by a couple of engineers named Mason and Dixon.
For visitors looking to stay in the area, our accommodations at the Hampton Inn off South Queen Street in York were perfect for exploring this portion of the state.  There are also some terrific bed and breakfasts, inns and rentals should you be pursuing a more personalized form of lodging.
The Haines Shoe House is just the sort of attraction I seek out. Its unusual shape and the story pulled me in, however, the exceptional tour was an unexpected bonus.
Mahlon Haines was an eccentric businessman with a gift for branding, advertising, and attracting customers. Touring his shoe house, I gained insights into his engaging character, entrepreneurial spirit, as well as the times he lived in. Moreover, I attained a deeper understanding of this corner of Pennsylvania. And when it's all said and done,  isn't that why we travel?
Tell me, what's the most unique tourist attraction you've visited?
You may also enjoy reading this!
11 Fun Things To Do In Hershey & Harrisburg, Pennsylvania