Raleigh, North Carolina is my hometown. I moved here in the early 90s and have watched it change and blossom. One area, in particular, that's transformed significantly is the North Hills neighborhood, also known as Midtown. With the addition of businesses, residential high rises, shopping, and manifold dining options, this growing section of the Oak City is also a wonderful tourist destination – even for locals. I took a mini-Midtown getaway and found it to be delightful. Here's a look at 10 awesome things to do on a North Hills Raleigh staycation.
Disclosure:
Many of the links you see on this site and within our trip planning tool are affiliate links. If you click through and make a purchase, I'll get a small commission and it won't cost you any extra. On selected stories, for those hotel and car bookings made using our TravelingToGive™ tool we contribute 2.5% of gross hotel and car sales to Paws for Purple Hearts. So, thanks in advance for helping me keep bringing you the content you enjoy and, at the same time, giving back to those who so bravely serve our country! #everytripmatters
1. Check-in at the Renaissance Raleigh North Hills Hotel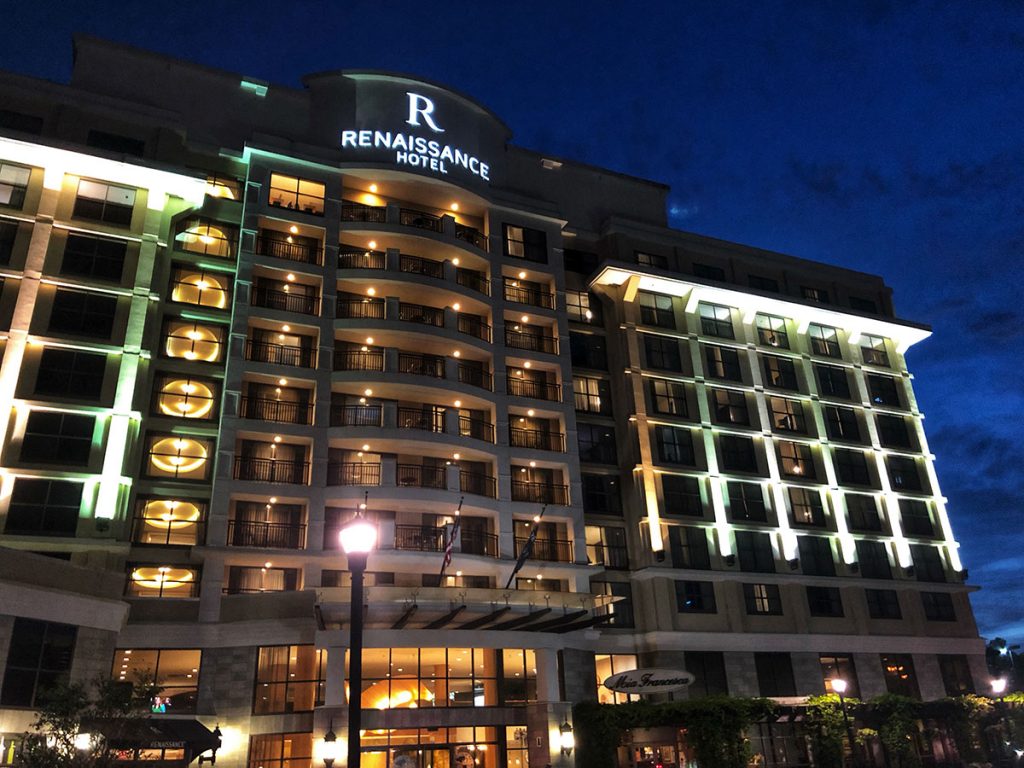 We were thrilled to stay in the heart of the bustling North Hills neighborhood at the Renaissance Hotel. This stylishly eclectic member of the Marriott family is a welcoming landmark as well as an ideal spot for enjoying a little elegance and relaxation.
From its modern chic décor to its first-rate customer service, comfortable well-appointed rooms, and convenient location, the hotel makes a fantastic hub for a visit to Midtown or, as we discovered, a staycation.
The Renaissance Hotel features an array of room choices including suites, balcony suites, and even a Presidential Suite. In addition to luxurious rooms, there's delicious dining at the casual yet impressive 41Hundred. From small sharable plates, custom cocktails, and a hearty breakfast buffet, the in-house dining choices complement a hotel stay.
We found the entire experience relaxing and I absolutely fell in love with the chair in our room! I think I need one just like it at home. 🙂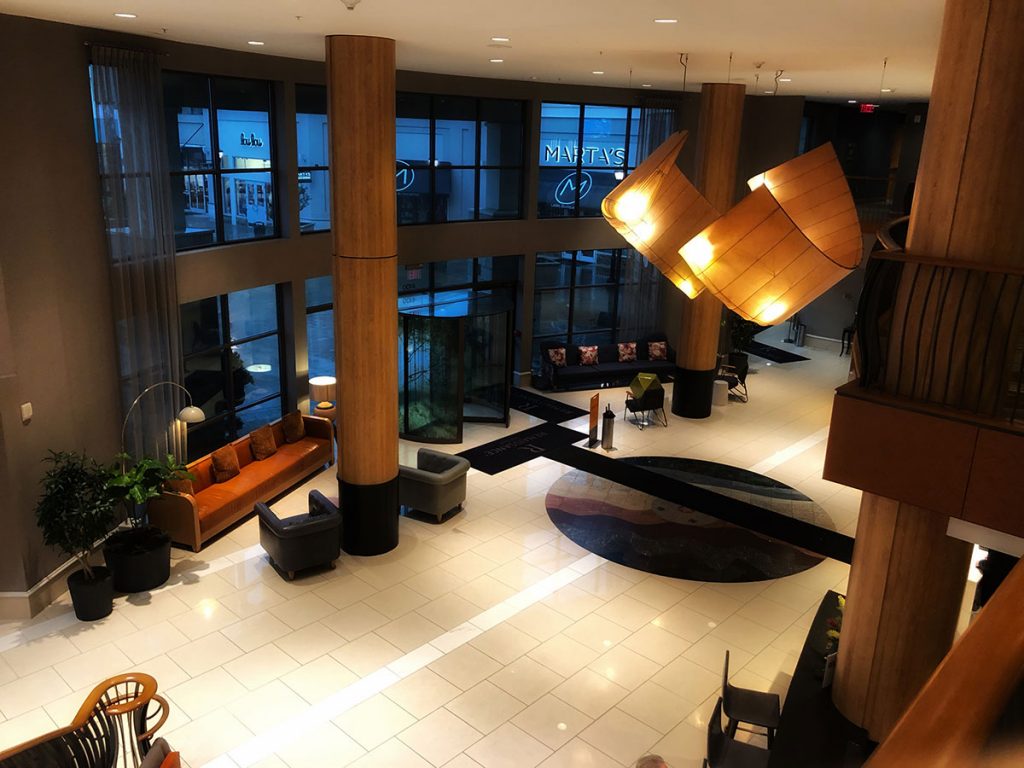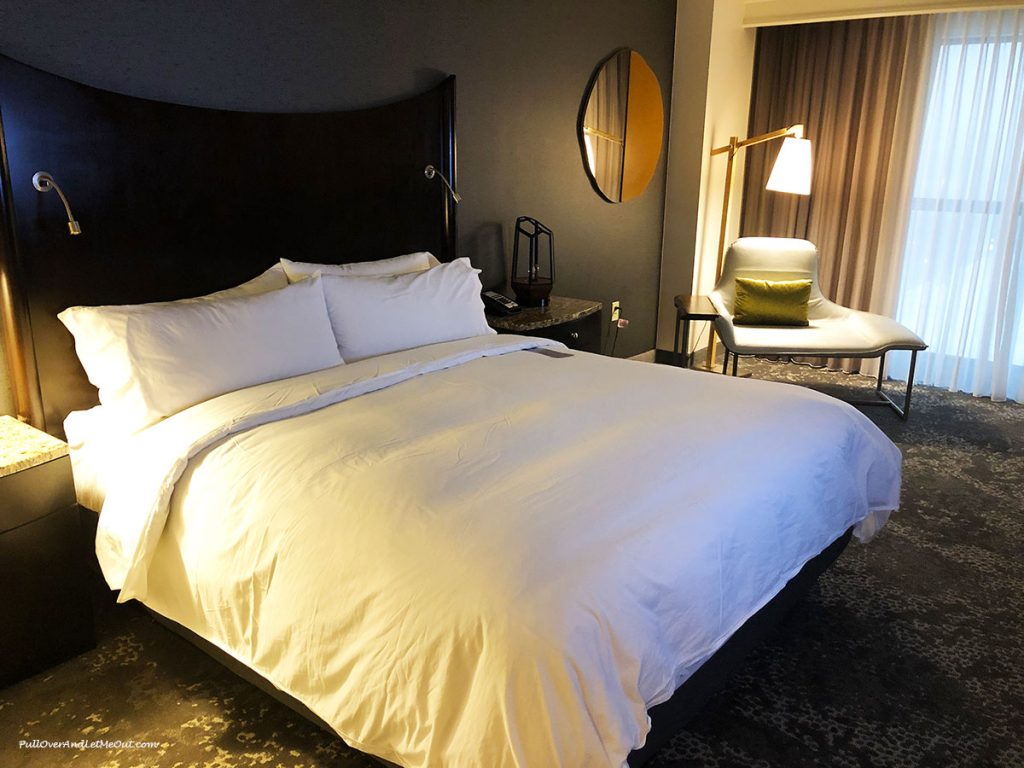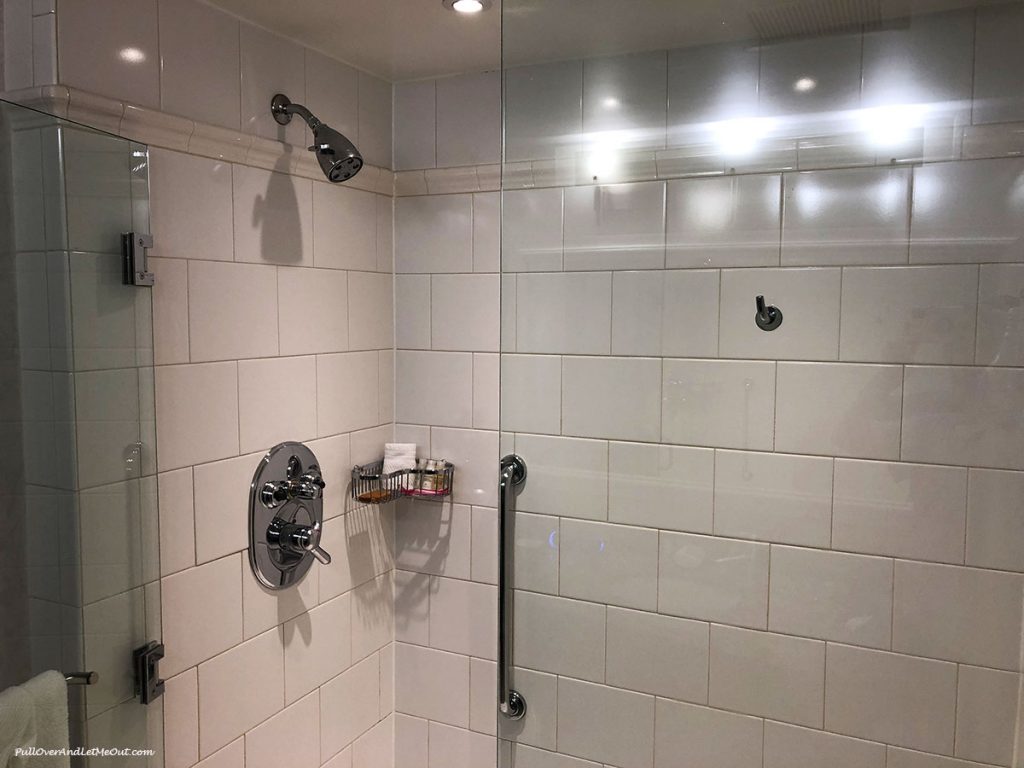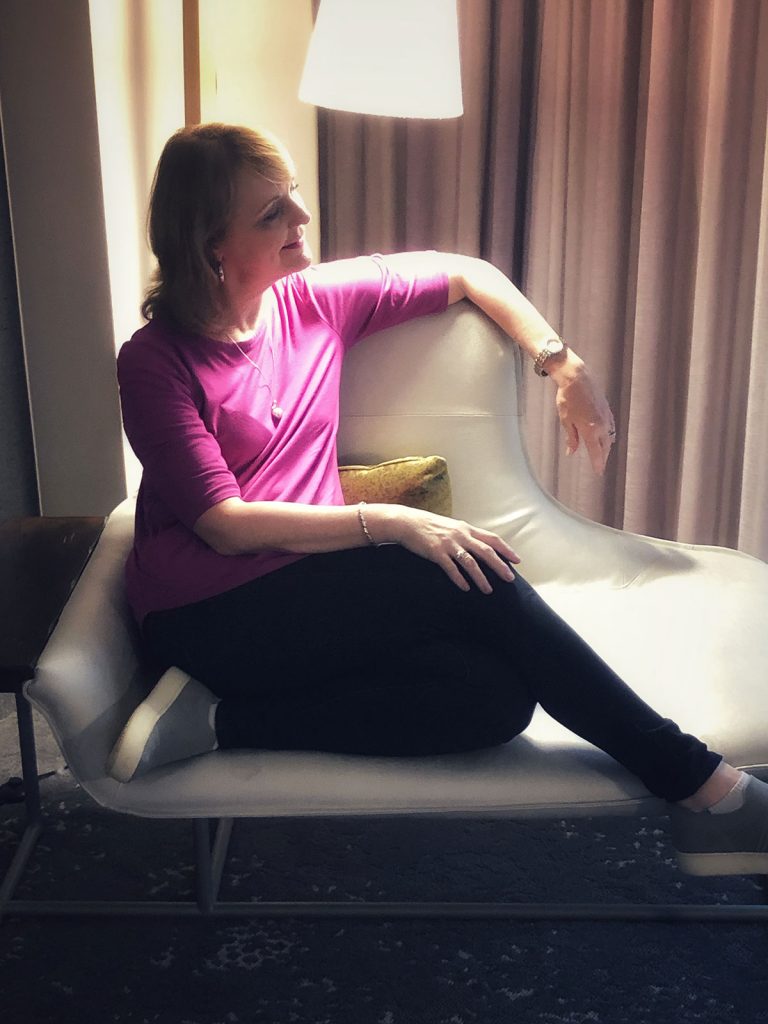 2. Beverages at 41Hundred
Pop into 41Hundred and savor one of their signature cocktails, a craft brew or a glass of wine.
Not just a top-notch restaurant, 41Hundred is a Raleigh favorite for enjoying flavorful libations. The modern open area is spacious yet cozy and a splendid site for a pre-dinner drink or an evening nightcap. We stopped in for a glass of white wine shortly after checking in. The bar staff is incredibly friendly and even took time to show us the exclusive 41Hundred Maker's Mark Private Select bourbon. Impressive to say the least.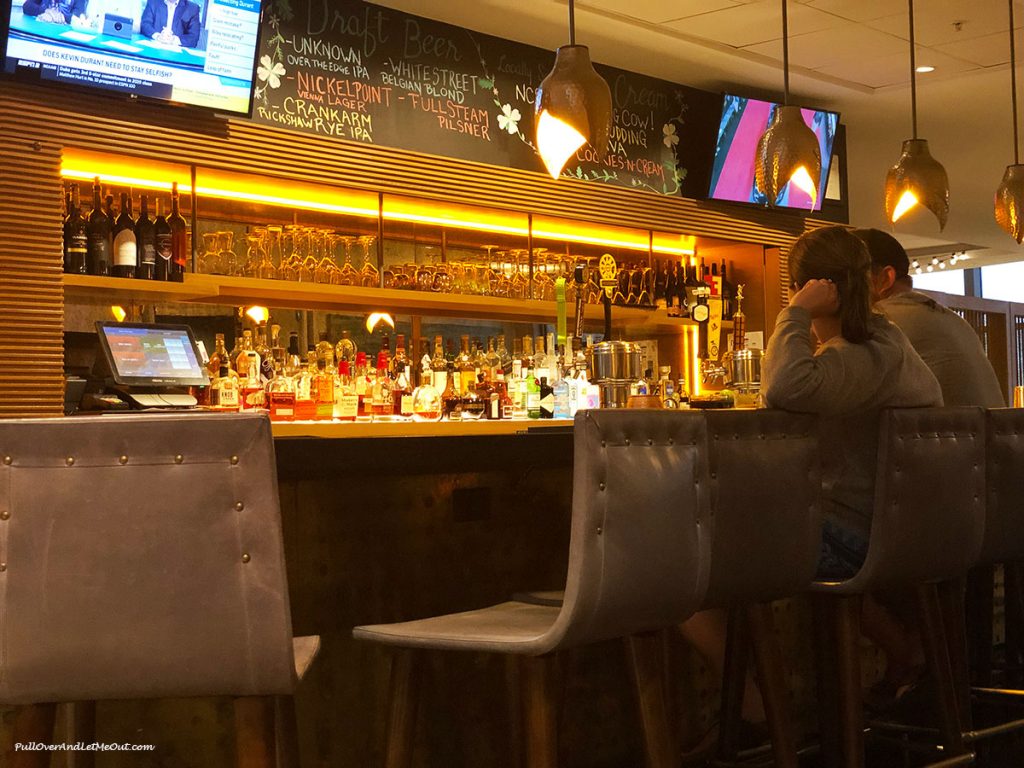 41Hundred
Conveniently located off the lobby of the Renaissance North Hills Hotel
919-278-1478
What staycation would be complete without a little fun and games? During our Midtown staycation, we headed to Kings Dining & Entertainment. The unusual venue is a combination restaurant, bar, and grown-up fun zone.
In addition to a delicious full menu of comfort food, there are games, games, and more games. Over 32,000 square feet of games to be exact. 
There are 18 ten-pin bowling lanes, six billiards tables, three ping pong tables, two foosball tables, and six dart boards to name just a few. Moreover, there's 30 giant screen televisions and a massive full bar. Whether you're a couple, a few or a crowd this is the place to play while visiting North Hills.
We took advantage of their Dine then Bowl reservations option which means once we were finished dining, our party was moved to the top of the bowling waiting list. This was incredibly convenient and despite my lack of bowling skills, we had a great time.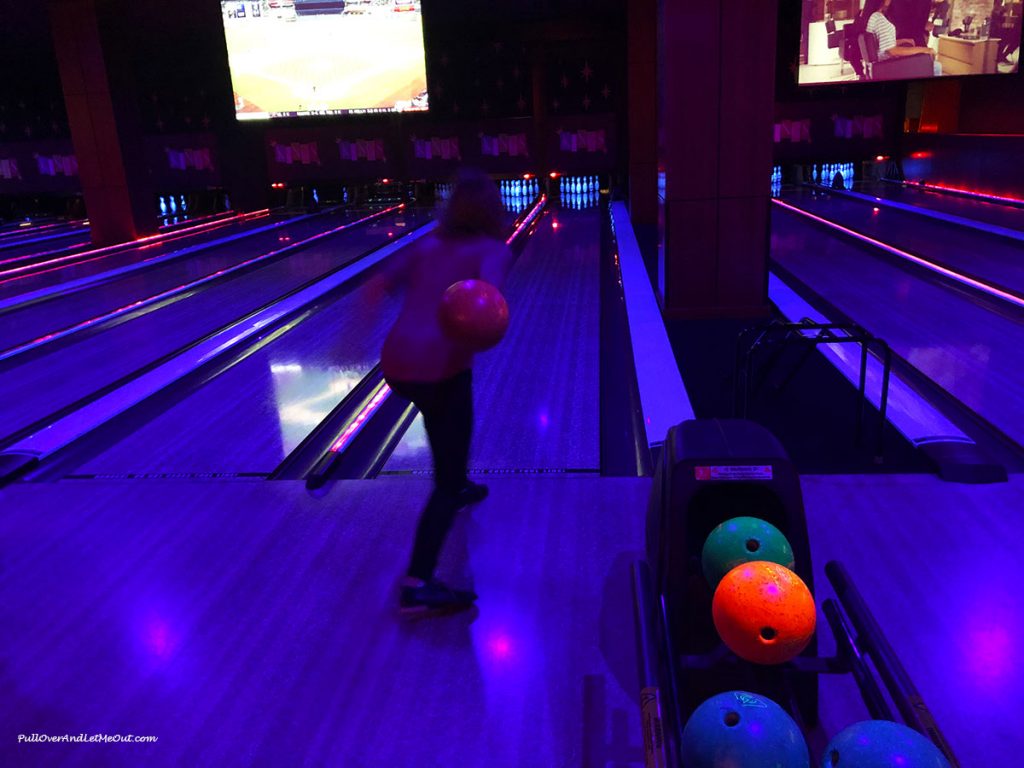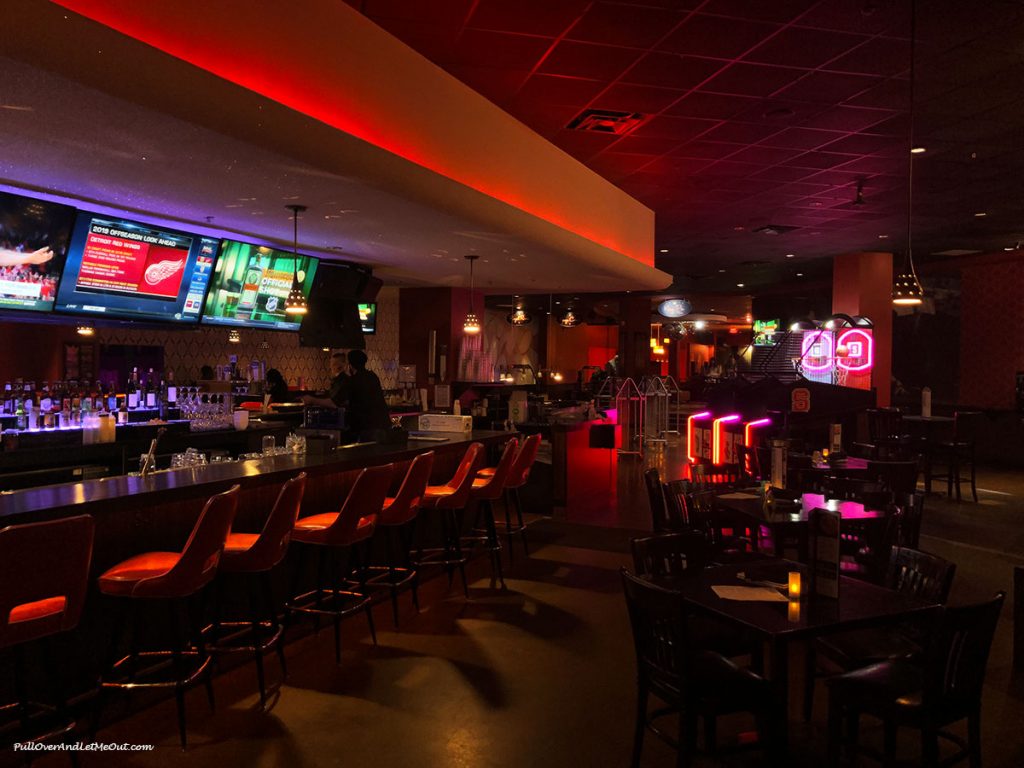 4. North Hills Restaurants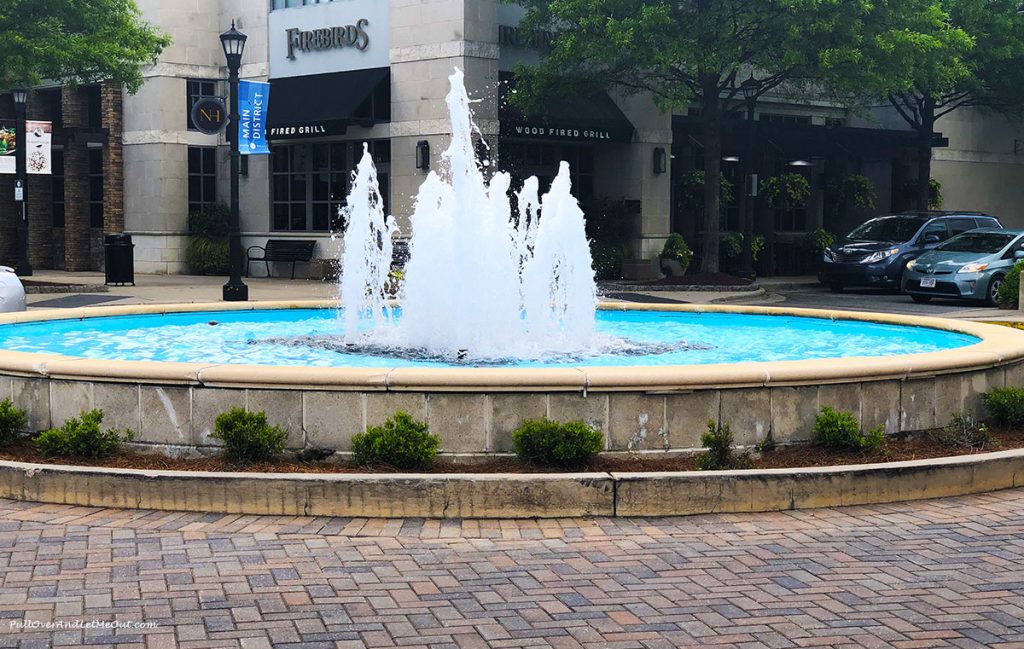 Rest assured, you won't go hungry in Midtown.
There are countless dining styles, cuisines, price ranges, and options to choose from. If you're in a hurry and looking for something quick and casual, they've got you covered. If you 've got a romantic evening or a celebratory meal in mind, there's that too. Best of all, many restaurants are within footsteps of the Renaissance North Hills Hotel. With such an expansive assortment of restaurants and eateries, mealtime is an enjoyable part of visiting Midtown.
A movie is always a welcomed escape. Take in a first-run flick at the North Hills Cinema Stadium 14. Fourteen theaters with comfortable stadium seating make this state-of-the-art cinema perfect for a staycation and catching up on the latest films.
Regal North Hills
4150 Main at North Hills
Raleigh, NC  27609
844-762-7342 x1305
The Midtown Beach Music Series is an enduring favorite. The 18 week season runs on Thursday evenings 6-9 pm beginning in spring and running through August.
Each week some of the best beach music attracts visitors from all over to enjoy live entertainment, Beach Music and Shag dancing.  Not only is this event open to the public, but it's also free!
Midtown Beach Music Series
The Commons
Main District
One of my favorite things to do at North Hills is shop. Strolling along gazing into store windows, popping in to check out the goodies – it's all great sport here.
There's an impressive line up of shops from well-known names to unique one of kind boutiques to popular and exclusive brands. There's even a to a top-shelf indy book store. Shopping is great fun in North Hills and you can absolutely find everything you need or a fun souvenir to commemorate your staycation.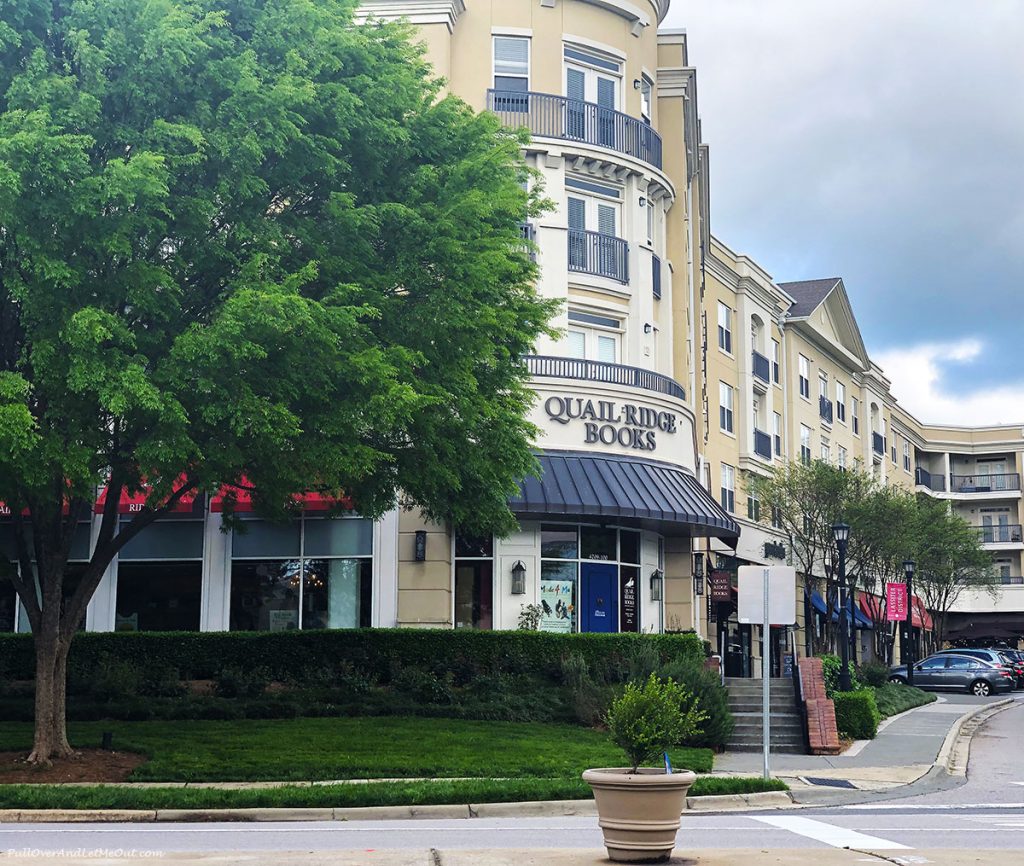 No need to forgo fitness on your staycation. At North Hills Raleigh, there are a plethora of exercise choices. Guests staying at the Renaissance North Hills Hotels have access to Fitness Connection, mere footsteps from the hotel door. Moreover, there's an Orangetheory, Pure Barre, Cycle Bar, and Midtown Yoga. Making wellness part of your visit is easy.
9. Midtown Farmers Market
Each Saturday morning from April to early November, there's a dynamic booming farmers market in the heart of North Hills Raleigh. 
Vendors from around the region set up tents and sell a variety of locally grown produce and other tasty items and goods in a family-oriented setting.
I was blown away at the amount and quality of amazing produce we found and even picked up some tasty hot cross buns from one of the local bakeries. Yummy!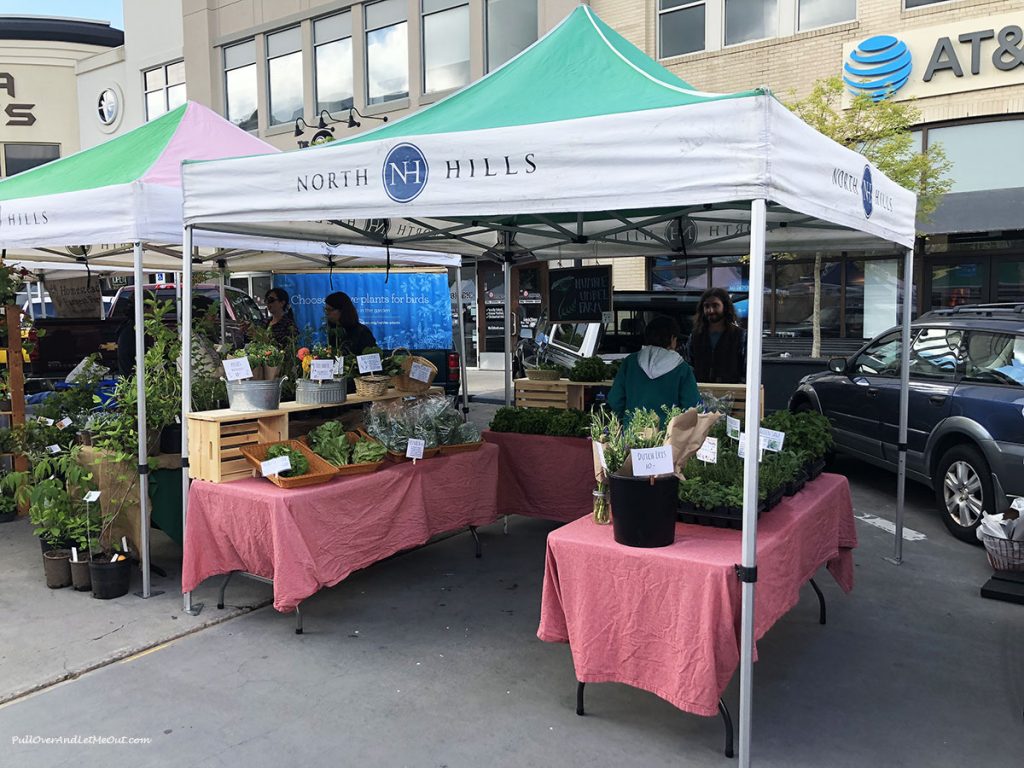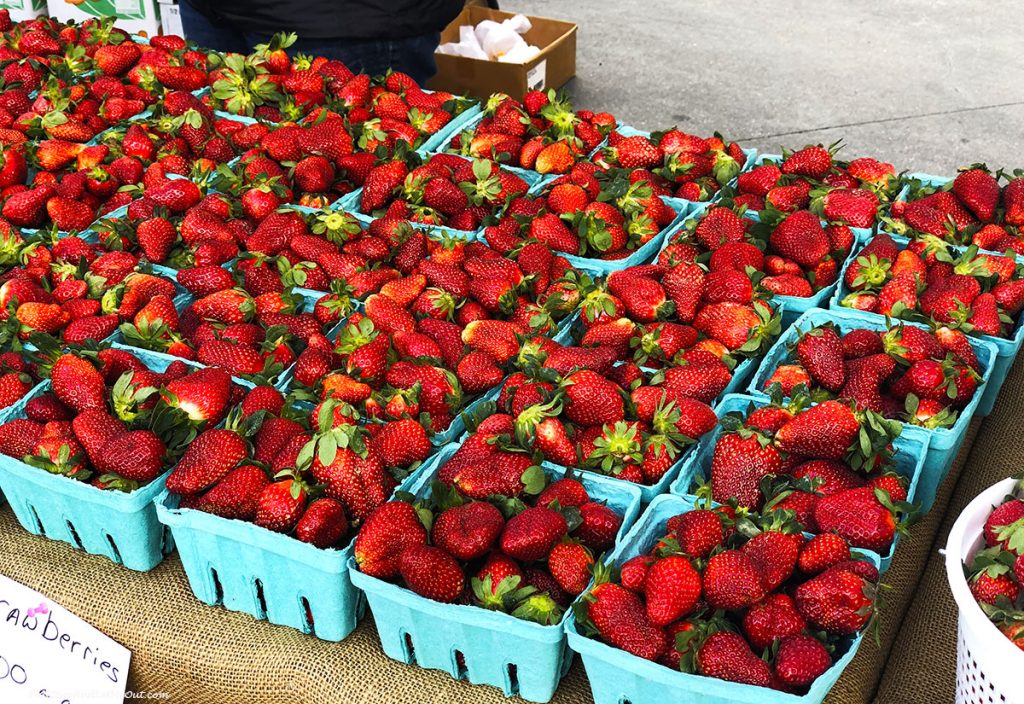 Why not plan your staycation around one of the many Midtown Events? There's a full calendar of neat things to do in addition to the Farmers Market and Beach Music Series. There's Wellness Wednesdays, a Bluegrass Series, Kidchella and more on the schedule for the summer months. 
What I loved about my North Hills Raleigh Staycation
Without a doubt, what I loved about our staycation in the North Hills area of Midtown was the convenience of virtually everything being within walking distance. By making the Renaissance North Hills Hotel our hub, we were able to take advantage of the hotel's amenities as well as the nearby shops, restaurants, and entertainment.
In addition to the convenience of our location, we met so many friendly people that our stay was pleasantly seasoned with heaping portions of Southern hospitality – a huge Pull Over Plus!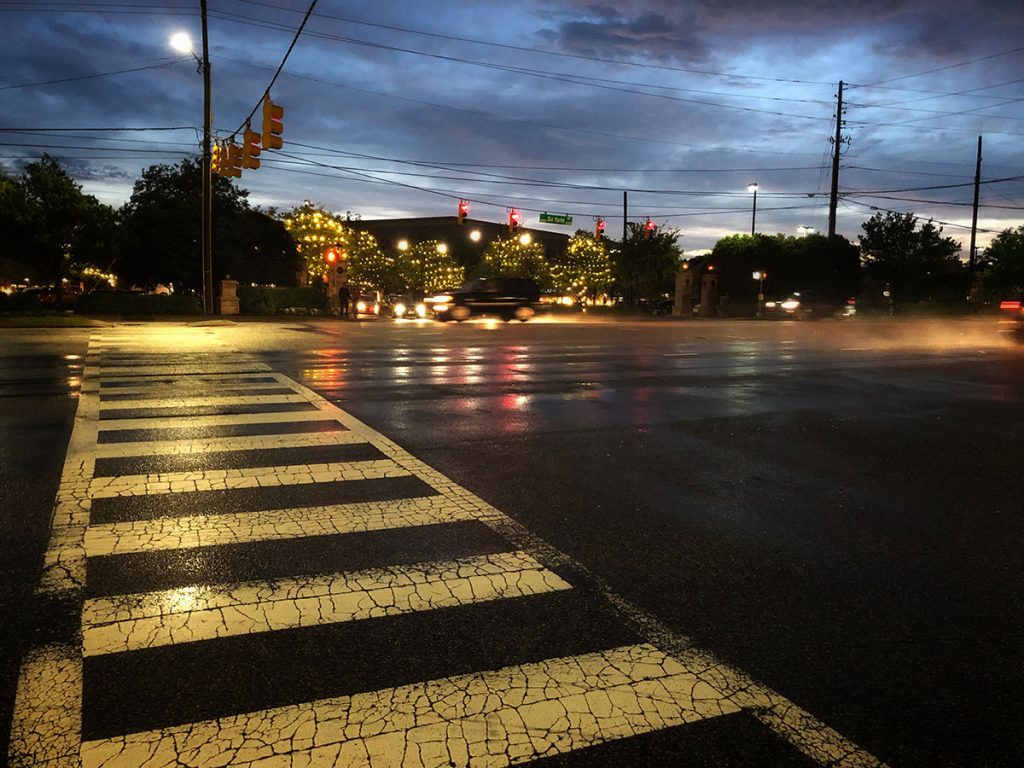 The Midtown area of Raleigh is experiencing a renaissance. With continued growth and the addition of multiple businesses and residential high rises, it's garnering a reputation as a hot spot to live, visit, and play. After enjoying a staycation here and experiencing it first-hand, I definitely recommend adding North Hills Raleigh to an Oak City vacation itinerary – even if you already live in Raleigh!
Although my stay at the Renaissance North Hills was hosted by the hotel, all opinions are honest and my own! 
You may also enjoy reading this!
Progressive Dining in Downtown Raleigh, North Carolina