Pilot Mountain, North Carolina is an iconic natural landmark located just north of Winston-Salem. Not only a geological wonder, but it's also a recreational destination. With miles of trails, climbing, camping, and far-reaching views, it's no wonder this ancient rock formation in the heart of North Carolina welcomes a variety of visitors throughout the year. Here are a few tips to help plan your visit to Pilot Mountain, NC.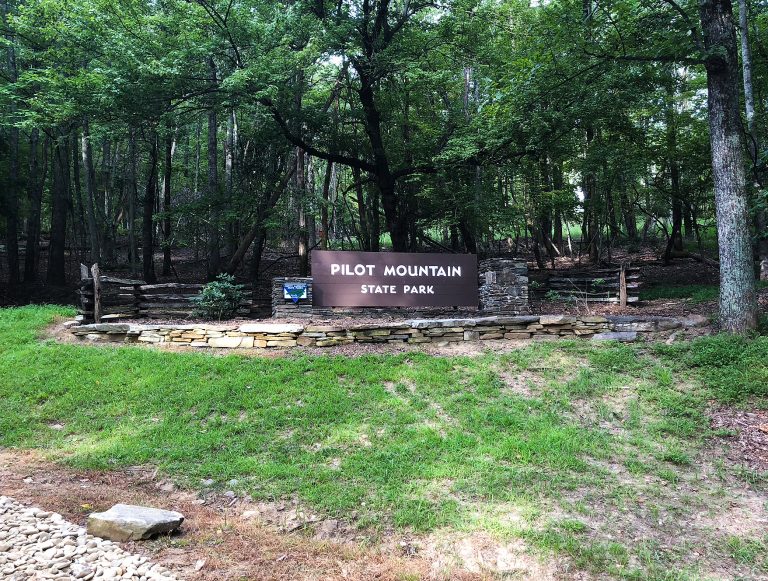 Pilot Mountain State Park
Pilot Mountain boasts a rich and age-old history dating back to the ancient Sauratown Mountains of which the Big and Little Pinnacles were once part of. The rugged quartzite has survived centuries and today is the main part of Pilot Mountain State Park. 
The park features an assortment of outdoor adventure opportunities on the mountain as well as along the Yadkin River which flows through the park. It's a perennial favorite destination for both outdoor adventurers and tourists and is one of North Carolina's most-visited state parks.
Most ads you see on this site are affiliate links. If you click through and make a purchase I'll get a small commission and it won't cost you any extra. So, thanks in advance for helping me keep bringing you the content you enjoy!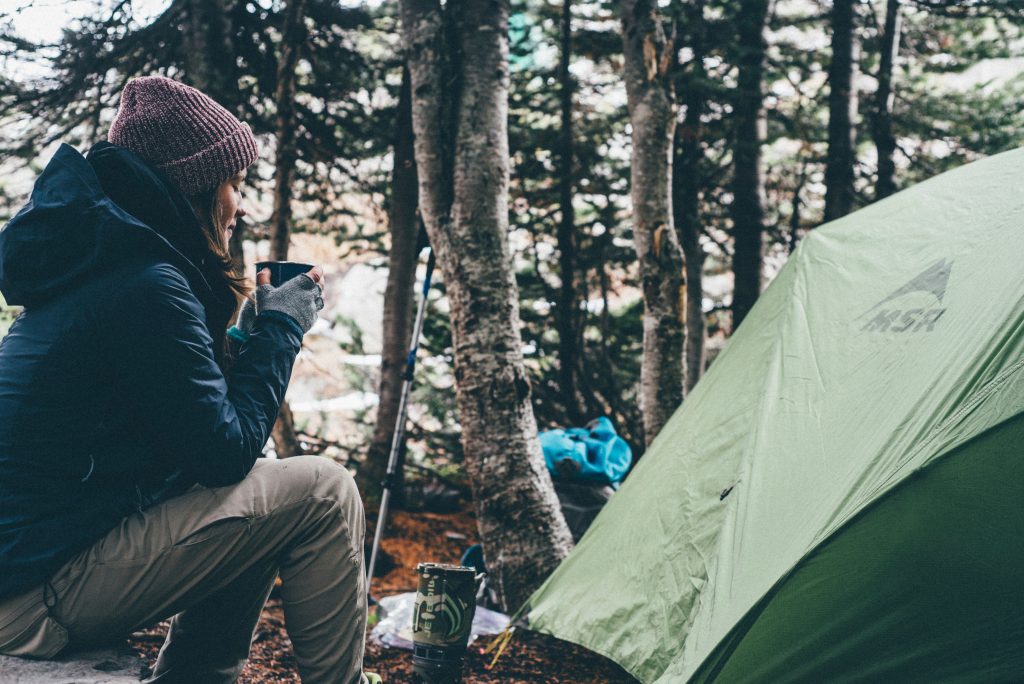 Lower slopes are where the family camping area is located. Featuring 47 campsites for tents and trailers dispersed amongst the tall trees, each site has a tent pad, table, firepit, and grill. There are two washhouses with hot showers – a Pull Over And Let Me Out must when I camp! There are also two paddle-in sites on the south bank of the river should you desire a slightly more primitive camping experience. Campsites are open March 15 through Nov 30.
Adding to the appeal of camping at Pilot Mountain State Park is the fact there's a curfew and the gates closed and locked at posted closing times for the safety of campers.
And what's camping without a crackling campfire? Firewood may be purchased from the host. Don't worry about bringing your own, for environmental reasons, outside wood isn't permitted. 
Pilot Mountain Paddling & Fishing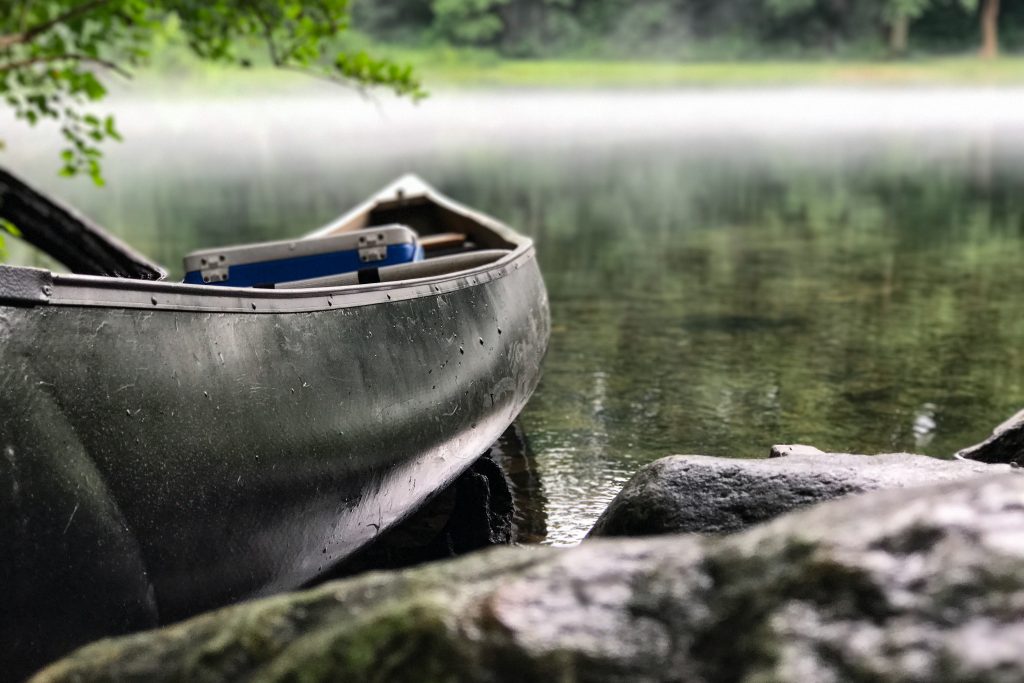 The Yadkin River Canoe Trail winds through the park. The two miles flowing through the lush woodland offer some of the most beautiful scenery and there are two small islands which can be reached by wading or canoe. There isn't canoe rental and it's worth contacting the park office for more details if you'd like to paddle the Yadkin at Pilot Mountain.
Anglers enjoy the river as well. The Yadkin is home to spotted bass, smallmouth bass, and catfish.  People fishing must have an NC State fishing license and obey NC Wildlife Commission regulations should they wish to cast their line from the banks at Pilot Mountain.
Pilot Mountain Rock Climbing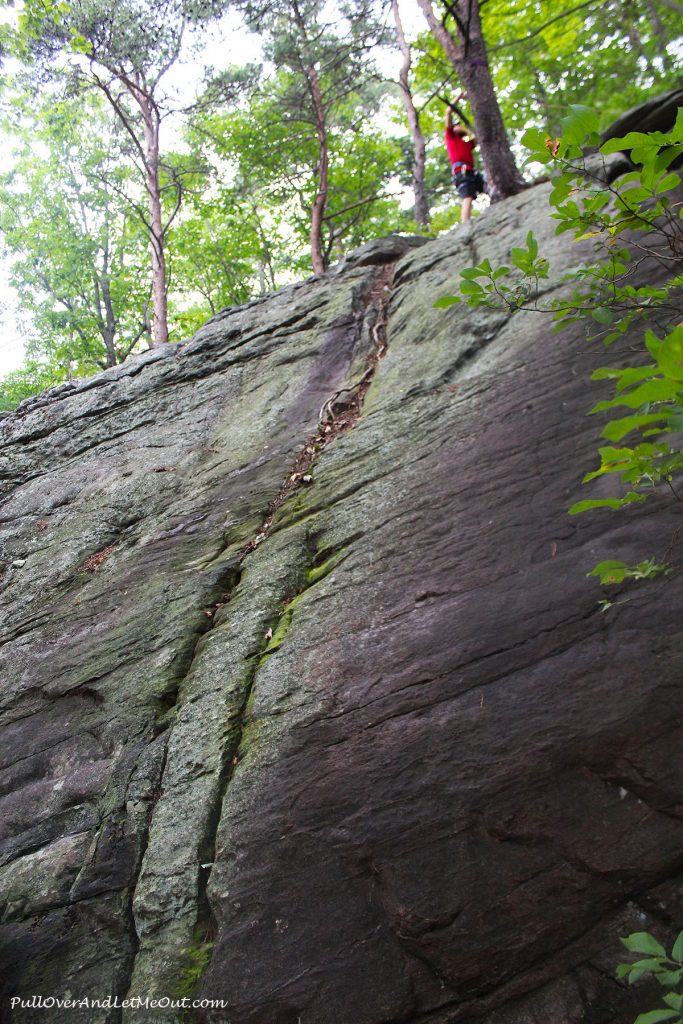 Rock climbing and rappelling are huge at Pilot Mountain State Park. We saw a group scaling the steep cliffs when we visited. I was impressed because it's hard work and extremely challenging.
Climbing is only permitted in designated areas and all climbers must register with the park by completing a climbing and rappelling registration and activity permit. For a full list of FAQs click here before planning your climb. Oh, and all climbers do so at their own risk.
Plan your trip to Pilot Mountain!
We visited Pilot Mountain for the hiking. Believe me, this is an awesome place to hike regardless of your skill level. There are miles of trail with varying degrees of difficulty. Trails such as Grindstone, Jomeoke, and Mountain are just a few of the multiple choices for hikers.
We tackled several trails during our visit including Ledge Spring Trail which is a heart-pounding strenuous hike featuring spectacular views of the Yadkin Valley below. Although I was huffing and puffing at the end, the views make the effort totally worth it.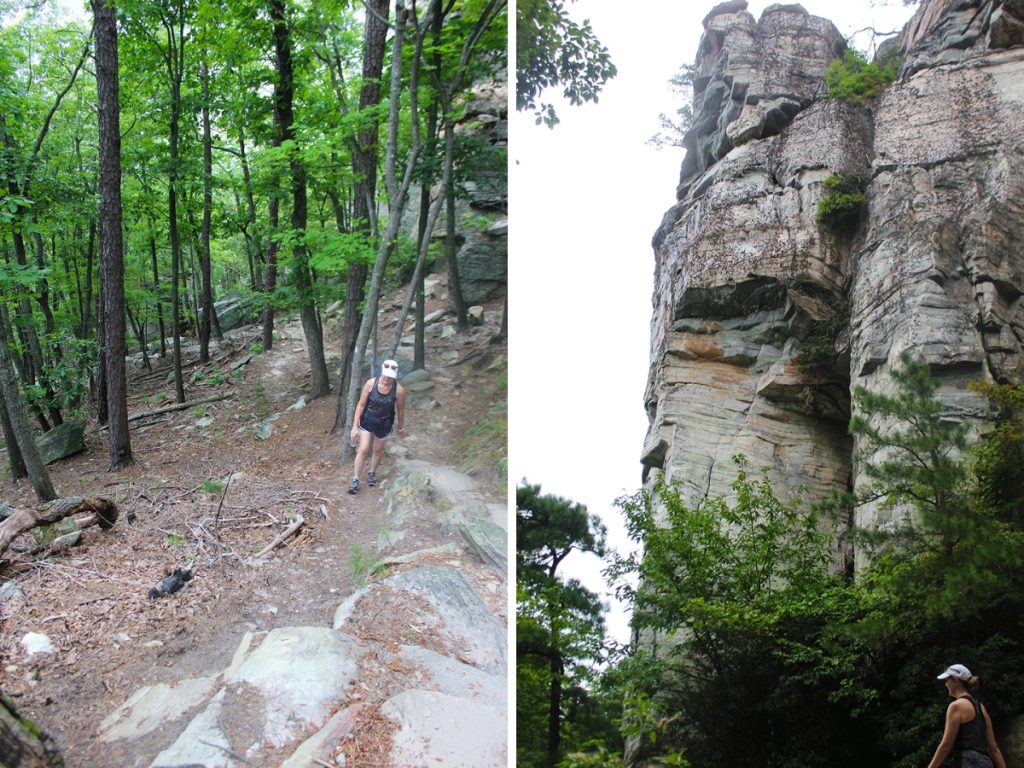 There are also equestrian trails, trails along the river, and the easiest and shortest trail, Little Pinnacle Overlook, grants the best views of the iconic mountain top.
Put on your hiking shoes, grab your water, and prepare for a fantastic workout replete with magnificent scenery, wildlife, and stunning panoramic views.
Pilot Mountain State Park is located in Surry and Yadkin Counties approximately 16 miles north of Winston-Salem and 14 miles south of Mount Airy. This means in addition to outdoor adventure there are two great North Carolina cities worth exploring as well.
Winston-Salem to the south is home to Wake Forest University and features a variety of attractions, hotels, and dining options as well as Old Salem. Old Salem is a popular tourist attraction and historic Moravian Village dating back to the 18th century.
Mount Airy, to the north, is the hometown of a famous son, Andy Griffith. The town welcomes fans of Griffith's popular classic television program, The Andy Griffith Show, serving up a delightful flavor of Mayberry living.
Furthermore, Pilot Mountain is located in the heart of the Yadkin Valley Wine Region, North Carolina's first AVA. There are several outstanding wineries all within close proximity to the park. Hence, you may want to expand your visit to include ample time for immersing yourself in the region and all its offerings.
Pilot Mountain State Park is open year-round with seasonally varying hours of operation. I recommend a visit to the website to do your research prior to visiting. A downloadable map of the trails and park overview will help assure your visit is a positive experience. There are no entrance fees to enjoy the park but they do ask you read and follow the rules so everyone can safely enjoy this geological wonder for years to come.
1792 Pilot Knob Park Road
Pinnacle, NC 27043
336-325-2355
pilot.mountain@ncparks.gov
IF YOU LIKE THIS, PIN IT FOR LATER!
You may also enjoy reading this.
Plan An Epic Trip To Mayberry This Year