Myrtle Beach, South Carolina is famous for its sandy beaches, golf, mini golf, seafood, and laid back lifestyle. But did you know the coastal town is also known for baseball? The Myrtle Beach Pelicans is a Class "A" Advanced Affiliate team for the Chicago Cubs. And although Take Me Out To The Ball Game isn't necessarily synonymous with a beach trip, a day at the ballpark in Myrtle Beach is a family-friendly homerun.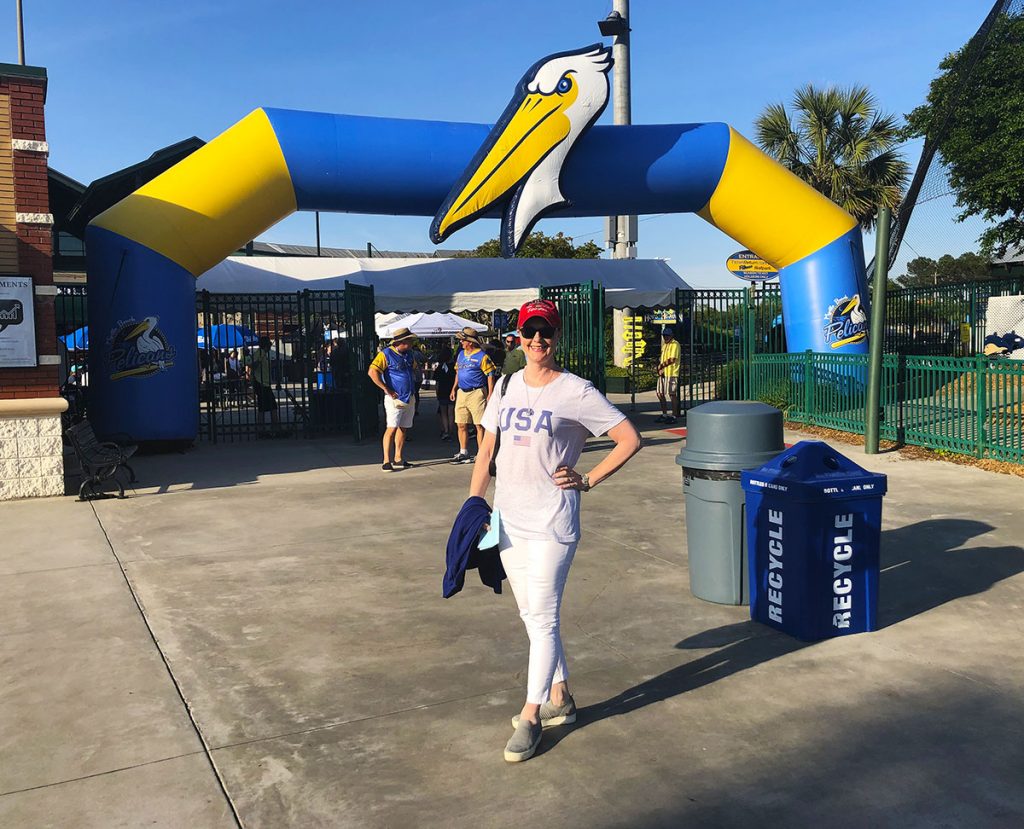 Pelicans Ballpark is located in the heart of Myrtle Beach, South Carolina at 1251 21st Ave. North, just blocks from the beach. The stadium is a cheerful spot designed for convenience and fun. Surrounded by palmetto trees and colorful representations of the team's mascot, Splash, it's impossible to avoid being swept up by Pelican team spirit. 
Most ads you see on this site are affiliate links. If you click through and make a purchase I'll get a small commission and it won't cost you any extra. So, thanks in advance for helping me keep bringing you the content you enjoy!
The Pelicans Pro Shop on the main concourse along the first base side of the field is a perfect first stop upon arriving at the stadium. The shop's packed with team hats, gear, and mementos to commemorate a visit to the ballpark and to sport while cheering on the team (despite the fact this particular evening they're playing the Carolina Mudcats from my hometown!)
Dining at the stadium is half the fun of attending a baseball game. At the Myrtle Beach Pelicans Ballpark, there's a wide variety of culinary offerings. Crabcakes, burgers, corn dogs, pizza, nachos, pulled pork, funnel cake, ice cream, fried pickle chips, and more!  We happened to be visiting the park on Weiner Wednesday which means hotdogs were BOGO – buy one get one. Now that's a family-friendly and budget-friendly deal.
I recommend arriving early to the ballpark to enjoy the pregame festivities. There's always something happening and tonight, it's a bark in the park. There are a pre-game dog parade and show called Muts Gone Mad. It's all very entertaining and pretty amazing. There's even a dog jumping rope!
I can't guarantee there will be dogs doing double-dutch when you attend a game, but rest assured there will be some such revelry, no doubt.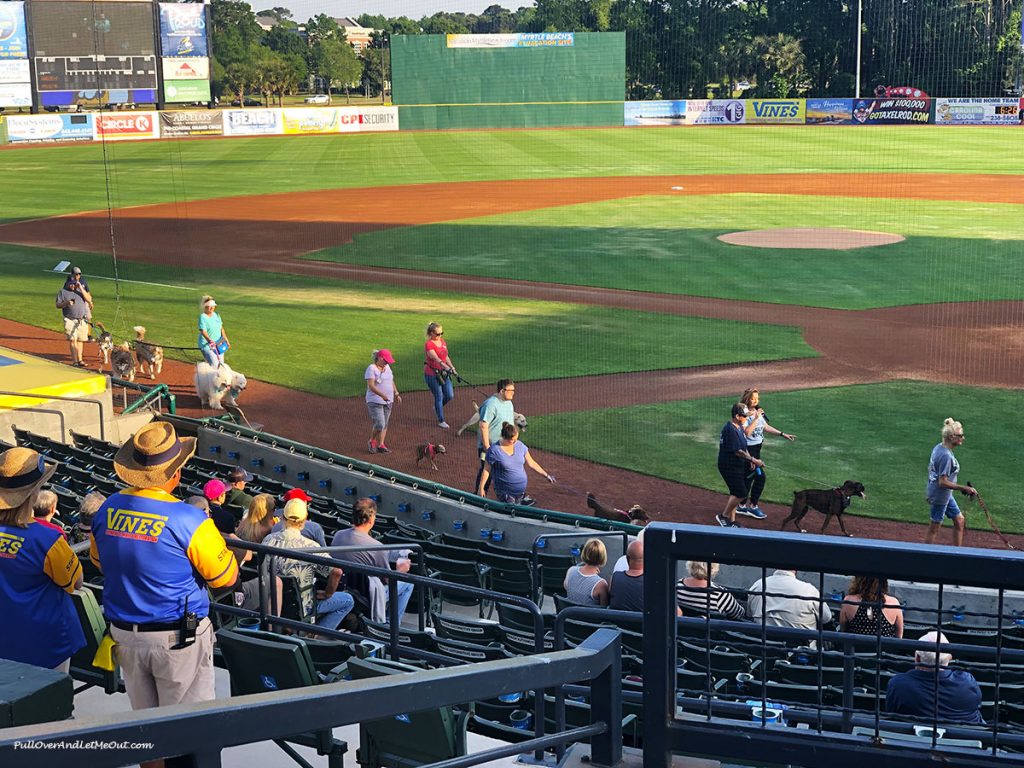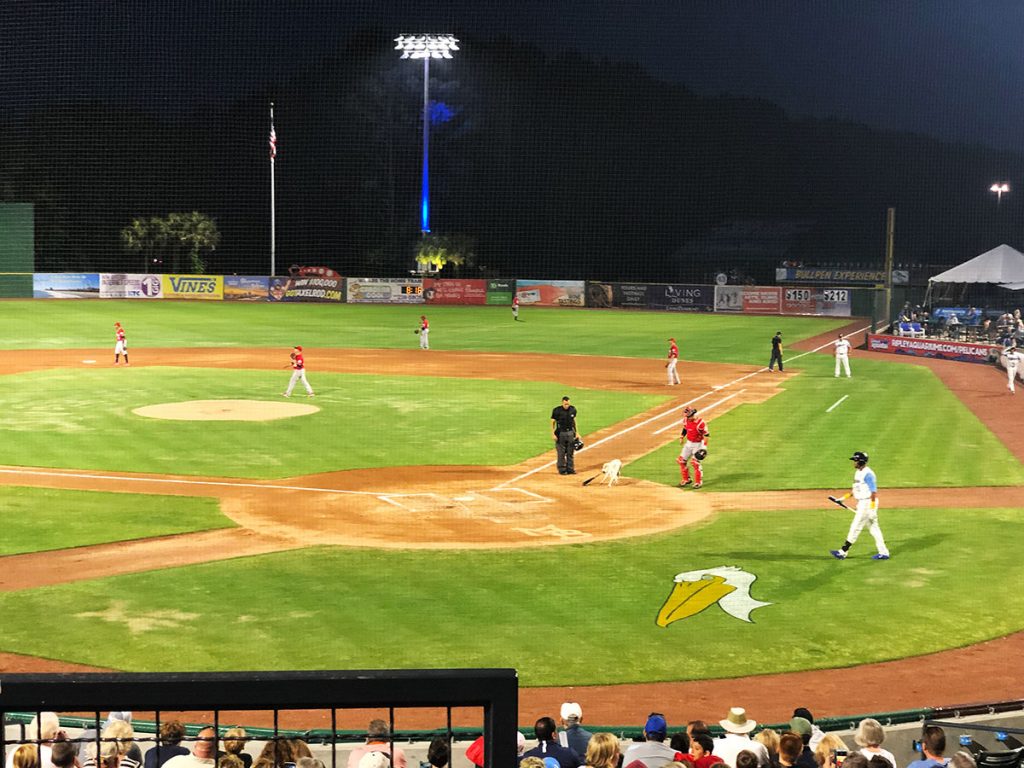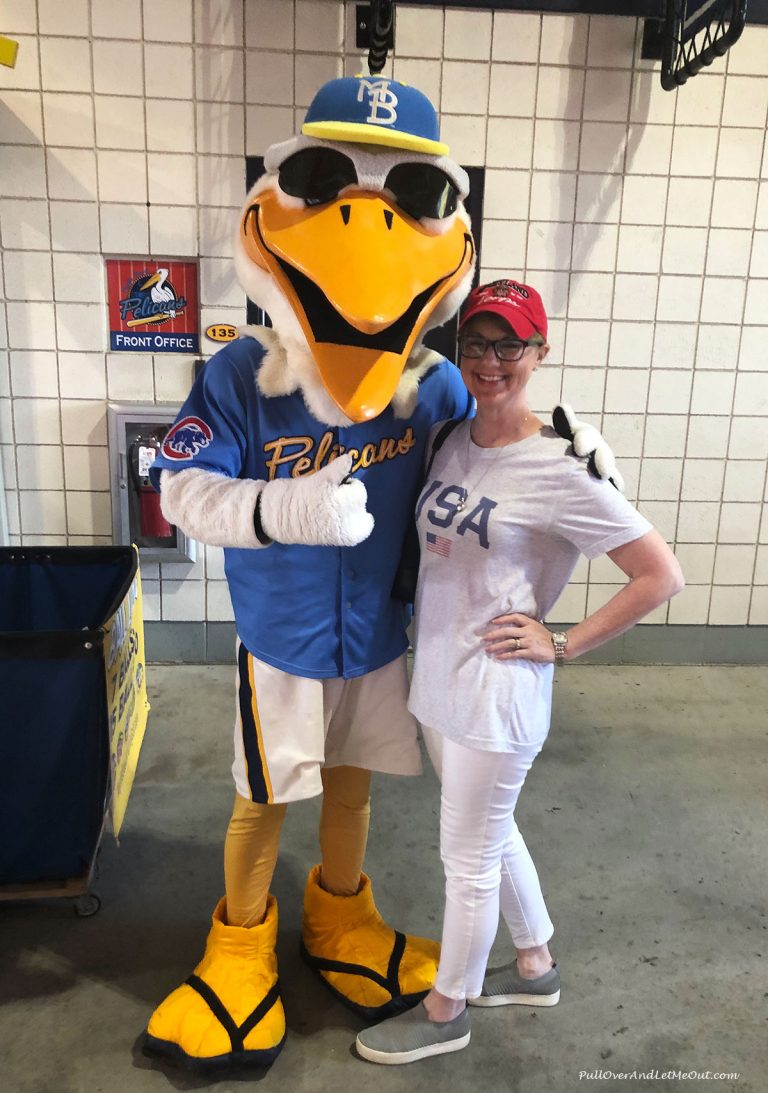 Splash, the team mascot, can be spotted all over the stadium. He's a fan-favorite and following every home game, Splash invites the kids to run the bases with him.
Speaking of kids, a visit to the park is a treat for youngsters. Players are happy to sign autographs prior to the game and Catch on the Field is offered at Sunday home games throughout the season, field conditions permitting.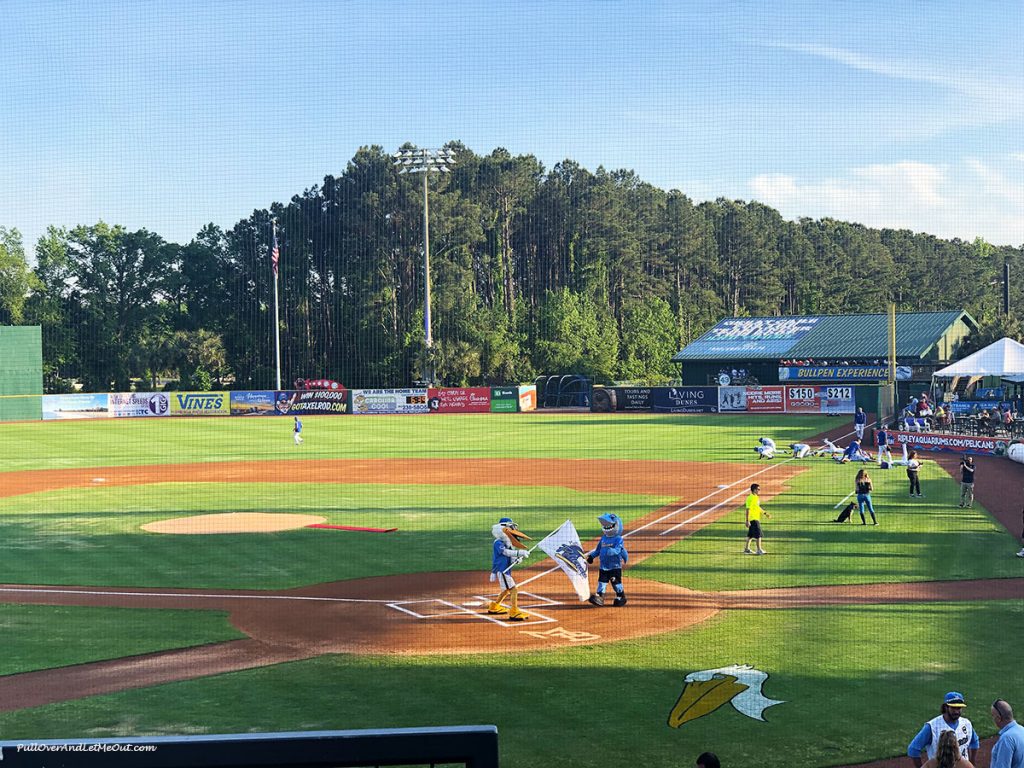 Myrtle Beach Pelicans Baseball
As if all the entertainment prior to the game and between innings isn't enough, there's some pretty exciting baseball to watch too. The Myrtle Beach Pelicans are a farm team for the Chicago Cubs. Thus, the caliber of baseball is quite impressive as these players vie to make it to the "show."
The game we watched was settled in the bottom of the 9th inning when the Pelicans scored a winning tie-breaking run defeating the Carolina Mudcats 3-2. Now that's exciting baseball!
The Myrtle Beach Pelicans play ball beginning in early April through early September. Their schedule is posted on the team's website where you can check to see if your trip to the beach coincides with a home game. If it does, odds are good the team will have a special promotion as well.
Tickets are reasonably priced and available at the stadium box office but also online or by phone. If you purchase by phone you'll need to pick up your tickets at the Will Call window. I ordered online the day before and procured two great seats behind home plate. If you know your schedule and the weather looks good, I recommend purchasing online.
Getting to the stadium is relatively simple and they offer FREE parking. A huge plus!  We took Uber to the stadium from our hotel and it was super convenient and pick up and drop off were relatively simple.
For fans with mobility issues, the stadium has elevators and ample wheelchair assistance seating.
Gates open one hour before game time and I suggest you get there early so you won't miss any of the pre-game fun. For a full list of FAQs click here.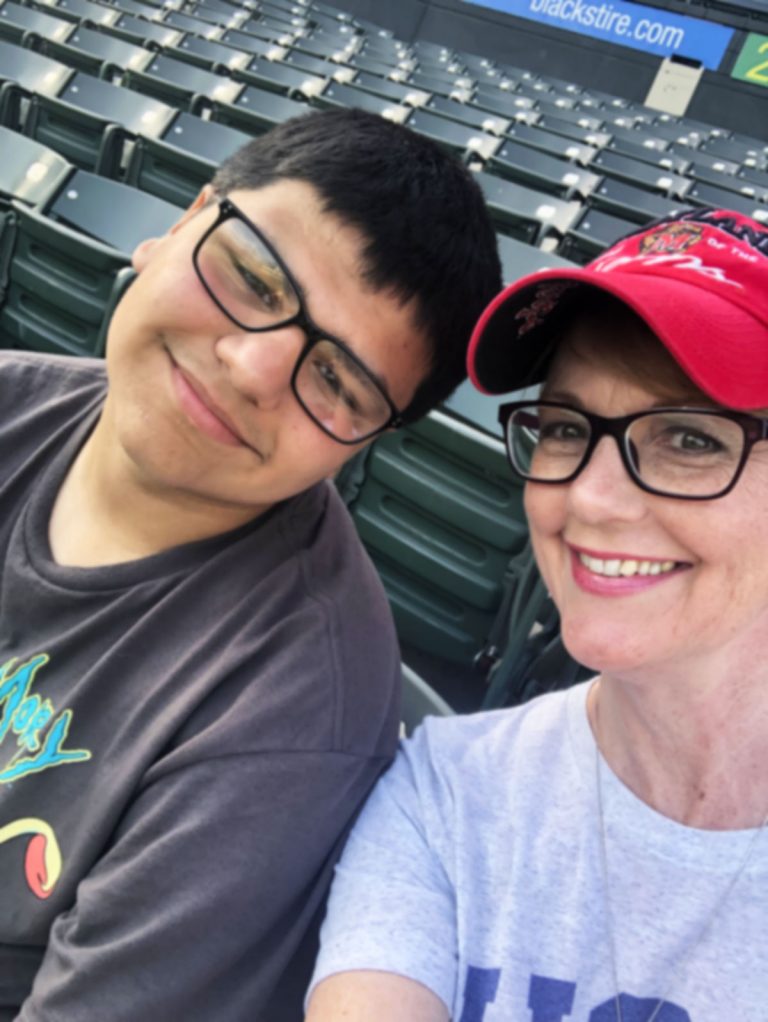 Baseball isn't necessarily the first thing that comes to mind when planning a beach vacation. Nonetheless, to think outside the box of mini-golf and seafood dining, when in Myrtle Beach, South Carolina a trip to see the Pelicans is a family-friendly grand slam.
1251 21st Ave. North
Myrtle Beach, SC
Your May Also Enjoy This...
Myrtle Beach Bound? Visit Duplin Winery and "Sip Sweet in the Sand"