Manteo, North Carolina is where the Outer Banks begin. Located on Roanoke Island, Manteo offers a rich history, with attractions like the Roanoke Island Festival Park, Fort Raleigh, and The Lost Colony outdoor drama. Visitors can enjoy scenic waterfront views, art galleries, unique shops, and delicious seafood dining options. Manteo's laid-back atmosphere and proximity to various outdoor activities make it a popular destination for tourists seeking a blend of culture and natural beauty. During our visit, we had the pleasure of setting sail on a mesmerizing sunset cruise aboard the Downeast Rover in Manteo, North Carolina. The experience added an unforgettable touch to our coastal adventure, offering breathtaking views of the picturesque horizon as the sun dipped below the waters. Having been thoroughly enchanted by our sailing experience, I feel compelled to share it with you.
Disclosure:
Many of the links you see on this site and within our trip planning tool are affiliate links. If you click through and make a purchase, I'll get a small commission and it won't cost you any extra. On selected stories, for those hotel and car bookings made using our TravelingToGive™ tool we contribute 2.5% of gross hotel and car sales to Paws for Purple Hearts. So, thanks in advance for helping me keep bringing you the content you enjoy and, at the same time, giving back to those who so bravely serve our country! #everytripmatters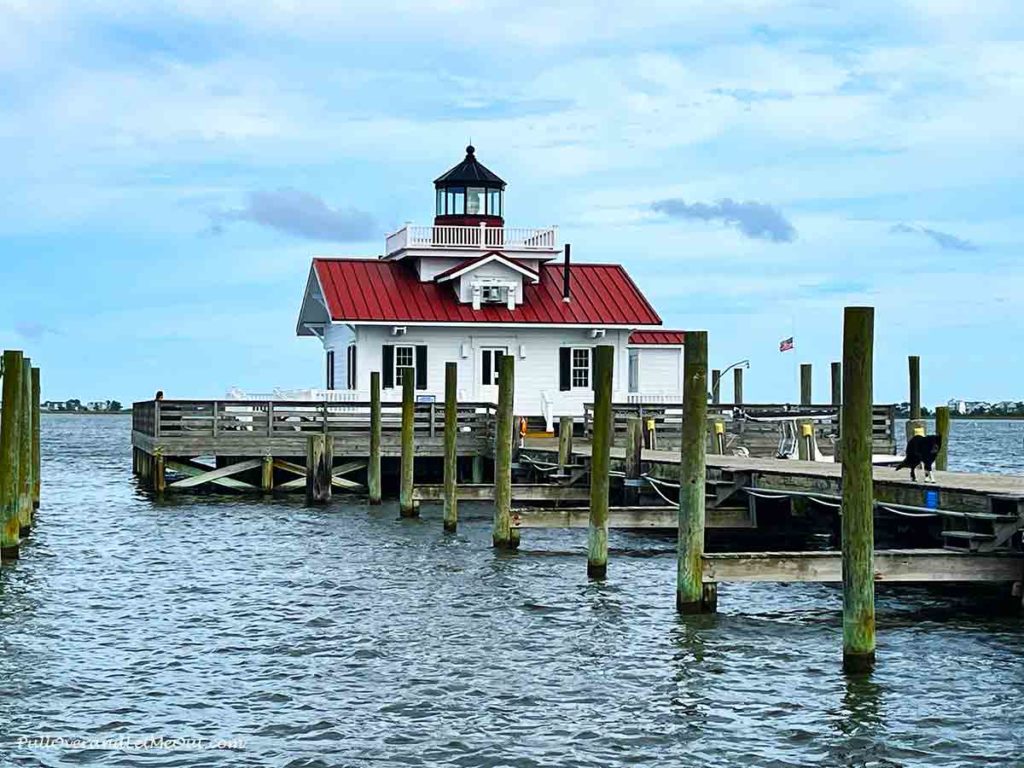 Downeast Rover in Manteo, NC
The Downeast Rover in Manteo, North Carolina is a remarkable 55-foot topsail schooner. Always on the lookout for unique and fun tours when I travel, I was thrilled to come across this extraordinary way of experiencing the Outerbanks (OBX). 
As per information provided on their official website, the creation of the Rover in 1984 is attributed to Shon Walter from Rover Marine Yachts located in Norfolk, VA. The vessel's captivating design is credited to Merritt Walter and meets the rigorous standards set by the American Bureau of Shipping (ABS). With a capacity to host 25 passengers and a crew of two, the Rover is primed for maritime exploration and holds the endorsement of the US Coast Guard. Sounds good to me!
But don't be fooled by its charming deck modifications for charters; underneath, the Rover has a comfortable cabin with a salon, kitchen, two bathrooms, and sleeping space for up to six people, making it the ideal companion for any sailing adventure around the Outer Banks, including private sailing charters.
Although the Rover offers tours throughout the day, the sunset cruise stands out as a particularly popular choice, making it advisable to secure your cruise reservation in advance through their user-friendly online booking system. The two-hour expedition sets off at 6:15, gracefully returning to the dock at 8:15, with a cost of $60 per person. The website ensures a seamless and hassle-free booking experience.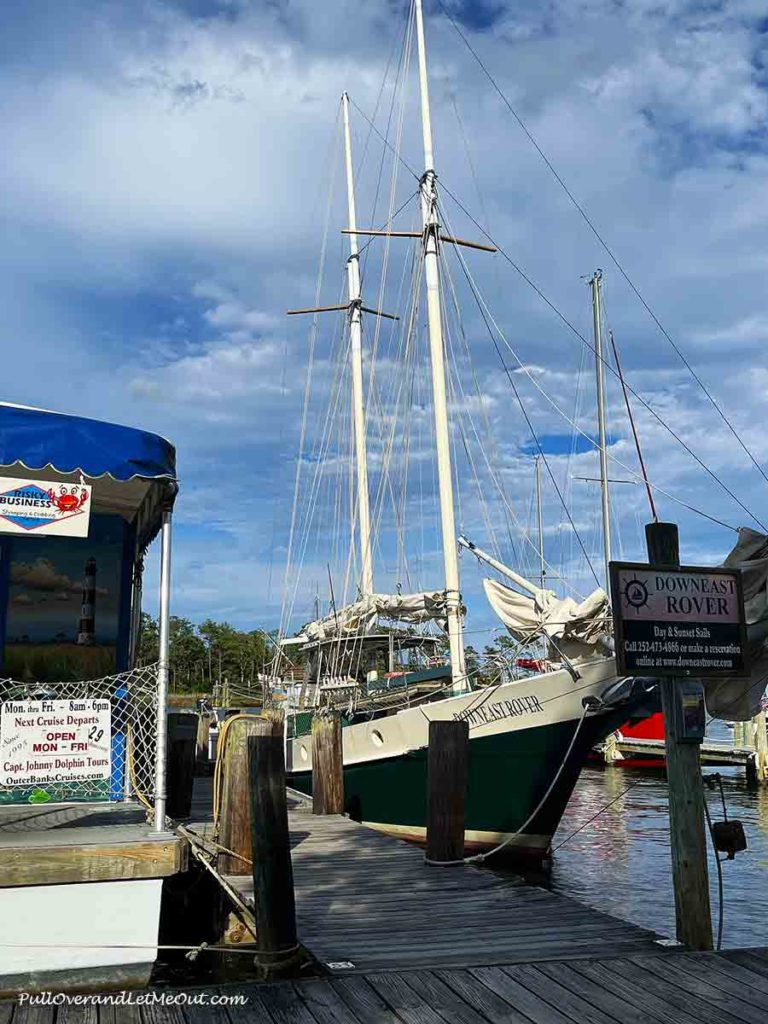 Arriving early for the tour is recommended and the Rover requests all sailors to arrive thirty minutes before sailing time. That being said, there is so much to do on Manteo's waterfront, you won't lack options when it comes to spending a little time downtown ahead of your trip.
From restaurants to boutiques and shops to a slew of historic sites to take in, I recommend planning to visit this charming town imbued with nautical history. 
There is plenty of parking along the streets however, should you have difficulty finding a spot, look for signs to Festival Park. The parking is abundant and is a short walk back across the little bridge to the docks where the Rover is located. There is also parking near the Pioneer Theater, one block from the docks. We were lucky and found a street spot directly across from Poor Richards.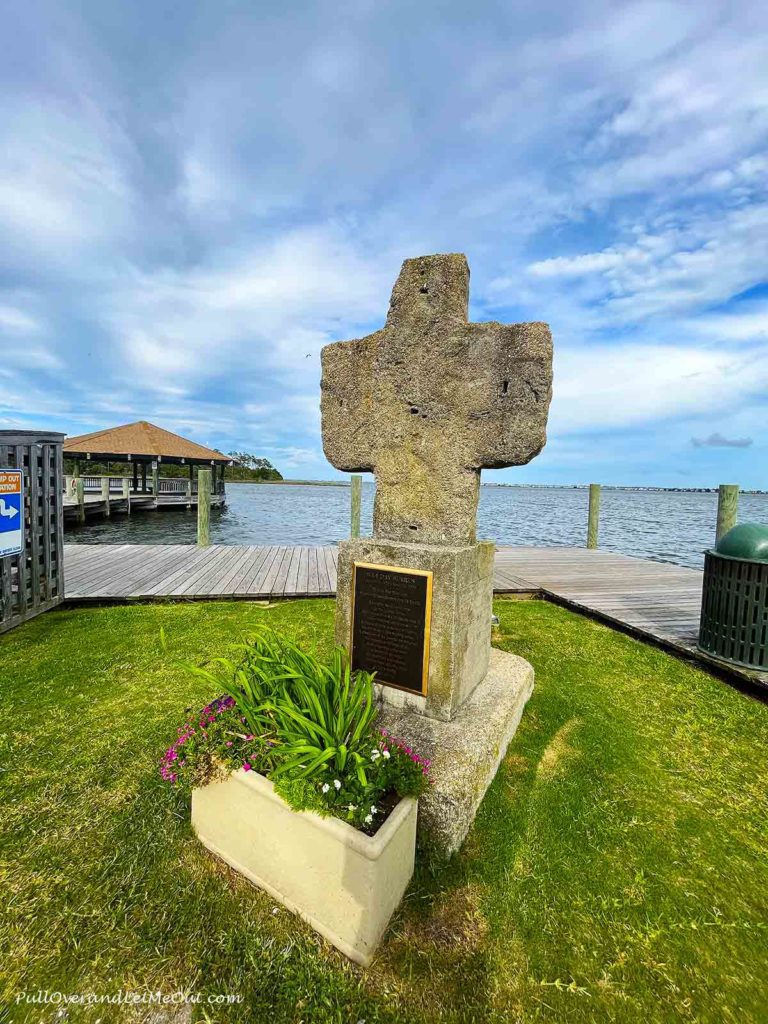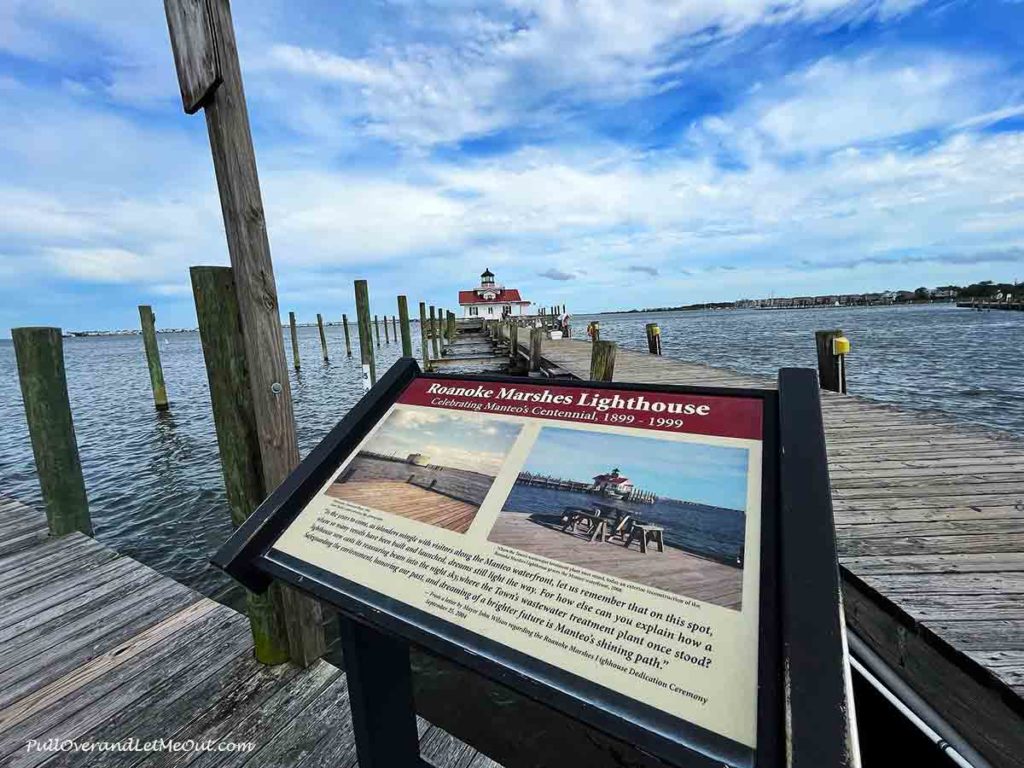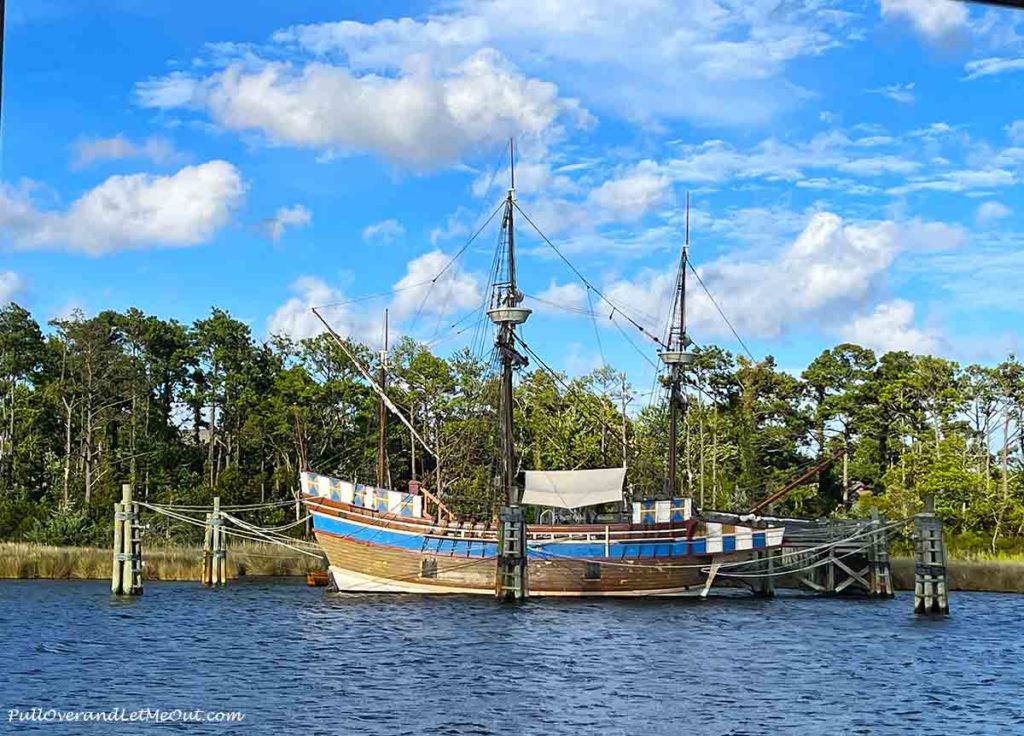 Prior to boarding, we meet our First Mate, Ethan. Ethan checks us in and works out our seating arrangements for the cruise. He does this based on the number in each group so Jason and I are given a primo seat directly behind Captain Chris in the cockpit area in what is called the 'jump seat.'
Once on board and prior to departing the dock, First Mate Ethan goes through a list of rules and information which comes in handy during our sail. Most noteworthy is the guidance that a sailboat has a high side and a low side and that is subject to change at any moment. Likewise, he emphasizes the importance of holding on, especially should you need to make your way to the head located below the deck. Take these nuggets of information to heart as we almost had a man overboard situation when a gust of wind suddenly shifted the high side to the low side. 
In addition to the helpful sailing guidance, Ethan also shares some interesting tidbits of information about the schooner, how it was made, and that it was once used in an episode of the television program Matlock. Apparently, it was a vehicle in a chase scene that wildly exaggerated the speed at which a sailboat can travel in hot pursuit of a criminal. 
I was pleased to learn I'd be sailing on yet another "Hollywood" boat. Regular readers may recall I sailed on the True Love, made famous in the films  The Philadelphia Story and High Society. "My she was yar."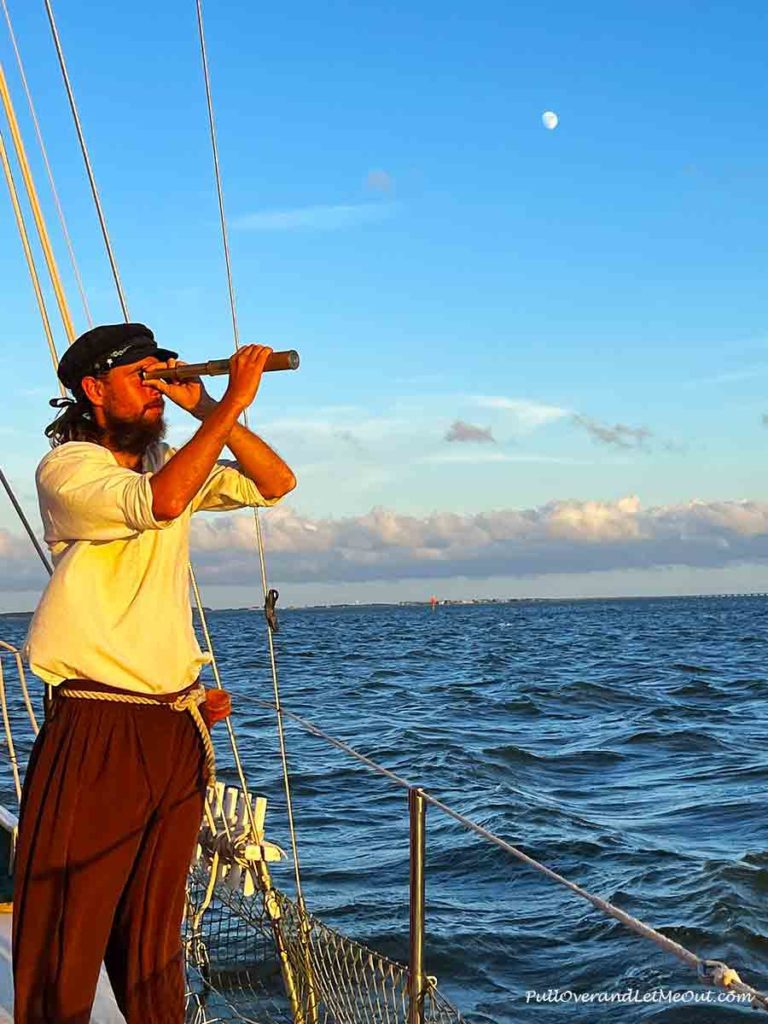 "Well, it's not far down to paradise
At least it's not for me And if the wind is right you can sail away And find tranquility"
Okay, the Christopher Cross song may have popped into my mind a few times once we were sailing, however, there is so much more to our time spent on the sound. First Mate Ethan, regales us with many fascinating facts about the area. He points out key landmarks such as the Elizabeth II, Pirates Cove, and the property which belonged to Andy Griffith who was a famous resident of Manteo, as well as a host of water birds and other interesting items.
Once we are a decent distance from the shore, Captain Chris turns the boat and we sit and enjoy watching the gloaming. The voyage gives us a front-row seat to a celestial spectacle, as the sun's fiery descent sets the waters ablaze and etches silhouettes of wonder against the sky.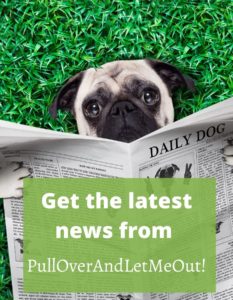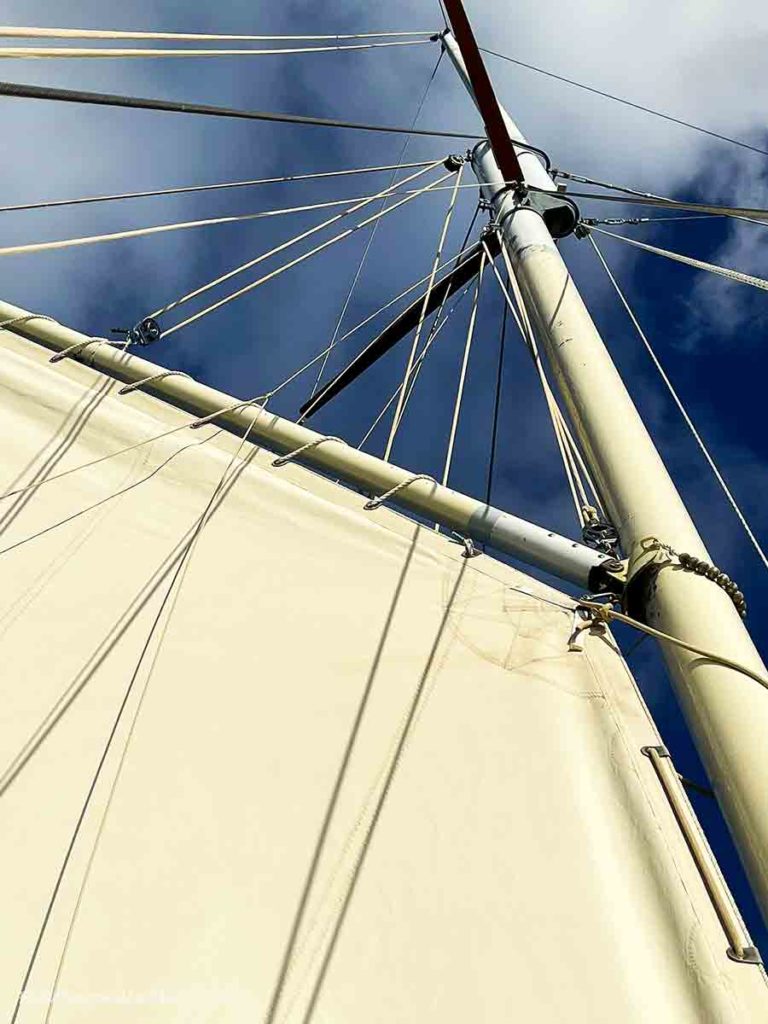 Tips for Taking Your Sunset Cruise
Embarking on the sunset cruise aboard the Downeast Rover promises an enchanting experience, but it's essential to keep certain considerations in mind. If you're not entirely sure-footed, navigating the boat may pose a challenge, so knowing your limitations and comfort zone is crucial.
The sailing season runs from May through October, and with OBX being voted the 5th best location in the U.S. to witness a sunset by USA Today, the views will surely be spectacular. Be prepared for possible weather-related cancellations or strong winds. 
When dressing for the occasion, don't forget sun cream, hats, and comfortable shoes, although the invigorating coastal breeze might playfully challenge your attire. It was way too windy for me to keep my ballcap on very long.
The beauty of a sunset cruise on the Downeast Rover is the casual laid-back vibe that comes from ending your day gazing at the sun setting over the Roanoke Sound from the deck of an incredible schooner. You're encouraged to bring a small cooler with your favorite beverage and nibblies. Jason and I savored grapes, cheese, and crackers as we sipped a cool rosé from plastic wine glasses while watching the sun dip below the horizon, painting the waters with its golden hues.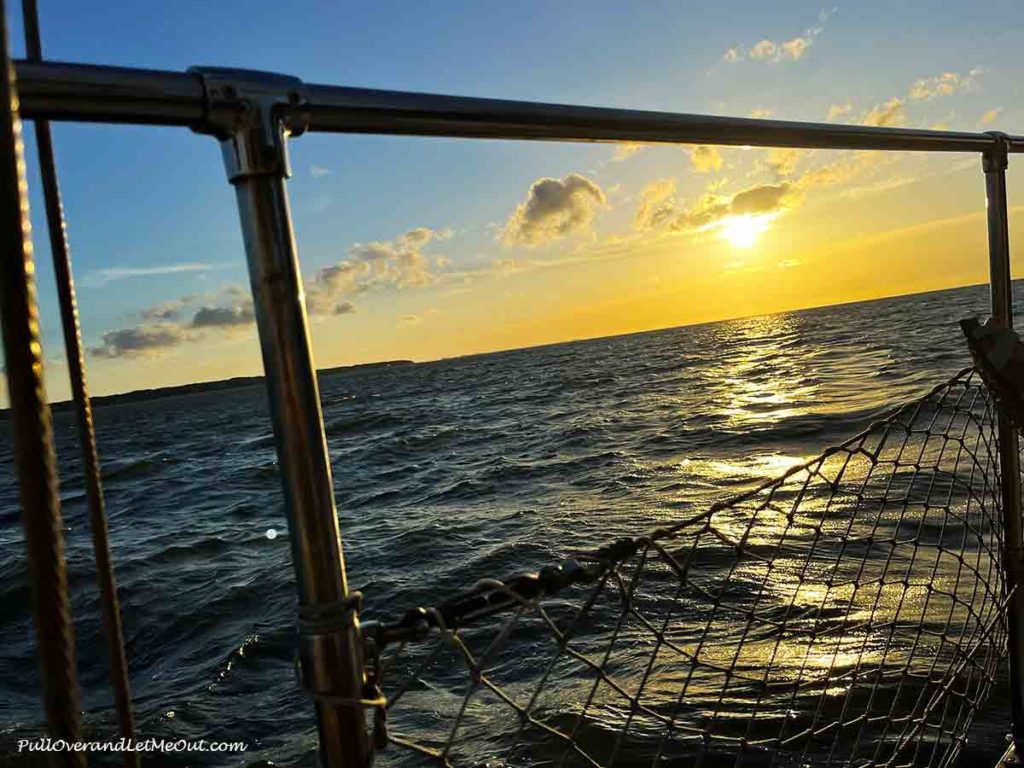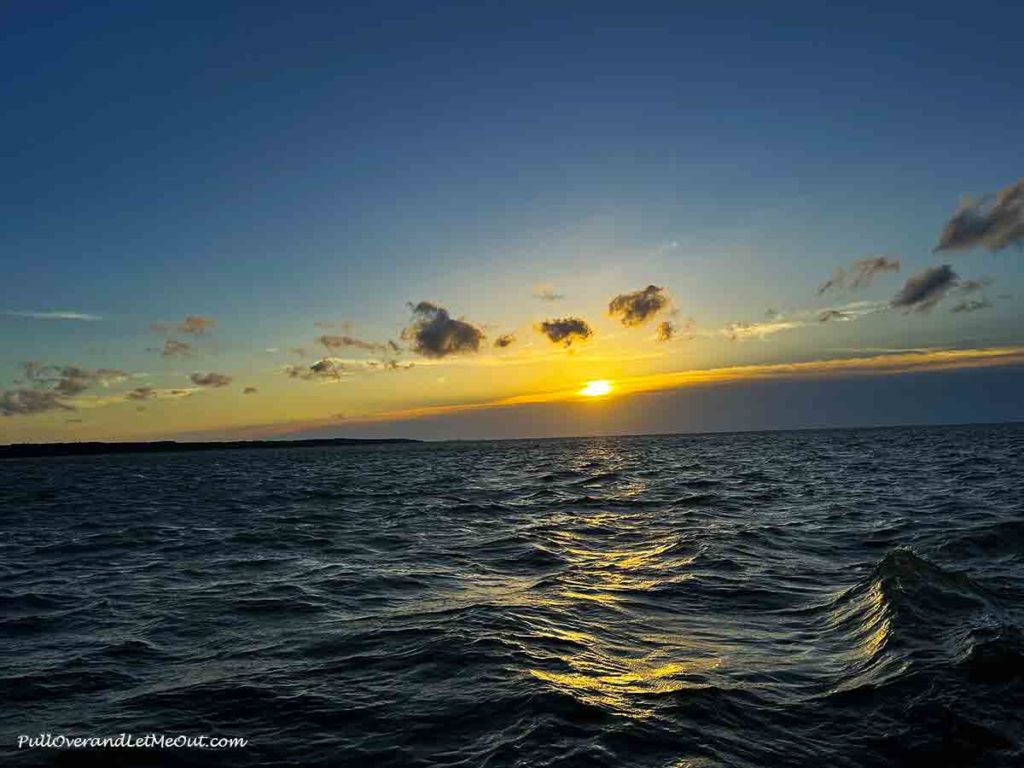 As the sun disappears below the horizon, we arrive back at the dock as scheduled, cherishing the memories of our delightful journey around Roanoke Sound aboard the enchanting Downeast Rover. Sailing on this beautiful schooner amid the radiant rays of the setting sun, with the historical charm of the location in the backdrop, is nothing short of magical. Whether seeking a romantic escape, a group adventure, or a memorable family outing, the sunset cruise on the Downeast Rover in Manteo, North Carolina, offers a captivating, serene, and unforgettable must-do experience in the OBX.
The Downeast Rover
207 Queen Elizabeth Ave.
Manteo, North Carolina  27954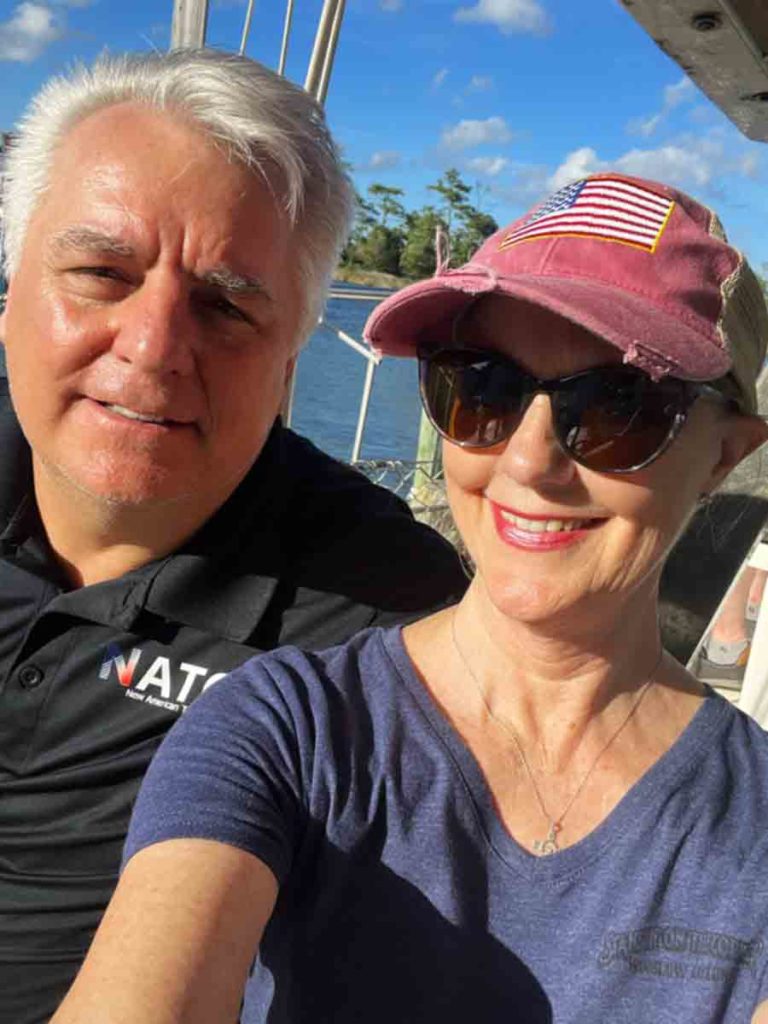 Hey, Pinners! Pin this for later!
► Plan Your Trip to Manteo, Now!
More great travel stories you'll love reading!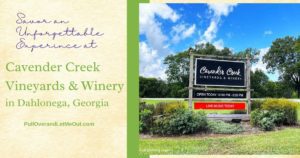 Cavender Creek Vineyards & Winery is a thriving and welcoming wine destination perfect for wine enthusiasts and anyone seeking a scenic escape from the daily grind. Travel there with PullOverandLetMeOut to discover this charming winery in the Appalachian foothills.
Read More »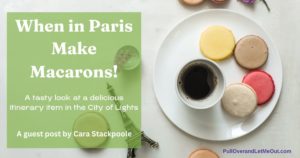 Guest blogger Cara Stackpoole shares a delectable itinerary item in the City of Lights. Discover why making macarons is a memorable experience.
Read More »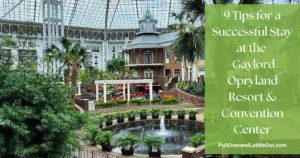 The Gaylord Opryland Resort & Convention Center in Nashville is a well-known attraction in the city. PullOverandLetMeOut looks at some smart hints for making the most of a stay at the famous hotel.
Read More »