Boxyard RTP is one of the most out-of-the-ordinary attractions I've seen. It's a place where industrial meets dining, shopping, and entertainment in North Carolina's Research Triangle Park, or RTP. They call it "cargotecture," but it's essentially repurposed shipping containers that have been transformed into a fantastic one-of-a-kind event space. On a balmy Saturday afternoon, I drove there to learn about this pioneering attraction in the heart of Carolina.
Disclosure:
Many of the links you see on this site and within our trip planning tool are affiliate links. If you click through and make a purchase, I'll get a small commission and it won't cost you any extra. On selected stories, for those hotel and car bookings made using our TravelingToGive™ tool we contribute 2.5% of gross hotel and car sales to Paws for Purple Hearts. So, thanks in advance for helping me keep bringing you the content you enjoy and, at the same time, giving back to those who so bravely serve our country! #everytripmatters
Boxyard RTP first came to my attention while attending a Discover Durham media night. Boxyard RTP was set to open in late March 2020, as fate would have it. Well, we all remember what happened at the time.
Fast forward to 2022, and Boxyard RTP and its vendors can finally fully welcome visitors to this unusual venue.
The Research Triangle Park, named after its location between Raleigh, Durham, and Chapel Hill, is the largest research park in the United States. Furthermore, and perhaps more appropriately, it is situated between three major research universities: NC State, Duke, and the University of North Carolina. Because the area is devoted to research, business, and technology, a shopping, dining, and entertainment venue in the area would have to be decidedly cutting-edge.
As a result, the Research Triangle Park, with its large green spaces dotted with pine trees, oak trees, and office buildings, is an ideal setting for Boxyard RTP, which is located just off Highway 54 in the Frontier office complex.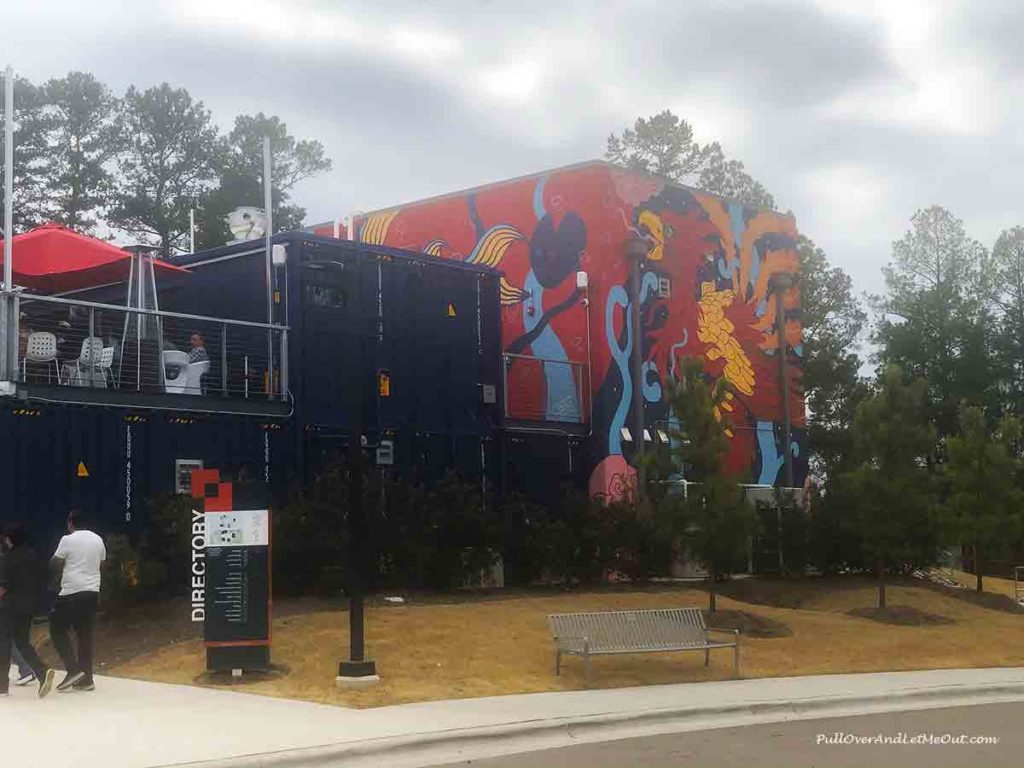 The Businesses at Boxyard RTP
"Redefining how we shop, dine, and play." That's the motto of Boxyard RTP. 
Truly a one-of-a-kind concept, there is a diverse range of small businesses, restaurants, bars, and entertainment set against a backdrop of repurposed shipping crates.
Two floors of vendors offer a variety of custom products and experiences. Trellis Beauty is the country's first Beauty Steam & Treatment BarTM, while Game On Escapes and More offers mini-escape challenges, virtual reality, and other fun.
We went inside Medicine Mama's Farmacy while I was there. This small business is a CBD vendor that sources products from North Carolina farmers in a sustainable manner.
I had a great time learning about these products, and I have to admit that the novelty of shopping inside a shipping crate adds a little something extra to the experience.
Boxyard RTP also has a Pop Box Gallery in addition to the usual vendors. "Pop Box Gallery is a pop-up art space that features zero-commission exhibitions and multidisciplinary arts programming by Triangle-based contemporary artists," according to the website.
If you enjoy discovering art in unexpected places, this is the spot for you!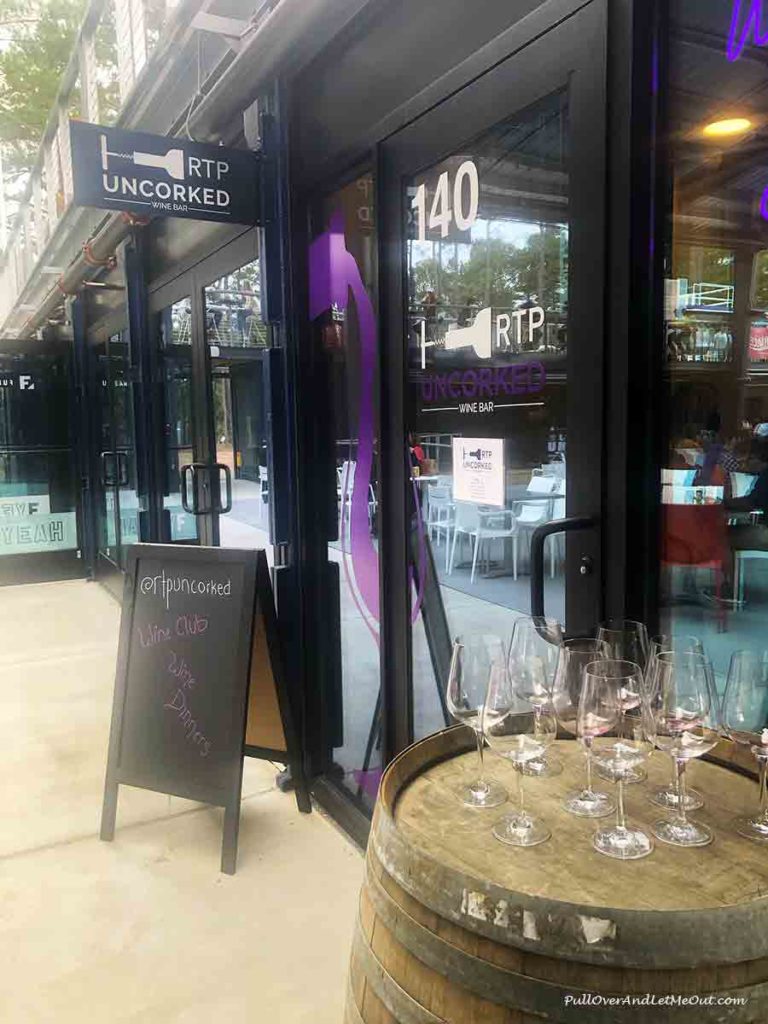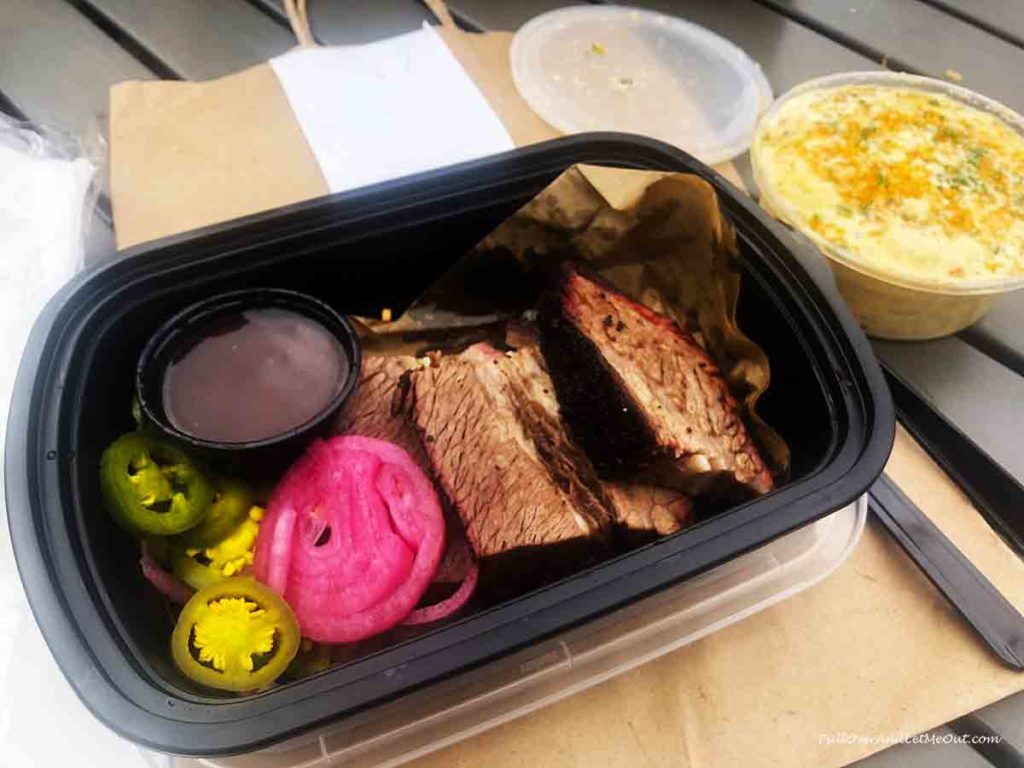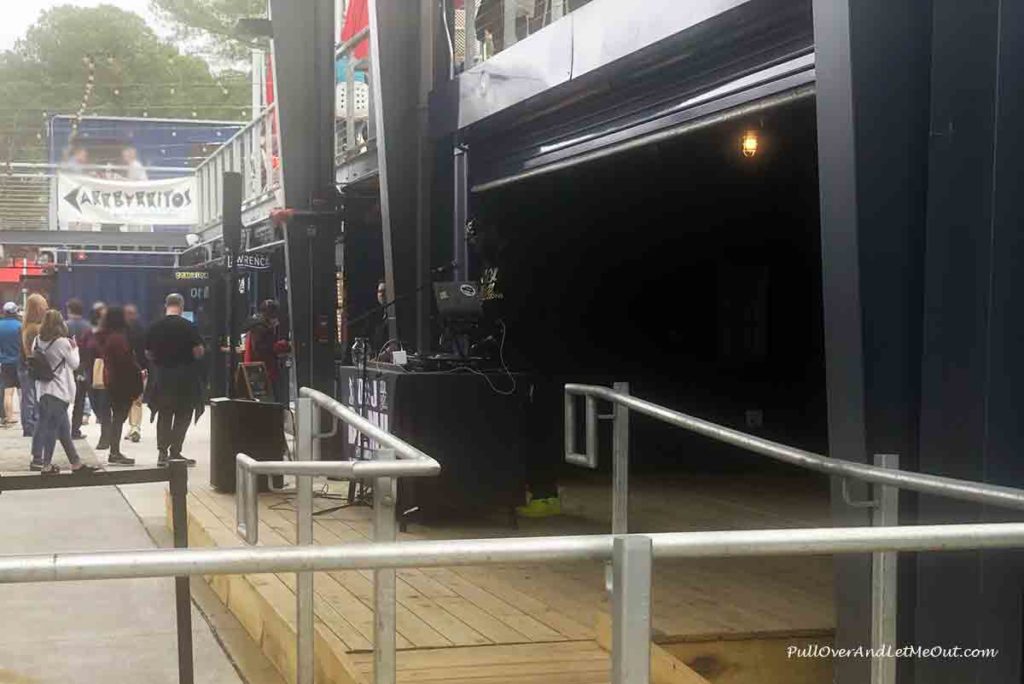 Food, drink, and entertainment abound at Boxyard RTP. There are several eateries to select from so I encourage you to arrive hungry. Bulkogi Korean BBQ, Buzzy Bakes Cupcakery, Carrburritos Mexican taqueria, Meat and Graze Gourmet Cheeseperiences & Charcuterie to name a few of the delicious offerings.
Lawrence's BBQ was my choice. The line was long, but it was well worth the wait. I savored the most tender piece of BBQ brisket and paired it with the most decadent mac and cheese imaginable. Yum!
There are several spots to grab a cool beverage. Depending upon your preference, there's coffee at Beyú Caffè, pints of North Carolina craft beer at Fullsteam RTP, craft cocktails at Lagoon Bar, and wine enthusiasts can relax as they sip a tasty glass of wine at RTP Uncorked. Likewise, visitors can top the entire experience off at Wonderpuff with artisanal and organic cotton candy! 
There's always someone entertaining the crowd, which adds to the fun. The stage is set with entertainment, whether it's live music, a DJ, or Game Night. Boxyard RTP maintains an up-to-date calendar on their website, making it simple to plan a visit around some pretty awesome entertainment.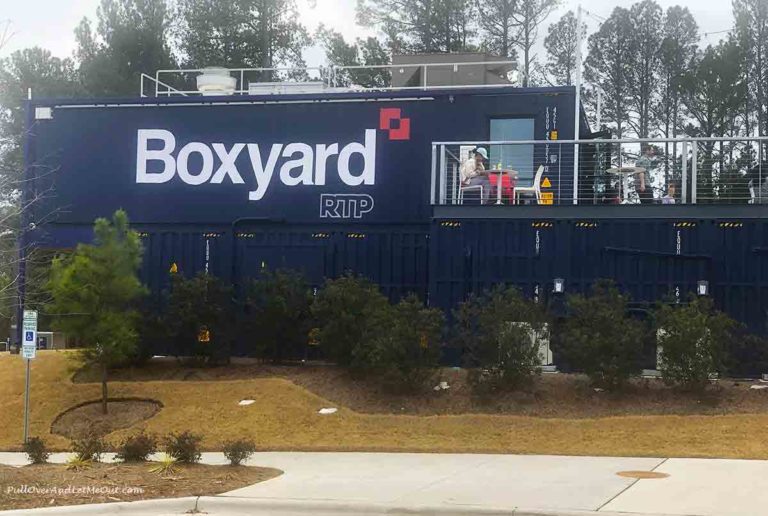 Finding unique, off-the-beaten-path attractions is one of my favorite things to do. Boxyard RTP is unquestionably one of them. Two stories of extraordinary food, drinks, entertainment, shopping, and scenery make it a great place to unwind after a long work week or to grab a delicious meal and beverage with friends. It's also a great place to take out-of-town guests to experience something truly special and distinctive to the RTP.
There's plenty of seating, open space, and a covered area, and with the setting and shipping crates, Boxyard RTP serves up a wonderfully exceptional, out-of-the-box experience. Get it?
Boxyard RTP
900 Park Offices Drive
RTP, NC  27709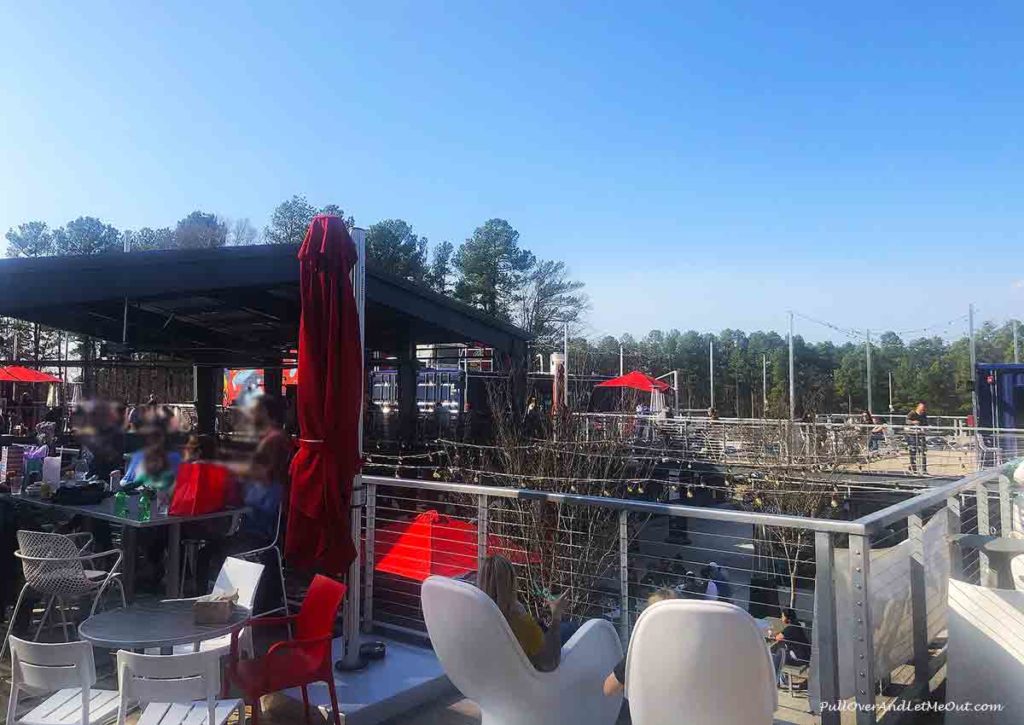 Hey Pinners! Pin this for later!
► Plan Your Trip to Boxyard RTP Now!
Hey pinners, save this for pinning after your trip
After you get back from your trip, please use these images to post to social media or post your own photos.  Please tag us on your post #pulloverandletmeout
You can also use the social sharing links on the SmartTrip tool.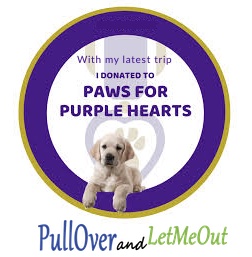 More great travel stories you'll love reading!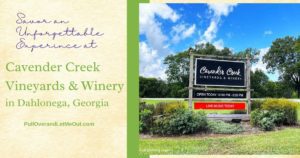 Cavender Creek Vineyards & Winery is a thriving and welcoming wine destination perfect for wine enthusiasts and anyone seeking a scenic escape from the daily grind. Travel there with PullOverandLetMeOut to discover this charming winery in the Appalachian foothills.
Read More »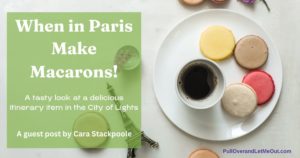 Guest blogger Cara Stackpoole shares a delectable itinerary item in the City of Lights. Discover why making macarons is a memorable experience.
Read More »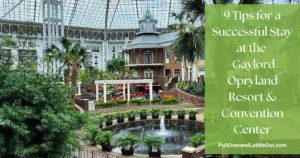 The Gaylord Opryland Resort & Convention Center in Nashville is a well-known attraction in the city. PullOverandLetMeOut looks at some smart hints for making the most of a stay at the famous hotel.
Read More »