Café Alcazar offers a rather unique dining experience. This lovely, somewhat off-the-beaten-path restaurant is housed in what was formerly the world's largest indoor pool, behind the Lightner Art Museum. Once a part of the fabled Hotel Alcazar, this swimming pool turned restaurant serves up tasty food in a special dining environment and is a must-visit while touring the historic Old Town of St. Augustine.
Disclosure:
Many of the links you see on this site and within our trip planning tool are affiliate links. If you click through and make a purchase, I'll get a small commission and it won't cost you any extra. On selected stories, for those hotel and car bookings made using our TravelingToGive™ tool we contribute 2.5% of gross hotel and car sales to Paws for Purple Hearts. So, thanks in advance for helping me keep bringing you the content you enjoy and, at the same time, giving back to those who so bravely serve our country! #everytripmatters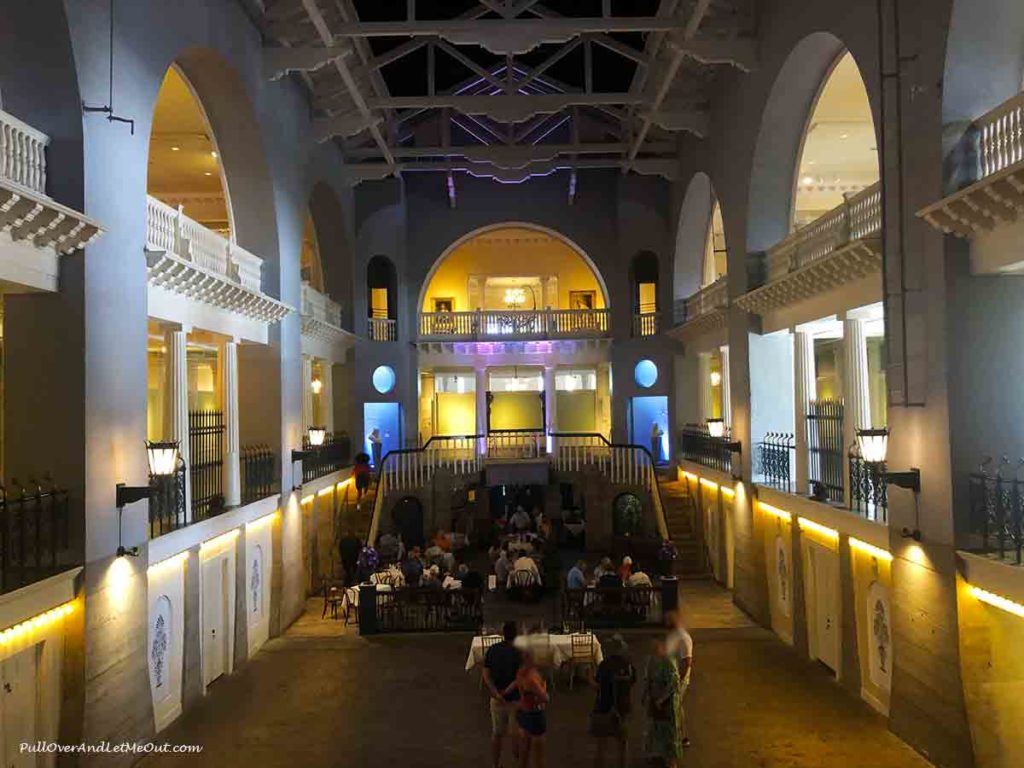 The Largest Indoor Swimming Pool
In his attempt to create a "Riviera" on the eastern seaboard of the United States, Henry Flagler built the Hotel Alcazar as part of a complex of three Moorish-Spanish buildings in 1887-1889. Flagler, a railroad magnate and an associate in the creation of Standard Oil with John D. Rockefeller, built the grand hotel for more than a million dollars as a sister hotel to his first hotel project, The Ponce de Leon, just up the street. Back in the late 1800s and early 1900s, the Hotel Alcazar was the place to stay.
Architecturally, the hotel was a work of art. Its four stories, luxurious rooms, and grand open spaces were breathtaking and the pinnacle of elegance. The hotel's recreation areas were equally impressive.
Turkish and Russian spas, Swedish massage services, and other similar activities were located in the building's south section. It was thought that the natural artesian water used here had medicinal properties. It came from a well on the property that was free-flowing. Adjoining the baths was and are the magnificent Casino, and what at the time was known as the world's largest indoor swimming pool.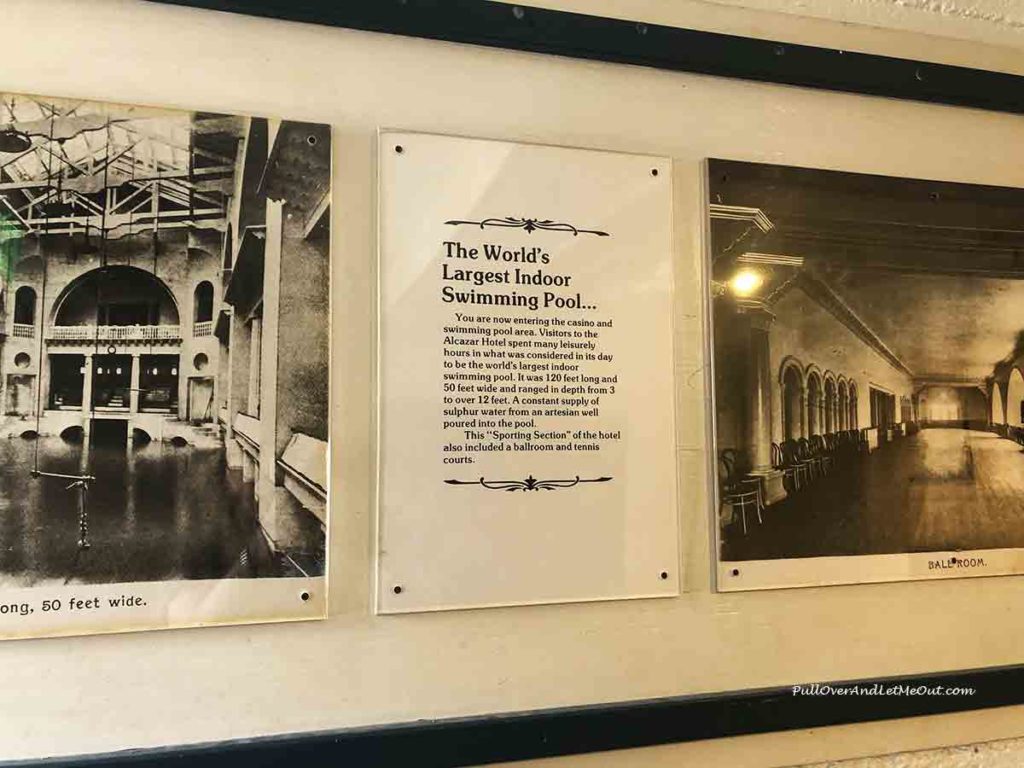 Today, the large swimming pool serves as the Cafe Alcazar, where diners may have a mid-day meal in an interesting and historic environment that harkens back to the bygone Guilded Age while paying homage to its glorious history.
Located a short walk from the campus of Flagler College and historic Old Town St. Augustine, this is a great spot that's in the heart of the tourist area yet not touristy. We found a metered parking space a block away and walked right inside the Granada Street entrance.
We were seated promptly at a table in the "deep end" and our waiter, Sean, was extremely helpful in guiding us through the menu. Jason and I opted for a cup of Chef Kevin's special cream of mushroom soup paired with half a sandwich while my son selected the roast beef sandwich. Everything was exquisite. I had a turkey cranberry sandwich that came with a cranberry aioli that is out-of-this-world! I kept talking about it all afternoon!
Besides that, the atmosphere was fantastic. I sat in awe, my gaze wandering around the architecture and art that surrounded us.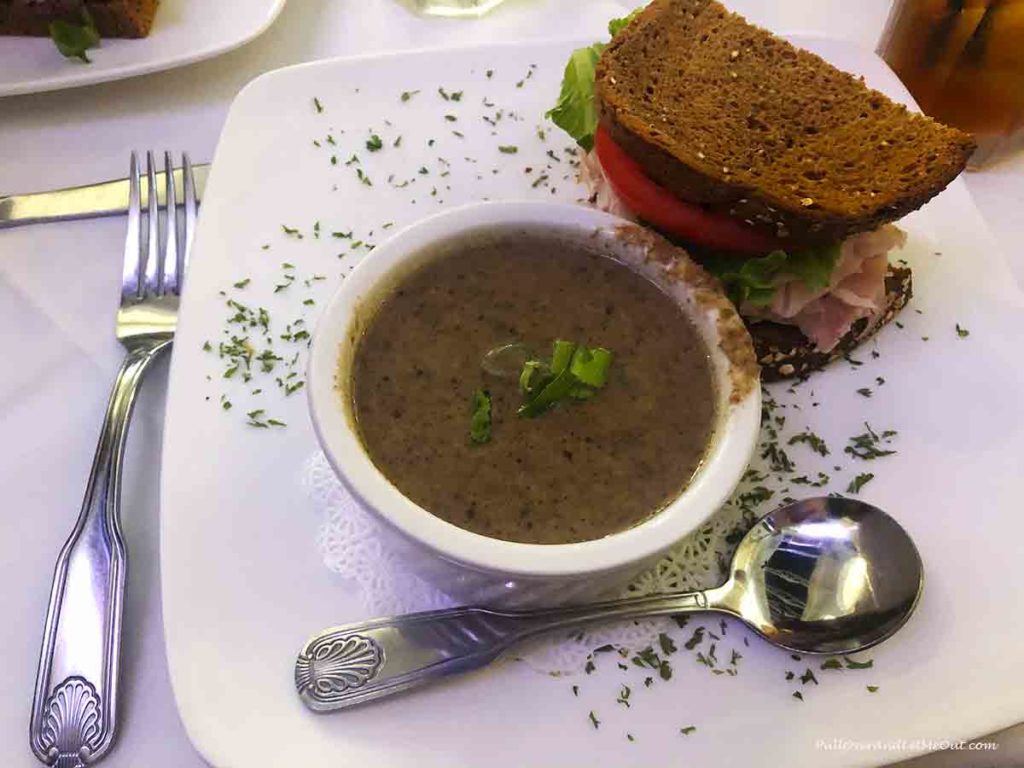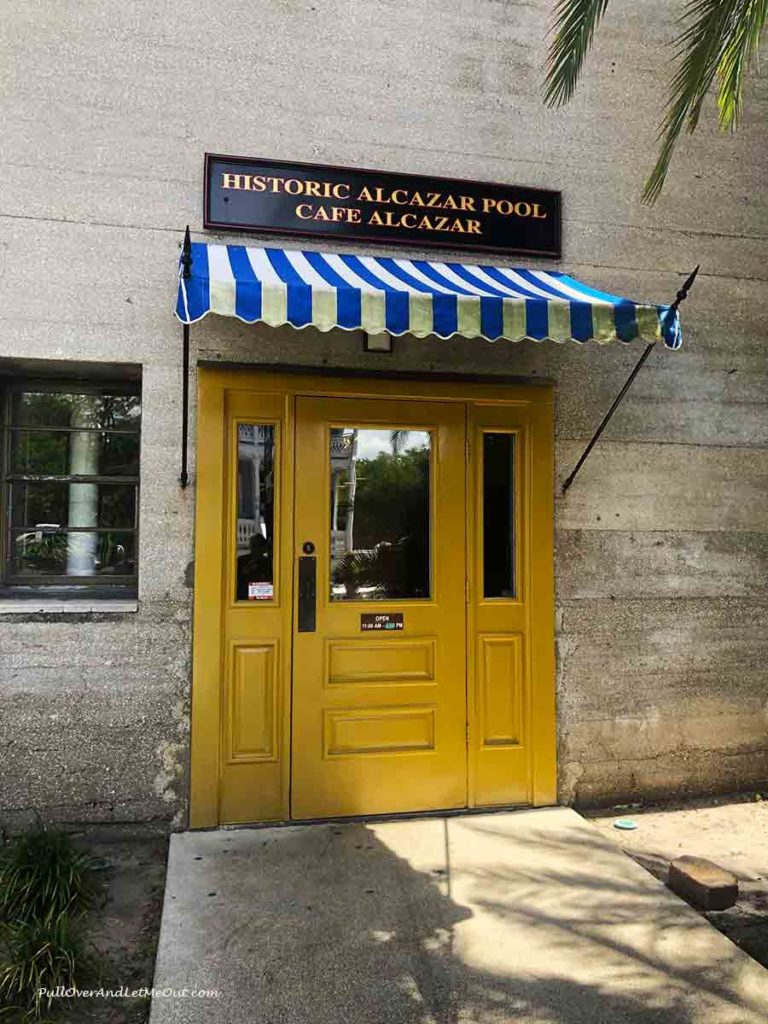 The glory days of the Hotel Alcazar ended during the dark days of the Depression in 1930. The building sat empty until Otto C. Lightner purchased it in 1947. After much rehabilitation and work, the building was restored to its current appearance and began welcoming exhibits from the Chicago Museum of Art. 
The Lightner Museum has its own intriguing history. It now houses tens of thousands of pieces, mostly from the late nineteenth and early twentieth centuries, including fine and decorative art, folk art, natural history specimens, and material culture.
Admission to the museum is reasonably priced and well worth it to take a look at the impressive Gilded Age collection belonging to Otto Lightner as well as the current exhibits. My one regret is that I didn't get to tour the museum. I'll save that one for another time when the guys aren't with me.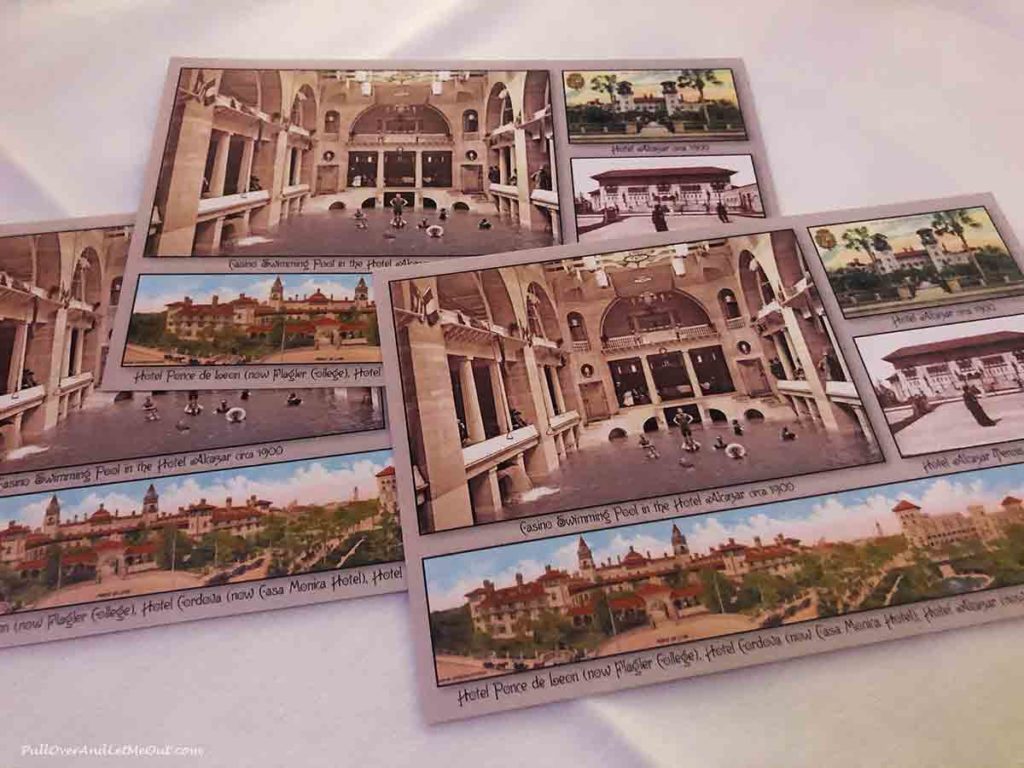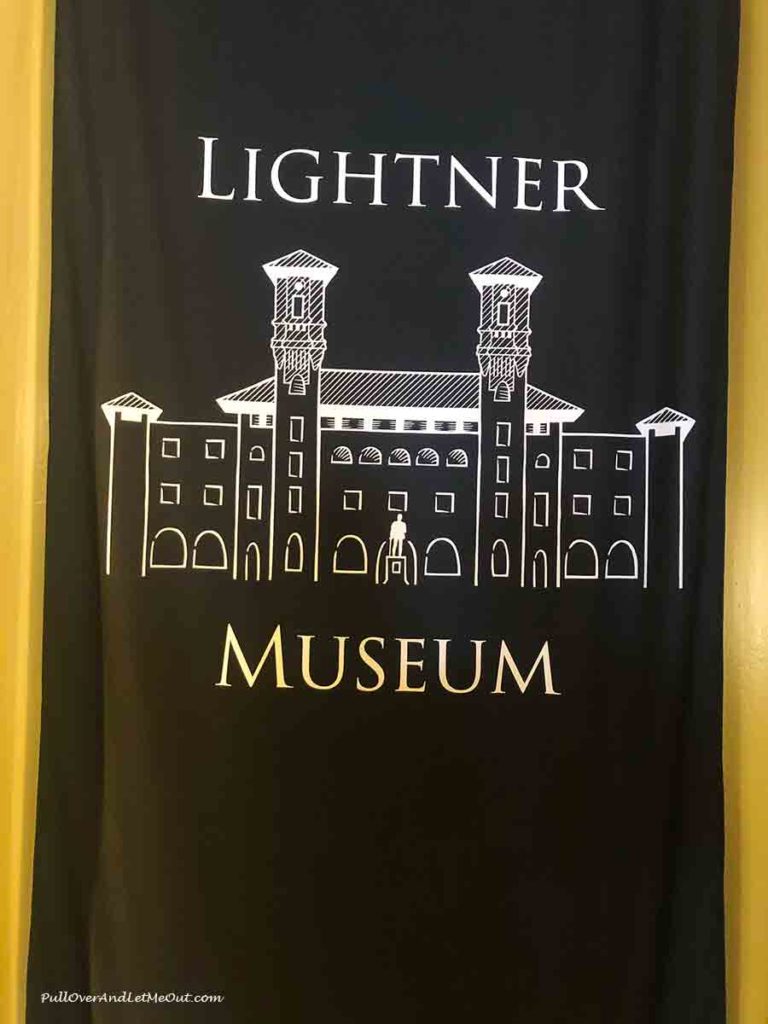 I enjoy discovering unusual locations that are off the main route. While the historic old Hotel Alcazar is a well-known sight in Old Town St. Augustine, the unconventional café in the swimming pool is a bit off the main path.
I learned about this unusual cafe from my hairdresser who is originally from St. Augustine. I'm delighted I took her recommendation! The food was scrumptious. The setting was incredible. The service was outstanding. And best of all, it was out of the ordinary. When our meal was done, our bill came with a complimentary classic postcard as a keepsake of our most enjoyable and memorable meal of the trip.
Yes! I'd absolutely dine here again!
Café Alcazar
25 Granada Street, St. Augustine, FL, 32084
904.825.9948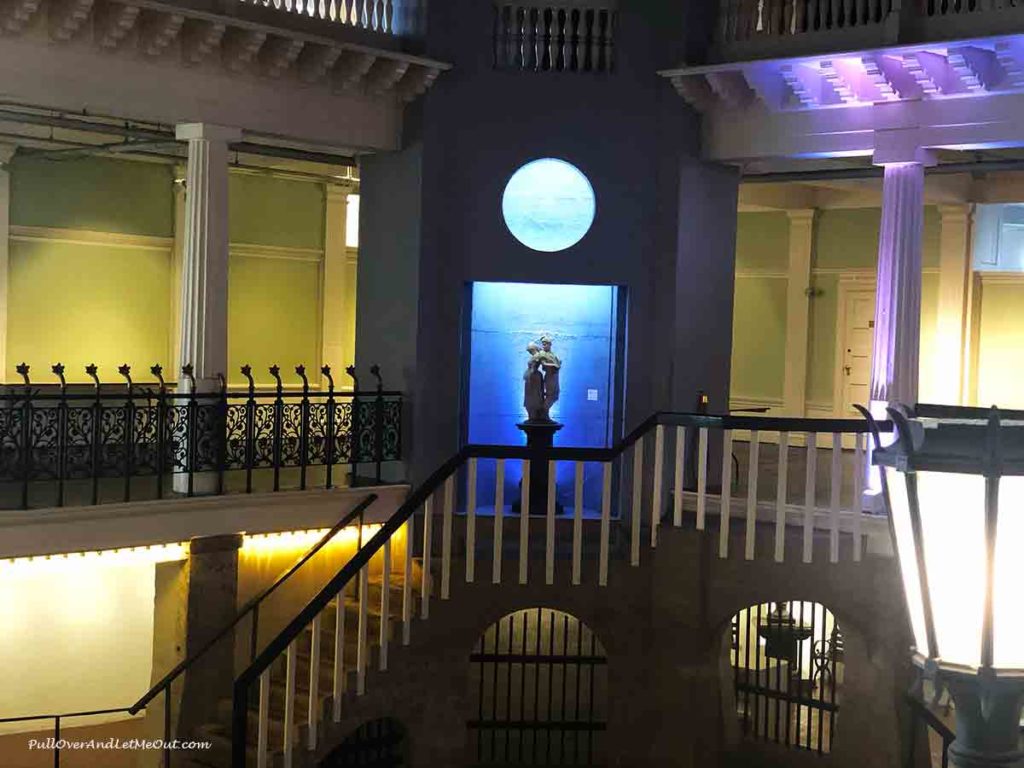 Hey, Pinners! Pin this for later!
► Plan Your Trip to St. Augustine Now!
Hey pinners, save this for pinning after your trip
After you get back from your trip, please use these images to post to social media or post your own photos.  Please tag us on your post #pulloverandletmeout
You can also use the social sharing links on the SmartTrip tool.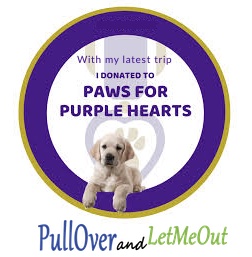 More travel stories you'll love reading!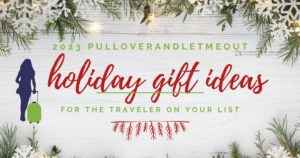 Travel with PullOverandLetMeOut to discover 2023's hottest holiday gift ideas for the traveler on your shopping list.
Read More »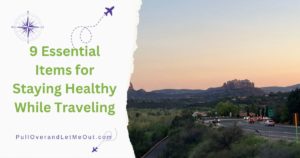 Make a healthy trip a priority. Travel with PullOverandLetMeOut to discover 9 essential items for staying healthy while traveling.
Read More »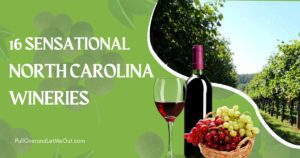 The wine world is taking notice of North Carolina wine. Join PullOverandLetMeOut as we explore 16 incredible wineries in the Tar Heel State that you won't want to miss.
Read More »