Hinnant Family Vineyards & Winery is the largest Muscadine vineyard in North Carolina. It is a haven for sweet wine enthusiasts, with a sprawling 100 acres of these sweet grapes so closely associated with the Tarheel state's eastern region. For nearly five decades, the Hinnant family has been cultivating and growing grapes, resulting in a plentiful harvest. Starting as a modest grape stand in 1971, this charming location in rural Pine Level has evolved over the years. By the early 2000s, the growing demand for wine made from Hinnant grapes led to the establishment of a vibrant winery, offering a modern and bustling destination where visitors can sip, savor, unwind, and truly immerse themselves in a lovely experience. The dynamic winery, located about an hour east of Raleigh, is a fantastic wine destination not to be missed.
Disclosure:
Many of the links you see on this site and within our trip planning tool are affiliate links. If you click through and make a purchase, I'll get a small commission and it won't cost you any extra. On selected stories, for those hotel and car bookings made using our TravelingToGive™ tool we contribute 2.5% of gross hotel and car sales to Paws for Purple Hearts. So, thanks in advance for helping me keep bringing you the content you enjoy and, at the same time, giving back to those who so bravely serve our country! #everytripmatters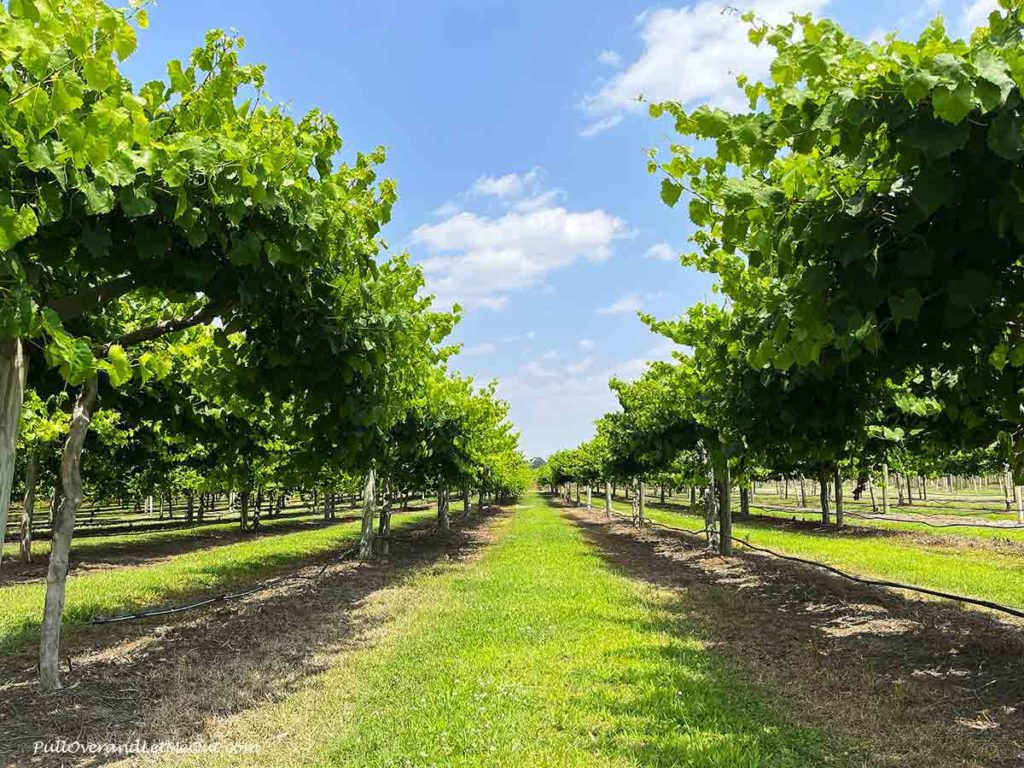 I was hesitant to travel east to try wine since I prefer dry wine to sweet wine. After all, Eastern North Carolina is scuppernong terroir. However, after researching Hinnant and seeing photos of the location, I decided to go with an open mind to learn more about this thriving winery in Johnston County.
Since their humble beginnings, the Hinnants have gained extensive knowledge about various indigenous grape varieties and now offer a diverse collection of wines ranging from dry to sweet. Hinnant Family Vineyards & Winery provides a delightful assortment of wines, yet their offerings extend beyond mere libations. They present a truly enchanting wine experience, complete with breathtaking landscapes, inviting social areas, and enjoyable entertainment.
Situated in the small town of Pine Level, North Carolina, the family-run winery is a short distance off Interstate 95, and not far from larger towns like Smithfield-Selma, Goldsboro, and Clayton.  
Getting there is an easy and scenic drive and proved to be ideal for our Saturday excursion.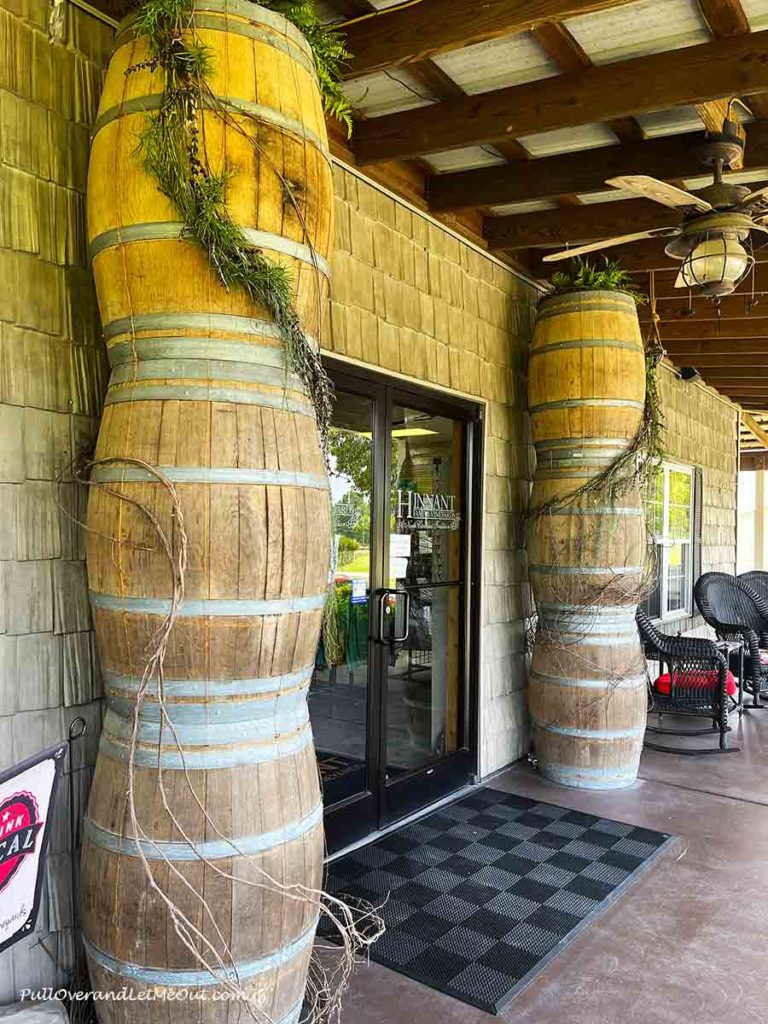 Hinnant Family Vineyards Wine
Hinnant Family Vineyards understands wine and does a masterful job of crafting delicious flavors that satisfy an array of palates. They are most famous for their sweet wines made from traditional Scuppernong Muscadine grapes. These luscious offerings, with names like Gimme Some Sugar White, Southern Twang, Tarheel Red, and Carolina Wildflower, capture the essence of eastern North Carolina wines.
However, the Hinnant team also serves other dry favorites made in-house with grapes brought in from Washington State. Their dry offerings, which include Chardonnay, Dry Rosé, Cabernet Sauvignon, Meritage, Pinot Noir, and Pinot Gris, are a delicious blend of grapes grown in Washington's Columbia Valley.
The extensive wine selection showcases a myriad of delectable offerings, each meticulously and expertly crafted by the skilled Hinnant winemaking team, resulting in a delightful array of flavors to savor.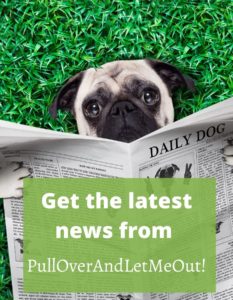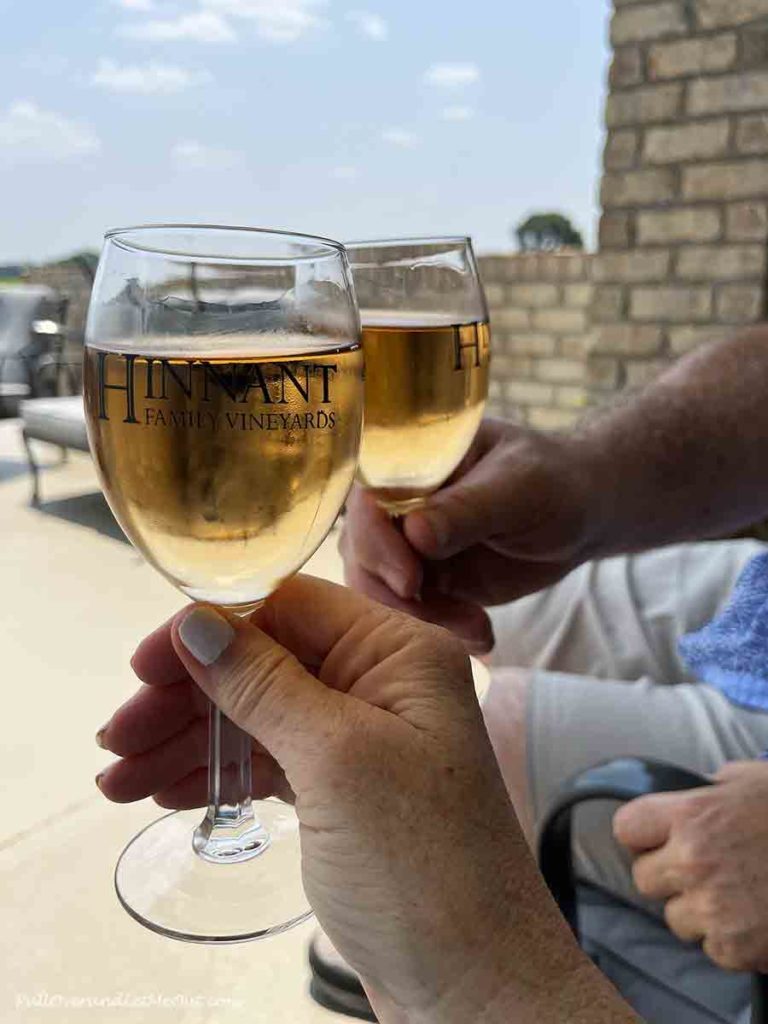 Sit, Sip, and Stay a While
A large part of the winery's appeal is the gathering space. It is truly a lovely setting for spending some time in good conversation while sipping wine. 
Inside, the tasting room is spacious and offers plenty of seating. It's a wonderful spot for enjoying a tasting, sampling a flight, or simply relaxing over a bottle with friends. Tastings are offered daily and permit visitors to try out a variety of their award-winning wines for a reasonable price.
Similarly, their flights consist of four one-ounce pours of your choice of wine, which you can take to one of the patios and sample while taking in the scenery.
Weekends at the winery are always busy, with a food truck and live music on Saturdays and Sundays. It was wonderful to sit back and listen to Channing Smith's music while eating delicious brisket tacos and sipping wine on the patio overlooking the vineyards. It was fantastic!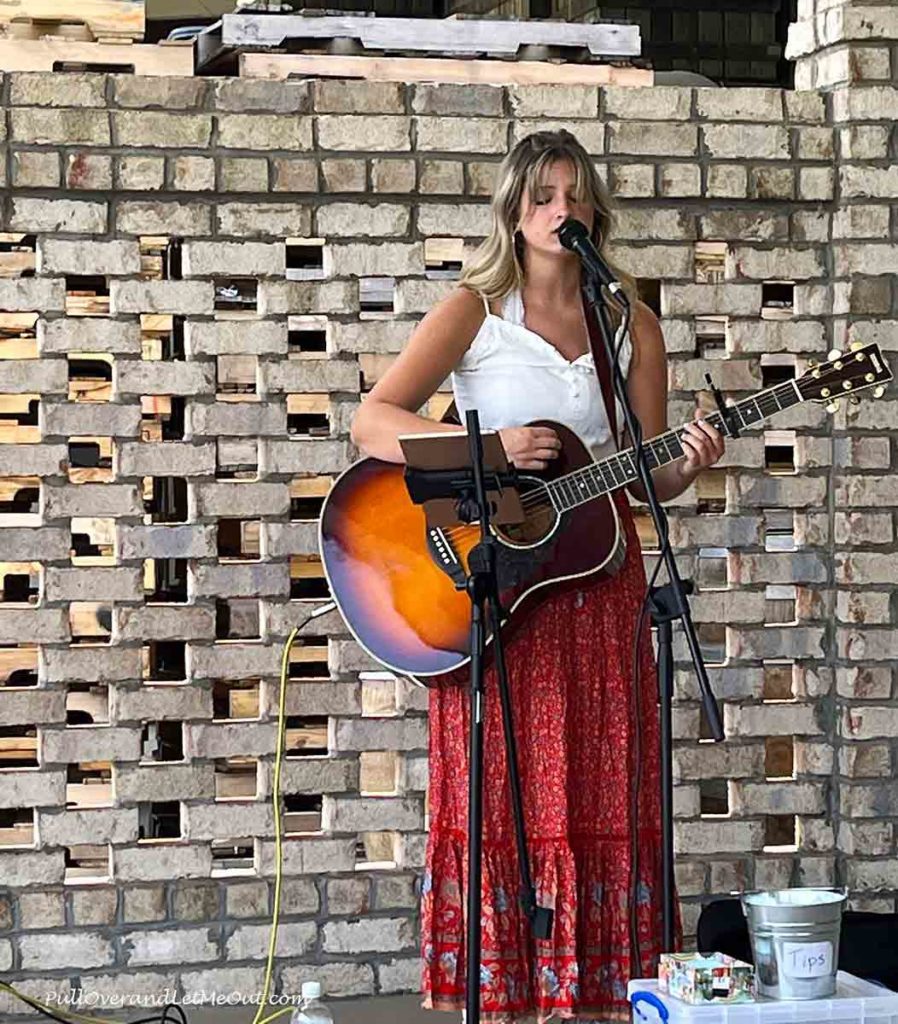 The growing popularity of North Carolina wine, as well as the state's distinct climate regions and six AVAs, provide both seasoned wine enthusiasts and newcomers with an exceptional opportunity to escape the mundane and embark on an extraordinary wine journey. Hinnant Family Vineyards is one such establishment that welcomes everyone and offers a pleasant setting in which to explore this burgeoning wine country. This is the ideal retreat because it is in the country but not so far away that it is difficult to find. Come for the afternoon or stop by on your way. The winery is also a part of the popular Johnston County Beer, Wine & Shine Trail, which features a variety of craft breweries, wineries, and distilleries ideal for craft beverage fans.
In addition to the food truck on weekends, their tasting room sells food from The Cyber Cafe in Smithfield, Ashe County Cheeses, local jams and jellies, peanuts, and other snack foods for you to enjoy during your visit or take home with you. Furthermore, because of its convenient location, the winery is only a short drive away from several chain hotels in nearby Smithfield, allowing you to sip and stay.
We had a great time at Hinnant Family Vineyards on a sunny Saturday afternoon. Everything about our time here was superb from the wine to the scenery to the music to the food. This is the type of one-of-a-kind fun activity that I enjoy discovering and will keep in my back pocket for when I have out-of-town guests and want to show them a good time.
Likewise, I plan to return in September when they have their annual harvest. Hinnant Family Vineyards & Winery invites the public to come out and pick their own Muscadine grapes every September. A large white tent marks the beginning of the harvest season and stands in front of the business to greet customers. I'll be waiting for that tent to appear with bated breath!
Hinnant Family Vineyards & Winery
826 Pine Level Micro Rd,
Pine Level, NC 27568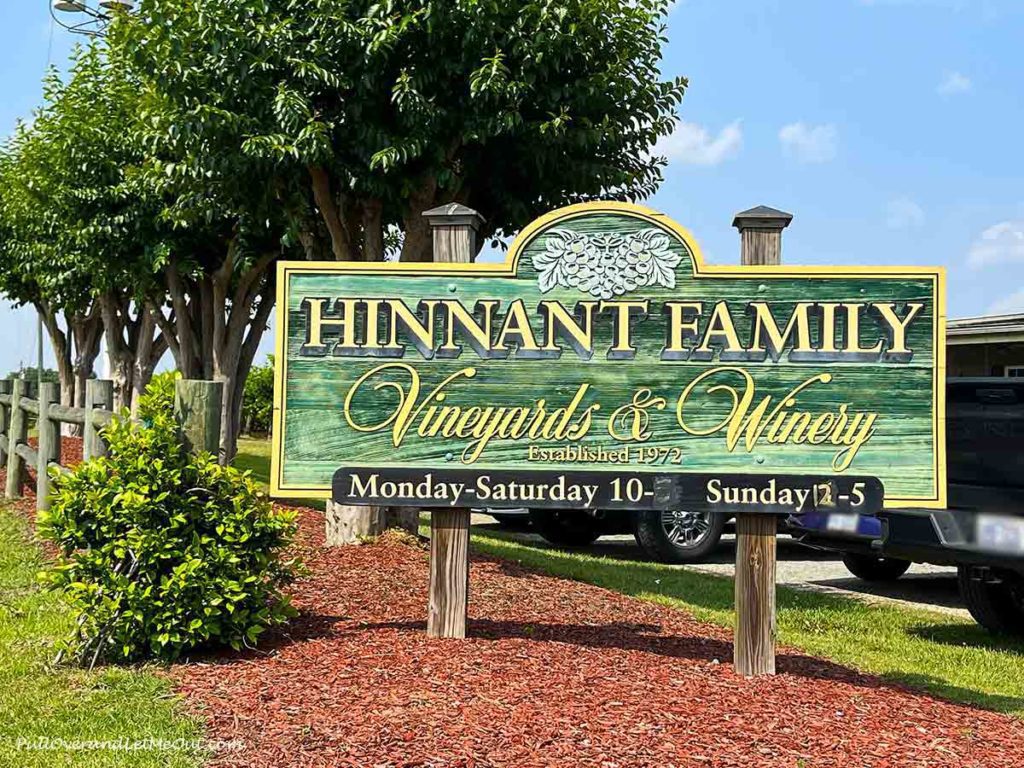 Hey, Pinners! Pin this for later!
► Plan Your Trip to Hinnant Family Vineyards & Winery Now!
Hey pinners, save this for pinning after your trip
After you get back from your trip, please use these images to post to social media or post your own photos.  Please tag us on your post #pulloverandletmeout
You can also use the social sharing links on the SmartTrip tool.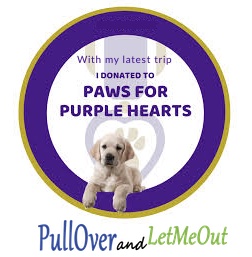 More great travel stories you'll love reading!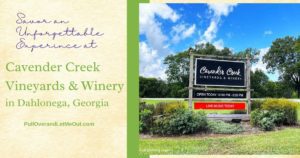 Cavender Creek Vineyards & Winery is a thriving and welcoming wine destination perfect for wine enthusiasts and anyone seeking a scenic escape from the daily grind. Travel there with PullOverandLetMeOut to discover this charming winery in the Appalachian foothills.
Read More »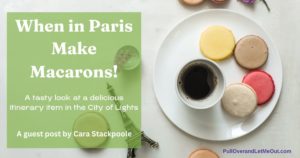 Guest blogger Cara Stackpoole shares a delectable itinerary item in the City of Lights. Discover why making macarons is a memorable experience.
Read More »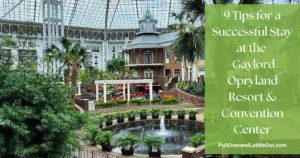 The Gaylord Opryland Resort & Convention Center in Nashville is a well-known attraction in the city. PullOverandLetMeOut looks at some smart hints for making the most of a stay at the famous hotel.
Read More »