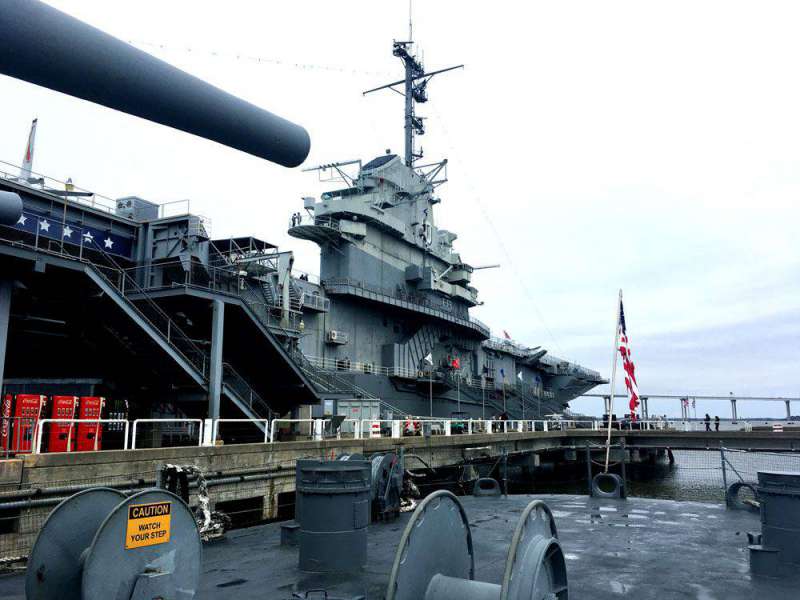 The USS Yorktown as seen from the deck of the USS Laffey Destroyer.
Standing at the waterfront looking across Charleston Harbor, you'll see docked with flags waving in the breeze the massive, majestic gray USS Yorktown aircraft carrier. Each year, thousands cross the Cooper River to the Mount Pleasant side of the historic harbor in order to 'Walk in the Steps of Heroes" at
Patriots Point
.
Back in the 1970s, the Patriots Point Development Authority came together to establish a naval and maritime museum on Charleston Harbor featuring the World War II aircraft carrier, the USS Yorktown as its centerpiece. Forty-one years after its inception, Patriots Point is now home to a fleet of National Historic Landmark ships, the Cold War Memorial, the Congressional Medal of Honor Museum and Society, the Patriots Point Museum, and the only Vietnam Experience in the United States. According to their website, in a single year, Patriots Point attracts approximately 270,000 visitors.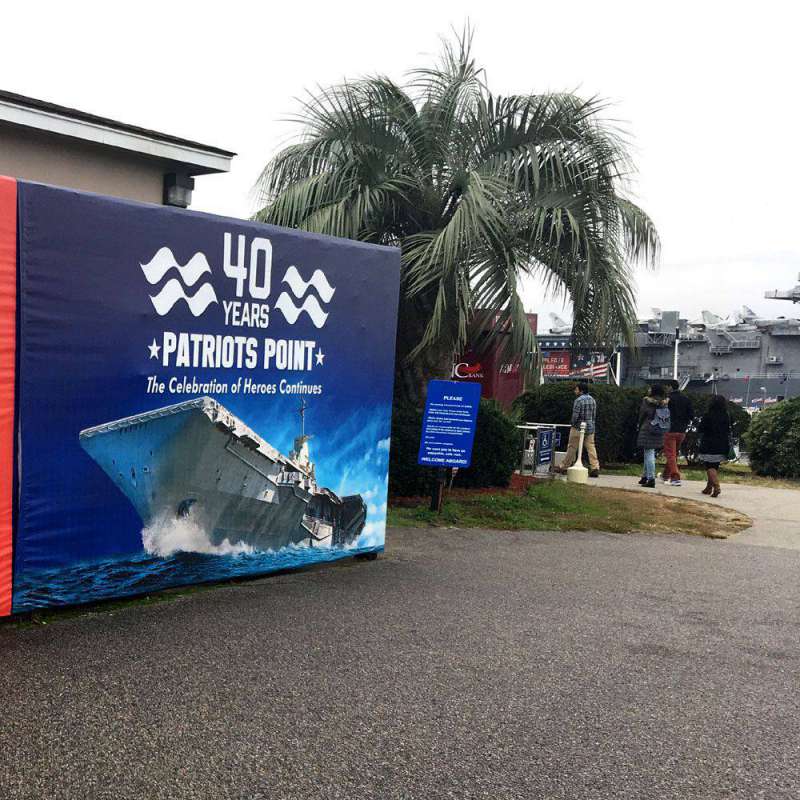 If you're heading there from Charleston, just cross the Ravenel Bridge on I-26, merge onto Coleman Avenue, and take a right at the first light onto Patriots Point Boulevard. It's just a short distance to the parking lot.
There's ample parking, but it's worth arriving early to get close to the entrance and spend the day. There's a ticket office at the entrance, but you can also purchase tickets in advance online. There's also a fun photo opportunity as you enter and the pictures may be purchased as you exit at the end of your stay.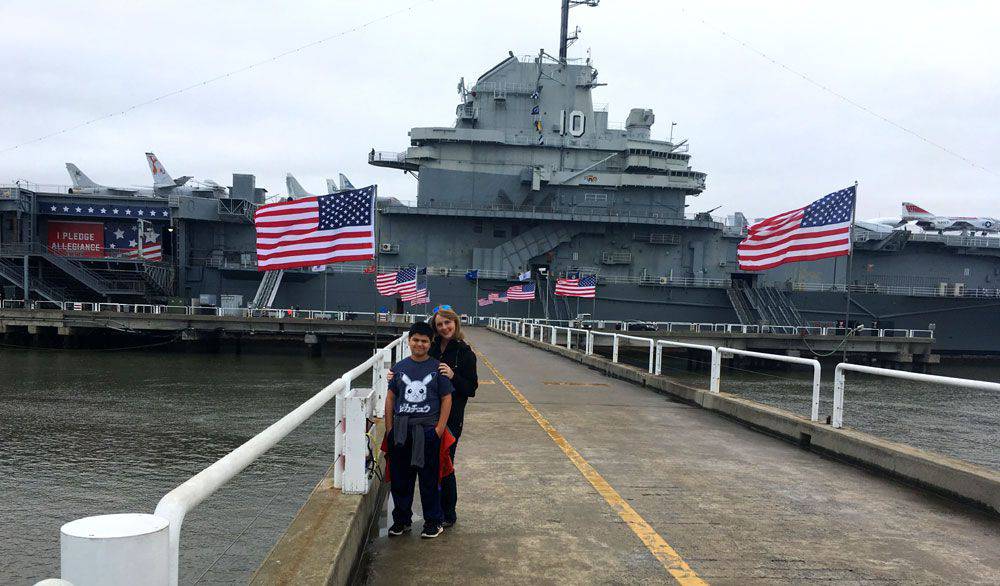 The USS Yorktown is definitely the star of the show at Patriots Point. This tremendous ship which played a pivotal role in World War II offers so much to see, do and experience it's possible to spend an entire day here and still not see it all.
Meander through the Yorktown at your own pace and see as much or as little of this incredible mini-city that once sailed the oceans. The Yorktown has multiple exhibits on board, including the Medal of Honor Museum and a stirring film in a large theater that in my opinion is a must-see.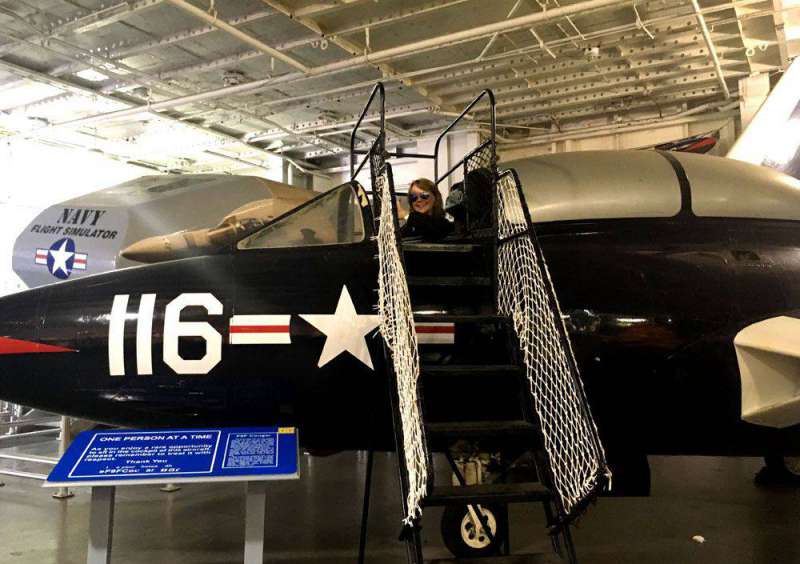 One of many aircraft to explore on board the USS Yorktown carrier.
Though it's possible to spend the entire day exploring the Yorktown, there's much more to see and do at Patriots Point.  In addition to the aircraft carrier and museums, there's the USS Laffey Destroyer, The USS Clamagore Submarine, a variety of aircraft, The Vietnam Experience, and a perennial favorite, the gift shop.
Plan ahead, arrive early so you're sure to have time to take it all in.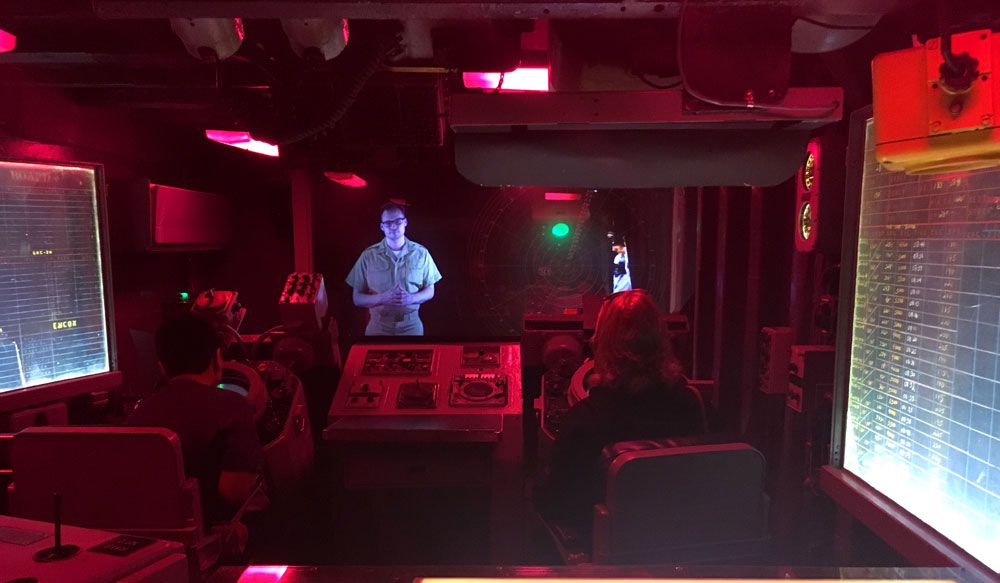 There are many hands-on activities such as this one on the USS Laffey Destroyer.
Patriots Point is open daily from 9:00 am to 6:30 pm. Know your travel buddies and base your decision on how much time to allot accordingly. Wear comfortable shoes and keep in mind there are snug spots, narrow corridors, as well as steep stairways on these ships.
A visit to Patriots Point does involve a good deal of walking but there is ample consideration given to those with mobility issues and accommodations have been made so they may also enjoy the experience. There is an elevator on board the USS Yorktown, however, the other vessels are more difficult for visitors with physical limitations.
Winter weather alert – the ship sits in the harbor and though it may be mild, bring a jacket. The wind can really get whipping in the harbor during the winter months.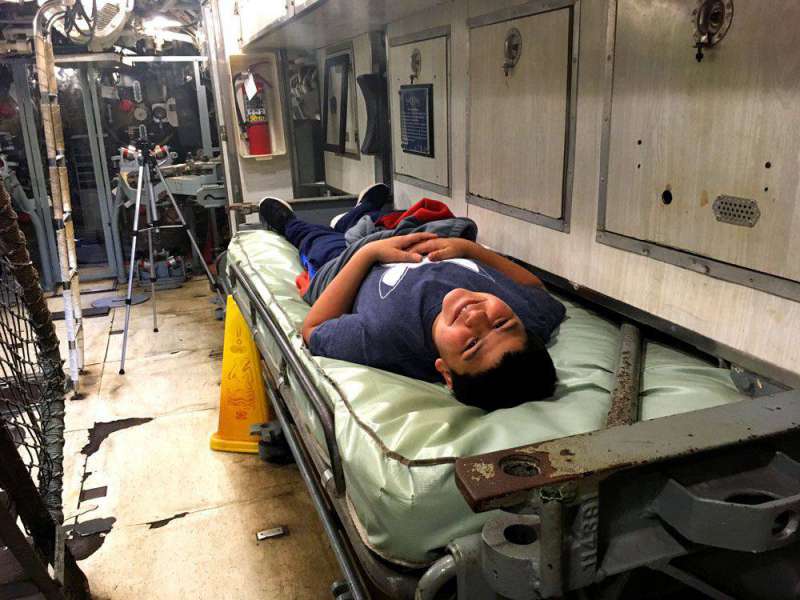 Life on a submarine, The USS Clamagore.
Beyond the self-guided and audio self-guided tours, Patriots Point offers a multitude of ways to explore and enjoy your visit. Guests may choose from VIP Guided Tours, Overnight Tours, Ghost Tours, Helicopter Tours, and School Group Tours. Visit their website and customize the perfect tour for your group. There's a variety of ticket packages and prices with free admission for children under six and active military in uniform.
And I must mention the friendly and helpful staff at Patriots Point. My husband's wallet slipped out of his pocket while touring and they were most gracious in helping us look for it and phoned four days later when it turned up in the theater! A sigh of relief and shout-out of gratitude for staff going above and beyond the call of duty!
Whether you've only got a couple hours or you're able to spend the day; time spent at Patriots Point is a family-friendly, educational, memorable, and poignant, 'Walk in the Steps of Heroes.'
40 Patriots Point Road, Mount Pleasant, SC 29464
Open Daily from 9:00 am to 6:30 pm
(843) 884-2727
HEY PINNERS, PIN THIS FOR LATER!