Eat, Drink, And Be Merry!
Yes, dining at a colonial tavern is a culinary historical rush. There's something magical about stepping back in time to experience a taste of the past. Cozy candlelit tables, pewter utensils, period-costumed servers – it's all thrilling. Adding to the ambiance is delicious food harkening back to days gone by. Even if you're not a history buff, I recommend seeking out a colonial dining experience at least once in your travels. Here's a roundup of eight favorite colonial taverns.
Most ads you see on this site are affiliate links. If you click through and make a purchase I'll get a small commission and it won't cost you any extra. So, thanks in advance for helping me keep bringing you the content you enjoy!
City Tavern, Philadelphia, Pennsylvania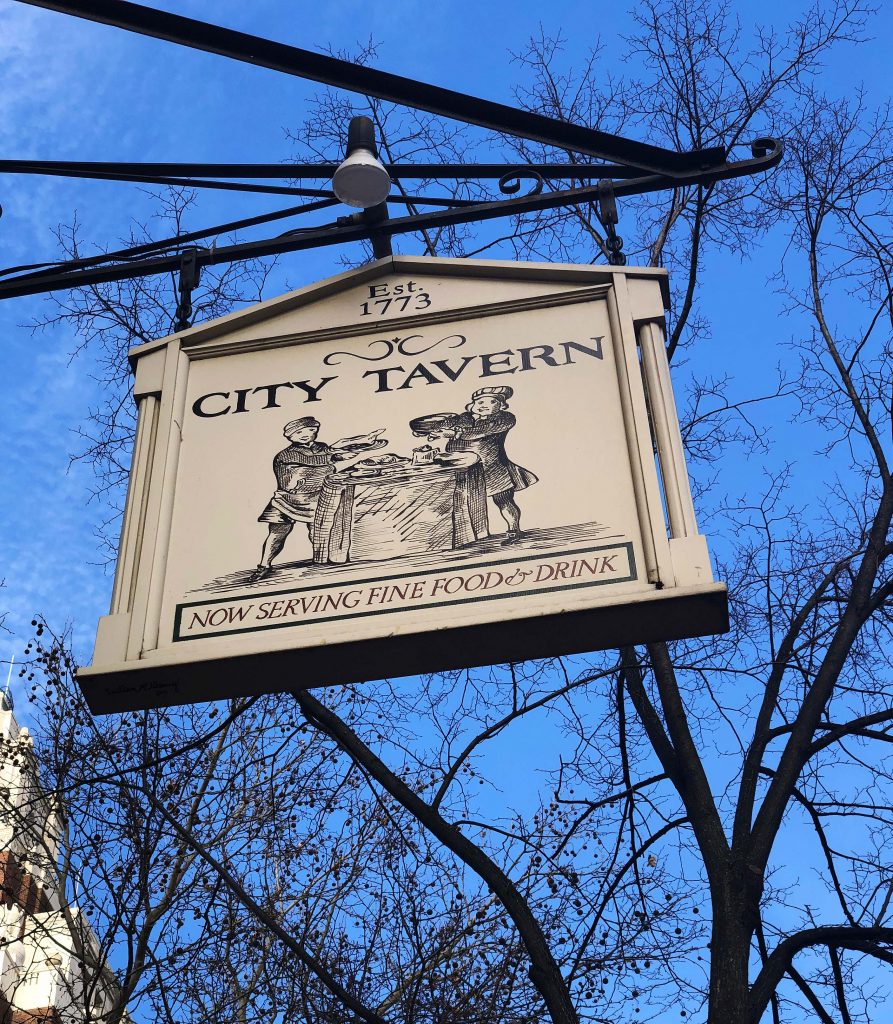 In December of 1773, City Tavern in Philadelphia opened for business as a "large and commodious tavern."
Today, the tavern located in the heart of the historic district is a favorite dining destination for tourists and locals alike.
I had the pleasure of enjoying an 18th-century-inspired lunch on a 21st century day. It was delicious.
The award-winning City Tavern features cuisine made fresh daily from locally sourced ingredients based on tried and true traditions. The Colonial Turkey Pot Pie was yummy and if I weren't so full, I would have shared my son's dessert – chocolate cake made from Martha Washinton's recipe!
If you're traveling to the City of Brotherly Love, dining at City Tavern makes for a tasty and memorable meal.
UPDATE: Sadly, City Tavern Restaurant has closed.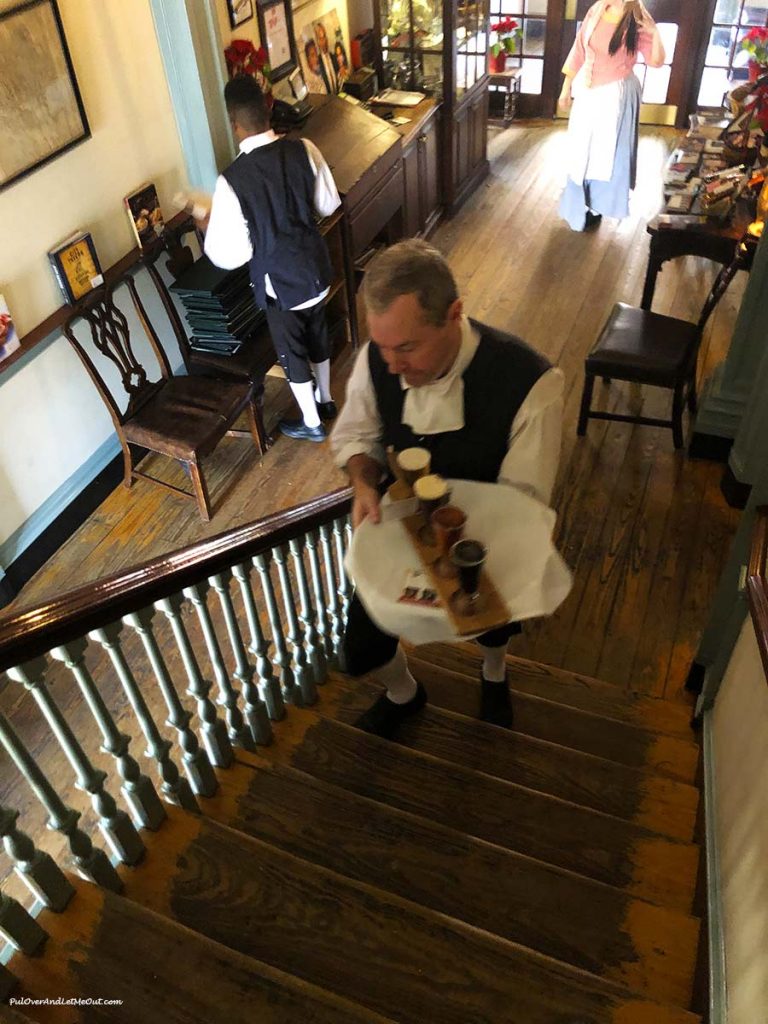 City Tavern
138 S. 2nd Street
Philadelphia, PA  19106
215-413-1443
Michie Tavern, Charlottesville, Virginia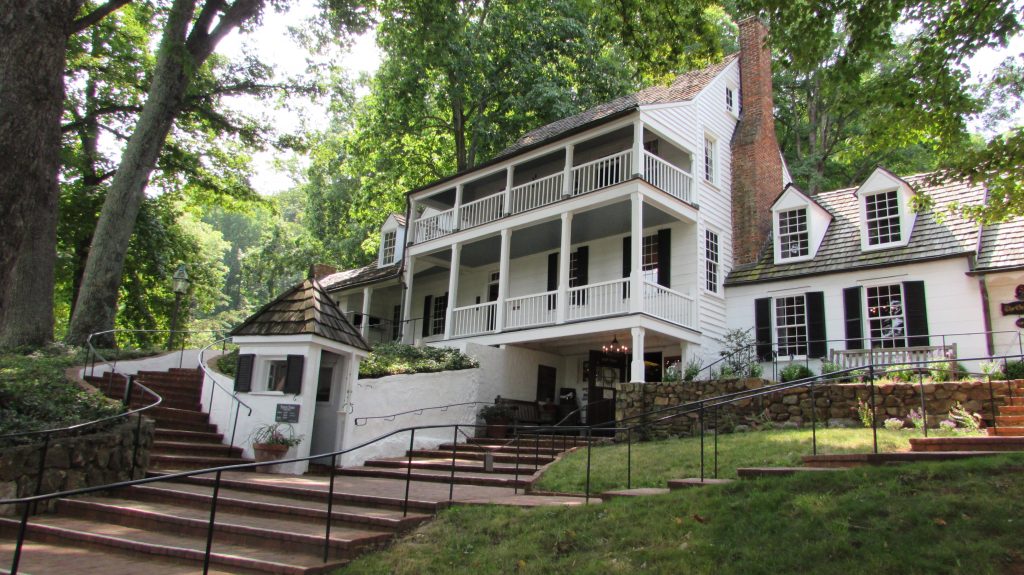 Just a half-mile below the driveway leading to Monticello sits the Michie Tavern beckoning hungry travelers to pull over. Historic in its own right, Michie (pronounced in Old Scottish, "Mickey") was built in the 1780s by an Albemarle County man named William Michie. The tavern operated into the mid-1800s, serving as a social center of the countryside at a busy location 17-miles away on Buck Mountain.
Today, the tavern is open 7 days a week serving colonial-style midday fare and history. (Read more here)
Michie Tavern
683 Thomas Jefferson Parkway
Charlottesville, VA  22902
434-977-1234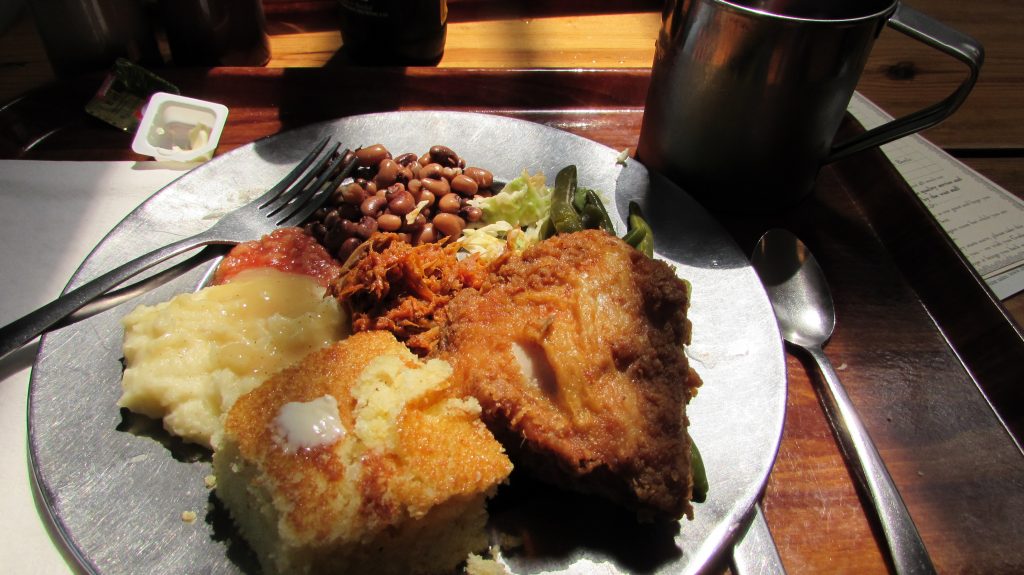 Kings Arms, Williamsburg, Virginia
There's simply no excuse for not dining in a tavern when visiting Colonial Williamsburg. I've had the pleasure of enjoying several of the ubiquitous restaurants and highly suggest adding any one of them to your itinerary.
First, Kings Arms Tavern.
Kings Arms is first because it's the first one I dined at many years ago. The food and atmosphere are out of this world. Providing you don't suffer from peanut allergies, try the Cream of Peanut Soup. It's made from a classic colonial recipe, it's a longstanding favorite, and it's exquisite.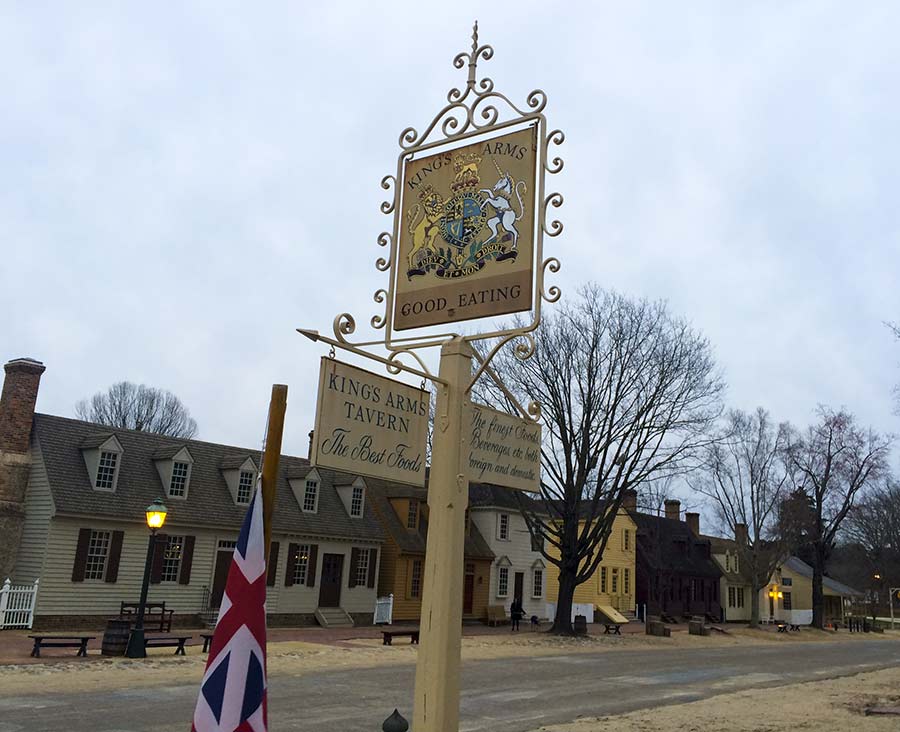 Kings Arms Tavern
416 E. Duke of Gloucester Street
Williamsburg, VA  23185
855-578-0080
Shields Tavern, Williamsburg, Virginia
Another Williamsburg favorite is Shields Tavern.
Because Colonial Williamsburg was a port of call for ships from around the world, the menu at Shields Tavern echoes the global influences of the era. Scrumptious fare utilizing ingredients such as molasses from the West Indies, European wines, or spices from around the world is served along with a side of colonial entertainment. The restaurant is an upbeat tavern reflecting a more sophisticated nature of the British Colonies.
Shields Tavern
422 E. Duke of Gloucester Street
Williamsburg, VA  23185
888-965-7254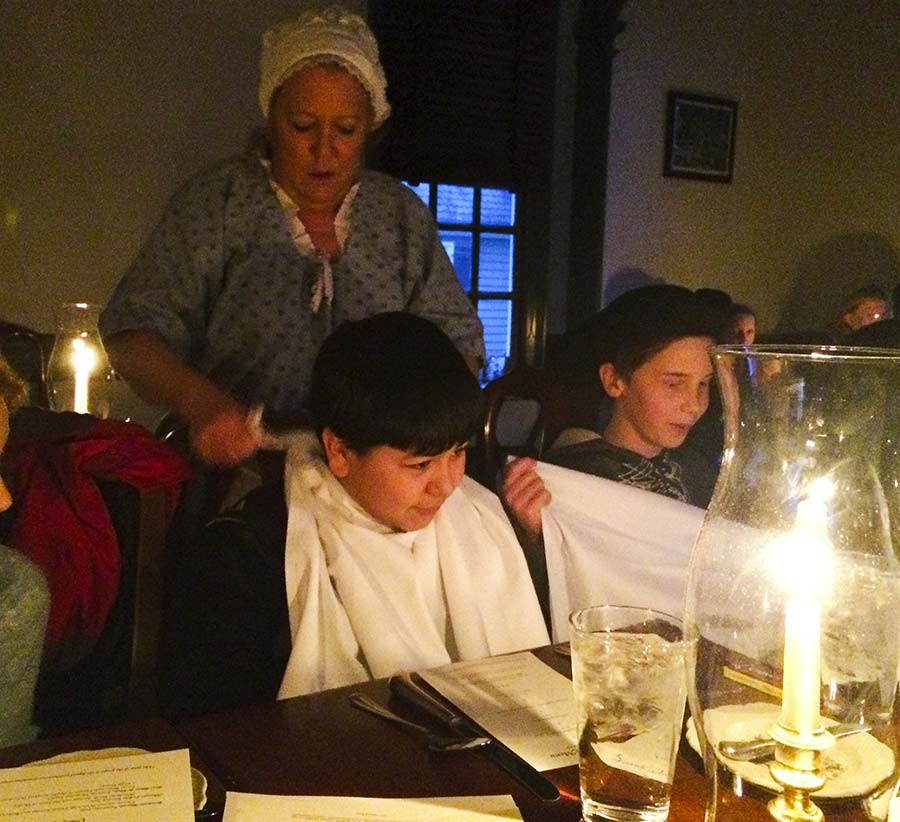 Chowning's Tavern, Williamsburg, Virginia
And, my final Colonial Williamsburg entry on the list is Chowning's Tavern.
Chownings, named for Josiah Chowning, is a reconstructed 1766 tavern styled to resemble an authentic 18th-century ale house. I had a delightful luncheon of Shepherd's Pie as we were entertained with poetry by a costumed performer. The casual pub-inspired atmosphere makes Chownings an amiable good time. Oh, and while there, you'll want to sample the ale!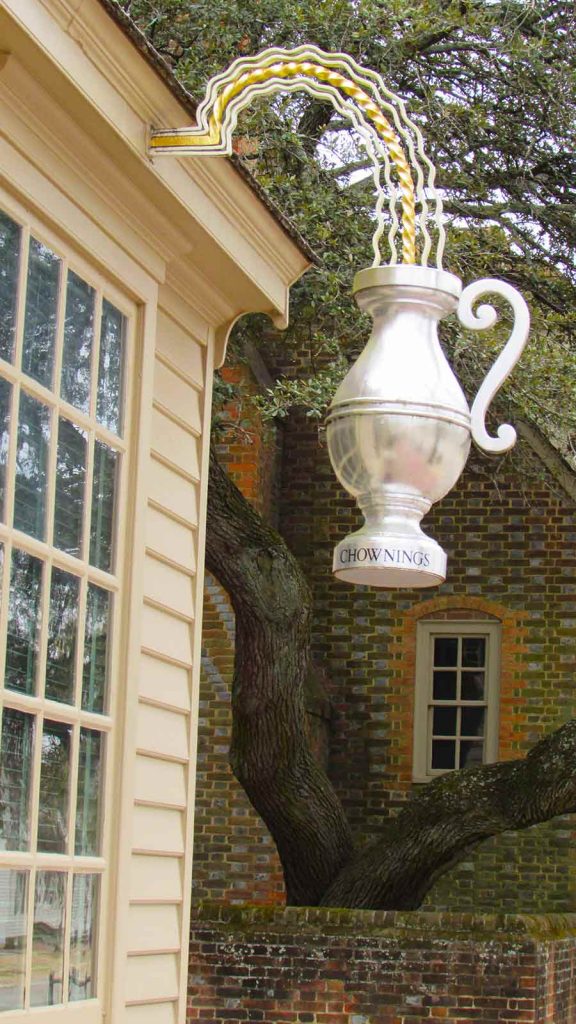 Chowning's Tavern
109 E. Duke of Gloucester Street
Williamsburg, VA  23185
800-447-8679
Valley Green Tavern, Philadelphia, Pennsylvania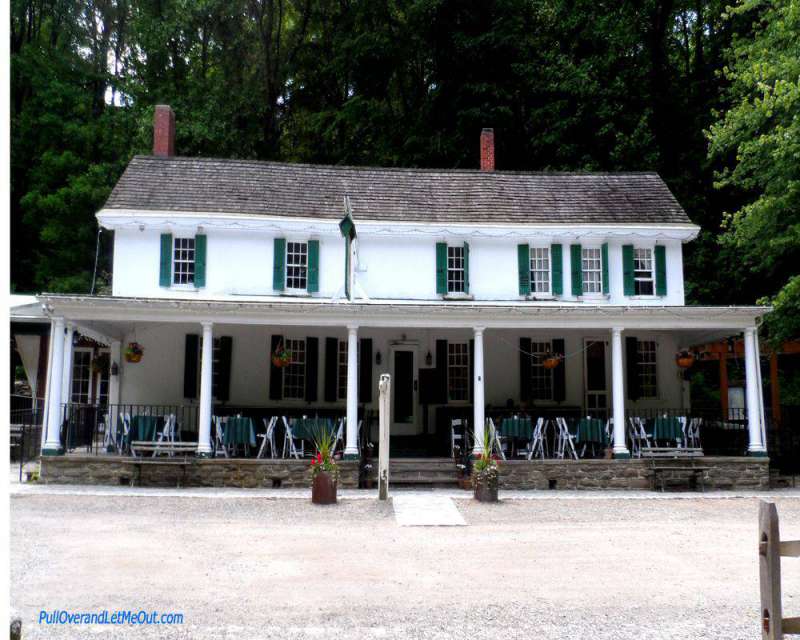 Valley Green Inn holds a special place in my heart. I took my mother here for her birthday luncheon and it turned out to be a delightful celebration. It also turned out to be her last birthday, making time spent here all the more treasured in my memory.
From the cool beverages to the light lunchtime fare to the beautiful setting the welcoming environment and exceedingly helpful staff -everything about Valley Green Inn makes this a Pull Over And Let Me Out Favorite dining destination. (Read more here)
Valley Green Inn
Valley Green Road At Wissahickon
Philadelphia, PA  19128
215-247-1730 
Middleton Tavern, Annapolis, Maryland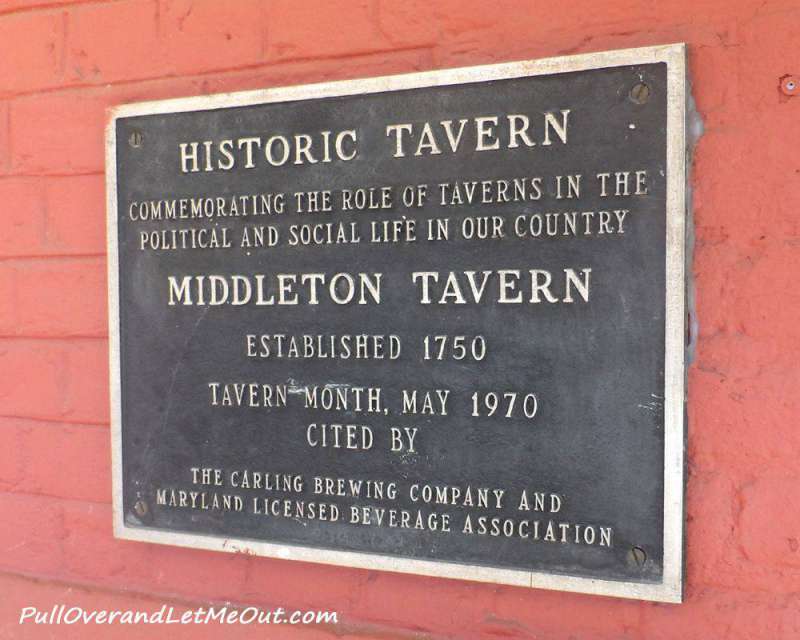 In the 18th-century, ferry operators were mandated by law to provide lodging for travelers. Hence, Annapolis was a favorite stopping point on the road from Virginia to Philadelphia. Consequently, Middleton Tavern became a popular stop for weary travelers.
Having grown up a few miles west of Annapolis, Middleton Tavern was a place I frequented regularly and with good reason. With Middleton's proximity to the water and the Chesapeake Bay, the seafood is delectable. Furthermore, Middleton Tavern is renowned for their mussels. The iconic restaurant on the Annapolis waterfront is a favorite colonial tavern steeped in history and atmosphere. (Read more here)
Middleton Tavern.
2 Market Space
Annapolis, MD  21401
410-263-3323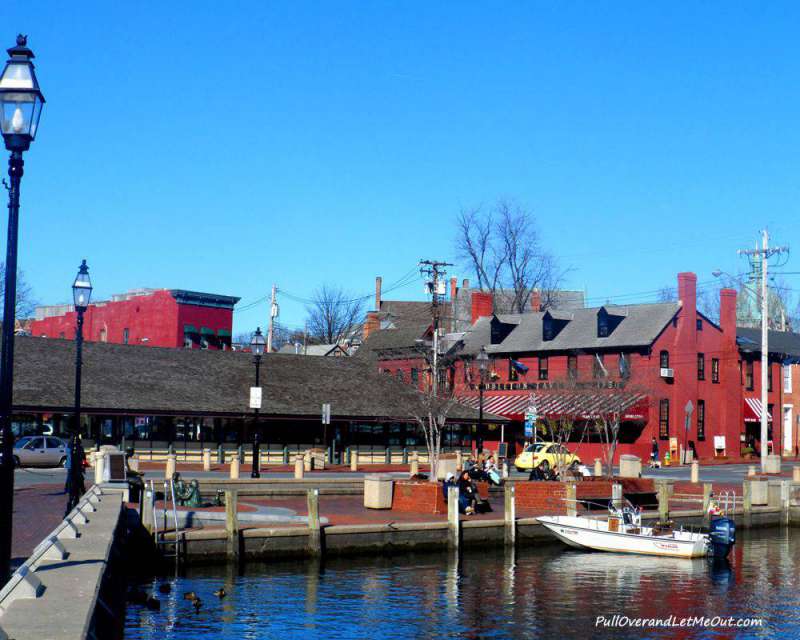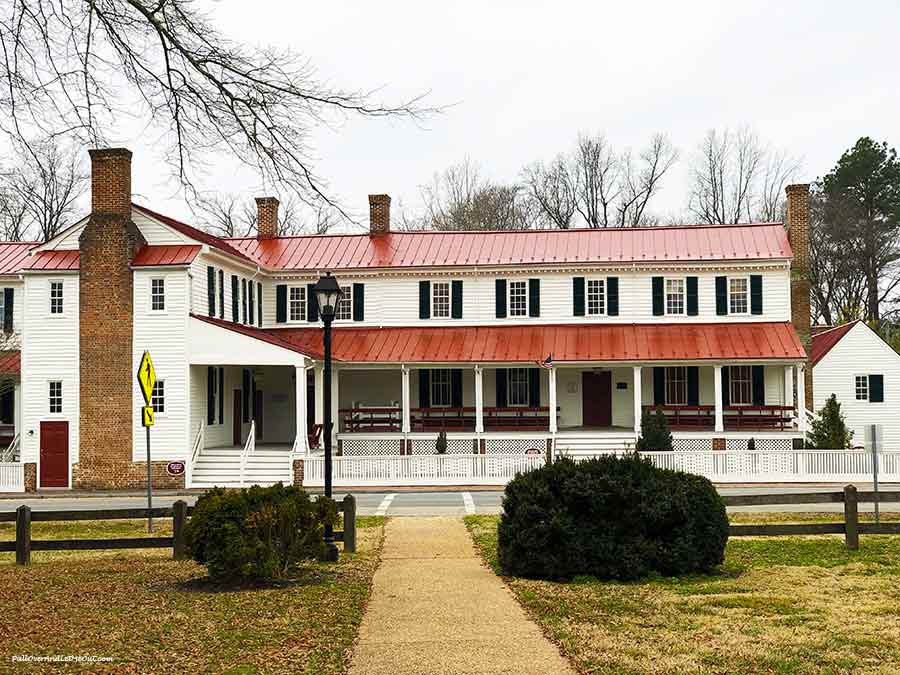 Hanover Tavern, Hanover, Virginia
Situated between Richmond to the south and Fredericksburg to the north, the Hanover Tavern has been an important landmark in the community for over two centuries, serving meals and providing lodging to travelers and those having business at the courthouse across the street.
In those two hundred plus years, the Hanover Tavern has entertained several notorious visitors. Famous guests include George Washington, the Marquis de Lafayette, Lord Cornwallis, Edgar Allen Poe, P.T. Barnum, Charles Dickens, and Chief Justice John Marshall.
The tavern was once owned by the in-laws of Patrick Henry from 1750-1764.  Henry lived at the tavern for several of those years and even argued the Parson's Cause case, a famous challenge to royal authority, at the courthouse across the street in 1763.
With all this history and good food, Hanover Tavern is another Pull Over And Let Me Out favorite! (read more here)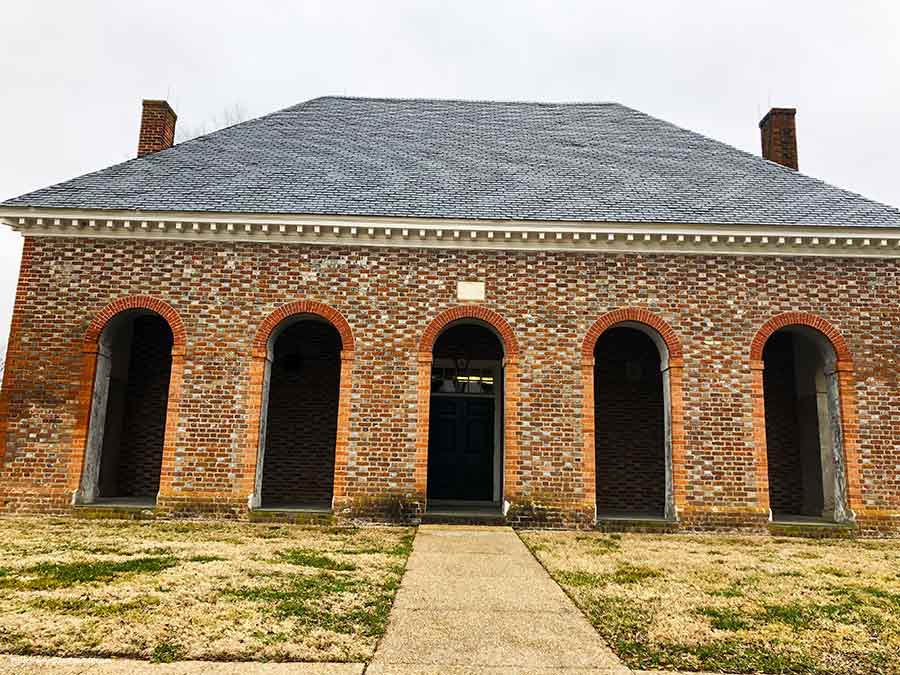 Hanover Tavern
13181 Hanover Courthouse Road (Route 301)
Hanover, VA  23069
804-537-5050
Tell me, what's your favorite Colonial Tavern? 
If you like this, pin it for later!