Virginia's Hanover Tavern; Yes, George Washington slept here.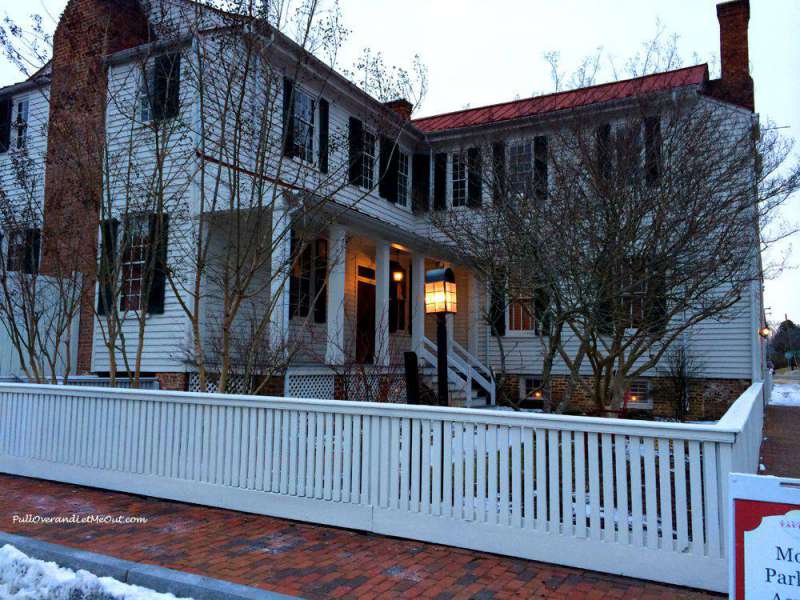 Hanover Tavern in Hanover, Virginia
On a recent trip to Virginia which allowed me the opportunity to stay at some amazing bed and breakfasts, it just so happened I found myself only a few miles away from a historic tavern I had always meant to visit, but for whatever reason hadn't.
I was staying at the Shady Acres Bed and Breakfast in Hanover, Virginia. Shady Acres is a charming country inn just a few miles off I-95 near Kings Dominion north of Richmond.  It's also close to the historic Hanover Tavern.
I grew up in Maryland and all of my father's family lived in the south, so I've traveled this stretch of I-95 my entire life. As a result of frequent travels along this strip of highway, I'd seen the sign for the Hanover Tavern many times throughout the years.
When I realized I was only a few miles away at Shady Acres, it was a no-brainer. I was going to finally eat dinner at the Hanover Tavern.
It was a chilly Tuesday in February, the skies were gray and snowflakes were landing on my nose as I got out of my car. Undaunted, I made my way inside the colonial tavern to enjoy my evening meal.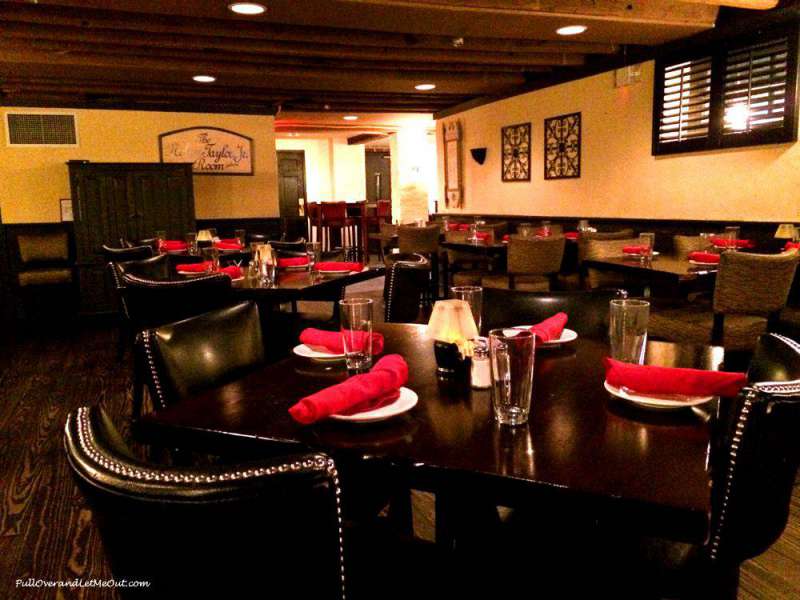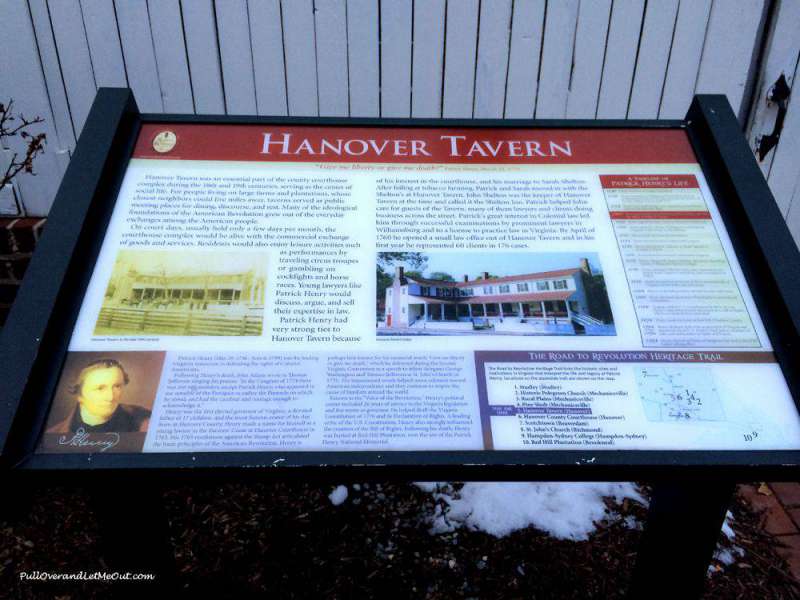 Historical Dining
The original license for a tavern at Hanover Courthouse was issued in 1733.  The tavern was once part of a 550-acre plantation but today occupies 3 and 1/2 acres. It was constructed in phases with its oldest surviving section dating back to about 1791.
Situated between Richmond to the south and Fredericksburg to the north, the Hanover Tavern has been an important landmark in the community for over two centuries, serving meals and providing lodging to travelers and those having business at the courthouse across the street.
In those two hundred plus years, the Hanover Tavern has entertained several notorious visitors. Famous guests include George Washington, the Marquis de Lafayette, Lord Cornwallis, Edgar Allen Poe, P.T. Barnum, Charles Dickens and Chief Justice John Marshall.
The tavern was once owned by the in-laws of Patrick Henry from 1750-1764.  Henry lived at the tavern for several of those years and even argued the Parson's Cause case, a famous challenge to royal authority, at the courthouse across the street in 1763.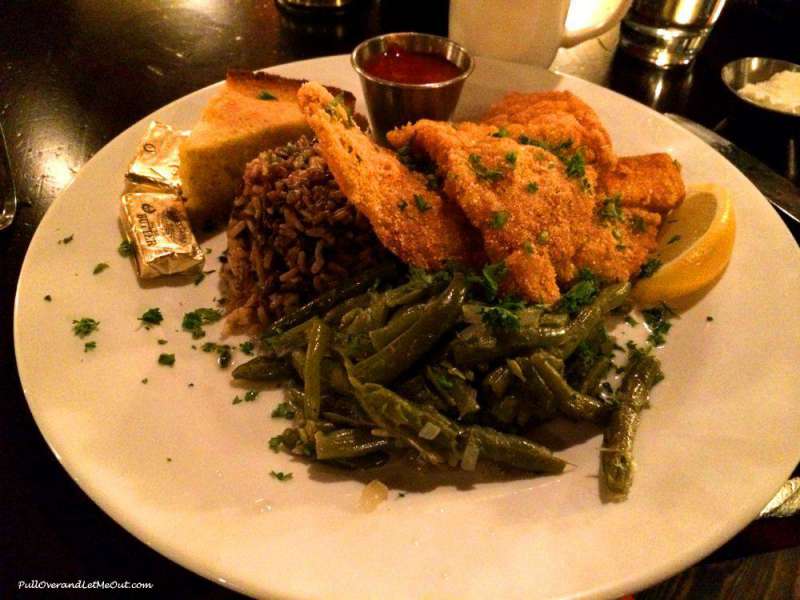 Dinner Theater
Today, the tavern is one of only a few of the surviving Colonial-era taverns in America.  In addition to serving delicious meals in the restaurant, Hanover Tavern is a theater destination.  Founded in 1953, the dinner theater is the oldest, continually operating dinner theater in America.
Because it has such a rich history, the Hanover Tavern is also a favorite field trip destination and offers a variety of educational programs and tours for students.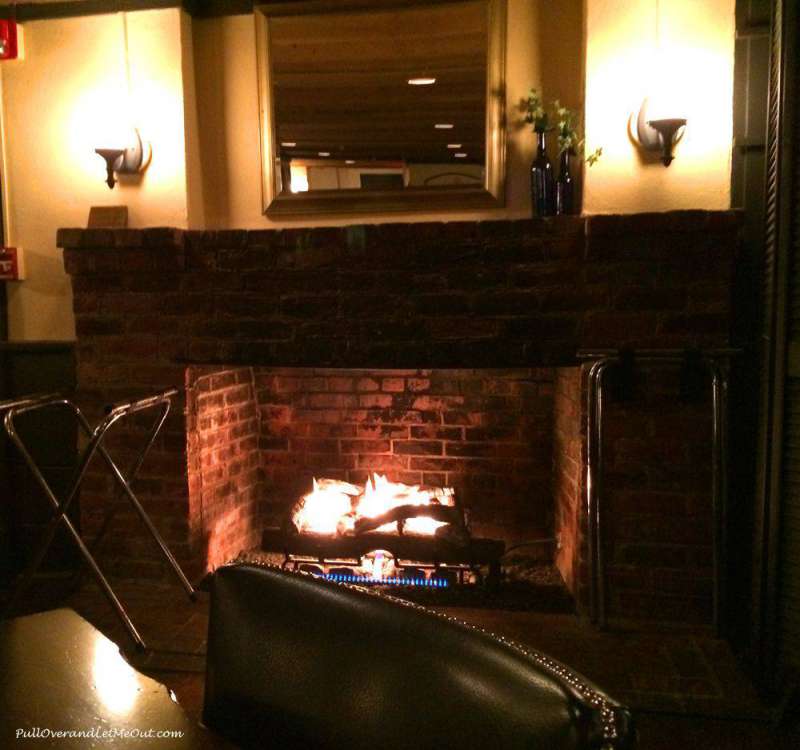 Though business brought me to this part of Virginia, I was delighted to have the pleasure of dining at a cozy fireside table on a cold February evening.  The historic Hanover Tavern is an incredibly well-preserved colonial inn serving more than delicious meals – it's an important, thriving part of the Hanover community with a proud heritage.
If you find yourself driving along I-95 and see the signs for the Historic Hanover Tavern, it's worth taking time to visit.  I know I'm glad I finally had the chance to say, "Pull over and let me out."
Hanover Tavern
13181 Hanover Courthouse Rd.
Route 301
Hanover, VA 23069
(804) 537-5050
Monday
CLOSED
Tues-Thurs
11 am – 9 pm
Fri-Sat
11am – 10pm
Sunday
11 am – 8 pm
* You may want to call ahead to reserve a table.
IF YOU LIKE THIS, PIN IT FOR LATER!