Those simple words written on the outside of a mailbox launched an 11-year love story at Wrightsville Beach, North Carolina. As a result, the love story is simply known today as The Wrightsville Beach Mailbox.
In 2003, Bernie and Sidney Nykanen placed a mailbox and a bench at their favorite spot on the north end of the beach. Supplying pens and small notebooks inside the mailbox they left instructions to "leave a note." For the next 11 years, the Nykanens faithfully maintained the mailbox as a labor of love. In that time the mailbox served as a repository for love notes, marriage proposals, notes of joy, notes of sadness, notes to lost loves – in all the meditations left by strangers filled over 200 journals.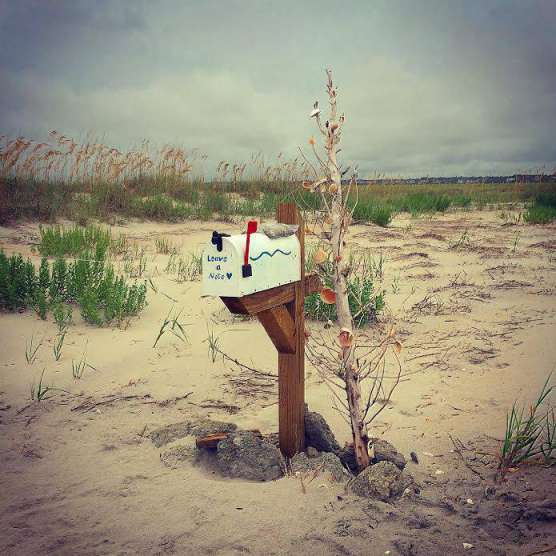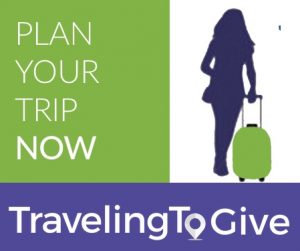 Disclosure:
Many of the links you see on this site and within our trip planning tool are affiliate links. If you click through and make a purchase, I'll get a small commission and it won't cost you any extra. On selected stories, for those hotel and car bookings made using our TravelingToGive™ tool we contribute 2.5% of gross hotel and car sales to Paws for Purple Hearts. So, thanks in advance for helping me keep bringing you the content you enjoy and, at the same time, giving back to those who so bravely serve our country! #everytripmatters
Wrightsville Beach Mailbox Becomes History
The notebooks became such an important part of the beach that when the Nykanens decided it was time to pass the torch and stop maintaining the box, the volumes of notes and the notorious mailbox were sent to the Wrightsville Beach Museum of History.
Madeline Flagler, from the Wrightsville Beach Museum of History, enjoys speaking with visitors coming to see the notebooks. Many share their memories with her. One guest told how she'd written a note each summer she visited Wrightsville Beach as a child. There are also stories of UNC Wilmington students leaving notes as part of a college tradition. And naturally, there are stories of the many love letters left over the years.
As Flagler says, "the mailbox on the beach became a piece of current history and symbolic of the spirit of Wrightsville Beach."
Though the Nykanens no longer maintain their mailbox on the beach, beachgoers can still leave a note. Today, there are two mailboxes on the north end of Wrightsville Beach.  Student ambassadors from UNC Wilmington are preserving and maintaining the tradition and the love story of this cherished time capsule overlooking the Atlantic.
And yes, they still encourage everyone to "leave a note."
Wrightsville Beach Museum of History
303 W. Salisbury Street
Wrightsville Beach, North Carolina
To read more about the Wilmington and Wrightsville Beach area, click here. 
► Plan Your Trip to Wrightsville Beach Now!
How does TravelingToGive™ work?
It makes it simple to plan your trip and to give back with each trip. We've pre-filled the destination from the article and if there are multiple places mentioned in the article, we've put the one that is best used as your base to see all of the places mentioned.
Just select I'M STAYING and enter the travel dates and hit SEARCH. It automatically uses the first place in the article. For a multi-day trip, if you stay near that location, you should be able to use it as your base. If available, you'll also see B&Bs, condos, apartments and private homes in the results.
Can I change the destination? Yes, it is super simple. Just click on the pencil and enter the name of any place mentioned in the story. Or you can enter any address or even the name of a company if you are mixing business and pleasure.
Just click I'M DRIVING and you can see how long it will take, get driving directions and even rent a car if you need one.
Yes, we guarantee the best published rates on hotels. No more spending hours looking for the best price. Click on the link for BEST RATE 110% GUARANTEE for details.
Can I earn frequent traveler points?
On hotel bookings, this is up to the hotel chain. Once you make your booking and have received your confirmation, call your hotel loyalty customer service number and give them the hotel confirmation number (this is different from the Trip ID).  Ask them to enter your number in the record. Or you can ask at the hotel when you check in.
On car rental or air bookings, the system will prompt you for your number and it will be in your booking with the travel provider.
I have a charity that I would like to benefit with my travel. Can I do that?
Yes, we realize that while the charity we have selected may not resonate with everyone.

If you want to sign up for your own tool, either as an individual, a company or a non-profit, click on the link below to register for your own tool. It is free and it only takes minutes.
Hey pinners, save this for pinning after your trip
After you get back from your trip, please use these images to post to social media or post your own photos.  Please tag us on your post #pulloverandletmeout
You can also use the social sharing links on the SmartTrip tool.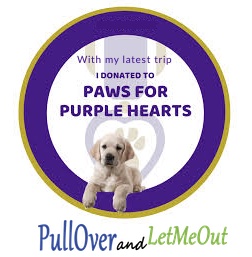 More travel stories you'll love reading!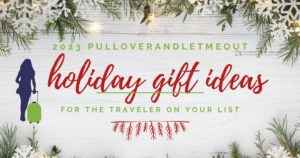 Travel with PullOverandLetMeOut to discover 2023's hottest holiday gift ideas for the traveler on your shopping list.
Read More »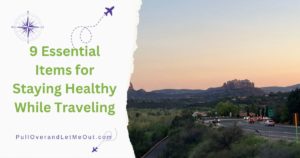 Make a healthy trip a priority. Travel with PullOverandLetMeOut to discover 9 essential items for staying healthy while traveling.
Read More »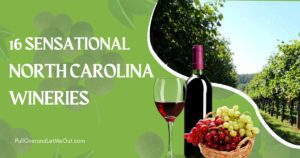 The wine world is taking notice of North Carolina wine. Join PullOverandLetMeOut as we explore 16 incredible wineries in the Tar Heel State that you won't want to miss.
Read More »
Shop for the hottest travel gear!