St. Michaels is located on Maryland's picturesque Eastern Shore and while I've visited and written about it previously, I'd never seen this magical town on the other side of the Chesapeake Bay from the water. Now that I've had the pleasure of a nautical view of the historic port city, I can confidently tell you why you should take a sunset tour in St. Michael's, Maryland.
Disclosure:
Many of the links you see on this site and within our trip planning tool are affiliate links. If you click through and make a purchase, I'll get a small commission and it won't cost you any extra. On selected stories, for those hotel and car bookings made using our TravelingToGive™ tool we contribute 2.5% of gross hotel and car sales to Paws for Purple Hearts. So, thanks in advance for helping me keep bringing you the content you enjoy and, at the same time, giving back to those who so bravely serve our country! #everytripmatters
Visiting St. Michaels, Maryland
Girl's weekends offer some of the best and most memorable opportunities to see new things and places with good friends and lots of laughter. It can also afford the opportunity to view places from a new and different perspective. Our annual get-together was made even more special when my life-long friend and gracious hostess for the weekend, Sherri, suggested a sunset cruise.
My response to Sherri's idea was an immediate, Ahoy!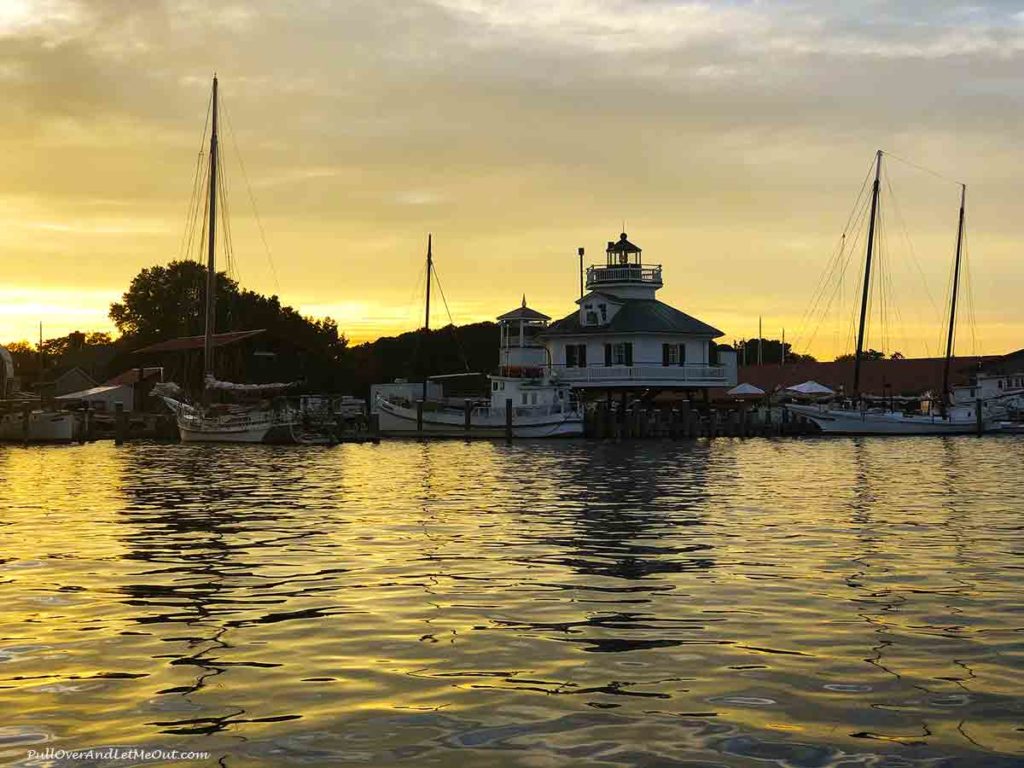 A Sunset Cruise of St. Michaels
This sounded like a lot of fun. So, on a crisp late September Saturday evening, my friends and I boarded a St. Michaels Harbor Shuttle Tour boat for a Sunset Cruise.
We met the boat and our skipper, Captain Joyce, outside the Crab & Steak Restaurant on Mulberry Street in the main port. We climbed aboard the boat where we learned the basics such as the location of the life jackets, cooler, and fire extinguisher as well as what to do just in case we needed to call in the Coast Guard. (Thankfully this was an extremely remote possibility)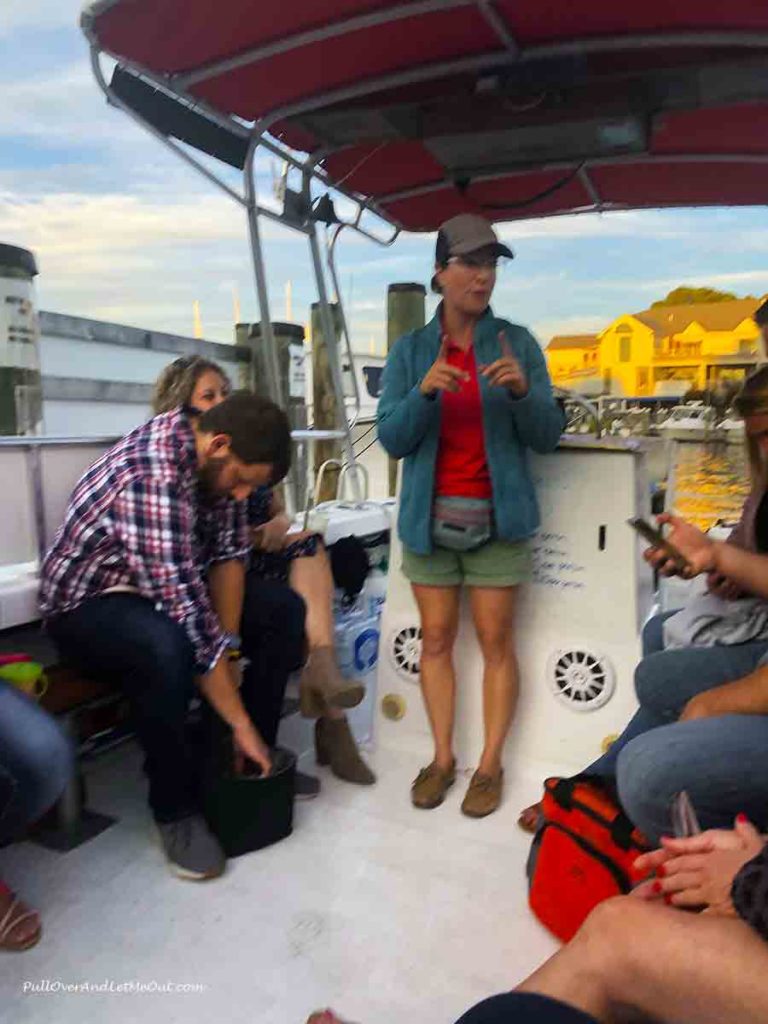 St. Michaels Harbor Shuttles began offering these tours in 2020, and they have rapidly become a must-do when visiting St. Michaels. Each tour lasts around an hour, is BYOB (bring your own beverages), drinks, food, and pets are welcome and costs $35 per person. In addition to quietly floating along Miles River and admiring the gorgeous harbor, we are blessed with a breathtaking sunset view at the moment the golden orb is putting on a brilliant display as it sinks behind the St. Michaels skyline.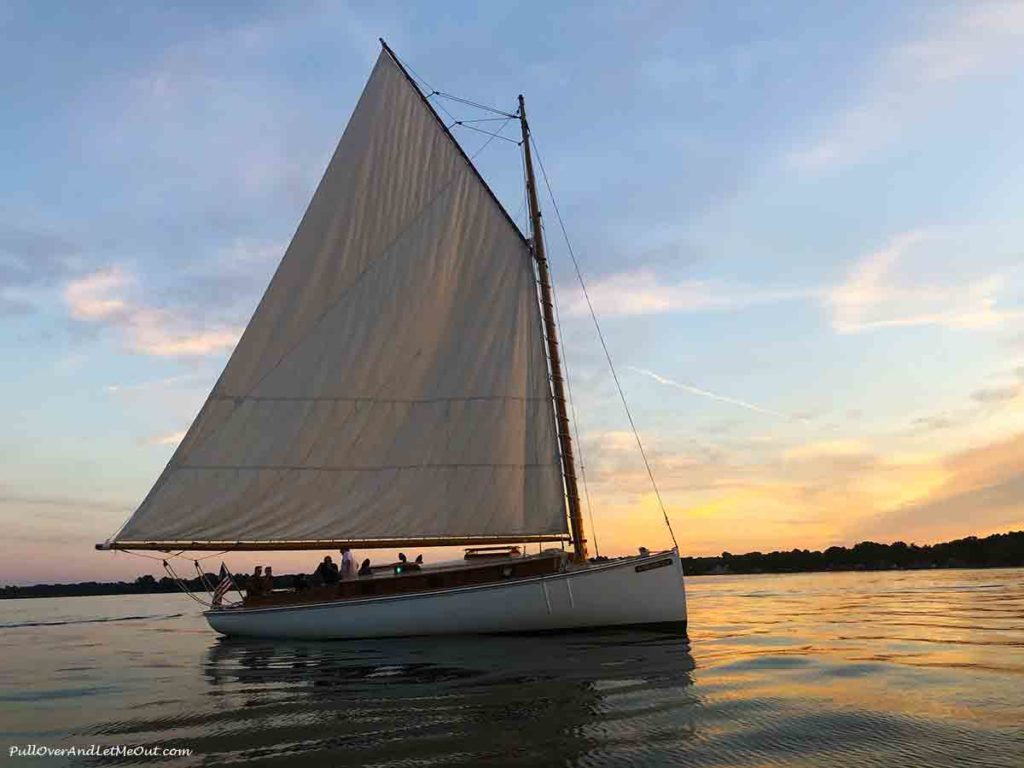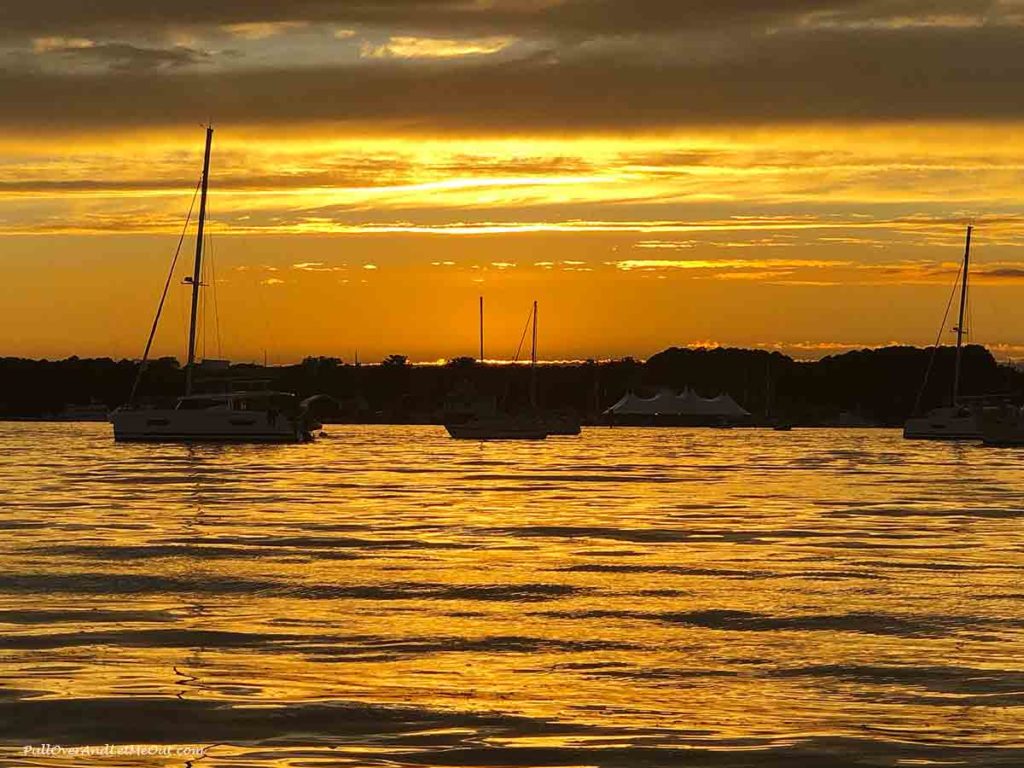 Seeing St. Michaels from the water
The fun doesn't end the moment the sun dips below the horizon. While there is still a little light in the gloaming, Captain Joyce treats us to a tour filled with historic tidbits about the things we're seeing. She regales us with the story of how the St. Michaels Lighthouse was moved to the Maritime Museum property in pieces.
She also shares the history of the old church that was there before St. Michaels was a town. As we coast along the water, we hear harrowing tales of cannonballs flying overhead during the War of 1812 and of how the townspeople outsmarted the British Navy.
Similarly, she takes us past the iconic Crab Claw restaurant and even points out the lovely inn where the movie Wedding Crashers filmed a wedding scene a few years ago. Each item she reveals sheds light on another fascinating aspect of the story of St. Michaels, Maryland.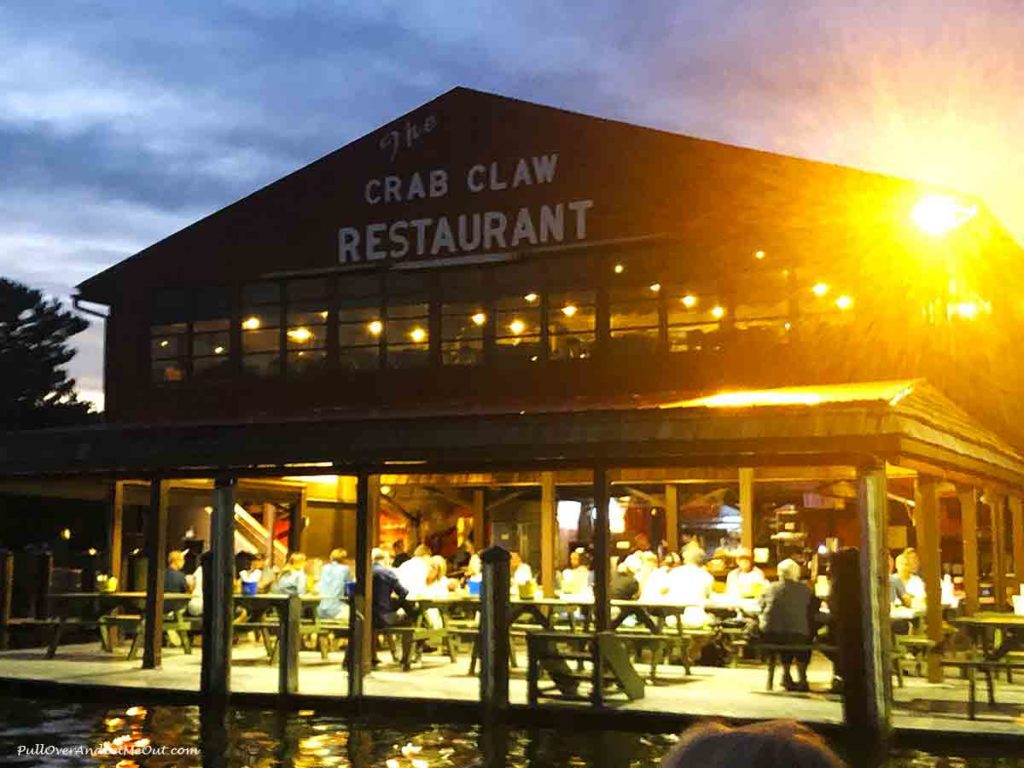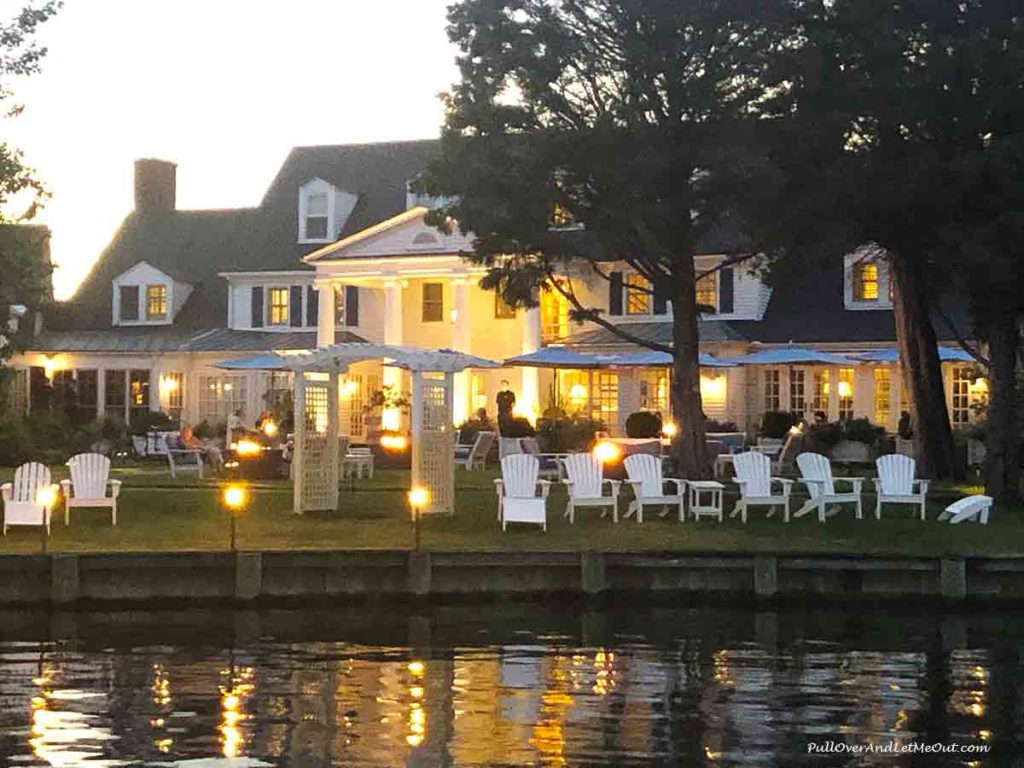 Is a sunset cruise of St. Michaels worth it?
My friends and I had a great time sailing around St. Michaels at sunset. It's a one-of-a-kind and enjoyable activity that has become a highlight of our time together this year.
The scenery, the history, the soothing calm of the water, and the camaraderie of life-long friends made this a magical and memorable itinerary item. And while I can't guarantee you'll enjoy the same blissful weather we were blessed with that Saturday evening, I can sincerely endorse a water view and sailing around St. Michaels, Maryland.
To quote the St. Michaels Harbor Shuttle Tours website, "You haven't seen St. Michaels unless you've seen it from the water!"
Hey, Pinners! Pin this for later!
► Plan Your Trip To St. Michaels, Maryland, Now!
Hey pinners, save this for pinning after your trip
After you get back from your trip, please use these images to post to social media or post your own photos.  Please tag us on your post #pulloverandletmeout
You can also use the social sharing links on the SmartTrip tool.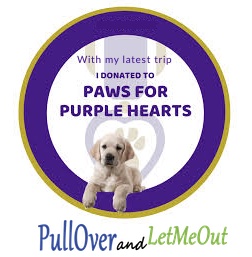 More stories you'll love reading!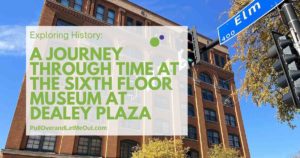 An outstanding museum dedicated to the solemn and historic event that occurred on November 22, 1963, is located within the former Texas School Book Depository building. Travel there with PullOverandLetMeOut to discover why the Sixth Floor Museum at Dealey Plaza is a must-see attraction when visiting Dallas.
Read More »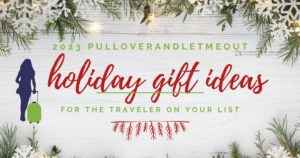 Travel with PullOverandLetMeOut to discover 2023's hottest holiday gift ideas for the traveler on your shopping list.
Read More »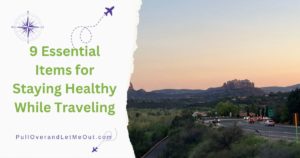 Make a healthy trip a priority. Travel with PullOverandLetMeOut to discover 9 essential items for staying healthy while traveling.
Read More »