Visiting Meteor Crater in northern Arizona, officially known as Meteor Crater & Barringer Space Museum, was not something I had my heart set on when planning our itinerary. However, once we realized we would be driving right past it on our way from Winslow to Sedona, we immediately added it to our itinerary. Largely overshadowed by the other enormous hole in the ground, the Grand Canyon, this crater, nearly a mile across and more than half a mile deep, was created about 50,000 years ago and has an incredible story worth stopping to hear and is an itinerary worthy stop when traveling through northern Arizona.
Disclosure:
Many of the links you see on this site and within our trip planning tool are affiliate links. If you click through and make a purchase, I'll get a small commission and it won't cost you any extra. On selected stories, for those hotel and car bookings made using our TravelingToGive™ tool we contribute 2.5% of gross hotel and car sales to Paws for Purple Hearts. So, thanks in advance for helping me keep bringing you the content you enjoy and, at the same time, giving back to those who so bravely serve our country! #everytripmatters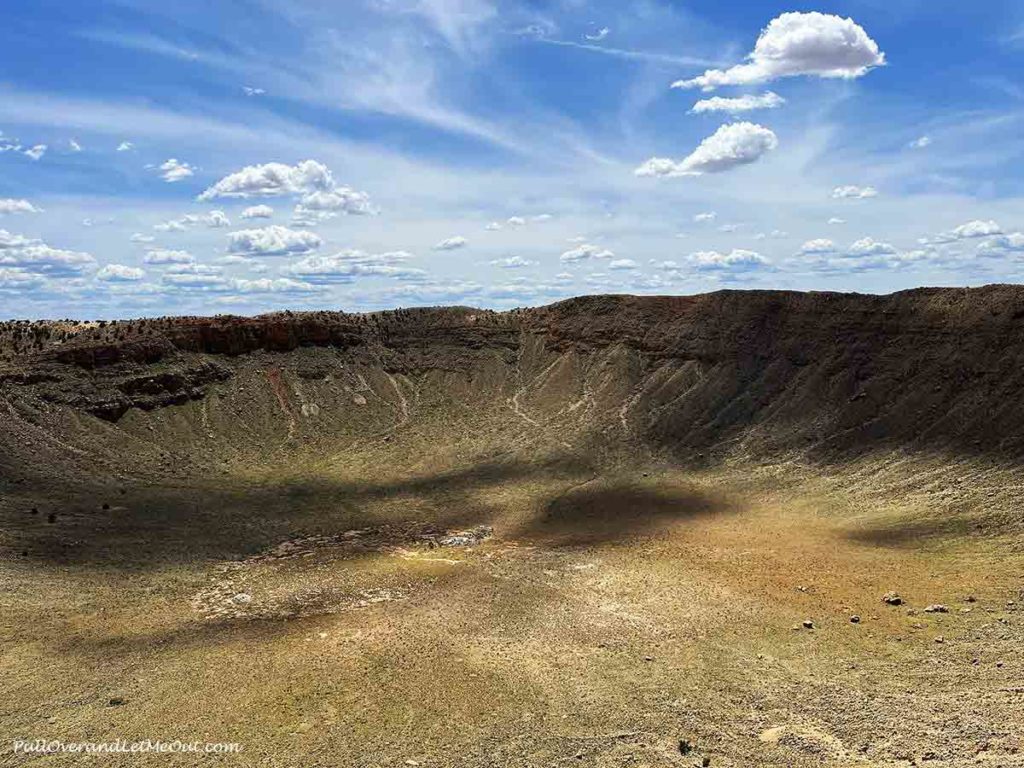 The statistics and facts surrounding how this crater came to be is pretty amazing. According to what we learned on our visit, Meteor Crater was created about 50,000 years ago when a meteor traveling somewhere around 26,000 miles per hour, passed through the earth's atmosphere, and in a cataclysmic explosive force greater than twenty million tons of dynamite, crashed into the earth. 
Flash forward to the twenty-first century, and guests are invited to experience the impact at what is known as the "Best Preserved Meteorite Impact Site on Earth!" Follow the signs on I-40  about 30 miles east of Flagstaff and 25 miles west of Winslow to this historic and incredible impact site where the earth's terrain closely resembles the moon's surface and was even used as a training site for the Apollo astronauts.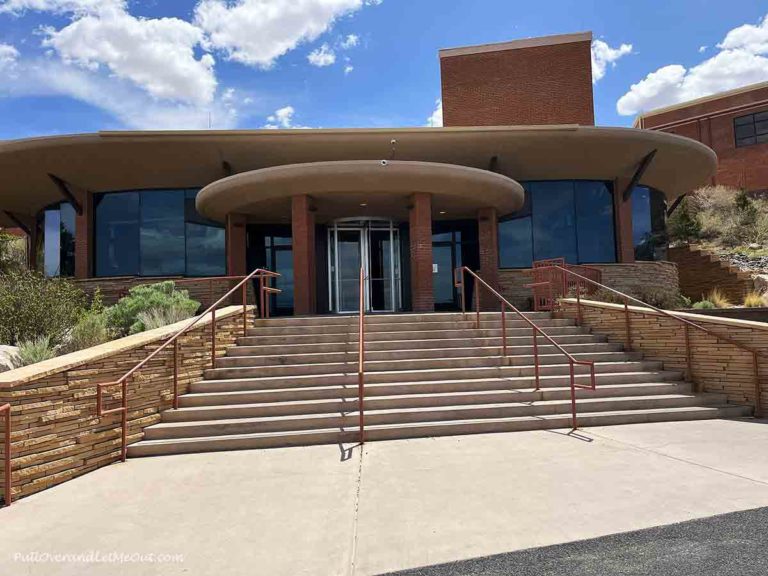 The Meteor Crater Interactive Discovery Center
The visit to the crater begins at the Interactive Discovery Center which is open daily from 8 am to 5 pm 364 days a year. The center houses an array of exhibits that will intrigue visitors of any age and boasts hands-on interactive displays that let guests take a deep dive into the history of the crater. Guests can also learn other fascinating facts like how to identify the difference between asteroids, comets, meteors, meteoroids, and, meteorites. This is an educational experience!
In addition to the engaging interactive self-guided tour of the museum, there are also three lookout points from the rim, the Astronaut Wall of Fame and NASA test capsule, an indoor crater viewing area, a gift shop and rock shop, and a Subway restaurant onsite.
For our visit, we made it a point to take in the movie, IMPACT! The Mystery of Meteor Crater. Shown on the big screen in the 80-seat theater with surround sound, the movie does an outstanding job of conveying the story of the meteor and is the perfect introduction to experiencing and touring the rim of this massive impact site.
There are three lookout points on the rim that are relatively easy to get to and explore on your own. We could venture down to the "covered" viewing area while waiting for the next film showing. 
The views are breathtaking. We were blown away by the size and vastness of the crater and the wind. 🙂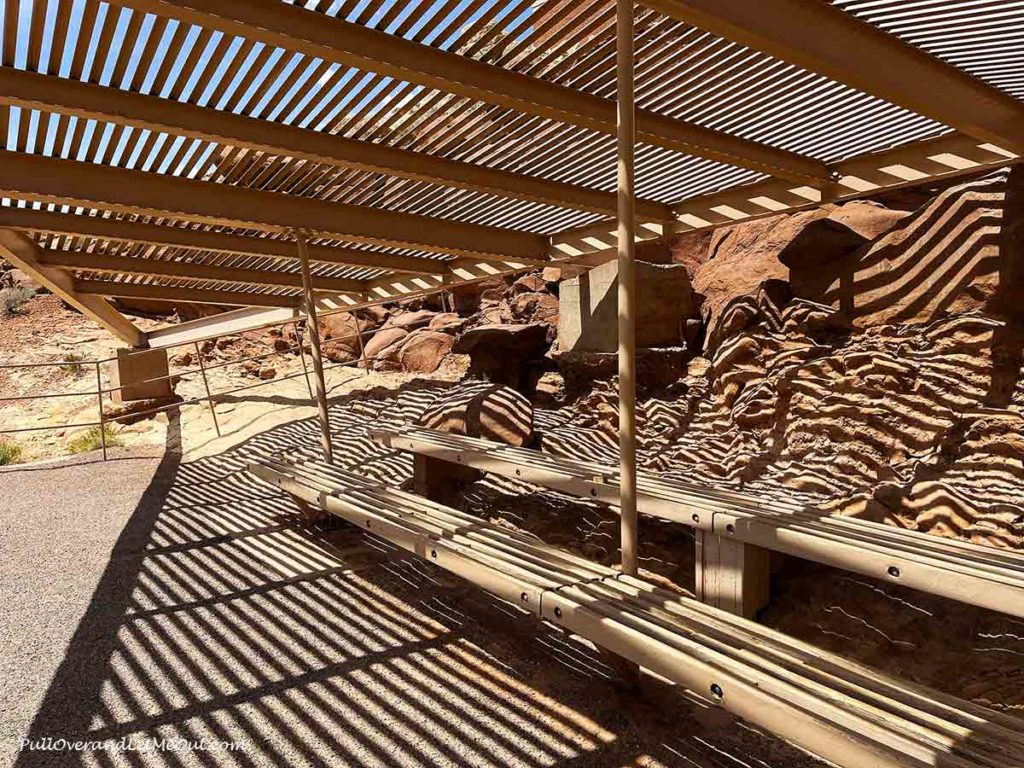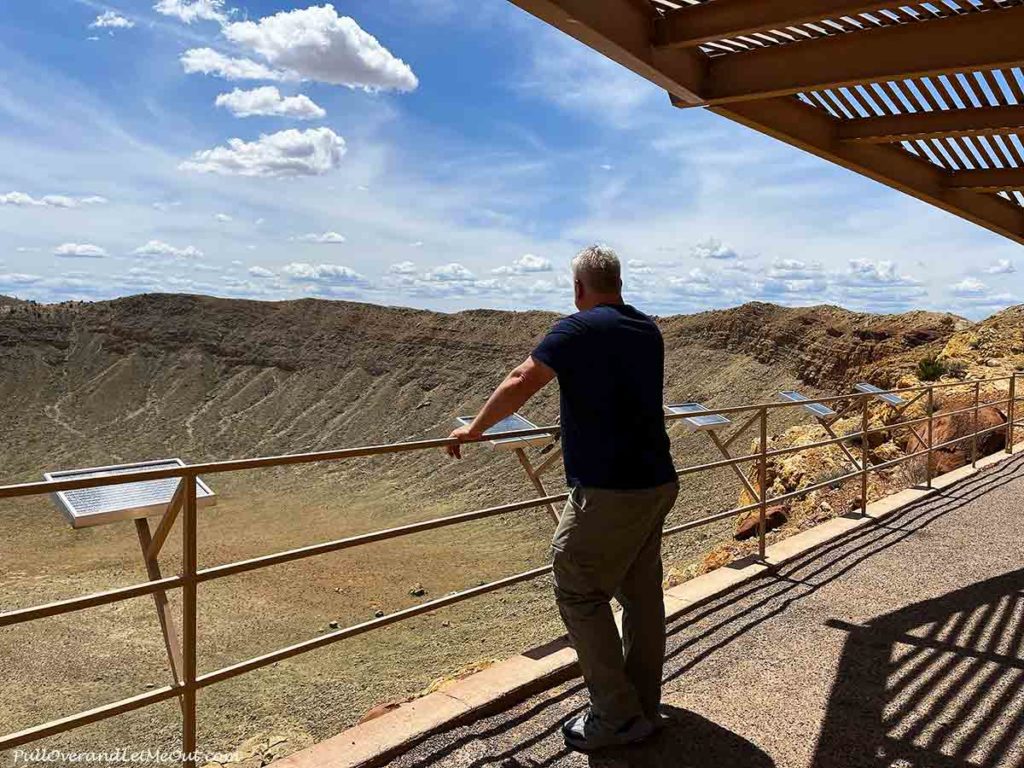 While we enjoyed all of the exhibits and the film, it was the guided tour that really brought home to us the massive scale of the impact and the significance of the fiery meteor that created this magnificent crater. Our guide Jeremy did an outstanding job of educating us and captivating our attention with his extensive knowledge and expertise. He also did a great job of setting expectations for our time along the rim.
The terrain is rugged and extremely windy. Walking the rim isn't for the faint of heart and may be too challenging for those who are unsteady on their feet. Nonetheless, if you're up for it, I highly suggest, weather permitting, taking the tour. They do cancel the tour if the weather is bad or the winds are too high, but if tours are running, it's definitely worth while.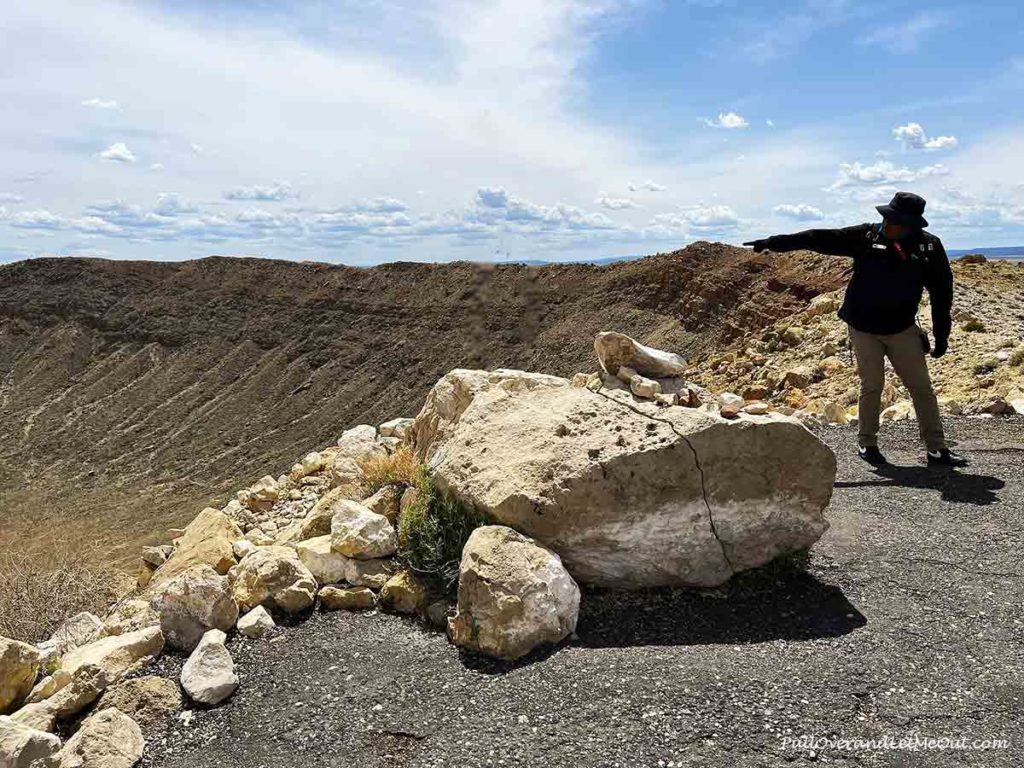 Tips for Visiting Meteor Crater in Arizona
Visiting Meteor Crater in Arizona is an educational experience that is perfect for an array of travelers from families, solo travelers, and groups. The Discovery Center offers guests more than twenty-five interactive exhibits and multiple places to view the crater. Walking the terrain can be challenging so hiking shoes or sturdy athletic shoes are suggested.
It is windy at the crater. That being said, hats while they're great for shielding the sun, can be difficult to keep on the head when the wind kicks up. As Jeremy told us, they've lost many hats to the bottom of the crater, so be forewarned.  Also, our visit was in late April and the weather was fairly cool; wearing layers is always a good idea in this part of the state because the weather is changeable.
Additionally, the guided tour along the rim can be difficult to navigate, our guide strongly advised those who were not up to walking on such rugged and rocky ground to turn back. Several people heeded his warning, and after perseverence, I agree. If you have any doubts about your footing, don't do it.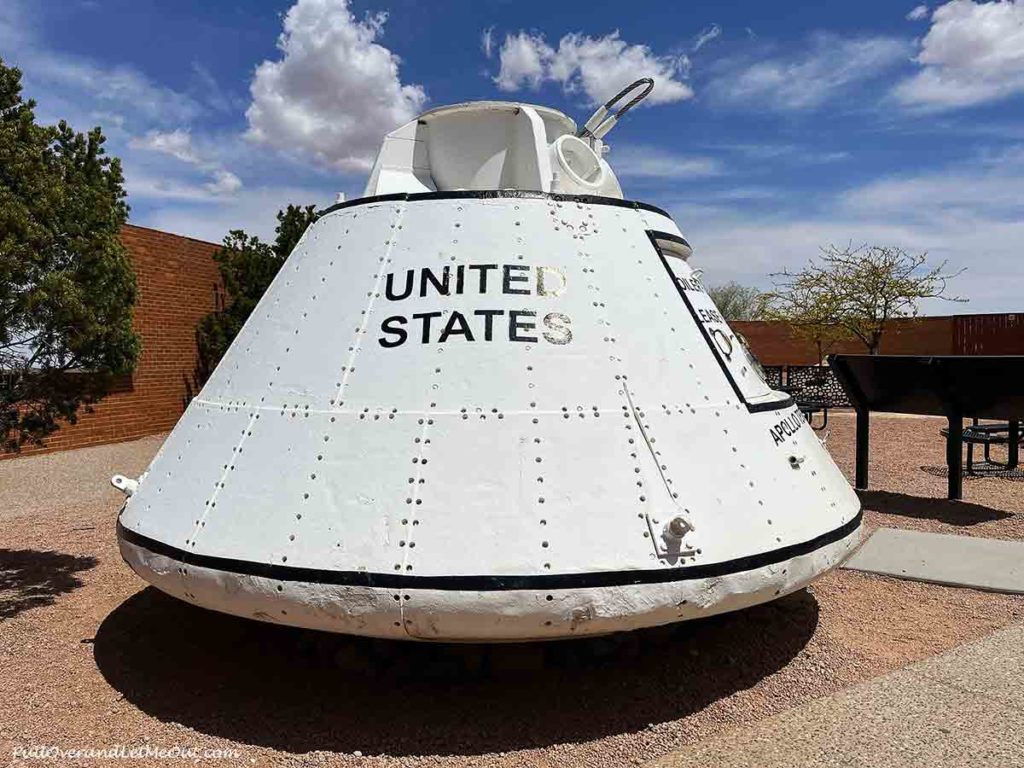 Visiting Meteor Crater in Arizona was an unexpected itinerary extra we hadn't anticipated prior to our arrival. Having spent some time here exploring, I am glad we added it to our itinerary.
The visitors' center is impressive and we enjoyed the self-guided nature of exploring the museum as well as the movie. The gift shop is also impressive in size and the amount of items it offers visitors. 
They have a variety of general admission ticket prices ranging from $18 to $27 depending on age and military status. Active military personnel can enter for free with a valid ID and tickets can be purchased in advance online or at the door.
An added bonus for RV travelers, it is Big-Rig friendly. Meteor Crater RV Park is close to the visitors' center, which makes it a wonderful place to pull up and spend a night if you're traveling through the area. It also offers excellent views of the San Francisco Peaks in the distance.
While the Grand Canyon was the "main attraction" of our trip to Arizona, discovering this lesser-known hole in the ground proved to be a travel bonus. Maybe visiting a big hole in the ground isn't everyone's cup of tea, but it had a huge impact on us!
Visiting Meteor Crater in Arizona
Hey, Pinners! Pin this for later!
► Plan Your Trip to Meteor Crater Now!
Hey pinners, save this for pinning after your trip
After you get back from your trip, please use these images to post to social media or post your own photos.  Please tag us on your post #pulloverandletmeout
You can also use the social sharing links on the SmartTrip tool.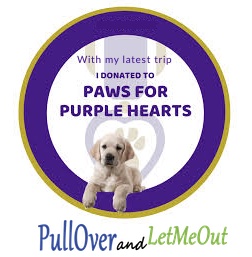 More great travel stories you'll love reading!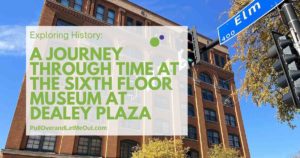 An outstanding museum dedicated to the solemn and historic event that occurred on November 22, 1963, is located within the former Texas School Book Depository building. Travel there with PullOverandLetMeOut to discover why the Sixth Floor Museum at Dealey Plaza is a must-see attraction when visiting Dallas.
Read More »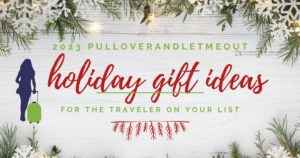 Travel with PullOverandLetMeOut to discover 2023's hottest holiday gift ideas for the traveler on your shopping list.
Read More »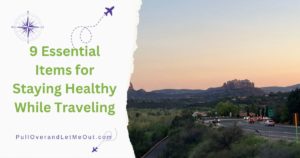 Make a healthy trip a priority. Travel with PullOverandLetMeOut to discover 9 essential items for staying healthy while traveling.
Read More »