The Inn on Mill Creek is nestled within the serene confines of the Pisgah National Forest, just a short twenty-minute drive east of Asheville, North Carolina in Old Fort. This intimate yet spacious bed and breakfast exudes an inviting and relaxed ambiance, creating an idyllic haven for a diverse range of travelers looking to reconnect with nature and enjoy the splendor of a mountain getaway. Join me on a journey as I share the magic of this comfy inn where guests can rediscover serenity. 
Disclosure:
Many of the links you see on this site and within our trip planning tool are affiliate links. If you click through and make a purchase, I'll get a small commission and it won't cost you any extra. On selected stories, for those hotel and car bookings made using our TravelingToGive™ tool we contribute 2.5% of gross hotel and car sales to Paws for Purple Hearts. So, thanks in advance for helping me keep bringing you the content you enjoy and, at the same time, giving back to those who so bravely serve our country! #everytripmatters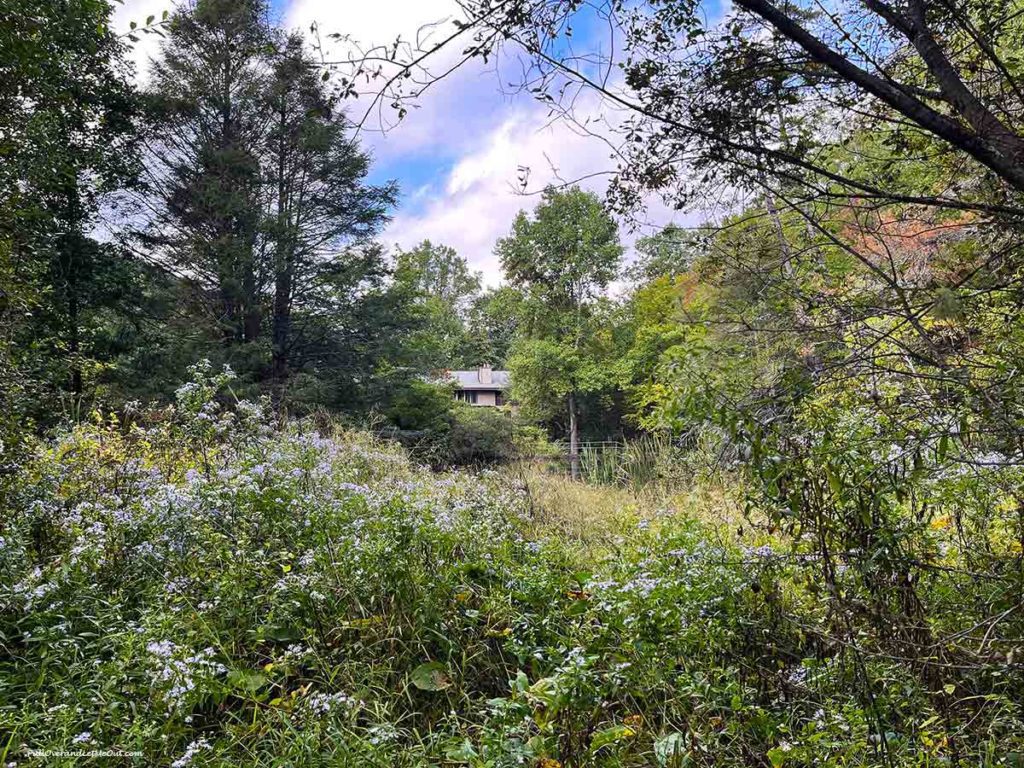 Our trip to the mountains was a birthday celebration for me. My husband had planned this much-needed weekend getaway and I couldn't have been more delighted with his choice of accommodations. We wanted to head west, but we didn't want the busyness of Asheville and relaxation was our objective. Thus, finding this spot in the woods not far from so many of the elements that make a mountain escape desirable turned out to be a great discovery. 
Exit Interstate 40, travel the winding road, and follow the bed and breakfast signs that lead the way to the Inn on Mill Creek. 
The Inn on Mill Creek is located in a quiet corner of the Pisgah National Forest, about 15 minutes from the town of Old Fort to the east and about 10 minutes from Black Mountain to the west. Likewise, it is close to numerous attractions such as Biltmore and Asheville, Chimney Rock State Park, the Blue Ridge Parkway, Mount Mitchell State Park, Linville Falls, and so much more, making it the ideal place to base yourself for a mountain adventure in western North Carolina.
Comfy Accommodations at the Inn on Mill Creek
The Inn on Mill Creek provides an incredibly warm and inviting accommodation, making a stay here exceptionally comfortable and enjoyable. With five guest rooms, a spacious great room, and an abundance of scenic beauty and outdoor spaces, guests can enjoy a world-class getaway that is as busy or tranquil as they choose. 
Each of the guest rooms is exquisitely decorated and designed with guests in mind. Important features include private bathrooms, lush towels, Wi-Fi, hair dryers, plush bathrobes, satellite HD-TV and much more. There is even a pet-friendly room on the first floor with its own private entrance. 
For our visit, we stayed two restful nights in the Evergreen Room which at 600 square feet is the largest and is located on the second floor. In addition to a comfortable king-sized bed, a large bathroom with a tub and shower, and a screened porch that was perfect for sipping coffee and watching birds in the morning before breakfast, the room boasts full-length windows that provide the most splendid views of the garden and woods.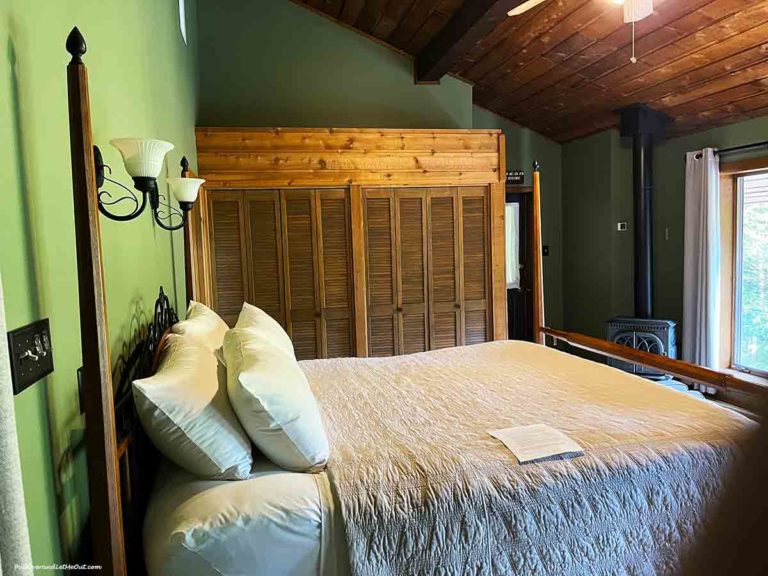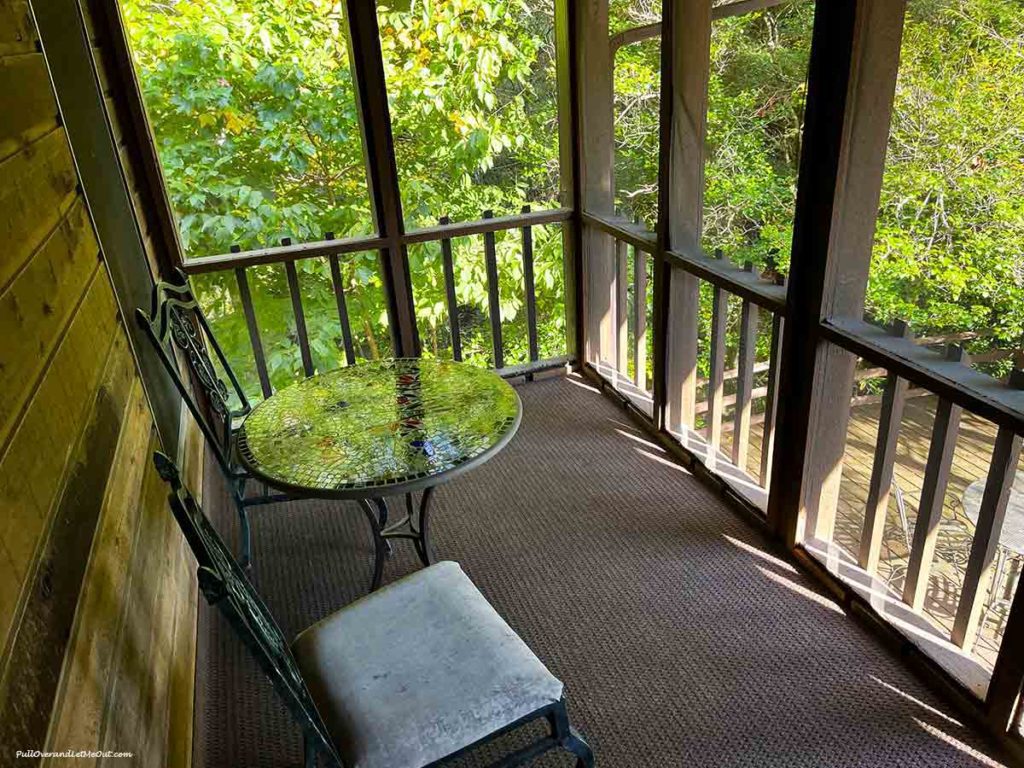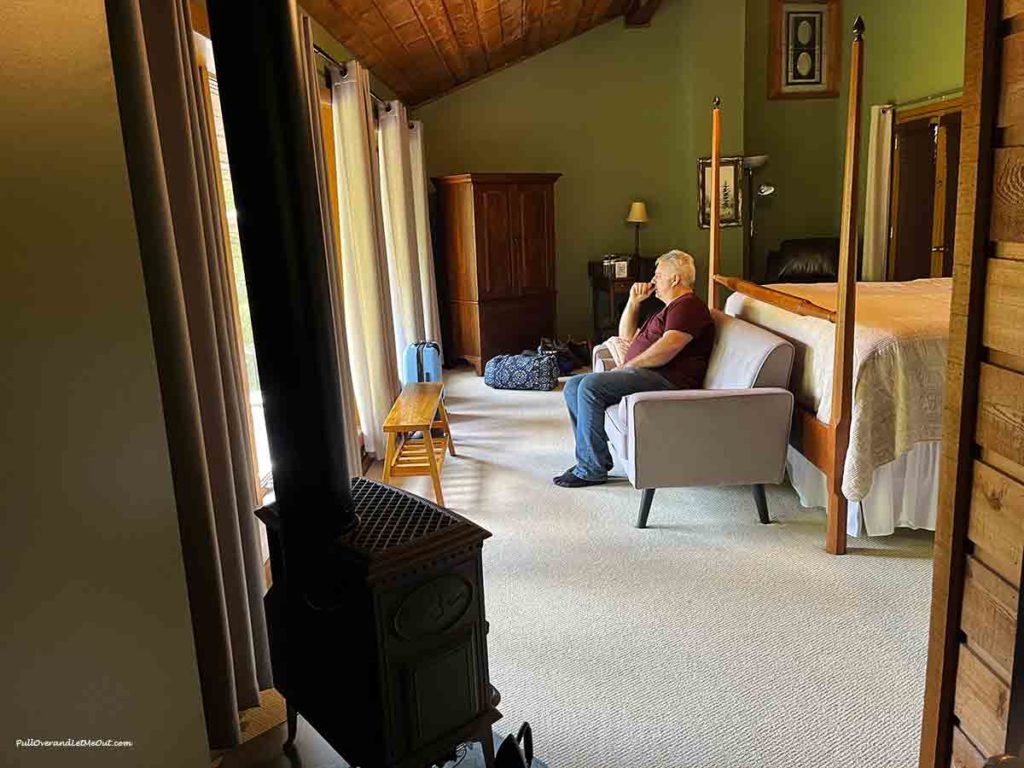 Breakfast at the Inn on Mill Creek
Breakfast is half the fun of staying at a bed and breakfast, and the breakfast at the Inn on Mill Creek is delicious. The morning meal is served in the solarium overlooking the garden during the warmer months. A delicious full breakfast made from the freshest locally sourced ingredients serves as a filling meal to start the day.
Two seatings are offered, one at 8:00 a.m. and another at 9:00 a.m. and freshly brewed coffee is available at 7:30 a.m. Some of the tasty breakfast offerings include Pumpkin Belgian Waffles, Rosemary Shirred Eggs, and Stuffed Puffed French Toast to name a few. 
For our stay, we savored a scrumptious Frittata with sausage with sweet peppers, and Vidalia onions topped with cheese and and ringed in crisp and flaky crescent dough. It was complemented with freshly baked pumpkin bread and baked bananas with brown sugar, topped with cinnamon cream sauce. On day two, an equally delicious meal of Dutch Baby Pancakes with apples baked in cast iron skillets, served with sausage links, scrambled eggs, and fruit proved to be an equally amazing way to start the day. What is more, the innkeepers are willing to accommodate any dietary requirements you may have. Just let them know ahead of time.
Along with the delectable breakfast, I thoroughly enjoyed the company of the other guests. While staying at the Inn on Mill Creek, we had a great time meeting the other guests, talking with them, and learning about their discoveries. We even shared a few "small world" moments.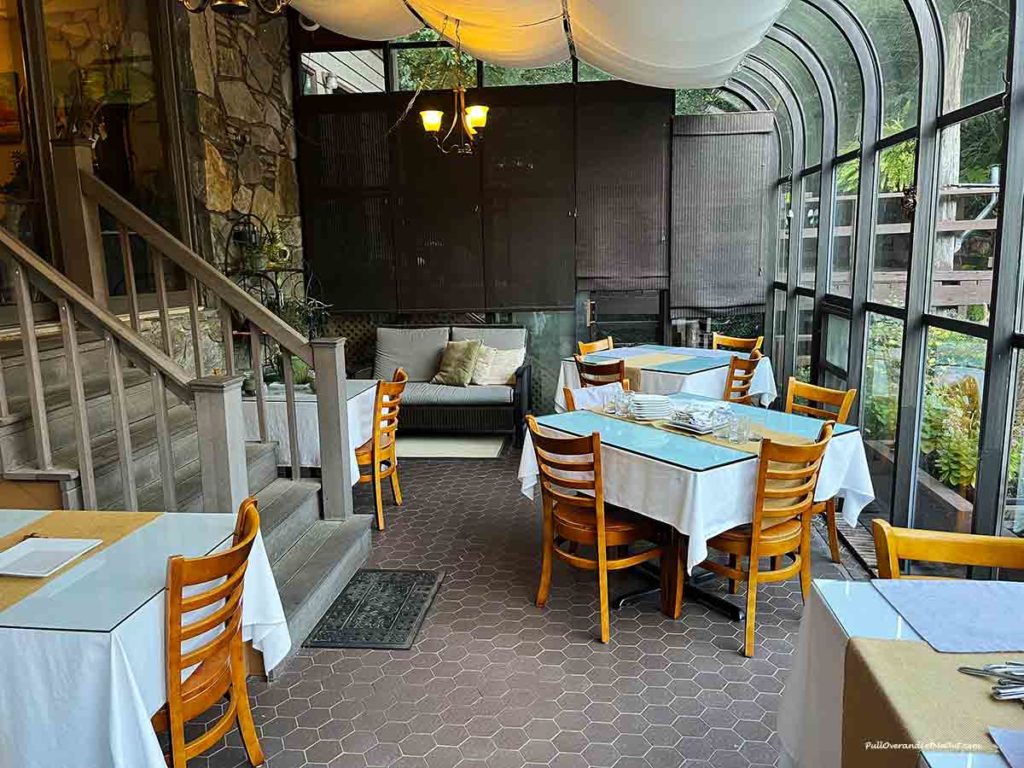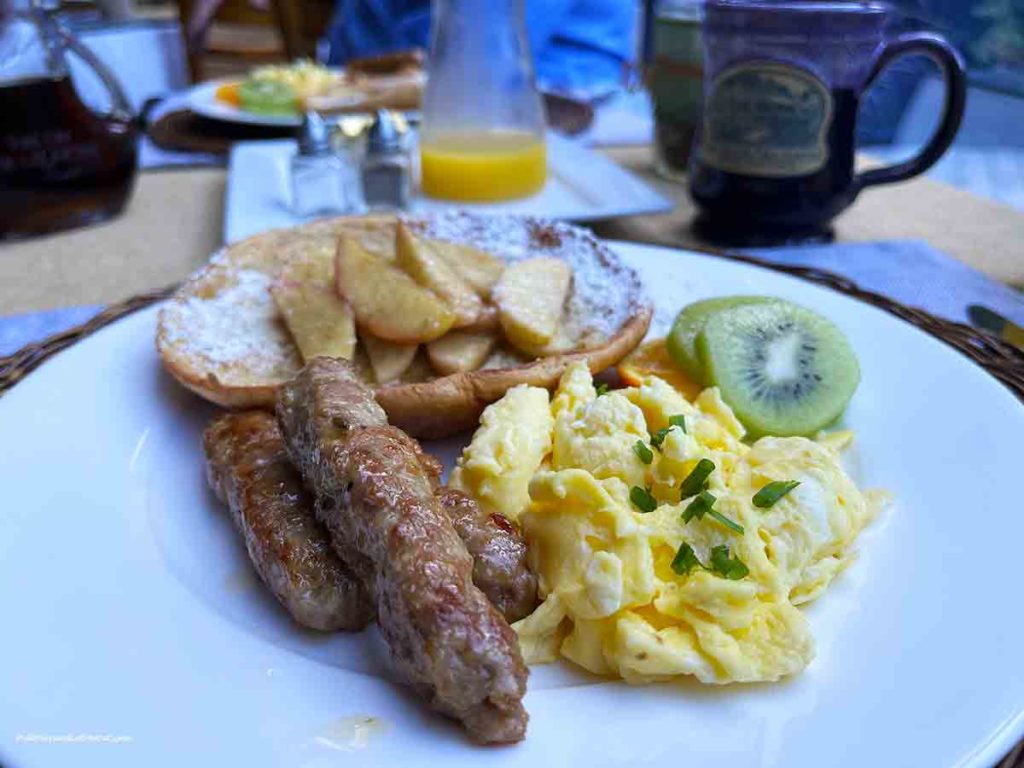 We absolutely fell in love with the setting of the inn. Flanked by forest and foliage, the seven acres of property the inn sits on features a small pond, a gorgeous garden replete with butterflies and beautiful birds, a boardwalk that meanders through a marshy area, and plenty of private seating spaces to sit and read a book or enjoy the serenity. 
Likewise, there is a chiminea that we were able to enjoy as we sat out on the patio, sipping cider while savoring cheese and crackers and chatting with innkeepers Brigitte and Dave. It was a perfect way to spend an early fall evening.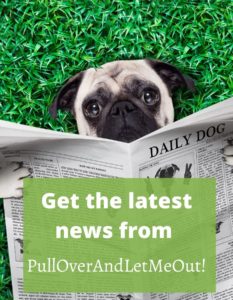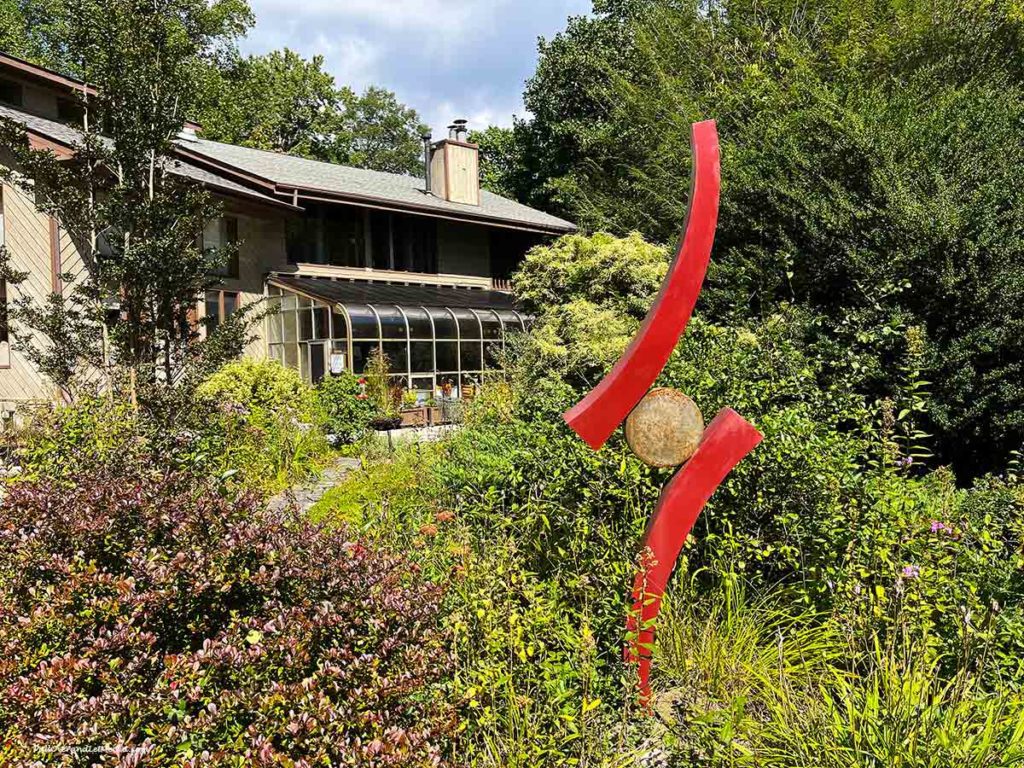 Part of the beauty of a stay at the Inn on Mill Creek is its central location. Beyond the previously mentioned better-known attractions, we took immense pleasure in discovering the nearby towns of Old Fort and Black Mountain. 
Black Mountain is a charming hamlet that welcomes visitors and invites them to stroll the streets and pop in and out of the shops, boutiques, and restaurants.  Similarly, the smaller yet equally charming town of Old Fort is imbued with history and the museum and visitors center are a travel must when visiting. 
Aside from these two towns, there is a plethora of fun alternatives for any visit, including museums, shopping, breweries, wineries, boutiques, and more. The choices are limitless.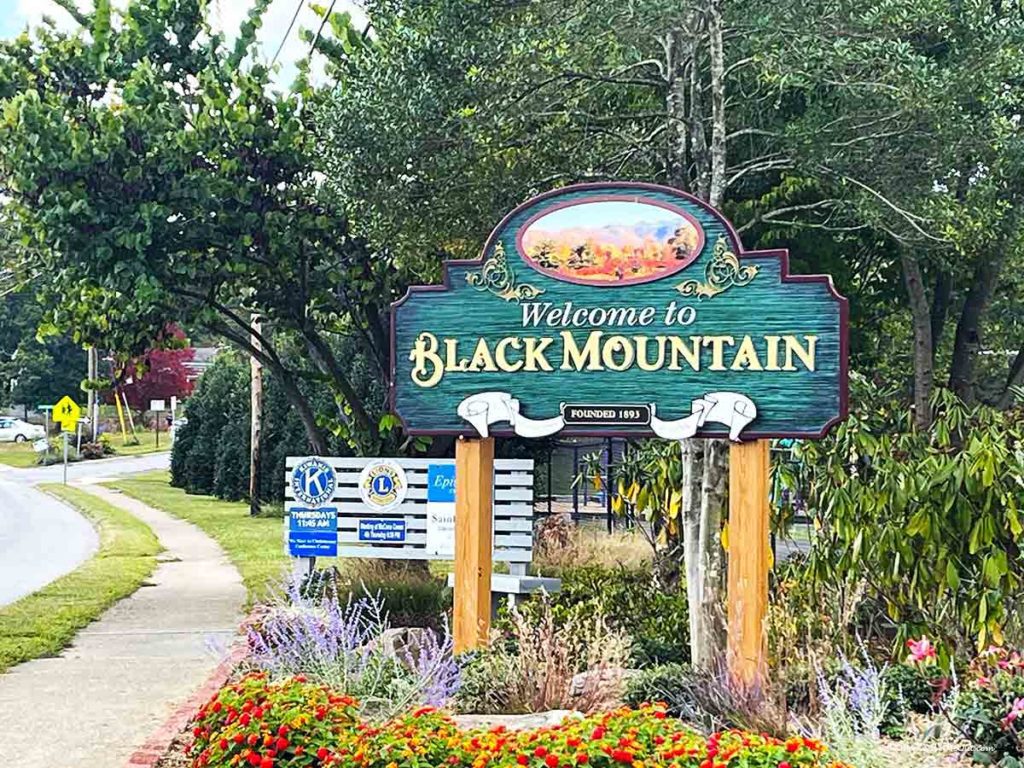 Dining alternatives abound when you make the Inn on Mill Creek your hub when visiting the Pisgah National Forest. The choices are endless with Asheville, aka "Foodtopia," a short distance away. Likewise, there are many possibilities nearby in Black Mountain and Old Fort. 
We had a flavorful late lunch at Ole's Guacamoles Mexican restaurant prior to exploring downtown Black Mountain. The colorful and cheerful restaurant sits on the banks of Flat Creek and has a terrific outdoor seating area. As a result, it was a fun spot to enjoy a meal before checking into the inn.
On the second day of our getaway weekend, we had a fabulous post-hike late lunch at Hillman Beer in Old Fort. It is a wonderful establishment for outstanding food and craft beer situated on the banks of Mill Creek. We sat on the water's edge, admiring a visiting heron and sipping cider. Jason got a club sandwich, while I got a Reuben with the leanest corned beef I've ever had. Everything about it was fantastic.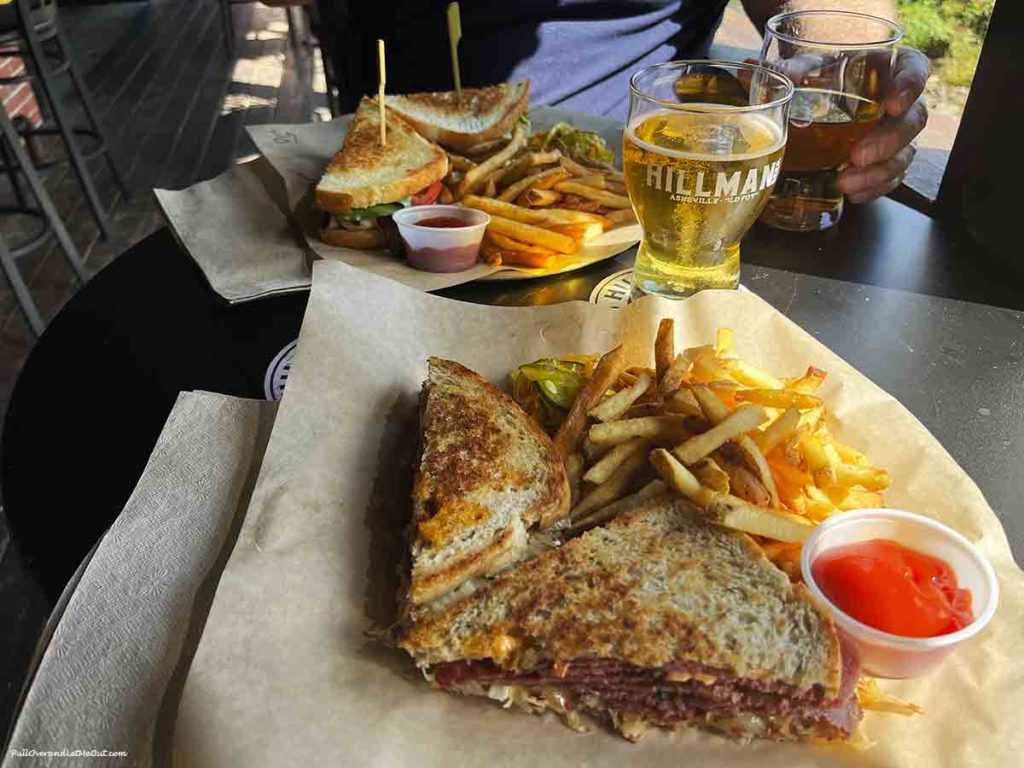 Speaking of hikes, whether you're an experienced trailblazer or simply looking for a scenic walk in the woods, this is the place. There is a long list of trails of varying length, difficulty, and views to select from. Moreover, there is fishing, biking, birding, geocaching and more. You're literally surrounded by trails, scenery, and outdoor adventures.
We took a short drive to nearby Montreat during our stay to put our hiking skills to the test on Lookout Trail. This is a moderate trail that is 1.4 miles round trip and offers an incredible mountain view as a payoff when you reach the top. Although I and several others we met at the top may disagree on whether the climb is "moderate" or "strenuous," it is a terrific quad and cardio workout. Either way, we departed with a sense of accomplishment and spectacular memories of the view.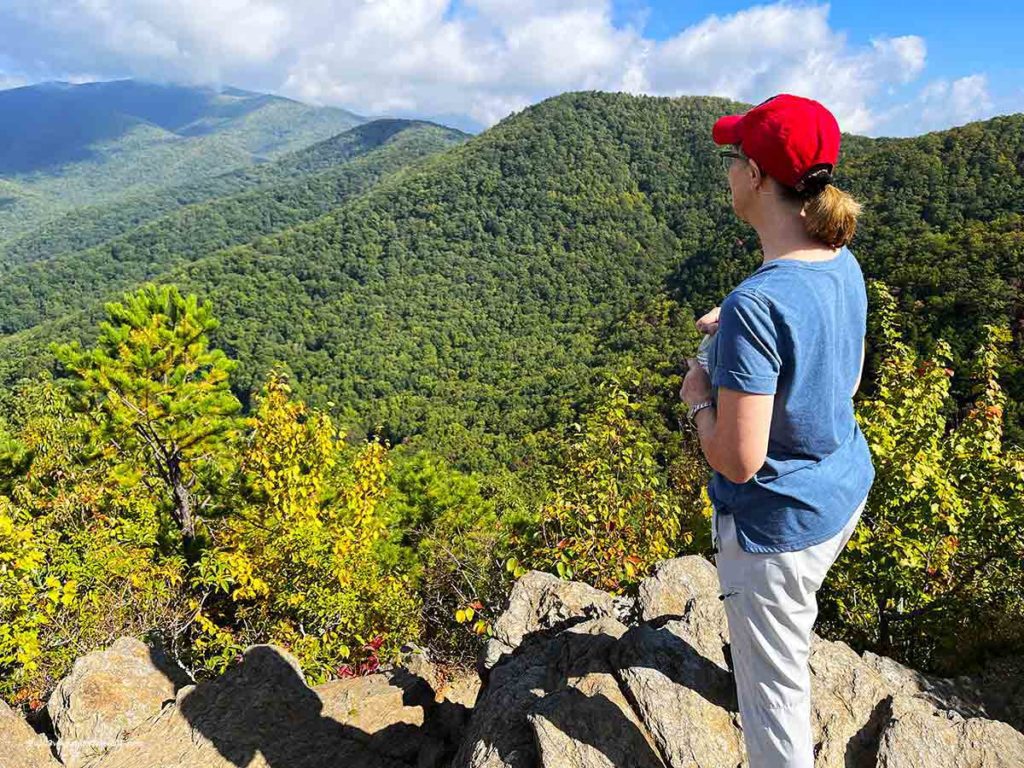 Tips for Planning Your Stay at the Inn on Mill Creek
The Inn on Mill Creek offers multi-season availability that makes a stay here enjoyable year-round. From springtime blossoms, summer days, fall leaves, and cozy winter getaways, any stay is a joyful escape to the serenity of nature. If relaxation and getting back to nature is your objective, this is a place that lets you relax and unplug as much or as little as you desire.
Beyond the natural scenery, there is an incredible amount of activities and attractions including art museums, beer trails, and a quilt trail. Additionally, with its proximity to Asheville, there is Biltmore Estate, which is preparing for another Chihuly exhibition in March of 2024, and all that the eclectic mountain town has to offer is a short drive away. 
There is a wonderful Ingles grocery store in the town of Black Mountain which is perfect for picking up snacks, drinks, or the fixings for a picnic lunch. We bought the makings of our own charcuterie and had fun enjoying nibbling by the fire.
Innkeepers Brigitte and Dave make staying at the Inn on Mill Creek a relaxing process. With easy online booking and a self-service check-in option, every detail from booking to departing is effortless. They offer special packages and a discount for multi-night stays of three or more nights and a "quiet season" rate from January through March. They also have special discounts for educators, military, and solo travelers. 
"Serenity Now!" 
The line from an episode of Seinfeld popped into my head repeatedly while staying at the Inn on Mill Creek. This is the type of place where it's possible to truly embrace getting away from it all. That being said, there is so much to do and see that we left determined to return. We've only scratched the surface when it comes to exploring the region and enjoying all it has to offer. Oh, and we fell in love with the owner's pugs. As a pug mom, finding out this is a pug home immediately made me feel at ease.
Rest, relaxation, comfortable lodging, beautiful scenery, good food, all the little touches, and pugs – that's a winning Pull Over and Let Me Out combination.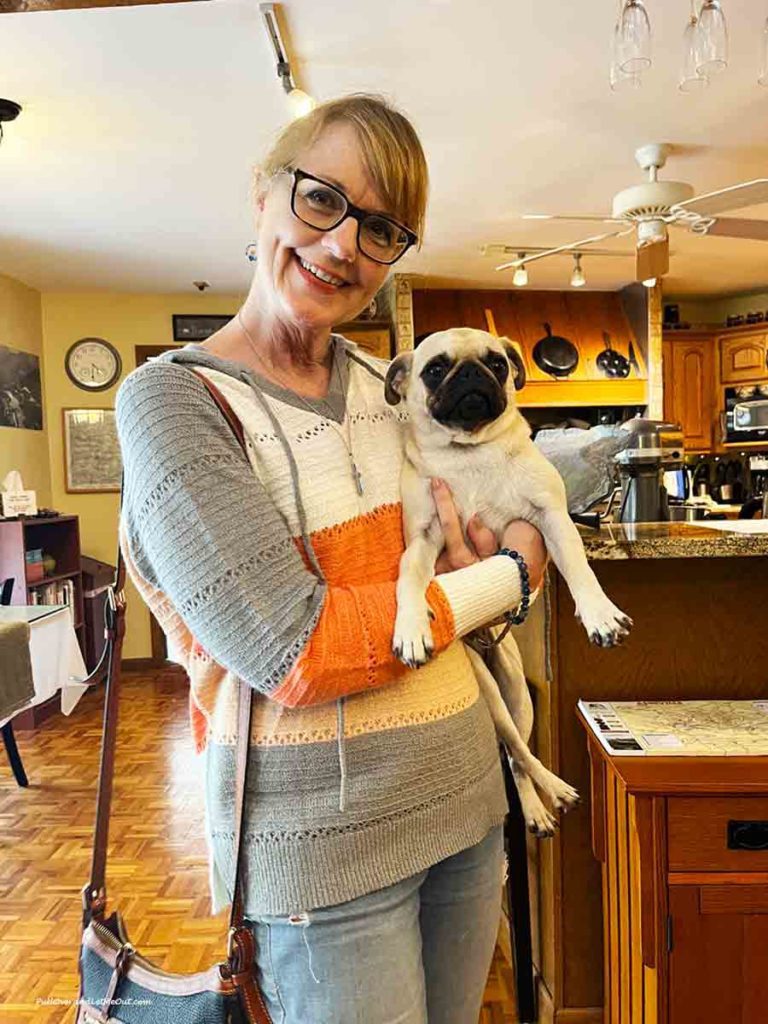 Rediscover Serenity: Experience Nature's Bliss at The Inn on Mill Creek
Hey, Pinners! Pin this for later!
► Plan Your Trip to the Inn on Mill Creek Now!
Hey pinners, save this for pinning after your trip
After you get back from your trip, please use these images to post to social media or post your own photos.  Please tag us on your post #pulloverandletmeout
You can also use the social sharing links on the SmartTrip tool.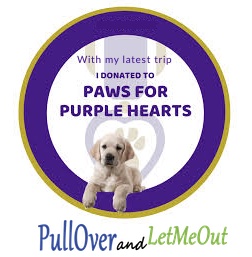 More great travel stories you'll love reading!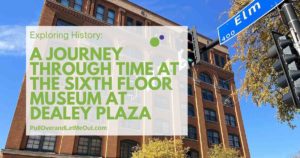 An outstanding museum dedicated to the solemn and historic event that occurred on November 22, 1963, is located within the former Texas School Book Depository building. Travel there with PullOverandLetMeOut to discover why the Sixth Floor Museum at Dealey Plaza is a must-see attraction when visiting Dallas.
Read More »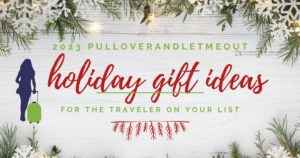 Travel with PullOverandLetMeOut to discover 2023's hottest holiday gift ideas for the traveler on your shopping list.
Read More »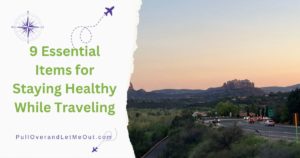 Make a healthy trip a priority. Travel with PullOverandLetMeOut to discover 9 essential items for staying healthy while traveling.
Read More »