Downtown Asheville, North Carolina is a bustling mountain community with plenty to do. From its diverse culture to its history, musical and arts scene, historic architecture, outdoor adventures, craft beer, and more, Asheville offers visitors a wide range of activities. Tucked in the western corner of the state in the heart of the Blue Ridge Mountains, this charming city is especially recognized for its amazing culinary scene.  Asheville, a town that considers every meal a celebration, is affectionately known as "Foodtopia." But how does one experience "Foodtopia" when time is limited and one is only staying a short while? A progressive dinner is the answer. Here is how I enjoyed progressive dining in downtown Asheville, NC. 
Disclosure:
Many of the links you see on this site and within our trip planning tool are affiliate links. If you click through and make a purchase, I'll get a small commission and it won't cost you any extra. On selected stories, for those hotel and car bookings made using our TravelingToGive™ tool we contribute 2.5% of gross hotel and car sales to Paws for Purple Hearts. So, thanks in advance for helping me keep bringing you the content you enjoy and, at the same time, giving back to those who so bravely serve our country! #everytripmatters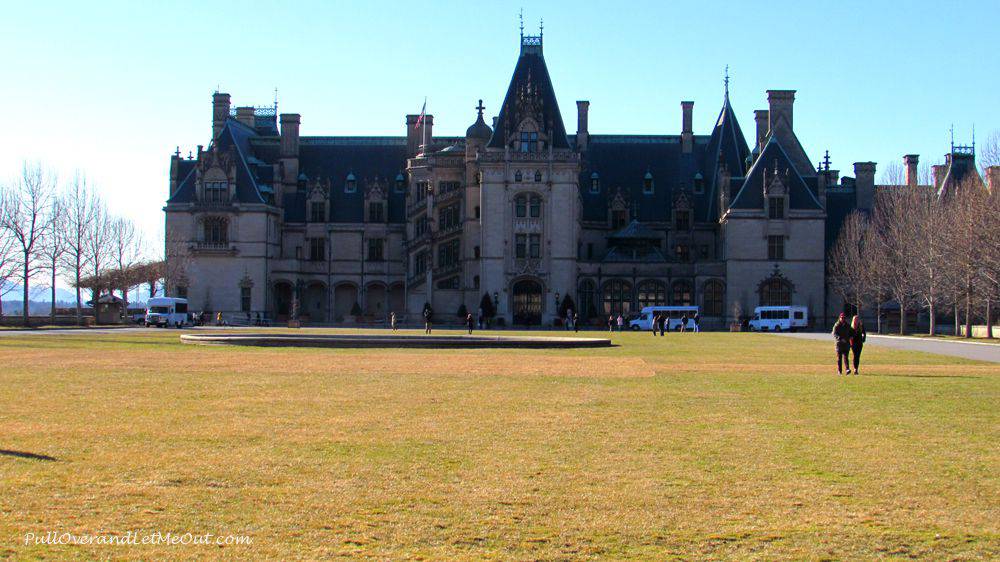 The Biltmore Estate is one of the most-visited attractions in the state of North Carolina. The famous home which belonged to the Vanderbilt family is an admitted favorite destination of mine. I've toured the prestigious estate on multiple occasions. But I encourage visitors to venture beyond the Biltmore to experience downtown Asheville.
Although there are several wonderful dining options at the Biltmore Estate, the culinary scene is thriving and vibrant in the historic downtown area of Asheville. If you're in search of the most memorable food and drink experiences, you won't go wrong here. 
I recommend developing a strategy. Keep in mind your appetite, the foods you enjoy, the beverages you like, and your route prior to departure. Once you arrive downtown, be prepared to be wowed with flavor, captivated by the scene, and ready to roll with it should adjustments to your plan be necessary. 
Downtown Asheville Cocktails
Oh my goodness, the choices! Downtown Asheville offers a wealth of alternatives when it comes to pre-dinner cocktails. 
I'm not a big mixed drink gal but wanted to splurge for our special progressive dinner. Finding the perfect location proved challenging because there are so many to choose from. 
Asheville's craft beverage community is dynamic, to say the least. From wine bars to distilleries, to craft cocktails, to craft breweries, to rooftop bars, to small discreet hideaways, the selection is vast. I made an initial selection to try out a place called the Social Lounge on Broadway Street. A popular location, they offer craft cocktails, local beers, and small plates in a chic setting. I was especially interested in sipping our cocktails on their rooftop terrace.
Alas, it was a busy holiday weekend, so the wait would have been about forty-five minutes so we called an audible and made our way to another delightful spot, the Imperial on College Street. "Imperial is a fun and lively space, with an agave-focused cocktail menu," according to their website.
We made our way upstairs to this colorful bar and Jason went to order our drinks while I found a comfy seat. He returned with two tasty and tart mixed drinks, one called "Perfect Daiquiri" and the other called "This Is What Today Looks Like." Each drink was an exceptional blend of delectable ingredients, but what was even better than the drinks was the setting. This cocktail bar wasn't too crowded, and we could hear each other speak, so we could talk while sipping our drinks. This made for an enjoyable find for our first stop on the progressive dinner.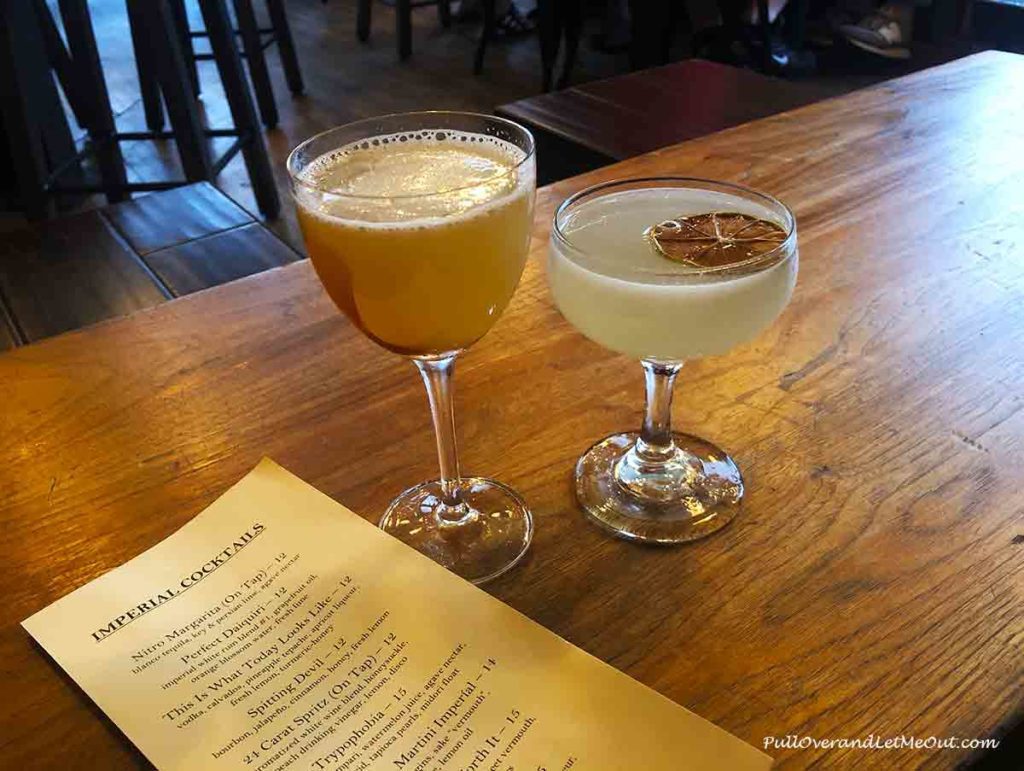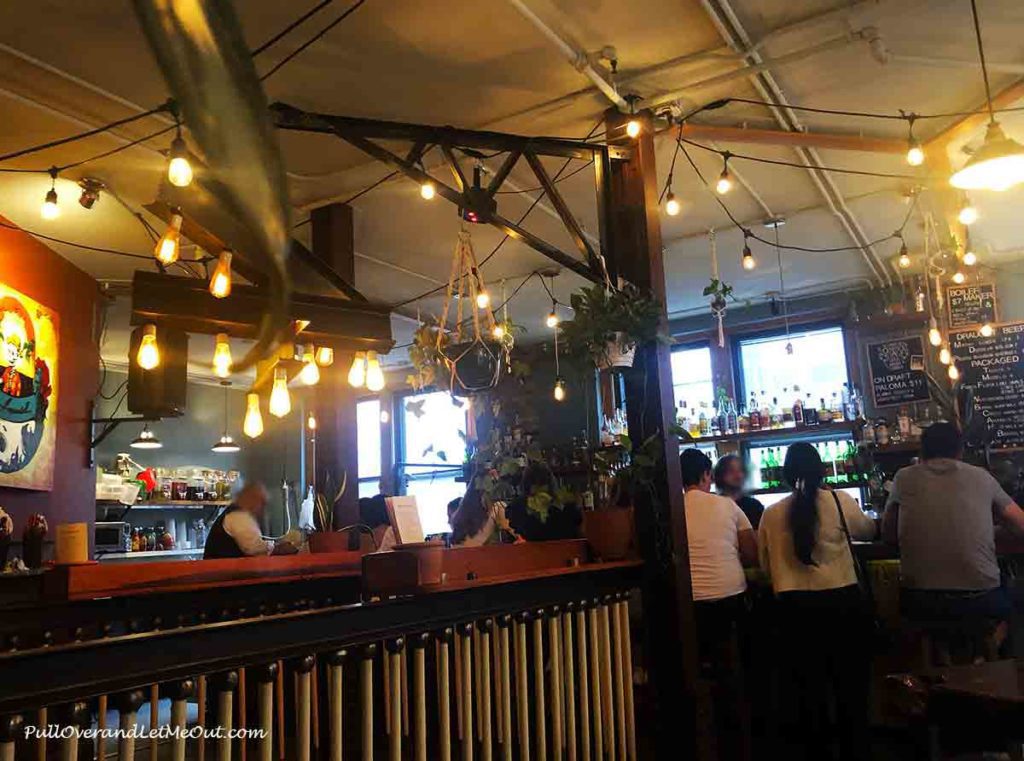 Between Cocktails and Dinner
We had originally planned to have an appetizer before dinner, but knowing my appetite, I'd get too full for dinner. Once again, we made a modification to our plan and instead, put our name on the list for dinner at Tupelo Honey on College Street and waited while sipping a pint of Smithwicks next-door at the Claddagh Restaurant & Pub.
This proved to be a wonderful change because we were able to sit at an outside table and "watch the world go by." Asheville is a terrific town for outdoor dining and enjoying the activity of the city. People-watching was a delight. As we waited for our table, we encountered a diverse mixture of people, chatted with a number of them, and experienced the full flavor of this mountain town.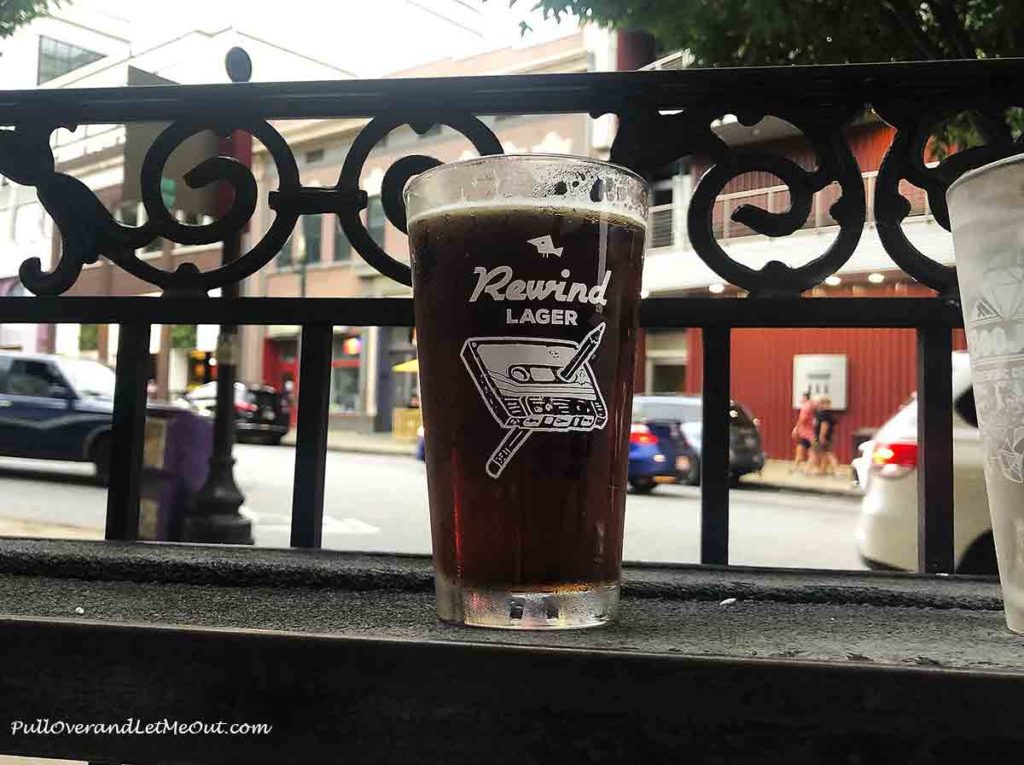 Dinner in downtown Asheville, NC
Dinner in downtown Asheville is without a doubt, a tough choice. There are literally hundreds of options available for main courses. From elegant dining to casual cafés to charming taverns to cozy bistros, the list of dining choices is long and flavorful. This is a foodie town, and each restaurant in this thriving restaurant scene has its own unique spin on cuisine.
For our main course, we were interested in delicious down-home cooking in a casual atmosphere. We chose Tupelo Honey. Having dined here on a previous trip, we knew it would be out-of-this-world and worth the wait. We were right.
This upbeat eatery is known for the "revival of Southern food and traditions rooted in the Carolina Mountains." The award-winning restaurant famous for its delicious southern food was a wonderful spot for our main course. I savored every bite of the chicken and waffles. Wow!  I ordered the classic honey-dusted fried chicken with buttermilk waffles, powdered sugar, and whipped butter and paired it with a glass of ice tea. YUM! Jason ordered their famous bone-in fried chicken, and the two of us were blown away by this made-from-scratch meal.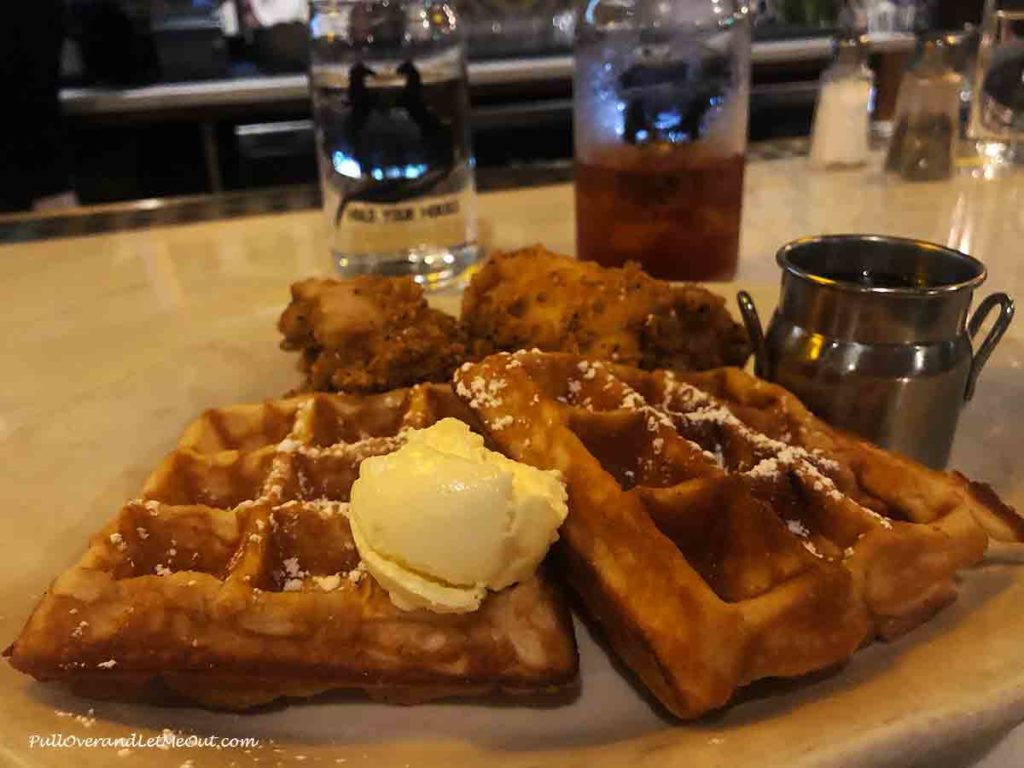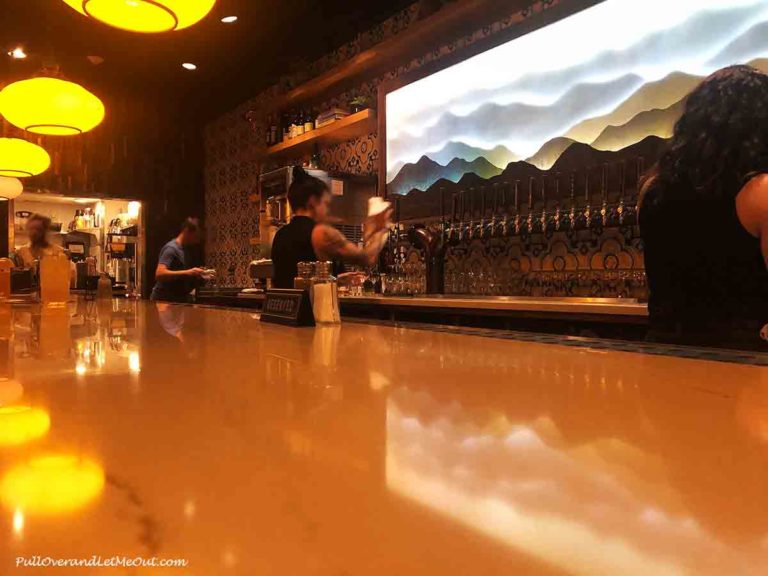 To find fun tours and activities in Asheville
Yes! We saved room for dessert, and boy am I glad we did. After dinner, we took a nice stroll to Old Europe Pastries on Broadway Street.
This was an experience! The shop is tiny so customers wait patiently outside in a queue for their turn to enter this delightful bakery. The anticipation and thoughts of incredible pastries and great coffee make the waiting fly by.
Old Europe Pastries is an Asheville dessert tradition since 1994. The family-run business with deep European roots serves incredible cakes, cookies, pastries, and traditional Hungarian desserts that are extraordinary. I selected a shortbread cookie that was light and tasty while Jason opted for the hazelnut napoleon that was awesome.
I could have gone wild in this sweet shop. There were so many delicious treats in the glass case that I promised myself that the next time I visit Asheville, I will indeed return for some of the delectable treats at Old Europe.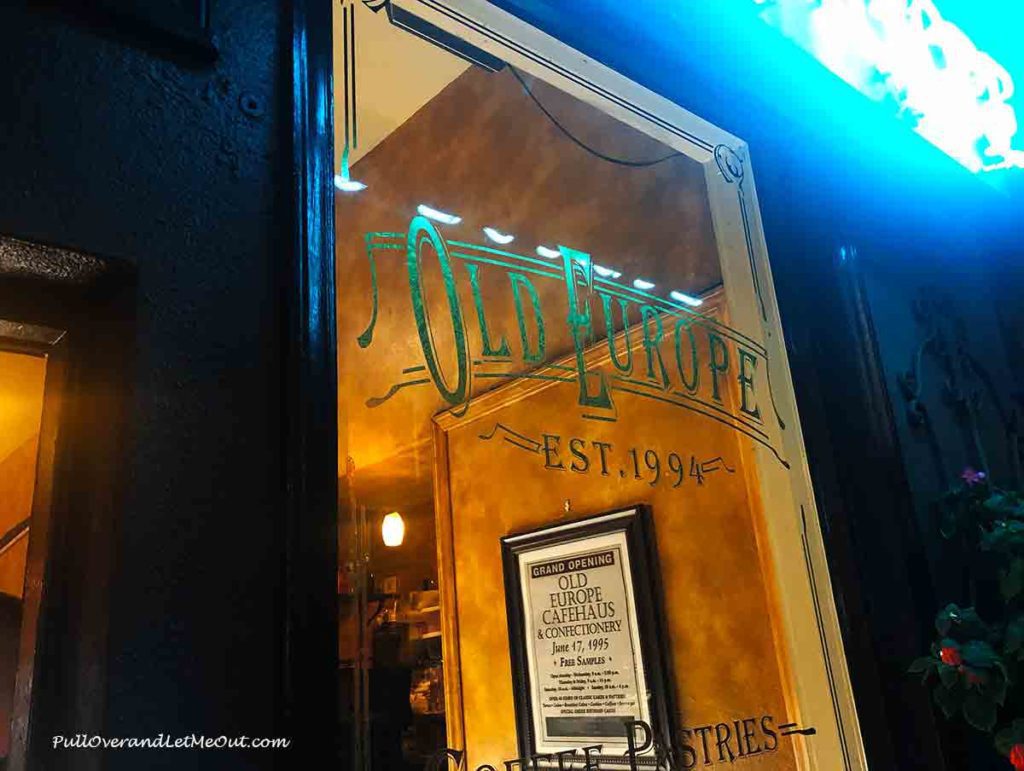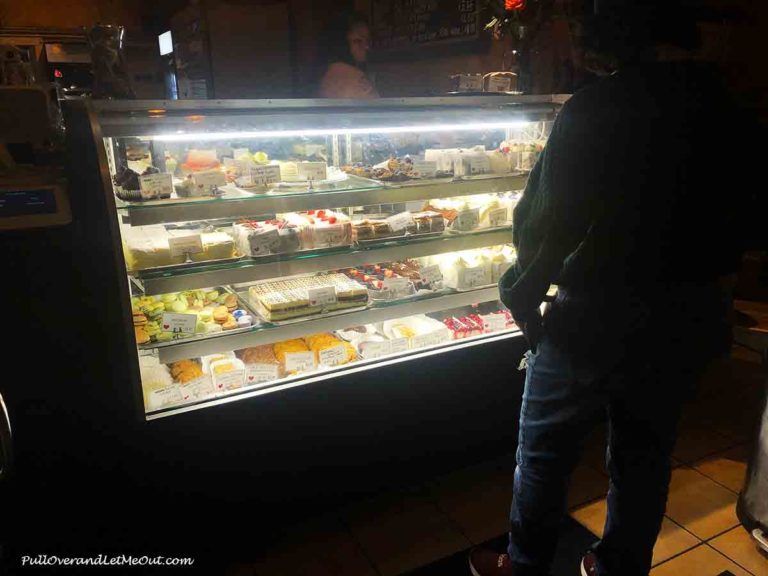 We took our dessert and coffee and departed Old Europe and returned to our seats outside the Claddagh on College street to enjoy our post-dinner treat while people-watching.
Asheville is a busy community with a lot going on. While we only made a few stops on our progressive dinner, we were still able to sip, savor, and enjoy some amazing food and beverages.
I always enjoy visiting Asheville, but there is something extra special about dining in downtown Asheville. The food scene here is unparalleled and extensive, and after each visit, I depart thinking about where I will enjoy my next meal when I come back. 
Tell me, do you have a favorite dining location in Asheville? Let me know! I'll add it to my list for the next trip.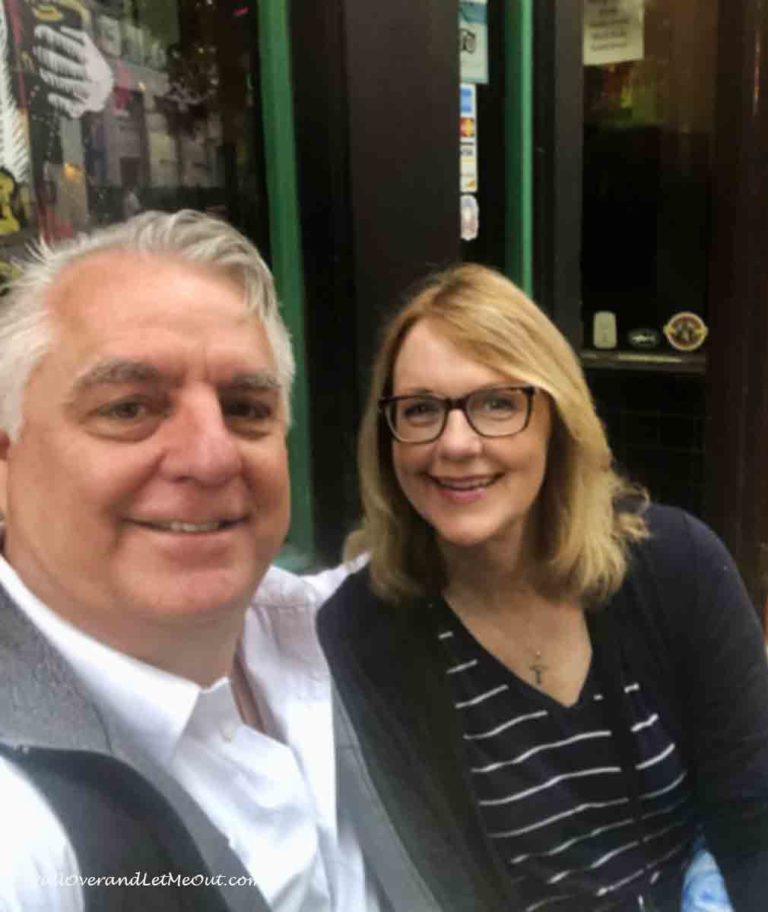 Hey Pinners, Pin This For Later!
► Plan Your Trip to Asheville, North Carolina Now!
Hey pinners, save this for pinning after your trip
After you get back from your trip, please use these images to post to social media or post your own photos.  Please tag us on your post #pulloverandletmeout
You can also use the social sharing links on the SmartTrip tool.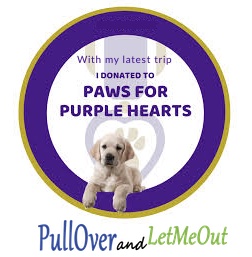 More travel stories you'll love reading!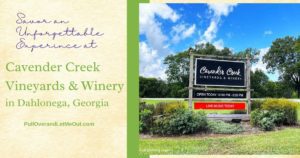 Cavender Creek Vineyards & Winery is a thriving and welcoming wine destination perfect for wine enthusiasts and anyone seeking a scenic escape from the daily grind. Travel there with PullOverandLetMeOut to discover this charming winery in the Appalachian foothills.
Read More »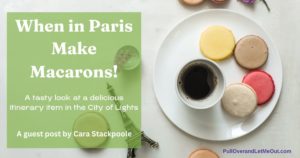 Guest blogger Cara Stackpoole shares a delectable itinerary item in the City of Lights. Discover why making macarons is a memorable experience.
Read More »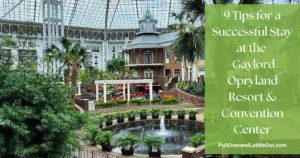 The Gaylord Opryland Resort & Convention Center in Nashville is a well-known attraction in the city. PullOverandLetMeOut looks at some smart hints for making the most of a stay at the famous hotel.
Read More »