Beaufort, North Carolina is located on the Crystal Coast, an 85-mile stretch of beaches and beach towns also known as the Southern Outer Banks. Visitors come from all over to enjoy the stunning coastal beauty of this scenic region known for its clear waters and miles of protected beaches. The Crystal Coast comprises several seaside resorts such as Atlantic Beach, Emerald Isle, Indian Beach, Pine Knoll Shores, and Salter Path, as well as port communities on the sound side such as Morehead City, Swansboro, and Beaufort. Today, the region steeped in history, including pirates, the Civil War and WWII, fishing, and more, is recognized as an ideal North Carolina destination for romantic getaways, and The Beaufort Hotel is acclaimed as an award-winning choice for romantic lodging in this charming area.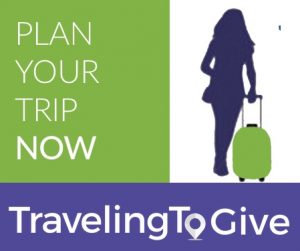 Disclosure:
Many of the links you see on this site and within our trip planning tool are affiliate links. If you click through and make a purchase, I'll get a small commission and it won't cost you any extra. On selected stories, for those hotel and car bookings made using our TravelingToGive™ tool we contribute 2.5% of gross hotel and car sales to Paws for Purple Hearts. So, thanks in advance for helping me keep bringing you the content you enjoy and, at the same time, giving back to those who so bravely serve our country! #everytripmatters
Staying at the Beaufort Hotel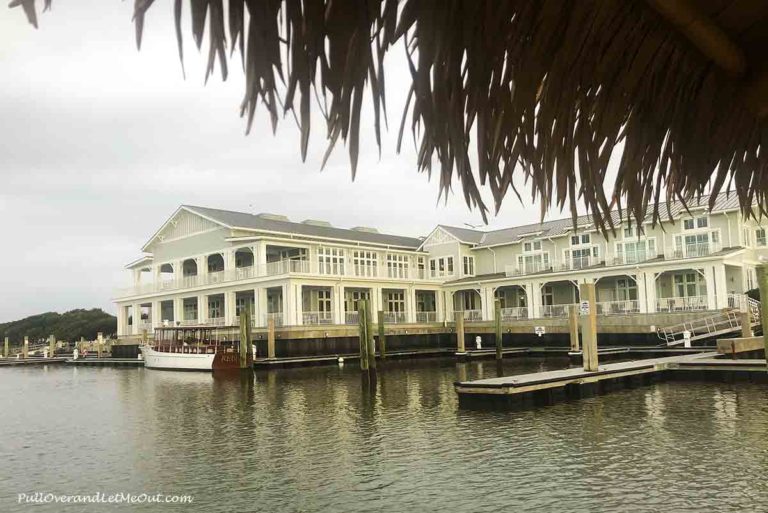 The purpose of our stay at the Beaufort Hotel was to celebrate my birthday weekend. My husband surprised me with a delightful overnight escape from the ordinary and this stylish boutique hotel did not disappoint. From the moment of our arrival and our first encounter with the friendly valet to the simplicity of our check-in, we were immediately greeted with a friendly dose of southern hospitality. 
As Jason checked us in, I scouted out the lobby. The gorgeous décor and comfortable lounge area are only a taste of things to come. Once we make our way to our room, it's even more evident this is no ordinary hotel. From the spacious room to the comfortable bed, to the amazing shower and bathroom, every detail is replete with beauty and elegance. Even better, is the hotel's peaceful setting.
Perched on the banks of Taylor's Creek, the hotel is close enough to the downtown area for easy access yet remote enough to enjoy the tranquility of life on this calm creek. In fact, it's so peaceful, we opt to do nothing but sit on the deck in one of the many comfy chairs, sip a glass of wine, and enjoy the scenery. This is truly a spot to unwind, relax, and forget about the hustle and bustle of everyday life back home.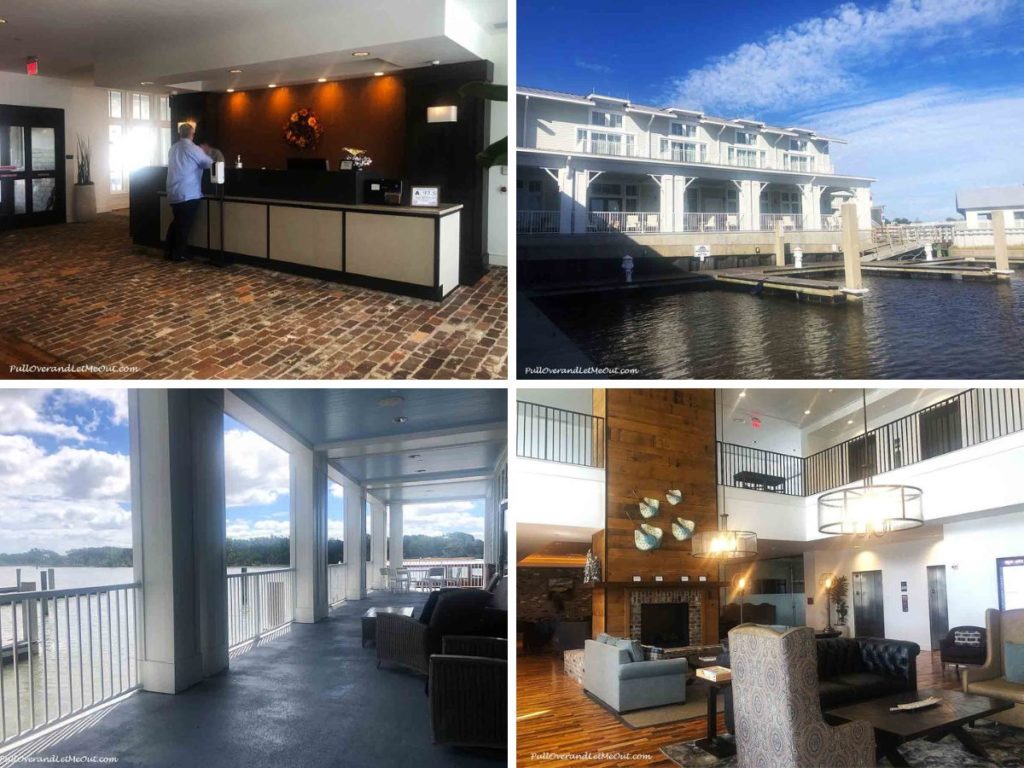 Dining at the Beaufort Hotel
The hotel restaurant, 34° North Restaurant & Bar, is known as Beaufort's "Premier Waterfront Dining Destination" and is an absolute must when staying here. The restaurant serves locally inspired Eastern North Carolina cuisine, including fresh local seafood, hand-cut steaks, and seasonal ingredients, and is "renowned for its cuisine, which is rooted in local farms and pristine waters."
Every day, 34° North Restaurant serves breakfast, lunch, and upscale dinner, with a full bar. On Saturdays and Sundays, they serve their popular weekend brunch, and they also offer take-out with curbside service for those on the go.
Because our stay is a birthday celebration, we decide to dine on the outdoor patio, a covered open-air dining space overlooking Taylor's Creek and Rachel Carson Reserve, which is home to approximately 60 marvelous wild horses. Our meal, the friendly service, and the setting sun couldn't be more perfect.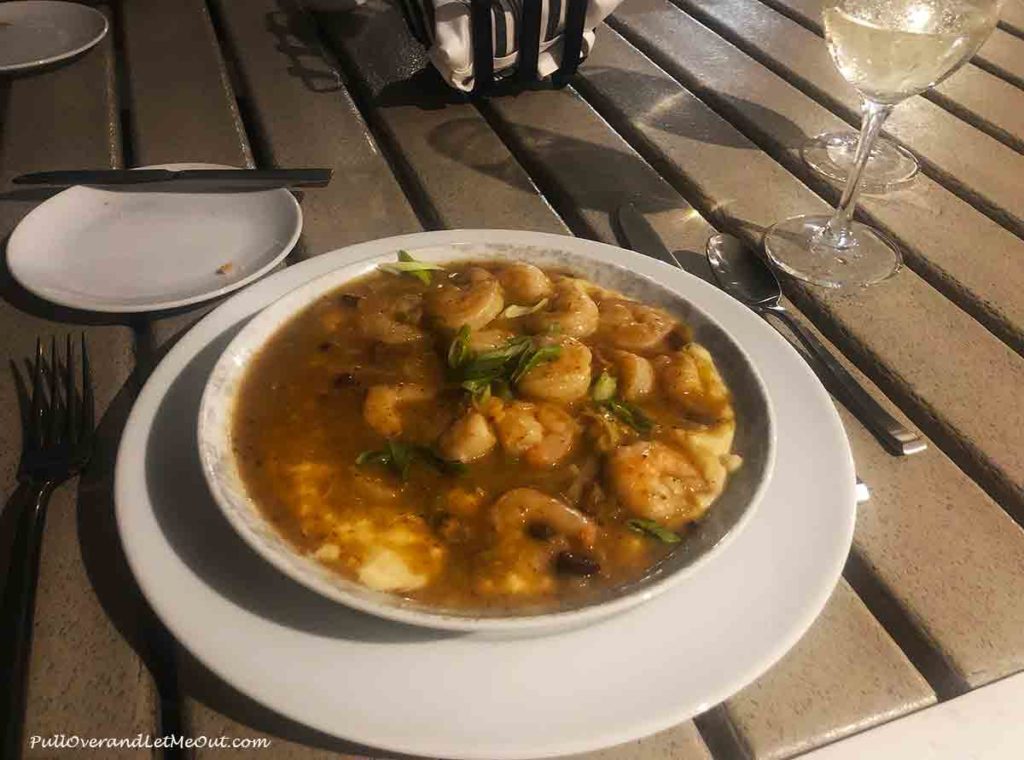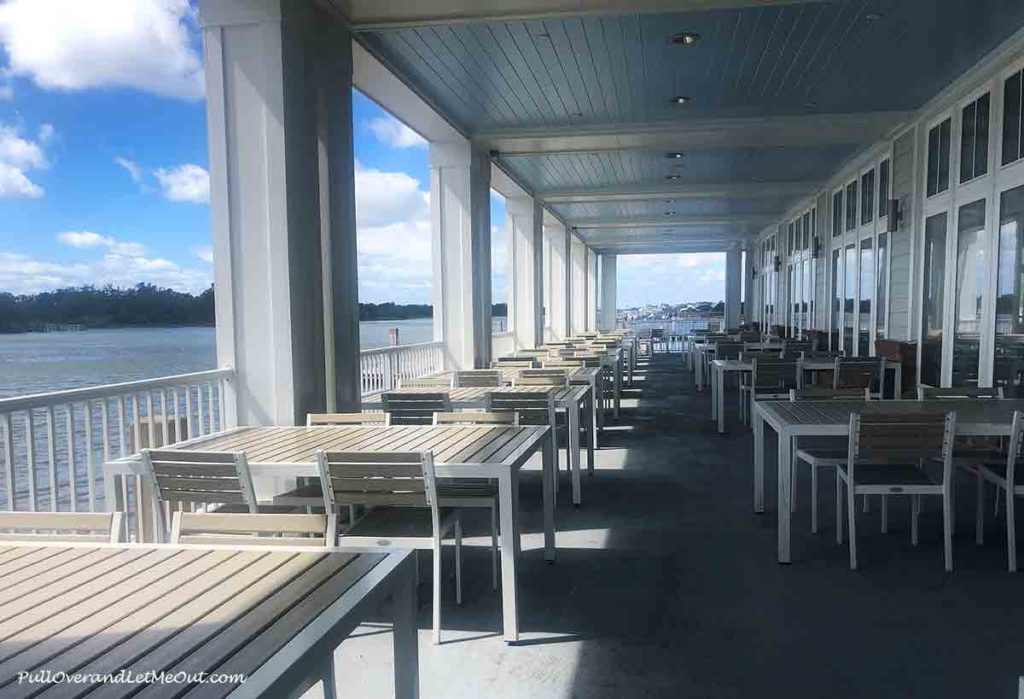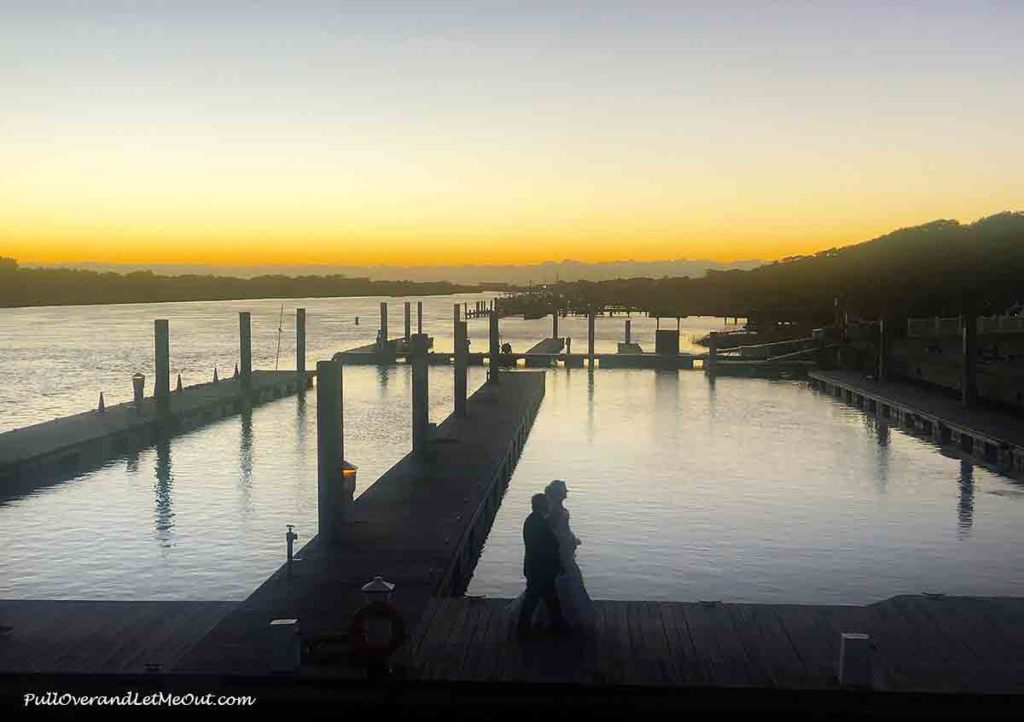 Even though spending time in the room isn't a priority, I'd be remiss if I didn't mention how beautiful the rooms are. The comfort of our room is greatly appreciated after an afternoon spent on the deck enjoying the scenery of the waterfront and a post-sunset evening repast. Every detail is high-quality refinement, from the comfy mattress to the spaciousness to the incredible luxurious shower. The Beaufort Hotel has a variety of rooms and views at various price points, but each one is the epitome of elegance and comfort. They also offer accessible rooms with a wide range of ADA Accessibility Features and Amenities.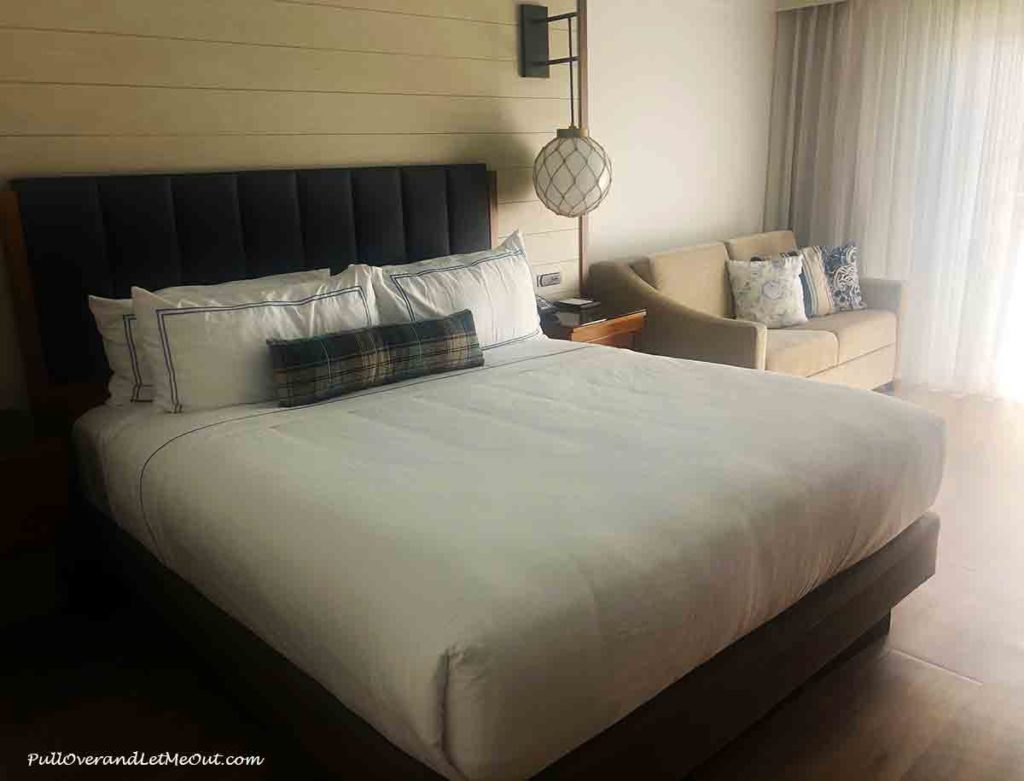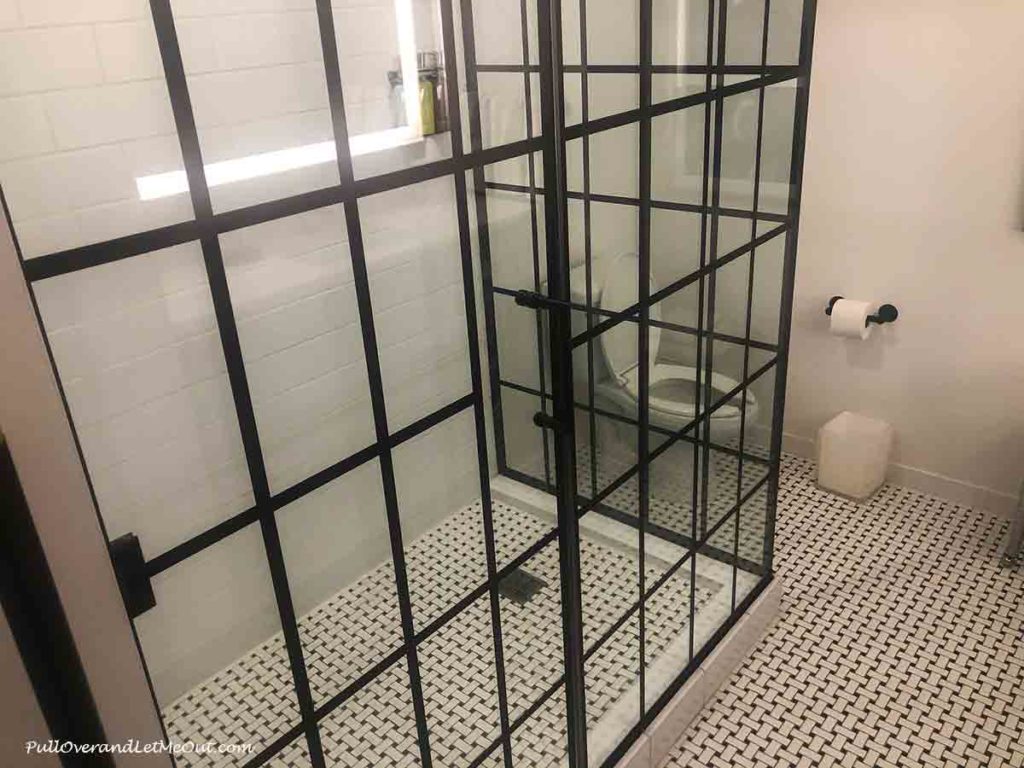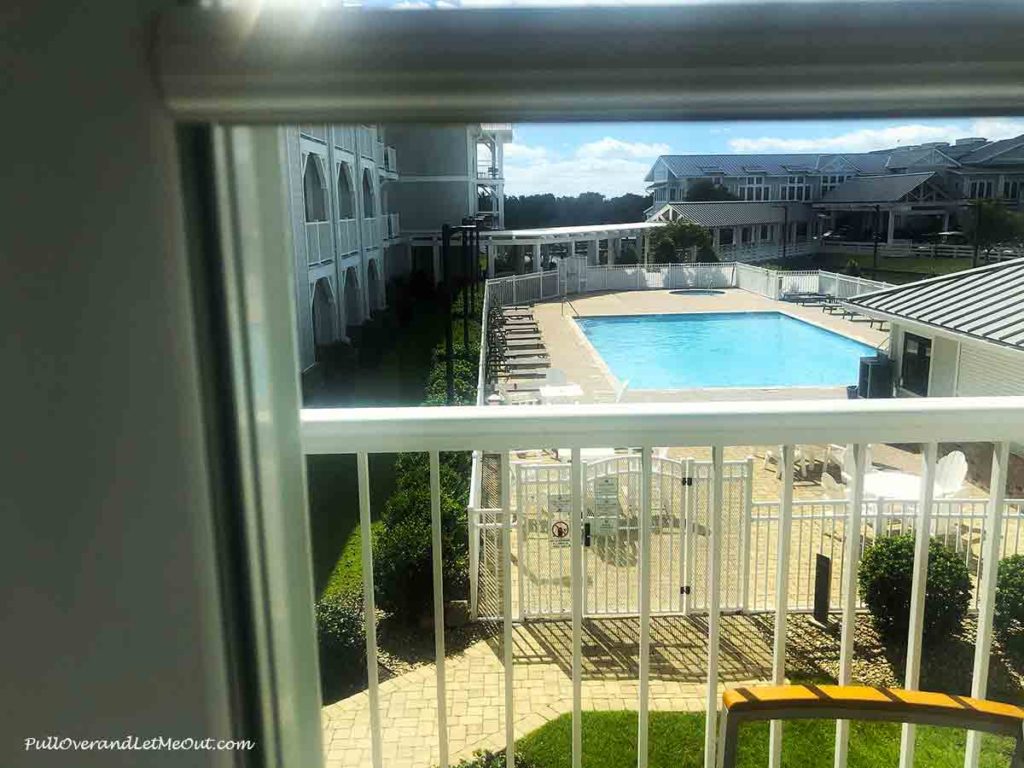 While walking around the docks, we came across Cruisin' Tikis. This enchanting nautical treat, located on the docks of the Boathouse, the marina adjacent to the Beaufort Hotel, proves to be a fantastic way to enjoy cruising Taylor's Creek.
We reserve a spot on the Morning Mimosa tour, leaving at 8:30 a.m. This fits our schedule perfectly and allows us to cruise the creek before check-out time. Mason, our captain, meets us at the Tiki and treats us to a relaxing trip filled with fun facts about the Crystal Coast, life in Beaufort, the story of the Menhaden fishing era, and more of the region's fascinating history. We even spy a few of the wild horses living on the Rachel Carson Reserve.
Although unusual in appearance, the tiki comfortably seats six people, is BYOB (we bring coffee), and I am able to connect my phone to Bluetooth and enjoy listening to my very own soundtrack as we tour. This is a fantastic way to conclude our stay at the Beaufort Hotel.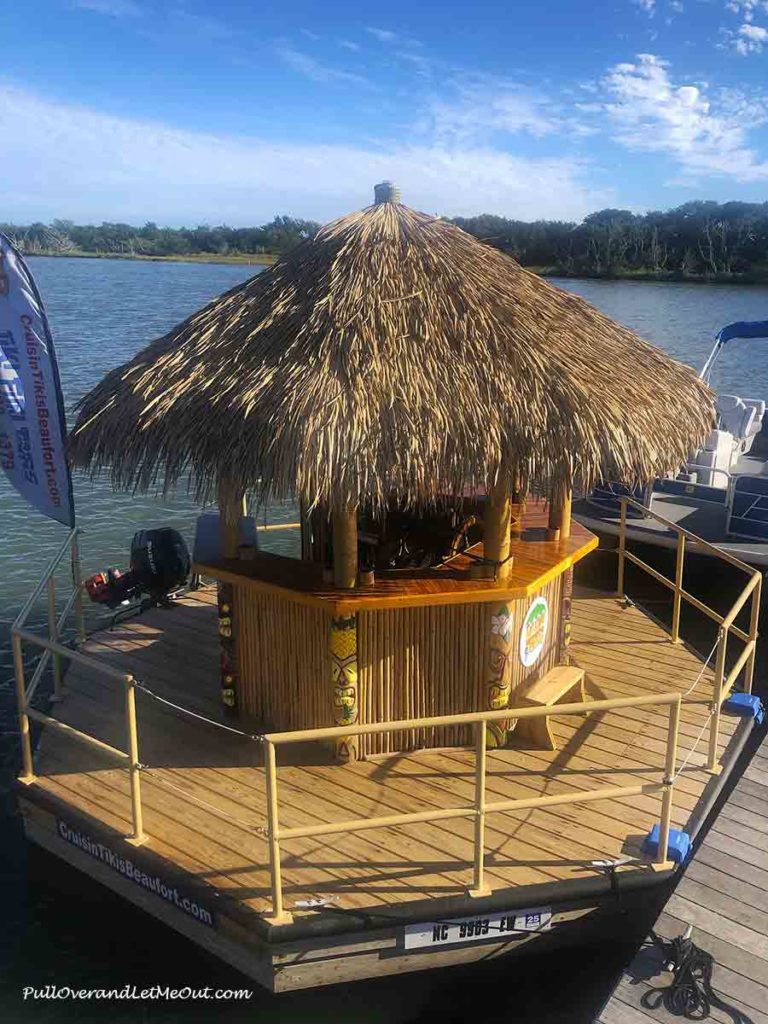 An Award-Winning Romantic Getaway
Beaufort, North Carolina is a charming port city with a rich history and an unrivaled nautical mystique. Exploring the historic downtown area, visiting the North Carolina Maritime Museum, dining on the water, and simply relaxing on the Crystal Coast is the ideal North Carolina romantic getaway.
Beaufort Hotel is the perfect place to stay while exploring this enchanting part of North Carolina. In fact, after spending time at the Beaufort Hotel, I must say that I've been spoiled. It's easy to see why USA Today named the Beaufort Hotel the #1 "Best Boutique Hotel in America," based on its relaxed elegance and comfortable tranquility.
The cool thing about this hotel is that I have the impression that they will not rest on their laurels and will continue to ensure that each guest has an unforgettable stay. I'm sure I did.
2440 Lennoxville Road
Beaufort, NC 28516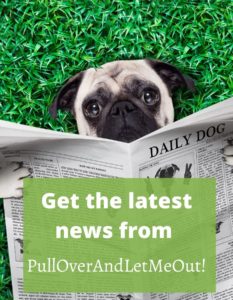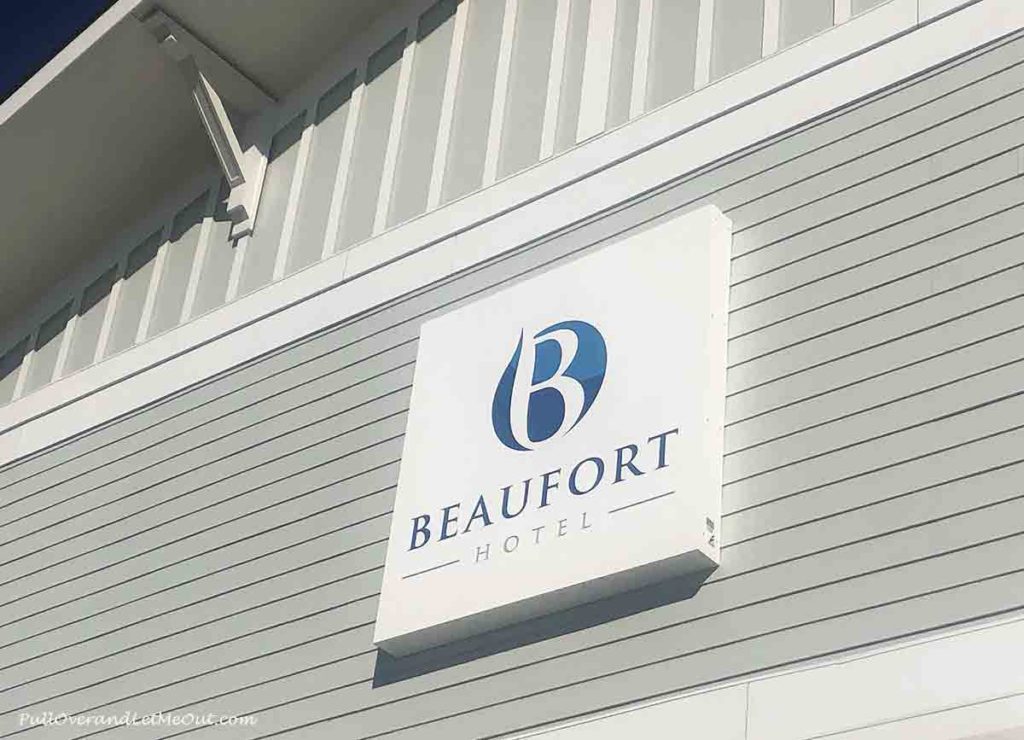 Hey, Pinners! Pin this for later!
More travel stories you'll love reading!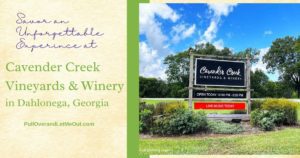 Cavender Creek Vineyards & Winery is a thriving and welcoming wine destination perfect for wine enthusiasts and anyone seeking a scenic escape from the daily grind. Travel there with PullOverandLetMeOut to discover this charming winery in the Appalachian foothills.
Read More »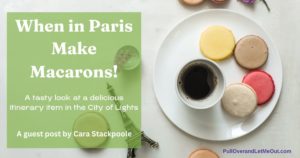 Guest blogger Cara Stackpoole shares a delectable itinerary item in the City of Lights. Discover why making macarons is a memorable experience.
Read More »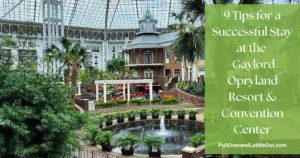 The Gaylord Opryland Resort & Convention Center in Nashville is a well-known attraction in the city. PullOverandLetMeOut looks at some smart hints for making the most of a stay at the famous hotel.
Read More »