My traveling companion Jen and I were looking for a place to enjoy a morning meal with good food, a good atmosphere, and a taste of local flavor. With a little research online, we were led to The Nook for breakfast in the heart of historic downtown Charlottesville, Virginia. The restaurant, "Charlottesville's Original Diner," was the perfect spot for a morning repast. Here are five unbeatable reasons to choose The Nook for your breakfast in Charlottesville.
Disclosure:
Many of the links you see on this site and within our trip planning tool are affiliate links. If you click through and make a purchase, I'll get a small commission and it won't cost you any extra. On selected stories, for those hotel and car bookings made using our TravelingToGive™ tool we contribute 2.5% of gross hotel and car sales to Paws for Purple Hearts. So, thanks in advance for helping me keep bringing you the content you enjoy and, at the same time, giving back to those who so bravely serve our country! #everytripmatters
Breakfast in Charlottesville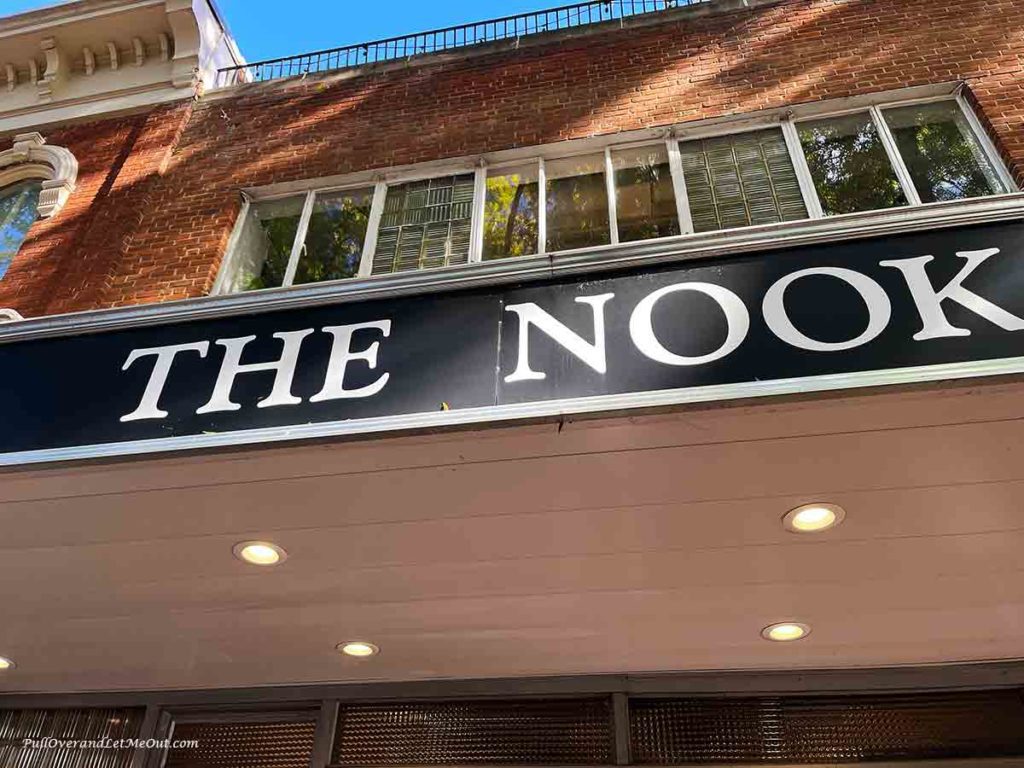 The Nook is conveniently located at 415 East Main Street on the iconic downtown mall between 4th and 5th streets. The popular pedestrian area is renowned for its old-style charm and brick sidewalks as well as the numerous shops, bars, boutiques, and of course, restaurants that attract residents and visitors alike.
There are also several historic buildings and landmarks such as the Jefferson Theater, the Paramount Theater, and the Virginia Discovery Museum drawing visitors to the thriving pedestrian-centered area.
We arrived just before nine o'clock in the morning and found parking nearby at the Market Street Garage (our total parking fee was $1). The mall was in the process of awakening and gradually transitioning into the day. Moreover, it was a lovely crisp autumn morning which added to the appeal of this cultural and economic center of Charlottesville.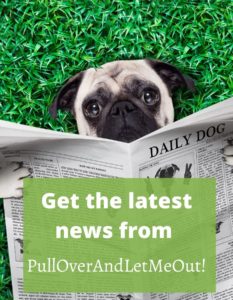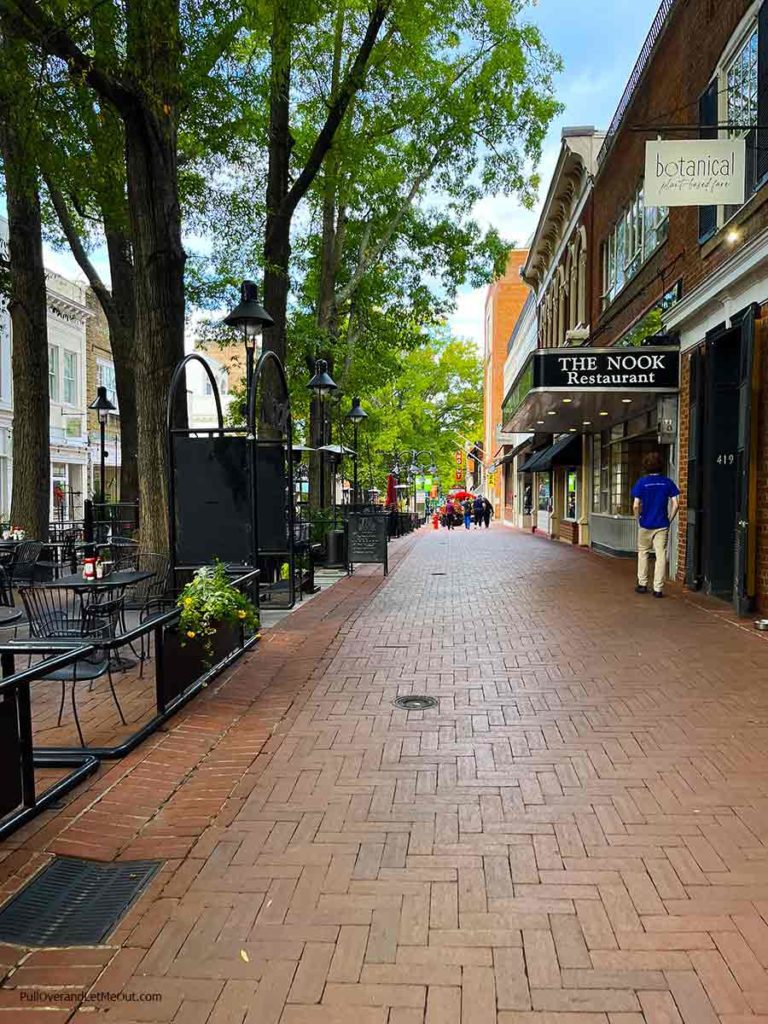 Since 1951, The Nook has been a steadfast presence in Charlottesville's dining scene, offering delectable cuisine and quality beverages for over seven decades. As a result, The Nook has hosted a large number of guests over the years including, the famous, the infamous, and the not-so-famous.
The restaurant does a fantastic job of showcasing and embracing its heritage. There is even a wall of photographs in the back featuring several of the celebrities who have enjoyed a meal at The Nook. Big stars such as Fats Domino, Elizabeth Taylor, and Montgomery Clift, to name a few. Be sure to pop back to see the photos and read up on the circumstances that brought these famous diners to The Nook.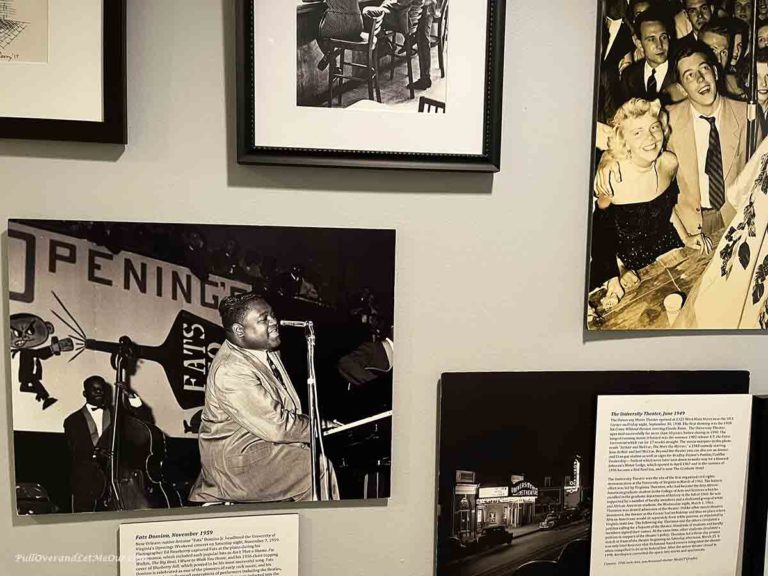 3. Cozy and Inviting Atmosphere
The atmosphere is fantastic at The Nook. From the exposed brick walls to the Art Deco style black and white tile flooring to the cozy tables and booths, the place exudes charm. Step inside and step back in time to what is the quintessential American diner.
We chose a comfortable booth for our breakfast at The Nook, providing us with an excellent vantage point of the attractive dining room. The historic building sets the table for a relaxed and informal dining experience.
If the weather is nice and you're up for an outdoor dining experience, The Nook also offers seating outside on the mall. There is a spacious dedicated area under the trees where guests can enjoy the ambiance of dining al fresco.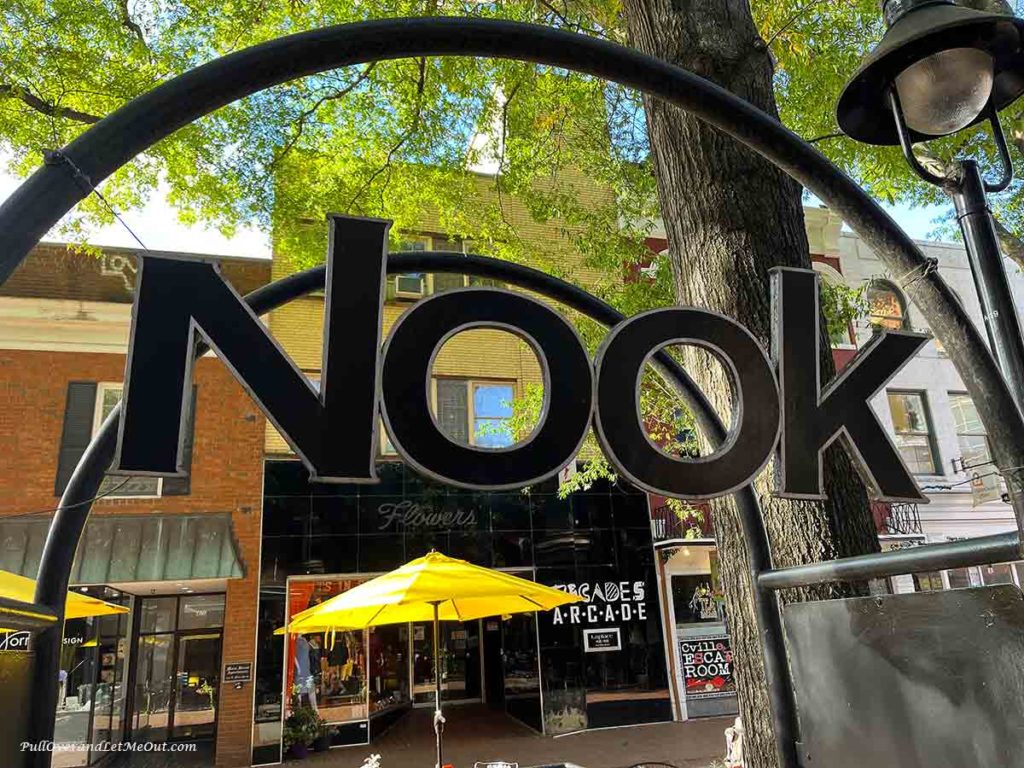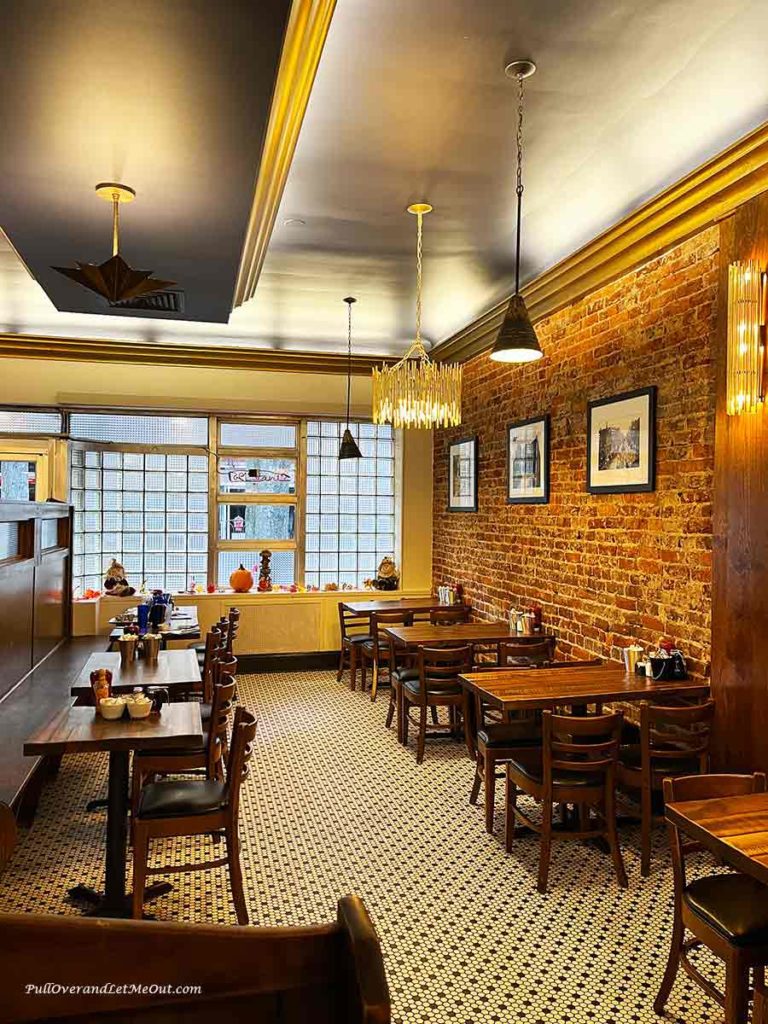 The Nook is famous for offering a diverse and extensive breakfast menu with an array of choices that does not disappoint. There is a range of popular breakfast items to choose from including their famous jumbo cinnamon rolls. However, when we asked our server if there is one item in particular they are known for, she didn't hesitate with her answer. The Nook is famous for its Benedicts. Classic Eggs, Smoked Salmon, Avocado Bacon, and Crab Cake Benedict, each served with an amazing Hollandaise is the perfect hearty start to any day in Charlottesville.
The Nook also serves up a slew of omelettes, specialty breakfasts, and goodies from the griddle like pancakes, waffles, and French toast. Everything is made fresh with premium locally sourced ingredients and tastes out-of-this-world. Whether you're a fan of classic breakfast staples or prefer healthier choices like fruit bowls or avocado toast, the Nook has something for everyone.
For my breakfast, I selected one of their breakfast sandwiches served on a made from scratch biscuit. It was wonderful.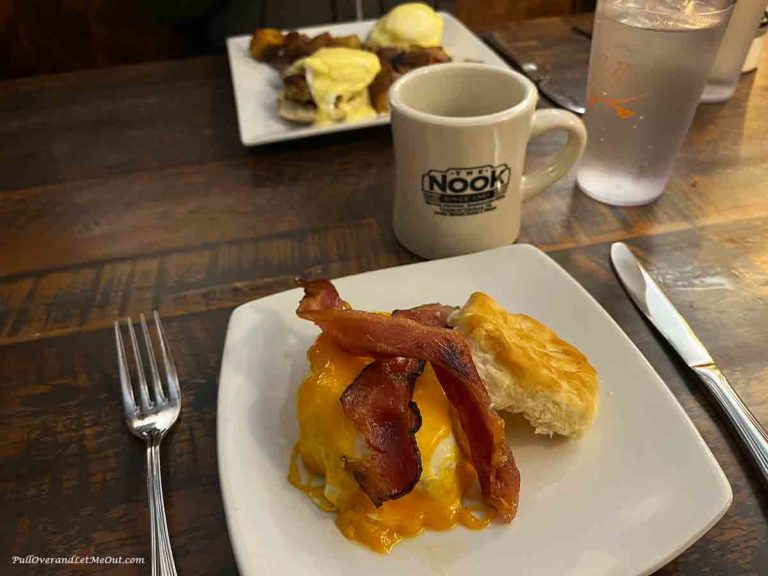 If you appreciate an early start to the day, The Nook opens every morning at 8:00, making it an ideal choice for those looking for a nourishing breakfast before work or starting the day's adventures.
We arrived early on a Monday morning and enjoyed dining in a peaceful environment that was complemented by the friendly staff, delicious food, and copious amounts of delicious coffee.
This turned out to be the perfect choice for breakfast while we were visiting Charlottesville. I'm always on the lookout for a local establishment, distinct from the ubiquitous chain restaurants found in my hometown, and The Nook perfectly fits that criteria. It was also exactly what we needed to fuel us for our visit to Thomas Jefferson's home, Monticello.
Whether you're in search of a classic breakfast or something unique and creative to start your day, the Nook is a standout choice for breakfast in Charlottesville, offering a delightful combination of delicious food and a welcoming atmosphere. That's what I call a Pull Over and Let Me Out classic combination.
The Nook
415 E Main Street
Charlottesville, VA  22902
Breakfast in Charlottesville: 5 Unbeatable Reasons to Choose The Nook
Hey, Pinners! Pin this for later!
► Plan Your Trip to The Nook Now!
Hey pinners, save this for pinning after your trip
After you get back from your trip, please use these images to post to social media or post your own photos.  Please tag us on your post #pulloverandletmeout
You can also use the social sharing links on the SmartTrip tool.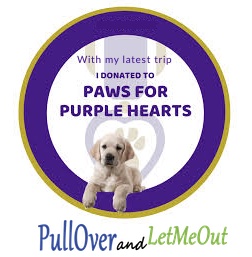 More great travel stories you'll love reading!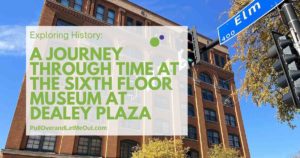 An outstanding museum dedicated to the solemn and historic event that occurred on November 22, 1963, is located within the former Texas School Book Depository building. Travel there with PullOverandLetMeOut to discover why the Sixth Floor Museum at Dealey Plaza is a must-see attraction when visiting Dallas.
Read More »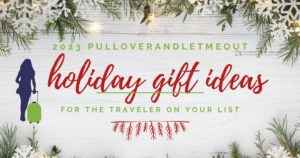 Travel with PullOverandLetMeOut to discover 2023's hottest holiday gift ideas for the traveler on your shopping list.
Read More »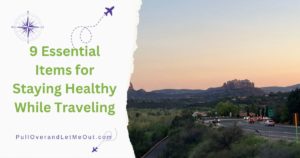 Make a healthy trip a priority. Travel with PullOverandLetMeOut to discover 9 essential items for staying healthy while traveling.
Read More »