Taking kids to historic locations can be a risky proposition. Will the kids get bored?  Will there be enough to engage young imaginations?  Will there be activities to keep small hands off of priceless artifacts?  Thomas Jefferson's Monticello has the perfect solution – The Family Friendly Tour and Day Pass.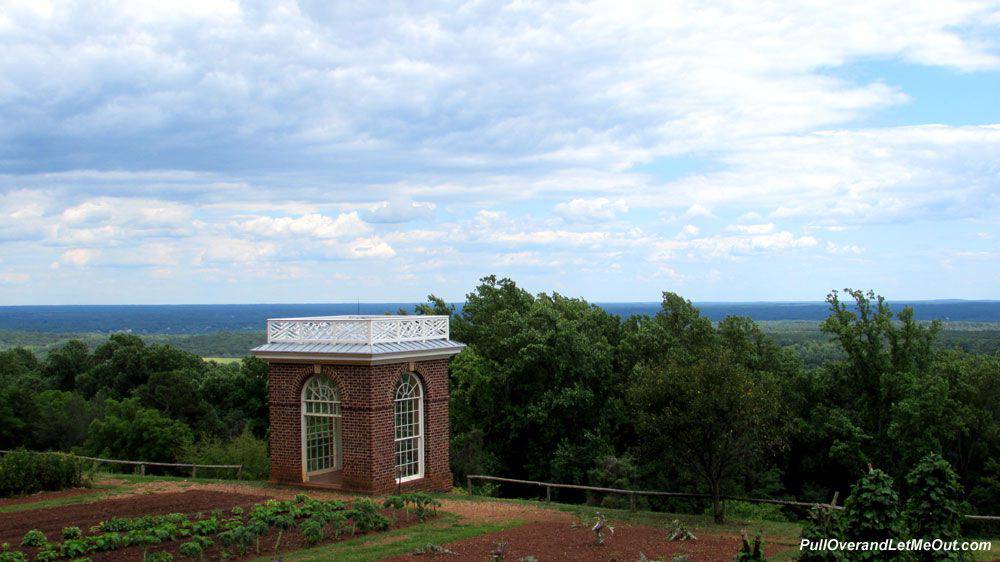 Family-Friendly Tour And Day Pass
The pass includes a family-friendly 40-minute guided tour of the home. The tour is geared specifically for families with youngsters from ages 5 to 11.  Moreover, the tour provides the right balance of hands-on opportunities while introducing children to some of Jefferson's interests and hobbies. Kids are engaged and learning as they get a glimpse of life in the late 18th and early 19th century.
The tour guides are experts when it comes to entertaining tiny visitors.  Our guide was a former kindergarten teacher and her storytelling abilities captivated the younger tourists while still entertaining the grownups in the crowd.
Some stops on the tour include the great hall where Jefferson's maps and animal pelts are displayed, Jefferson's bedroom with the cool bed in the wall, his expansive book collection, and the room where Jefferson's granddaughters attended homeschool.
There's also plenty to do outdoors. From touring the gardens to visiting the Jefferson cemetery and observing the archaeological dig in progress- there's abundant open space for kids to explore Jefferson's famous property.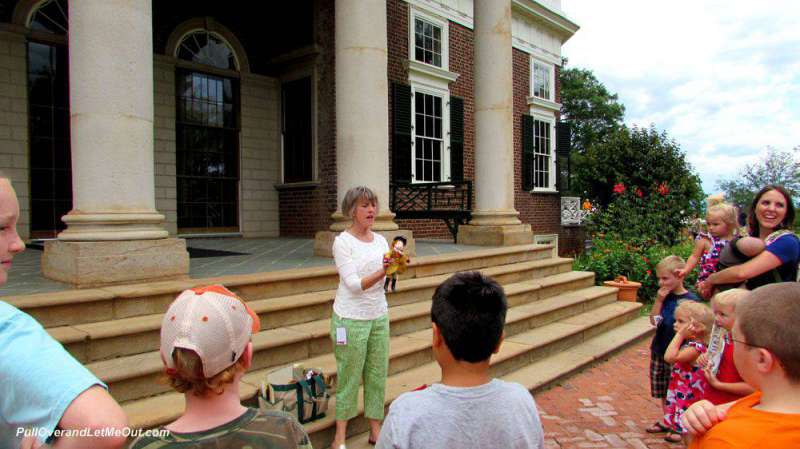 Tours are geared specifically for families with children under 11 years old.
What Comes With Admission?
Tickets are $25 for adults $16 for children 12—18 May 25 – Sep. 1 and $8 for children 5—11 Year-round (under 5 are free). Admission includes items such as; a guided tour of the home and two other guided tours -Slavery at Monticello and the Gardens and Grounds, as well as access to four exhibitions, a 15-minute film, the Griffin Discovery Room, the Monticello Museum Shop, and the Mountain Top Activity Center.
Several of the tours and exhibits are seasonal so it's always wise to consult the Monticello website and plan your adventure in advance.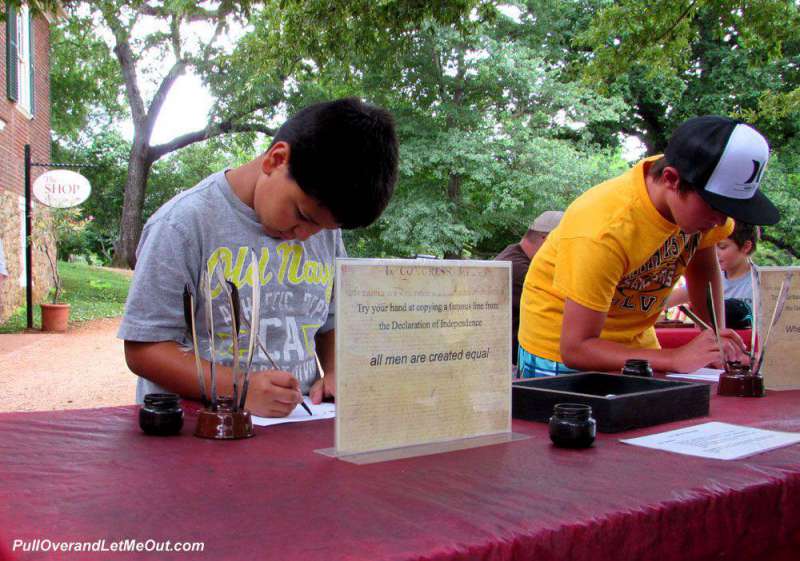 Young visitors get to try hands-on colonial style activities.
Thomas Jefferson's Monticello Is Family Fun
History can be a lot of fun for the entire family and at Thomas Jefferson's Monticello, the Family Friendly Tour and Day Pass lets visitors of all ages fully experience one of America's most famous homes.
"Learning about Thomas Jefferson, learning to write with a quill pen, walking on the trail, picking beetles off of the flowers in the garden.   Oh, and of course, the gift shop!"
According to my nine-year-old, these were the best parts of Thomas Jefferson's Monticello.  I think the third President would be delighted to hear such a glowing review of his beloved Virginia home.
Thomas Jefferson's Monticello
931 Thomas Jefferson Parkway
Charlottesville, Virginia  22902
If you enjoyed this please leave a comment below or share with your friends. 
As always, Happy Travels!
Hey, Pinners! Pin This!