Apple-picking season is a wonderful time of year. The first crisp fall days inspire us to get out and savor the autumnal beauty and mild temperatures. Weekends are filled with fun fall activities. In recent years I've added apple-picking to our fall activity list and it has quickly become a family favorite. If you've never been apple-picking I highly recommend giving it a try. Now that I'm no longer a total rookie, I'll pass along a few things I've learned from my apple-picking experiences. Here are 8 must-know tips for the apple-picking season that will assure a good time.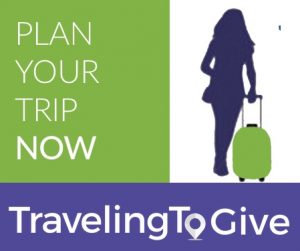 Disclosure:
Many of the links you see on this site and within our trip planning tool are affiliate links. If you click through and make a purchase, I'll get a small commission and it won't cost you any extra. On selected stories, for those hotel and car bookings made using our TravelingToGive™ tool we contribute 2.5% of gross hotel and car sales to Paws for Purple Hearts. So, thanks in advance for helping me keep bringing you the content you enjoy and, at the same time, giving back to those who so bravely serve our country! #everytripmatters
If you plan on picking a large quantity it's a good idea to bring a wagon.
The basket full of apples gets heavy fast and you may have a lot of territory left to cover. A wagon comes in handy not only for hauling the youngsters but to help carry that full basket.
2. Don't get carried away
It's easy to get carried away.
I'll admit it's fun picking apples.  It's also easy to suddenly realize there are more apples in the basket than family, friends, teachers, and co-workers to help eat them. Make a list before heading into the orchard to avoid over-picking. Apples are delicious, but if they're going to go bad when you get them home that's just sad.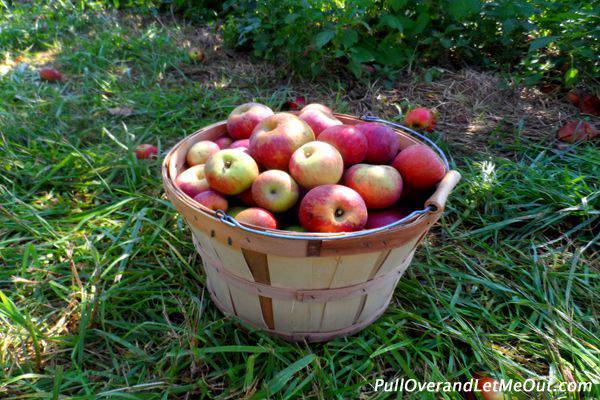 3. Sunblock, hats, and shoes!
Sunblock, hat and comfy shoes are a must during apple-picking season.
Sunny fall days may be cooler, but the sun can still be brutal. Be prepared. Even if you're going to be surrounded by trees in an orchard the sun peeks through. Don't be sorry. The same goes for shoes. Being stylish has a time and place but in an orchard comfort is a priority.
Arriving early is an essential element to a successful visit to an orchard. If you get there early it's usually less crowded. It's also much easier to pick when there aren't hoards of people in the orchard. You'll also be able to work the trees at your own pace.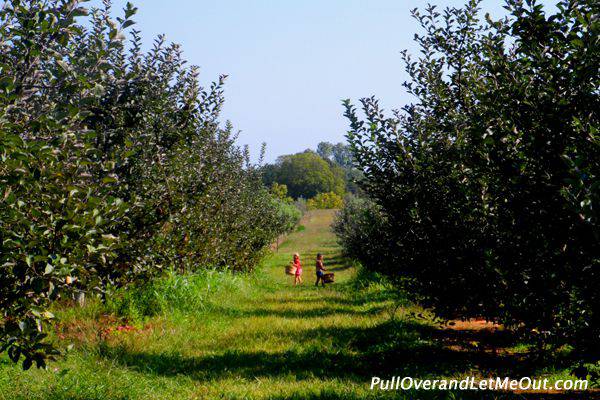 Temperature, storms, frost, the volume of visitors all affect the picking season at an orchard. If your area experienced a relatively warm winter that could in turn create an early harvest. It's always wise to call ahead to assure your favorite orchard isn't "picked-out."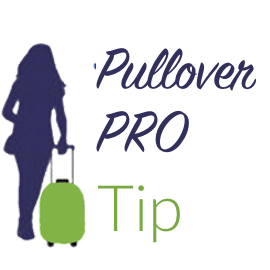 September is typically the apple-picking season in the southeast. Did you know there are dozens of North Carolina apple festivals (click for a list)? 
6. Remember your camera this apple-picking season!
This one may go without saying. The scenery at an orchard on a sunny fall day is phenomenal. Add a cute kid, the apple of your eye, and it's the perfect photo-op. Fortunately, phones have cameras so be sure to carry it along for those Insta-perfect photos you'll want to share.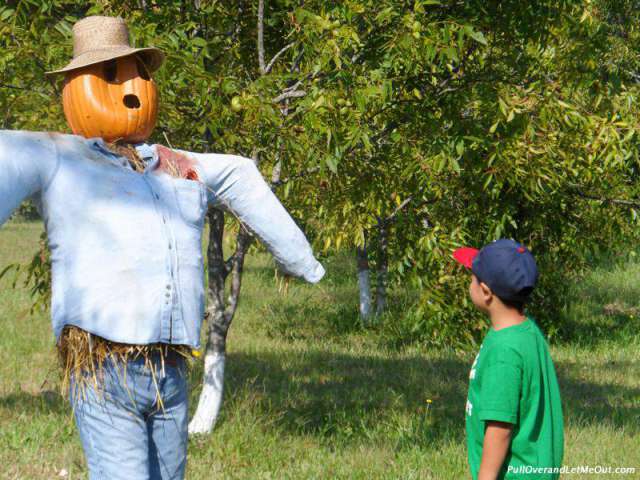 7. Study your apples first
Learning the varieties of apples before you visit the orchard is a huge help and time-saver.
The first time I went picking I was clueless and picked anything. Now that I'm more experienced, I've learned which apples are sweet and which ones are tart and can better plan my picking to meet my needs.  Most orchards list what they grow on their websites.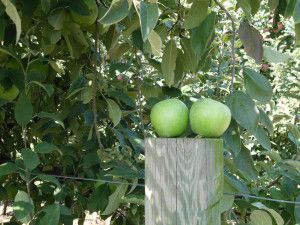 Pinterest! That's right, and here's why I whole-heartedly recommend scouring this website. Should you come home and discover you've over-picked and don't know what to do with all the apples, Pinterest is a great place to find recipes.
Apple crisp, apple sauce, apple butter, apple cider, apple tarts, apple pie – you name it, there's a recipe on Pinterest. There's nothing better than the aroma of apples and cinnamon slowly simmering in the crockpot. Fresh apple sauce is scrumptious. It tastes even better when you've picked the apples yourself. Yum!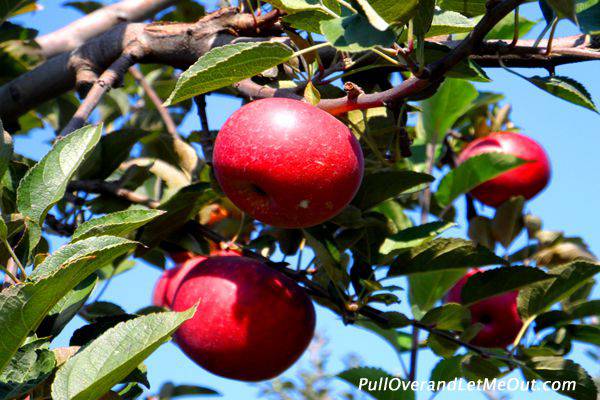 Are you ready for the apple-picking season?
There's something special about the apple-picking season. Bright sunny days, crisp temperatures, and a festive feeling that comes after having endured a long hot summer feel like a reward. Maybe it's the enjoyment of spending time in the country away from normal day-to-day noises. Whatever the reason, apple-picking affords an opportunity to get outside, enjoy, and take a bite out of life.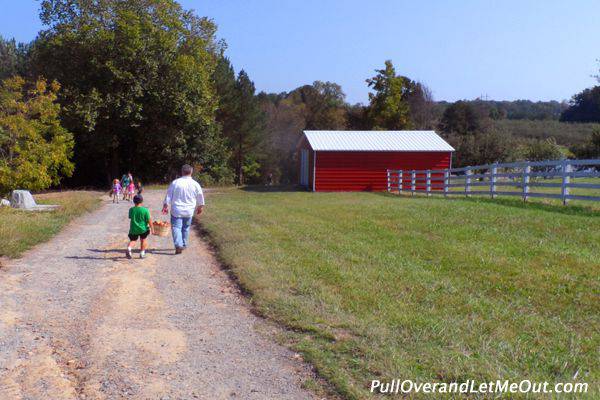 ► Plan Your Apple-Picking Season Trip Now!
How does TravelingToGive™ work?
It makes it simple to plan your trip and to give back with each trip. We've pre-filled the destination from the article and if there are multiple places mentioned in the article, we've put the one that is best used as your base to see all of the places mentioned.
Just select I'M STAYING and enter the travel dates and hit SEARCH. It automatically uses the first place in the article. For a multi-day trip, if you stay near that location, you should be able to use it as your base. If available, you'll also see B&Bs, condos, apartments and private homes in the results.
Can I change the destination? Yes, it is super simple. Just click on the pencil and enter the name of any place mentioned in the story. Or you can enter any address or even the name of a company if you are mixing business and pleasure.
Just click I'M DRIVING and you can see how long it will take, get driving directions and even rent a car if you need one.
Yes, we guarantee the best published rates on hotels. No more spending hours looking for the best price. Click on the link for BEST RATE 110% GUARANTEE for details.
Can I earn frequent traveler points?
On hotel bookings, this is up to the hotel chain. Once you make your booking and have received your confirmation, call your hotel loyalty customer service number and give them the hotel confirmation number (this is different from the Trip ID).  Ask them to enter your number in the record. Or you can ask at the hotel when you check in.
On car rental or air bookings, the system will prompt you for your number and it will be in your booking with the travel provider.
I have a charity that I would like to benefit with my travel. Can I do that?
Yes, we realize that while the charity we have selected may not resonate with everyone.

If you want to sign up for your own tool, either as an individual, a company or a non-profit, click on the link below to register for your own tool. It is free and it only takes minutes.
Hey pinners, save this for pinning after your trip
After you get back from your trip, please use these images to post to social media or post your own photos.  Please tag us on your post #pulloverandletmeout
You can also use the social sharing links on the SmartTrip tool.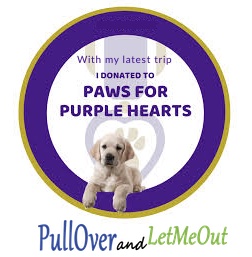 More travel stories you'll love reading!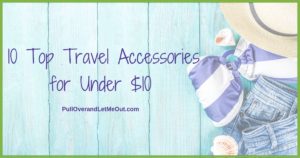 Great travel gear does not have to be expensive! Take a look at these ten fantastic budget-friendly travel accessories.
Read More »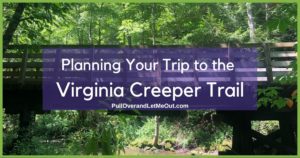 Explore the Virginia Creeper Trail with Pull Over and Let Me Out and discover some of the best advice for organizing your mountain biking vacation.
Read More »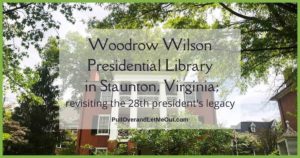 Travel with Pull Over and Let Me Out to the 28th president's library and museum in the scenic Shenandoah Valley.
Read More »
Shop for the hottest travel gear!