I love quirky places. The more unique and off-the-beaten-path an attraction, the more I revel in my discovery. Places like the Ave Maria Grotto, the Unclaimed Baggage Center or the World's Largest Hand Dug Well are all destinations I've gone out of my way to visit. Therefore, while in Houston, Texas, it was an unexpected pleasure being introduced to what is simply known around town as The Beer Can House.
Back Story
I was in Houston for an Irish dancing competition and had a few free hours before my departing flight. Hence, I looked up a friend from high school who lives in the city. Sure, it was a long shot he'd be free on a Sunday, but I thought to myself, How often do I get to Houston?
I sent a message and much to my delight, he was available. Little did I know, our reunion would lead to discovering one of those places that make my heart sing – Houston's infamous Beer Can House.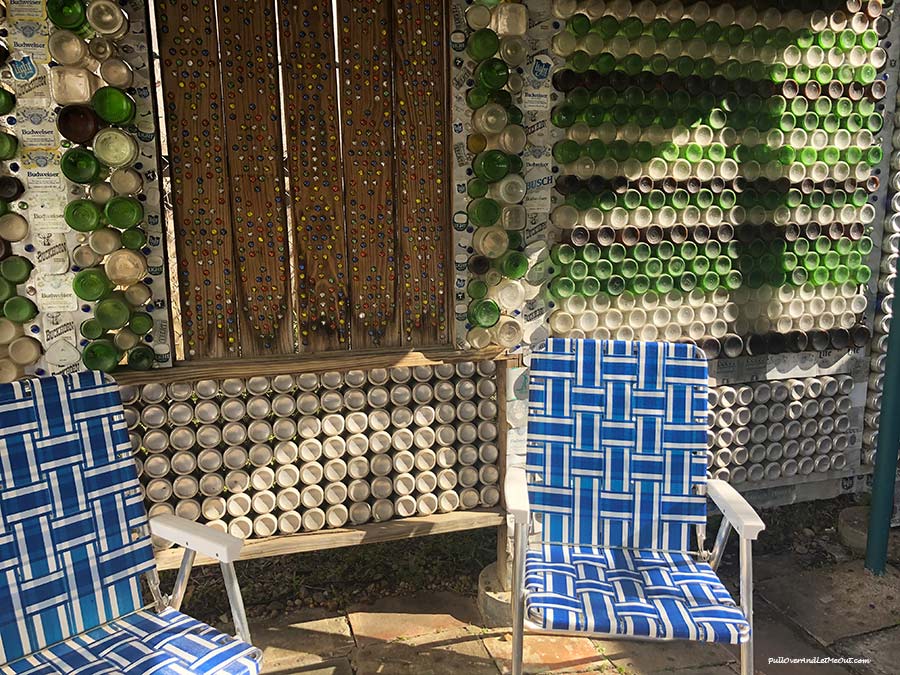 Most ads you see on this site are affiliate links. If you click through and make a purchase I'll get a small commission and it won't cost you any extra. So, thanks in advance for helping me keep bringing you the content you enjoy!
John Martin Milkovisch
John and Mary Milkovisch purchased the three-bedroom Bungalow in 1942. In 1968, John, an upholsterer for the Southern Pacific Railroad, constructed a covered area on the patio so he could enjoy a cool beer in the evening upon returning from work.
It began with pastel-colored cement blocks embellished with marbles for the floor. Before long, John was covering the yard with a mélange of decorations comprised of marbles, cement, and glass. When the yard was complete, he turned his attention to the small bungalow. Over time, the humble home would gradually transform into The Beer Can House.
John tinkered day and night, never adhering to a plan, adding beer cans and marbles to the house. Before long, the bungalow at 222 Malone Street became a landmark. One man's labor of love ultimately becoming a piece of American folk-art attracting tourists from near and far.
Following his cremation, his ashes were scattered at his beloved Beer Can House.
Restoration of the Beer Can House
After John and Mary Milkovisch passed away, The Orange Show Center for Visionary Art attained the Beer Can House and started the restoration process. Time and Houston's climate was hard on the home so a carefully researched and extensive project involving volunteers from the neighborhood, Houston, and all over the country was enacted to bring the Beer Can House back to its earlier grandeur. In 2008, the refreshed Beer Can House opened to the public for tours and is recognized today as a distinguished piece of folk art.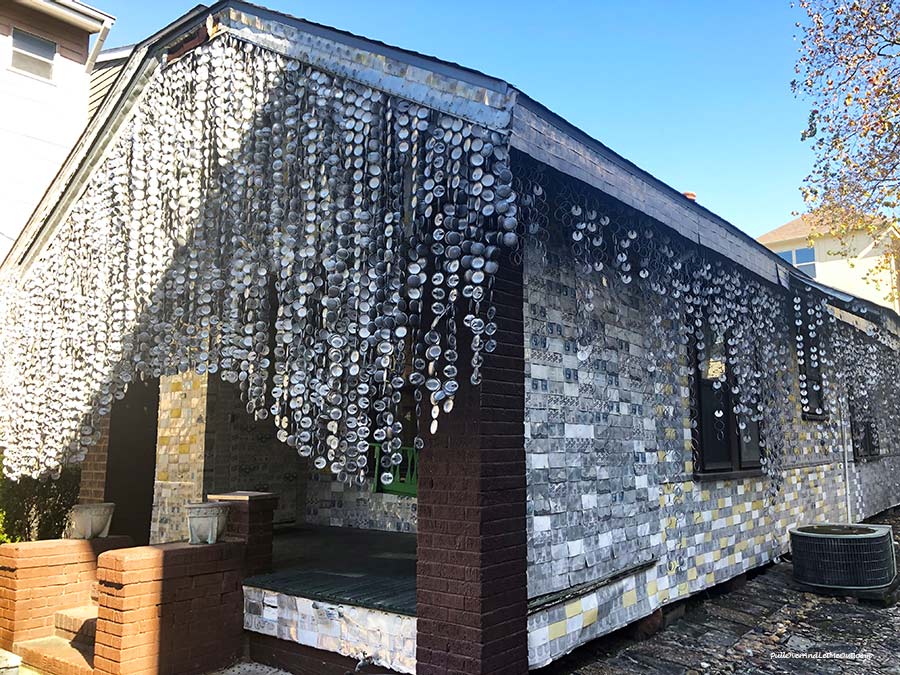 Visiting the Beer Can House
Tucked away in the quiet Rice Military Neighborhood of Houston, it's easy to drive right past and not notice the home. The kitschy house is located on Malone Street between Memorial Drive and Washington Avenue. It's open for tours from noon to 5 pm on Saturdays and Sundays, and Wednesday through Sunday during the summer months, weather permitting. Private group tours are available by appointment. It's visible from the street all the time.
Start your visit at the Visitors Center in the backyard. It's here, for an admission/donation of $5.00, a fully guided tour begins. First, explore the yard. It's replete with unconventional compositions constructed of bits and pieces collected by John over the years.
Next, inside the home, move from room to room. Each one contains a different display detailing the bungalow's transformation and how John crafted his artwork. Additionally, there's an informative video featuring interviews with John and Mary Milkovisch and their son, Ron.
For the insatiably curious, delve further into the history of The Beer Can House, with the downloadable visitor guide on their website.
Touring the home doesn't require a lot of time and you can elect to do a self-guided tour if you prefer. All the same, you'll want to give yourself enough time for admiring John's resourcefulness, ingenuity, and unusual creations.
In 1991, Ripley's Believe It or Not visited the Beer Can House. At that time they estimated it took 50,000 cans to complete the project.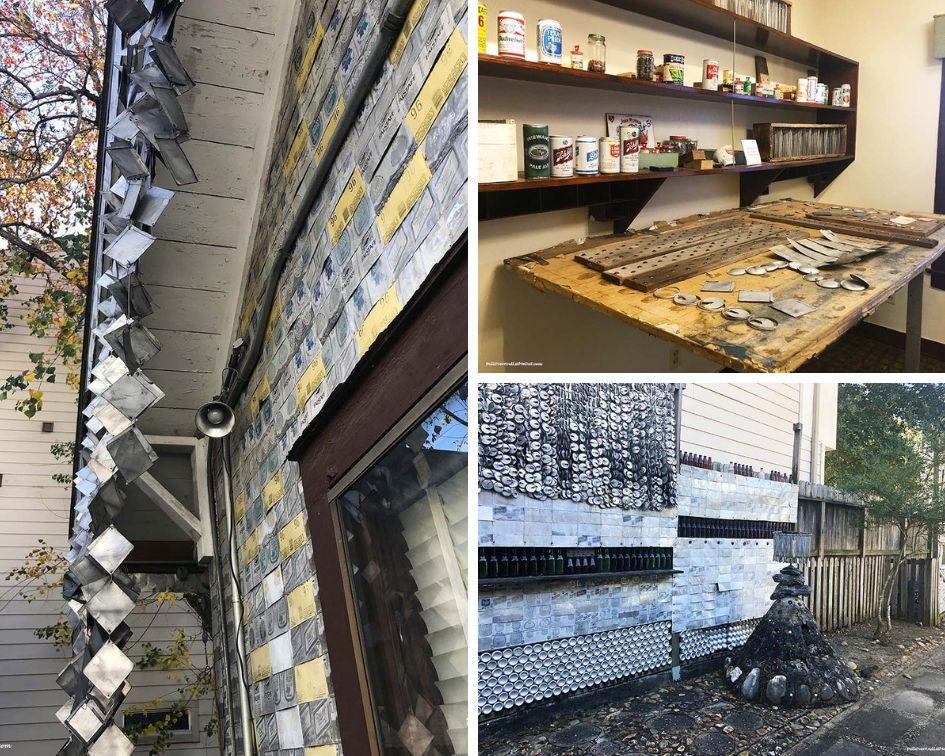 What I Learned
I learned art can be found and created out of the most unusual materials. I also learned it's possible for one person's quirky past-time to bring delight to others. Furthermore, a labor of love can emanate from the most unexpected of ordinary items – beer cans.
Take Away From My Visit
Visiting The Beer Can House isn't for everyone. Let's be honest. Nonetheless, it's a sight to behold and the type of attraction I relish.
I adore the serendipitous discovery of something I never expected to encounter. I love offbeat, lesser-known destinations. Adding to my delight is the fact a friend I hadn't seen since high school brought me here. He may not have known I love these kinds of places, but I like to think he remembers 16-year old Anna Marie and knew just where to take me.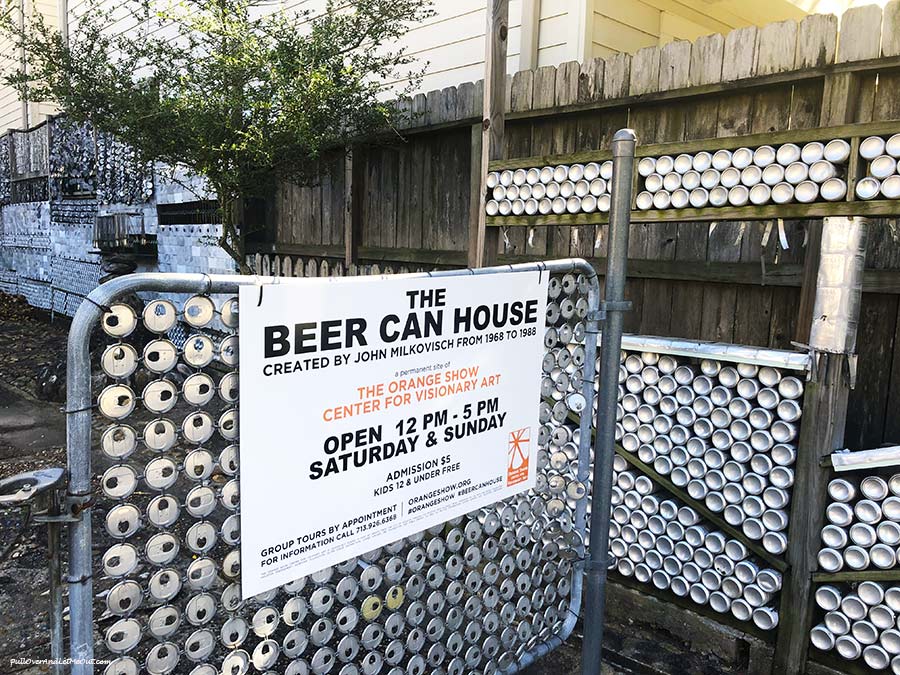 Beer Can House
222 Malone Street 
Houston, TX  77007
www.orangeshow.org/beercanhouse
admission/donation $5.00,  children under 12 free
Special thanks to my friend Mike McAuley for introducing me to this wonderfully quirky Houston attraction.
If you like this, pin it for later!