So often when traveling, meals are afterthoughts or something ate based upon the hour of the day and not a planned event. Grabbing a meal on the go or rushing through it in order to get to my next destination is an easy habit to slip into. That is until I visited Wilmington, North Carolina and dined at Pinpoint Restaurant. Located in the heart of the city's historic downtown, this coastal community restaurant has me singing its praises as a stand-out among Wilmington restaurants.
Showcasing The Bounty of Wilmington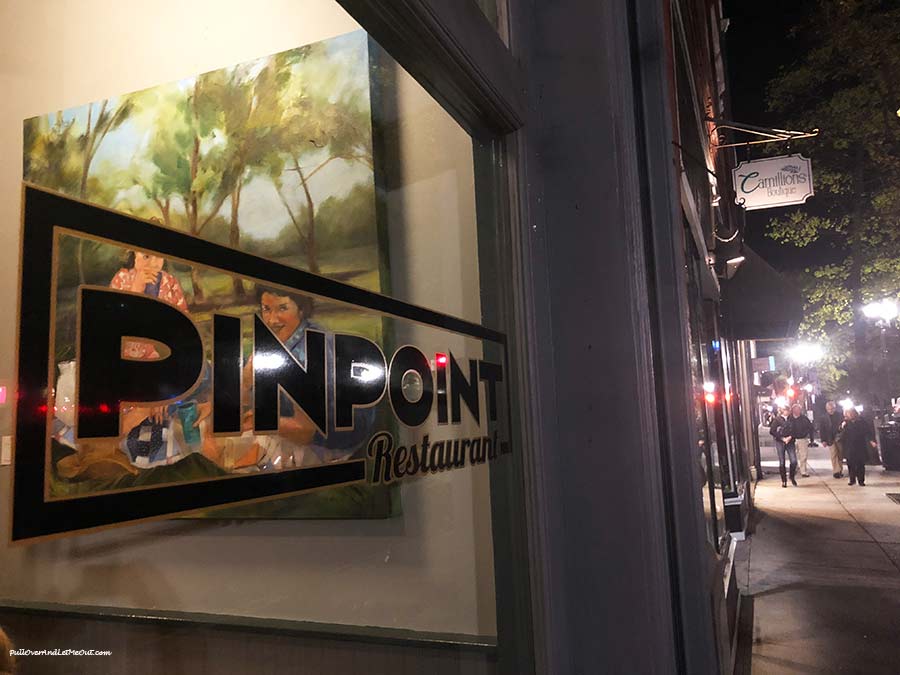 Outstanding From Start to Finish!
Only a block from the Cape Fear River and Riverwalk in the historic section of downtown Wilmington, PinPoint has a great location. Housed in a historic building, the high ceilings, wood floors, noteworthy fixtures, and cheerful artwork portend a convivial evening is about to ensue. Nonetheless, I'm not nearly prepared for the culinary experience coming my way. From the moment I'm seated until I depart, PinPoint is outstanding.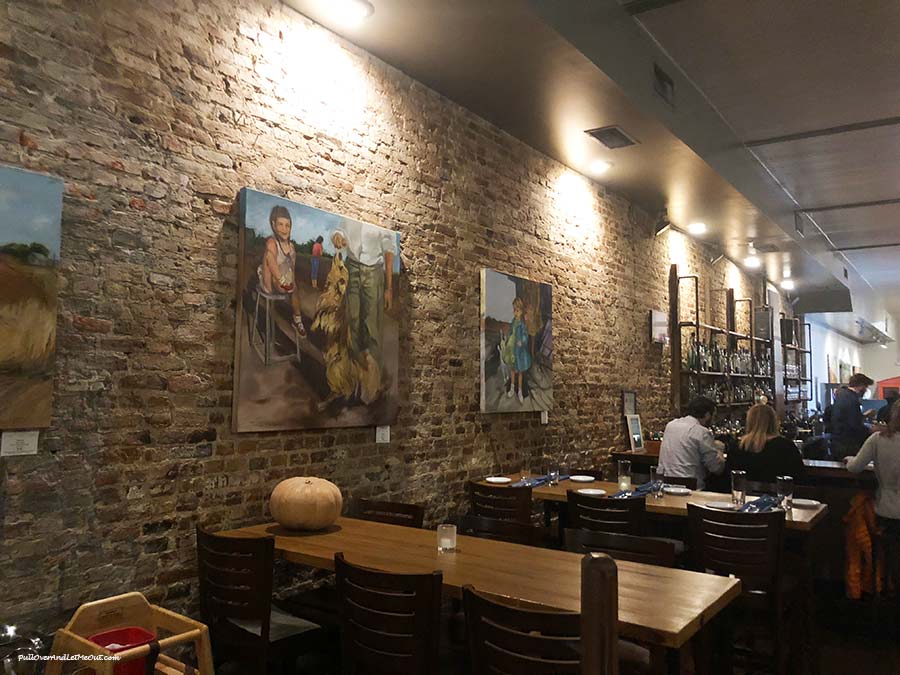 Most ads you see on this site are affiliate links. If you click through and make a purchase I'll get a small commission and it won't cost you any extra. So, thanks in advance for helping me keep bringing you the content you enjoy!
Deeply Rooted in Tradition and Foodways
Chef Dean Neff enthusiastically fills me in on the restaurant's mission and culinary style. I'm blown away by his knowledge, abilities, and passion for utilizing only the finest locally sourced ingredients. Neff explains the close relationship between the restaurant and local growers, oystermen, and fisherman. He also details his distinctive approach to menu-planning. Rather than requesting specific ingredients from suppliers, he takes a reverse approach. Neff tailors his menu based upon what his suppliers bring him. The result is an ever-changing menu featuring unique pairings and seasonal elements blending together creating a memorable meal.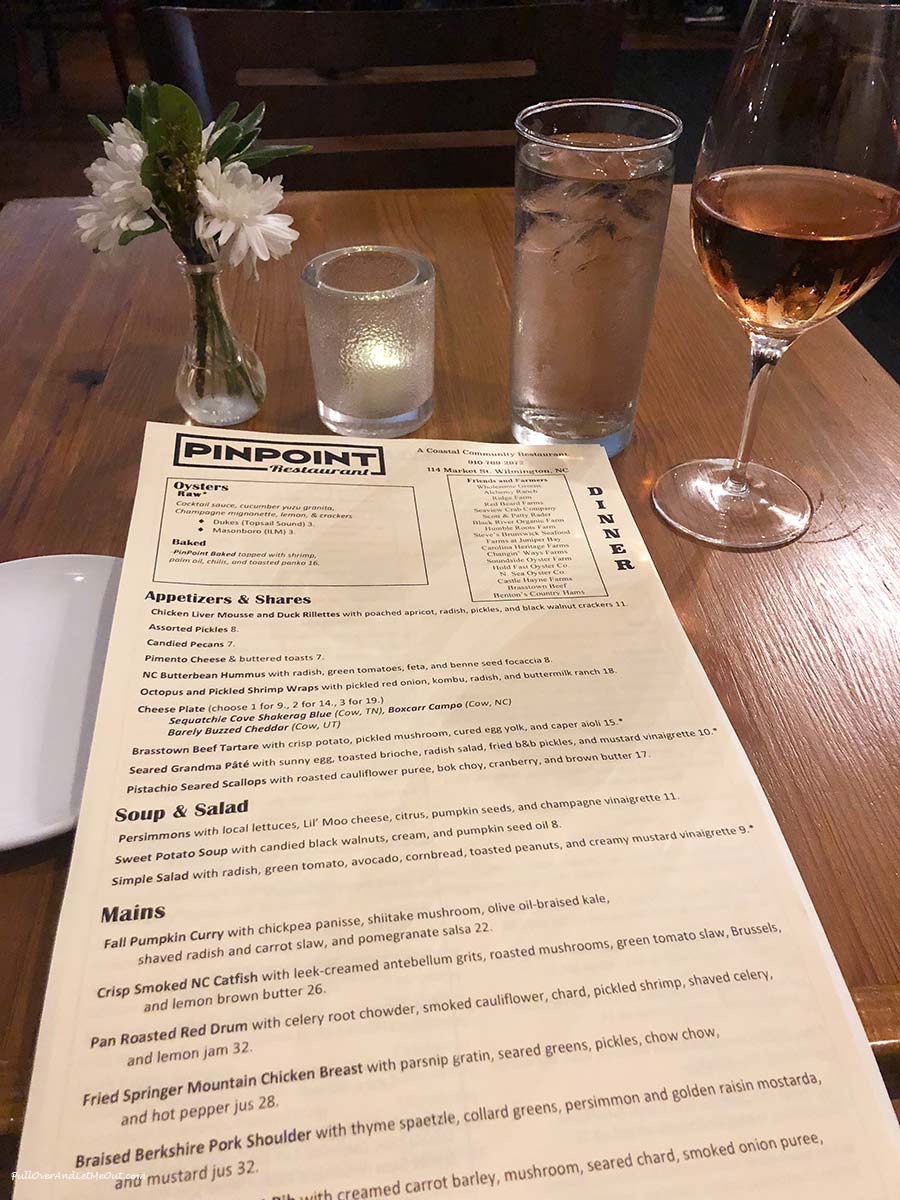 The Dining Experience
The dining experience begins with a glass of wine, a crisp Rosé Tempranillo from Spain, which turns out to be a pleasing complement to the evening's offerings. As with their dinner menu, PinPoint's beverage menu changes regularly as well. The libations include a pleasing lineup of beer, wine, cocktails, and non-alcoholic beverages too.
Next up, my friendly waiter, Don, delivers an amazing and truly Southern appetizer – NC Butterbean Hummus. Made with radish, green tomatoes, feta, and benne seed focaccia, it's a pre-meal hit. I love the flavorful creaminess and unlike traditional hummus, this doesn't have an overpowering garlic after-taste.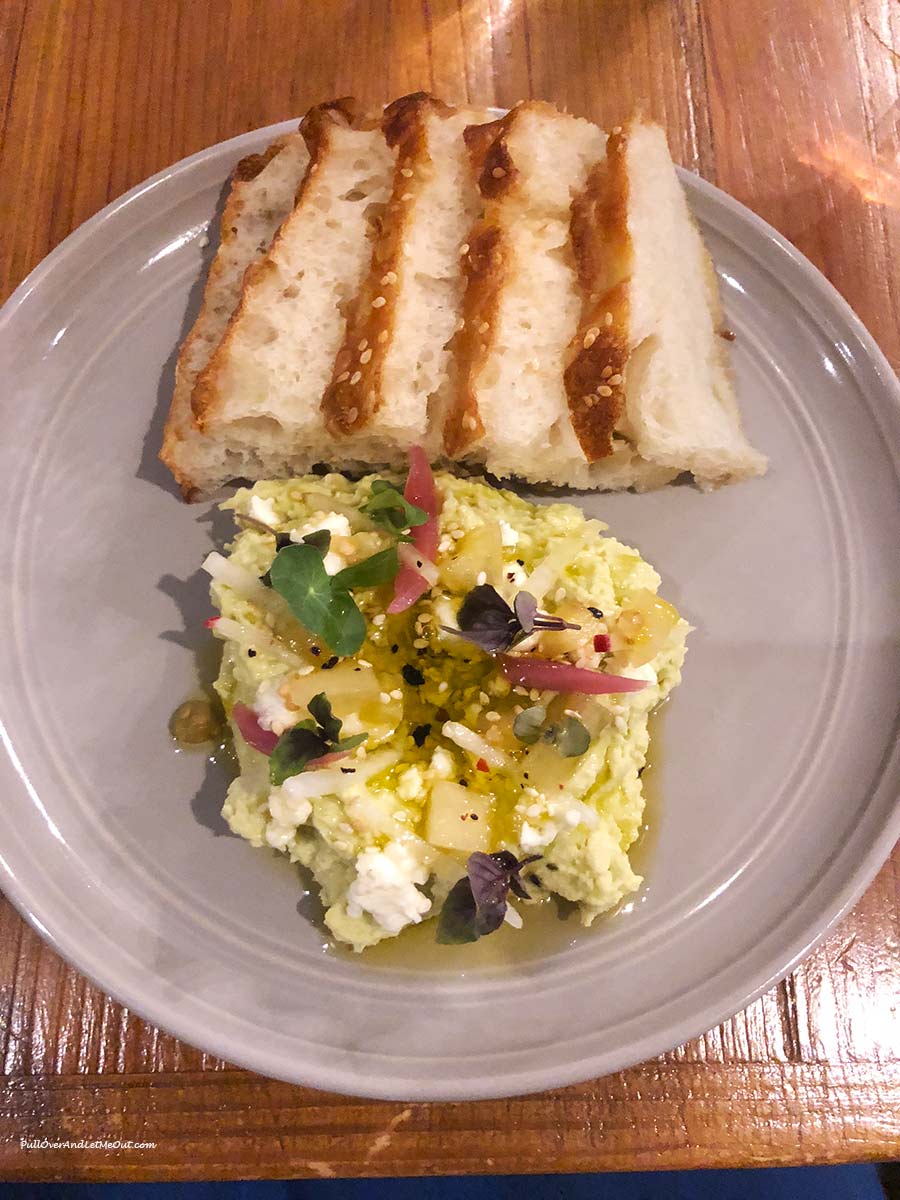 Farmed vs. Wild Oysters
Moving on from hummus, I try oysters. PinPoint is renown for their raw and baked oysters.
I was never a fan of raw oysters. However, on a trip to Harrisonburg, VA, last year I was convinced by an oyster farmer to give the bivalve mollusks another try (read more here). I did and ever since I fancy myself a bit of an oyster enthusiast. I've even learned what to look for and how to savor the taste.
Therefore, at PinPoint, the prospect of comparing two styles is exciting. Served on a bed of rock salt with cocktail sauce, yuzu cucumber granita green coriander mignonette, lemon, and crackers, I delight sampling the disparate shellfish. Ultimately I discover despite the contrasting origins, they're equally delicious.
Final verdict – PinPoint oysters are a brilliant coastal appetizer.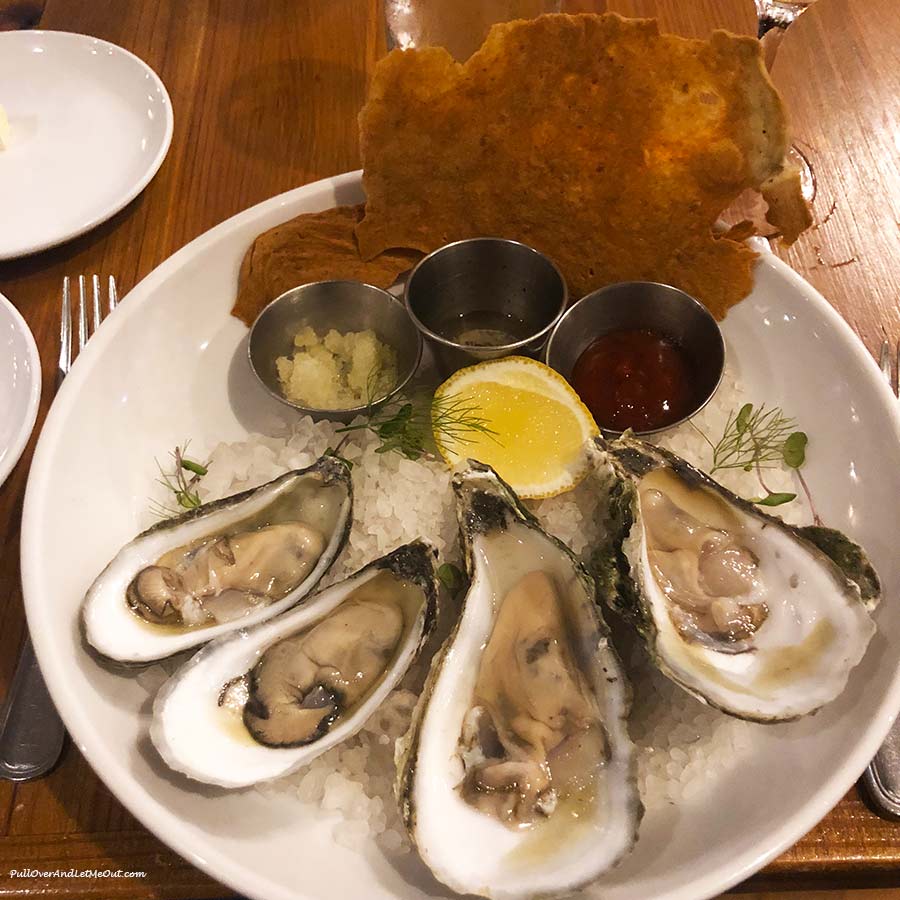 Seared Scallops and Confit!
Adding to the enjoyment of my meal is the little extras coming my way. One of these is an amazing pan-seared, pistachio crusted sea scallop.
Words cannot convey how incredible this scallop tastes. I've had scallops that are kind of rubbery or a little tough in the middle, but this… this… is in a league of its own. Warmed evenly through the center and tender as can be, this is by far the best scallop I've ever had.
I'm not one for hyperbole so if you're not convinced, you simply must try it yourself!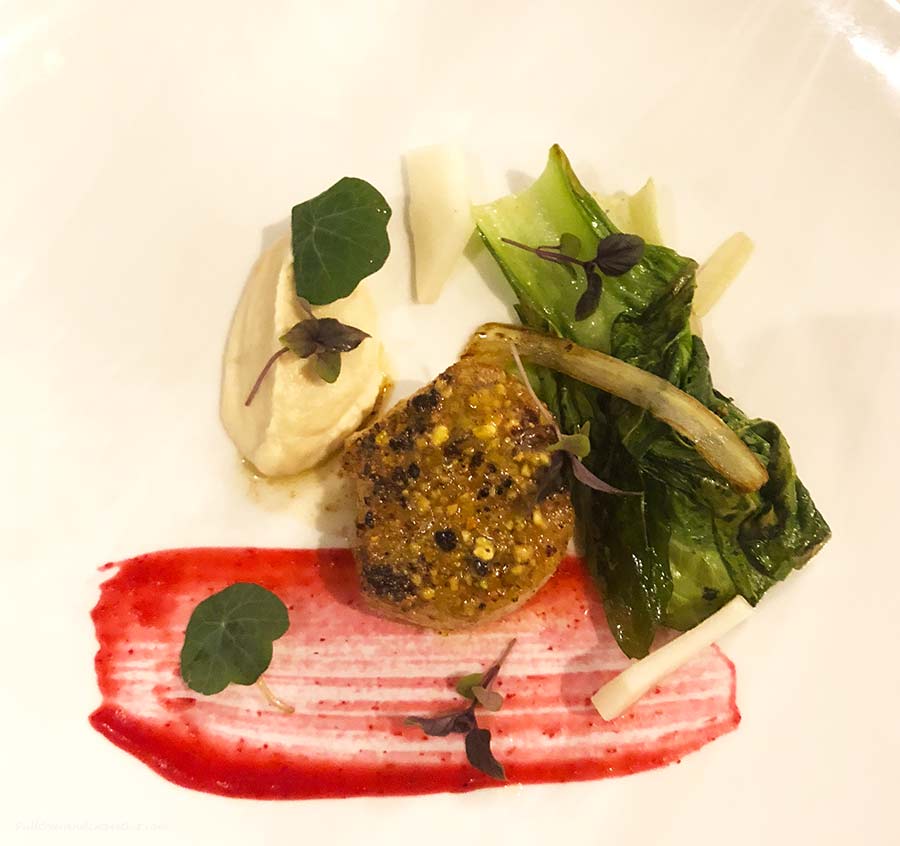 Tonight's special is rabbit confit. I'm reticent about the rabbit. However, the tasty lead up to my main course has put me at ease. Furthermore, by now I trust my waiter, Don and he convinces me I won't be disappointed so I go for it.
Traditionally, confit is a French cookery term for duck or goose cooked in its own fat. At PinPoint I'm served Rabbit Confit with tomato Sugo, roasted turnips and parsnips over homemade gnocchi. The medley of flavors is incredible! Or should I say, Magnifique!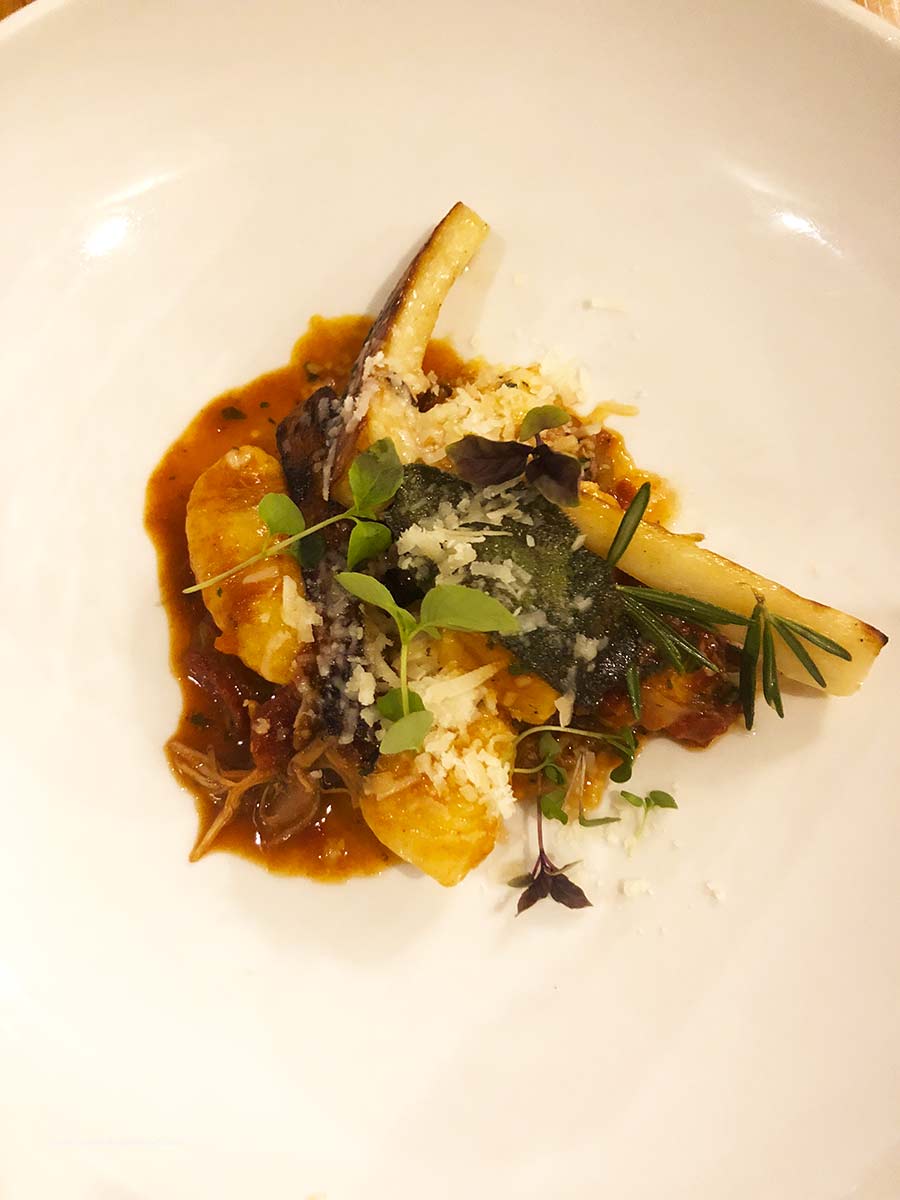 Dessert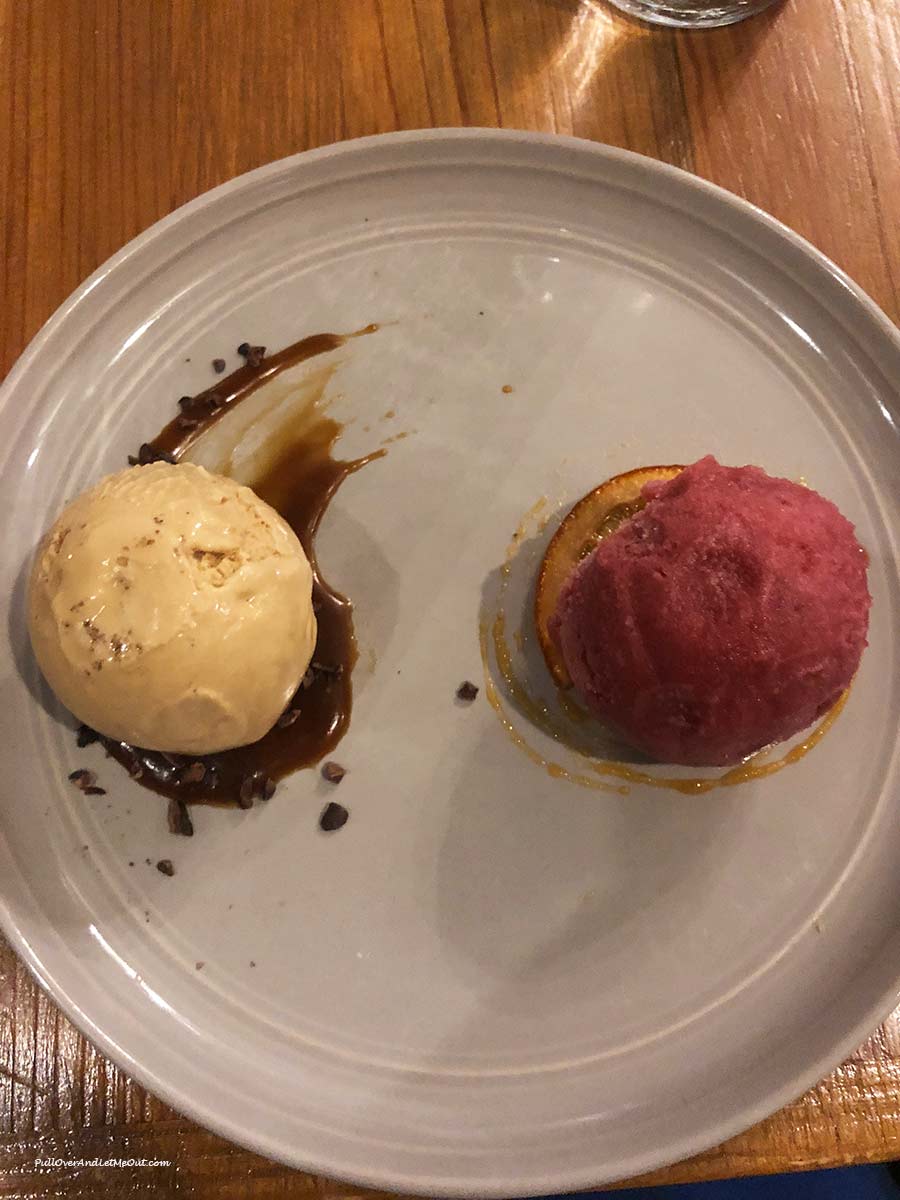 Finally, after such an amazing meal, I decided a light dessert is best and select the Muscadine Sorbet from today's dessert menu.
Don returns with the sorbet and grinning says, "I included a scoop of my favorite, Roasted Dandelion Root Ice Cream."
I can't thank him enough because although they're two refreshing sweet treats, they're entirely different and unusual flavors. Both are palate-pleasing and the perfect conclusion to dinner at PinPoint.
A Must-try Among Wilmington Restaurants
PinPoint caught me off guard.
In a world full of so-so dining options, it's one of the best and most memorable meals I've had. I can count on one hand the number of times I've said that so I'm not exaggerating. Backing my claim, in 2016 PinPoint was named among the best new restaurants in the South by Southern Living Magazine and was featured earlier this year on The Best Thing I Ever Ate. Judging by the accolades and the festive atmosphere in the dining room, I'm not alone in my feelings for the restaurant.
The theme of my visit to Wilmington and Wrightsville Beach was "Celebrate Life's Monumental Moments at the Coast." That being said, PinPoint is the perfect restaurant for a celebratory meal no matter how big or small the occasion. Chef Dean Neff and his staff have something special and delicious happening and I will definitely return for another memorable meal. PinPoint is a dining event to plan, experience, enjoy, and celebrate.
PinPoint Restaurant
114 Market Street 
Wilmington, NC  
910-769-2972
www.PinPointRestaurant.com
Have you dined at PinPoint? Tell me, what did you order?
Although my visit to PinPoint was hosted, all opinions are honest and my own.
Hey Pinners, Pin this for later!