A guest post by Michael Hepworth
The town of Carmel is certainly a unique place to visit. First of all the street
signs are hardy visible, there are no street lights at night, and there are no
public toilets available. Most of the shops are hidden away in picturesque
courtyards, and the whole place is dominated by restaurants, bistros, art galleries (120
of them at last count), skin boutiques and jewelry stores.
Most people associate Clint Eastwood with Carmel from his time as the mayor, but
even he was unable to instigate much change for the town, and if you want to see him
you might bump into him at the bar at the Mission Hotel which he owns. Doris Day
sightings are far less probable however at her hotel in Carmel.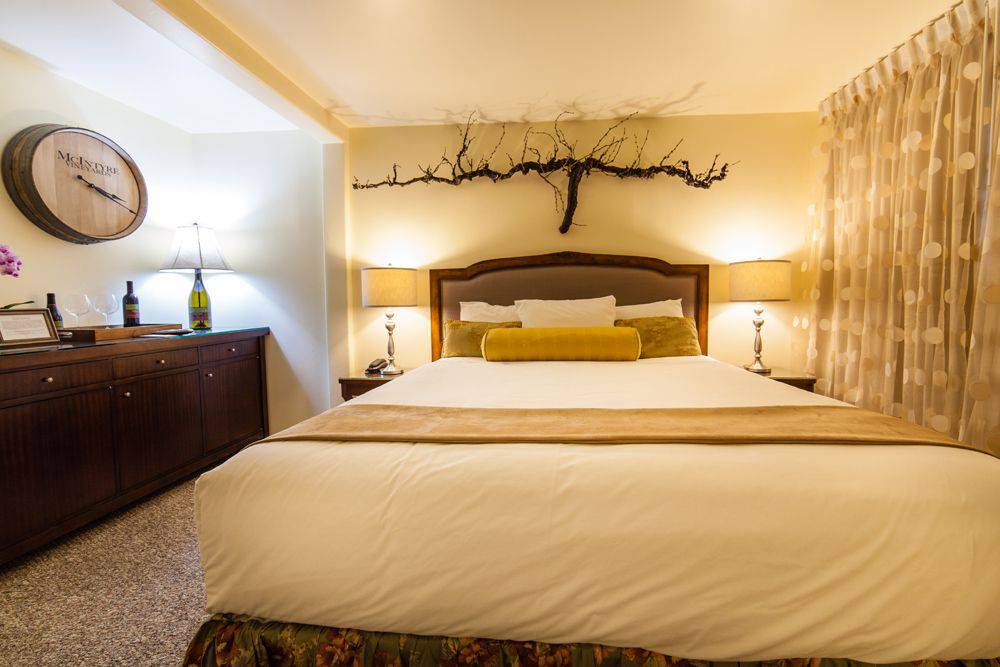 There is now a wine themed hotel in Carmel located on busy Carpenter St, although it is about
a five minute drive from downtown, it is a little too far too walk I suspect. Vendange Carmel
Inn & Suites is still a work in progress at the moment and each room is named after a local
winery. We stayed in the McIntyre room which featured an eight foot long section of a 100
year old grapevine mounted over the bed. There are 18 rooms and suites in the tight complex
that features a beautiful drought tolerant landscaped garden and patio. Other wineries that
have partnered up with the hotel include J.Lohr, Jouillan, Dawn's Dream, Tudor, Manzoni,
Cama Collina and Twisted Roots.
Weekends feature complimentary wine tastings, and a continental style breakfast with
bagels, yoghurt, eggs and fruit bowls is served every morning and included in the room charge.
Rates vary considerably depending on availability, so obviously weekday stays in the winter
months is the way to go, as summer months in Carmel/Monterey can be pretty packed.
This is strictly a non-smoking facility, although thee are a couple of obscure spots close
by, where they allow you to puff away. Pets are not allowed either. Best room in the
house is the Cottage Suite which offers 650 square foot of space with a king bed, 50 inch
flat screen hi-definition TV, gas fireplace and a kitchenette. Since hotel space is tight
everywhere in Carmel, this is actually considered very spacious by local standards.
Internet is complimentary in all rooms and although the lobby is closed at 10 pm there
is an emergency number available for anyone unfortunate enough to find their way
back to the hotel after a heavy night of drinking, and yes it does happen in Carmel.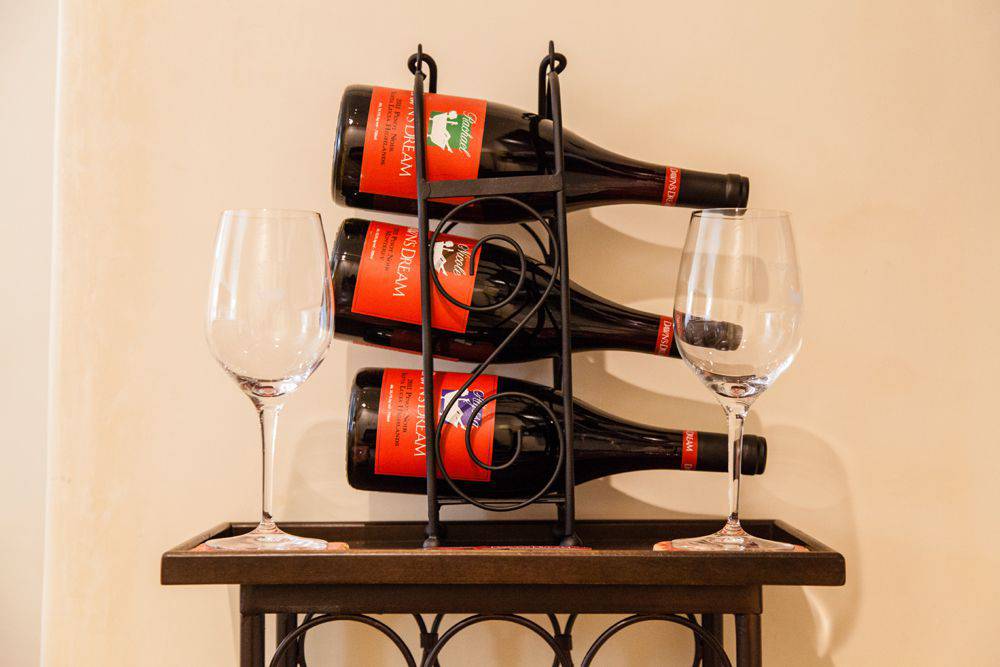 One of the tasting rooms we visited featured Otter Cove wines and Oh Wines from the
same company. The tasting flight of six wines costs $15 which is waived with a bottle
purchase. Statistics show that patrons buy a bottle about 60% of the time, and with six
wines in this tasting experience, a purchase is more than likely. Price range starts at the
$29 level for the Otter Cove Off-dry Riesling to the $69 priced Oh Pinot Noir from Balo
Vineyards in the Anderson Valley. Others in the collection are Otter Cove Chardonnay
Pinot Noir and Syrah, and the Oh Pinot Noir from the Santa Lucia Highlands. The tasting
room is part of a restaurant called the Tree House Café that specializes in Mediterranean
style cuisine, and judging by the appetizers we tried, could be a real hidden gem in Carmel's
crowded dining scene.
Surprisingly I really liked the Riesling best of all for its versatility and lack of sweetness
and touch of peaches, apricots, red apples and honey. However if you like strong and bold
Pinot Noir, then the Oh Pinot is for you, especially if you are having filet mignon,
kobe beef or rack of lamb.
Galante Vineyards is another of the wine tasting rooms in Carmel that deserves a visit.
Jack Galante runs the company and his wines have won numerous awards from their
base in Cachagua Valley in Upper Carmel Valley. The 700 acre property has a range of
700 feet to 2200 feet and the Pinot Noir grapes are at 1800 feet. Jack's great grandfather
was J.F.Devendorf who was the founder of Carmel, and this family of cowboy's
launched the winery in 1994. The area has a long growing season producing high
quality grapes, and the Galante Sauvignon Blanc can hold its own with any similar
high quality brand. Case production is very low on all their wines and prices range
from $25 for the 2010 Rancho Galante Cabernet Sauvignon to $50 for the 2007
Blackjack Pasture.
Also on San Carlos Street is the Manzoni Cellars which is managed by an ex-corporate
IT professional who is making a fraction of the money he used to make, but who loves
talking about wine. These are award winning wines from the cool climate of the
Santa Lucia Highlands and are Pinot Gris, Chardonnay, Pinot Noir (home vineyard), Syrah and
Bella Vino Port. Manzoni Vineyards is only 6 acres but very focused, and
their star wine is the 2010 Pinot Noir which you can purchase at the Carmel tasting room
or at the other facility in the Carmel Highlands.
www.vendangecarmel.com
reservations@vendangecarmel.com         831-624-6400  Parking/Breakfast included.
Manzoni tasting room- 831-620-6541      www.manzoniwines.com
Tree House Café- www.treehousecafecarmel.com     831-626-1111
www.ottercovewines.com
www.galantevineyards.com        831-624-3800
www.carmelfoodtour.com    800-979-3370       3 hour tasting tour