Birds chirping, water gently lapping and a soft breeze blows as you gaze at the clear blue sky. Have you ever longed to get away from it all? Have you ever desired peace, calmness and an escape from the grind of day-to-day life? Well this kind of serenity can be found.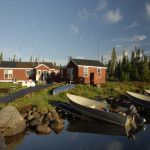 Crooks Lake Lodge in Labrador Newfoundland, Canada is a fly fishing retreat without interruptions.
In 1990 Halifax business man Bill Murphy was looking for something to do after leaving his job in the oil industry. A life-long fly fisherman, he and his wife Sandra headed to the 'wilds of Labrador' where they discovered Crooks Lake Lodge. They fell in love with the beauty and tranquility, purchased the lodge and have been blissfully welcoming anglers from around the world since.
Getting to Crooks Lake Lodge is an adventure in and of itself. Guests arrive in Goose Bay, Labrador on Friday evening in order to be up early to take a 60-mile float plane ride to Crooks Lake. 6 guests at a time enjoy a Saturday to Saturday visit spending 7 nights at camp with 6 days of fishing.
The busy season at Crooks Lake is brief. If the ice melts in time, opening day is set for June 9th and the camp will remain open until late July or mid-August. Most of the fishing is done on the river and creeks. Experienced guides take guests out in small boats where they find an abundance of Brook Trout and large Northern Pike. The catch and release policy as well as the remote location assures consistent high-quality fishing.
The typical guest is a dedicated angler. According to Sandra Murphy, 'they come to fish and that is pretty much all there is to do at Crooks Lake Lodge.' This fishing camp is not for everyone. Leave the cell phone at home and be prepared to 'unplug' for a week. The rustic lodge doesn't have television or Internet but offers comfortable accommodations and world-class fishing. Generated electricity, refrigeration, user pay satellite telephone and hot showers are provided. Additionally, there's a chef on staff cooking delicious meals for guests.
When asked what comes to mind when she thinks of Crooks Lake Lodge Sandra says, 'wilderness comes to mind.' The lodge is 20 miles away from the nearest camp. She fondly recalls the time a guest wanted a pack of cigarettes. His request was met with a gentle reminder that the closest store is a 60 mile plane ride away.
The Murphys' spend the off season attending fishing exhibitions promoting the lodge and looking for new guests to welcome. Over the years they have entertained fly fishing aficionados from all over Canada and places in the United States such as Georgia, California and Florida. They're hoping to add a few new states to the list.
A week at the lodge costs about $3,700 U.S. Dollars per person and includes the float plane trip from Goose Bay. By no means an inexpensive journey, the beauty and peacefulness in addition to the outstanding fishing, superior location and service has brought a loyal following of repeat clients to the lodge situated on the Upper Eagle River Watershed in Labrador.
For the avid fly fisher looking for a place to enjoy the sport and take a break from the rest of the world this small lodge in Labrador fits the bill. Sandra is quick to point out Crooks Lake Lodge is comfortable, a great place to relax and the ideal location for 'the fishing experience of a lifetime!'